DIY Winter Loop Yarn Wreath
This beautiful loop yarn wreath is so simple to make! It's an easy DIY winter wreath that can be made in minutes by adults and kids alike!
"Oh my gawd, he's making a loop yarn wreath!"
I can hear you, you know.
Just because you're over there and I'm over here doesn't mean I can't hear what you're thinking and saying.
"What happened to him?" You gasp.
"He used to be so…so…manly!" You clutch at your pearls and wonder at the horror of it all.
"It just doesn't make any sense!" You shudder and raise the back of your hand to your forehead.
But madam, do not faint! For even though I'm here to teach you how to make a DIY winter wreath with loop yarn, I am still the red-blooded man you know and love tolerate.
Though I may not spend months alone in my dungeon wood shop building ridiculous things that no sane reader would ever try, like this furniture makeover boondoggle, I am still a strapping stooping young middle-aged man!
Rest assured, madam! I ate a large, rare steak before making this beautiful yarn wreath, and then I ate an entire quiche right after, just for good measure!
Because a real man not only eats quiche, he enjoys every bite.
And a real man not only crafts, he crafts with loop yarn and makes "soft" and "cute" things like the yarn wreath I'm about to show you.
So hop on board the Simple Stupid train, as we continue to steam full speed ahead!
DIY Winter Loop Yarn Yarn Wreath Video Tutorial
Watch our short video below for an overview of our DIY Loop Yarn wreath before you read the detailed step-by-step tutorial.
DIY Winter Loop Yarn Yarn Wreath Tutorial
SUPPLIES LIST
Affiliate links are provided below. Full disclosure here.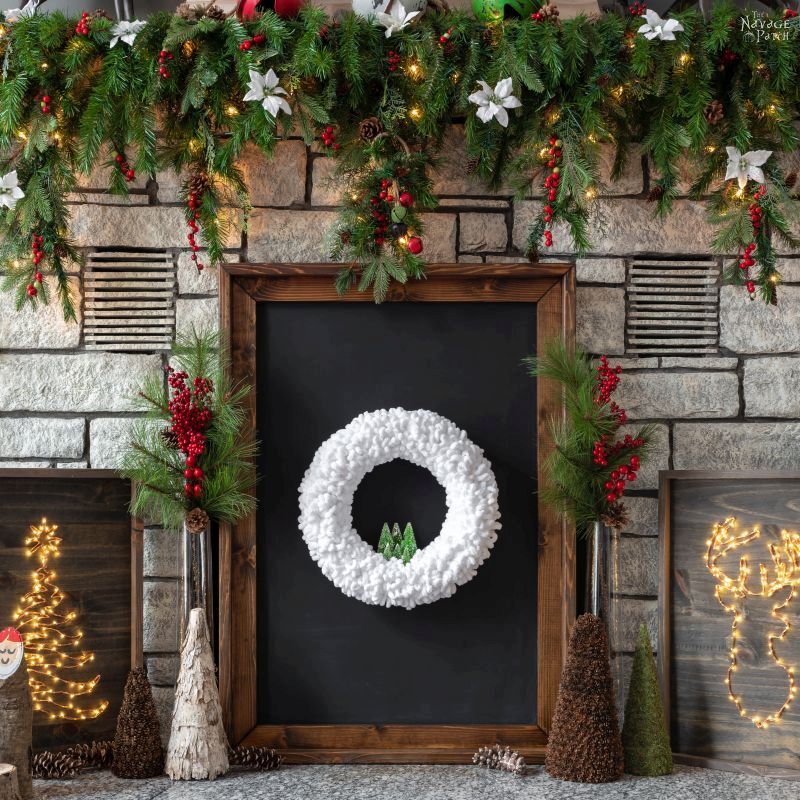 We love to see our craft projects out in the wild! If you try this seasonal craft project, take a picture and post it on Instagram, be sure to tag us @TheNavagePatch!
More DIY Christmas Decor Ideas
Okay, are you ready for the easiest yarn wreath ever? Let's do it.
First unwrap about a foot of the loop yarn and secure the end onto the wreath form with a pin.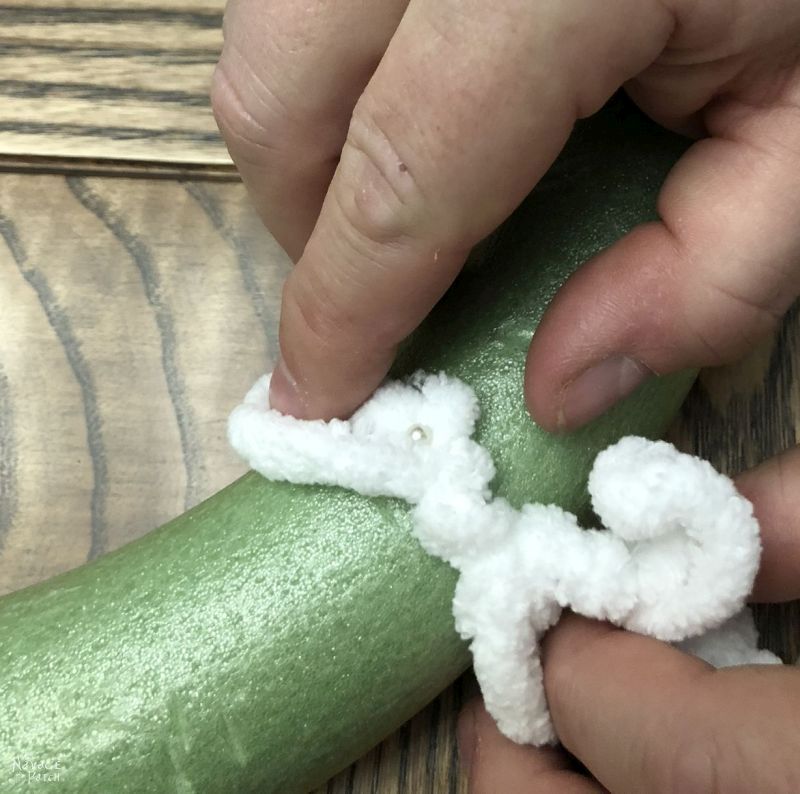 Still with me?
Good! I knew you would be!
Now start wrapping the loop yarn around the wreath form. Keep the yarn in a bundle so you can easily wrap it around and pass it through the form. I learned that trick from Handan after wrestling the 23-foot-long white snake I created by first unwrapping the entire roll of loop yarn.
I may be a man, but I never said I was smart.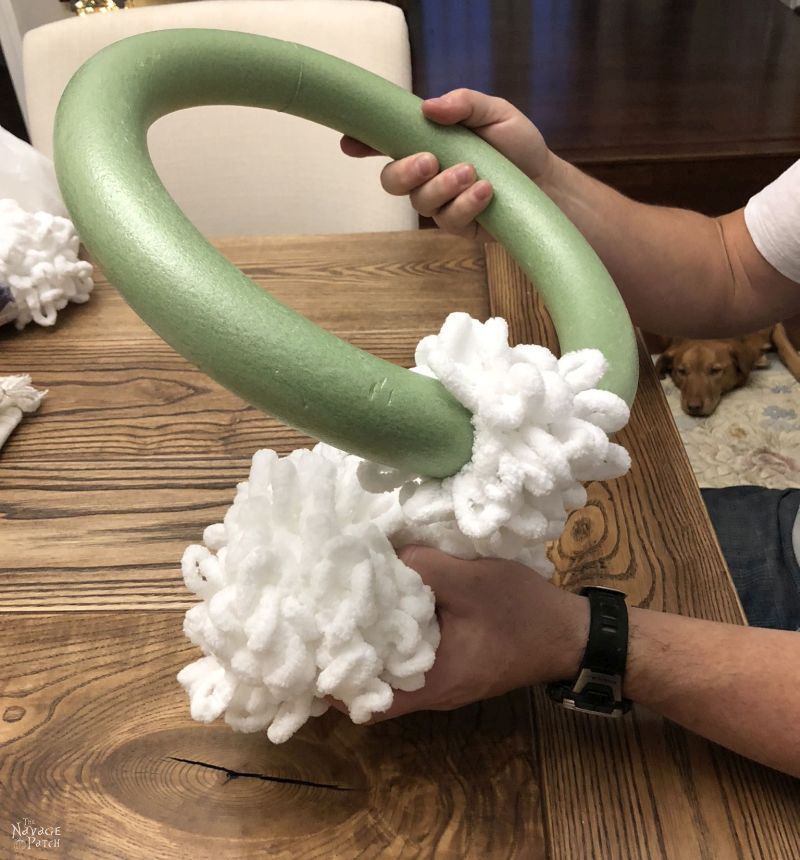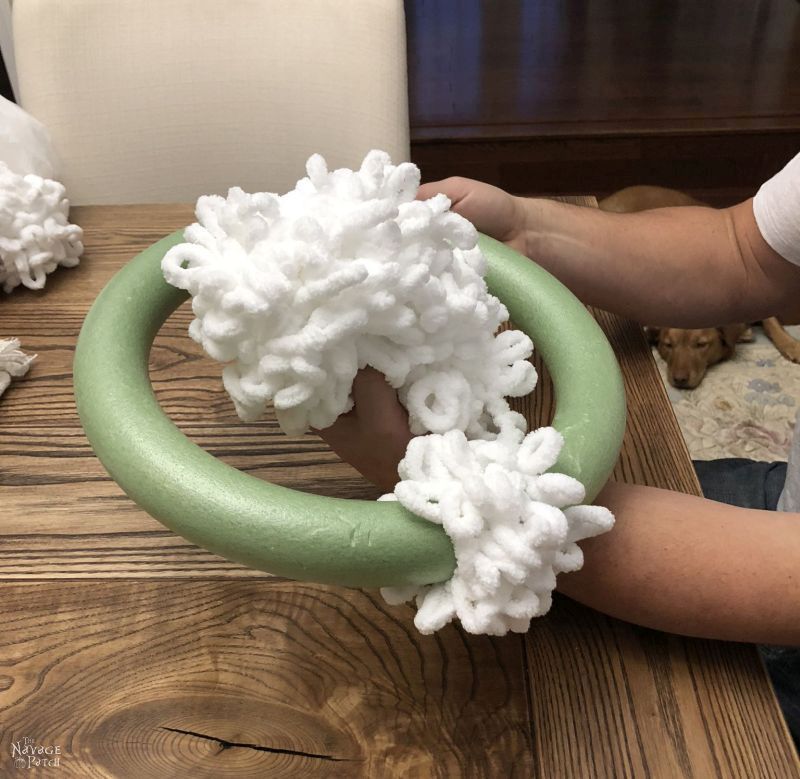 Press each pass of the loop yarn into the previous pass to ensure a nice, tight wrap.
When you reach the end of the loop yarn roll, overlap the end of one roll with the beginning of the next roll and pin them into the form.
Look, are you sure you're paying attention to this lovely DIY winter wreath and not just admiring my chubby, liver-splotched hands??
Continue wrapping in this manner until you've filled your wreath form. My yarn wreath took about 2 1/2 rolls of loop yarn.
Cut the excess and pin the end into the form.
Arrange your bottle brush trees on the bottom of the wreath. The great thing about using loop yarn is that you won't need to glue the trees in place. Huzzah!
This gives you the freedom to swap them out for something else in the future. Maybe some holly leaves and red berries? Maybe some small pine cones? The choice is yours, madam! Might I suggest a wallet-sized photo of yours truly nestled into the fluffy white loop yarn?*
And that's it! I told you it was Simple Stupid!
Let's have a look at how it turned out.
DIY Loop Yarn Wreath Beauty Shots
*C'mon! You know you thought about it for a hot second! 😀
Before you leave, here are some more simple yarn projects for you:
Share it on Pinterest & Facebook!