Tools and supplies
Ladder: I use a ladder mostly for taping and painting the wall edges where the wall meets the ceiling. As ladder incidents happen quite often, I try to minimize the need for a ladder, and I always be very careful when I am using one. I suggest you do the same. Remember: safety always comes first!
Extension Pole: I think an extension pole is as important as the roller or the paint itself, because it minimizes the need for a ladder, and it may even speed up the painting process! I call mine "my little life saver," and it's not an overstatement. Seriously! It is practical, light weight, sturdy, and it simply eases my life, as it extends with the push of a button. Besides, it is not at all expensive compared to others I've seen at our local hardware store. I couldn't recommend it more, as it saves a lot of time and effort during painting.
Roller (roller frame): There are basically two things you need to consider when choosing a roller frame: the size and the squeakiness. Yes, you read it right…the squeakiness! If you are planning to paint a big room and happen to have a "Holy Squeak" like my old one, it will suck all the joy out of painting! It may even drive you insane! LOL. So when you are buying a roller frame, just check if the frame turns/spins without any issues when you apply a little pressure. Paying a little bit more for a quality frame will pay off if you have a big job ahead of you. Trust me!
Although you may find several sizes at your local hardware store, 9 inch frames are what most DIYers use. If you are considering a bigger size (such as 14″ or 18″), unless you are a professional painter and have lots of surface to paint, I would suggest you to reconsider, as they are hard to control. 😉
As I mentioned before, I try not to use a brush, because I don't like having a brushed band on the walls I paint. That is why I also have a mini roller which works wonders in tight areas or edges. If you'd rather use a roller than a brush, then I highly recommend getting a mini roller, as I am sure you'll love the speed and performance this little guy will provide you.
Roller Cover (Sleeve): The rule of thumb for buying a sleeve is the smoother the surface and the higher the sheen, the shorter the nap length should be.
Short nap (1/4″ to 3/8″) for smooth surfaces, especially when using high-sheen or oil-based paint.
Medium nap ( 3/8″ to 1/2″) for flat, low-sheen or semi-gloss paint. Basically it is suitable for almost every wall in a house 😉
Long nap (1/2″ to 1″) for rough surfaces such as pop-corn ceilings, textured drywall, brick or masonry. When using a long nap sleeve don't overload it with paint, as long-napped sleeves can create quite a bit of splatter.
Although most DIY websites online will recommend buying a high quality roller cover (which are pricier), I like using Home Depot's "Best 9 inch (3/8″ nap) microfiber roller cover" when I paint. It may not be the best roller cover out there [no pun intended ;-)], but I have always had good results with it. Besides, it is cheap enough for me to throw it away after painting instead of dealing with the hassle of cleaning.
Cut-in Brush: I only use a paint brush when the area is too tight to paint with a mini roller. If you are familiar with my paint projects, then you would know that my all time favorite paint brush is Zibra. Once you use one, you won't want to use any other brush, as no other glides on a surface or carries the paint as well as a Zibra does. Depending on what I am painting, I either use a Zibra 2-inch cut-in brush or a Zibra 1-inch square paint brush. If I can't find a Zibra cut-in brush at our local hardware store, then my second choice is a Wooster 2-inch short angle sash paint brush, as it feels very comfortable in hand with its flexible handle.
Here's a hint for choosing the right brush: if you are using oil-based paint, go for natural bristle brushes, because they hold oil-based paint better than synthetic bristle ones. But if you are using latex paint, then go for synthetic bristle brushes, such as nylon or polyester, because synthetic material won't absorb water like natural fibers.
Paint Bucket and Roller Screen/Grid: If you are planning to use a paint tray to paint a room, I urge you to instead buy a paint bucket and a roller screen. I don't want to bore you with all of my reasons why, but you'll be glad you did! 🙂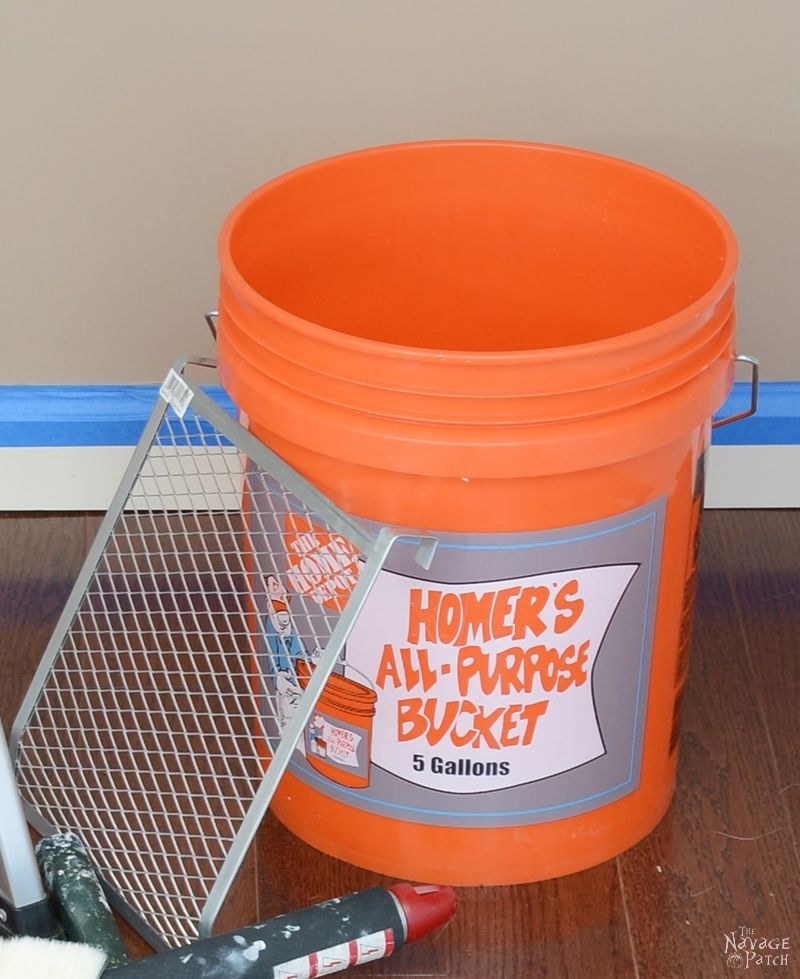 Paint Can Cover With Pour Spout: This is optional, but it is again one of those little tools that makes your life easier. We have one for every open can of paint. I haven't tried any other brands, but I can swear by the one we have: it is practical and easy to use. Even in long-term storage, it keeps the paint from drying out much better than the paint can's original lid. It is simply awesome!
Before using a paint can cover with a pour spout I used to poke holes in the rim of the can, so the paint could drip back inside after each pour. If you don't poke holes, the paint will dry in the rim, and you'll have trouble putting the lid back on. But with these pour spout covers, I don't go through that trouble anymore.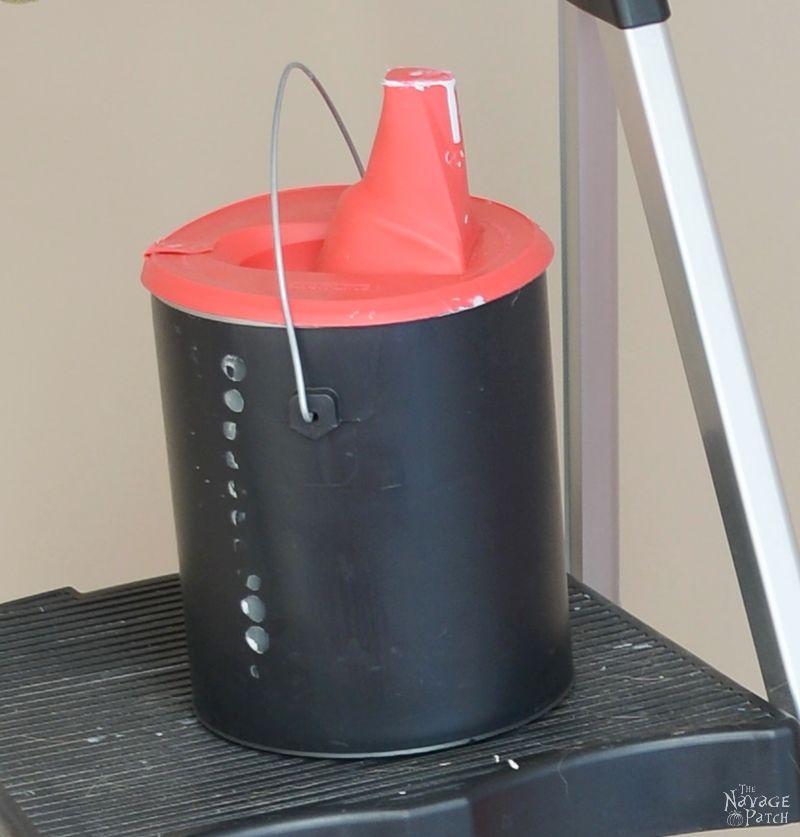 Drop Cloth: I know, I know…you haven't seen a drop cloth in the pictures till now (nor will you be seeing it in the upcoming pictures!), because I don't bother using one when painting small areas. Besides, our first floor is hardwood which has a good protective coat, so wiping off paint drips is easy. That said, anytime I paint a room that has porous flooring such as carpeting, bare concrete, tile (grouting is porous) or unprotected wooden, I definitely use a canvas drop cloth.
I know there are cheaper options, but if you can afford it, I suggest getting a canvas drop cloth, as it is the best. First of all, it is the most resilient and durable one out there. Once you buy it, it will last you for years. Second, it absorbs paint without letting it seep through to the floor like thin bed sheets would do. Plastic drop cloth won't allow paint spills and splatters to seep through either, but the paint doesn't dry as quickly on a plastic drop cloth as it does on a canvas one. And guess why that is important? Well, if you step on those paint drips, which you most likely will [experience talking here, hahahaha :-D], you'll end up carrying it all around the room.
If you are worried about a canvas drop cloth being slippery (since you can't really tape it down as well as you could with plastic or paper ones) you may want to try the ones that have rubberized backing.
Another thing to keep in mind for a drop cloth is what you are planning to paint, and if you are using paint sprayer or not. If your project is painting ceilings or if you are planning to use a paint sprayer, then a plastic drop cloth or old bed sheets would be a better choice in terms of cost, since you'll need to cover a lot of space.
Damp Cloth: I always keep a damp microfiber cloth with me to wipe drips and splatters. Although I rarely need/use a dry cloth, I still keep one close and handy: my painting clothes! hahahaha 😉
Goof Off: This is again optional. I rarely use it, but I thought I should list it, as it does a pretty good job to clean paint off almost everything.
Cling Film (Saran Wrap): If I need to give a break for more than 10 minutes, or if I am waiting for the first coat to dry, then I use cling film to wrap my roller, brush, paint and the paint bucket. Trust me when I say this: no plastic bag or roller/brush cover is as good and airtight as cling film! Only with cling film can you let your paint wait a day in the paint bucket or on the roller without worrying about it drying.
And with that, we are ready to get started!
Start rolling
First, I rinse my paint bucket and dry it with a lint-free cloth to make sure there is no dust in it. Then, I wet my hands slightly and rub the roller cover 3-4 times. By doing so, I clean the roller cover from any loose lint and fibers. Once I am done with this little prep, I pour the paint into the bucket and attach my roller to the extension pole.
To load my roller for the first time, I dip it into the bucket about 1/2 inch and start rolling it up and down against the screen. I repeat this step and by the 4th or 5th round, my roller is loaded with a good amount of paint.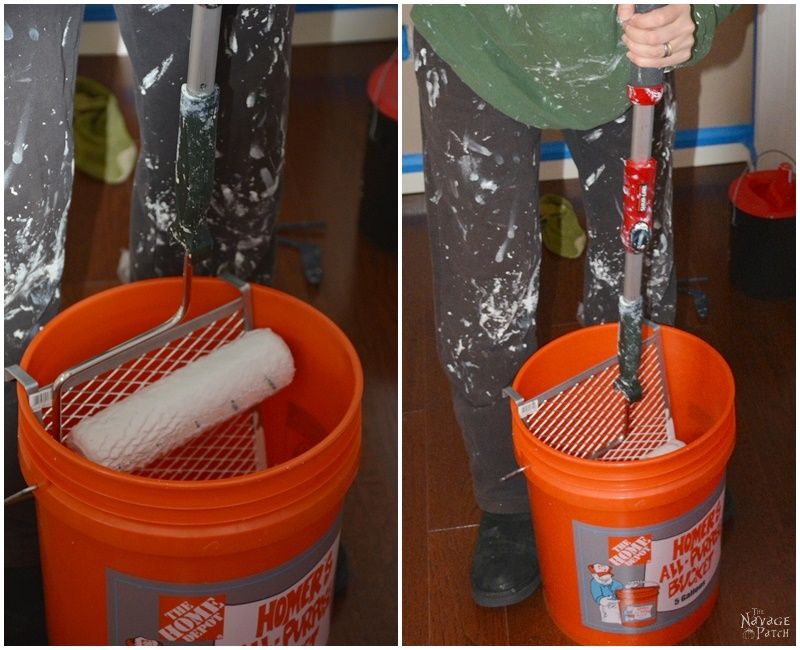 I know submerging the roller into the bucket seems irresistible, but don't do it! Once the roller is submerged, paint will seep into the small gaps between the frame and roller cover and will get trapped there. Later on, that trapped paint will find it's way out in the form of millions of splatters!
For the same reasons, if you need to put your roller down for a minute or two, don't dunk it in the bucket. Just place the handle's U-shaped neck on top of the grid, so it hangs without touching the paint in the bucket.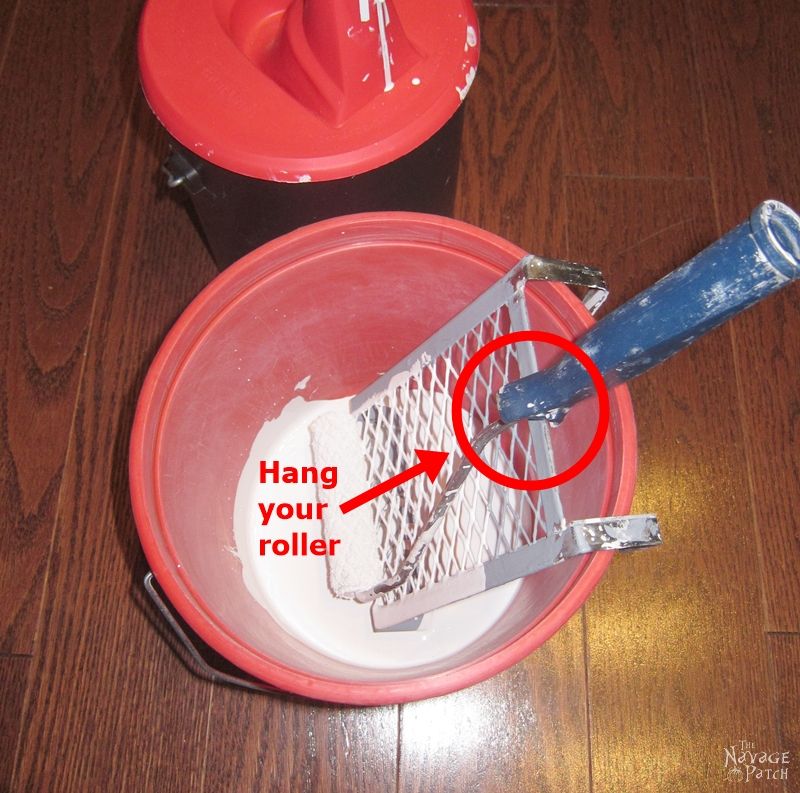 Once my roller is loaded, I start painting. I start from one end and move continuously toward the other end of the wall, because keeping a wet edge on the wall is the key to avoiding lap marks.
If I am painting a normal-height wall (8 to 10 feet) I make a "W" shape and start spreading it to fill in the gaps. But with walls higher than 10 feet, I make an "N" shape. A higher wall means that I will be spending more time reaching all the way up and down, so I don't like to go to far horizontally with each roller of paint.
The key to easy and neat painting is never to force the paint out of the roller. In other words, don't press the roller too hard against the wall. If you need to press hard just to get some paint on the wall, that means there is not enough paint left on the roller. At that point, just load your roller once again.
Depending on the area, I always do two coats of paint, if not three, as this is the usual standard in the construction industry: one coat of primer + two coats of paint. But nowadays, many paints come as paint and primer in one, so I skip the primer coat and just do two coats of paint. That said, if I am painting a brand new wall (bare drywall) I usually go for three coats.
First Coat
When I am painting the first coat, I always start with the main area and then move on to the edges. In the main area, I push my roller as close to the ceiling edge as possible. As can be seen from the pictures below, taping the ceiling edge helps a lot throughout this process. That is another reason why I always use 1.88″ original blue painter's tape. Since it is as wide as a roller, it forgives your possible mistakes in advance. 😉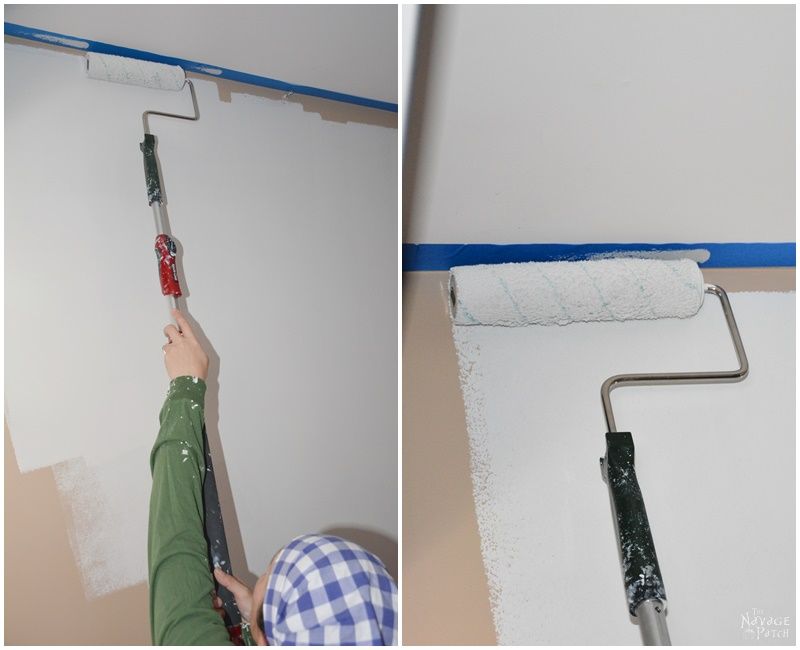 Once I am done with the big main area, I move on to the edges. During the first coat of painting, I try not to load my mini roller too much, as it helps with locking the tape's edge even better.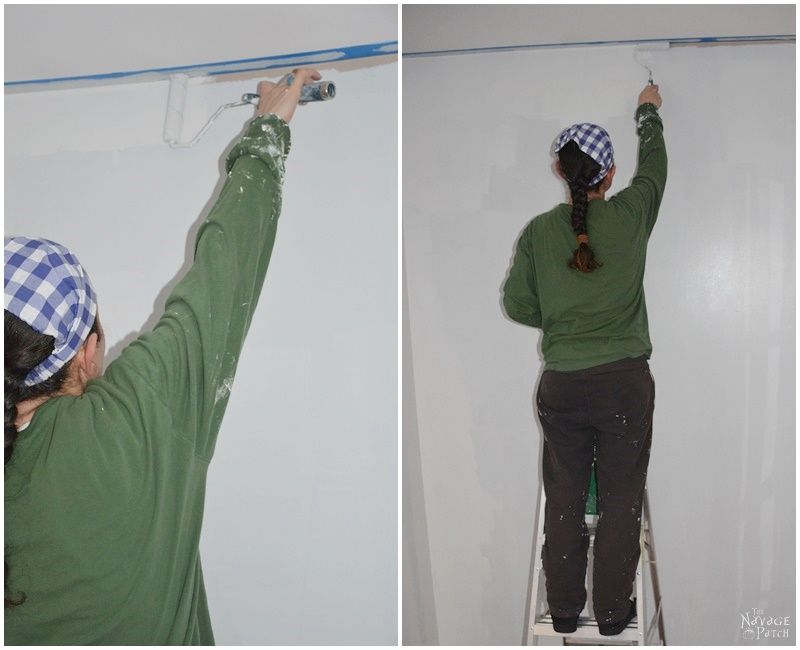 As for the trim's edge, I just roll right to it. It has been 3 years since I painted my first wall, and I experienced seeping paint only 3-4 times to date. That is why sealing the tape's edge is important, as it saves you a lot of time with your paint process.
The same goes for the outlets. Since I taped the outlets, I can paint right over them. All these may seem like small details, but they help with the painting speed. Keeping a good pace is important to have a uniform spread, which of course effects the overall finish.
If I see bleeding (surface drips), I roll my roller over them:
I never use my mini roller for these drips, only my 9 inch roller.
I apply light to very light pressure to my roller.
I don't use a newly loaded roller or an empty roller. If I just loaded my roller, then I carry on with my normal painting, and when the roller is back to a normal load, I go back and roll over these spots.
And with that, I finish the first coat of paint on the first wall and move on to the first coat on the next wall.
Once I finish the first coat for all the walls, I check the surface for drips, roller lint, or other imperfections, and if I see any lint, I pick it off with my fingers and roll over that spot once again.
In between the two coats, I usually give about 1 to 2 hours for the paint to dry. If the room is big, then (usually) by the time I finish the last wall, the first wall would be dry, so I can start the second coat right away. But if the room is small, then I start wrapping my tools with cling film and wait until the first coat is dry.
I cut a big piece of cling film and place it directly on the paint in the bucket. I also put cling film over the inner walls of the bucket, so the paint splatters there wouldn't dry, flake off, and get mixed into the good paint. I try not to leave any air bubbles when placing the cling film.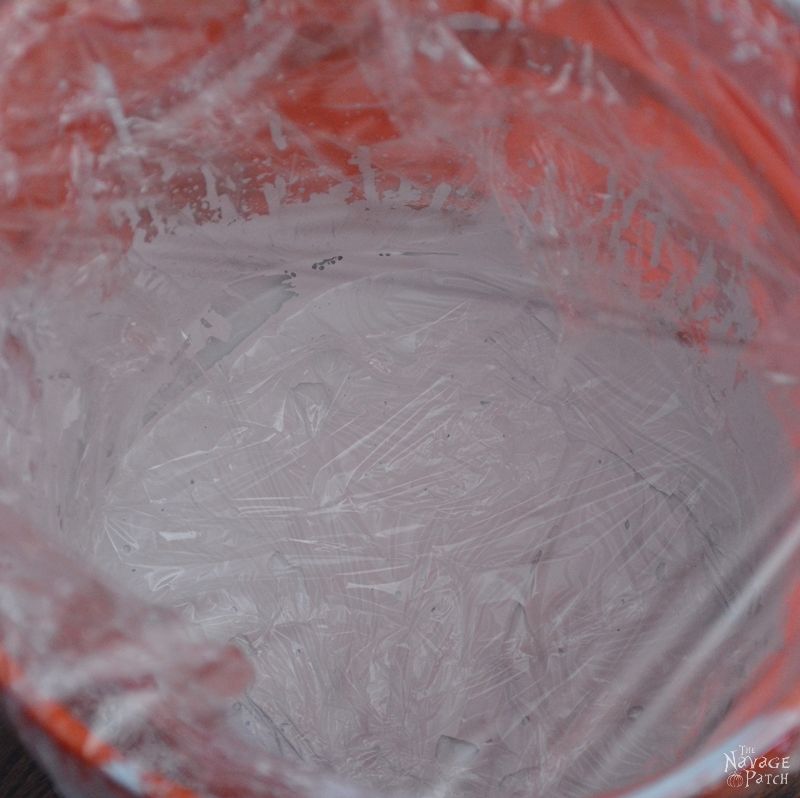 Once I am done with the inner part of the bucket, I also wrap the top, so everything is covered properly. Then, I wrap my roller and the roller screen, so I don't have to deal with any dry paint particles when doing the second coat.
Here is a handy hint for you: if you can't start the second coat on the same day, put the bucket and all the wrapped tools in a cool space. Cling film helps to keep the paint and the rollers intact for a full day, but in a cool space, you can prolong that duration for another half a day. In cold temperatures paint takes longer to dry.
If you are painting in winter time, the paint on outer walls will always take longer to dry than the interior walls. Before you start painting the second coat, always first check if the outer walls have dried.
Second Coat
When doing the second coat, I change the sequence: I start with the edges, then move on to main area. This time, I load my mini roller normal since I need to keep a wet edge to avoid a "band-look" (professionals call it "hatband".)
I always start with the first wall I did when I painted the first coat, so the drying time remains the same for all the walls. Then the rest is the same. I load my brush and keep rolling until I finish the entire room.
Here are some bonus hints:
Many professional painters "box" their paint. In other words, if they have multiple cans of the same paint, they pour all of them into the paint bucket, mix them together, then pour them back into the paint cans. This is done to avoid the slight variations of the sheen and color which the color mixer at the paint store may cause. You may want to do this, or you may want to go with my method instead: when starting a new wall, I make sure my paint can won't finish halfway through a wall. If it seems like it will, then I use a new can and keep the one that was already open for future touch-ups.
Before loading the roller cover for the first time, I make sure that I pushed it fully onto the frame. Otherwise, the roller cover will start sliding out little by little, and every time I load my roller, paint will get trapped in-between the roller frame and cover. And you know what happens then, right? Trapped paint finds its way out in the form of extra splatter. So in the same context, if in the beginning I don't have much splatter, but later on happen to see a lot of splatter, I first check if my roller cover has slid from its place. 😉
When painting a room with a popcorn ceiling, since it is almost impossible to tape the ceiling, I run a flathead screw driver along the ceiling edge. This creates a a small groove and helps me cut in without getting any paint on the ceiling. I have to say, this step helped us a lot when we painted Greg's grandmother's house, as all her rooms had textured ceilings.
I never use the sample paint for touch-ups, as the sheen may not be the same. Besides, the quality of a sample of paint and a gallon or a quart of paint is never the same.
I also never use a brush for touch-ups. I either use a good sponge brush and dab it on the wall to have the same roller effect, or I use my 4″ mini roller. Although there are even smaller rollers, I choose my 4″ one, because the smaller ones may not have roller covers with the same nap thickness.
Since latex paint takes about 30 days to cure, regardless of the sheen, I don't clean the walls before the paint cures. Although semi-gloss and satin sheen paints are more durable than others, that durability comes into full effect after the curing period. That said, any material that has a curing period (such as concrete, or paint) achieves most of its strength and durability by halfway point of that curing period. Therefore, if the walls get dirty before the paint is cured, I wait until at least 15-20 days to clean them, or if it bothers me too much, I just do a quick touch-up.
Finishing and cleaning
As soon as I finish painting the room, I go to the first wall I painted and start removing the painter's tape from the ceiling edge and the trim. In other words, I try to peel of the tape while the second coat of paint is still wet. That way, I don't run into the usual issue: the new paint's film peeling off together with the tape. But if the second coat has already formed a tough film before I've had the chance to remove the tape, then I use a utility knife to slightly score the edge to release the paint film before pulling the tape.
When removing the tape, I pull it at such an angle that it is almost like pulling the tape back over itself (as seen in the picture below).
Another hint with removing the tape is to move your hand closer to the pull point, so the distance between wouldn't be more than a foot. Since pulling the tape can be tricky, I sometimes ask for for advice from our Master Tape Puller pictured above! 😀
When removing the ceiling tape, I try to be gentle, as ceiling paint is not durable enough to withstand a strong pull.
Once I am done with the painter's tape, I move on to storing the leftover paint. Using a paint strainer, I strain most of the paint back into the can. After closing the can's cover, I write the room's name (and which walls, if applicable) on the can and store it in our basement, as it is a cool and dry area.  As we don't have a utility sink, I don't clean the paint bucket straight away. Instead, I let the paint dry entirely, then I peel the paint from the bucket. Doing it this way saves me the mess and a lot of hassle.
Then I clean my rollers. Well…I only clean the roller frames, since I throw away the roller covers. I use warm to hot water and latex paint just washes right off of my roller frames. If I used a brush, I wash it with warm to hot water using a paint brush cleaner and some mild dish soap.
I give at least 24 hours for the paint to build a moderately strong film before I put the wall plates back in their places. Once that is done, my painting project ends.
If you managed to come this far, especially without taking any breaks, KUDOS TO YOU! 🙂 Did you know you read 6200+ words?  I know it seemed like a small novel, but as you can see, when the topic is painting, I have hard time keeping my mouth shut (or my fingers from typing)! LOL 😀 Joking aside, I hope you found it interesting, informative and most importantly, a complete guide on how to paint a room!
Handan, xo