And I used a small paint brush to further define the edges of the groove.
Once I had the crushed turquoise placed to my satisfaction, it was time to gear up with PPE (personal protective equipment). Gluing isn't loud work, so I didn't need hearing protection. The stone dust wasn't flying, so I didn't need a mask. But I was working with cyanocrylate glue, aka CA glue, aka super glue. You may not have noticed when using small amounts, but the fumes from CA glue burn the eyes like acrid smoke or acid. Simple protective glasses wouldn't help. I needed something more.
With my peepers protected, it was time to break out the CA glue. I recommend Bob Smith Industries Insta-Cure Super Thin CA Glue for inlay work. He may have a generic name, but his glue is the best. You'll also want to order a refill bottle. Besides being the best CA glue out there, the price is orders of magnitude lower than if you were to buy the equivalent amount of those dinky little bottles they sell at hardware and grocery stores. And since even super glue takes an eternity to dry when you're really anxious to keep working, an absolute must-buy (and one of the coolest products on the planet, IMHO) is Bob Smith's Inta-Set Spray. If you thought super glue dried fast before, your jaw will fall through the floor and into the basement when you see this stuff in action. Without going into the exact chemistry of the reactions involved, the spray creates an exothermic reaction with CA glue and cures it instantly. The bottle says "a few seconds," but it's way faster than that for small amounts. It's one of the coolest things ever, and you'll want this stuff if you're going to tackle inlay work.
I applied the CA glue generously, ensuring that it soaked all the way through the crushed turquoise.
I then sprayed it with the Insta-Set.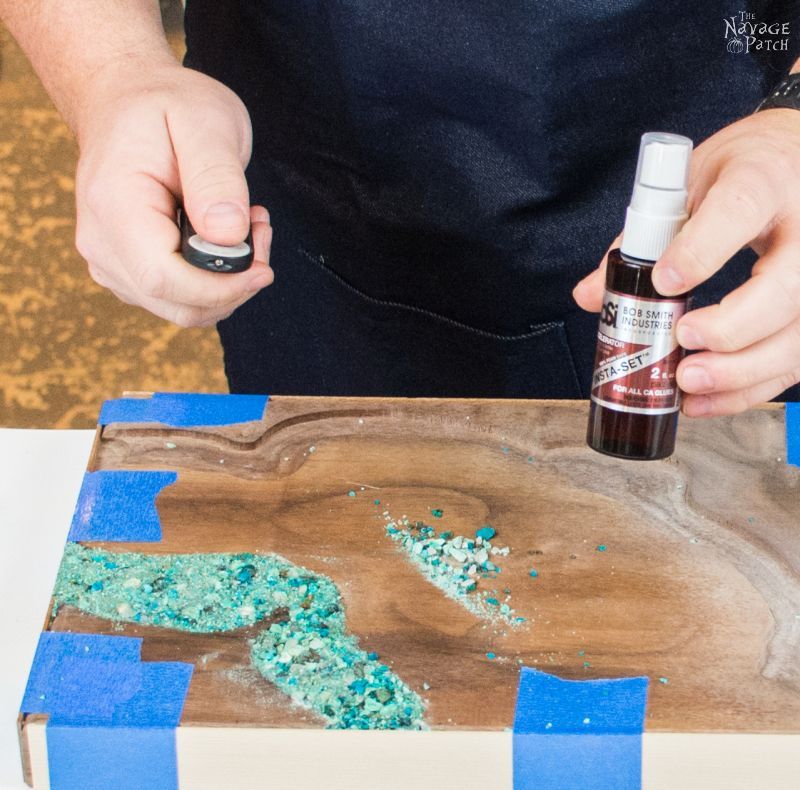 A note about Insta-Set spray: it creates a powerful smell that most people can't stand. To me, it smells pretty good. But you want to step away after spraying. Too much of that smell will have you seeing giant purple lizards crawling out of the walls of your workshop while wee leprechauns tickle your kneecaps with dodo bird feathers. Best to stand back and let the reaction take place without you.
I repeated this process for the remaining two turquoise inlay rivers.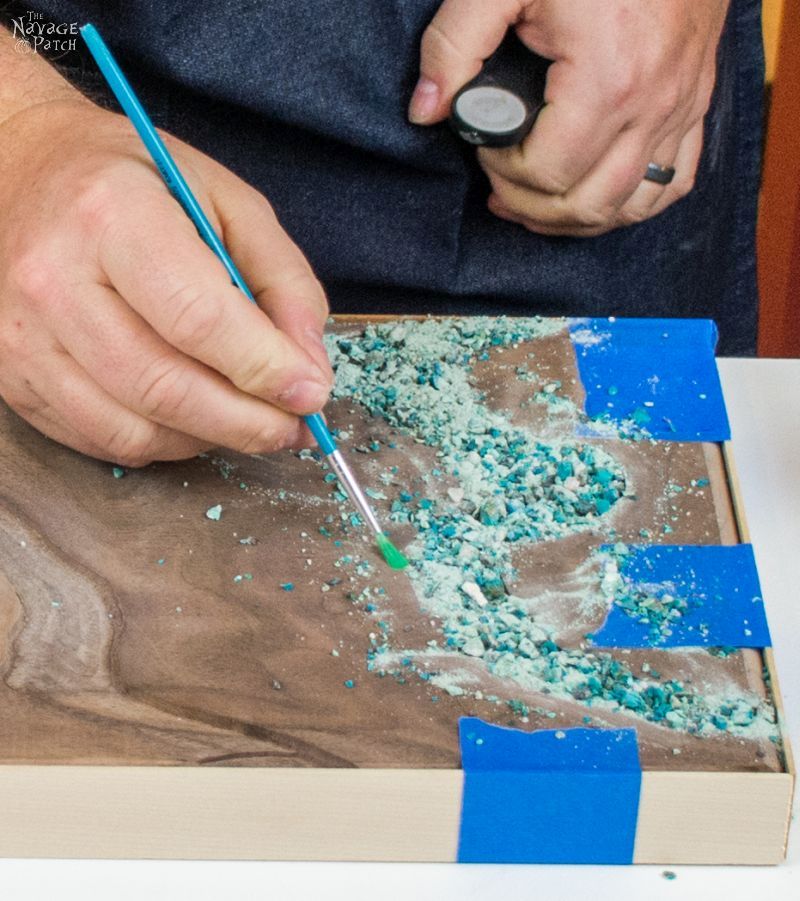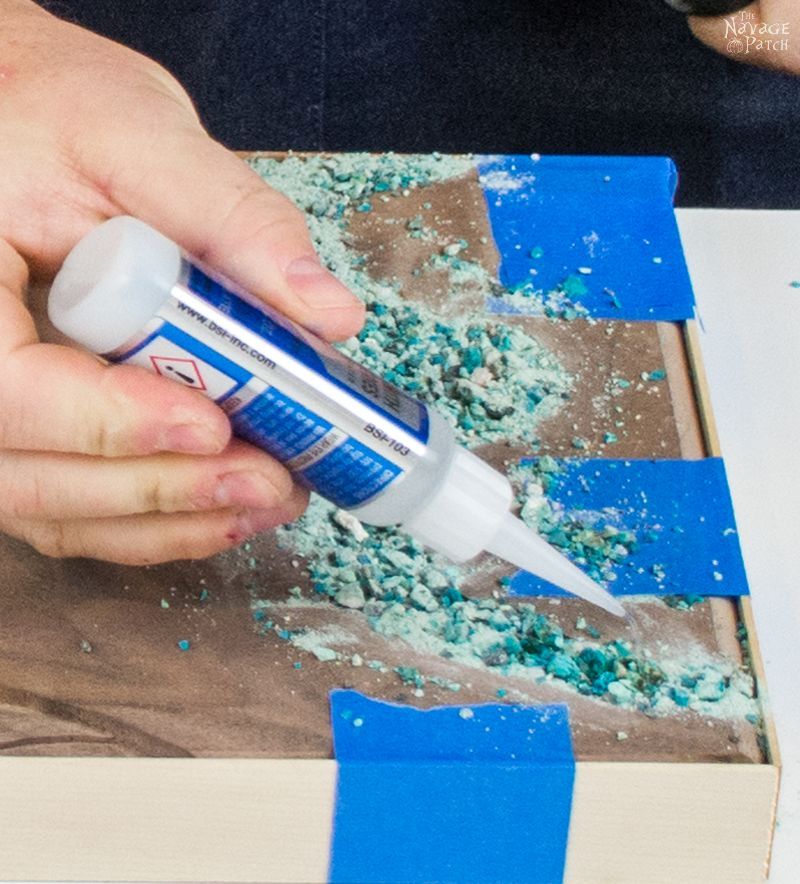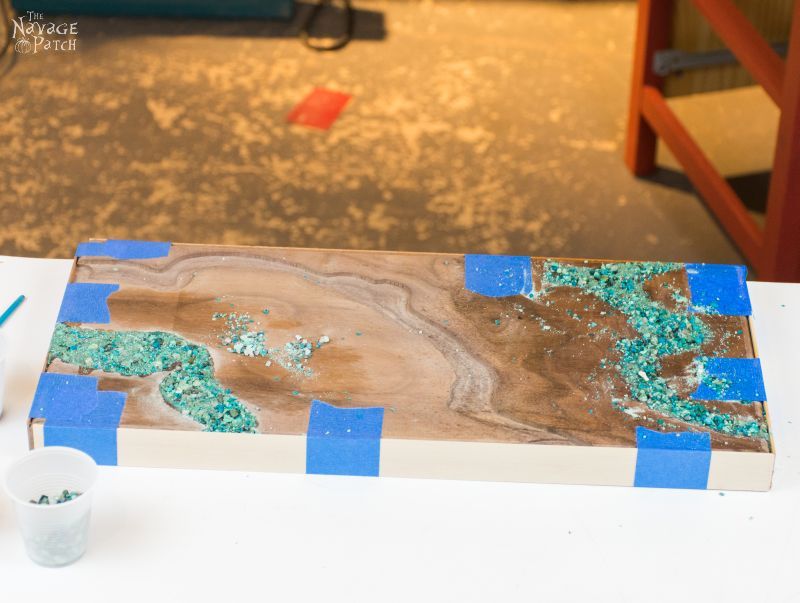 When all was filled and glued, I set the board aside and let the glue cure overnight.
Next was the hard part. Not only did I make three huge swaths of crushed turquoise inlay, but I filled them a little too tall, so I had a lot of rock to remove. The bigger your inlay, the harder it is to smooth it out. Better to do your first board with thin lines or even small circles (like from a Forstner bit) than huge rivers like mine. But I knew what I was getting myself into when I started the project, so I had to knuckle under and start sanding.
Grinding and Sanding the Crushed Turquoise Inlay
I started with the beast: my belt sander.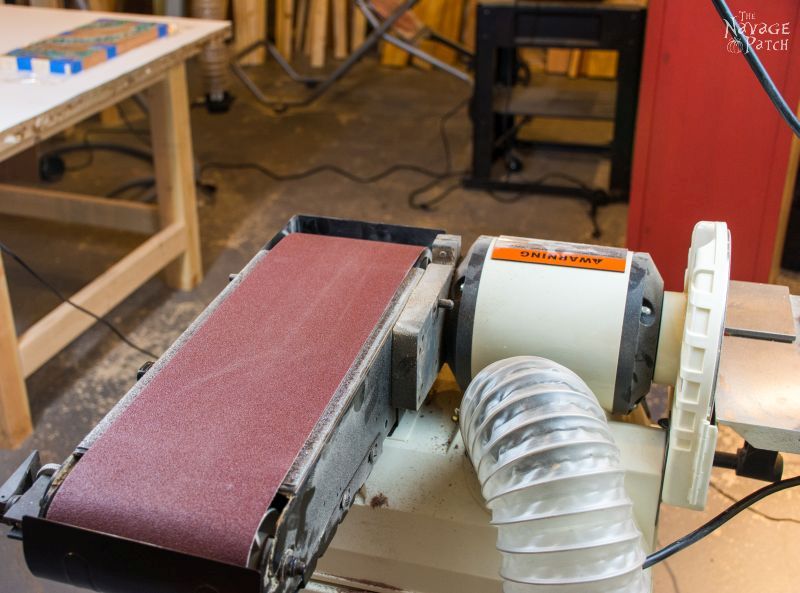 I blew through two brand new 80 grit belts in no time, and I had barely scratched the surface of my stone. I needed a new plan.
I decided to try an angle grinder. It would be risky, and I'd have to use a light touch. I geared up again, this time with full respirator, goggles and hearing protection. The stone would throw up simple dust, but the CA glue would send some really nasty vapors my way, and a simple particulate filter (dust mask) wouldn't do a damn thing to protect my lungs from those toxic fumes.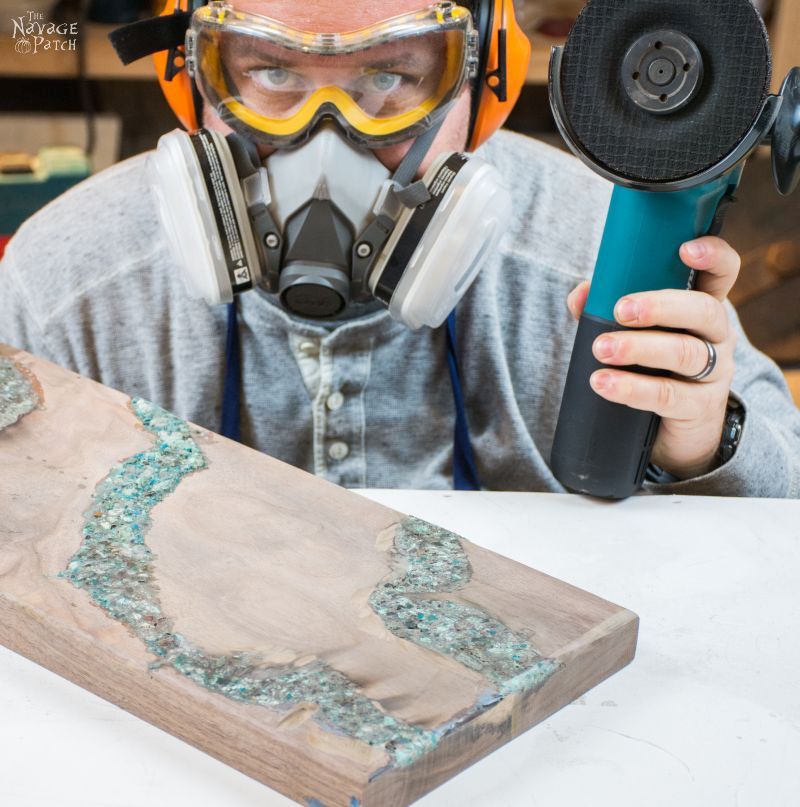 To keep the board from flying off the table, I held it in place with a clamp.
Even with all my gear, I had to take breaks to clear my eyes. Burning CA glue is just about the nastiest stuff I've encountered in my woodworking and DiYing thus far.
Once I had ground the turquoise inlay down to a more manageable level, I started in with my orbital sander and 60 grit discs. I took off the respirator, but I remained geared up with PPE.
I went through a lot of 60 grit discs, I didn't count them, but expect to burn through 10, 20 or even more, depending on how much inlay you have.
When sanding this much stone, I haven't figured out a way to get the stone dead flat, nor to get the stone at the exact level of the wood. The stone will have some small variation and will still stand just proud of the wood. As you run the sander over the board, the soft wood will always wear away quicker than the stone. To me, it is the nature of the beast, given the tools I have. With smaller inlays, it is easier (and possible) to get the stone flush with the wood. This is something to keep in mind before you start your project. Personally, I don't mind the variations in elevation. It is a handmade product and has the imperfections that go with handmade things. Also, I like to use pretty large pieces of crushed turquoise, and that adds to the difficulty when sanding. Smaller pieces mean easier sanding, so you may want to keep that in mind when thinking about your first inlay.
Once I had the inlays sanded to an acceptable state, it was time to do some fill-ins. When using all the different-sized crushed turquoise, it is hard to get every bit of space filled with stone or glue, so I always end up doing a second round of filling and gluing. For round two, I only use the smallest two grades of crushed turquoise and the CA glue. Sanding was a cinch for the fill-ins, since I only used the really small bits of stone.
After the 60 grit, I flipped the board over and routed the bottom edges with a roundover bit.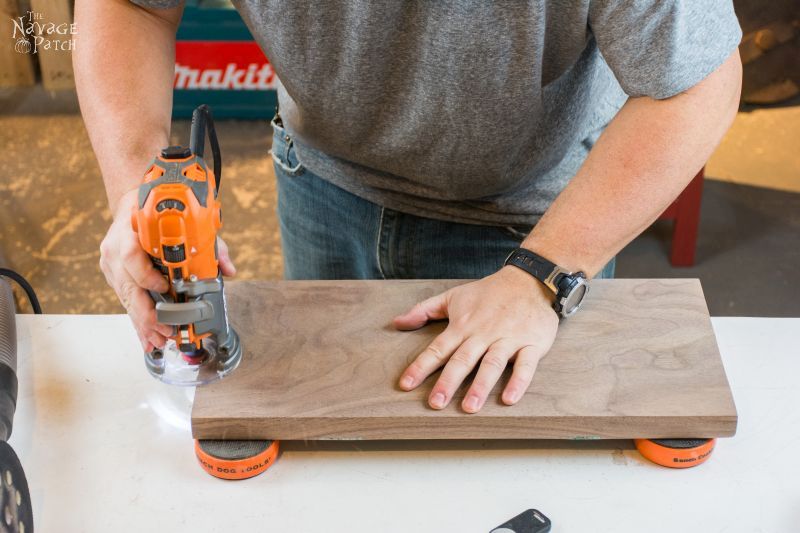 I then worked my way up through the grits, using 80, 100, 120, 150, 180, 220, 320, 400, 600, 800, 1000 and then 1500, until I had the piece almost shining even before putting a protective coat on it. After 150 grit, I again did a final touch-up with the finest grade of stone and CA glue and then carried on with 220 and higher.
I cleaned off the dust with mineral spirits.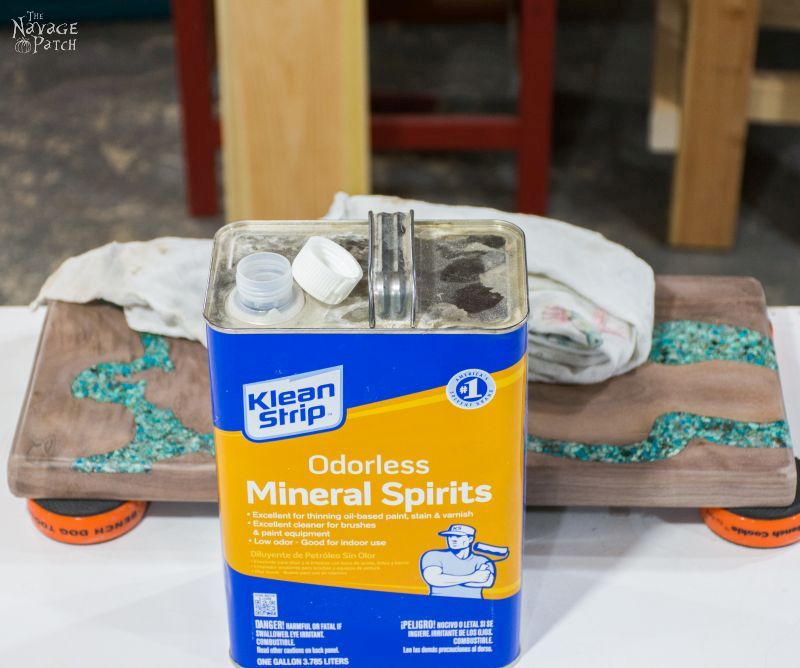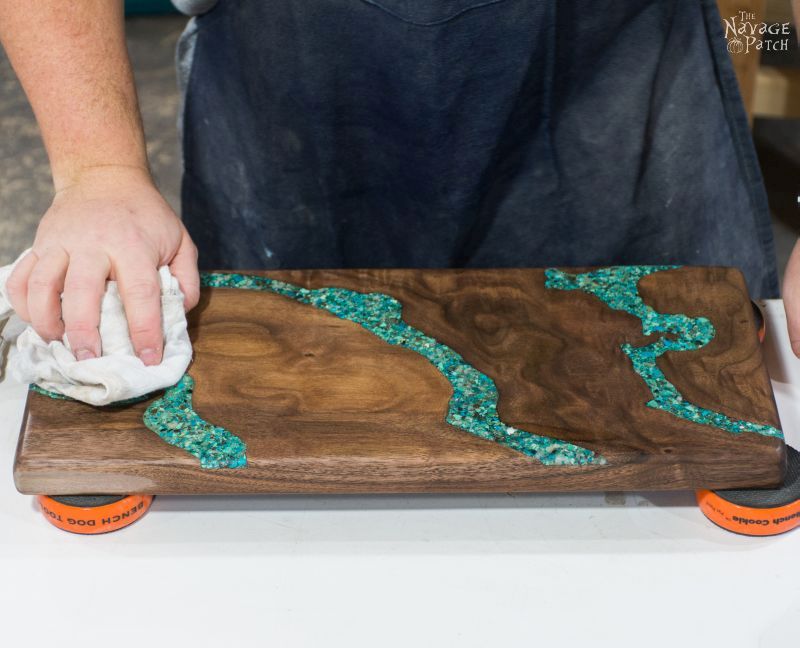 Click on 'Page 4 of 4' below to continue.
We love it when you share our posts on Facebook and Pinterest!