LED candles are a great addition to any home decor, but sometimes they can be a little plain and boring. In this post, we're giving you some awesome free antique world map printables, and then we'll show you how to use them to make gorgeous decoupaged candles.
Three years ago when I started crafting, I chose a decoupage project as my first project. What a mistake!…Believe it or not, it was way worse than what Greg went through with his first Mod Podge project. [Yeah, right. Easy to make that claim with no supporting evidence. Show pics, or it didn't happen! -Greg] Every time I tried to get rid of the air bubbles, I ended up tearing the dang paper! After four or five tries, I was so annoyed that I literally cried and swore that I would never try my hand at decoupage again. [It would have been hilarious if she weren't my wife, and if I didn't value my life. -Greg] Hahahaha, I know…what a sore loser, right? 😀 But just like anything else in life, the more you practice, the better you become at it…or should I say, the more you practice, the better you handle the defeat! LOL.
A couple months and many defeats later, I must have trained my nerves much better, as I again dared to pick up Mod Podge. This time, surprisingly, everything went excellent, and I managed to make some beautiful antique world map decoupaged candles for Greg's Mom as a Mother's Day gift.
Since Mother's Day is approaching, I wanted to share a mother-loved-and-approved project with you, and this makes the cut, as Mom still loves the ones I gave her three years ago. 😉
Have you had enough of my yapping? Then let's get on with the tutorial, shall we?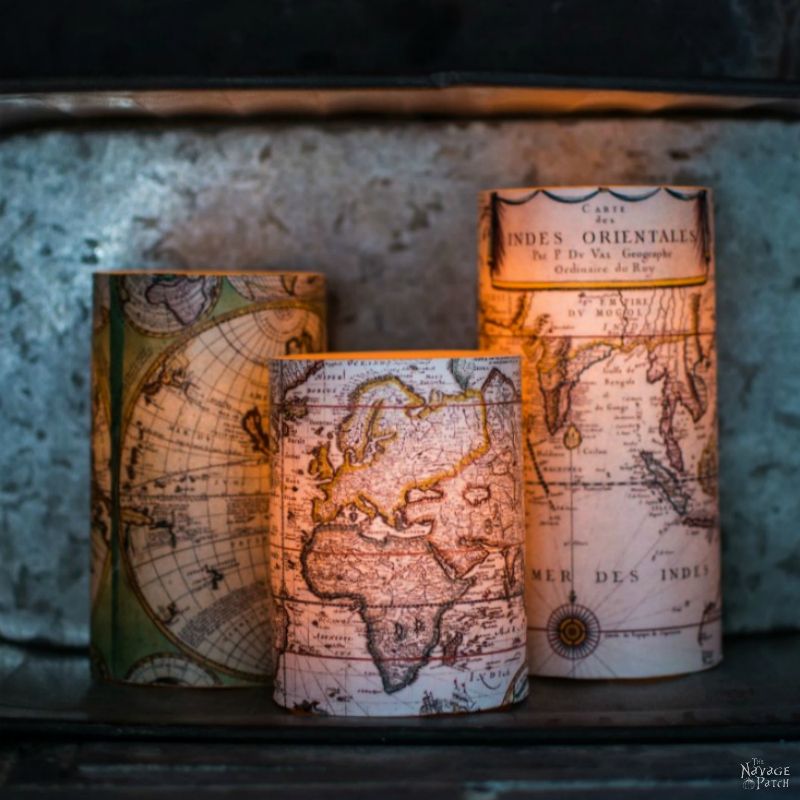 First I took a bunch of measurements to find out the size of my LED candles. Once I knew the candle size, I started preparing my antique world maps according to size.
I made several decoupage designs for both 5 inch and 6 inch tall LED candles…and yes, as usual I am sharing all of them with you at the end of the post. Hence, if you'd like to use those designs, you can skip the step above 😉
Once I was finished with the designs, I printed them on copy paper (8.5″ x 11″, aka letter-size paper) and let the ink dry for a couple of hours.
Next, using my paper cutter, I cut my decoupage design. And when everything was ready, I started decoupaging.
Now here is a little hint for you: I normally use two different methods when decoupaging-
Spreading the glue on the surface.
Spreading the glue on the paper.
When working on this project, I first started with Method No.1, which I usually have great success with on big flat surfaces, as it helps eliminating bubbles. But since the decoupage surface on these candles was small and not flat, I also gave Method No.2 a try, and I have to say that was much easier and faster. Still, I will show you both methods, so you can choose whichever would seem easier for you.
Method No. 1: Spreading the glue on the surface
I poured some Mod Podge into a small bowl, as that makes it easier to work with. Mod Podge matte is my preference, but any Mod Podge will work. As a matter of fact, Greg almost finished my Mod Podge Matte while working on his Patriotic post last year, so I had to use whatever Mod Podge I had on hand for this project.
Then, using a sponge brush, I started spreading the Mod Podge on my LED candle. As you can see from the pictures above, you only need a moderate amount of Mod Podge – not too much nor to little. The only trick here is spreading the Mod Podge evenly.
Next, I picked up my paper and placed it on the glued area.
Before the paper settled in its place, I made sure it was aligned with the top of the candle as precisely as possible. Then I smoothed out the paper and got rid of any bubbles.
Once the first area was done, I turned the candle around and spread some more Mod Podge. Then once again I placed the paper and smoothed it out with my fingers to get rid of the bubbles.
Now here is another hint for you: keep your fingers clean. Meaning that if you get Mod Podge on your finger tips, just quickly clean them with a dry cloth. Otherwise your fingers will become sticky, and that will either create a mess on the decoupage paper, or make it hard to work while handling the paper. So clean and dry fingertips are the key for an easier decoupage process.
Next, I started tidying the bottom and the top of the candles. As I wanted the tops look really neat, I cut any excess paper with my snippers.
And with the bottoms, I just applied a little bit of Mod Podge to the ends of the paper, and I bent the paper with my fingers, so it would be glued to the bottom.
Method No. 2: Spreading the glue on the paper
I again poured some Mod Podge into a small bowl, as that makes it easier to work with.
Then, using a sponge brush, I started spreading the Mod Podge on the back of the paper. Again, I used a moderate amount of Mod Podge – not too much nor too little.
Next, I placed my paper carefully on the candle…
…and I tried to align the paper with the top of the candle as best I could.
Once I had the top of the paper aligned, I gently wrapped the paper all around the candle, and again gently started to smooth it with my fingers. This smoothing process is to get rid of any creases or air bubbles you may have.
The "clean finger tips" hint also applies to this method. Do you see how I am trying to keep my index finger away from the paper? That is because it had Mod Podge on it, and I knew I would mess up the whole thing if I touched that paper with my dirty/gluey finger tip.
Next, I moved on to the bottom of the candle. I added a tiny bit more Mod Podge and bent the sides of the paper inwards so they would be glued to the bottom of the candle.
Once I was done with the bottom, I trimmed any excess paper from the top like I did in Method No. 1.
Now that I showed you both methods I use for decoupaging, you can select whichever seems easier for you. I prefer the first method when the size of the decoupage is big – just so you would have a better understanding, I consider these maps medium size. If the decoupage paper is small, then I go with the second method, because although it is a bit messier, it also is faster.
Once the paper was glued to the candles, I let the candles sit for an hour. This was for letting the glue dry and cure a little. An hour later, I took a new sponge brush and started putting the protective coat on the decoupage paper. I put 2 thin layers of Mod Podge with the sponge brush.
After the protective layer dried, my antique map decoupaged candles were ready for indoor use.
You may make these also for outdoor use if you like – all it would need is a protective layer (brush on or spray varnish) suitable for outdoors.
Before we get into the beauty shots, I am sharing the video tutorial with you in case you prefer video tutorials 🙂
Now it is time for the beauty shots. Let's see if you'll like my antique map decoupaged candles 😉
As usual some close-ups for you to see the details…
By the way, you will loovvee these printable maps I am sharing. Can you see how clear they are – you can read almost every word on them. 😉
I love the way Greg staged them in these galvanized metal planters.
And as promised, here is the free printable. Please note the maps are designed to fit 5 and 6 inch tall candles when printed to letter size paper (8.5 x 11) and with no scaling.
If you're not a Navage Patch VIP, you won't be able to access our Freebies Library. But that can be easily fixed! Subscribe for free on the form below and become a Navage Patch VIP. Once you subscribe, a password will be sent to you in our Welcome email, and that will give you access to The VIP Patch [Freebies Library].
Handan, xo
We love it when you share our posts on Facebook and Pinterest!