Georgia Home Before and After
Third time's a charm, right?
It better be, because I'm not fond of unfinished business. And with the sale of our Georgia home (aka The Navage Patch V2.0, aka Peaches and Dreams, aka The Paint Pit), we've now bought and sold two houses in which we weren't able to finish what we started.
Yeah, yeah, I know that as DIYers we're never truly done fixing, upgrading and beautifying, but we never even finished round one here in Georgia! There was still so much to do!
We had grand plans, madam!
Grand. Plans.
But our hands are no longer on the wheel that steers our ship, so it's off into the unknown on a southwesterly breeze full of hope and adventure!
So as we count the days until we close on our new Florida home, I'd like to take you on a little jaunt down memory lane.
It's only been a year-and-a-half fer cryin' out loud – even the tablespoon of butterscotch pudding between my ears can remember back that far!
And since we've been blogging the entire time we've been here, I have it all captured on film. Well, not film, technically. Only photography students in New York City and hipsters use film anymore. They enjoy looking at their printed photographs by candlelight while listening to foxtrots on their old Victrolas.
I'll take the pixel and computer screen, thank you very much. And I'm fortunate to have captured millions upon millions of pixels representing all the Befores and Afters during our brief (but productive) time in this Georgia home.
Without further blathering from your friendly neighborhood Florida Man, let's dive right into The Navage Patch V2.0 Then and Now.
Okay, so this was the first look we ever had on that first evening we saw the house. I'd driven for two days from Connecticut when the pandemic was still in diapers. Rolled right up to this house before even seeing my babes!
Although I never posted many outdoor projects in this house, I had planned to start this spring. Ah well, that time will never come, but here is how the house looked the day before we put it up for sale.
I wish we had time to see all those landscape additions flourish and grow – especially the Japanese maple outside the dining room window. You can't see it because it has no leaves, but it's a real beauty in the summer!
Whomever was hired to take the real estate pics before we bought our home didn't know how to tell the story of a house. Instead of pics showing what one would see when entering the house, we start with seeing where we just came from.
Yeah, outside. I was just there. Thanks for the reminder! I also can't figure out how the photog managed to capture this photo without the chandelier. Photoshop? Careful cropping? Intentional composition? We'll never know.
Here's a better first look…
The chandelier I installed hangs a little lower. Too bad I didn't get to tell you more about it! We actually bought it when Handan was living in her temporary Atlanta studio. She found it on Facebook Marketplace for $60 and absolutely positively had to have it. What am I gonna do? Say no to my babes?
Hey, if my babes wants an enormously heavy and unwieldy chandelier while living in a dinky Atlanta studio, my babes is gonna get an enormously heavy and unwieldy chandelier while living in a dinky Atlanta studio!
It was the beginning of the pandemic, and folks were on edge. I paid for that chandelier with 20-dollar bills that I had sterilized with rubbing alcohol and sealed in a plastic bag. Strange days, indeed.
My babes also made me buy a gargantuan glass-topped wicker table and 6 chairs while she lived in that dinky Atlanta studio, but that's another story.
Carrying on with our tour down memory lane…
Here's the dining room as it stood on the day of our arrival.
And after we gave it the facelift it so desperately needed and deserved.
I may be just a simple man from a Connecticut River Valley farming town, but I don't understand the purpose of a sitting room. If I feel the urge to sit a spell, there are other rooms higher up on my list…ones with shiny white seats. But this house had a sitting room, and here's what it looked like stripped of its butt fluffs and tushy cushions.
Sitting room, indeed!
Anyway, the sitting room turned into my office and the world headquarters of Amalgamated Bullshit International The Navage Patch.
Besides the kitchen, the main focal point of our house was the living room, and it's the biggest room I never got around to telling you about. Oh, sure, you saw the fireplace makeover, but we painted it, installed hardwood floors, and I hung a new fan from those beastly 18-foot ceilings. We also put a nice rug in there and some IKEA sofas, and it was where we showcased Handan's impressive collection of blue and white porcelain. Here's how the room looked when we closed on May 4, 2020.
And just recently…
The only thing left for that room would have been new side tables (the ones pictured above were pilfered from our bedroom for the sake of staging the home) and a coffee table that I was supposed to build from turned legs that Handan bought for me. I never got around to it, but those legs have been packed, and they'll be incorporated into a coffee table in Florida. I promised my babes, and that's that!
You've all probably seen the kitchen transformation – Handan's crowning achievement of our Georgia home. It was her beautiful design and its masterful execution that sold this house.
Do you remember the builder-grade kitchen we moved into?
My babes hit it out of the park with this kitchen.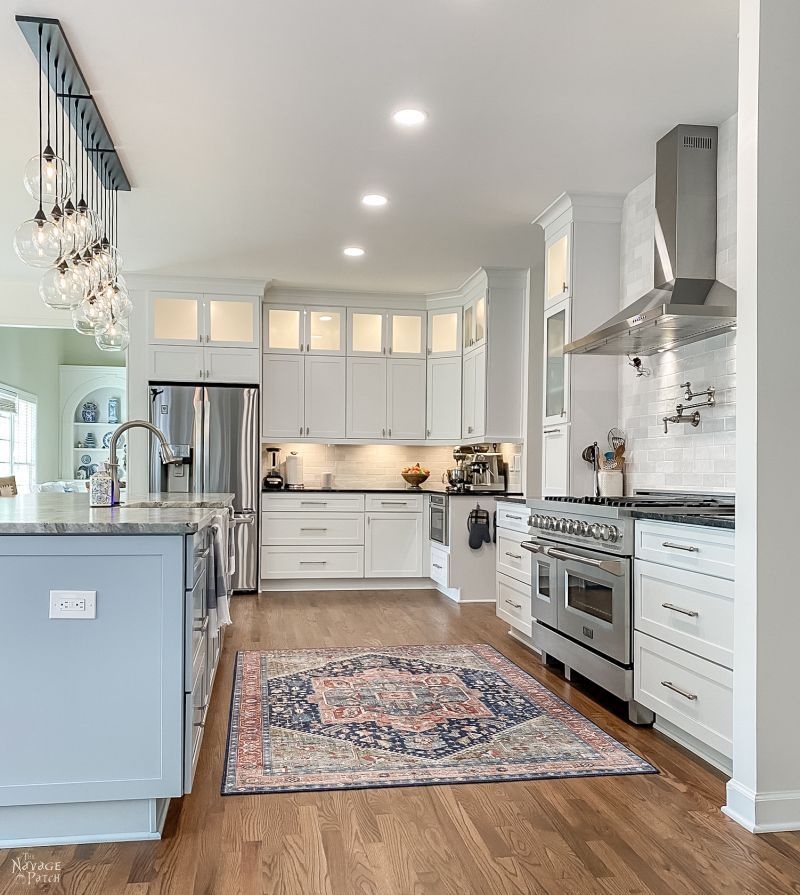 She'll have to do it all again in the new house, but this time, I'll offer what scant assistance as I can after using this kitchen for a year and a half.
While listing the house for sale, I learned a new term: keeping room. I think it's like the human equivalent of a warming tray – a place to plop your guests until you're ready to bring them into one of the more refined and important rooms.
I always thought of ours as an extension of the kitchen, but here's the keeping room in its original state.
And since I'm not big on letting guests marinate in some forgotten corner, we decided that crafting was a better purpose then keeping.
I'm not sure when laundry rooms became ritzy and glamourous destinations for sweat socks and granny panties, but as I can attest from owning two homes now, two machines and a box of suds just doesn't cut the mustard anymore. Laundry must be coddled and pampered and given all the very finest accouterments before getting luxuriously bathed and gently dried.
My underwear never had it so good.
Back in the old days, this was what a laundry room was all about.
Four walls and enough room to dance a jig while your brassieres spun 'round and 'round.
But all that empty space is an affront to the gods of storage and organization, so my babes planned a laundry room that would double as craft storage spillover. Oh, and let's not forget toilet paper and paper towel storage. In Gone With the Wind, Scarlett O'Hara swore to God she'd never go hungry again. Welp, after a 1000 mile trip from Connecticut to Georgia during the height of the pandemic with a severely distressed stomach and no toilet paper on the entire interstate route, I've sworn that I will never be without the most precious of papers ever again!
Fun Fact: up North when people move, they leave the washer and dryer with the house, but down South, it's common to take them with you when you move. Handan and I moved and packed those machines all by ourselves. Oh, and we also carried and packed the double-door fridge and stand-alone freezer in the garage. With the right kind of straps, we can carry anything!
And that brings me to the only shameless plug in this post. While picking up some supplies at U-Haul, I spotted these Shoulder Dolly Moving Straps and bought them on the spot. Handan and I had been using forearm straps for years to move heavy furniture, but these shoulder dolly straps looked like they could take our Rented Mule game to a whole new level.
And boy, did they ever! My shrimpy little babes and I carried that 300-pound fridge from the garage, down the driveway and up the ramp of a 26-foot U-Haul truck. It was heavy and unwieldy, and we were already spent from days of donkey work, but we did it!
By the time we got to the ramp into the truck, Handan was laughing uncontrollably. It was a mixture of exhaustion, disbelief, pain and euphoria. She just laughed and laughed and laughed as we grunted our way up the ramp and into the U-Haul. Neither of us could believe what we just accomplished.
With the exception of one day we hired a guy to help bring stuff from the basement to the U-Haul, Handan and I moved this entire house ourselves.
The. Entire. House.
I would never have believed it possible, but the need to save money is a powerful motivating force!
What we saved by not hiring a moving company and doing it ourselves will pay for one semester of Baris's university (seriously)!
Okay, let's move upstairs into The Great Unknown – at least for you guys. The only project we ever showcased upstairs was the master closet makeover. But the first project I tackled in this house was to paint the walls, ceiling and trim in Baris's rooms so he'd have a proper place to live when he joined us from Connecticut in the summer of 2020. Here's a look through Young Master's living quarters.
Being the only child has its pros and cons, but for Baris, the biggest pro has always been having all the space he needs to stretch out and take up as much real estate as he likes. Here's the bathroom between his living quarters and his lounging room. I never got around to painting this bathroom, but it still looked pretty good!
Work hard, lounge hard. You'd think he would have spent most of his time in the room pictured below, but I think he spent even more in the little office in the back. He studied hard during his senior year and tended to blow off steam at his gaming computer in the back office.
Now that he's a college man, he's put aside video gaming and embraced the game called Real Life.
Turns out he's a natural at it, and we couldn't be more proud of his progress and maturity!
Just before Handan got the call to Jacksonville, I'd been prepping our guest bedroom for a total overhaul. I painted the walls and swapped in a new ceiling light. From there, the sky was the limit! We were going to do some fun stuff and even enter the room into One Room Challenge. But those plans will just have to wait a little longer. It's okay though – we'll have plenty of rooms to play with in the new house!
The one room you've probably seen the least of is our master bedroom. Like in our Connecticut house, we never got around to giving it a full makeover. I'm just so thankful that I at least painted over the pink walls and ceiling that we moved into!
Do you remember this? Seriously, who paints a ceiling pink? Aren't there laws to prevent this sort of thing from happening?
Well, we never finished the makeover, but I think I staged it pretty good for my real estate photos.
I love our Indian-made bed, and I can't wait to make that headboard pop in our new bedroom by painting a contrast wall behind it. Stay tuned for that and so much more!
I also can't wait to get the bed set up so we can again sleep on our 10-year-old Tempur-Pedic mattress. Apparently full memory foam mattresses are terrible at retaining their shape over time. I don't think you can even buy them anymore – they're all foam/coil hybrids now. But back in 2013, they hadn't figured that out yet.
Add a fat guy to the mix, and you've get a surefire recipe for deep bed craters, or as I've nicknamed them, divots. We each have our divots that we sleep in, and though at first we both thought we'd have to ditch the old Tempur-Pedic for a new and divot-free mattress, we've come to realize that we get great sleep in our divots compared to all the other mattresses we've been sleeping on since September.
I intend to lay in my divot until it pushes down through the bottom of the mattress!
Anyway, let's have a look at another room you've seen very little of – our master bath.
There's enough floor space for a full symphony orchestra. I used to dream about conducting Beethoven's 9th while soaking in an Epsom salts bath.
Really though, no one needs this much floor space in their bathroom unless they intend to samba while sudsing or perhaps bowl a few frames between bowel movements.
In Connecticut, we had a beautiful walkway installed from the driveway to the front door just a couple of months before learning of our move to Georgia.
Keeping with the tradition, we'd just finished having a retaining wall installed in the back yard (thus lifting up the yard and giving us tons more usable space) when we got the call to move to Florida. Oh, the plans we had for the back yard!
It's okay though, because our new house has triple the acreage of our old Georgia home! And you can bet your sweet bippy my babes already has plans coming out the wazoo for our new back yard!
When we first moved into the Georgia home, the side yard was an absolute mess. The grass had eroded away, and all that was left was a root-strewn dirt slope that turned to a mud river with each rainfall. It was by far my least favorite area of house and yard.
I reeeeeeeally disliked this area – especially the infernal red clay mud that got everywhere and stained everything.
But as usual, my babes came up with a fantastic solution – landscape stairs.
Handan and I put a lot of work into these stairs and the adjacent landscaping, and we were really looking forward to showcasing them this spring. Ah well…time for new outdoor projects!
And that brings us back around front.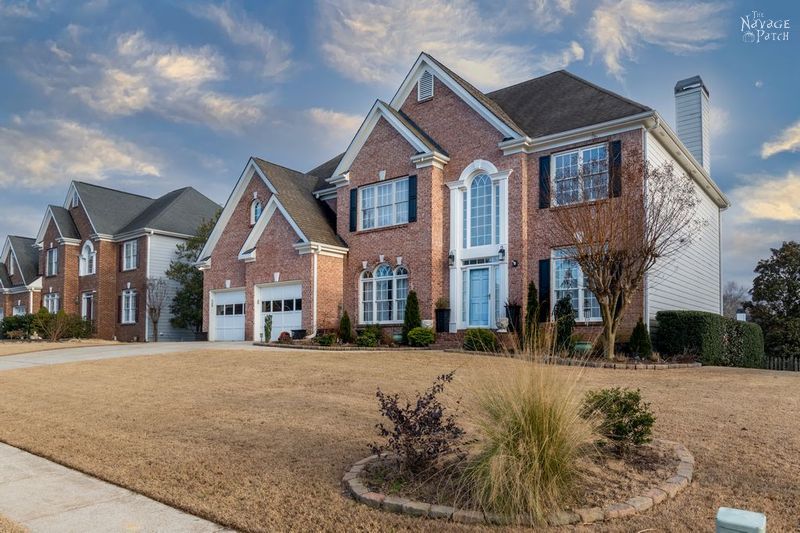 Though we're bummed to be leaving this house and our awesome neighbors and neighborhood, we are so excited to show you our new house in Freeport, Florida! It's a good house with a ton of potential that will benefit from a fair amount of updating inside and a lot of landscaping and hardscaping outside. In other words, it's the perfect canvas for Handan's vision and my rented-mule labor! Oh, and I think I'll be able to take some decent photos and share some funny stories along the way!
We're closing on our new house on March 18, so stay tuned for empty house pics and preliminary plans.
And since we're now Grand Masters of Moving, I'm going to write a post very soon about what we've learned from our American moves. Packing up, moving out, selling, buying, storage and moving in – there's a lot to know and a lot to keep track of. We'll help you out with some hard-learned tips and tricks to make the process a little smoother and a little easier.
Stay tuned.