Learn how to turn Dollar Store decorative pumpkins into elegant gilded showpieces in about 5 minutes using only black spray paint and gilding sheets!
Today I am so happy! I'm so happy that I want to jump out of your monitor and give a big hug to each and every one of you: YES – you made it happen! We made the shortlist for the Amara Blog Awards! Greg and I both thank you from the bottom of our hearts for your amazing and continuing support! We couldn't be luckier to have such amazing readers! And to celebrate this happy-happy day, I thought I should share another pumpkin project with you. Hahaha 😀 I know what you are thinking: another pumpkin project??  🙄 
But really…every time I get so happy like this, I either have to work on something that I love (the whole universe knows how much I love pumpkins), or I gotta start singing Christmas carols to be able to handle that excitement. And guess what? By sharing this pumpkin project, I am doing your ears a great favor – LOL. [Thank god! It is way too early for Christmas Carols! -Greg] Besides, these pumpkins are quite different than those I shared before…I want to say, this project is more like one of those "glam in 5 minutes" projects – so it is quick and easy, but the outcome is just gorgeous!
Ok, let me show you a sneak peak of what I am babbling about.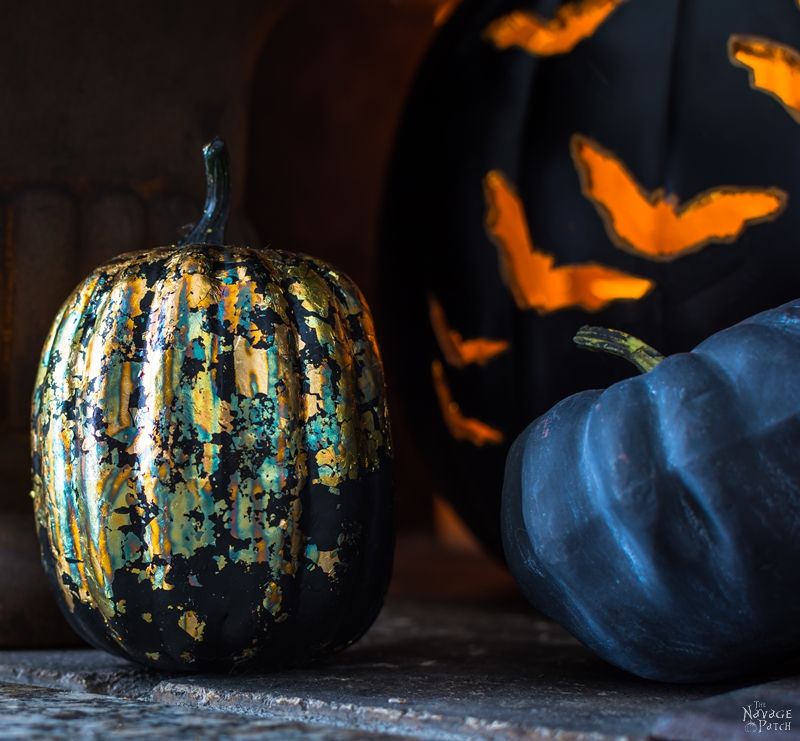 See what I mean? Not bad at all for a "5 minute craft" is it? So what are we waiting for – let's start making some gilded pumpkins, shall we?
I started this project by carving some of my pumpkins, but you don't have to, as this part is optional.
I have to admit, I am not good at pumpkin carving at all. What I do generally falls into the "butchering" category, rather than "carving." But the thing is, apparently these craft pumpkins are nothing like the real ones. They are the greatest self-confidence boosters! No kidding – after carving my first one, I was feeling like "bring it on baby – let me carve a Taj Mahal out of this one" LOL. It happens – every now and then I get carried away like that 😀
When I finished carving the carve-able ones, I spray painted all my pumpkins (carved and uncarved) to black.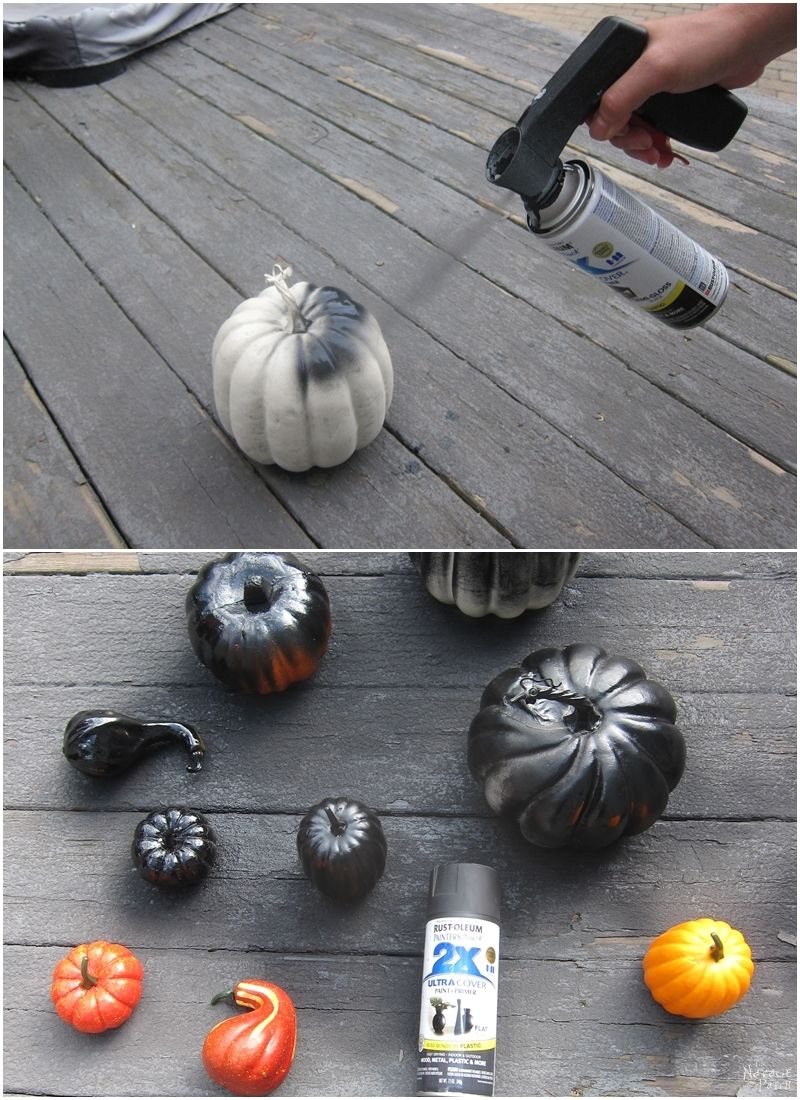 Next, I started the gilding process. I took a small soft brush and dipped it in the gilding glue. Then I brushed the glue only in the areas where I wanted to have gild.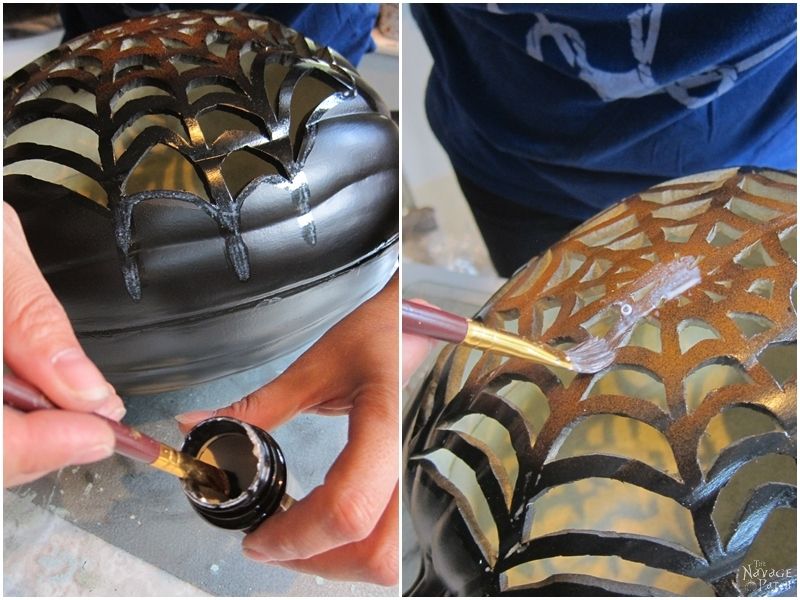 Now here are a few hints about the gilding glue: this gilding glue is very fluid, so make sure you brush a little at a time, otherwise it would run to the areas where you may not want it. Also keep in mind that it goes on with a milky color, and then it turns clear. Only when it turns clear can you start applying the gild, not before, because it won't stick 😉
Once the gilding glue turned clear (which usually happens within minutes), I picked a gilding sheet and started pressing it to the sticky (glued) areas. As you can see from the pictures below I did this gilding a little at a time. In many other gilding tutorials, you'll see that they apply the whole sheet to as big an area as possible. Unlike those tutorials, I applied mine little by little, because my gilding sheet had a 'gold, copper and patina' pattern, and I didn't want to have a continuous patterned look on my pumpkins. Also, by applying only a little gild at a time, I managed to get a beautiful crackled look – more on that when I show you the non-carved pumpkins 😉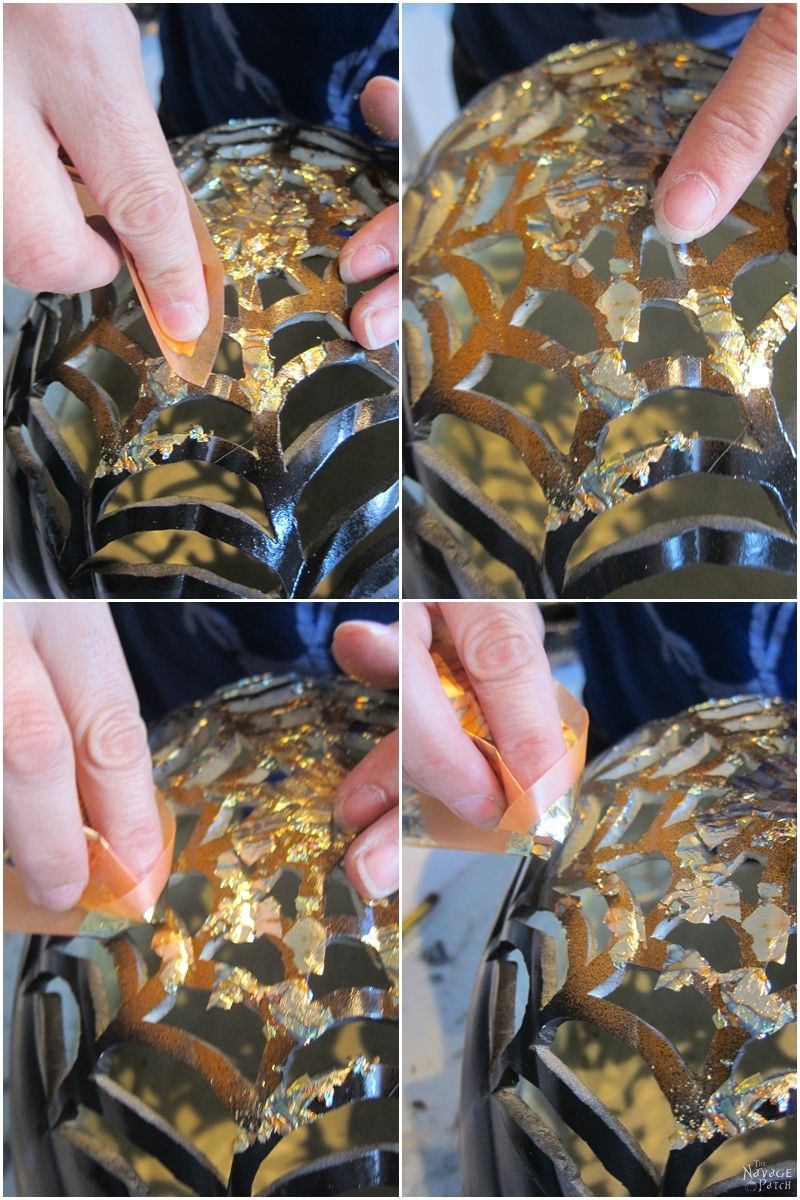 During the gilding process, every now and then I picked a stiffer small brush and guided the small loose gild particles to the glued areas.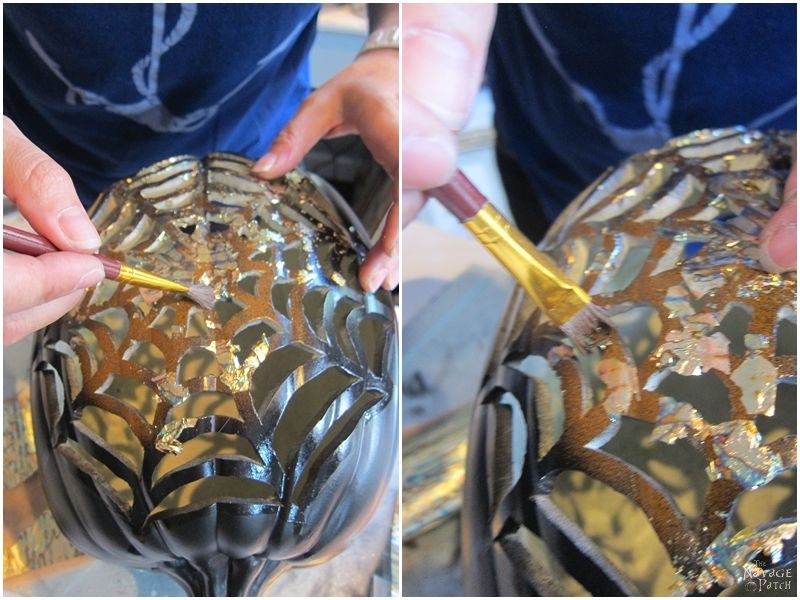 When I finished gilding, I took my vacuum cleaner and cleaned all the loose gild particles off the surface (if any), and that was that!
Here are my gilded pumpkins!
How do you like them? Not bad for a first timer are they?
Now as we go through the beauty shots, I'll be talking about that crackled gild finish and how to get your faux pumpkin glow beautifully as if it is a real pumpkin.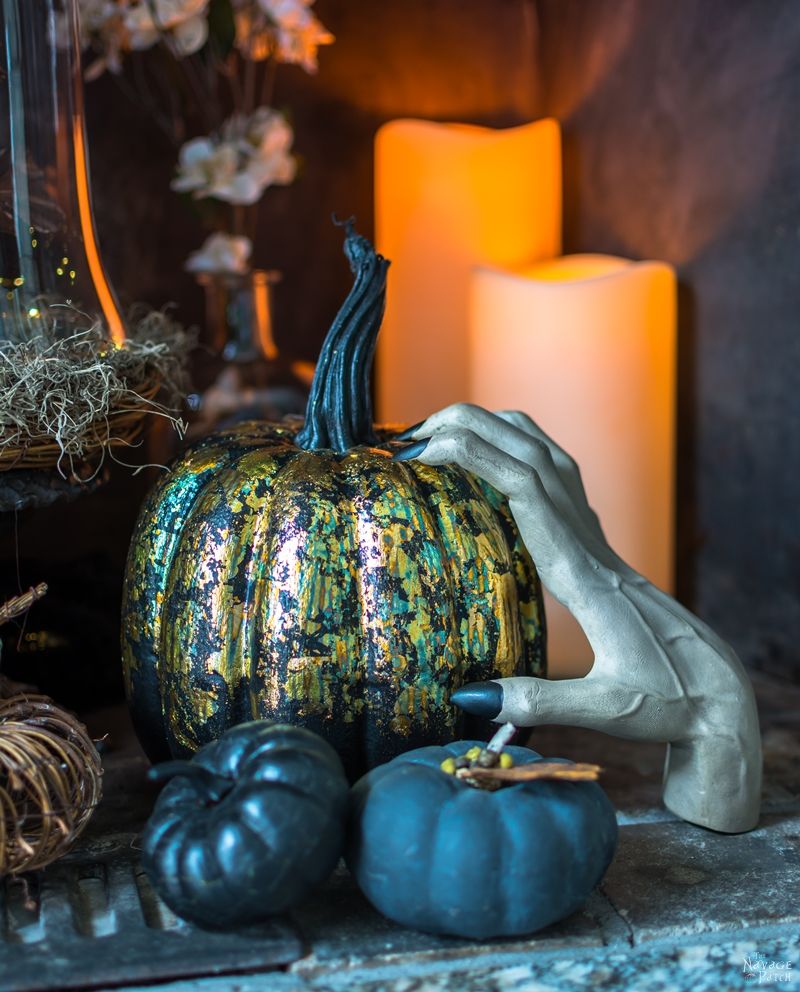 To get this crackled look, I brushed the gilding glue to only some parts of the pumpkin and I left the rest of the areas untouched. In other words, I applied the gilding glue in a blotchy manner. Then once it turned to clear, I applied the gilding sheets again in small sections.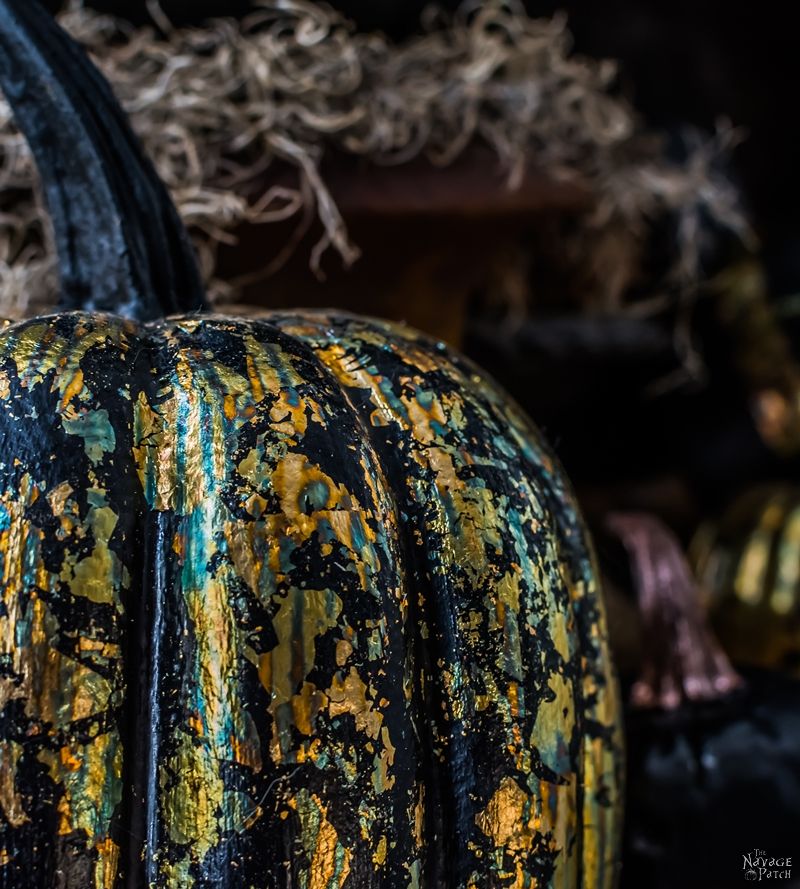 Can you believe that this one below was actually a Dollar Store pumpkin? With black spray paint and some variegated gilding sheets, it turned into this beauty in no time. And when say in no time, if you don't count the waiting period for the paint to dry, it really didn't take me longer than 5 minutes to finish a pumpkin.
Do you see the faux black pumpkin in the background? The one that glows so beautifully?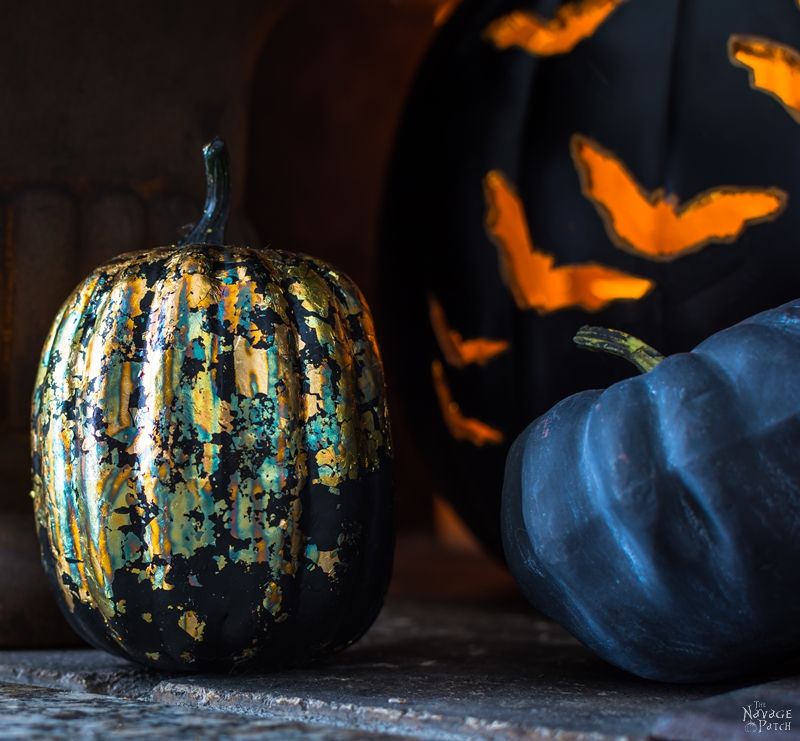 Yes I was pointing at this one 🙂 Do you know how it has that great warm copperish glow?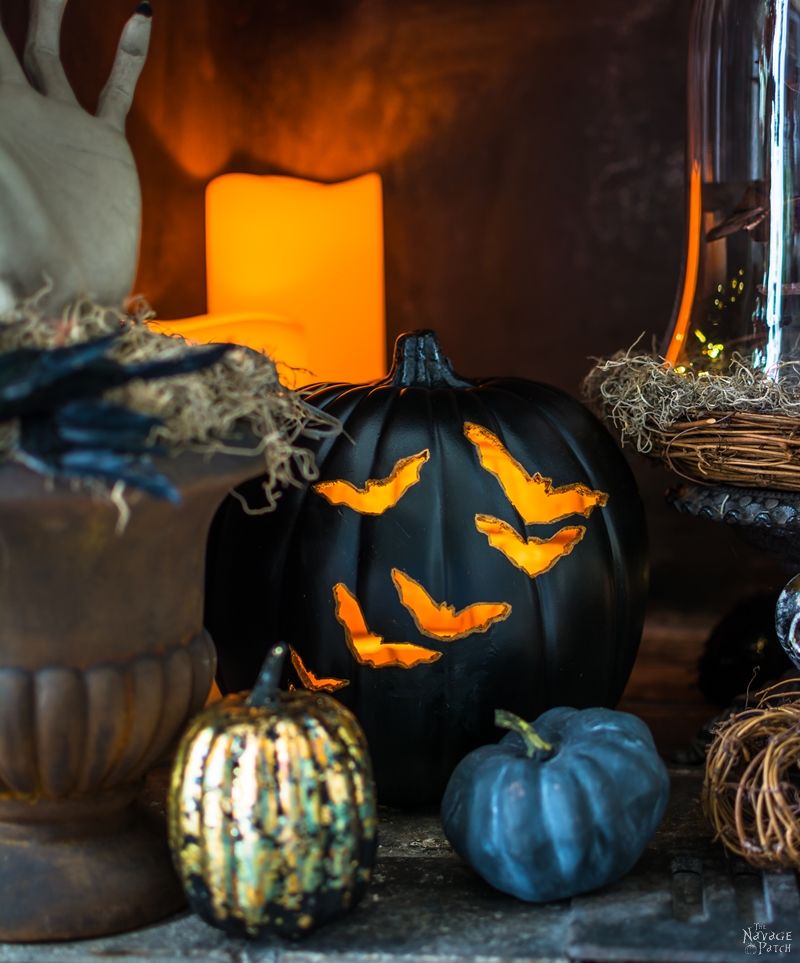 Well you see, the inner part of these faux pumpkins is generally white. Therefore, the moment you place an LED candle inside, it gives itself away, because you don't get that real pumpkin glow out of a white background. But here is my secret: before I carved my pumpkin (or right after carving it), I cut off the bottom and sprayed the inside with Rust-Oleum Metallic Copper spray paint. This metallic copper paint is quite reflective, so when I put the LED candle/lights in my pumpkin, it gave that lovely warm glow – as if my pumpkin was real 😉
Here is another note: when spray painting inside the pumpkin, don't worry about drips or how evenly it gets painted. As longs as you create a nice layer of reflective copper paint on the inside, your pumpkin will glow just like a real one.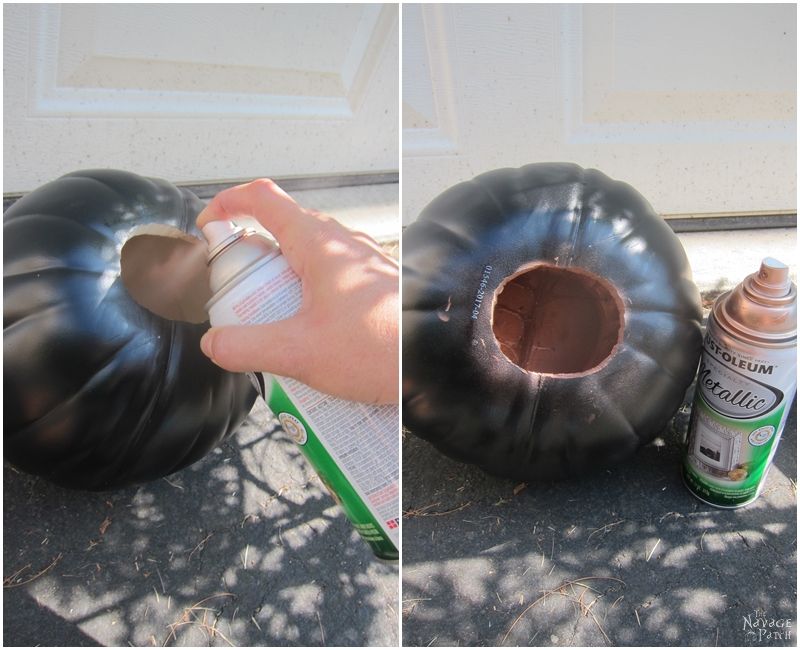 There it is – you can see it better in the pictures below. The glow is beautiful, isn't it?
Yes – I did the same copper paint trick with the spider web one too 😉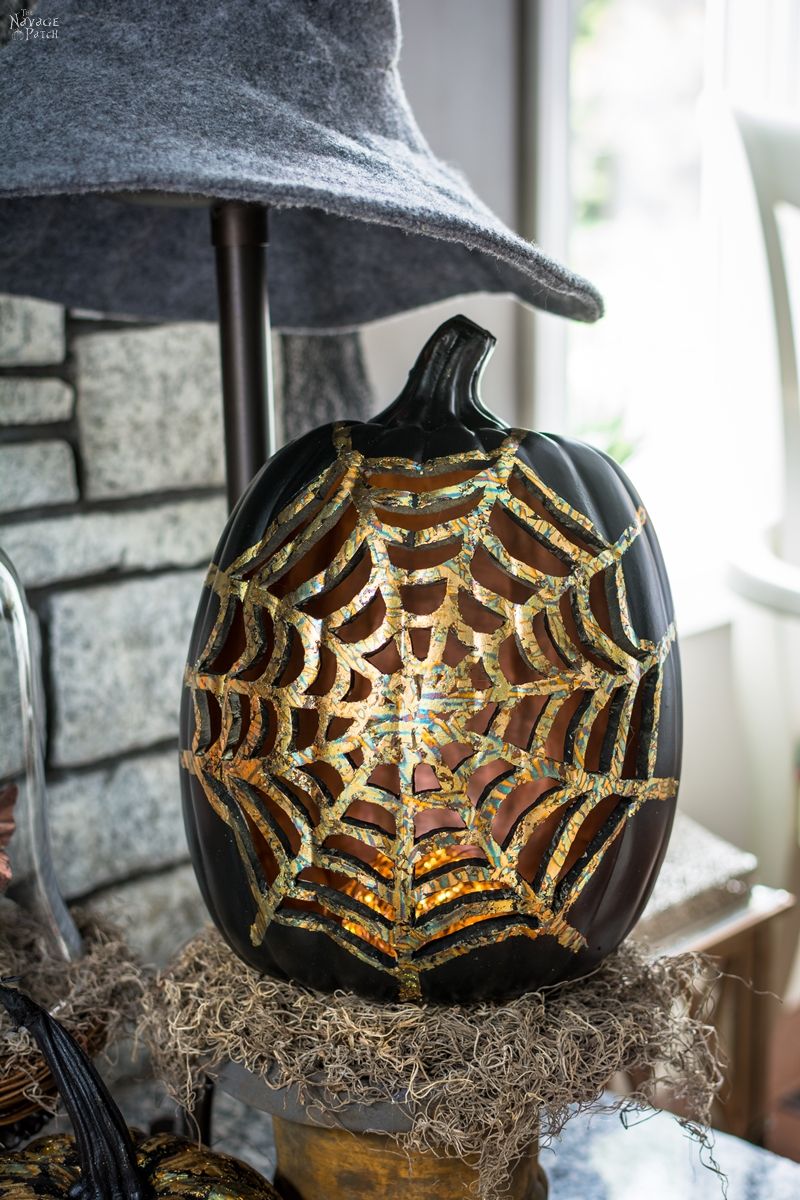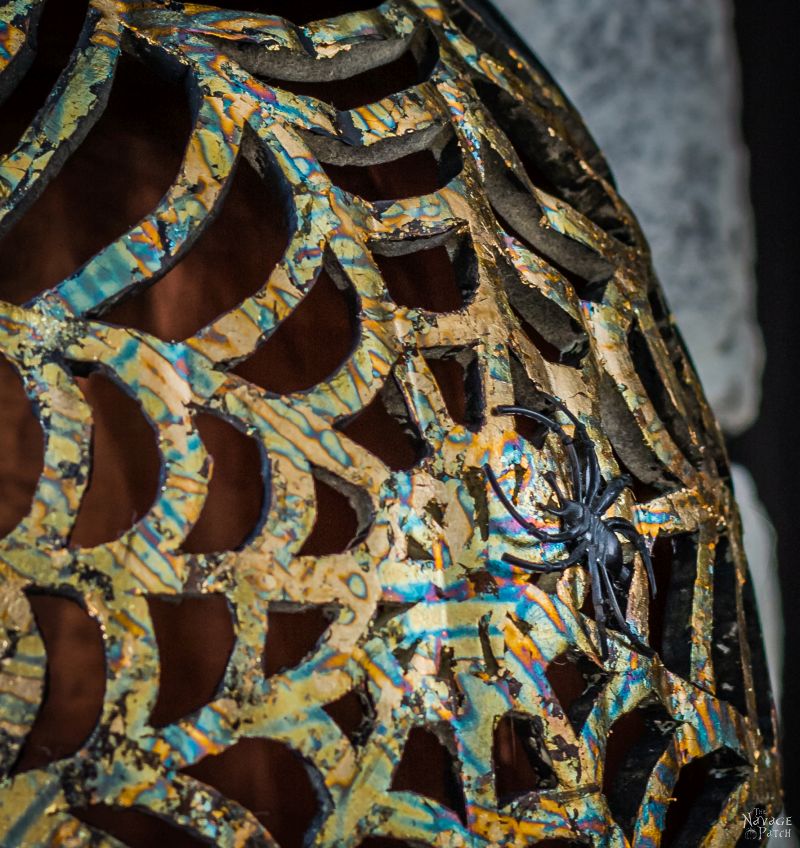 I really love that soft and warm look. So I'll be doing the same thing with every craft pumpkin I carve from now on. 😀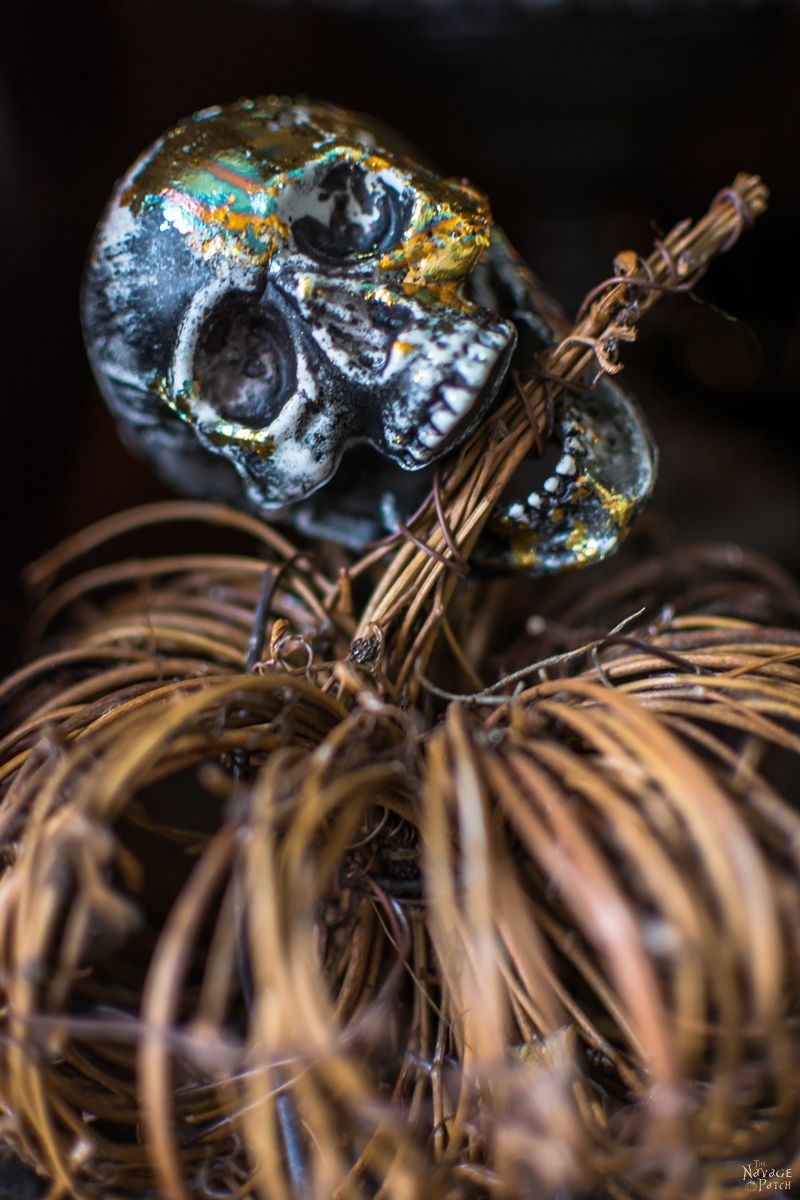 Whether you carve your pumpkin or not, variegated gild gives such an elegant look to an otherwise simple faux pumpkin, don't you agree?
Don't be surprised if you see more gilding projects from me, because this was indeed one of the easiest projects that I worked on and I love the outcome!
Handan, xo
We love it when you share our posts on Facebook and Pinterest!