Learn how to turn Dollar Store decorative pumpkins into elegant gilded showpieces in about 5 minutes using only black spray paint and gilding sheets!
Today I am so happy! I'm so happy that I want to jump out of your monitor and give a big hug to each and every one of you: YES – you made it happen! We made the shortlist for the Amara Blog Awards! Greg and I both thank you from the bottom of our hearts for your amazing and continuing support! We couldn't be luckier to have such amazing readers! And to celebrate this happy-happy day, I thought I should share another pumpkin project with you. Hahaha 😀 I know what you are thinking: another pumpkin project??  🙄 
But really…every time I get so happy like this, I either have to work on something that I love (the whole universe knows how much I love pumpkins), or I gotta start singing Christmas carols to be able to handle that excitement. And guess what? By sharing this pumpkin project, I am doing your ears a great favor – LOL. [Thank god! It is way too early for Christmas Carols! -Greg] Besides, these pumpkins are quite different than those I shared before…I want to say, this project is more like one of those "glam in 5 minutes" projects – so it is quick and easy, but the outcome is just gorgeous!
Ok, let me show you a sneak peak of what I am babbling about.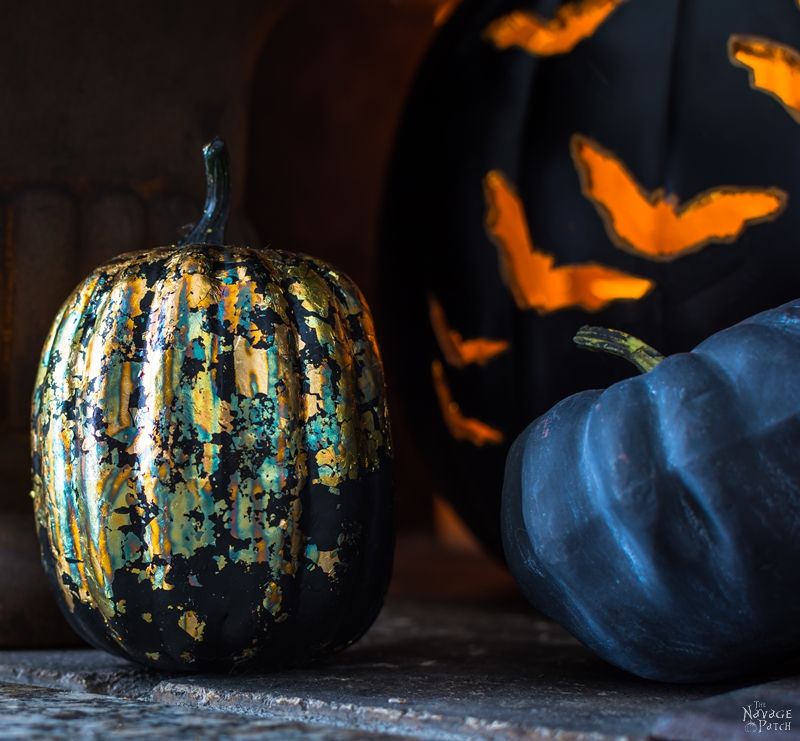 See what I mean? Not bad at all for a "5 minute craft" is it? So what are we waiting for – let's start making some gilded pumpkins, shall we?
I started this project by carving some of my pumpkins, but you don't have to, as this part is optional.
I have to admit, I am not good at pumpkin carving at all. What I do generally falls into the "butchering" category, rather than "carving." But the thing is, apparently these craft pumpkins are nothing like the real ones. They are the greatest self-confidence boosters! No kidding – after carving my first one, I was feeling like "bring it on baby – let me carve a Taj Mahal out of this one" LOL. It happens – every now and then I get carried away like that 😀
When I finished carving the carve-able ones, I spray painted all my pumpkins (carved and uncarved) to black.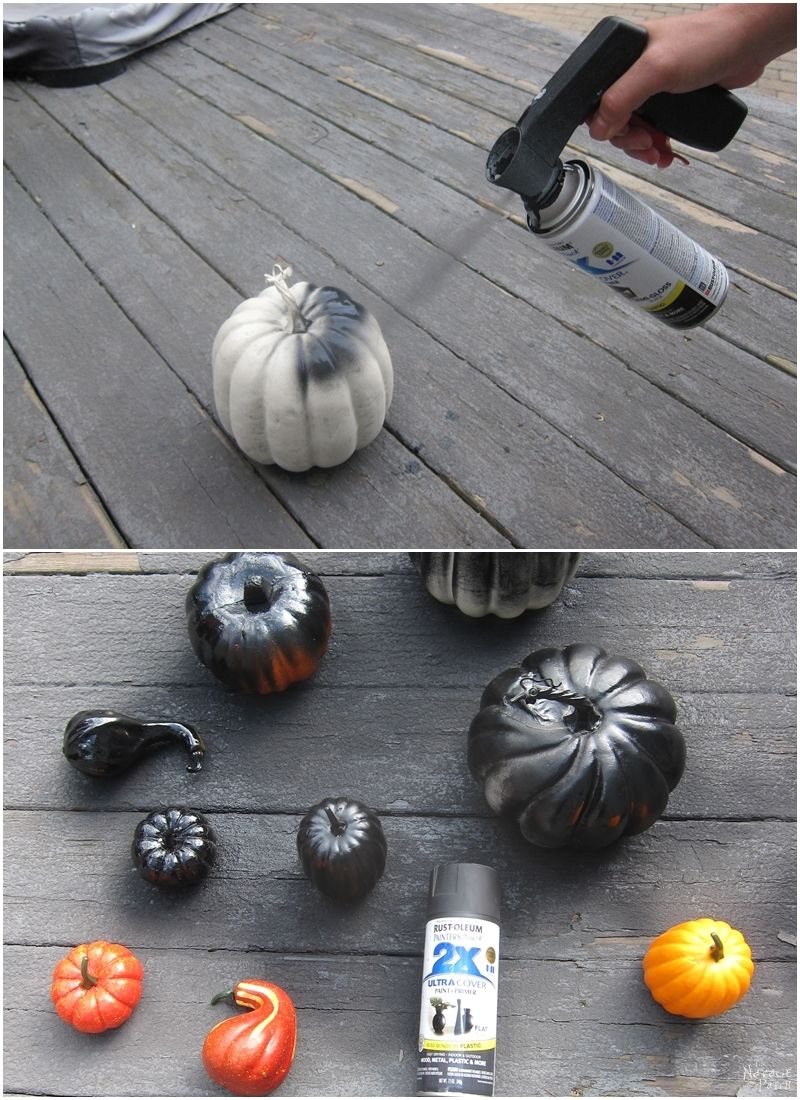 Next, I started the gilding process. I took a small soft brush and dipped it in the gilding glue. Then I brushed the glue only in the areas where I wanted to have gild.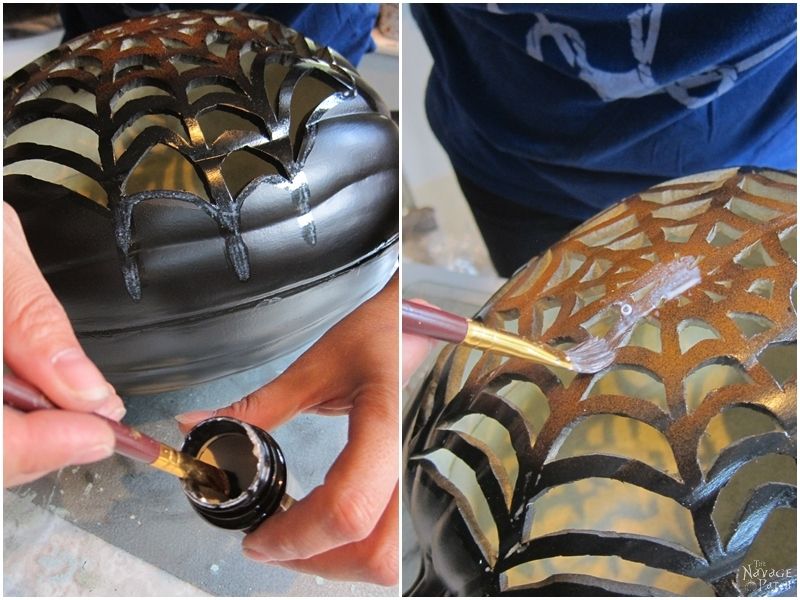 Now here are a few hints about the gilding glue: this gilding glue is very fluid, so make sure you brush a little at a time, otherwise it would run to the areas where you may not want it. Also keep in mind that it goes on with a milky color, and then it turns clear. Only when it turns clear can you start applying the gild, not before, because it won't stick 😉
Once the gilding glue turned clear (which usually happens within minutes), I picked a gilding sheet and started pressing it to the sticky (glued) areas. As you can see from the pictures below I did this gilding a little at a time. In many other gilding tutorials, you'll see that they apply the whole sheet to as big an area as possible. Unlike those tutorials, I applied mine little by little, because my gilding sheet had a 'gold, copper and patina' pattern, and I didn't want to have a continuous patterned look on my pumpkins. Also, by applying only a little gild at a time, I managed to get a beautiful crackled look – more on that when I show you the non-carved pumpkins 😉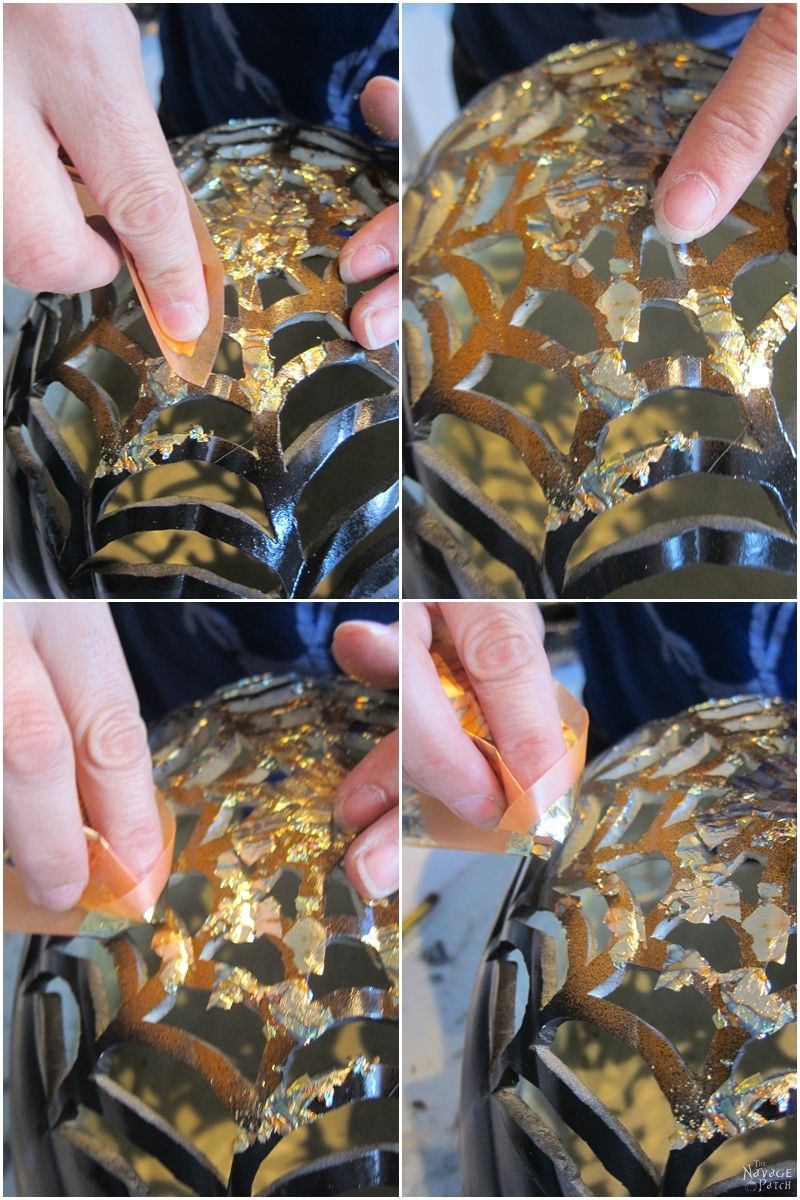 During the gilding process, every now and then I picked a stiffer small brush and guided the small loose gild particles to the glued areas.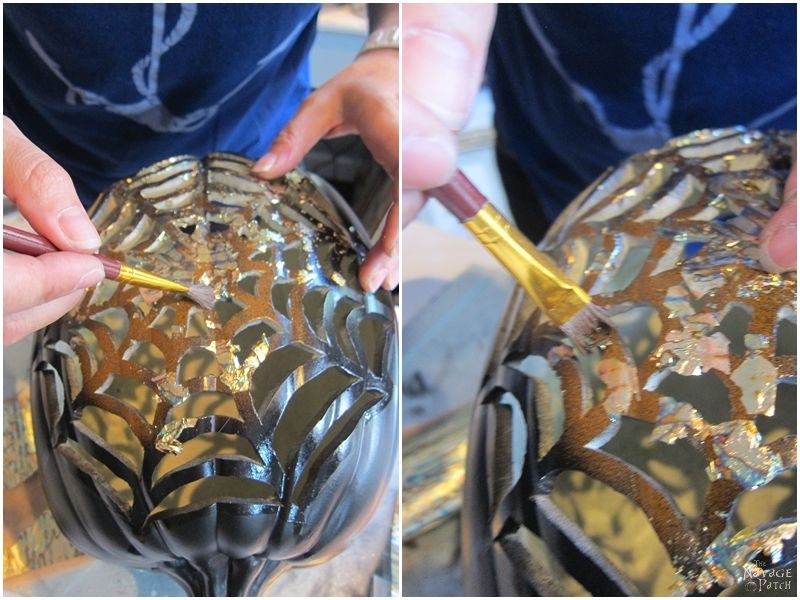 When I finished gilding, I took my vacuum cleaner and cleaned all the loose gild particles off the surface (if any), and that was that!
Click on 'Page 2 of 2' below to continue.