Celebrate All Hallow's Eve with a set of spooky Halloween candles made with paper towel tubes and Dollar Store battery operated candles!
With All Hallows Eve approaching, my focus has finally shifted to the Halloween props. I am panicking a little bit, as I don't want to end up having countless ongoing projects in hand with none completed. So I put everything else aside and started to work on a Halloween tree project which I'll post sometime next week. Until then I thought I should give you a little eye candy by showing you the blood candles I made last year.
Although this was a fun and easy project, it was a bit time consuming. But I promise the time is totally worth it as it makes an excellent addition to Halloween scenes.
Here is what I used to make my blood candles:
Halloween Blood Candles SUPPLIES LIST
Affiliate links are provided below. Full disclosure here.
How to Make Halloween Candles
Before we go any further, I just want to mention I used really thick cardboard tubes, because I wanted my candles to be really sturdy. The tubes I used were from rolls of landscape fabric, but anything will do, from toilet paper tubes to paper towel tubes. And if you want your candles sturdier than mine, then you can even use PVC pipes.
If you choose to use paper towel or toilet paper tubes and if you are happy with their heights you can skip this first step. For any kind of thick and long cardboard tube or PVC pipe you start this project with cutting the tubes to the desired sizes.
I asked Greg to cut my cardboard tubes with all different heights, because I wanted to have a little movement in the whole view.
After cutting the tubes, cut a piece of masking tape and turn the sticky side down. Then cut another piece of masking tape and stick it on the first piece, making a cross sign.
Then place a tea light candle in the center of the non-sticky side of the tapes. Then push the tape and the tea light down into a cardboard roll. Once the tea light candle is flush with the top of the roll, stick the masking tape on the outer side of the cardboard tube. This is to provide a good support for the tea lights so they would sit in the rolls properly.
Once you have the top part done for all cardboard tubes, take the tea light out and start hot gluing the cardboard tube to create the dripping wax affect. This is the part where you get creative. You can choose to do those drips short to finish the project quick, or you can go nuts like I did and make them really long which makes this step rather tedious. Basically step by step you keep building on until you are happy with the dripping wax effect.
I forgot to take pictures of the painting part, but when you complete the drips you can start painting your cardboard tubes with black craft paint. While you are at it, you might as well paint the sides and top of the tea light candles, because then they will look a bit more realistic. I know, I know!… We are preparing a Halloween prop with cardboard tubes and battery operated candles. How realistic can you get, right? But still… I think that little effort there completes the look.
After the black paint, I started adding the blood effect on some of the drips and on some of the tea lights. I used Pinotage Red Gilders Paste
, as I had it on hand, but you can give the same effect with burgundy red craft paint. I didn't apply red gilders paste to every drip, because I didn't want to end up with a uniform look all over. But it totally depends on your taste. If you like a uniform look better, then go for it.
Now that your candles are complete, let's jazz it up a little bit… A plastic skull, a creepy cloth and some plastic Halloween creepers here and there make all the difference!
Here are some beauty shots for you.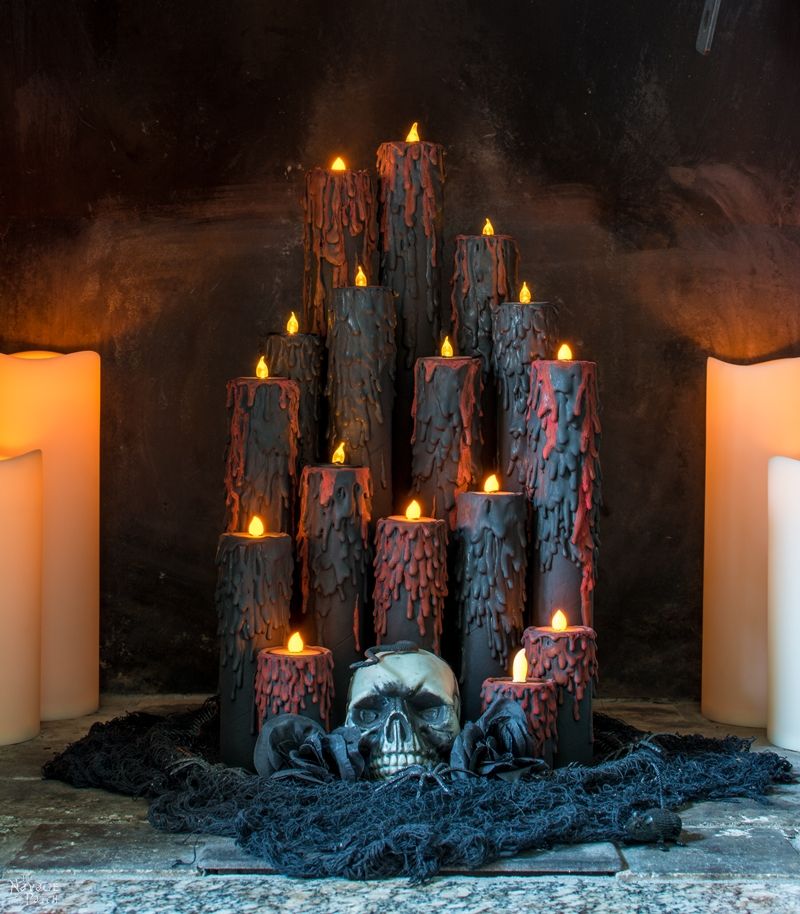 I hope you liked our easy and creepy blood candles Halloween prop!
Handan, xo
We love it when you share our posts on Facebook and Pinterest!