Dishes of Darkness: Pottery Barn Inspired Halloween Plates
Learn how to make your own Pottery Barn Inspired Halloween Plates with our free (and creepy) printables. We'll show you how it's done!
Since last year, I've been eyeballing Pottery Barn Halloween appetizer plates. Instead of using them as normal dishes, my plan was to use them as decor pieces around the house. Figures, by the time I finally decided to buy them, Pottery Barn wasn't carrying them any more.
Well… What does a crafty one do when she can't get the original? Make something similar! With that plan in mind, I started searching for some plates that I could use to create similar Halloween plates. Luckily, around Easter time I found 4 light cream color plates at Mom's thrift shop, Second Chance Shop. The plates not only were excellent for the job, but also were a dollar each. Even better, Second Chance Shop had the Easter sale going on so all items were 75% off and 4 plates cost me only a dollar in total.
Seeing beautiful Halloween indoor decorations online, I thought I should start working on my Halloween plate project. So I took the plates from storage and I started looking for some eerie images to transfer to the plates. I found some great images online, but if I only used the images the plates would look rather empty. So I added Halloween poems as the background of those images. After two evenings of work I was pretty happy with the final version of the images.
If you'd like to use these images for your own projects you can find the high resolution versions at the end of post. Please remember they are only for personal use.
With my usual method of image transfer I transferred above images to my 25¢ plates.
For the final coat I used Rust Oleum's Clear Triple Thick Glaze
.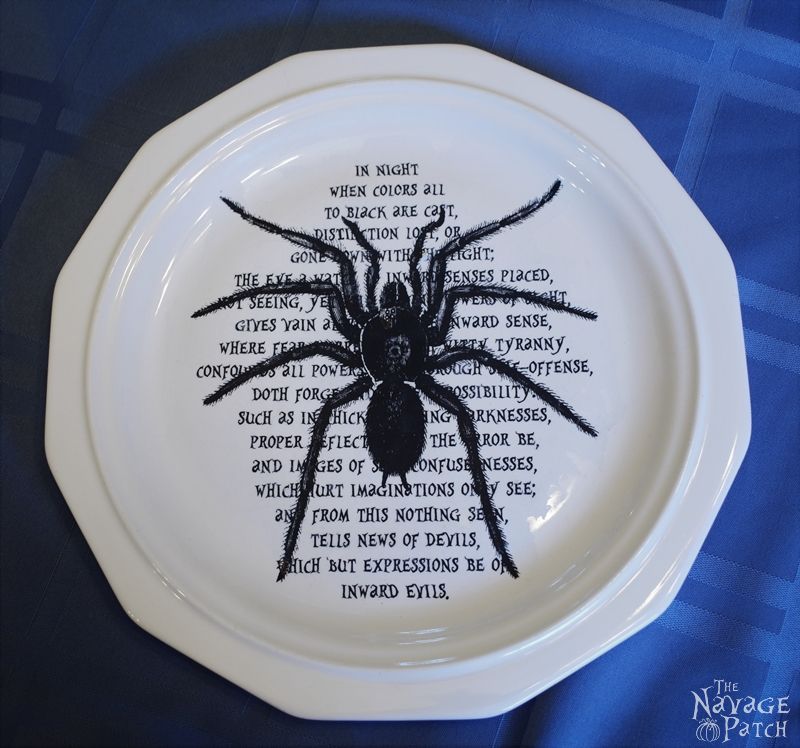 I am really happy how they turned out!
Unfortunately they can't be used for serving food, but my plan was to use them purely as Halloween decoration… And they are perfect for that purpose!
Don't you agree?
As promised here are the free Halloween plate designs. Just click the button below and get your free printable from the Halloween section of The VIP PATCH!
If you're not a Navage Patch VIP, you won't be able to access our Freebies Library. But that can be easily fixed! Subscribe for free on the form below and become a Navage Patch VIP. Once you subscribe, a password will be sent to you in our Welcome email, and that will give you access to The VIP Patch [Freebies Library]. If you didn't receive our Welcome email, can't find the password or have any other questions on this process or on our free printables, please check our Printables FAQ page.
If you display our free printables in your home, be sure to take a picture and post it on Instagram! Don't forget to tag us @TheNavagePatch! We love to see our printables out in the wild!
Handan, xo
We love it when you share our posts on Facebook and Pinterest!