How to Fix Floating Floor Gaps the Easy Way
Learn how to fix floating floor gaps with a simple and inexpensive DIY floor gap fixer! Why pay $60 when you can make one for just a few bucks!
Floating Floor Gaps
If you have laminate or engineered flooring, there's a good chance you've seen gaps develop between some of your planks. Lord knows we have! They started appearing after our first year in this house, and they've been growing steadily ever since.
All laminate flooring and some engineered wood flooring (like ours) are floating floors. This means that the floorboards are not nailed, glued or stapled to the subfloor. Rather, the whole floor acts as an enormous jigsaw puzzle that lies on top of the subfloor below but is not in any way attached to it. Floating floor installation is also ideal when installing new laminate, engineered or luxury vinyl flooring (LVF) over an existing floor, like ours that sits atop an older tile floor.
Floating floors are designed to allow for the seasonal expansion and contraction of the flooring planks. But what happens when there's just too much contraction?
In our case, all of the floor gaps coincide with the main HVAC duct that runs just below the subfloor. This run of flooring must get even hotter and drier in the winter than anywhere else in the house.
As these gaps grew over the years, we started to think that we may need to replace the whole floor.
As you can guess, that idea didn't sit well with either of us, so I took to the internet for a solution.
How to Fix Floor Gaps – Quick Video Tutorial
Watch our short and fun video below for an overview of how to fix floating floor gaps before you read the written tutorial.
How to Fix Floating Floor Gaps
I learned almost immediately that we weren't alone.
That made me feel better!
And then I found a product made specifically for our problem. It's called the Floor Gap Fixer – an aluminum block with a sticky substance on one side. It also comes with a cheap rubber mallet. All this for $60 on Amazon or $50 from their website.
The idea is that you stick the floor gap fixer on the board that has a gap at the end and wack it with the mallet. This closes one gap and opens up another behind it. You then close that gap, and the next, and the next until you've hidden the gap behind the nearest baseboard.
How to Make a DIY Floor Gap Fixer
It's so simple, but the product really seemed like a ripoff considering what you got. I already own several rubber mallets, so I didn't need their cheap one.
As for the metal block, I could duplicate that with a piece of 4 x 4 lumber and make my own DIY floor gap fixer. I have tons of it in the basement.
And the sticky stuff? I figured some extreme strength double-sided tape would do the trick.
I sanded one side of my DIY floor gap fixer with 150 grit sandpaper so the tape would get a good grip on it.
To clean or not to clean before using the DIY floor gap fixer?
I had seen some talk online of cleaning the floors first with a window cleaner or ammonia, so I'll tell you my experience with both cleaning and not cleaning first.
When I cleaned the floors first, the double-sided tape bonded more strongly to the floor than it did to the DIY floor gap fixer. This made it difficult to remove the block from the floor, it and required me to scrape the tape from the floor with my fingers.
It also meant that I had to use new tape for each gap. Not only was that time-consuming, but for a lot of gaps on a big floor, the price would start to creep up. Even so, it would still be cheaper than buying one, but why waste money?
When I didn't clean the floors, my DIY floor gap filler had more than enough grip to get the job done, and removing the block was a breeze. I was able to close several gaps before the stickiness finally gave out and required me to change the tape.
As you can see, we had some big, honkin' gaps! That's a 3/8 inch gap. Handan nearly fell in the other day! 🙂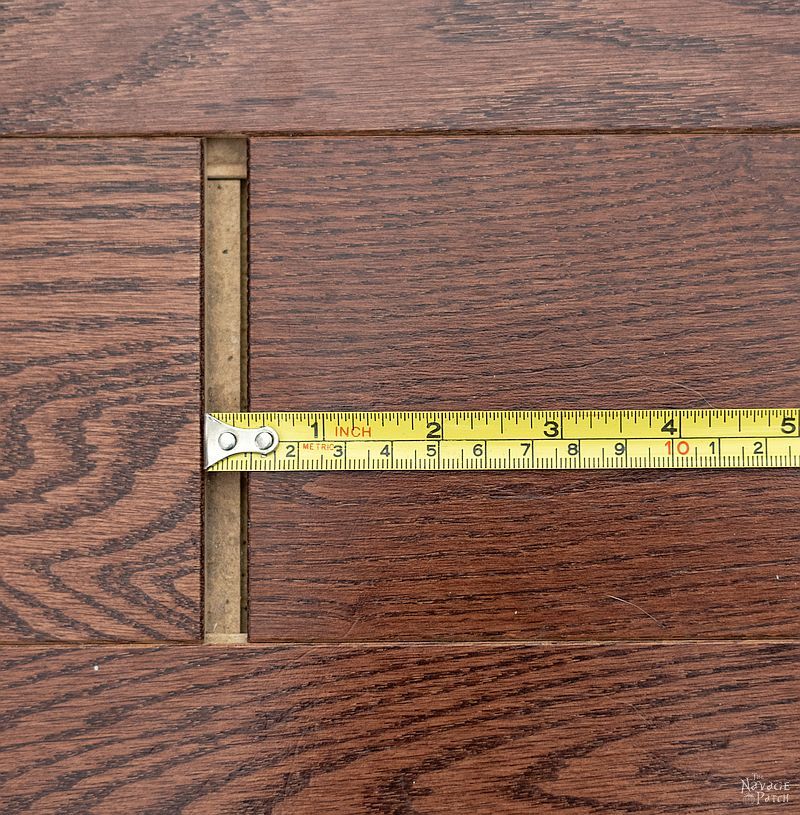 After a couple of wacks on my DIY floor gap fixer, here's how it looked: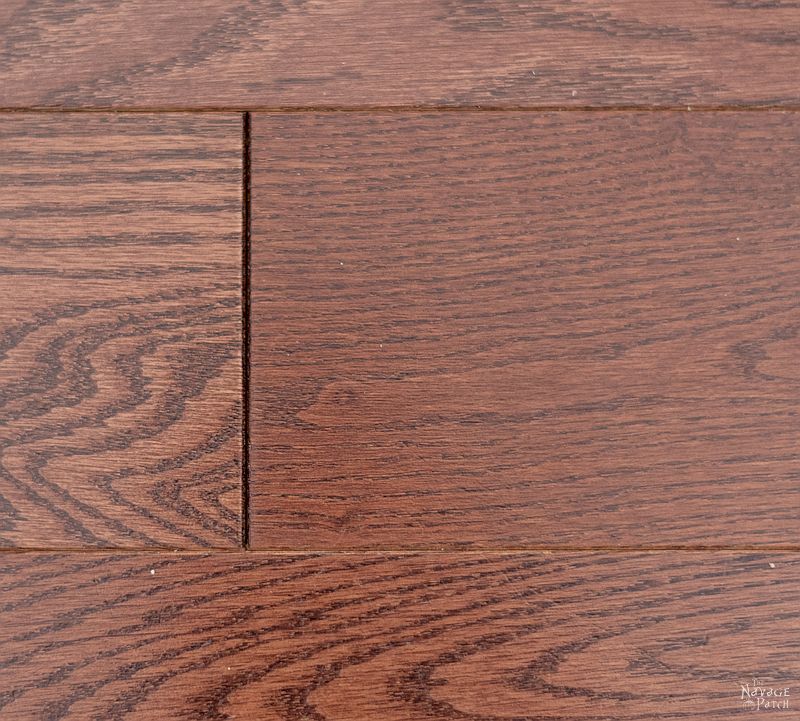 How to Fix Floating Floor Gaps YouTube Video Tutorial
This process makes more sense when seen in action, so we made a little video for you guys. Enjoy and say goodbye to those floating floor gaps!
We love it when you share our posts on Facebook and Pinterest!