Do you want to attract some hummingbirds? Learn how to make a pretty hummingbird perch with some copper pipe, a small dowel piece and some faux flowers.
Love at first sight! This pretty much sums up my feelings for hummingbirds. My first time meeting these beautiful creatures was 6 years ago (when I came to USA for our wedding), and ever since they became my all-time favorite visitors to our backyard. I think the feeling must be mutual, as they are becoming friendlier than ever. Not like "let's feed from the closest feeder" friendly, but really REALLY friendly! More like "YAY! The screen doors are open again, let's party inside!" kind of friendly. And no, we don't have any feeders hanging inside!

This year's total is 4. Yes, 4 birds came partying in our house and 3 of them were hummingbirds. Luckily, we managed to save them all (don't forget to check the video above!), but what chaos!…2 adults and a kid, with huge butterfly nets in hands, going from shape to shape to lead the little birds outside without scaring them to death… meanwhile, the dogs are adding more excitement to that scene. Either they run around as if trying to trip us or they find the most convenient place to lay down: right under our feet! Can you imagine the comedy? LOL. But even that won't stop us from trying to accommodate our gorgeous visitors. Every year as they increase in numbers, we also increase the number of feeders and my DIY hummingbird perches, as they love swinging on them.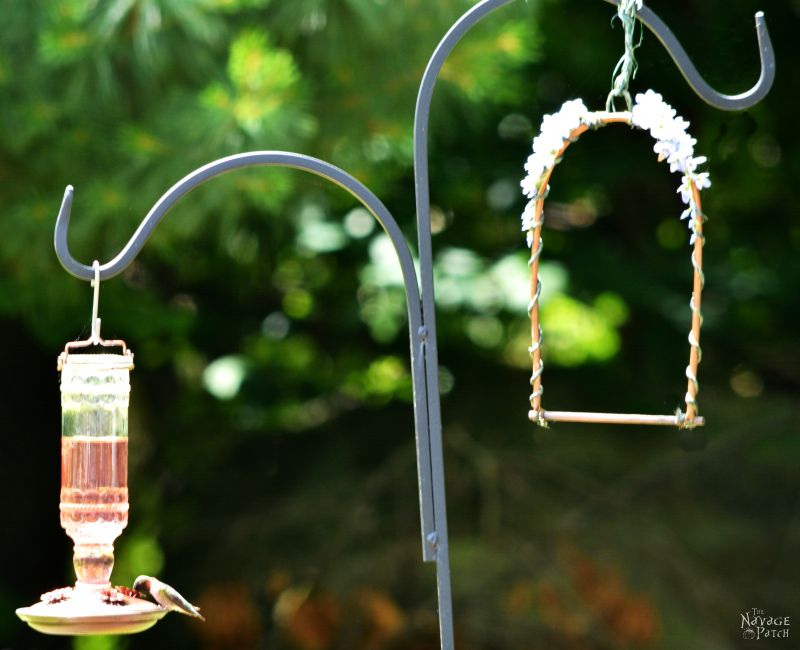 To make a hummingbird perch, all I used was a short dowel (which I found among our son's old toys), some floral wire, copper pipe (thick and sturdy wire could substitute) and some old faux flowers. I also used a red prism/faux gem, because the red color attracts hummingbirds.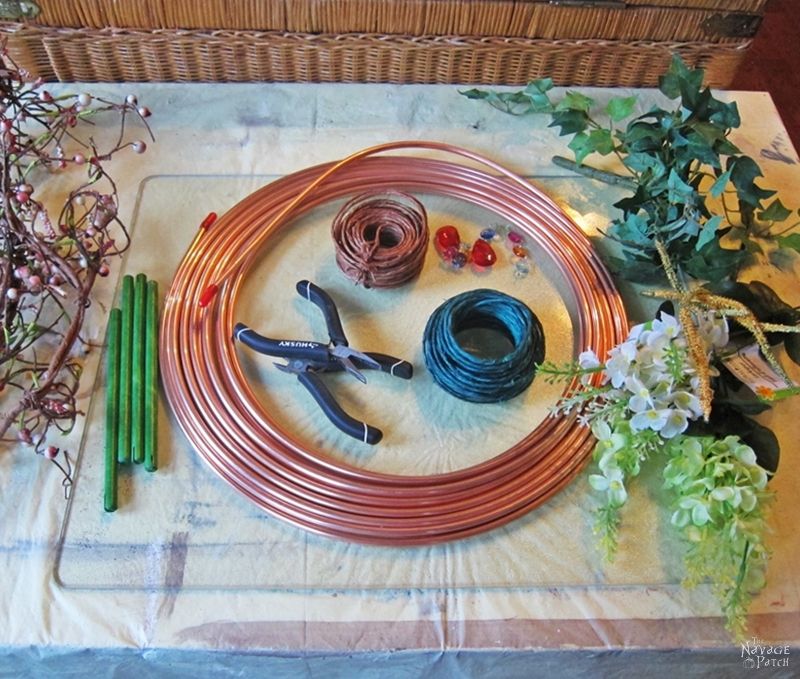 First, I prepared my dowel pieces. I cut the dowels into 7 inch lengths, then I cut a notch at the both ends of the dowel.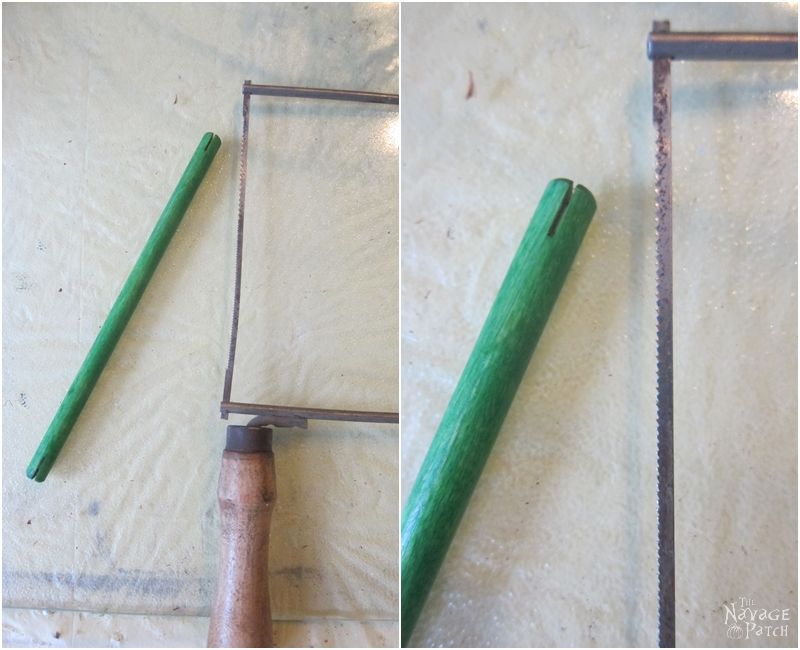 Now, you might be thinking cutting a notch like that is not easy. I am not going to argue with that, but instead I will give you a workaround. Therefore, if you don't want to bother with the notches, then just have your 7 inch dowel and move on to the next step.
Next, I cut a 24 inch length of copper pipe and bent it to make an arch shape.
Then, I took my hammer and the copper arch outside to a stone (or concrete) surface, and hammered the ends of the arch to flatten them. For the dowel with the notches, I flattened only a little part of the ends…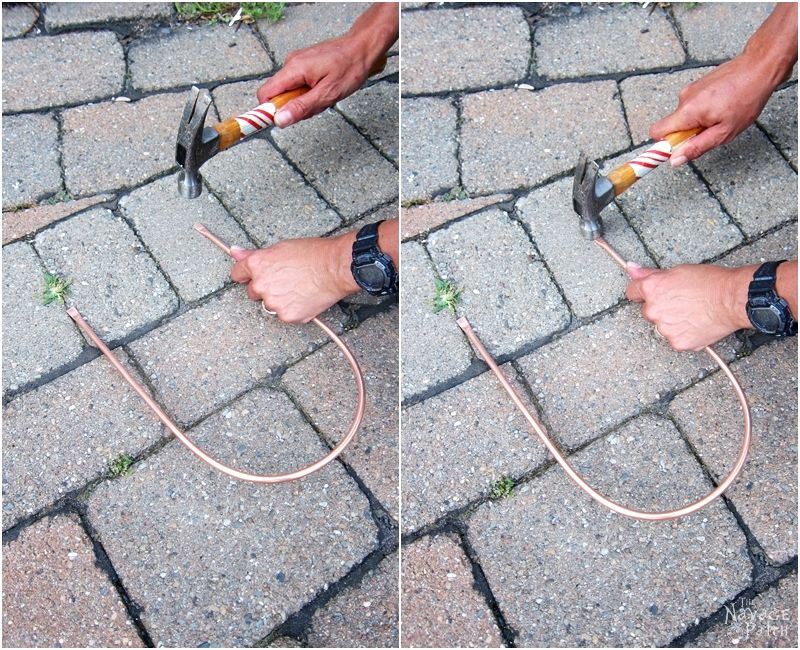 …but for the dowel with no notches, I flattened a longer part of the copper arch, as shown in picture below.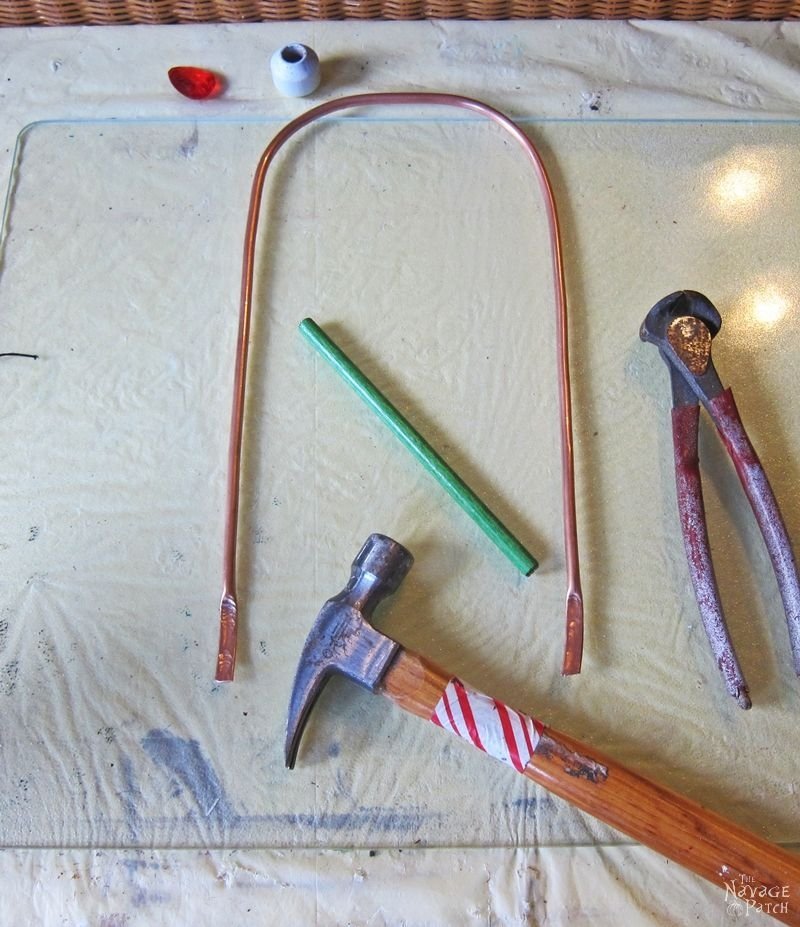 With the notch version, I inserted the flattened copper ends into those notches.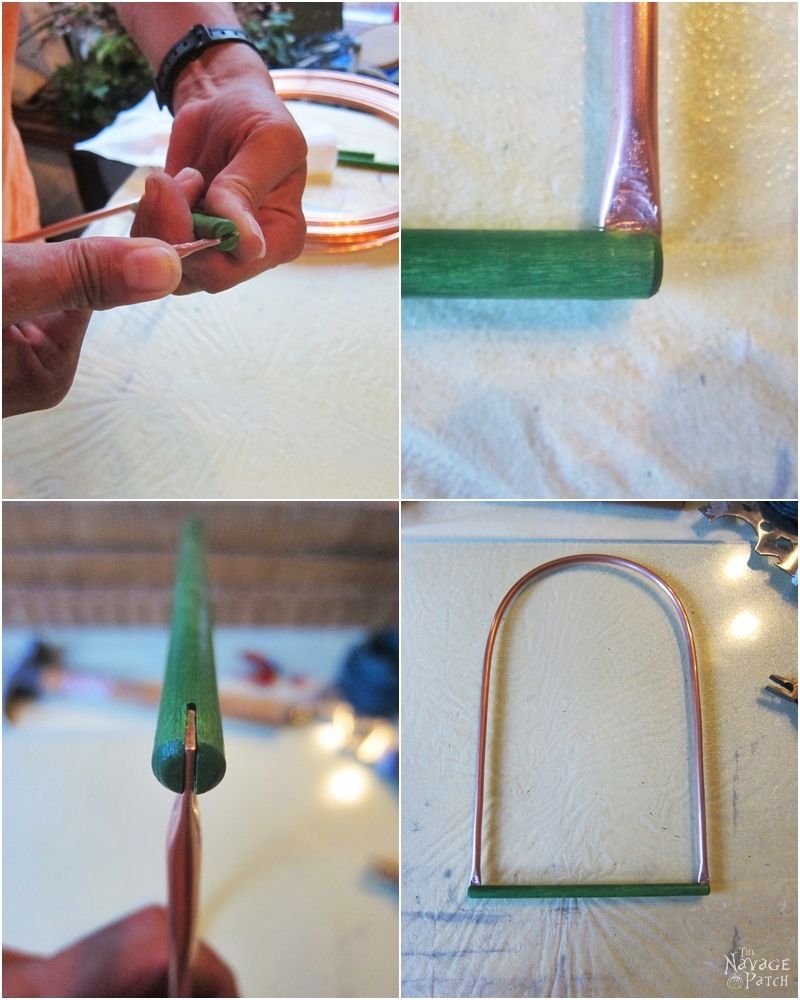 With the notchless version, I placed the dowel on the flattened part and…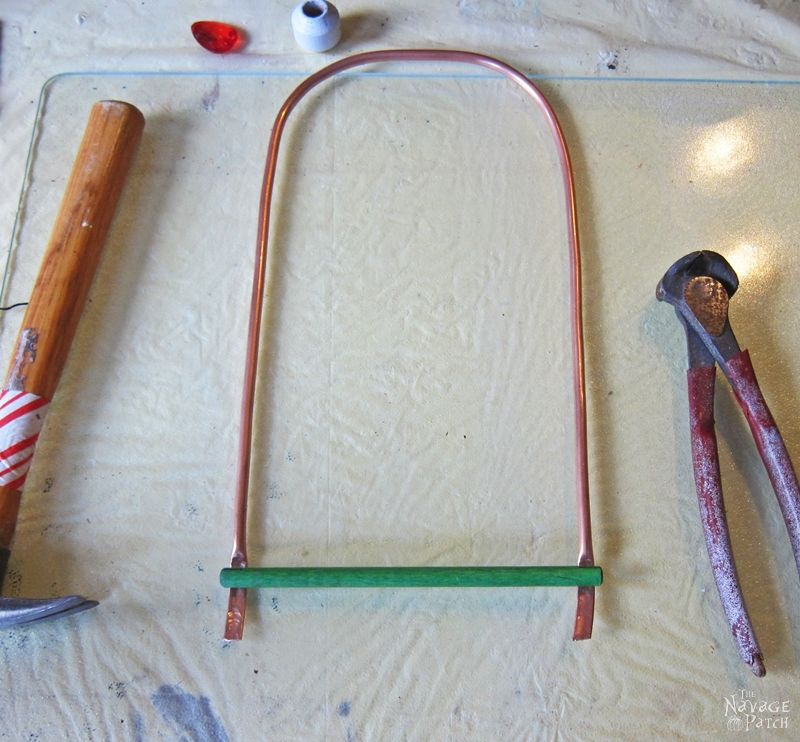 …started to wrap the flattened ends around the dowel.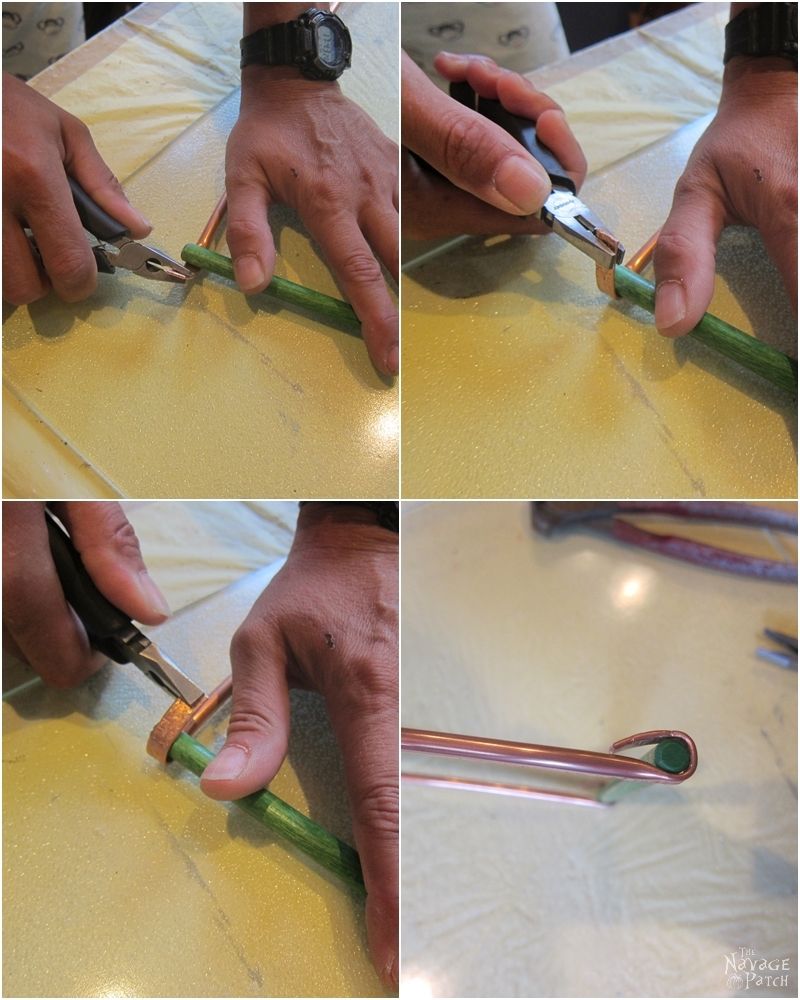 Then, I cut the excess part and…
…hot glued some faux berries on the cut part. This was so the cut copper would be covered and wouldn't hurt anyone when touched.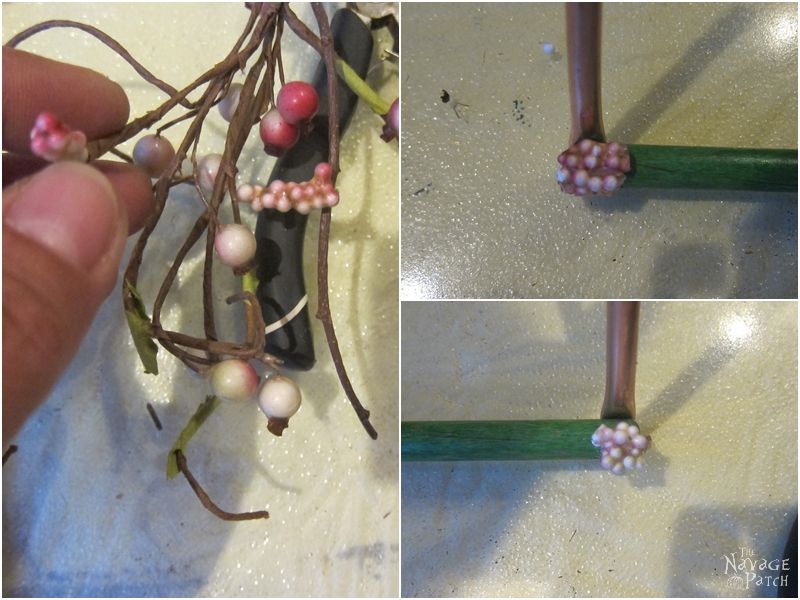 Now that both perch versions were complete, it was time to pretty them up a little bit. For that, I put together a small arrangement of floral picks I had on hand.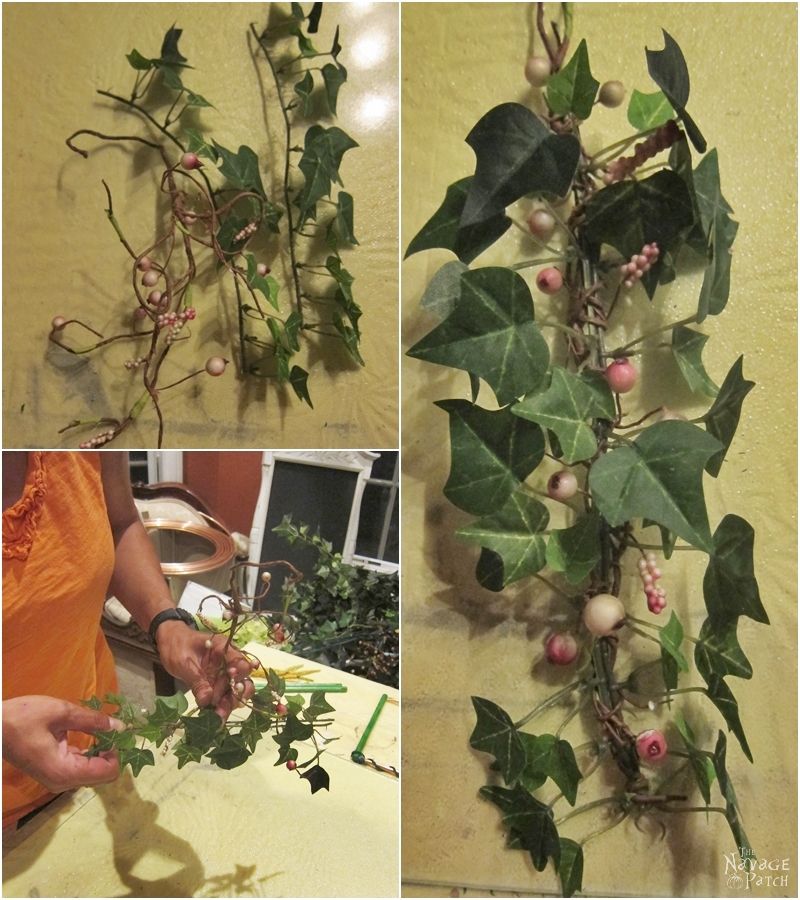 Then, using a floral wire, I attached it along the copper arch.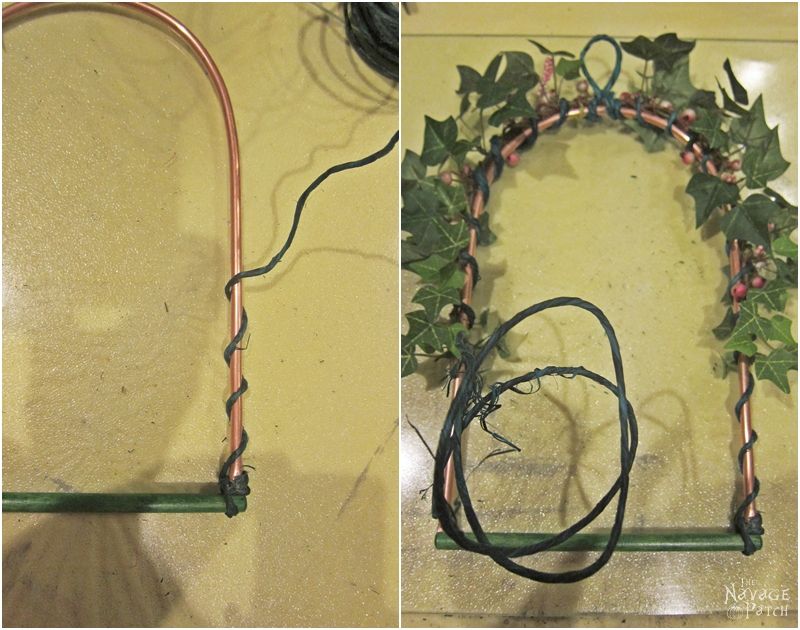 Next, using floral wire, I created hanging loops on the copper arch. As the final touch, I added a red teardrop prism on top.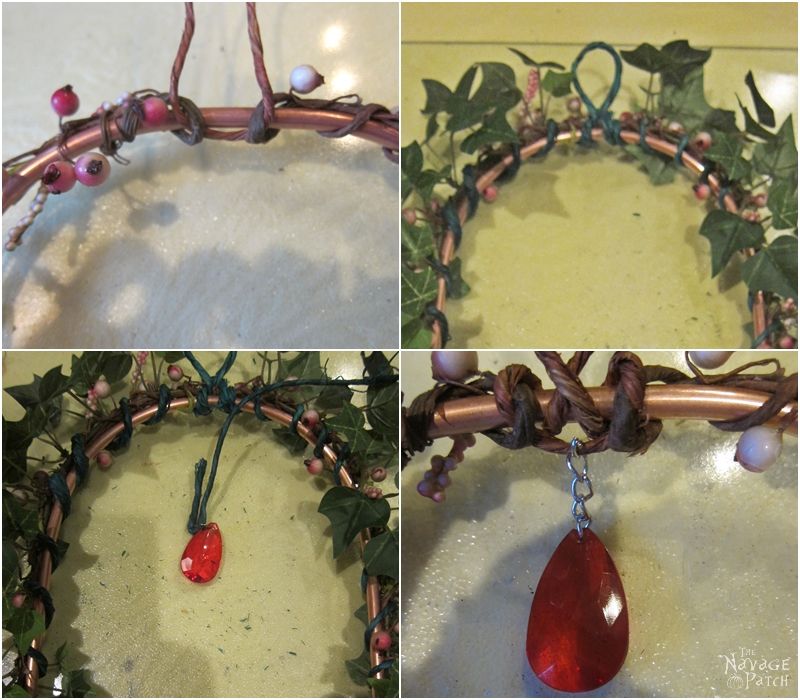 Here are our hummingbird perches.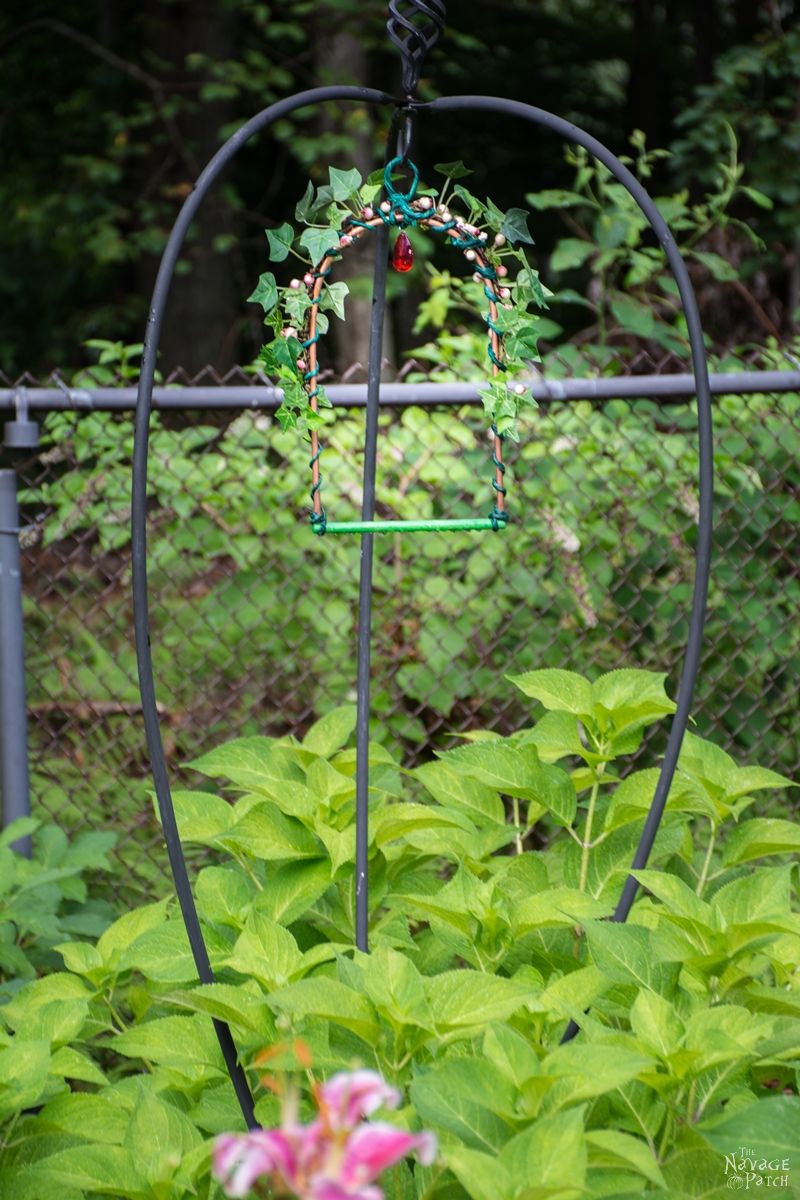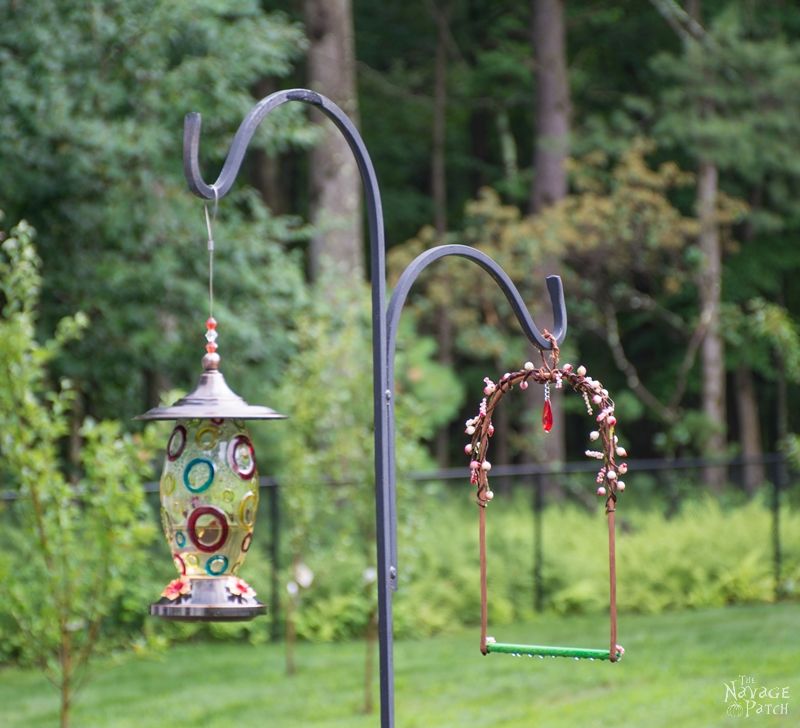 Pretty, aren't they? But trust me, they are even prettier when used by our little guests!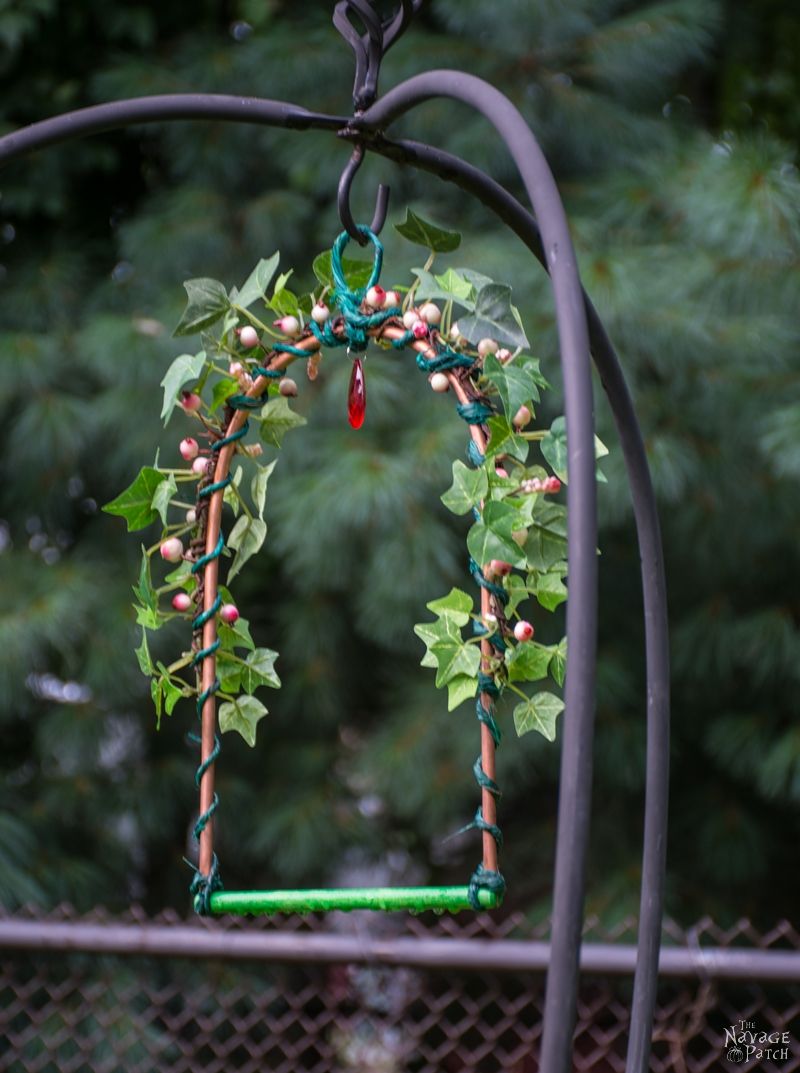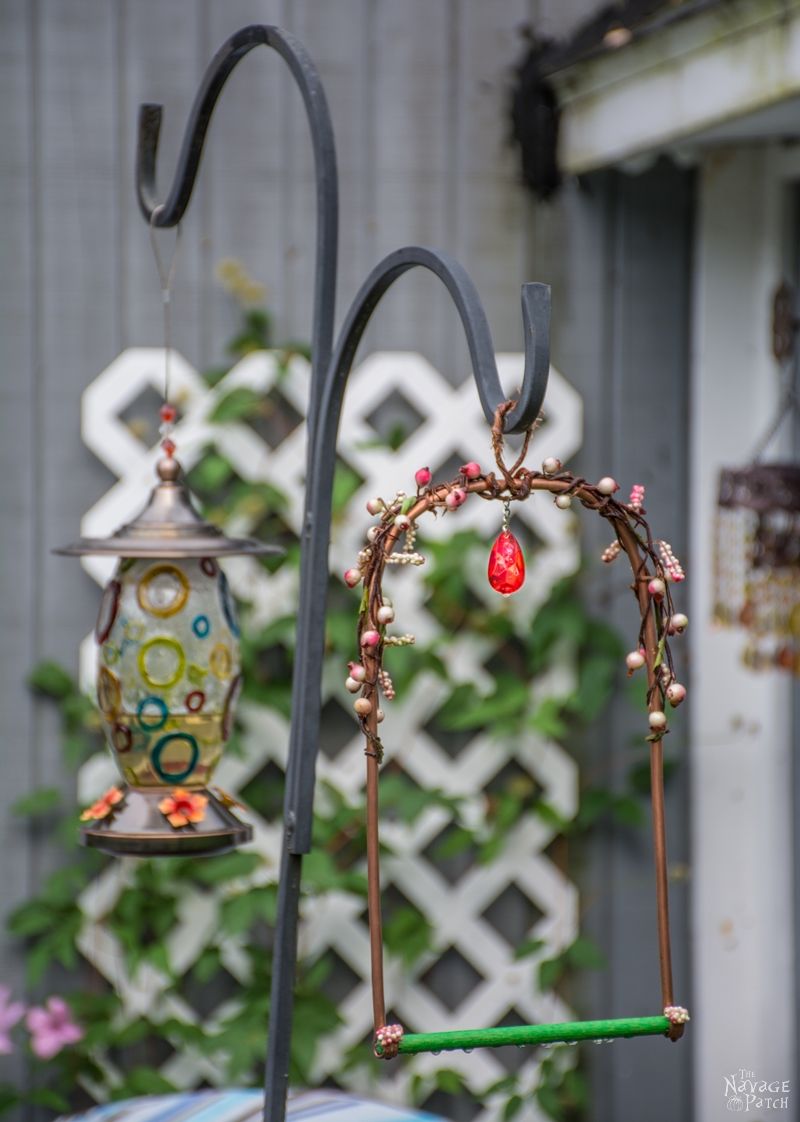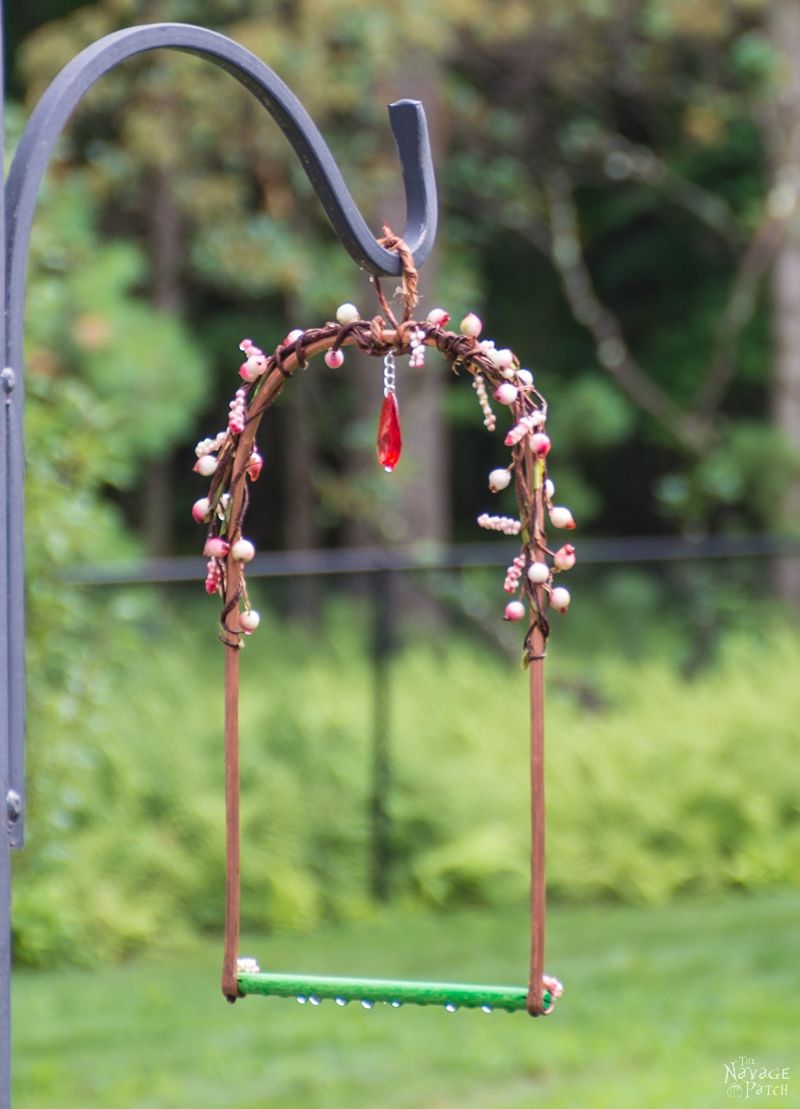 As it is hard to catch a good picture of our little guests, we couldn't catch any pictures of them on the newer perches, but here are some pictures of this lovely girl on the older perches.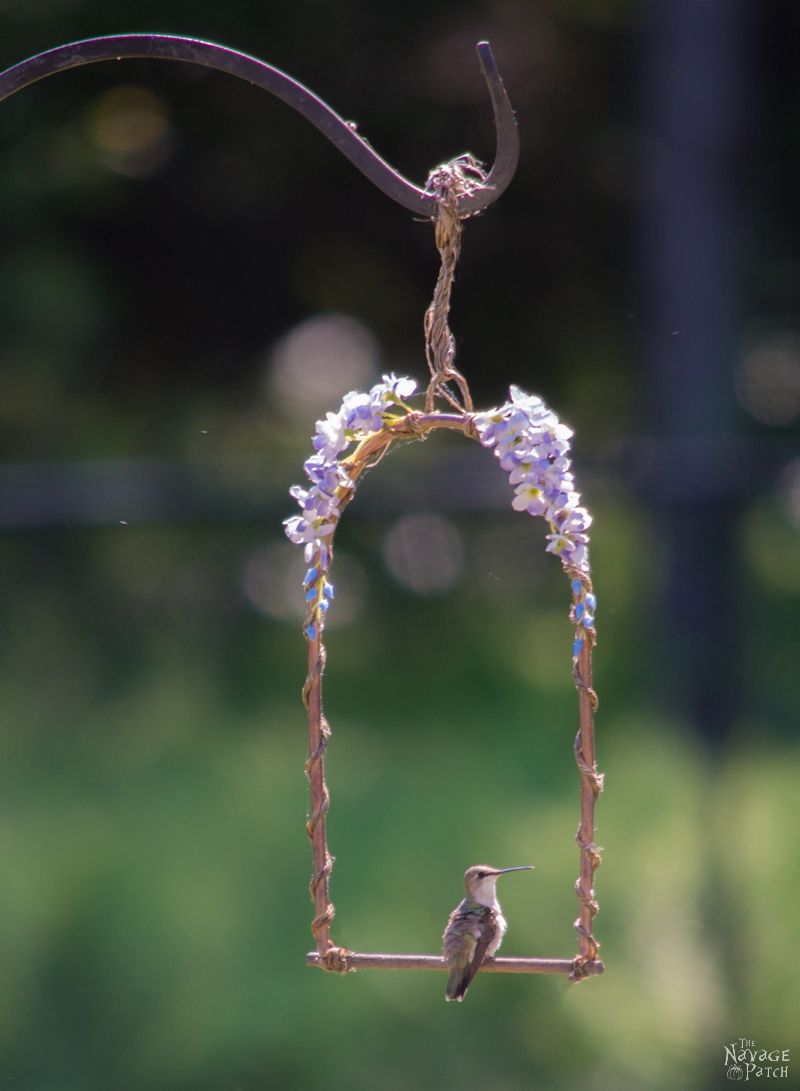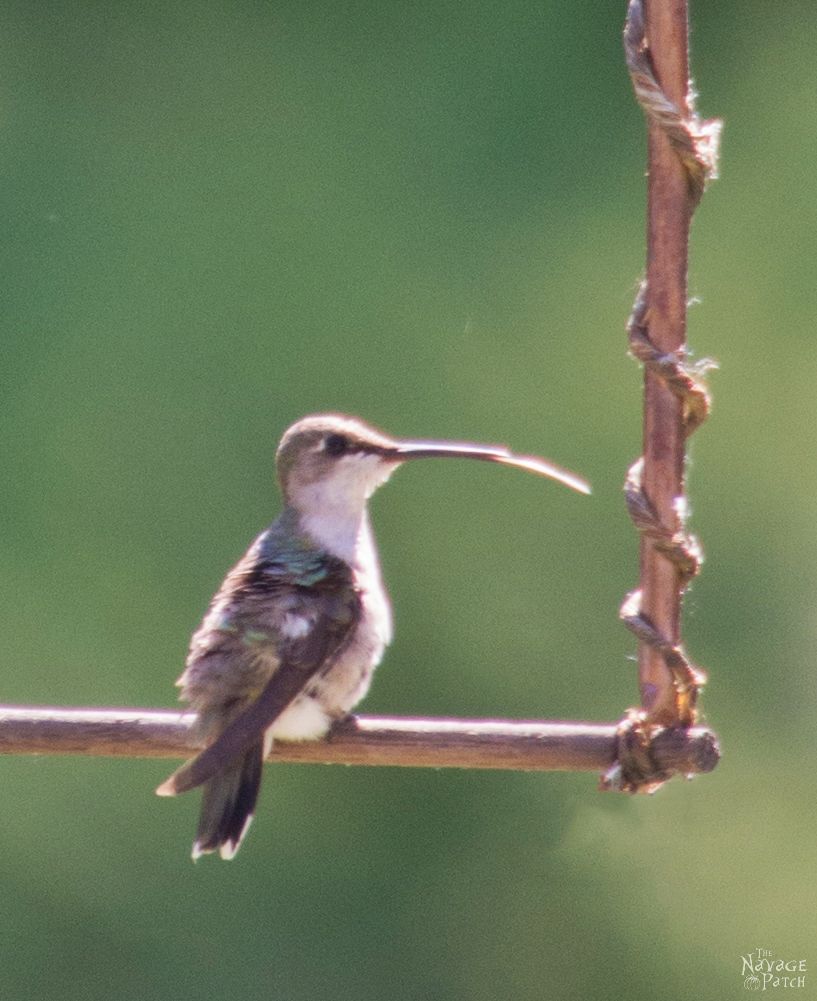 Handan, xo
We love it when you share our posts on Facebook and Pinterest!