Our DIY line art lets you become the artistic goddess you were meant to be…by tracing! It's quick and easy, and it looks great!
If you've spent more than a hot flash with us here at The Navage Patch, you know that my babes has a bit of a thing for old frames.
Over the years, I've chauffeured her around the state of Connecticut to buy frames from tag sales, from strangers on Craigslist and Facebook Marketplace, from Goodwill and other thrift stores, and of course to root around in our local Put & Take where each week it seemed she would find at least one for free.
We had a basement half-full of frames of all shapes, sizes, colors and intricacies. We had frames with glass, frames without glass, and frames with broken pieces of glass protruding like monster's teeth, just waiting for an unsuspecting hand to stray too close.
I'd say we had frames coming out the wazoo, but no one on earth has a wazoo that big! The thought is just…terrifying!
At first I'd try to reason with her with a well-placed "don't you think we have enough frames, my babes?"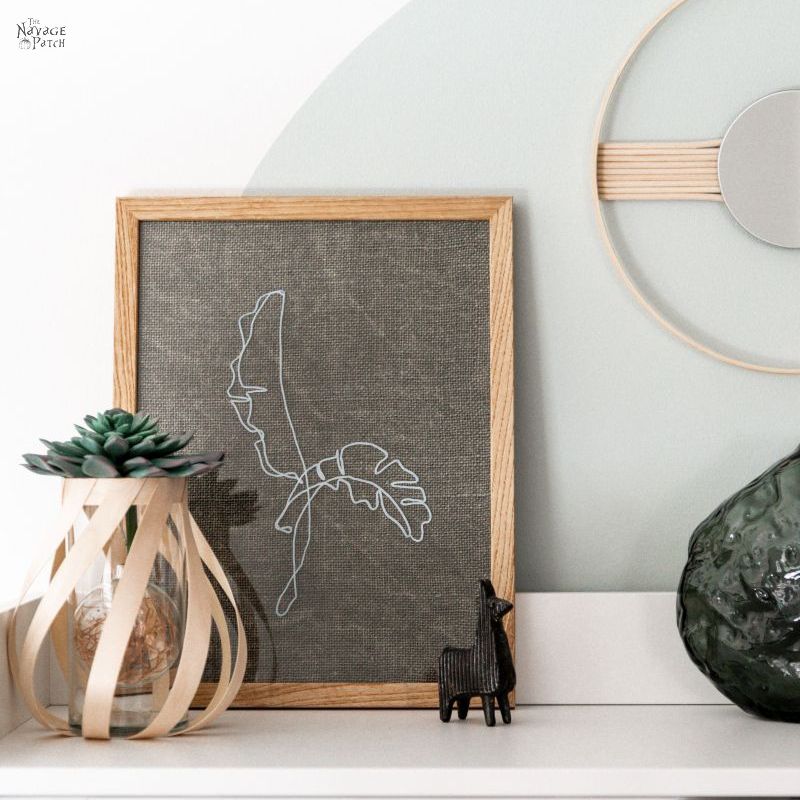 Of course, that would go over like a lead balloon, and the accompanying look could melt the chrome off a trailer hitch.
Yeesh! I decided to about-face my tactics and embrace the frame game. Instead of poo-pooing her away from potential new residents of Frame Mountain, I joined the hunt and would find and hold up frames for her to inspect. "How about this one, my babes?" I'd say, beaming with pride at my obviously-one-of-a-kind find.
"Hmmmm, I already have two like that," she'd say.
Or, "yeah, not so much."
Or, [insert raised-eyebrow-look-of-disapproval here].
Huh, this frame game was harder than it looked! I thought "4 sides and an empty space in the middle," and we had a winner! Bonus points if it still had some crappy old art hanging out in there!
Nope. Not so much.
Apparently she had plans and designs for all of those frames – plans and designs which eluded the likes of my walnut brain.
So by-the-by, I dropped out of the frame game and let her do her thing in her own way. Not too long ago, we were meandering through one of our local Goodwill stores when she spotted a couple of plain wood frames with glass and original artwork still intact. She seemed extraordinarily excited by this find, though at the time, they looked like someone took a hatchet to some 90s-era oak kitchen cabinets and fashioned the splinters into frames. Of course, I kept this opinion safely swaddled away in my brain and instead said, "they look great, my babes!" followed by a big thumbs-up.
By the looks of them, I was sure I'd be painting them – white was my guess.
But when I informed Handan of my magnificently-educated guess, she informed me that, no, I wouldn't be painting them…that, in fact, we'd be using them as-is.
I was intrigued…and slightly disgusted…but mostly intrigued. What on earth could she have planned for these plain-Jane frames..?
Easy DIY Line Art
SUPPLIES LIST
Affiliate links are provided below. Full disclosure here.
I found it easier to start by cleaning the glass face before disassembling the frame.
Once I had the front face of the glass clean, I flipped the frame over and removed all the backing material.
Every time I do this…every time…I get all excited that I'm going to find a bunch of old hundred-dollar bills taped inside…or maybe a second original draft of the Declaration of Independence!
To date, I've found precisely zero hundred-dollar bills inside a picture frame, nor have I found any important historical documents. I haven't even found a single dollar. Hell, I'd be happy with a penny! One day. One day…
The original artwork wasn't bad, actually. As far as Goodwill art went, this was some Monet-level sh!t right here.
Once I freed the glass, I cleaned the back side with glass cleaner. It was filthy!
I printed out one of my babes' line art templates.
And I taped it face-down to the glass.
Next came the fun part! I traced the design with the paint pen.
If you're wondering why I'm wearing a polka-dot fingerless glove, well it's really quite ingenious.
I'm an aging schlub with chubby hands that have no inherent artistic ability inside them. So this art project made me nervous, and that made my hands a little sweaty and shaky. And when shaky, sweaty hands touch glass, they get caught, and that caused my traced lines to look like the flight path of a drunken housefly.
Fortunately, screw-ups are easily removed with a razor blade. After 2 or 3 screw-ups, my babes hit upon the idea of wearing a glove to make my hand glide smoother on the glass.
It worked like a charm, but I found I was still a little hesitant and shaky, and thus, I couldn't get a good-looking result, because by starting and stopping, I was creating irregularities in the line. This is a tracing that really needs to be done in a single go.
Handan became exasperated and insisted on having a turn.
Aaaaaand, she had the same problem I did. We put the pen aside and had dinner. Meanwhile, I had a martini. After dinner, I could feel the change in my body. I felt relaxed.
"Set me up, my babes!" I said. I knew I'd do it this time.
And sure enough, the martini had calmed my performance anxiety and steadied my hand. I whipped through the tracing in record time and in a single go.
It wasn't perfect, but then again…it doesn't have to be! Who's gonna know? 😀
I let the paint dry for a few minutes, and then I removed the template.
Using the glass as a guide, I cut a piece of black poster board.
I then did the same with the green burlap.
After cutting the burlap, I put the glass back in the frame – it doesn't matter if it's paint-side down or paint-side up. I put it paint-side down because we liked the look.
Next, I placed the burlap over the glass.
And I followed it up with the black poster board.
I used a Logan dual point driver to secure everything inside the frame.
That's it! Easy DIY line art that looks amazing!
We love to see our printables out in the wild! If you display our free printables in your home or use our free SVGs in your projects, and take a picture and post it on Instagram, be sure to tag us @TheNavagePatch!
Free DIY Traced Line Art Designs
We designed 10 free printable line art designs as 8×10 inch in PDF format for you to print then trace. You can find today's free printable line art designs under the "Home Decor" section of The VIP Patch.
take me to your
amazing freebies library
If you're not a Navage Patch VIP, you won't be able to access our Freebies Library. But that can be easily fixed! Subscribe for free on the form below and become a Navage Patch VIP. Once you subscribe, a password will be sent to you in our Welcome email, and that will give you access to The VIP Patch [Freebies Library].
Get free access to our incredible library of
Free Printables and SVGs