All Good Things Must Come to an End
It wasn't supposed to be like this.
It was never meant to end this way.
We were supposed to be doing what we do here…forever.
That's what I was told, and that's what I expected!
But if there's one thing I've learned from my half century on this wayward chunk of rock and water, it's to expect the unexpected.
So it is with a heavy heart that I announce that The Navage Patch v2.o...is dead.
(i'm not dead yet)
(yeah, but you will be soon)
Ah, TNP2PointOh, I hardly knew ye!
How brief our time together! How fickle these winds of change!
Can you believe it, madam?
Just yesterday it seems, my babes stood in this empty nest with her baby Yoda – both full of hope and wonder!
Just yesterday, when we tore out all that nasty carpet and replaced it with beautiful hardwood flooring!
Just yesterday, when we transformed the original red-walled dining room into this marvelous beauty!
And could it have been much more than a day, madam, since my babes fulfilled a years-old promise and gave me the kitchen of my dreams?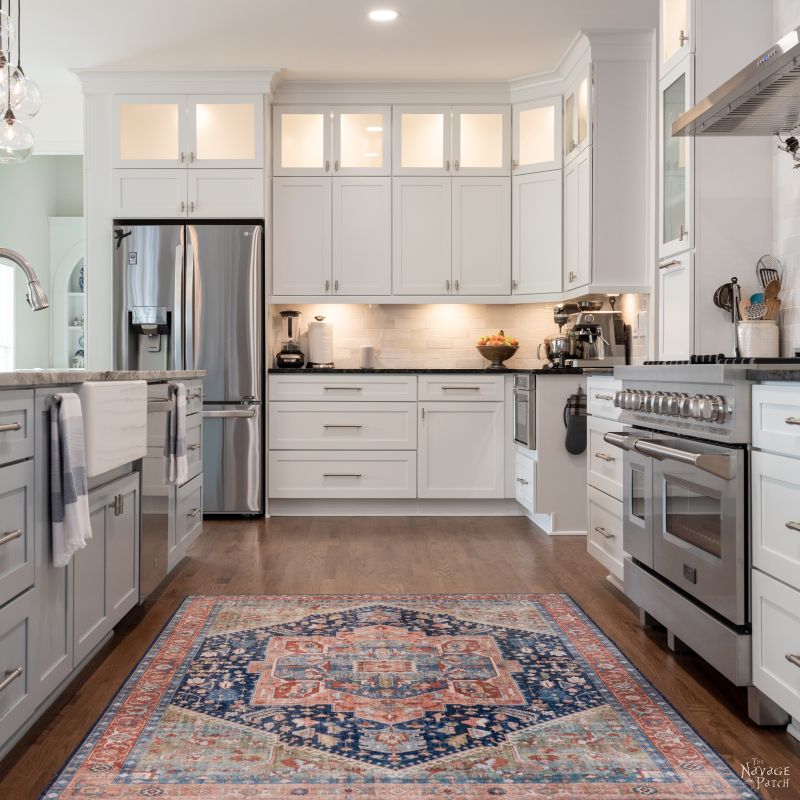 It doesn't seem so.
It couldn't have been!
But wasn't it just…so very recently…that we put the finishing touches on our new craft room?
Could it not have been hours ago – last night, perhaps – that the final brick was placed in our new fireplace?
Ahhhhh, the fireplace! Just in time for Christmas in our new Southern home!
Not quite as cold as New England, but still a little nip to the air, eh?
And what of the laundry room, madam? Has the caulk yet dried on the countertop?
And the stairs! That Sisyphean staircase makeover! Wasn't it just this morning that I finished painting the last damned spindle after staining those infernal handrails?
A day, madam! We've only been here a single, glorious day!
How can it all end after just one day?
How can we say goodbye to The Navage Patch?
(maybe you don't have to)
(i can think of a way)
(yes! there is a way!)
It's true, you know. The Navage Patch v2.0 is slated for termination.
But in its place shall rise the mightier Navage Patch v3.0!
The only question is where will The Navage Patch v3.0 (new and improved flavor, fortified with vitamin D) rise?
Take a guess, won't you madam? I know you're going to shout at your computer right about now, but I think we'll have a little poll before I actually tell you, hehehehe.
Yeah, yeah, I know…I'm an asshole. You're not the first to call me that, madam, and you probably won't be the last!
So let's have a vote!
Where are my babes and I (and the two fur jerks) moving?
Scroll down for the answer!
*
*
*
When opportunity knocks, you must answer the door.
As a reminder for those who've forgotten, or for those who don't know, my babes is a civil engineer. She (and we) have spent our lives traveling from country to country and state to state, where she works on large-scale infrastructure projects and large to mega-scale construction projects.
Two weeks ago, Handan got a call from her boss (not her direct boss for her current project in Atlanta, but a higher boss in another state who overseas her career path) telling her of an upcoming opportunity.
Her company just landed a new project – a multi-billion dollar program lasting at least ten years to rebuild and refurbish all of the schools in the 20th largest school system in America. They want Handan to be the Program Controls Manager, which is a very nice promotion!
The school system is in Jacksonville, Florida.
So there you have it. The New Navage Patch will be in Florida, and I can officially be called Florida Man.
The plan is to rent for about a year while I get our current home ready to sell. So that means I'll be back and forth, back and forth. It's a six hour drive, so that's not too bad for me.
But this is exciting for The Navage Patch because it means for a year, we'll be able to show you rental hacks and tons of small crafts until we find and buy a new home!
We are so looking forward to this adventure! My babes and I both love to fish, and we're going to be very close to the water, no matter where we live. The best part for Handan is that her 3-hour-per-day commute will be cut to 40 minutes!
It will be our pleasure to take you with us as we transition from Georgia to Florida. There's going to be so much to do!