Eyeball Orb Halloween Wreath
In this post, we'll show you how to make a creepy-cute Halloween eyeball wreath. Hang it on your front door or in your house, and let it keep an eye on you this Halloween season!
This year our Halloween posts seem to have a pattern: one spooky – one cute – one spooky – one cute. So I thought I should keep with that pattern and post a cute project today. Can you guess what it is?  Yup, it's my one-eyed cute monster (aka eyeball orb Halloween wreath)!
You know wreaths and I don't play well together. With other types of crafts, I can try some black-belt projects, but when it comes to wreaths, I get intimidated, as I still see myself at the "Wreaths for Dummies" level. LOL. No, but really – if you check the wreaths I made so far, you would see they only have a few steps involved, and they are always very easy to replicate. So if you are up for a fun and easy Halloween wreath, then you might want give this one a try.
To  make this eyeball orb Halloween wreath, I used 2 twig wreath forms which I found at the Put & Take, black spray paint,  a wine cork, hot glue,  a piece of thick wire, black twine to hang the wreath and one of these big eyeball orbs I bought from Grandin Road. Now if you can't find these eyeball orbs or don't want to spend money on them, don't worry – I've got you covered. 😉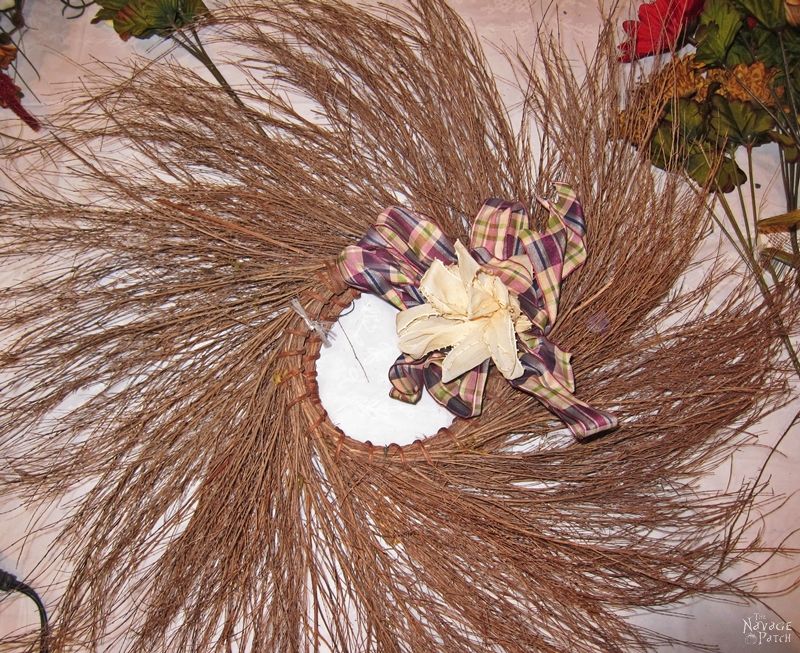 I started my project by taking the wreath apart. To my surprise the wreath was made from 2 twig wreath forms.
Next, I took both wreath forms outside and spray painted them with Rust-Oleum black spray paint.
Once the paint dried, I laid one of the twig wreath forms on the table and put some hot glue on the inner ring of it.
Next I flipped the second wreath form over and placed it on the first wreath to glue them together. This made the whole thing would look fuller and a bit more Halloweeny.
Once both wreaths forms were glued to each other and acting as one wreath, I cut a small piece of cork and spray painted it black.
Then I hot glued it on the inner ring of the wreath.
Here's a hint about the cork piece: try not to cut it shorter than 1/3 the length of the full cork, because it will be carrying your eyeball orb, so it needs to have enough depth.
Next, it was time to place the eyeball orb. But before doing that, I want to give you the link to the tutorial to make your own Grandin Road knock-off eyeball orbs: Click here to see the DIY Giant Softball Eyeballs tutorial. I have to say, they did a great job with these knock-off eyeballs, as they look almost the same 😉
Anyway…back to our tutorial: these eyeball orbs are actually foam on the inside and kind of hard plastic on the outside. They also have a little sticker at the bottom and when you take that sticker out you'll see the small hole which is shown in the pictures below.
To attach the eyeball orb to the wreath, I cut a piece of wire from a faux flower pick and spray painted it black. If you don't have a faux flower pick, you can cut a section of wire hanger.
After the paint dried, I inserted one end of the wire into the eyeball orb, and the other end to the cork which I previously hot glued on the wreath. And with that, my eyeball orb Halloween wreath was finished.
Here is my handsome one-eyed monster!
Isn't he so cute? Seriously though – he is my favorite Halloween decor I made so far. And you know what? He sure knows how to keep eye contact with people. No kidding – one look in the eye and that's it!
Oh, you don't believe me? I'd be careful if I were you – if he sees you looking at him, you are done – he won't stop staring at you 😉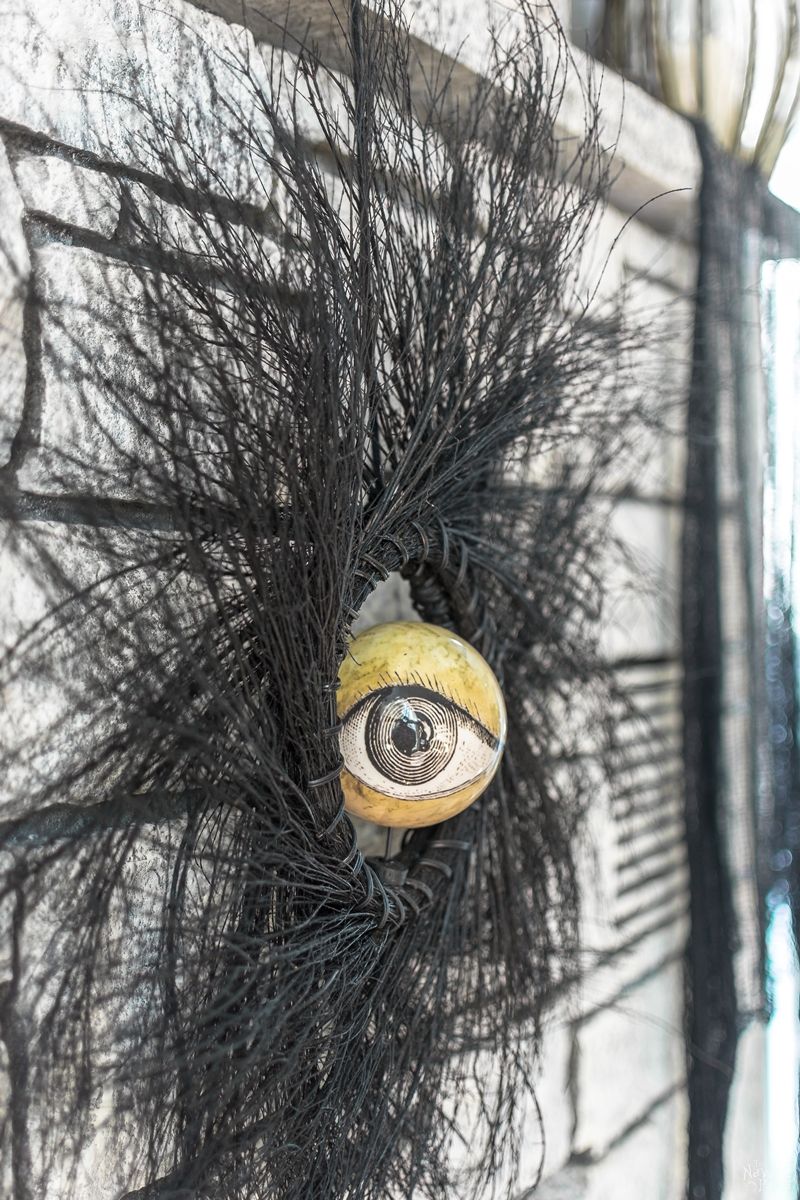 Told you so – hahahaha 😀
Yes I know – he can get pretty annoying, as he stares without ever batting an eyelash, but still… isn't he the cutest Halloween wreath ever!
"I've got my eye on you!"
I hope you like this year's Halloween posts being one cute – one spooky, because now there is something on the Patch for everyone's taste 😉
Handan, xo
We love it when you share our posts on Facebook and Pinterest!