Learn how to make this magical floating potion bottle Halloween craft, and add some mysterious fun to your Halloween decor this year!
Halloween is just around the corner, and as the Witch of the Patch, I still have quite a lot of catching up to do with my crafts. I have tons of potions to make, dozens of spells to cast and a Toad to kiss! Keeping up an Apothecary Shop like this takes quite a bit of witchy work, you know! 😉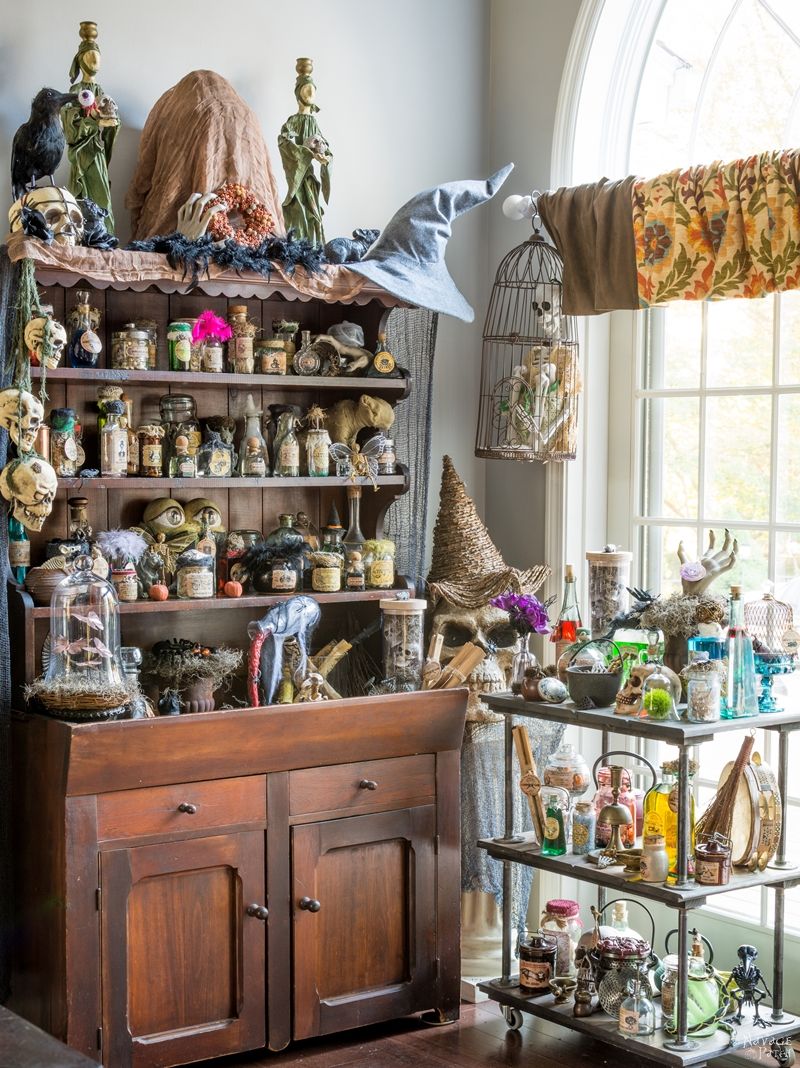 On second thought, kissing the Toad can wait for a little while. But you know what can't wait? Showing you how to make your own floating potion bottle!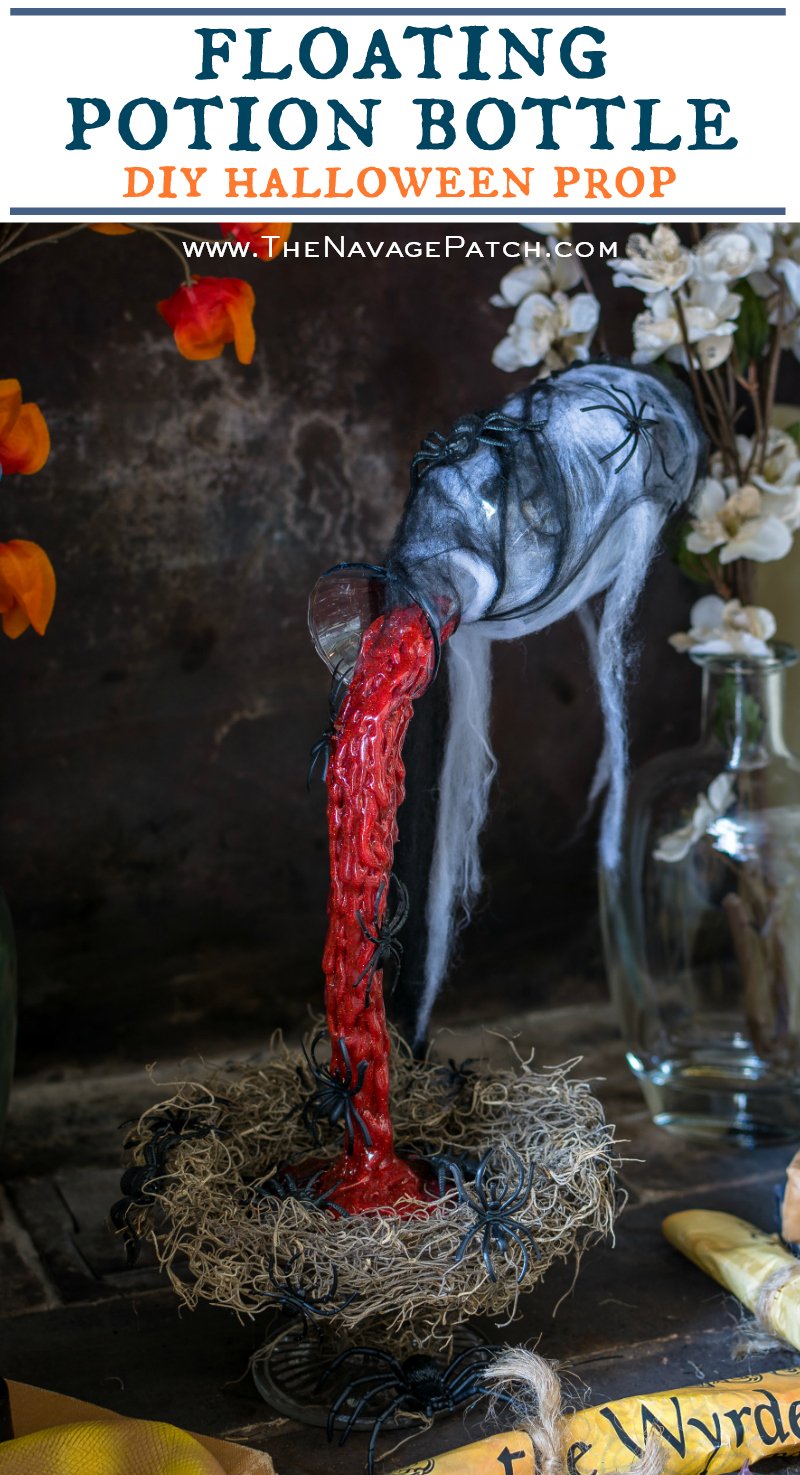 Now how do you like that? Looks pretty amazing, right? Ok then – let's jump right into the tutorial, shall we?
Floating Potion bottle SUPPLIES LIST
Affiliate links are provided below. Full disclosure here.
A glass cupcake stand or a plate – you can use a small plate, or anything that has a somewhat flat surface. It doesn't have to be glass. You just need to make sure that your plate is heavier than the bottle you are going to use, or the whole thing might tip over.
A small bud vase – I used a glass bud vase, but basically what you need is something similarly shaped and colored. It can be a plastic test tube, or  a thin glass bud vase or maybe a thin glass test tube.
Colored hot glue sticks – now you may chose to use clear hot glue sticks and then paint it over, or if you want to save time like I did, then use colored hot glue sticks, as it makes it easier. If you'll be going for red glittered hot glue sticks, click here to see what I used. If you want a different color hot glue stick, click here to see all the colors they have on Amazon.
A hammer
Copper tubing – old or new doesn't matter. A little hint here: you can find this at any hardware store for much cheaper than they have on Amazon. 😉
Various plastic creepers – this is optional. I used plastic spiders, as I like them.
Creepy cloth or spider web and Spanish moss – this is for dressing your potion bottle and plate. If you don't already have them, you can get them from the Dollar Store.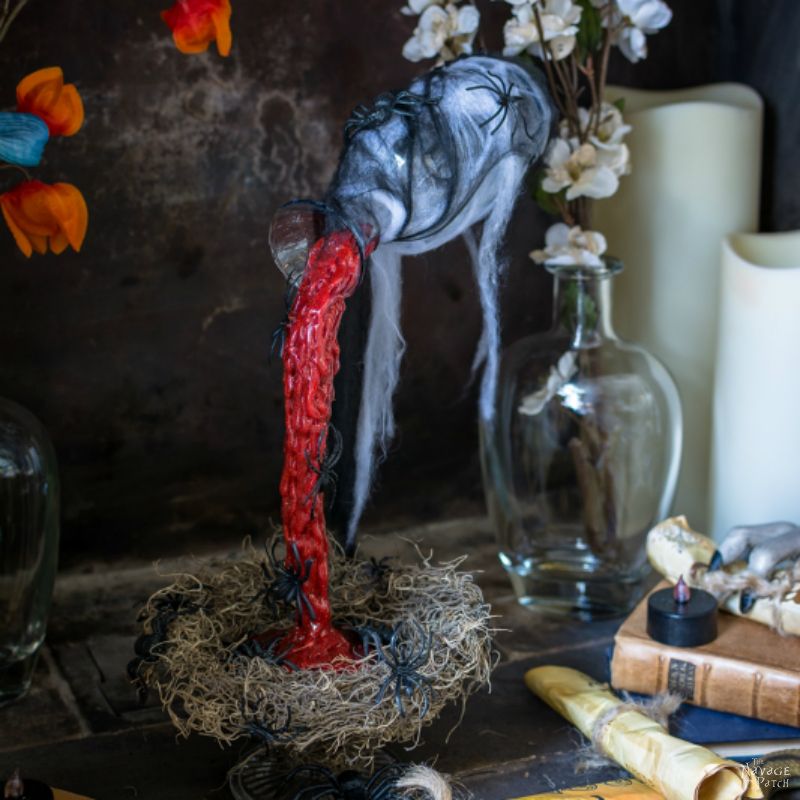 How To Make A Floating Potion Bottle
Once I had all the supplies ready, I cut two pieces of copper tubing. The long one is approximately a foot long and the short one is 3-4 inches long.
As shown in the pictures below, first I bent about an inch of the long copper tubing at a 90 degree angle and then gave a slight "S" shape to the rest of the tubing.
Then I took the copper tubing outside, and hammered both ends to flatten them.
Next, I flattened the short copper tubing. This time it wasn't just the ends, but the entire length that I flattened.
Once I was happy with their shape, I put the short tube on top of the long tube (as shown in the pictures below) and…
…using duct tape, I taped the two copper tubes together. Do you see the space in between the two tubes? That space should be only as wide as the thickness of your glass/plastic, because you are going to place your potion bottle right in between those two tubes. Therefore, you want to make sure you don't have a lot of space in between the tubes when taping them together.
Once I had my tubes taped nicely together, I placed my bud vase in between the tubes as shown in the pictures below. Perfect fit!
Next, I started covering the copper tube with hot glue. I covered all the copper parts except the bottom part of the tube, because the plan was to glue the bottom part to the cupcake stand. But other than that, all the copper got covered with hot glue – including the parts that go in and under the potion bottle.
Before gluing the copper tube to the cupcake stand, I cleaned the stand and wiped the surface with some alcohol for better glue adhesion. Then I poured a good amount hot glue to the plate, and glued the copper tube while supporting the tube and the bottle with my other hand.
I carried on squeezing more and more hot glue and letting it dry over the copper tube. While all this 'hot gluing and waiting for it to dry' was happening, I kept supporting the potion bottle and the tube with my other hand. Once I had a really good amount of hot glue built up, I didn't need to support anymore.
Here is a little hint for you: hot glue can come off pretty easily from a glass surface, especially if you are using a slightly heavy bottle/vase. Regardless of how much hot glue you use, you can't really trust the hot glue to carry that bottle weight. Knowing this, I started lightly rocking the tube back and forth just to check the adhesion. A couple of back-and-forths later, the bottom got freed from the glass, and that is when I decided to use the right glue for this kind of work.
Here is another hint for you: E6000! It is the best glue for this kind of application. And it is dishwasher safe! [Did you know that? Awesome isn't it? ;-)] Anyway…
I put a good amount of E6000 on the bottom, and using a clamp, I glued the whole thing to the cupcake stand as shown in the pictures below. Then I let my prop sit over-night for the E6000 to cure.
The next day, I took my clamp off and embellished my prop with some spiders and Spanish moss. This part is optional, as it is only for dressing your prop to look more Halloweeny 😉
As the final step, I placed some white and black spider webbing around the bottle and also some spiders on top the webbing. Again, these are all optional things as they are just to dress up your prop.
Are you ready for the beauty shots? Well then – here is my magical floating potion bottle! 😀
Looks pretty cool, right?
Do you see the difference in the potion thickness on these two pictures (above and below)? The one below has thinner potion than the one above. That is because when I first finished my floating potion bottle, I used only enough hot glue to cover the copper tube. But then I decided to make my potion thicker, hence I went back and put more and more hot glue to create that thick potion look. And of course, I asked Greg to take pictures of both versions, so I could show you how a slight change in this project can give quite a different feel.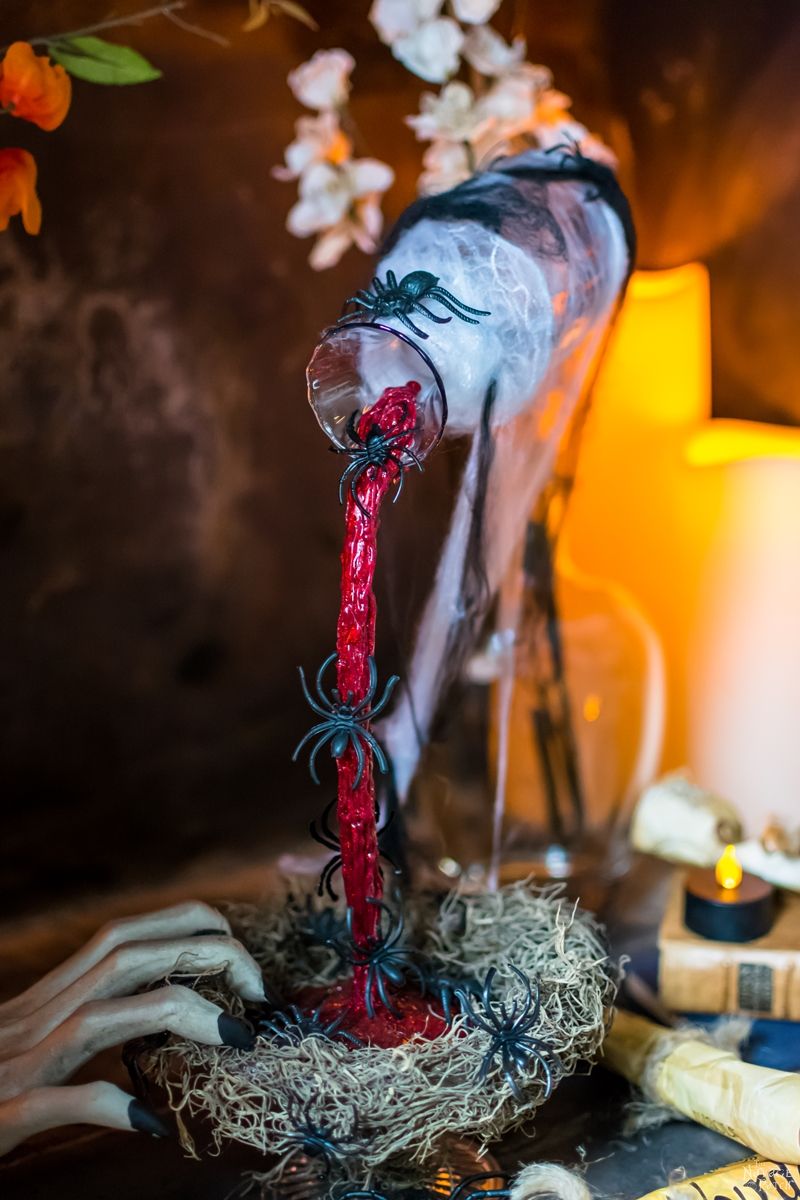 If I make another one, I will most likely make it with blue glittered hot glue sticks. I also think this prop would look good with glittered blue potion.
And some more pictures on its own and with a lighter background, so you can see the details a bit better 🙂
I hope you liked my magical floating potion bottle. As it is unique, I wanted to share it with you as soon as possible. Hence my Halloween wreath will have to wait a little longer 😉
Handan, xo
We love it when you share our posts on Facebook and Pinterest!