DIY Christmas Decor: Faux Tree Repurposed 3 Ways
Clip-on Christmas Swags
This was the easiest project of all. I used two big branches for each swag. First, I flattened and arranged the needles to have them all on the one side of the branch.
Then I laid the two branches next to each other in a way to make the steel stems pointing at each other, as shown in the picture below.
Next, I grabbed a pine needle from each branch and tied them to each other. I did this in three different places to ensure the branches were tied to each other – one towards the top (but not at the very top), one in the middle of the branches and one at the very bottom.
With that, the main body of the swag was finished. Now it was time to add some embellishments to it. I used two sleigh bell sprays and a bow that I made from a plaid Christmas ribbon I had on hand.
Before I forget, if you are wondering about the sleigh bell sprays, I bought them at FactoryDirectCraft.com last year as they have a pretty good selection and decent prices for sleigh bells.
Attaching the sleigh bell sprays was really so easy. I pushed the stem through the swag (right through the first point where I tied the two branches), and I bent the stem at the back.
Next, using a piece of wire, I attached the bow, and my DIY clip-on Christmas swag was done!
To hang it to our garage lanterns, all I had to do was pull the two stems, place the swag and let the go of the stems (as shown in the picture below.) Pretty easy, right?
Oh by the way…these were the first swags I ever made! Hence they are nothing fancy 😉 But still…not bad for a first-timer, right?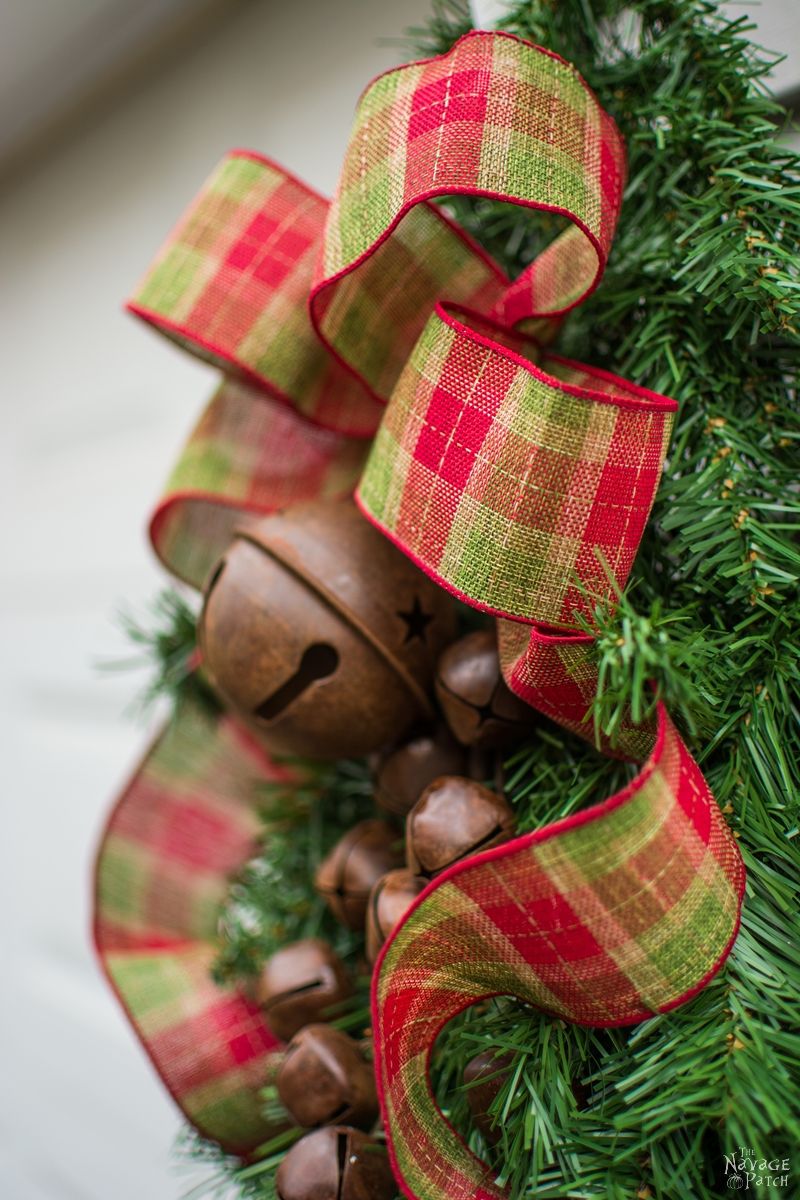 Pretty simple, but "simple" was the best way to go, as I didn't really know what I was doing. LOL. Now that I have learned the basics, next time I'll be able to make better decorated swags. On the bright side, hanging them doesn't even take me a second 😉
Next, I want to show you how I made the faux Alpine Christmas tree. Oh – and the DIY lighting star which I think you'll love!
Click on 'Next' below to continue with the Faux Alpine Christmas Tree tutorial.