Glass Gem Corn – Rainbow on a Cob!
Glass Gem corn – rainbow on a cob! It is nature's miracle, and you can have it in your garden, too. Glass gem corn is easy to grow, and it looks like magic!
The first time I saw a picture of Glass Gem corn was in an online seed catalog last year. I was searching for sweet corn seeds, as I was keen to grow some ears that I could actually eat. My two previous attempts at corn – one lot from small plants I bought from Home Depot and the next lot from seed – resulted in dinky little ears with deformed and lumpish kernels sprouting haphazardly around the cob. They looked like little mouthfulls of crooked yellow teeth in dire need of both a dentist and an orthodontist. But, hey, I'm no snob when it comes to how food looks! As long as it tastes good, it can look like Quasimodo's butt, for all I care.
But this corn…
This corn didn't just look like Quasimodo's butt…it tasted like it too!*
Handan and Barish loved it.
The corn, I mean. Not Quasimodo's butt.
To them, it tasted like the corn they have in Turkey. It tasted like home. They slathered it in butter and gobbled every bite.
I tried that Turkish corn once.
Once.
Handan's hometown of Izmir is a jewel of a city the circles a bay of the Aegean Sea. Every night in summer, you can find thousands of Turks strolling along the water's edge or relaxing in the seaside parks. Vendors of all sorts sell everything from rice-stuffed mussels to sunflower seeds to cotton candy to corn-on-the-cob.
I watched those corn-hawkers with a keen eye. I love corn, and the way they roasted it over an open fire on their rolling corn carts captivated my senses and got my mouth watering.
One night, I asked Handan if we could try it.
She was more than happy to oblige, since she loves corn, too.
We approached the man and ordered two ears – one for Handan and me and one for Barish. I watched him grill our cobs as child watches a candymaker. Oh, I couldn't wait! Grilled corn is the best!
He served our cobs on a bed of husks, and I had that thing in my mouth almost before he could remove his hand to safety. Oh boy, this is gonna be great! I bit down and…
And all the joy I've ever known leapt from body and dove into the Aegean Sea.
What the hell is this thing?
I peered at the impostor in my hand.
Where's the sweet? This isn't corn…this is horse food!
I chewed the…what? Fodder? Cud? Slop? I managed to get it down into my throat en route to my stomach. I looked at the traitorous cob once more and handed it to Handan.
"Here you go, my babes. You can finish it."
She grabbed it from me and bit in with gusto.
I dropped to my knees and looked up into the sky. I threw my hands into the air and screamed at the heavens.
"Nooooooooooooo!"
But the Turks were too busy cramming those mirthless kernels into their mouths to notice my suffering.
Handan and Barish were in heaven, each bite better than the last for them.
Fools! Didn't they understand that corn was supposed to be as sweet as candy?
Never have my expectations been so thoroughly smashed and shattered by reality.
It was one of the many times I learned that life in the rest of the great wide world was wildly different than life in Glastonbury, Connecticut – home of the sweetest corn on planet Earth.**
Oh, by the way, though I'm not a fan of Turkish eating corn, their popcorn is the best I've ever tasted! We stock up on it whenever we hit up a Turkish grocery.
*****
Anyway, as I was browsing through the corn seeds online, I came across a picture that couldn't be real. It seemed to be an ear of corn, but it looked like a rainbow!
I was mesmerized, so I clicked on the link for more information. The corn was called Glass Gem, and it looked like a rainbow on a cob! I had to try to grow it – I still didn't really believe I could get corn like the ones pictured, but I had to try! I ordered a small packet of seeds. Oh boy, this is gonna be great!
While I waited for my seeds, I did a little research on the corn. Turns out that Glass Gem corn is all OMG and no GMO! This is not the product of a mad scientist or rogue unicorn. Rather, it was developed over a number of years by a half-Cherokee farmer in Oklahoma named Carl "White Eagle" Barnes.
Carl wanted to reconnect with his roots and heritage, so he began seeking out older varieties of corn, like the ones his Native American ancestors would have grown. Sometimes, he'd get an abnormally colorful ear, and he'd select and replant the seeds from those ears.
Over time, the corn became more and more colorful. He eventually gave some seeds to a a friend who planted them in New Mexico alongside more traditional varieties of corn, and this created even more colorful strains.
His friend started selling the seeds to the public, and the rest is rainbow corn history.
The best part about planting Glass Gem corn seeds, is you don't know what you're going to get come harvest!
The corn grew like the others I had planted in previous years, though these seem a bit taller.
I'd lost track of how long it had been since I planted, but when I checked the corn the other day, I noticed one of the stalks seemed to be infected, and its husks were already brown.
Figuring these for a loss, I pulled them off and shucked them. What I saw blew my mind! I honestly didn't think it would work – at least not as well as in the pictures. But it was even better than I could have hoped. I didn't know whether I should eat it, frame it, or string it up and hang it from Handan's neck!
I decided to harvest almost all of it – I didn't want to risk losing any ears to infection or to the birds! There were some nice green ears, too.
Every ear was a surprise!
Glass Gem corn is not meant to be eaten like regular corn, though it won't hurt you to do so. It's what is called flint corn, and its primary purpose would normally be for corn meal or popcorn. But with looks like these, we'll be using them for decor around the house this fall (and then maybe popping the kernels after that)!
I'm not the best farmer, but growing my Glass Gem corn was a breeze. I stuck the kernels in the ground, watered the plants regularly (but not excessively), and basically did nothing. Corn is as easy as garlic to grow, and next year I'll be growing way more of each!
The seeds I bought cost me $5 for a very small quantity. Amazon has a better deal – less than $3 for 50 seeds. I'll be buying those seeds this fall for next year's planting.
If unicorns had gardens, they'd grow Glass Gem corn. Also, I'm pretty sure unicorn poop looks like this, too.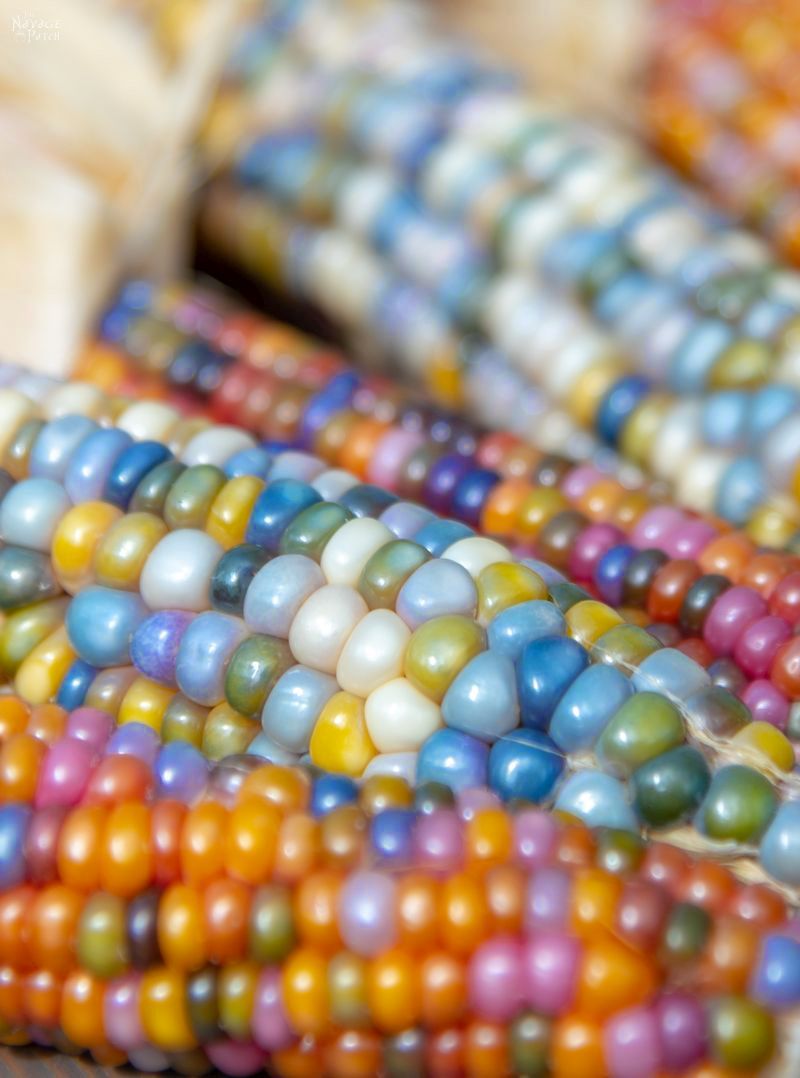 Have you guys seen Glass Gem corn before? Has anyone planted it?
Let me know in the comments, and send pictures to [email protected] If I get enough, I'll post them on our Facebook page.
Happy planting!
*Quasimodo's butt was neither tasted nor harmed for this article.
**I haven't yet tasted all the corn on planet Earth, but I stand by my claim.