Free Printable Holiday Planner
Our Free Printable Holiday Planner will help keep you sane this holiday season – gift tracker, card tracker, budgeting, meal planning, decorating and more!
Aunt Edna wants a bunion squeezer. Or was a it a corn scraper? What's the difference between a bunion and a corn anyway? Whatever, you just hope Edna doesn't pull off her stockings and start rubbing them before the figgy pudding is served.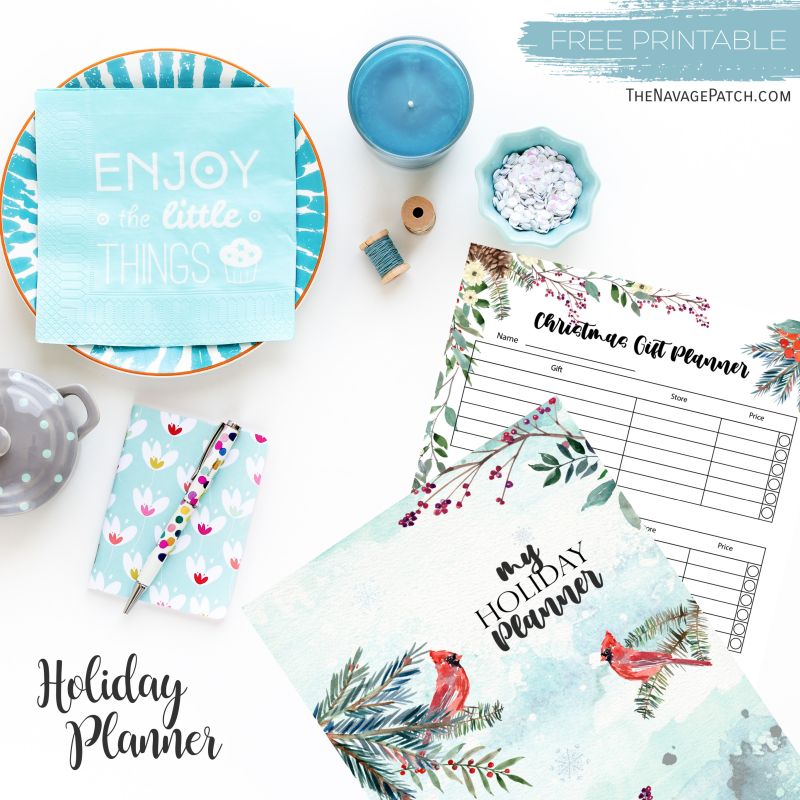 Uncle "Lactose" Larry cannot be served dairy under any circumstances. You still remember the last time you forgot and accidentally served him some cream sauce. 2014, wasn't it? You didn't think a dining room could clear so fast!
Lamb goes on sale on the 21st. Or was that the prime rib roast?
Your sister likes the guy on the right. Your brother voted for the one on the left. They shouldn't sit next to each other. Or across. Hmmm, would it be appropriate to stick some adults at the "kids table?"
Your daughter wants world peace, but your grandson would settle for a bowl of whirled peas. Peas are on sale now.
Little Jimmy wants the new video game…the one with…oh, shoot! What was it again? It had guns in it…that should narrow it down for the man at the game store.
The church supper is on the…9th? No, 10th. Or was it cancelled?
The kids' Christmas pageant is the following week. Joey is a wise man, but you'll need to buy him some frankincense.
Or was it myrrh?
Alice finally gave you her "top secret" and "world famous" gingerbread cookie recipe, but you can't for the life of you remember where you put it.
You look in your wallet and gasp.
How did that happen?
Time to get planning.
Free Printable Holiday Planner
With this 34-page free printable Holiday Planner you'll receive:
3 Binder Covers
Monthly Planner Printables for November and December – both in landscape and portrait formats, and each comes with two week-starting options (Monday and Sunday)
Weekly To Do List (with two week-starting options (Monday and Sunday))
Holiday Budget Tracker
Christmas Gift Planner
Black Friday Deals Tracker
Cyber Monday Deals Tracker
Holiday Gift Planner / Budget Tracker
Christmas Shopping List
Holiday Card Tracker
Christmas Decoration Planner
Holiday Party Planner
Christmas Party Planner
Holiday Playlist
Holiday Movies Watchlist
Christmas Baking List
Christmas Meal Planner
Recipe Card
Grocery List
Christmas Bucket List
Notes Page
Ideas Page
2 Pages of Gift Tags (total of 16 gift tags)
Now it's time to click on the button below to download the free printable Holiday Planner and get on with your Holiday planning! Please remember this Holiday Planner is designed as a PDF and to fit 8.5×11 inch paper. But you should also be able to print it on A4 size paper by selecting the "scale to fit" setting on your printer. You'll find this Holiday Planner under the "Christmas" and "Planners" sections of The VIP Patch.
If you're not a Navage Patch VIP, you won't be able to access our Freebies Library. But that can be easily fixed! Subscribe for free on the form below and become a Navage Patch VIP. Once you subscribe, a password will be sent to you in our Welcome email, and that will give you access to The VIP Patch [Freebies Library] and this beautiful FREE holiday planner.
Get free access to our incredible library of
Free Printables and SVGs
We love it when you share our posts on Pinterest!