DIY Dollar Store Christmas Garland
This Dollar Store Christmas Garland is a fun and easy DIY and a great way to get creative with all the little holiday bits and bobs you have lying around.
On a recent nature walk, I stumbled upon a majestic creature in its pristine native habitat. I watched, enthralled, as the beautiful specimen went about its daily routine, unaware that it was being watched and photographed.
I'd never before spotted a Great Blue Handan in a Dollar Tree. It was magnificent! [LOLOL – You're so lucky that I love you! -Handan]
Notice how it rifles through every item, looking for perfection in an ocean of sameness! Such dedication!
See how it smiles when it encounters the Christmas Wall! Breathtaking!
Look! It's taking something! Likely it will take more than one. The Great Blue Handan likes to be prepared for anything, and the best way to prepare for anything is to buy lots of everything! How wonderful!
OhMyGodOhMyGodOhMyGod! It's smiling at me! Stupendous!
I ventured a question to the magical thing.
"So, uhhhh, what are you buying?" I said.
It continued to smile at me, and then it said, "I'm buying these gift tags so my babes can make me a Christmas garland!"
"I see," I said and slowly started to back away. "What a lucky guy."
I was walking backwards now, but the Great Blue Handan was keeping pace.
"Does my babes know how he's going to make it? Hey? Hey? Does he? Hey?" it said, following too close for comfort.
I turned to run, and the last thing I heard was, "Get me another cart!"
DIY Dollar Store Christmas Garland
We've got a lot of Christmas doohickeys and doodads all around the craft room and in the basement. You know what I mean. Embellishments, I think they're called? Or maybe adornments? You know – it's all that crap that pretty useless on its own, but you can glue it onto other stuff so it becomes less useless.
Yeah, well we've got tons of it coming out that wazoo.
Finally, I got to use some of that junk stuff! And I guess that's the beauty of this little craft. You can make this garland out of whatever you may have on hand, or you can certainly buy the little embellishments and adornments at Dollar Tree.
The pic below shows what you'll need for the first part. My babes bought a bunch of those "wooden" gift tags (actually just painted MDF). Her plan was for me to cover them with with scrapbook paper and then decorate them with my choice of doodads.
Now, in an easy world, I'd have been able to glue the scrapbook paper right onto the tag and head on to part 2 of this little Christmas craft.
Alas, the Doodad Factory, in all its infinite wisdom, decided to make the letters and snowflakes a little raised.
No biggie! Nothing a little sandpaper couldn't flatten in two shakes of a rooster's tail.
That only took a minute or two.
Ta-da! All done! Okay, fine, I cheated and used my random orbit sander. You can cheat, too!
Next, using DecoArt paint, I painted the sides to hide the brown MDF. Nobody likes brown MDF.
Nobody.
I also painted in a bit because I'd be distressing later, and I thought that the paint would be seen. Turns out, I distressed all the way down to the MDF, so I probably didn't need to paint as much as I did.
Both sides…
I painted some black, some red and some green.
This was a weird-looking green, but it actually worked for the whole "vintage" thing Handan kept yapping about.
Six tags ready to go, but only five would make it to the finals…
Handan has tons of scrapbook paper (cardstock paper). She buys books of the stuff from Hobby Lobby and JoAnn's when they are on 50% discount. But she also buys them by the sheet when something strikes her fancy – like the buffalo check below. And it's cheap! Only about 25 cents per sheet.
Mod Podge. My sworn enemy. Don't believe me? Read all about it here if you'd like.
I slathered the stuff on one side of a tag.
Then I laid a sheet of scrapbook paper on top.
I used a brayer make sure it was on smooth and wrinkle-free. Tip: don't bray too hard, or you'll take the ink right off the scrapbook paper!
After braying, I cut around the edges with a razor.
With one side done, I flipped it and repeated the steps on the backside.
I sanded the edges to give the tags the distressed vintage look that Handan was after.
Ooooh, looks like 1950!
One done and ready for embellishments.
Here we are – all done and ready for part 2!
Now for the fun part! I gathered up all the Christmas embellishments my babes has been collection over the years – it was time to put (some of) them to use!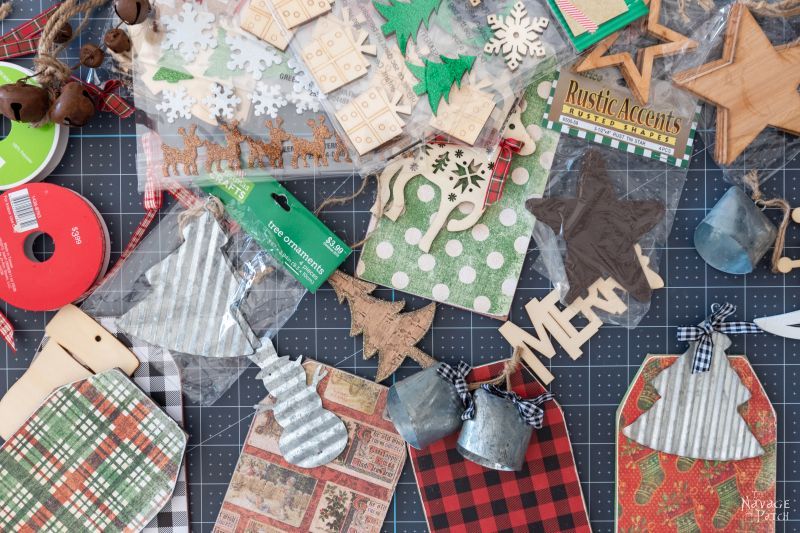 We have several packs of these tin bells – lord knows why. But hey, they're finally getting their day in the sun! I pulled off their ribbons and tied two together.
A little hot glue held them in place.
Shazam! It practically SCREAMS farmhouse!
Wait, that's still cool, right? I'm mean the whole "farmhouse" thing?
Yeesh, I wouldn't want to come off looking like a square. Here I am all "Ooooh, look how farmhousey this is!" Meanwhile you're like, "Pfffft, what an idiot! Farmhouse was so 2019! Doesn't he even realize that RANCH-HOUSE is all the rage now??"
Madam, I'm not what you'd call a trend-watcher. When "farmhouse" quietly goes the way of the dodo someday, I assure you, I'll be the last to know!
Hey, and I found a good use for those cowbell ribbons!
A little hot glue….
Bam! Another piece of the garland complete.
By the way, it occurred to me as I was assembling my Dollar Store Christmas garland that crafting would be a miserable affair without the hot glue gun.
Can you imagine actually waiting for regular glue to set and dry before moving on to the next step? It'd make crafting as slow and monotonous as woodworking! Now you know why woodworkers have such sparkling personalities!
I found this in my office drawer. I had big plans for it.
Big plans.
But that project will probably never see the light of day, so I commandeered it for Handan's garland.
Why settle for bland wood when you can bedazzle it with some Rub 'n Buff?
Sure, paint would have been easier, but….Hey, it's RUB 'N BUFF!!
See that bow? I made it! Wanna know how?
I'll teach you how to make little bows like that lickety split! Just have a peek at the short video below.
[embedyt] https://www.youtube.com/watch?v=FJi_vqzVU7I[/embedyt]
I "painted" the bottom with red stain (I thought it was paint when I brought it up form the basement).
Looked pretty good, but….
Since I was already playing with my Rub 'n Buff (can you tell I like to say "Rub 'n Buff?), I decided to vintage it up a little.
Because if it ain't vintage and it ain't farmhouse, it just ain't cool!
(Right? Vintage is still cool?) Yeeesh, I should keep up with the trends.
And for the top of the stocking – another Dollar Tree special! Seriously though, I don't know how some of the stuff in that store can be a dollar. Okay, so this is a microfiber cloth. I mean, big whoop, right? But they have freaking scientific calculators in there that can solve complex mathematical equations! If you could put one in an envelope and mail it back to 1969, NASA could have strapped it onto a Saturn V rocket and used it to send Neil and the boys to the moon!
Okay, so you get the point with these gift-tags-turned-Christmas-garland, right? You can use literally anything.
Well, maybe not literally anything. I mean, a pork chop probably wouldn't be a good embellishment, but you get my drift, right madam?
It's time to root through your craft stashes and put some of that stuff to use!
Now, I made 6 of these, but we only decided to use 5, as one of them kinda looked like a kindergartner made it.
What's that?
Oh, you want to see that one, do you?
*sigh*
Very well, madam. Very well. Here ya go.
Yes, it's a tin snowman frolicking in a snowy forest while baby reindeer prance in front of him. Complete with puffy glitter trees and glitter snowflakes.
As I said, madam, I was channeling my inner kindergartner when I made that one.
Anyway, to hang the 5 tags that didn't look like they were immediately followed by Juicy Juice and Nap Time, I used these doohickeys that Handan gave me. [I call them garland clips and you can find them here – Handan]
Okay, enough preamble and chatterboxing! Let's get to the glory shots, already!
My babes hung these above our newly-madeover fireplace.
She really couldn't be any happier with her new fireplace. It's the perfect place for her to hang this Christmas garland.
And the greenery (lambs-ear garland) she hung from the mantle can stay year-round.
We just need to swap out seasonal garland tags like these dollar store Christmas ones.
So there you have it – a cheap and easy DIY that will help use up some crafty clutter. And hey, just because my kindergarten-looking one didn't make the cut, doesn't mean you can't have your kids or grandkids make a whole slew of of these. Glittered macaroni makes perfect sense as decor when made by little hands.
Now that we're officially in the Christmas Season, we're scampering here to get the living room painted, the stair rails stained and all the trim painted in time for all the decorating we plan to do.
We're wondering what you guys will be up to this year. With Covid, everything has changed, and we'd like to hear how you'll be handling the holidays this year.
For us – we'll be having Thanksgiving and Christmas alone. We're just too far from family, and travel is out this year. But that doesn't mean we won't do all the decorating we would normally do! In fact, we'll likely do more, because the neighborhood we live in went big for Halloween, and I've heard that Christmas may be even bigger!
Yep, we hit the jackpot with this move! 🙂
We love it when you share our posts on Facebook and Pinterest!