Learn how to fix a sagging door in under minute! It's a common problem in every house, but the solution couldn't be simpler!
During our recent Pantry Makeover, we ran into the problem of a sagging pantry door that was rubbing against the floor. We had loaded too many heavy items into some door shelves that we had just installed, and all that weight had pulled the door out of alignment, as shown in the picture below. Fortunately, there is an easy fix! Read on to learn how to fix a sagging door.
Before we get into it, be sure to follow us on Pinterest, Facebook and Instagram, and click the subscribe button at the top of this page to sign up for our email list so you'll never miss a post!
How to Fix a Sagging Door
Not only did the pantry door rub on the floor, but it also rubbed against the jamb.
We tried unloading the door shelf and putting light stuff there.
No change.
I tried tightening the hinge screws.
No change.
I tried replacing all of the hinges, thinking they may have bent.
No change.
Well, if I couldn't tilt the door, then maybe I could tilt the entire frame. Here's a quick and simple anatomy of a door frame.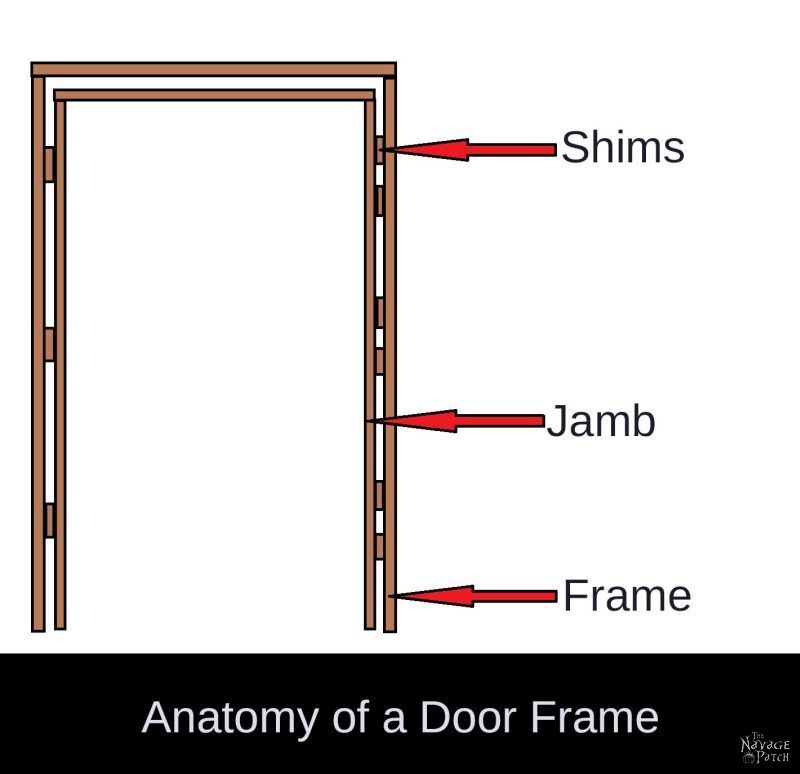 The jamb isn't butted against the frame – there are shims in between. So maybe I could use that to my advantage.
I focused on the middle screw of the top hinge.
I removed that screw – a dinky little thing.
And replaced it with a 3-inch wood screw that I scrounged up from the basement.
I drove the screw into the middle hole.
It was long enough to penetrate through the jamb, through the shim gap and into the frame. I screwed it all the way and then a half a turn more. This actually pulled the entire door jamb into the frame, and in the process it straightened out the door. To add even more strength, I repeated this with the middle screw of the middle hinge.
If the door had been crooked the other way, I would have driven the long screw into the bottom hinge.
A simple solution to a very common problem.
The door works brilliantly now.