Check out our pantry makeover and learn some real handy pantry organization ideas!
On a hot and humid August Saturday last summer, I decided to clean our shed. As Barish and I were spilling its contents onto the lawn, Handan came running up with a camera and started to document the event. She later insisted I write a post about it. I fought her on that idea. Who the hell wants to read about other people cleaning out their shed?
Apparently you do.
I've never grasped the popularity of that post. The only sensible explanation is that you all just wanted to see my underwear. What other possible explanation could there be?
Fast forward to this spring, and my dear Handan decided to give my pantry a mini makeover for Father's Day. There's not a space on Earth that Handan can't pack more efficiently than it already is, and my pantry was woefully inefficient.
She again demanded photos. She again informed me that I would write a post about it.
Folks, I'm hoping I can make lightning strike twice here. I can't imagine reading about someone else's pantry, but hey, what do I know? I'm just the monkey with the typewriter. Handan is the brains behind this organization (pun intended).
And ladies – because I know it's why you read these posts, my Calvin Kleins just might make an appearance 😉
My pantry is pretty simple: it's a small closet space with wire shelves. Part of the space extends beyond the door and is a little harder to reach. As far as pantries go, it's not the smallest, but it sure ain't the biggest either. My problem has always been how to organize it properly (and keep it organized).
The full before pic was blurry, but I managed to get top half and bottom half pics. You can see that anything behind the front row is unseen and quickly forgotten on those top two shelves. That top shelf in particular held many secrets behind the bread and Nutella. Sometimes I'd find year-old cookies (bonus!), but often they'd be picked clean, save for one cookie (The Boy found the stash and slowly drained it – boo!). Sometimes I'd find green bread (science!), and sometimes I'd find hippie crap like quinoa (when the hell did I buy that…and WHY?)
The Tupperware shelf was the one shelf that I insisted remain organized. I've spent my entire life fighting Tupperware, and I finally had enough last year. It is quite literally the only thing in my life I've ever been successful at organizing and keeping organized for more than a week. I was rather proud of that shelf, though the configuration shown above is the modified version that Handan imposed on me after declaring my entire shelf of Tupperware "inefficient." Maybe it was. But it was organized, and I liked it!
My kitchen is mine, and I like to keep it that way. I always get nervous when Handan starts snooping around my space, because it will surely lead to change, and my pantry was no exception. She took a look at it before Father's Day and a makeover bomb went off inside her head. My pantry's days were numbered.
Her first thought was to gut the place and have me build new shelves from scratch – wooden ones. She must have seen the look of horror on my face, so she took pity and changed her plan somewhat. We would leave the existing shelves, and she would find some slide-out shelves and caddies to add onto the existing wire. We'd also add some storage to the inside of the door – a total waste of good space in her eyes.
Her goal was not only to tidy up the pantry. That would be too easy – beneath her skills, really. No, my babes also wanted to clear my baking supplies off of the counter…
And she wanted to clear all of my hot sauce bottles and rice from the microwave (and get rid of the baker's rack, to boot)…
And she wanted to empty another cupboard that was filled with even more baking supplies. She wanted all of that stuff to go into the pantry. I knew she could do it. If she set her mind to it, I've no doubt she could engineer a way to fit our entire house inside that pantry.
Oh, but about those shelves staying the same? Yeah, not really. She wanted to add two more wire shelves, which meant that we had to remove everything first and start over.
Before that work started, she did exhaustive research on Amazon and bought a bunch of slide-out shelves that would install over the existing wire. She also bought a slide-out for the floor of the pantry. And while she was at it, she bought slide outs for another big double cabinet and slide-outs for under the sink. I will get back to those near the end of the post. Now, you may be thinking, Hey didn't you build slide-out shelves for your kitchen last summer? Why didn't you build these, too??
To which I answer: Madam – I enjoy flopping around in my cabinets like a dying fish about as much as you would. I've built my last slide-out shelf! (I hope!)
Anyway, where was I? Ah yes, slide-outs. Beautiful, easy, store-bought slide outs. While we waited for the slide-outs to be delivered, we bought the wire shelving for the inside of the door. I installed it, and Handan started to fill it up.
Once she had it filled (with version 1.0 – she would go through many versions before settling on its current configuration), and once we received everything she was waiting for, we began the tear-down of the current shelves.
Somehow in all the chaos and disorder, I found time to make bacon. Priorities.
Removing the old shelves left a lot of holes. Handan decided that we would fill those holes, and then she would paint the pantry.
She used the same pure white that we used for our guest bathroom renovation.
Installing the shelves was pretty easy. We first drew a line with a level where we wanted the shelf. I cross-marked where each support would go, careful to make sure the support would line up with a space on the wire shelf.
Then I drilled a hole for each bracket and hammered them into place.
Next, I clicked the back of the shelf into the support brackets.
With a small level, I marked the location of the front support.
I then drilled and hammered in the front supports.
Simple.
This was our first time installing this type of wire shelf. When we first moved into this house, we removed identical shelving from our master bedroom and guest bedroom closets and replaced it with adjustable-height wire shelving. That was a colossal pain in the butt, and my apprehension for this project stemmed from that awful memory. These shelves were infinitely easier to install.
Except, of course, when we got near the floor. That's when I let Handan take over. Aren't I thoughtful?
Once we finished installing the new shelves, which were really the old shelves in different places plus two more, Handan installed the floor slide-out. This would hold my big cans of oil and gallons of vinegar and other heavy stuff. Notice in the picture below the pull-out shelves she already installed up above. I kinda forgot to take pictures of that process.
This floor slide-out couldn't be easier to install: just screw it into the floor (or bottom of a cabinet, if that's how you wanna roll).
To make things slide easier, Handan installed some heavy-duty shelf liner.
She then spent a considerable amount of time calculating the optimal configuration for this space. Once she had it, we thought we were done. But there was a problem (isn't there always?). She had originally loaded a lot of heavy stuff onto the shelves inside the door, and the door started to hang crooked. It was hard to close, as it rubbed on the floor. What to do?
Fortunately, there was an easy solution! Here's how to fix a sagging door!
Okay, the pantry makeover was complete, but before I show you how it looks now, I believe I promised you some Calvin Klein action. So here's the bonus round.
Handan didn't just stop with the pantry. She tackled all of the remaining cabinets that I never made slide-out shelves for (and she totally rearranged that ones that I had).
The worst cabinet was the double-door monstrosity under my bar. I had all sorts of crap piled in there, from cookware to cocktail napkins. It was so precariously stacked and crowded that I preferred to leave it alone and make do without whatever I may have needed from its bowels.
Handan found the perfect solution: two two-tier slide-out shelves that attached to the cabinet with screws to the bottom and the back. I volunteered to crawl around and install them.
Okay okay I may have exaggerated the amount of underwear I was going to show at the beginning of the post, but you're here now, so you might as well keep reading. Anyway, a gentleman shouldn't go around with his underwear hanging out, so I adjusted myself accordingly.
When it was all installed, I had an organized and functional cabinet.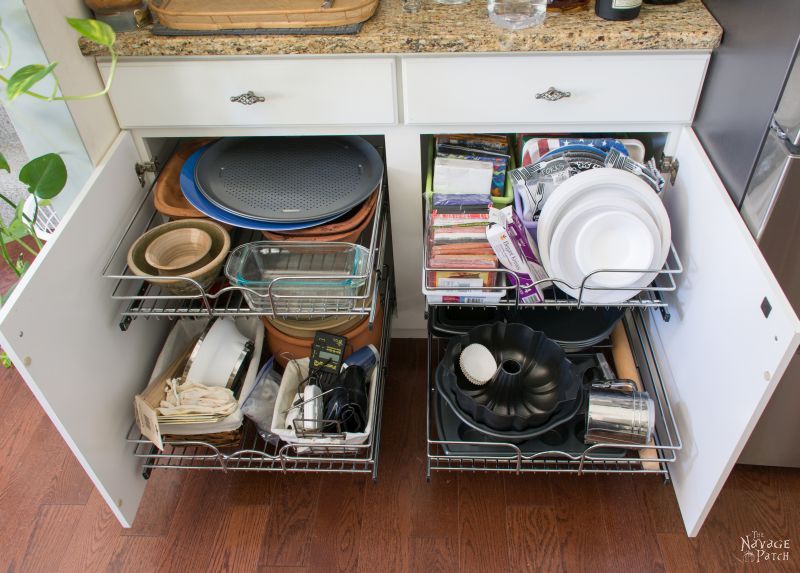 These slide-outs are awesome. Almost as good as the ones I built 😉
I'll show you one last thing, and then we'll get back to the pantry. After much measuring, Handan found the perfect slide-outs for under the sink. There were pipes, a garbage disposal and dishwasher lines to contend with, but she nailed it.
For the first time ever, I can easily reach everything under the sink. It's a miracle!
Okay, now back to the pantry. I must warn you, it's not very exciting, unless you're into peeking at other people's stuff…in which case, you'll love it! But really, as I said at the beginning of the post. It's just a pantry. So don't expect some WOW photos like the ones in Handan's Waterdrop Solar Lights post, okay?
Good, now that your expectations have been tempered, let's look at the results. Door storage? Check!
An overview.
Now, let me tell you, these last "after" photos were taken almost a month after we finished the project, and the pantry is still in perfect order! I think Handan may have given me the best gift of all and something I've never had: organization.
We linked to the slide-out shelves we used in the text of the post, but here is a list of everything, in case you are interested in upgrading your kitchen experience.
SOURCE LIST
In the pantry:
Under the sink:
In the double-door monstrosity cabinet under my bar:
We love it when you share our posts on Facebook and Pinterest!