Spalted Maple & Mahogany Tea Tray
Believe it or not, Handan and I made some pretty cool projects long ago in the Days Before The Navage Patch! The problem with those projects is that we didn't take a lot of process pictures, because, well, there really wasn't a reason to!
But somehow, deep down inside, we must have known there was a blog in our future, because we did take some pictures while we were building and making!
This is one such project.
I had some leftover wood from my Beauty in the Beast project (also made before the blog), and I had a couple of thin pieces of spalted maple that I had been itching to put to good use. Spalted maple is fascinating.
Those black lines are the "spalted" areas, and they are caused by a fungus that attacks the living tree. Spalted wood can be breathtaking.
I had a couple of small pieces, and I wanted to showcase them.
A tray seemed like a good way to show off the spalting, so I started out making two – one with mahogany sides, and one with stained hard maple. I never finished the one with the maple sides, so I took some pics of the remnants to help explain the process.
I started by cutting my spalted maple into a proper rectangle, as the original pieces did not have squared corners. For my first attempt, I sanded the piece up to 2000 grit, and then stained it with Minwax Ebony stain. I rubbed the stain off immediately. This is a technique I've used to good effect on pine.
Though I liked the look, I feared it would be too dark to match well with the mahogany and the stained hard maple sides.
I flipped the piece over and sanded again. When sanded, I measured the spalted maple's thickness.
To build the frame, I cut strips of maple and mahogany and mitered the corners to 45 degrees. Before gluing them into a frame, I set the blade of my table saw to a height of about 1/8 inch and cut a groove the length of all the pieces the same width as the thickness of the spalted maple.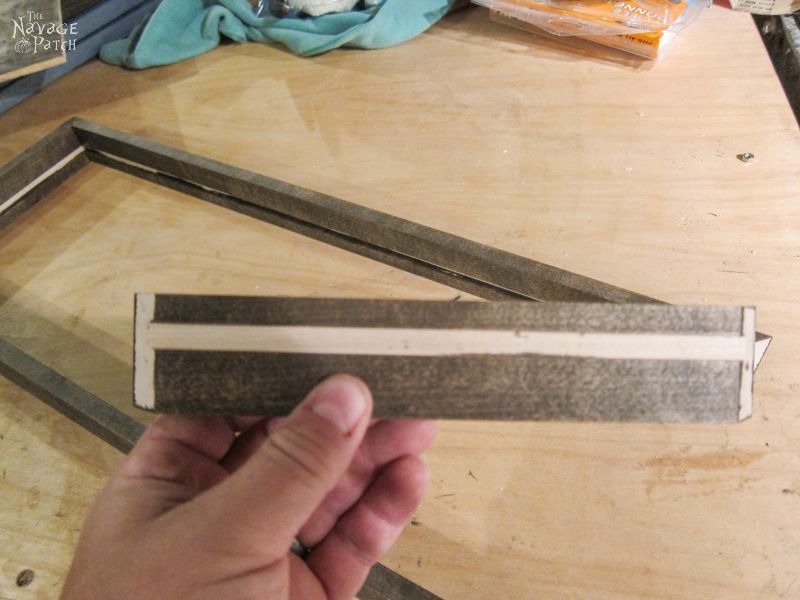 I then glued three sides of the frame together.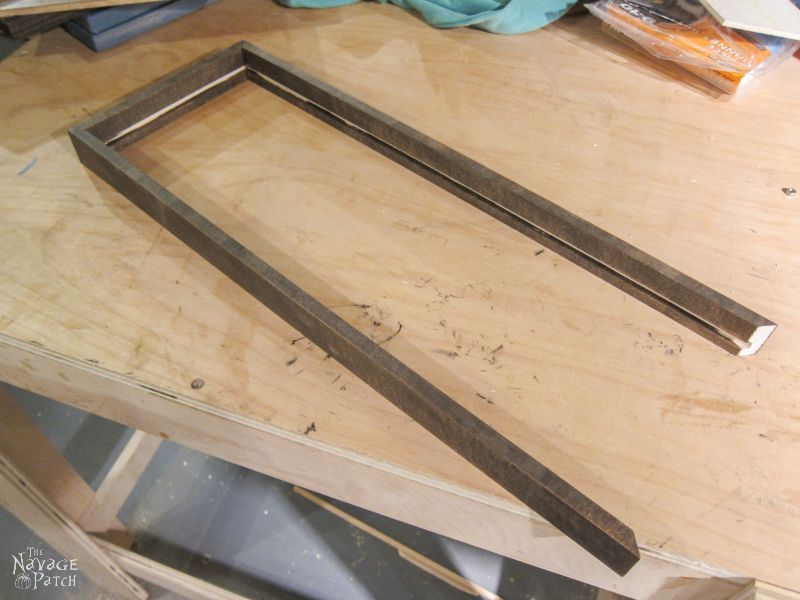 When the glue was dry, I inserted the piece of spalted maple and secured it in place by gluing on the last piece of the frame.
I sealed the wood with General Finishes Salad Bowl Finish – the same food-safe varnish I used on my cutting board.
Once I had it shining to my satisfaction, Handan gave me some metal ornates for the corners and some fancy little feet for the bottom. The only thing missing was handles.
We searched Amazon.
We searched Home Depot.
We searched Lowe's.
We scoured Hobby Lobby.
We looked at a thousand websites.
Then we gave up.
A year later, we took up the search again, and this time Handan found some that worked. She found them at Amazon – the very first place we tried the year before.
Doh!
My tea tray was complete. I've been wanting to share it with you, but I'd been putting off writing about it because I didn't have many process pics.
No more putting it off.
Here she is.