A Solo Motorcycle Ride Across America – Part 1
Here begins the tale of a cross-country motorcycle trip I took back in 2001. I recently found some photos and a few scribbled pages that I thought passed as a journal at the time. I scanned the photos – both black & white and color, taken with an old 35mm film camera. I want to get the story out before time robs me of my past.
All I needed was an excuse.
It was the spring of 2001, and I was living in my first apartment in San Francisco. I had recently quit a lucrative job and was sitting on a little bit of money and a lot of time.
I was itching to go for a long ride on my bike.
That winter, I had read books by guys who had ridden their motorcycles across Canada and up through Alaska to Prudhoe Bay on the Arctic Ocean or down through Mexico, Central America and South America to the southernmost tip of Tierra Del Fuego in Argentina. I was obsessed with these long motorcycle journeys. I wanted to light out on one of my own. I had the time, and I had the money.
I just needed an excuse.
My excuse arrived one spring day in the form of an invitation to my first nephew's baptism back in my hometown of Glastonbury, CT.
Perfect.
A cross-country motorcycle trip was exactly what I needed! The distance from my apartment to my parents' front door was exactly 3014.5 miles, if you took the major highways.
But I had no intention of taking the interstates.
I wanted to see this great country, and that can only be done by traveling the smaller roads and state highways. I grabbed a map and began to plan.
Two weeks before the baptism, I packed up my bike and hit the road. I carried a few changes of clothes, boots, rain gear, a sleeping bag and a tent. My plan was to sleep under the stars, if at all possible. Other than that, I had no plan. I had never ridden for more than a few hours at time, so I had no idea what was in store for me.
*****
Day 1
I pulled away from the curb, took the on-ramp for Interstate 80 and headed across the bay (I had to take an interstate to get over San Francisco Bay). Halfway across the bay sits Yerba Buena Island and Treasure Island. I took the exit and parked at the old naval station on Treasure Island, so I could look back at the city and snap a farewell shot.
I breathed in the bay air, took one last look, then swung my leg over my bike and headed east.
When I got to Sacramento about an hour and a half later, I dropped off I-80 and picked up Rt 50, which would take me through California, up past the eastern shore of Lake Tahoe, across Nevada and into Utah, where I would pick up I-70 for a bit.
Once I got on Rt 50, I felt my journey had begun. The traffic was gone, and the road unfurled before me. The day was warm and clear and perfect. As I approached the foothills of the Sierra Nevada Mountains, I stopped for lunch at The Red Apple Cafe in Placerville, CA. I parked my bike and was thrilled to see a patio overlooking the foothills. I settled in for a relaxing lunch, and as I looked out onto those hills, the stress of the city began to ease. The late nights, dark clubs and loud music which had been my constant companion since quitting my job started to fade. Sunshine, birdsong and the wind whistling through the pines took their place.
Later that day, as I was gassing up somewhere in the Sierras, I spotted a bike just like mine, a BMW R1100 RT. It seemed to be loaded much like mine was, so I walked over and introduced myself to its owner. Turned out that this guy in the middle of the Sierra Nevada Mountains, with my exact bike, had embarked on the same journey as I was on! He, too, was riding solo across the country! It would be tempting for you to think that at this point, we both said, "Hey, great! Let's ride together!" But we were both out there for our own reasons, and we were both out there to ride alone. No words were needed. We shook hands and took to the road, he ahead of me. I let him get some distance before I got back on the road.
Sometimes we bikers want company.
Sometimes we don't.
Bikers are social and friendly, for the most part. We always wave when we pass another rider (except certain misguided Harley riders who will never wave to anyone not riding a Harley), and we'll always strike up a conversation with another biker when we see them at a gas station or a restaurant. Later in my journey, a stranger who I'd never meet, riding a bike unlike any I'd seen would lift me out of a day-long funk with a single gesture. More on that later.
I stopped a few times in the mountains so I could park my bike, walk a bit and just listen. If you've ever been in the mountains out west, you know what I'm talking about. Standing on a ledge on a mountain full of pine, inhaling the scent and listening to the wind whistle through the needles is one of life's greatest and simplest pleasures.
As that first day wore on, I drove past Lake Tahoe, a lapis jewel in the afternoon light. Tahoe marked the beginning of the end of the Sierra Nevada Mountains. I would be sad to leave them, but more wonders lay ahead. I hooked up north and crossed into Nevada, passing the lake to my left. Halfway up the lake, I veered east with Rt 50 and headed down the hills into Carson City. I stopped in Carson City to get some fuel for my bike and for my body. In the parking lot, I ran into some more bikers. These three grizzled dudes looked like they rode from 1976 straight into 2001. They were geared up for a long ride, but I can't remember where they were from or where they were going. As I said, my "journal" was spotty at best. We talked for a while, and I asked to take their picture. Don't let their looks fool you. These guys were friendly and outgoing. On the road, we're all brothers.
I pointed my front wheel towards the east, twisted my throttle and left Carson City behind. The day was wearing on, and I was thinking about stopping for the night. The camping options didn't look too promising around those parts, as I wasn't driving an RV. The kind of camping I was after involved wide open spaces, not double-wides in parking spaces. I rode until Fallon, NV, then decided to find a place to bed down for the night. I pulled into a Holiday Inn Express, got a key and unloaded my gear.
I showered off the day's grime and headed out for some food and a drink. I rode 305 miles that first day. Not a bad distance, considering the mountains and the sightseeing. I turned in early that night. The next day would be all Nevada on Rt 50, a stretch of road named "The Loneliest Road in America."
*****
Day 2
I saddled up at 9:00 the next morning and swung my bike back out onto Rt 50. I would pass only three small towns over the next 409 miles. They weren't kidding when they dubbed it "The Loneliest Road!"
There is freedom on that long stretch of road. Very few places in America still offer desolation like that. We have all grown up safe on our roadways; help is always nearby. But on that road, with nothing around but desert and hills, there is a frisson of fear.
What if I go off the road, and there is no one around to see?
What if I run out of gas?
Imagination takes hold on The Loneliest Road.
The geologic topography of that part of Nevada is called "basin and range." From high above, it looks like small bands of mountains running north/south (range) with flat space between (basin). This type of topography is formed when the Earth's crust is stretched. Faults develop, and the basin essentially sinks, while the range is pushed upward. This all happens very slowly, over millions of years. What it means for motorists and bikers is flat open road, punctuated by twisty mountain road.
The open space surrounded and enveloped me. I could see for miles in every direction. After some time, I spotted a white mountain gleaming in the distance ahead of me.
Mirage?
Snow?
Couldn't be snow, these hills weren't high enough. Then what the hell was it? As I approached, I saw a sign on the side of the road. A sign like that just begged for a photograph, so I obliged.
And yes, there is a working solar-powered phone out there, but it's not as impressive as the sign that advertises it.
The white mountain I had seen in the distance turned out to be an enormous sand dune.
I turned off Rt 50 and took a dirt road towards the dune. It is known as Sand Mountain, and it is 2 miles long and 600 feet high.
It is a Singing Sand Dune.
If the wind hits it just right, it can create small avalanches, and due to the unique shape of the sand grains, it produces a low-pitched throbbing "song." But that day, the dune was infested with ATVs, so I didn't hear anything but engine noise and the whooping of the riders.
Back on The Loneliest Road, I settled in for the rest of the day's ride. Roads like that are a great place to think. Though I took that road almost 16 years ago, I can still remember the time I had to think. There wasn't much else to do. My bike didn't have a radio like some big touring bikes do. And even if it had, I wouldn't have wanted to break the spell of road and wind. There is solace in solitude and silence.
Some time later, I pulled off at the Hickison Petroglyph Recreation Area to stretch my legs. There was a half-mile loop through a field of rocks carved with ancient petroglyphs.
Some of the carvings on these rocks date back 10,000 years.
That is a staggering span of time! The Great Pyramid of Giza is a spring chicken at only 4500 years compared to these rock scratchings!
And yet, some mouth-breathing bozo had to come and leave his mark, because he and his woman are just so important to the world.
It's sad to think that 10,000 years from now, a hairless, big-headed Futureman will look upon this 21st century petroglyph and wonder about the noble ancient creature that carved it.
I left that rest stop feeling awed that I had seen one of the oldest pieces of art created by modern man and slightly annoyed that some uncultured boob would deface such a site.
Humanity never fails to disappoint.
I stopped for fuel in Eureka, Nevada. Gas stations were few and far between on The Loneliest Road, and I wasn't going to miss this opportunity. There were three other bikers at the gas station. I introduced myself and struck up a conversation. Two of them were from Austin, Texas, traveling together across the country. Butch was an older gent who rode a Harley.
Rick rode a BMW, though a different model than mine.
And here was the guy I met on my first day back in the mountains of California! I couldn't remember his name, though, by the time I wrote my journal.
We all spent some time together in Eureka before hitting the road again.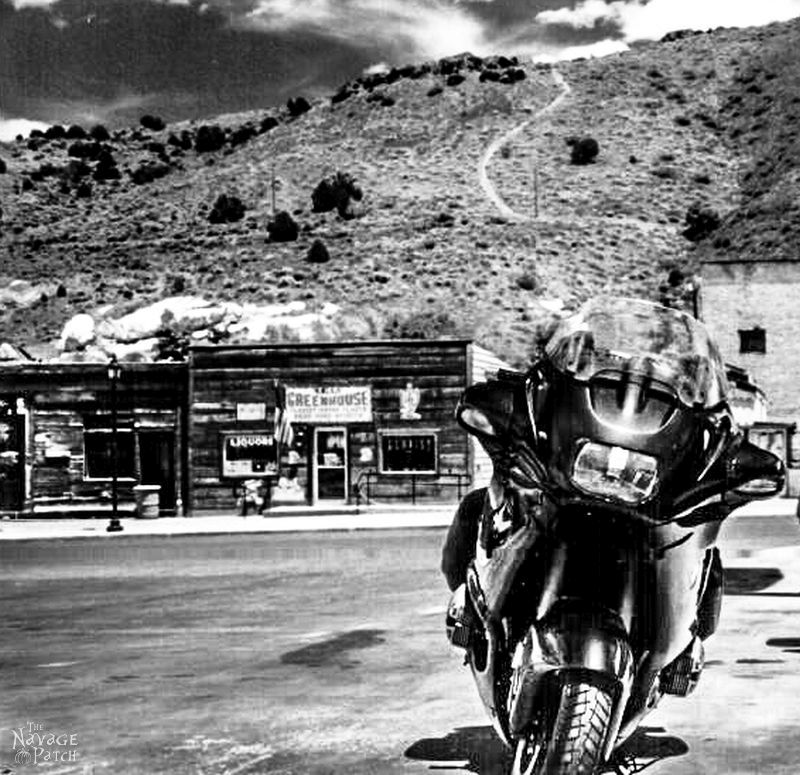 We parted ways, they on their road and I on mine.
Now, here is where my journal gets cryptic. A short time after leaving Eureka, I drove through the last Nevada town on Rt 50, a little strip of buildings called Ely. I don't remember what happened in Ely, but I must have stopped at a McDonald's, where I wrote the following words:
Ely – Bad feel to the town. McDonald's incident.
What the hell??
Later, when I had stopped for the night, I wrote these words:
I was amazed at my reaction to Ely. Pure negativity. I find it hard to write about!
And so I didn't write about it, it seems. That was the end of my journal entry, and now, almost 16 years later, I don't have the barest notion what happened in Ely. Someday, I'll toss Handan on the back of my bike, and we'll take a long trip. I intend to take her to the Loneliest Road, and we will ride once again through the little town of Ely, Nevada.
Something there spooked me.
I want to remember what.
I left Ely behind and set my sights on my destination for that day: Great Basin National Park. I'll bet you $5 you didn't even know there was a national park in Nevada! You could be forgiven, as Great Basin National park is the second-least-visited national park in the lower 48 (not including Dry Tortuga in Florida and Isle Royale in Michigan which are both offshore, so I'm not counting them). If you took the bet, and I won, you can pay me here. If you won, the check's in the mail.
As I turned off of Rt 50 into Great Basin National Park, all the negativity melted away. This was the Great Outdoors, the Nature that I had been craving since leaving San Francisco!
I pulled up to the visitor center and paid the small fee to camp for the night. I rode to one of the designated camping areas, found a comfortable spot and pitched my tent. As the sun dipped behind Wheeler Peak (pictured above), I made a small dinner of cheese, Triscuits, bean dip, Fig Newtons and Gatorade. I fortified myself against the night's chill with a few swigs of whiskey.
When night had settled over the valley, I looked up.
The Milky Way spilled across the sky, a luminous river of impossible brilliance.
Years later, while lying on the hood of my truck at 3am in Afghanistan, I saw that same impossible sky. We are creatures of the light, and we've spoiled our darkness with incandescence and neon. But some dark places endure, if you're willing to travel far to find them. And if you do, you will see the skies that our ancestors saw, and you will understand your place in the universe.
CONTINUE ON TO>>