There are a lot of posts out there about aging (or weathering) wood with different combinations of some sort of vinegar and steel wool. The posts are good in that they explain the ratios of vinegar and steel wool (and sometimes water or tea), but you only see the results on one project they made or maybe a few test strips of pine or cedar. I wanted to know more, so I started playing around a bit.
About a year ago, I mixed up a batch to see what was what. I used one quart of apple cider vinegar and one pillow of #0000 steel wool. After about 4 days, the steel wool had mostly dissolved. I added one tablespoon of black tea leaves, and let that steep for about 30 minutes. I then strained the mixture through a fine wire-mesh strainer. I named that batch "blackwash" due to the liquid's inky-black color when in the jar. The results it gave me on pine skewed red, not black (or gray, as some folks claimed). You can see those projects here and here.
***Update: a reader who goes by the handle Lazy Gardens pointed out why I wasn't able to get the gray color I was after with my pre-mixed blackwash:
Here's why … the tannin from the tea leaves precipitated out the iron acetate, so it couldn't get into the wood.

If you brush the tannin solution (strong cheap tea, the water from soaking acorns or hickory nuts, etc) into the wood separately, it soaks into the fibers and the chemical reaction happens in the fibers. All those black particles makes the wood turn grey.

Doesn't matter which order you do the solutions, but separate applications is the key.
I can confirm that separate applications does the trick. That was a great piece of advice! That's what I love about this job – no matter how much I teach myself, there is still so much left to discover, and I love it when I can learn from our readers!***
I was looking for something to turn wood gray, like beautiful weathered cedar. I had read that distilled vinegar and steel wool would turn wood gray, so I mixed up a batch of that. This time, I added a pillow of #0000 steel wool to 1/2 quart distilled vinegar. That solution sat for almost two weeks before the vinegar oxidized and broke down the steel wool. I strained out the remaining particles with a coffee filter and then added 1/2 quart water. When I took it to the basement to try it out, I grabbed three pieces of scrap wood: pallet wood (which I think was pine, as most pallets are either Southern yellow pine or oak, and it definitely wasn't oak), milled pine from Home Depot and cedar. The results were interesting, and not what I expected. It had piqued my curiosity. I gathered up scraps of my most commonly used woods: pine (from pallet and from mill), cedar, oak, maple, mahogany, cherry, jatoba, walnut and poplar. I gathered three scraps of each, one for each of my solutions and one to stay untreated for comparison. The results of this experiment really blew me away! The most striking transformation was oak treated with the distilled vinegar and steel wool solution. The most beautiful and rustic was the cedar treated with the distilled solution. The most unexpected was the maple treated with the distilled solution.
There are infinite possibilities when creating and working with these solutions. You may dilute with water or not. You may add more or less steel wool. You may let the steel wool steep for minutes, days, weeks, months or years! My blackwash is now about a year old, while my (let's call it) "graywash" is only a couple of weeks old. Get creative and have fun. There are no rules! Want to try adding lemon juice? Go ahead! Blueberries? Why not? Red maple leaves? Sounds like a great plan! Who knows what you may discover!
In case you can't read the writing on the boards, if they are stacked vertically, the bottom is the untreated, the middle is the distilled vinegar solution, and the top is the apple cider solution. If the boards are lined up horizontally, the left board is the untreated, the middle is the distilled vinegar solution, and the right is the apple cider solution.
Southern yellow pine pallet wood.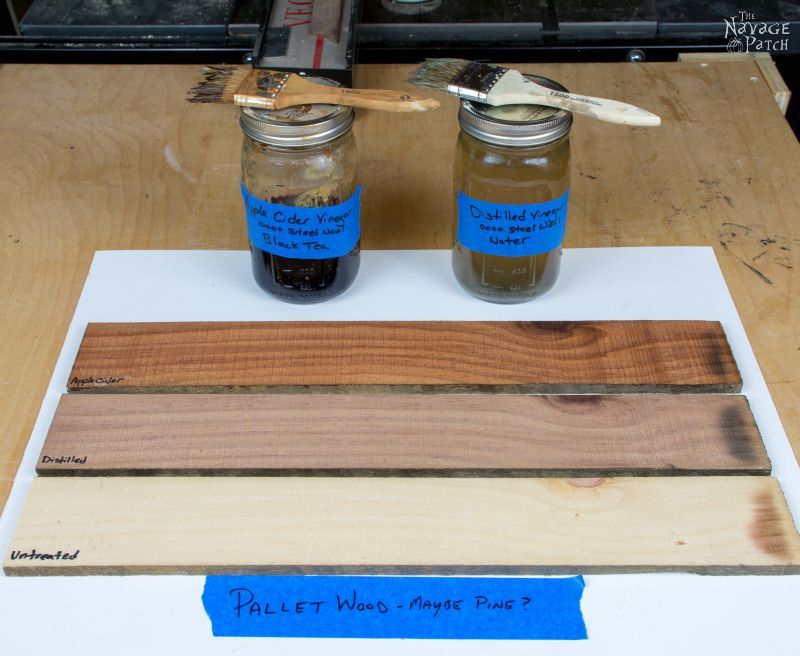 Two types of milled pine – both from Home Depot.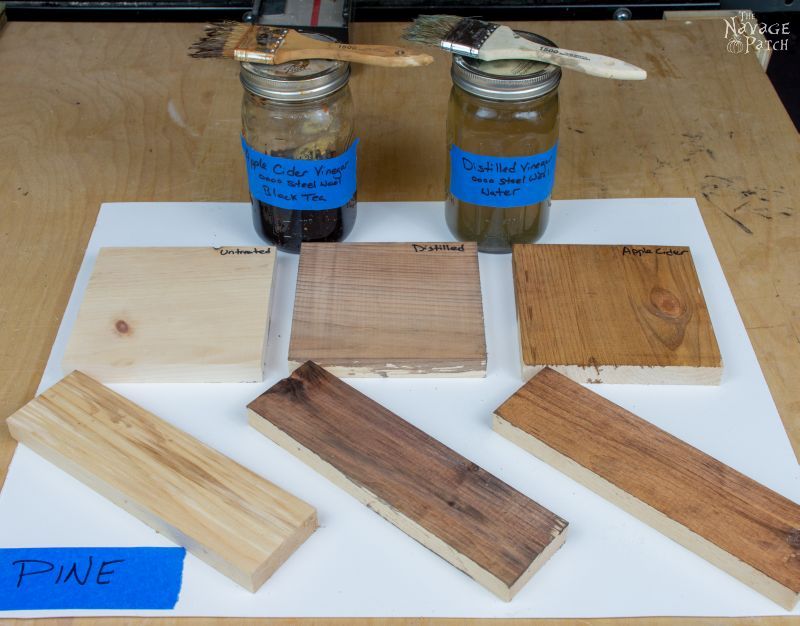 Cedar. The distilled vinegar solution gave the cedar a beautiful rustic look!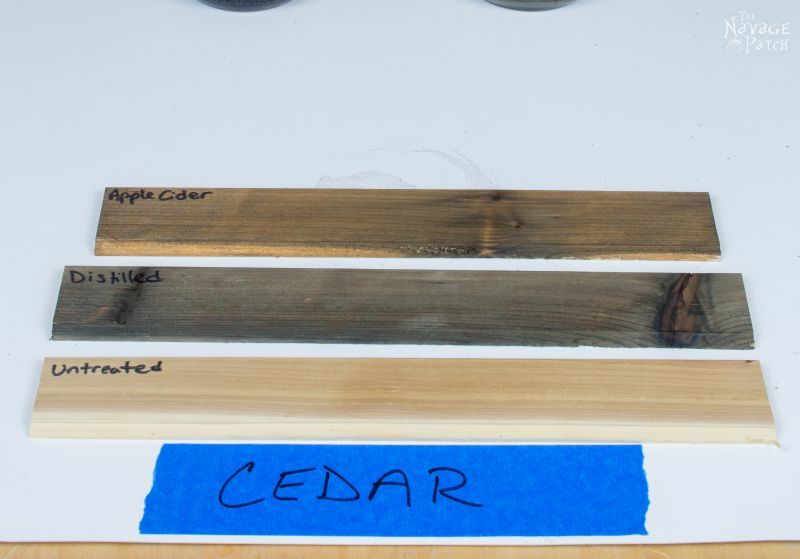 Holy crap! The distilled solution turned that oak black!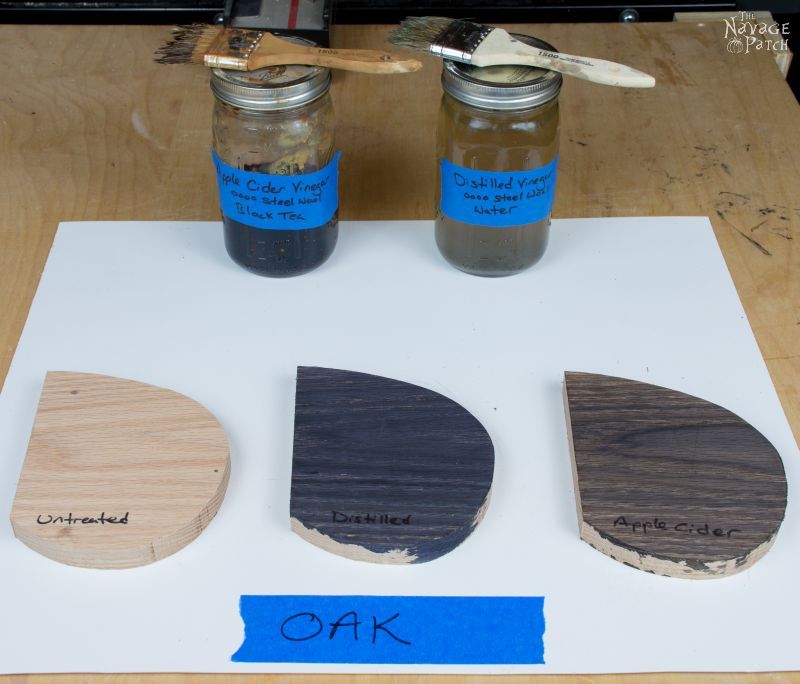 The maple was the most interesting and the only wood to turn gray. If you want the weathered gray look, grab some maple for your next project!
Walnut is generally not stained or treated except with polyurethanes and lacquers, but here's what happened with the solutions. It could come in handy if you have a light-colored piece of walnut, but you really want it to be darker.
Again, mahogany is so beautiful on its own when finished…but I have to say I really like both the solutions. I may try finishing a treated piece with polyurethane to see how it looks!
Jatoba is a wood I use in my cutting boards. It's not something you're likely to encounter. But just in case…
Cherry also gave a grayish result with the distilled solution, but not as striking as the maple.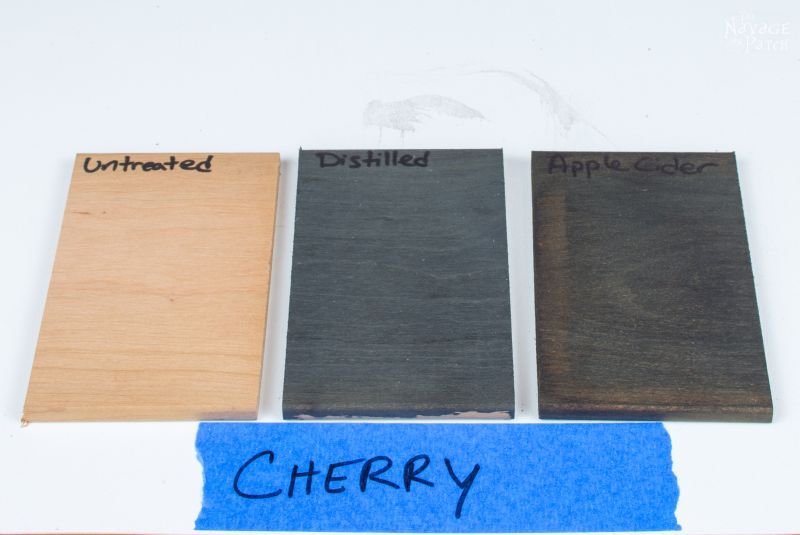 Poplar can be a tricky wood to work with, because it does not accept stain very well. But both of these solutions dramatically increased its otherwise-drab appearance. For this one, I especially like the red tone of the apple cider solution – it's almost like mahogany.
I hope you found some value in this little post.