Nesting herb boxes are a great way to grow your favorite herbs, but they can also be used to hold flowers, succulents or even decor items. Instead of buying them, we'll show you how to make your own. It's a fun project that's quick and inexpensive. We've also included free Parsley, Sage, Rosemary and Thyme stencils!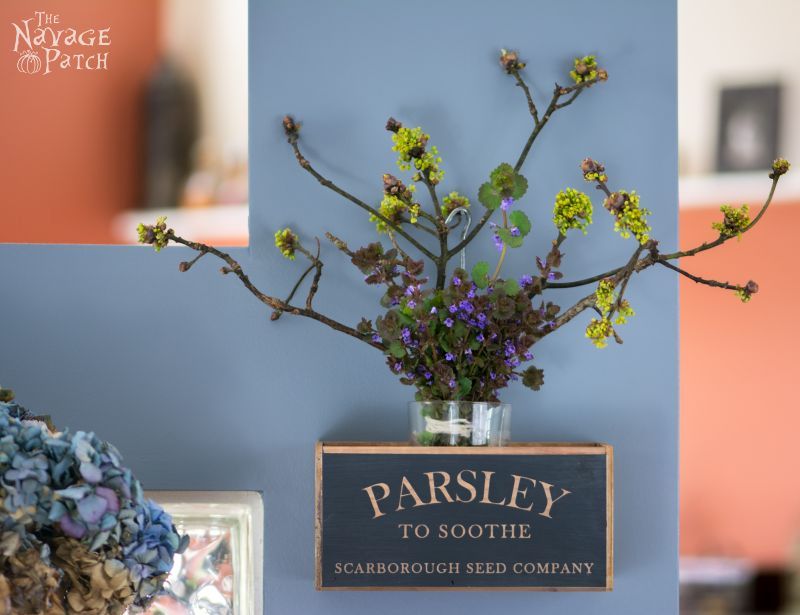 The other day, Handan showed me a picture of some nesting herb boxes for sale online somewhere.
They were out of stock. A quick search revealed that they were out of stock everywhere. Popular little things! But really, even if they were in stock, do you think we would pay good money for something we could make ourselves? Of course not. It was time to make some nesting herb boxes for my babes! I've included downloadable stencils at the end of the post.
But first let's have a little chat about parsley, sage, rosemary and thyme. You've likely heard Simon & Garfunkel croon about those herbs in their song "Scarborough Fair." What you may not know is that they didn't write the song. It is a traditional English ballad that dates back to at least 1670, though the song itself seems to be cobbled together from other old songs dating back even further. The title refers to Scarborough Fair, a 45-day trading event held in North Yorkshire, England from 1253 until 1788. The song is a duet, written for a man and a woman, in which the man makes three impossible demands of the woman in order for her to regain his love. In turn, the woman gives the man a series of impossible tasks, the completion of which will cause the woman to honor the man's demands. When it comes to love, men and women have been irrational for as long as time itself.
So what about the herbs? Why are they in the song? That part is less clear. It is possible that they just flow within the melody of the song and rhyme with the lyrics of one of the aforementioned older songs from which "Scarborough Fair" was stitched. That may be partly true, but parsley, sage, rosemary and thyme have long been associated with soothing, strength, faithfulness and courage. In medieval times, the four herbs were often mixed and prescribed as a potent love potion. This makes sense in the context of the song: two ex-lovers make impossible demands of one another in order to rekindle their flame, but they could just drink the love potion and be done with it!
I've included the traditional lyrics to "Scarborough Fair" at the end of the post for your reading enjoyment.
Okay, now that we've dissected the song and had a little history lesson, let's start the project.
How to Make Nesting Herb Boxes
I had a bunch of shiplap in the basement leftover from some rolling shelves I built long before this blog was a twinkle in our eyes. Shiplap boards are meant to overlap one another, with one side designed to lay atop the other. I trimmed off the edge that was meant to lay underneath.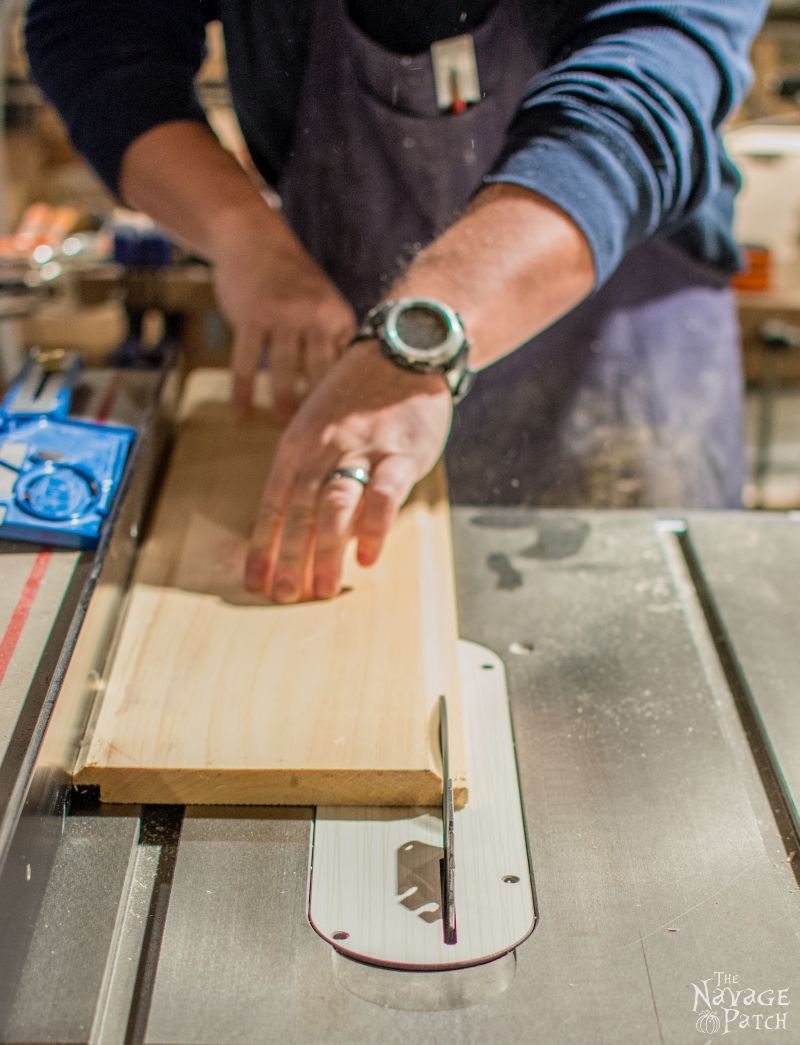 The part I trimmed would be the bottom of the box, at least for the biggest box (thyme). I left the chamfer on both sides of the board. Once I had a few boards trimmed up, I started cutting them into the appropriate lengths. For the parsley, sage and rosemary boards, I also trimmed them to the appropriate height.
The dimensions of my four boxes are as follows:
Thyme: 13″L x 7″W x 6 1/2″H
Rosemary: 11 1/2″L x 6 1/4″W x 5 1/2″H
Sage: 10″L x 5 1/4″W x 4 3/4″H
Parsley: 8 1/2″L x 5″W x 4 1/4″H
When I had all the pieces cut to size, I started assembling them into boxes.
I began by putting a bead of glue on one side of the base.
I then placed the glued side against one of the side pieces…
…and fastened it with brad nails.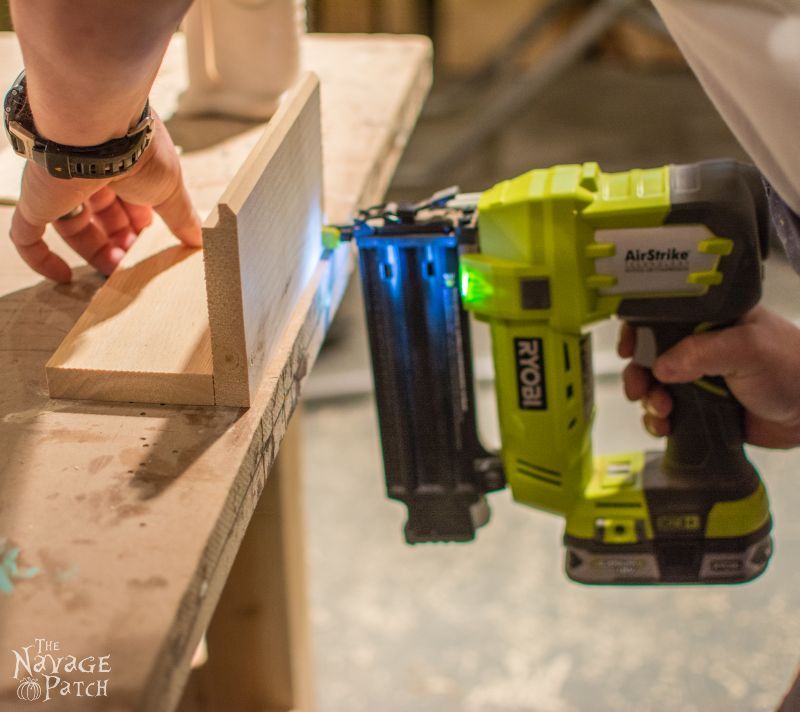 I repeated this process with the other side.
I cut the side pieces out of 1/4 inch plywood to save on weight and space. I applied glue around the edges, then brad-nailed the sides in place.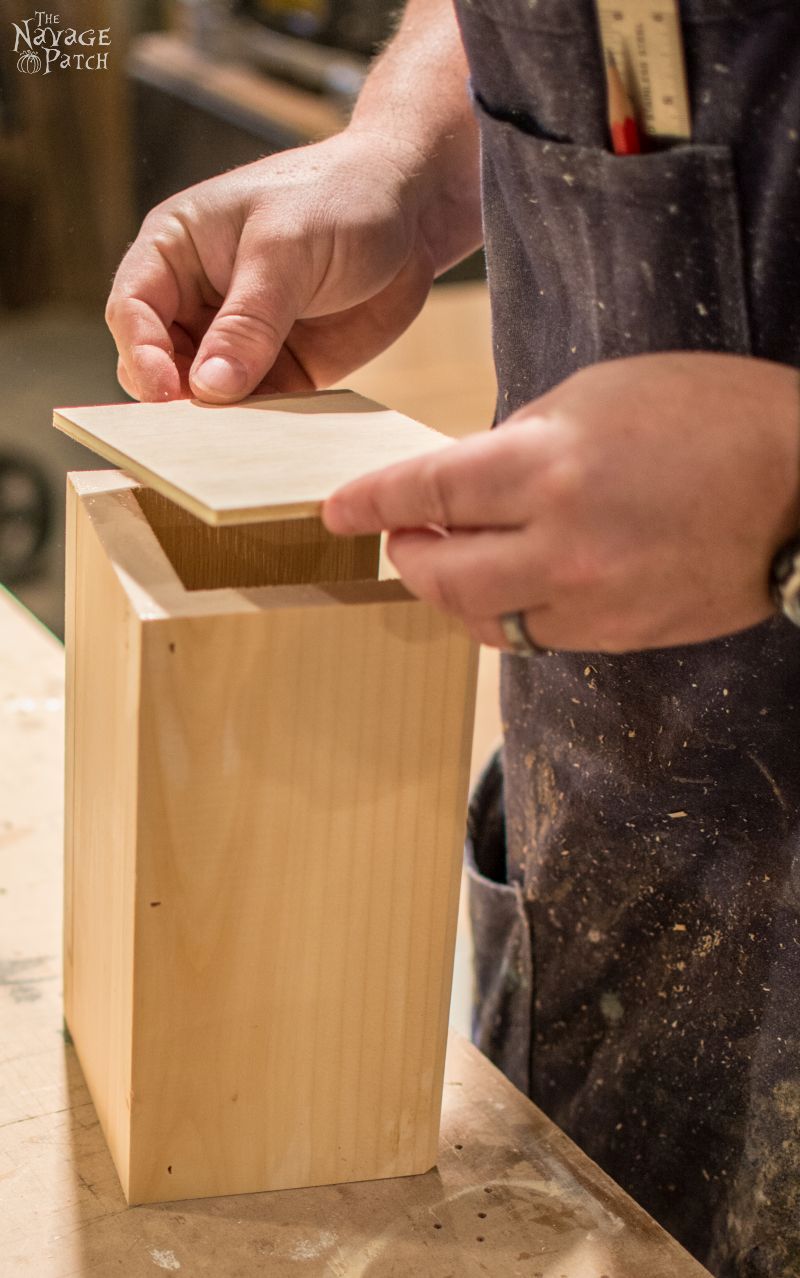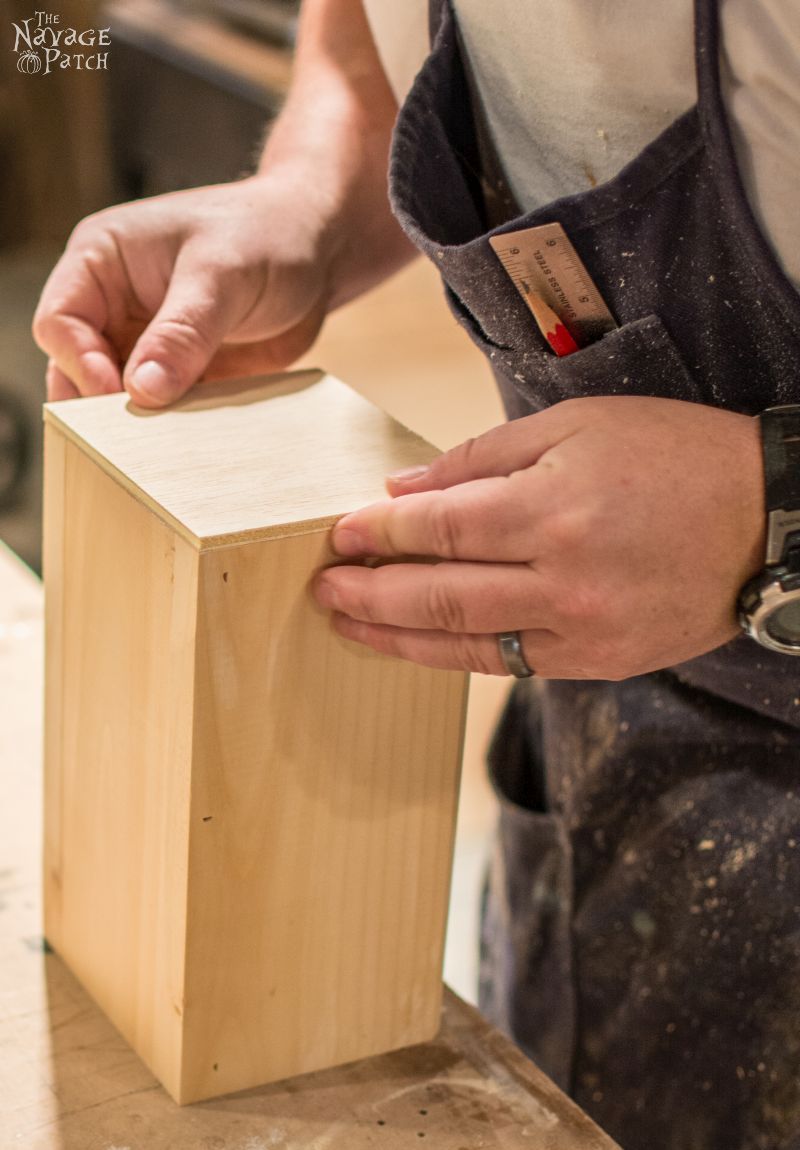 I repeated this process with the other side.
Now that the box was built, I took it over to the belt sander to smooth things out and give the bottoms of the parsley, sage and rosemary boxes the same chamfer that the thyme box had (A chamfer is a 45 degree beveled edge).
I used the disk sander to take off some overhanging bits.
All of the sanding could be done with a random orbital sander, or even by hand with a sanding block.
I repeated this entire process for all of the boxes.
At this point, the boxes looked like I do after a long winter lurking in my basement: pasty white and unattractive. They needed a little tan. I didn't want them to be too dark, so I decided to use my aging solution, aka blackwash.
Blackwash will take your pastiest pine and pretty it right up with a reddish tan. I make it by filling a quart jar with apple cider vinegar to which I add one pillow of 0000 steel wool. I cap it up and let it sit for 4 days or even up to a week. After 4 days, I add a big heaping tablespoon of loose leaf black tea, cap it, shake it and let it steep for about 30 minutes. Then I strain out the tea and whatever may be left of the steel wool. To use, just brush it on with a cheap chip brush and let it dry.
Here are three of the boxes just after I blackwashed them. The big one in the background is still naked.
And here they are after the blackwash has dried.
Click on 'Next' to continue and download the stencils.