Somewhere in the house, Handan threw back her head, took a deep breath and let loose a tremendous "Baaaaaaaaaabes?"
Crap. She wanted something. More to the point, she wanted something from me. Sharpening that point – she wanted me to drive her somewhere. It's all in the intonation and inflection of her voice. I was loafing on the sofa and wanted no part of that invocation. I feigned sleep.
She entered the room. "Oh, you're sleeping? Yeah, so I found a baker's rack on Craigslist. Can you drive me to South Windsor to pick it up? Pleeeease?" What? Who the hell keeps yapping after "Oh, you're sleeping?" But my need to vegetate didn't factor into her calculations. She wanted the baker's rack, and she wanted it right then and there. I sighed. Defeated. Again. I pressed a button on my power recliner and listened to the protestations of the electric motor as it struggled to fold me into an upright sitting position. Once vertical, I snatched my keys and wallet and headed for the door.
"Let's go, woman!" The sooner we procured the rack, the sooner I could get back to the serious business of lounging.
"So…what's a baker's rack?" I said.
She explained.
"I see. And what are you going to do with it?" I said.
She told me she would use it as a potting table in the shed. Okay, then…
We found the seller's house, plopped some Jacksons in her hand, tossed it in the back of The Donkey (our car) and turned back home. As promised, Handan set it up in the shed. But did she ever do any potting on that thing? You decide. Here is how it looked after a year. I'm pretty sure it looked like this even after a month.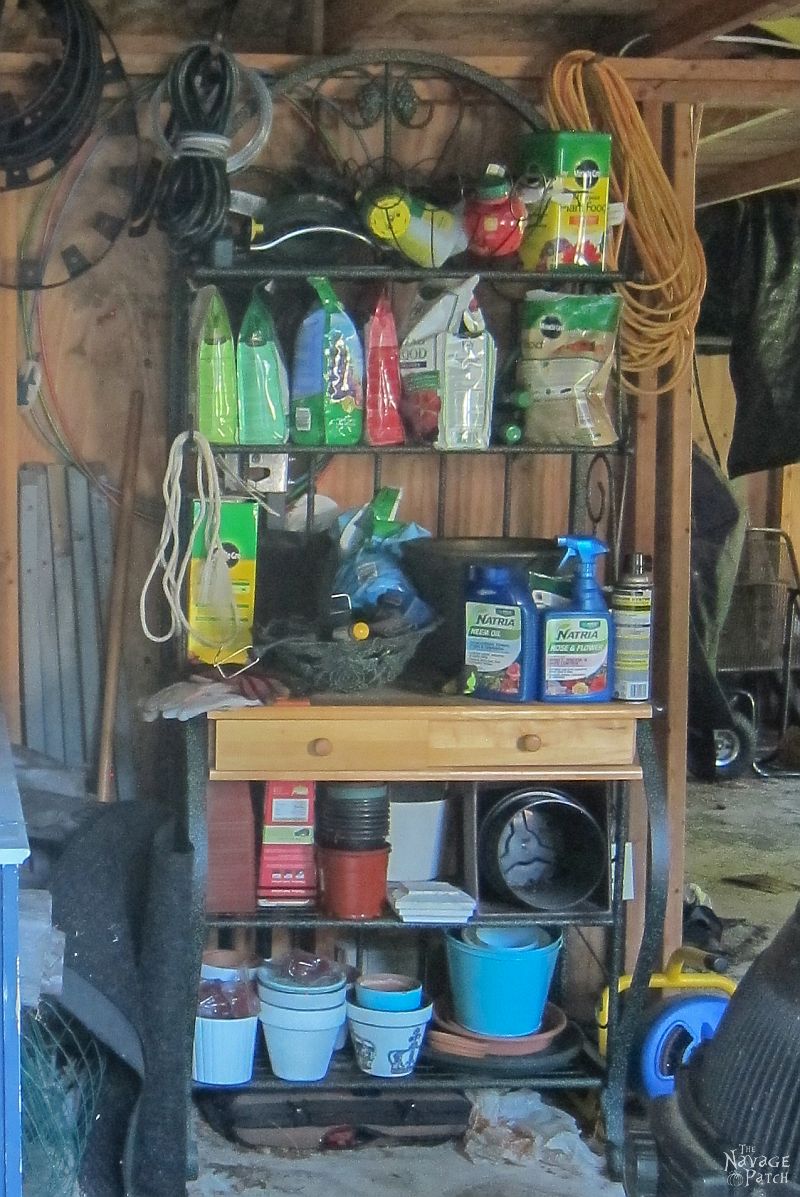 When we tackled our big shed project this summer, we recovered the rack from the wreckage of the re-org and realized it was ripe for a rescue. (I dare you to fit another "r" word into that sentence!)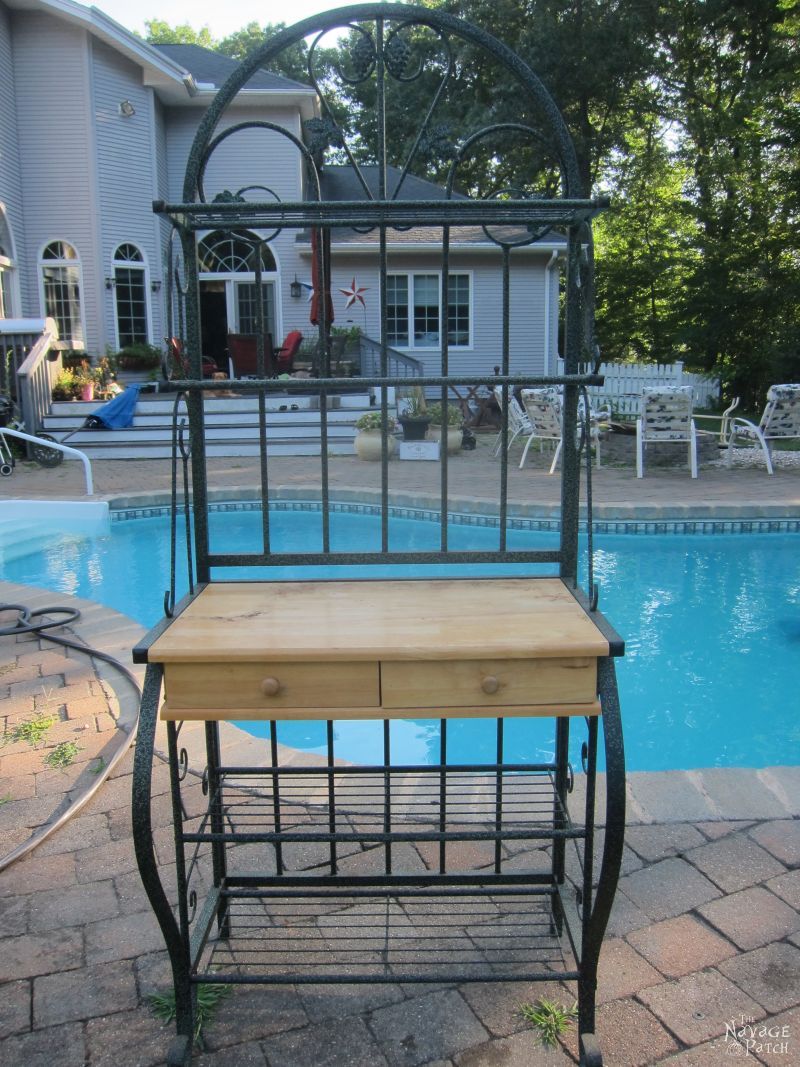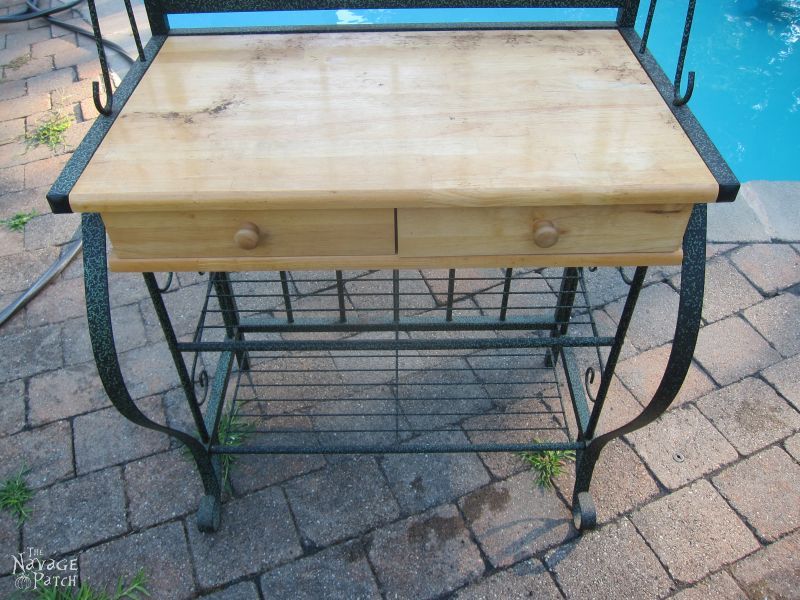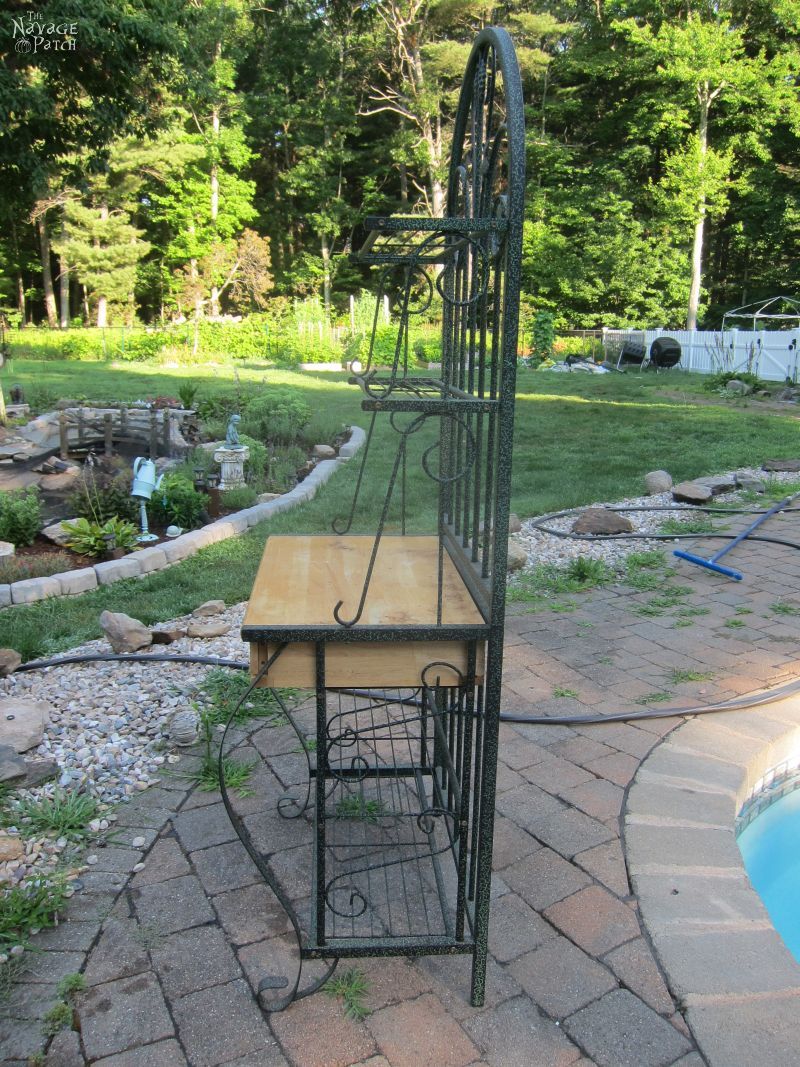 That top had seen better days…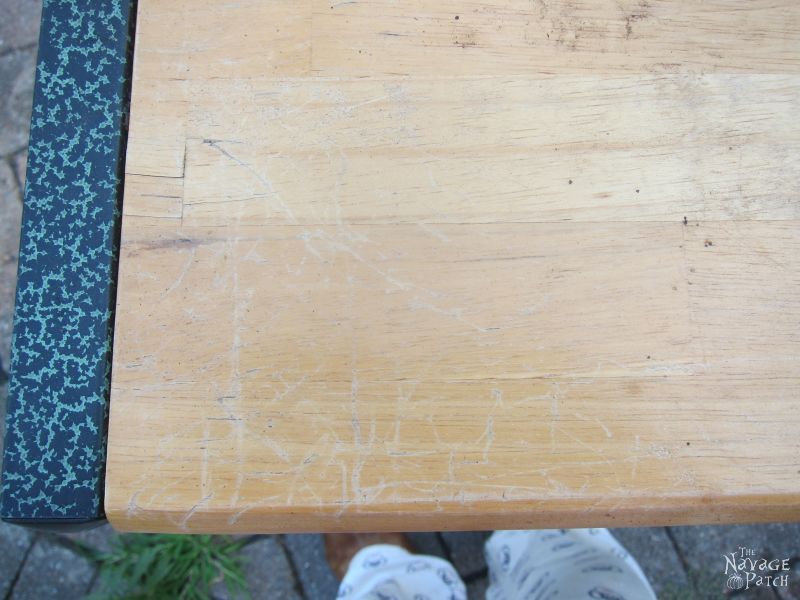 I call this color, Frog Green.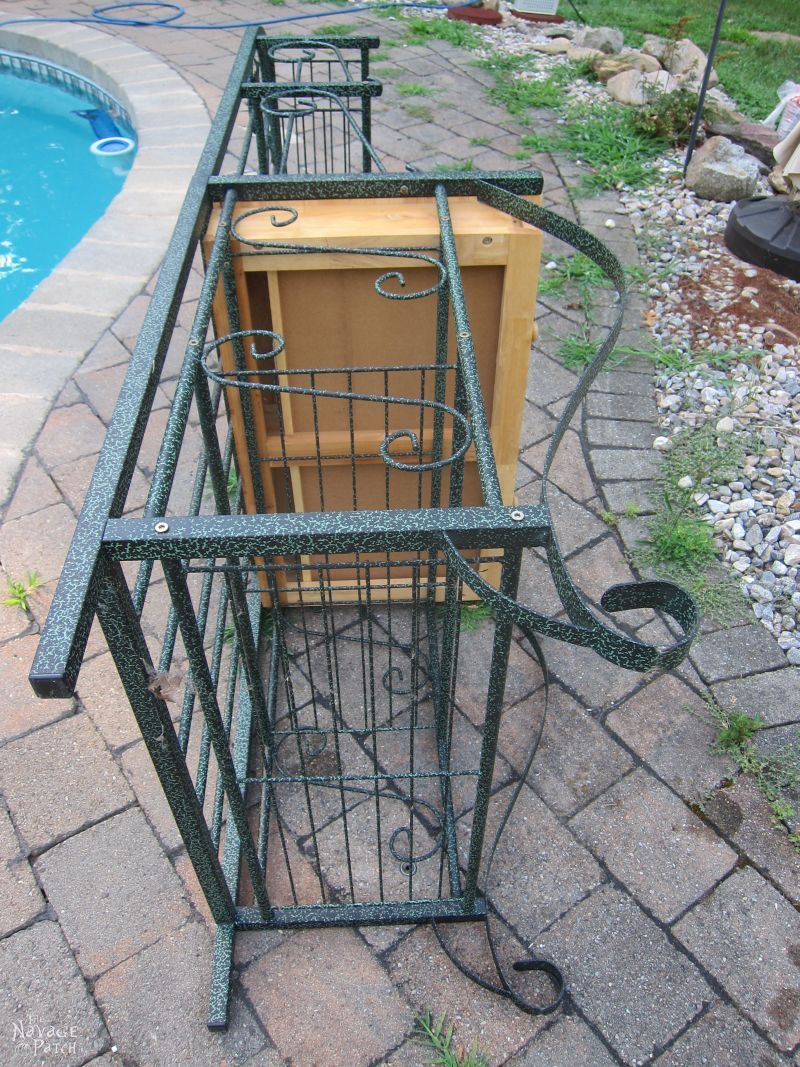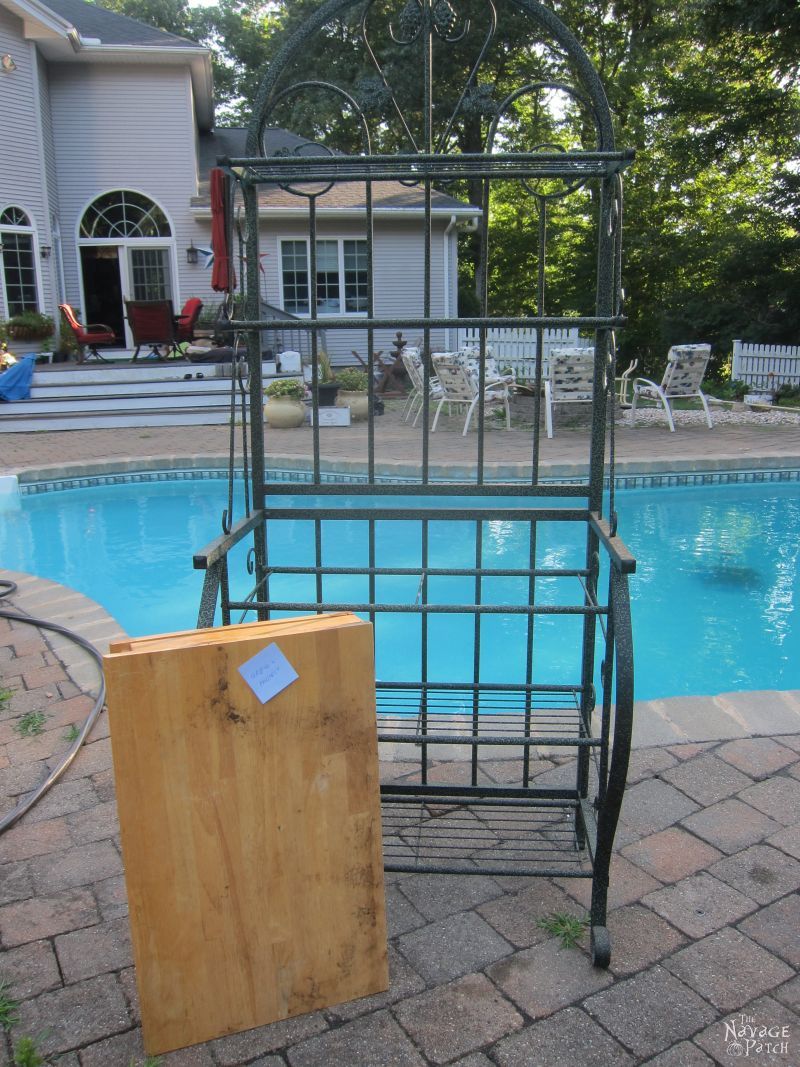 Wait a minute. What did that note say?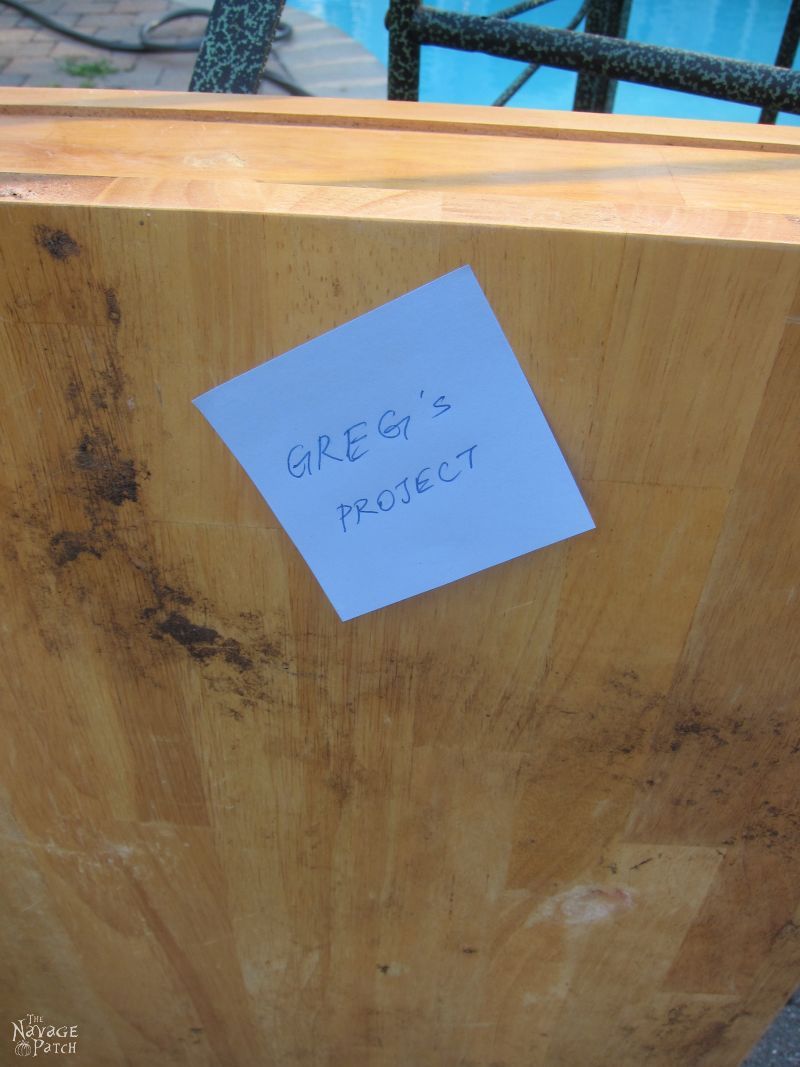 Crap.
Handan went off to spray paint the frame, and she fobbed the wooden part off on me. Fantastic.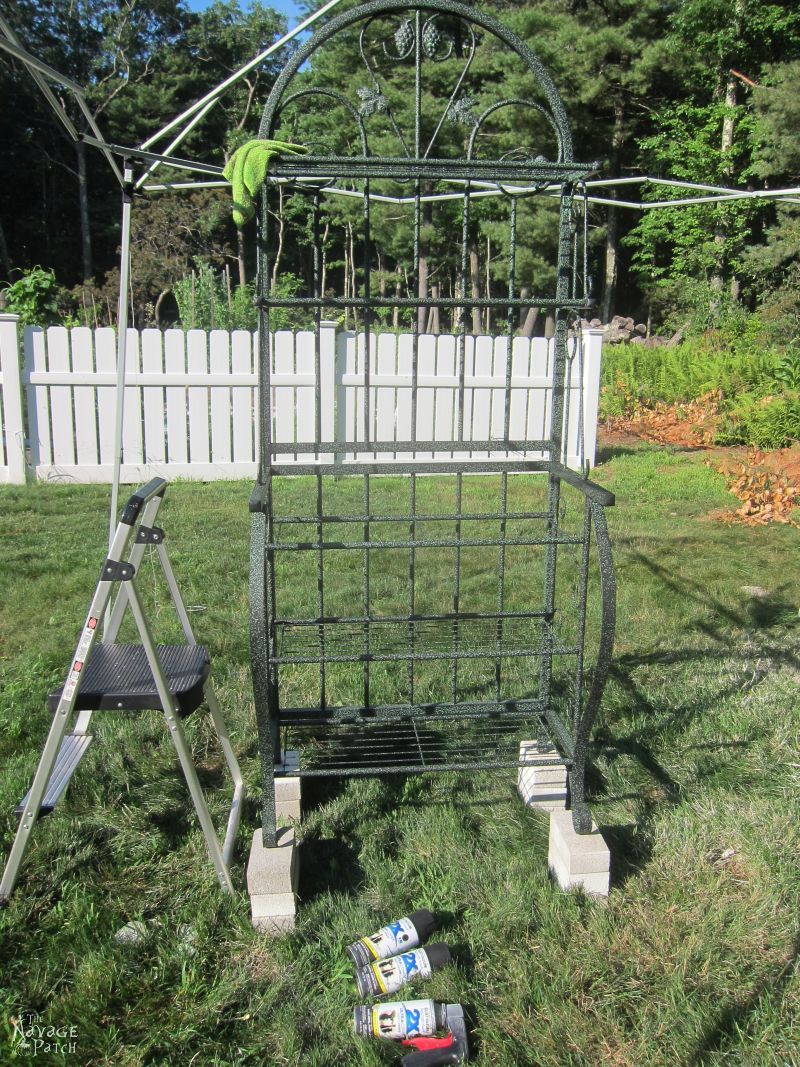 She sprayed it with several coats of Rust-Oleum Flat Black.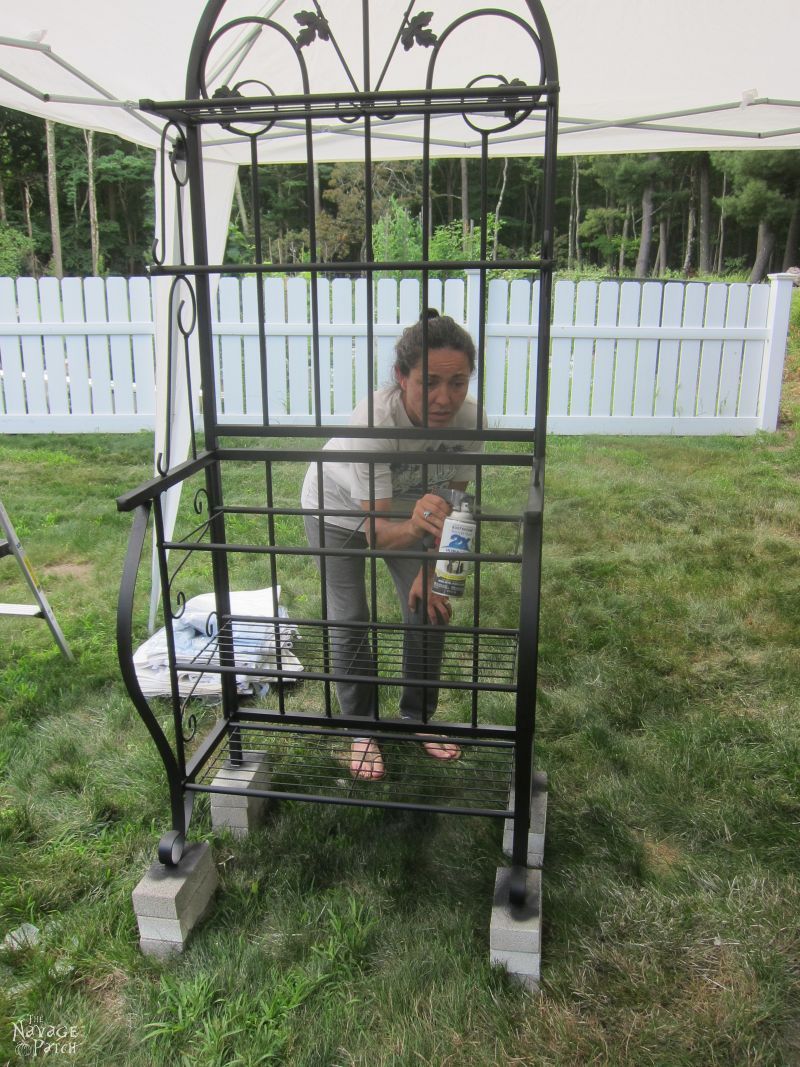 And just like that, it was transformed from a frog into something classy. Now it was my turn to put a spit shine on that countertop/drawer doohickey. I carried the thing to the basement…
…and promptly forgot about it for the next two months.
When Handan started to threaten me I remembered it again, I hurried downstairs to finish it off. I looked it over. Hmmm…Walmart.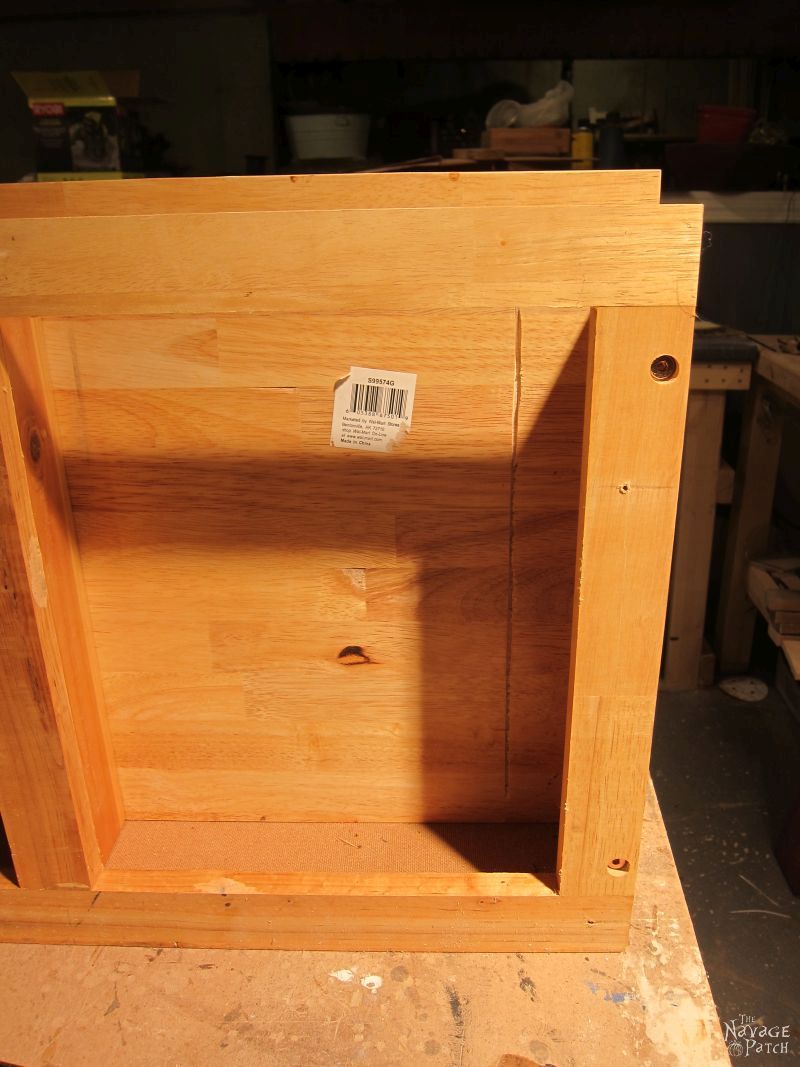 Okay, I could work with that. I considered my options:
Do something fancy and complicated and time-consuming.
Do the bare minimum and call it a day.
I chose option 2.
My plan was to simply sand off the old finish, stain it something a little darker, then finish it with some glossy poly. I started by dismantling it – an easy task, since it was held together by just four bolts.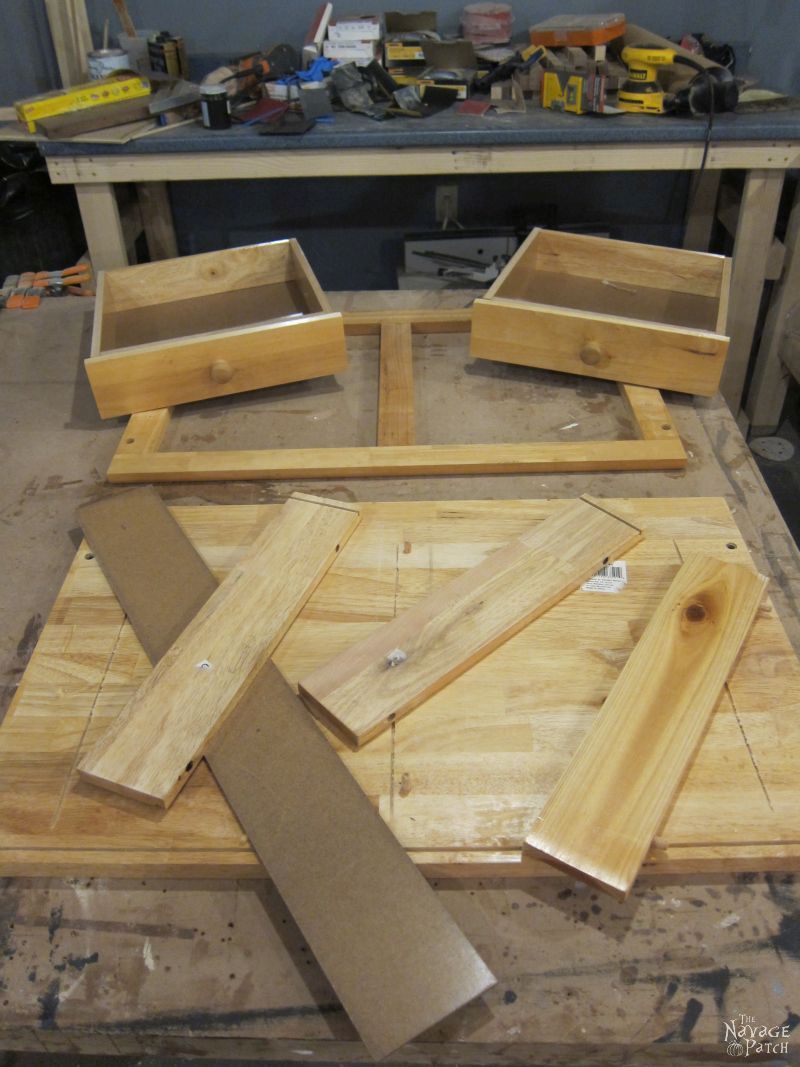 One-by-one, I sanded the pieces with my Bosch random orbit sander.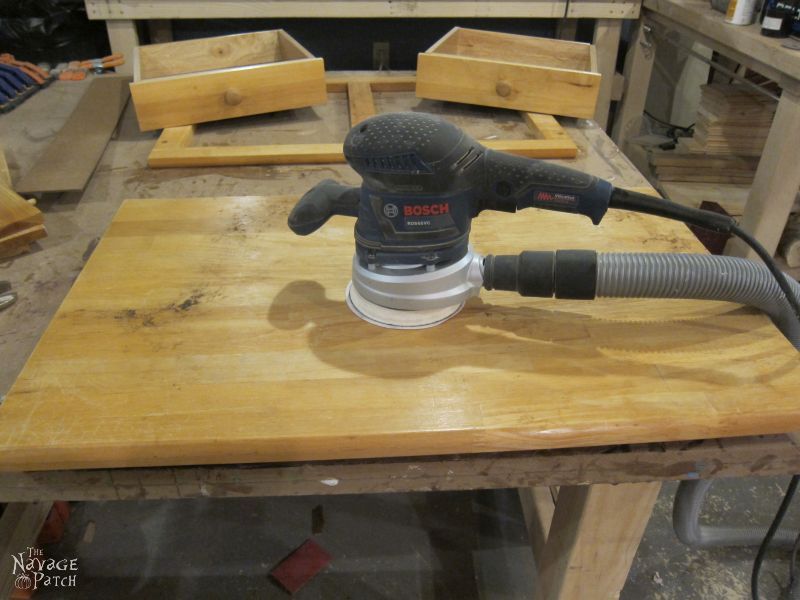 Some pieces had chipped off the top, so I repaired them with Loctite super glue.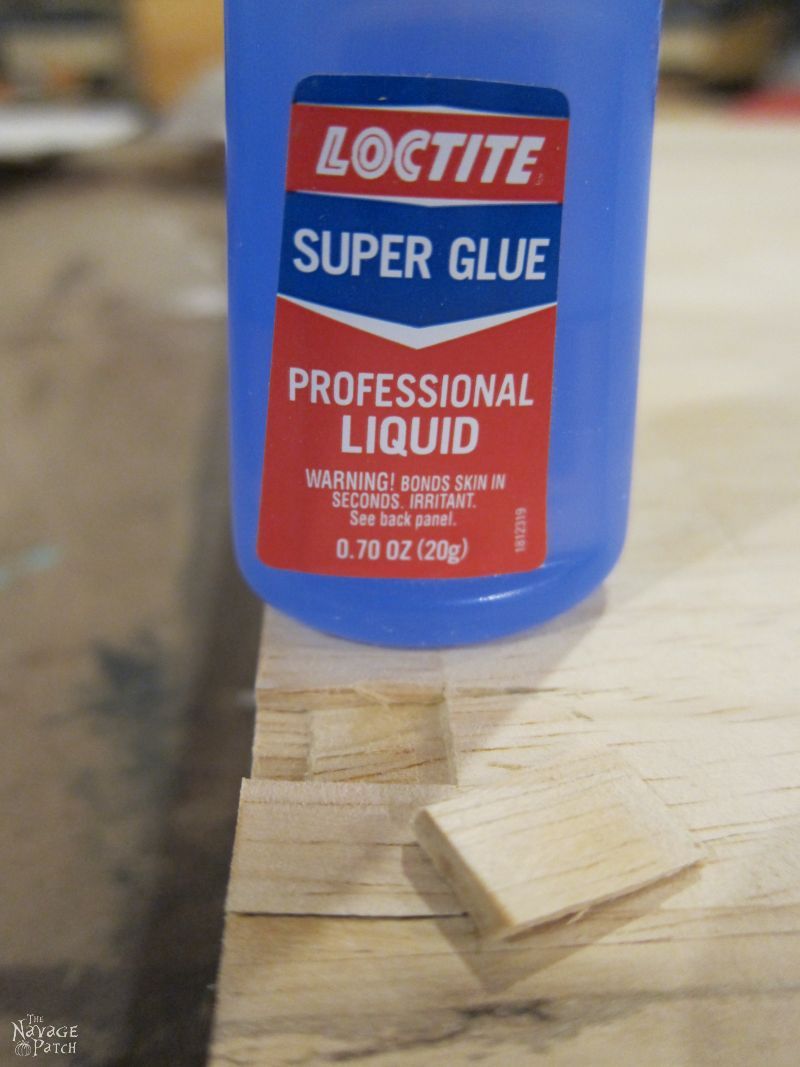 After applying the glue, I covered the area with cling film, placed a small board over the film, and then I clamped the whole thing and let it set for a short while.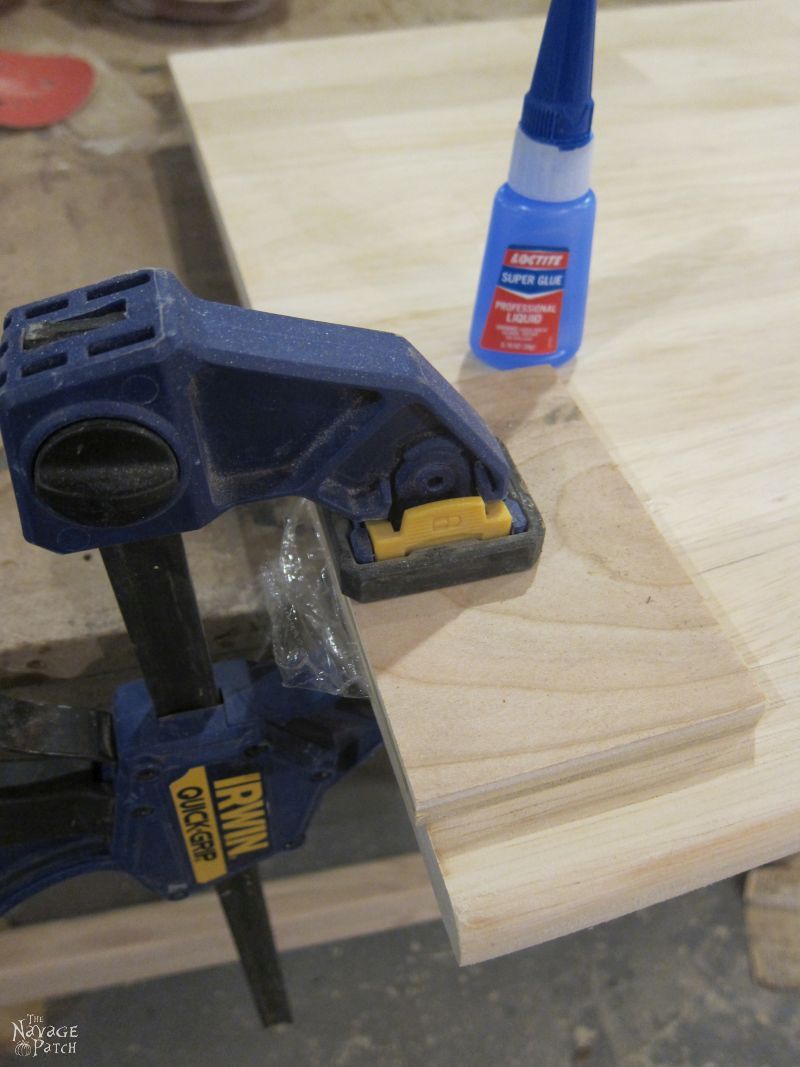 When the glue was dry, I again sanded the top. I knew that the stain wouldn't adhere to that area very well, but I had chosen Option 2: Do the Bare Minimum and Call it a Day, so I didn't really care all that much.
Here are the pieces, ready to be stained. I also removed the drawer faces, since they were just held on with screws.
I chose Minwax's Red Mahogany.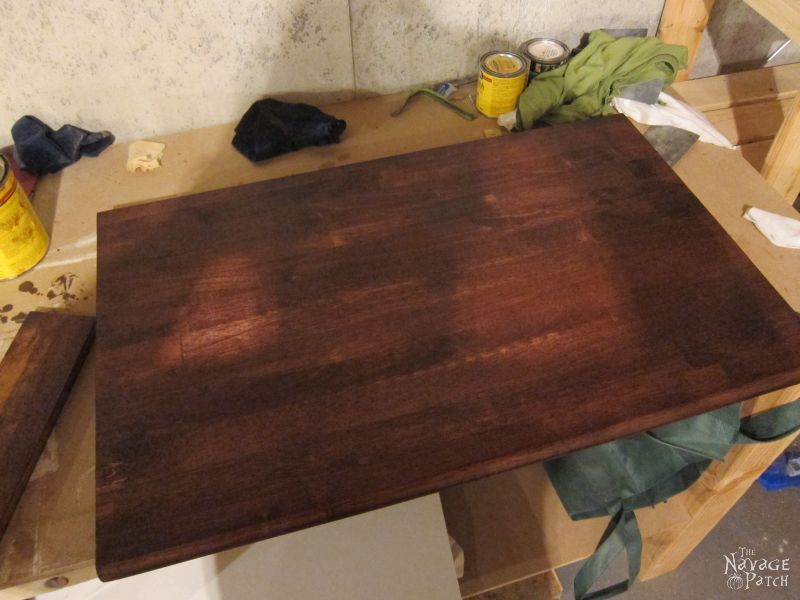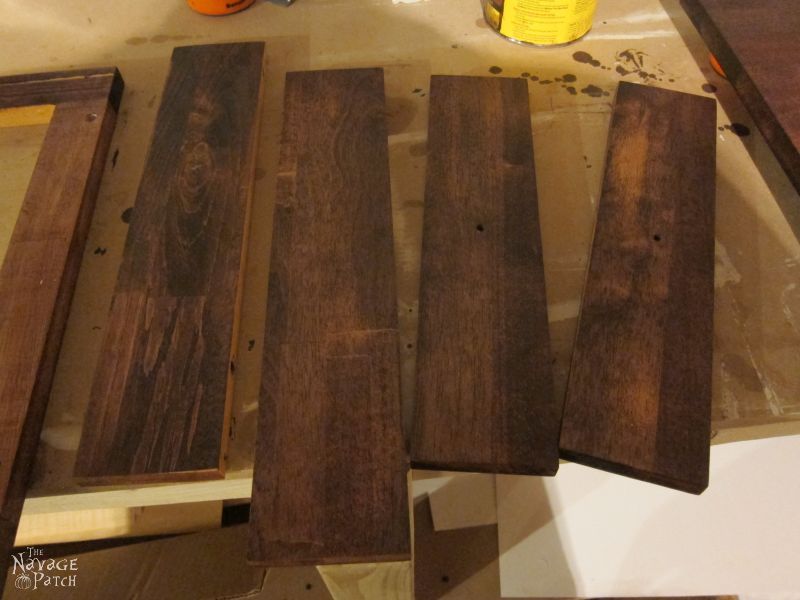 It all looked a bit splotchy. I probably didn't sand some of the pieces enough. And there were curlicues all over the top. Those were a result of me rushing the sanding and not using all the grits.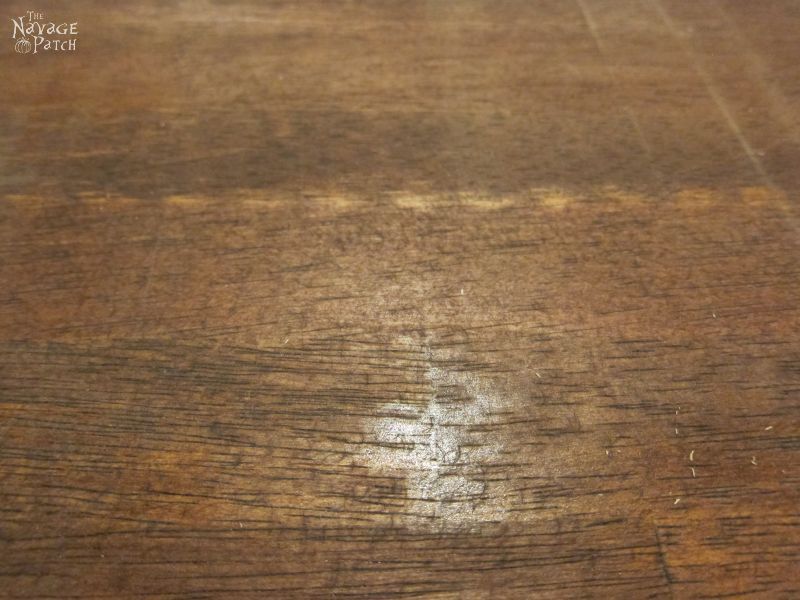 This was a total crapjob, and I knew it. I tried to tell myself that it was fine, that no one would notice. But I would notice. And Handan would notice. The dogs would notice for sure. Our son? No chance he'd notice, not unless I put some cookies or a video game on top of it. But even then… I doubt it.
Dammit. I was going to have to do it over. I mean really over. Like rebuild-the-thing over. I had tried to run with Option 2, but in the end, Option 1 had hunted me down. I'll bet that doesn't surprise you.
I went to my wood stash and started looking at what I could use, and then I spotted these.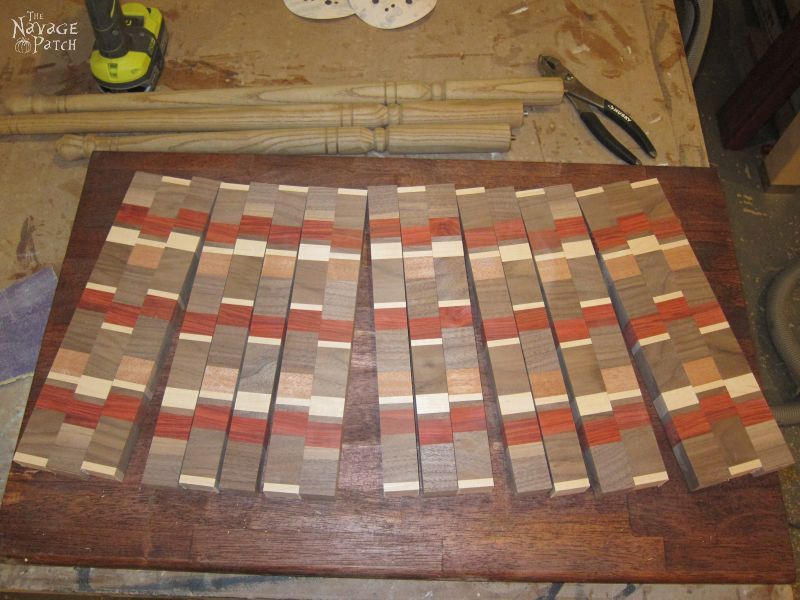 This was an aborted end-grain cutting board that I abandoned about a year ago. Some of the pieces had shifted a bit during glue-up, so when I cut them into the strips shown above and then tried to reassemble them, everything was just a little crooked. Since I was making that board for a friend and also for a blog post, it had to be perfect. I knew I'd find a use for it someday. That day had come. When assembled, the cutting board wouldn't be big enough to use by itself as the top. I would need to create a border around it. I started by gluing the strips together and making a face-grain cutting board (as opposed to an end-grain board).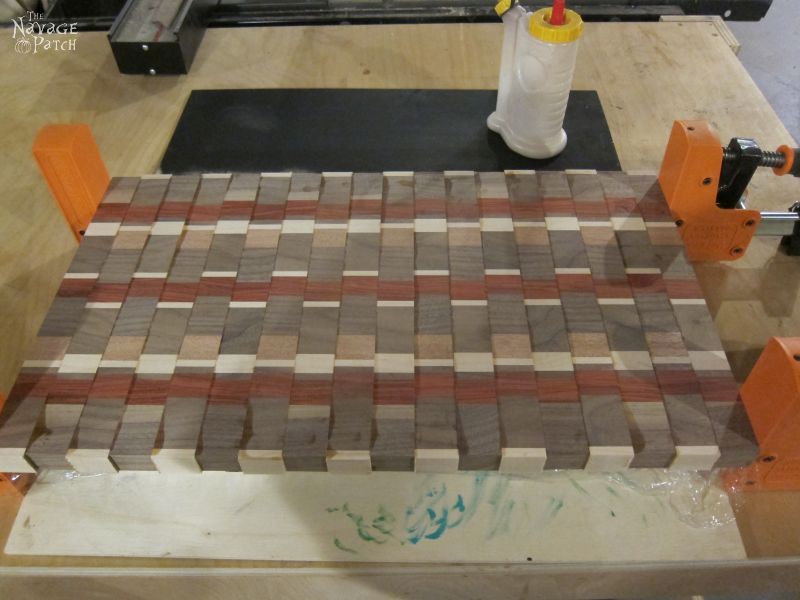 When the board was dry, I trimmed it up and planed it to the same width as the original top – 3/4 inch. I decided to make the border out of jatoba, since I happened to have a large board already on hand. Here's a fun fact:  the jatoba tree (Hymenaea courbaril) is native to the Caribbean, Central America and South America where it is commonly known as Stinktoe or Old Man's Toe due to its smelly seed pods. Fortunately for me, the wood smells just fine.
I also cut the cutting board in half down the middle so I could insert another piece of Stinktoe. I started by gluing the middle piece into the board, then gluing on each end piece. My clamps weren't long enough, so I had to improvise.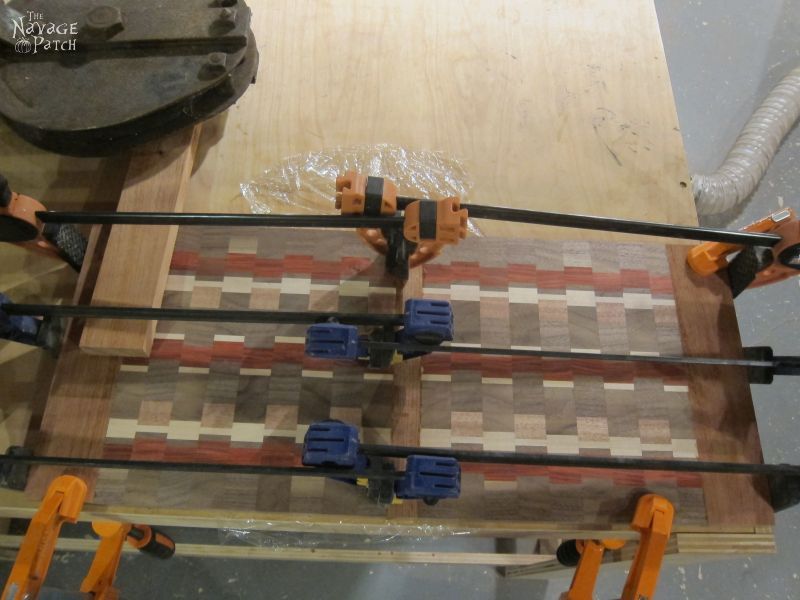 Then I glued on the long sides.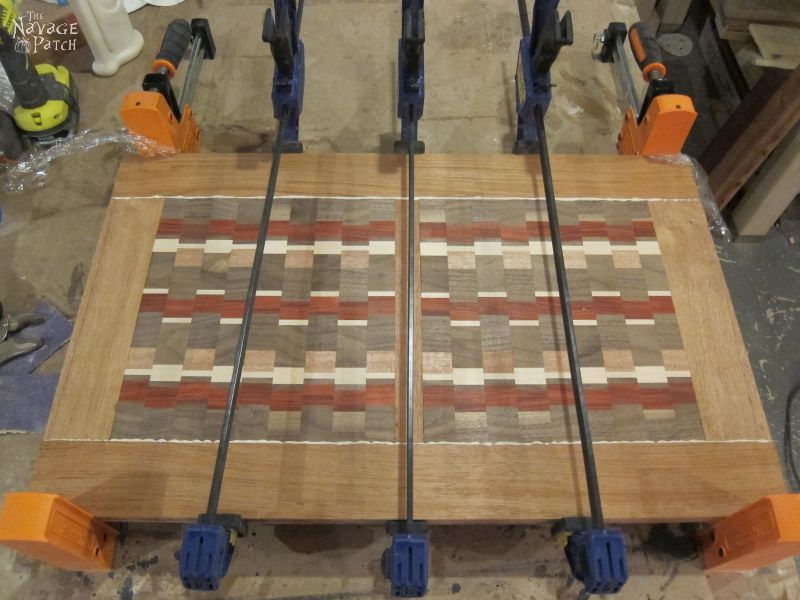 By this time, it was too big to fit in my planer, so I did the final leveling with my sander. I sanded up to 220 grit.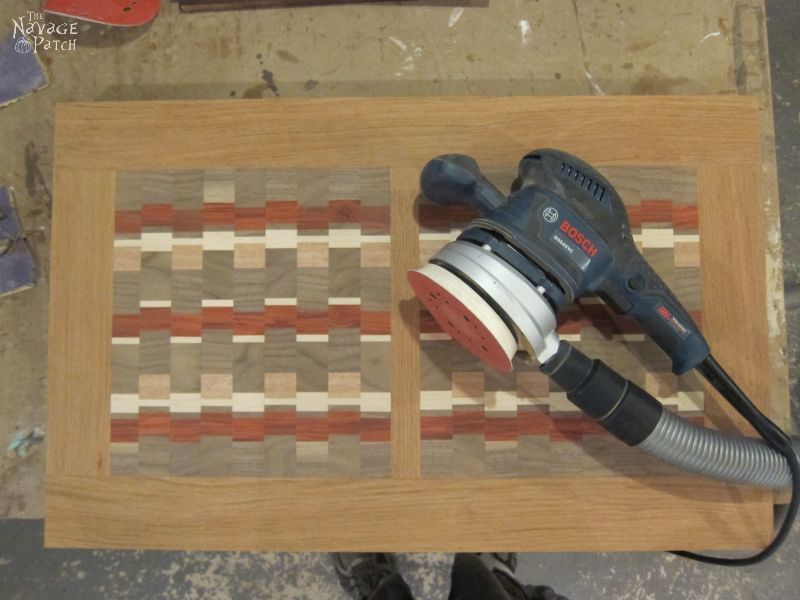 Turning my attention to the drawers and side pieces, I decided to veneer them, since I have a big box of veneer in assorted woods, shapes and sizes. I found something about the same color as the Old Man's Toe.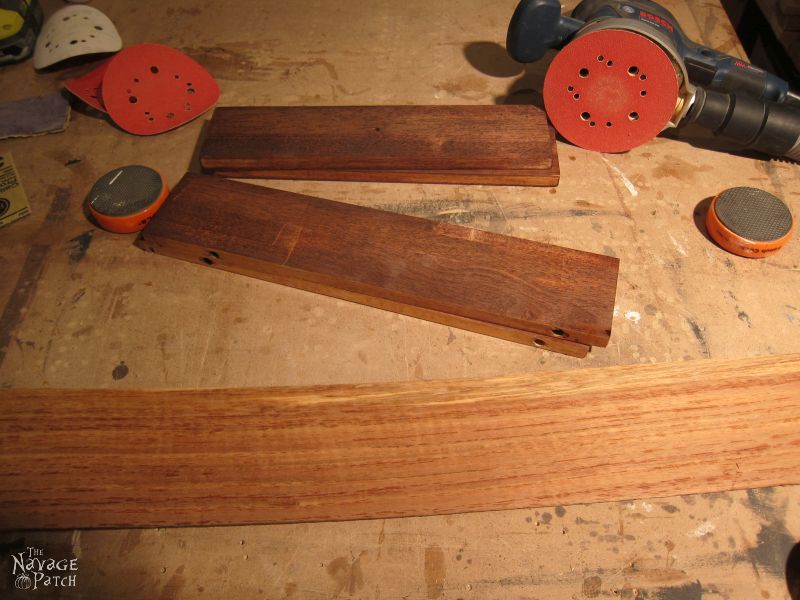 I wanted to try contact cement instead of wood glue to affix the veneer to the drawer faces and sides.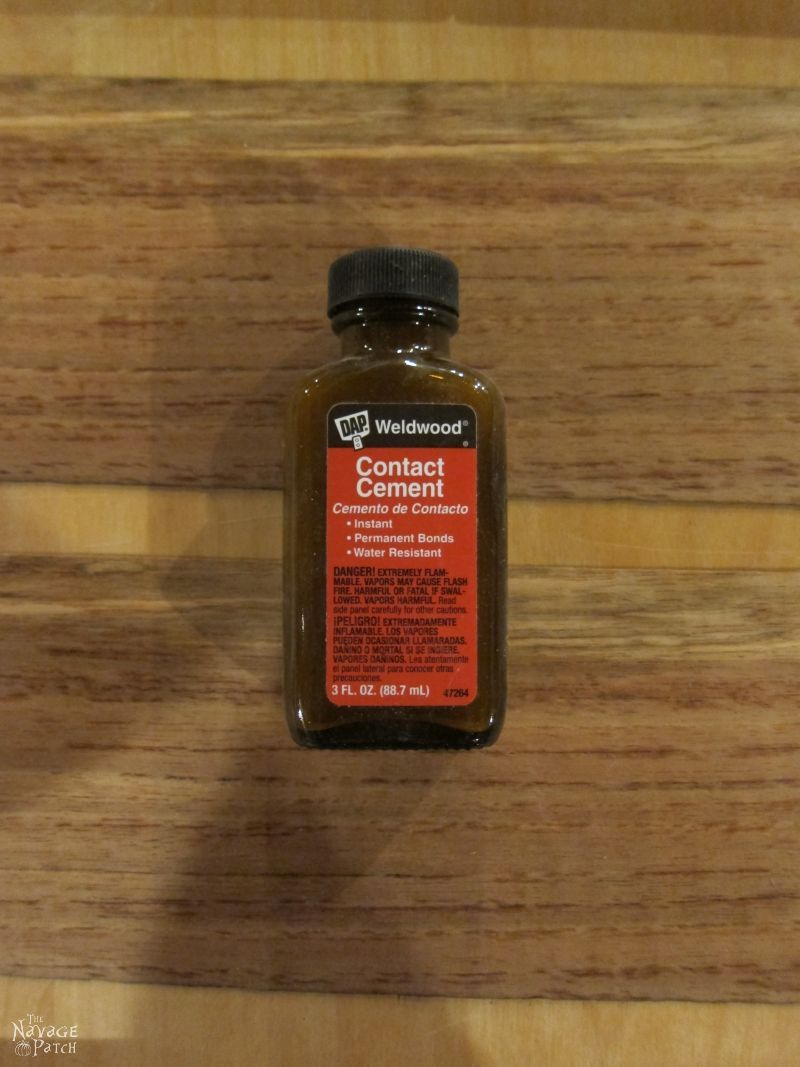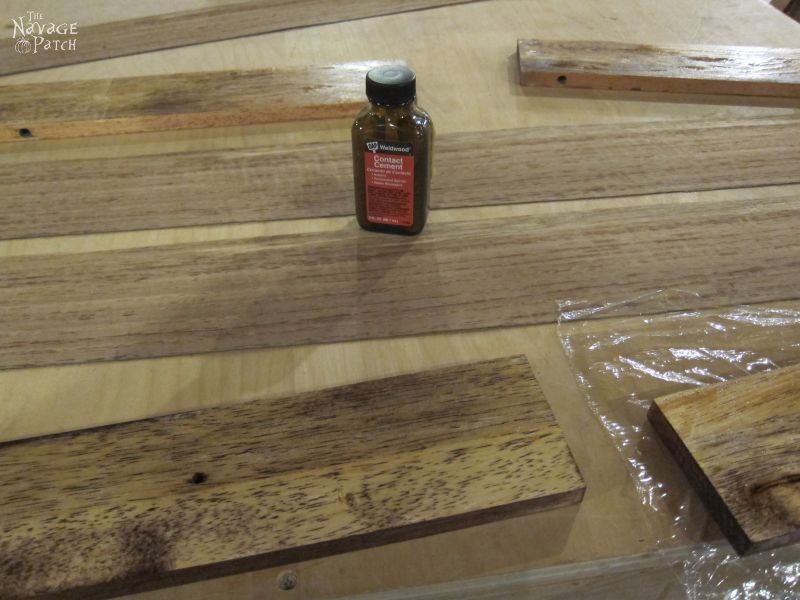 When they were glued and clamped, I set them aside so I could focus on the bottom of the countertop. I needed to make some holes where the assembly bolts would fit. This meant both drilling the underside of the piece I had made and removing the threaded inserts from the old top. The holes needed to be 7/16 inch in diameter. Of course, my standard drill bits only went to 3/8 inch, and I didn't have a Forstner bit in that size. I chucked a 1/2 inch Forstner and drilled my holes.
I needed to secure those threaded bits in the holes. Digging through my crap, I found two tubes of JB Weld epoxy. That should do the trick!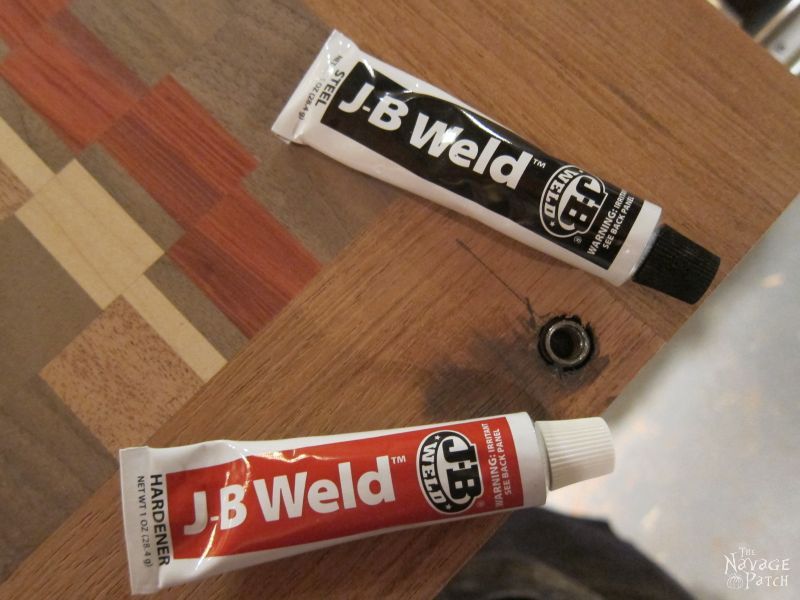 Perfect.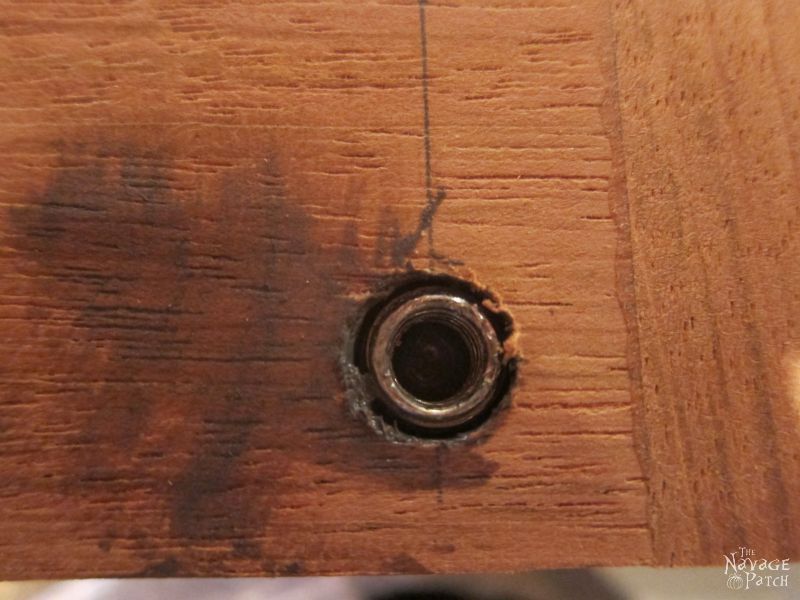 Next, I routed the edges with a 1/4 inch roundover bit.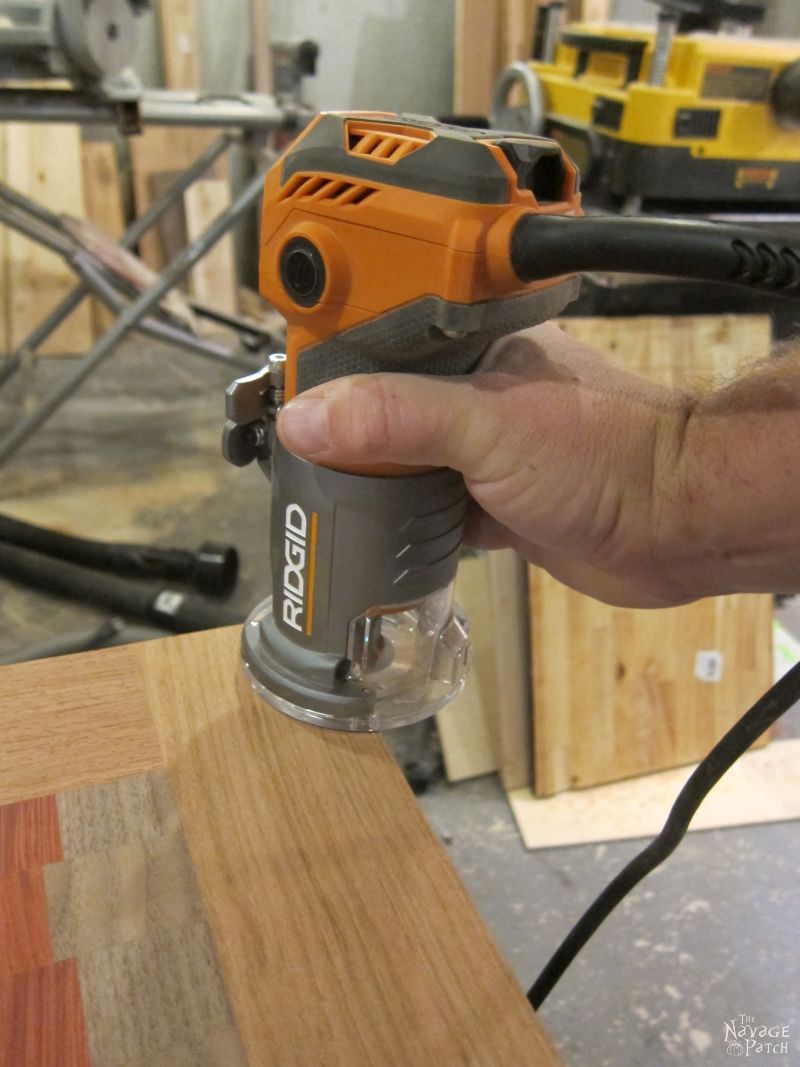 Then I cut a 1/8 inch groove to hold the piece of pressboard that serves as the back of the unit. Why are there two grooves, you ask? Why, what an excellent question, and how observant you are for noticing! Brava, madam!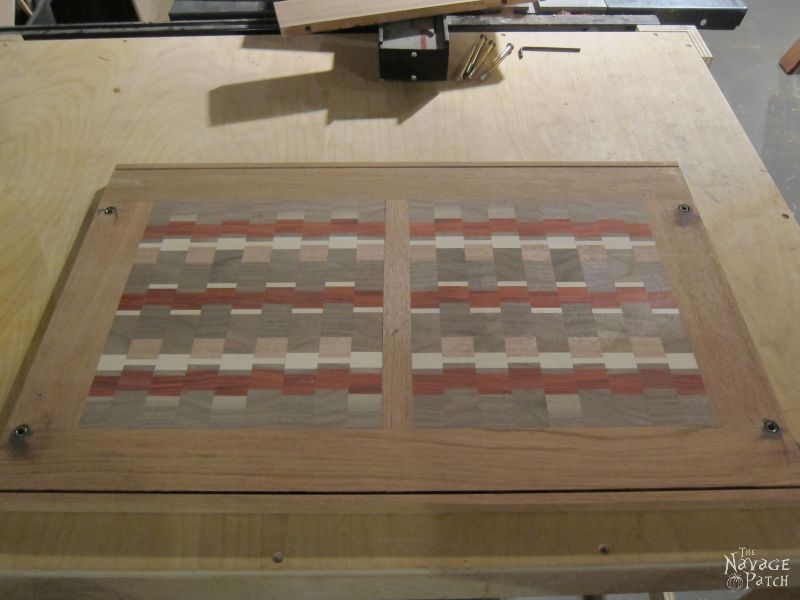 Next, I sealed the bottom with two coats of spray-on polyurethane. I used spray because I wanted to do a quick job, and the bottom would never be seen. What's that, now, madam? Oh! I never answered the question about the two grooves? Very well, then.
I screwed up! C'mon, madam, did you really think I'd be able to get through a project without some sort of major blunder? Shame on you. Of course I cannot.
Now, where was I? Ah, yes…it was time to seal the top, the sides and the drawer faces with my favorite poly. Since I didn't want it to be too shiny, I only applied two or three coats. (Really, I don't remember which. Maybe it was four? It's a wonder I still remember to write these posts! Oh, wait…Handan tells me to do it.)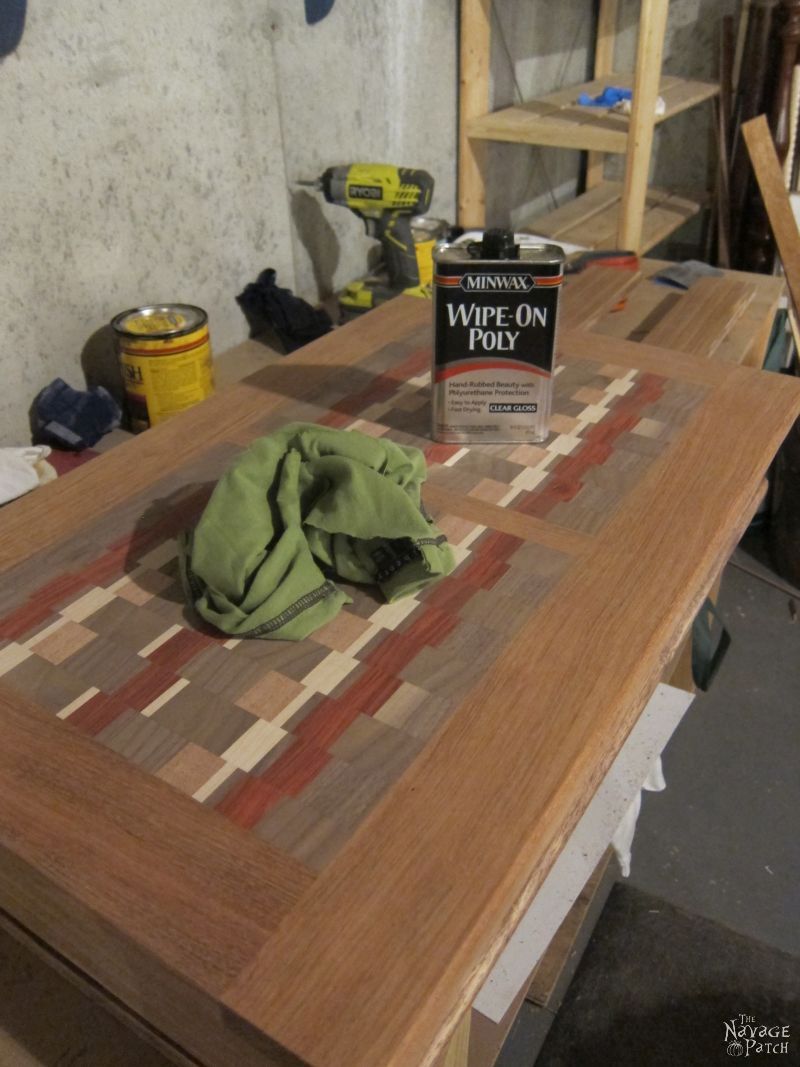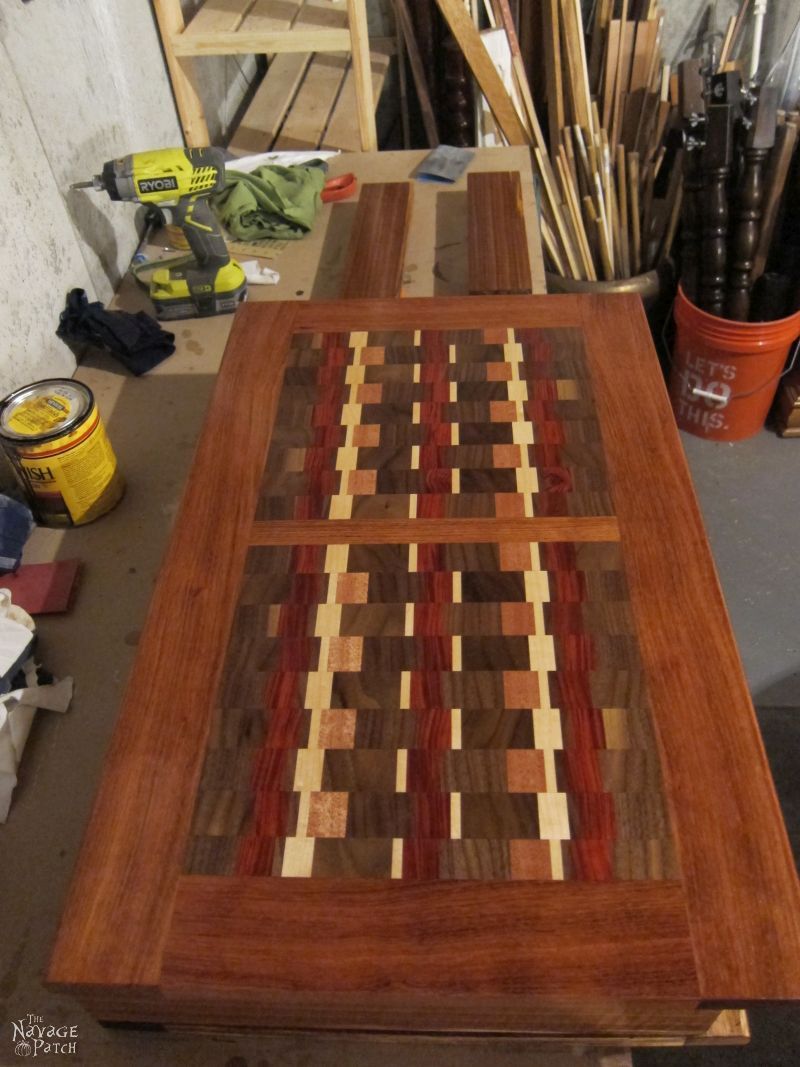 I bolted the thing back together, re-assembled the drawers and tasked Handan with finding me some new drawer pulls. She found an old pair in her craft room and painted them black for me. Handan and I re-attached the countertop/drawer thingy (someone please help me here – I really should be using a better word than "thingy!")
Okay, you can pay attention again – it's time for the "After" pics.