Apothecary Jars and Free Printable Labels
Our free printable labels for apothecary jars will help you have the best Halloween display in town! We'll also show you what to put in the jars!
When the leaves change color and start to drop from the trees, Greg and I settle in to our annual horror/thriller TV-and-movie marathon. We start with American Horror Story, then move on to Grimm (NBC's TV show), which is my favorite due to Rosalee's spice shop. Every time we watch Grimm, I drool over that exotic spice shop and the apothecary jars within and start asking everyone in the family to save their old bottles and canning jars for me. It's all fun and games until my old vitamin bottles, glass jars and corked vials start intruding on Greg's counter space. Then I have to hide them in boxes and bags before Greg goes totally nuts and throws them all away!
But this year, Greg put his foot down and declared, "WOMAN! No more bottles until you use the ones you have!" For the first time ever, I didn't argue with him [literally, EVER -Greg] but instead started working on our exotic spice shop. I was finally going to transform all those ordinary bottles and jars into extraordinary Halloween props! Oh you should have seen his face when I agreed with him right away! He definitely wasn't expecting that!
I first started brainstorming on the name of our shop, which I think was the hardest part of the entire project. It took me two days to decide on the name: THE TOAD & BROOMSTICK.
"Broomstick" refers to me as I love my usual easy peasy Halloween costume. Here I am in Vietnam in 2011.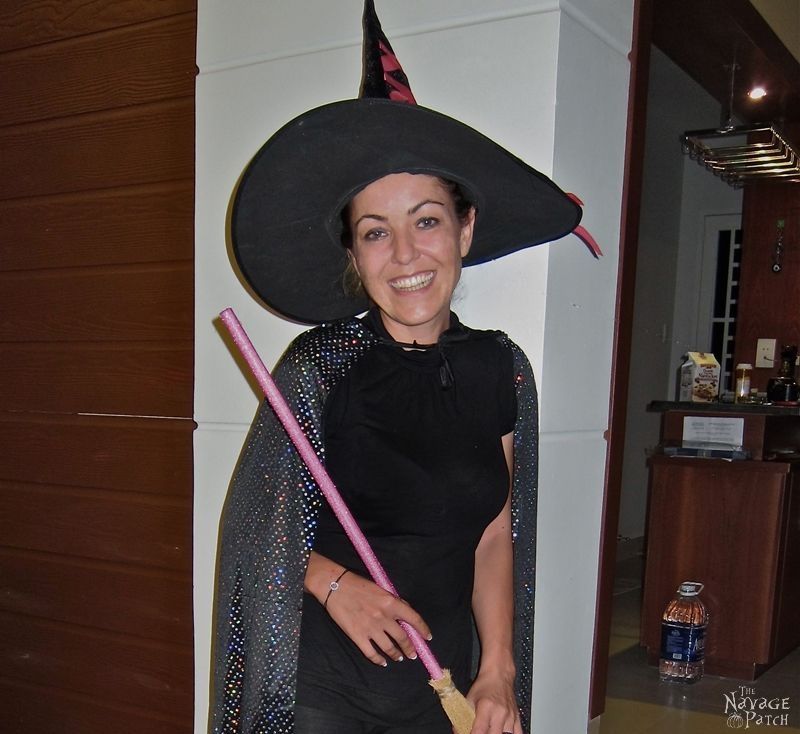 And do you know what (or who) "the toad" refers to? Have a guess…hahahaha! Well, what can I say? In every girl there lives a princess, right? 😉
After the name, I focused on what goods our spice shop should carry and, of course, the labeling of those goods. I thought our apothecary should be full of the wonders of both worlds: from remedies to deadly poisons. With that in mind, I started designing our jar labels. It took me about a week to finish them all (80+ labels for 30+ ingredients), but I think it was worth the time, as they turned out really so cool! And the good news is, you can find them all at the end of this post as free printable pdf files for your personal use!
Before we go any further, be sure to follow us on Pinterest, YouTube, Facebook and Instagram, and also sign up for our email list (by clicking the subscribe button above), so you'll never miss a post!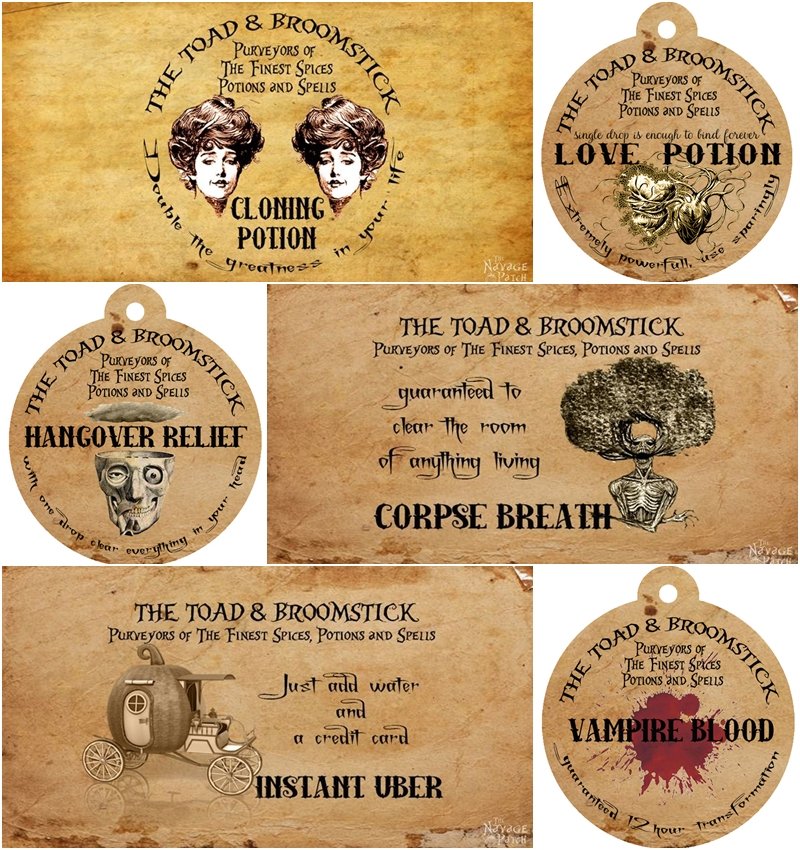 Once the labels were done, the rest was rather easy: fill the apothecary jars and bottles, add the labels and put up a few props to complete the look.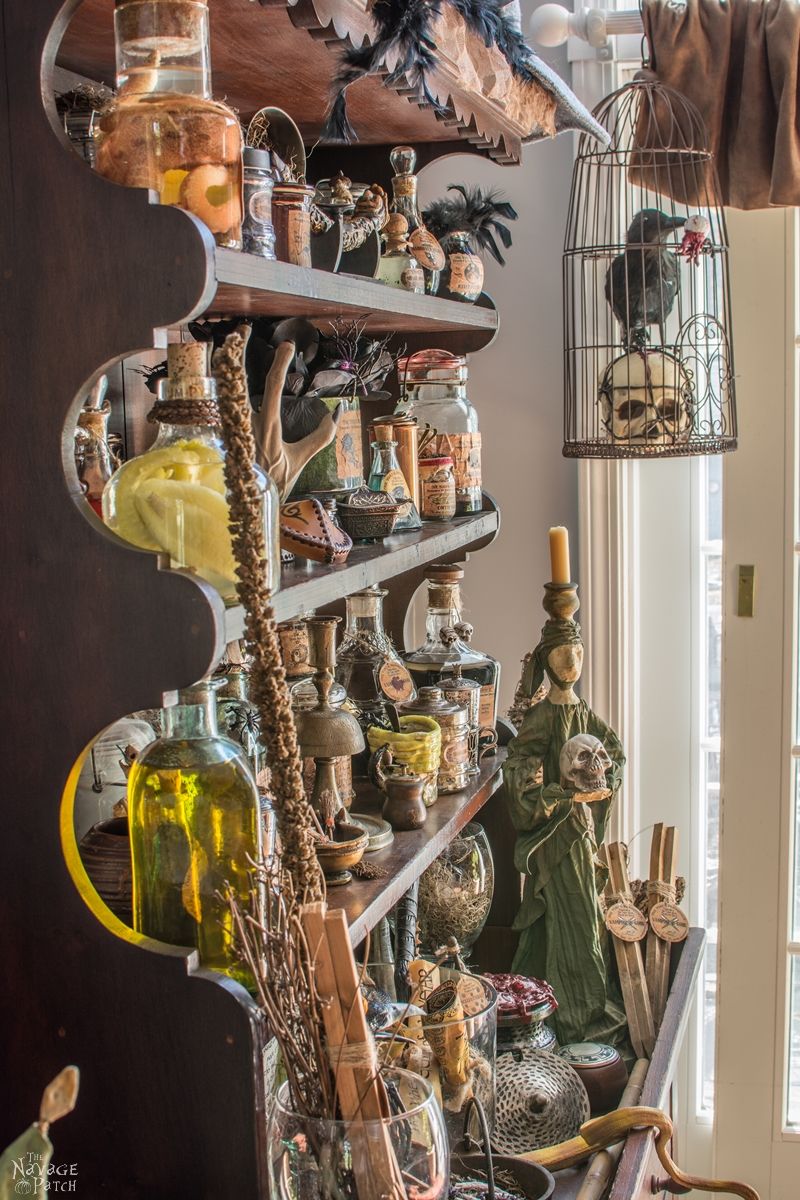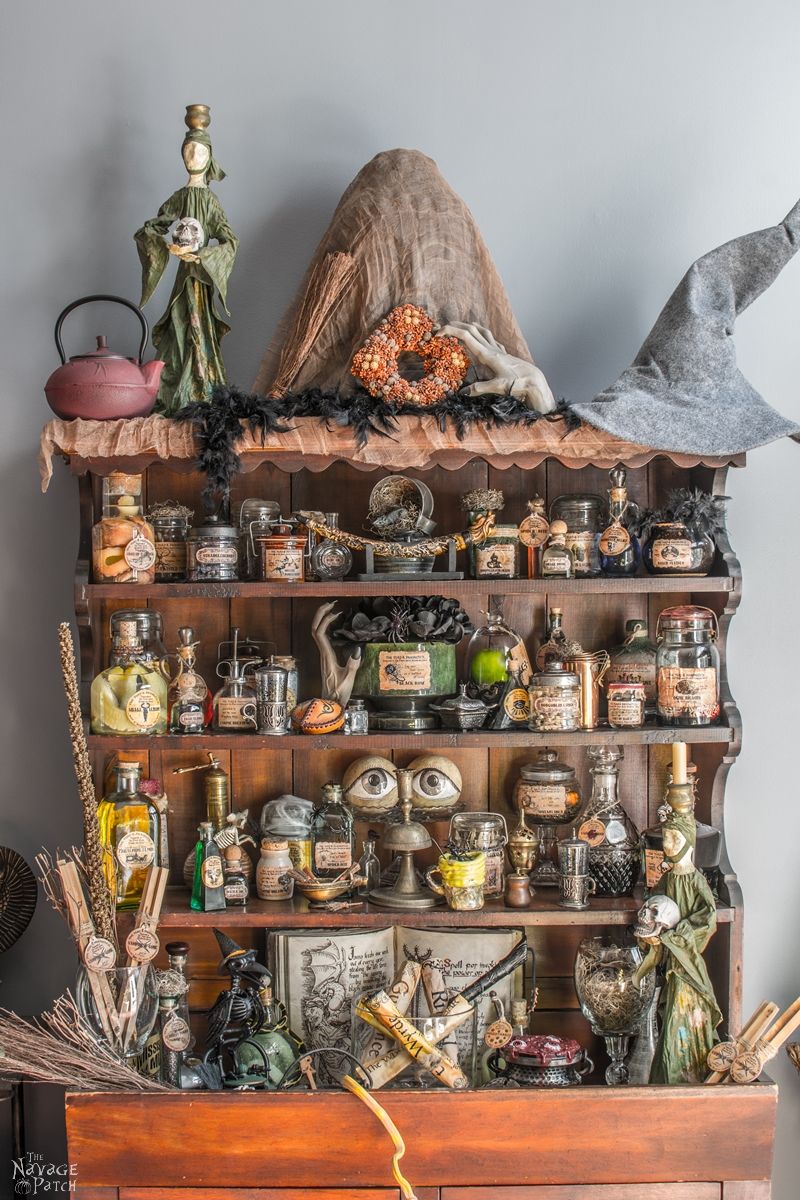 I hope these few pictures have inspired you to create your own spice shop! If so, let me give you some hints that may be helpful along the way. In the meanwhile, you might want to grab a coffee, because this will be a picture-heavy and pretty long post 😉
Apothecary Jars and Bottles
Try to gather all different sizes and different shapes. I gathered ours mostly from family, the thrift store and Put & Take. The jars and bottles don't need to be in perfect condition, so don't worry if they have a few dings. In fact, slightly worn out or dirty containers are better, as they will add an authentic look to your spice shop. Therefore, keep your dusters and sponges at bay! 🙂
Apothecary Jar and Bottle Lids
I've seen some people taking the easy path and just painting the lids black, and I've also seen some put a bit more effort into them by adding different materials. I did both, as I wanted a mixed look in our spice shop. To enhance the lids, I used Spanish moss, cork, burlap, creepy cloth, spider webbing, jute twine and black and bronze spray paints.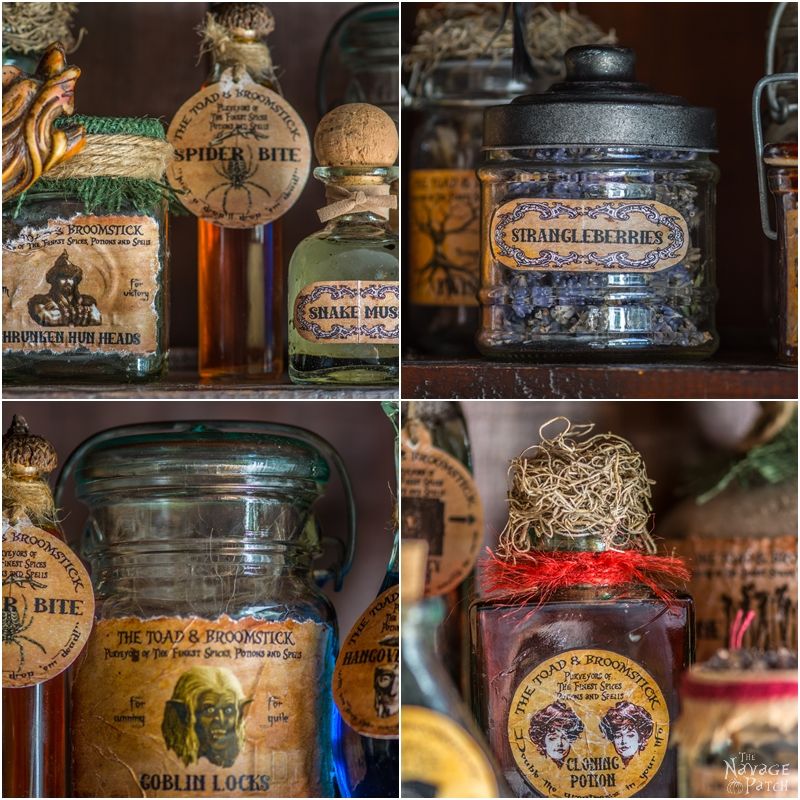 A little hint with the painted lids: if you want the worn out/splotchy look, spray the lids sparsely from a good distance.
Apothecary Jar Labels
Although in Rosalee's spice shop, every jar and bottle has that new-looking cookie-cutter type of label, I wanted variety in our spice shop. Therefore, I designed different types of labels. For the thin tall bottles where a label wouldn't fit on the bottle's face, I also prepared some circular tags.
Since I was going for variety, I also used different methods when cutting and gluing the labels: some are wrinkled, some have torn edges, and some look new. As you can see, there really is no right or wrong with this project. I guess that is why I had so much fun working on it.
For the torn edges, I wet a Q-tip and dampened the edges of the paper. With some, I wanted a moderately torn look, so I tore the edges slowly by hand. With some, I wanted a really worn-out look, so I pressed the Q-tip on the edges and pulled the paper. That gave me a deeper tear on the edges.
To download our apothecary jar labels for your personal use, just click on the download links at the end of this post (Page 3 of 3). As I couldn't fit all the labels in one pdf file, I had to divide them into two, so make sure you get them both!
Click on 'Next' to see the apothecary jar and bottle filler ideas and go to 'Page 3' to download the free printable jar labels.