Double Sided Christmas Pillows
Our house has been filled with holiday chaos for the past two weeks. First I was trying to get the tree ready, then the house decorations, then the shopping and wrapping…then more shopping and wrapping. I was a hyperactive elf these past two weeks! Okay, maybe all year 'round I'm a hyperactive elf, but really…watching me working my way through my "to do" list is like watching a Charlie Chaplin movie on fast forward! Thankfully all that work paid off, as I am almost done with my "to do" list. I just have to finish my homemade gifts.
Last year I made these Jingle Pillows as homemade gifts for Mom, Margo (my sister-in-law) and also one for our home. All the pillows turned out pretty good, but with one little handicap: they were not washable. I used my canvas printer to print the "Jingle", but I didn't realize that they couldn't be washed or the ink would bleed. Unfortunately I only discovered this after I had finished them all. Oh well, I know better now!
Since Mom and Margo really liked their gifts last year, this year I wanted to make some more Christmas pillows for them. But this time I was determined to make them machine washable. Otherwise, what is the point of making pillows as gifts? Instead, why not make a sign or wall art? After some research online, I finally found an easy way to do it. I explain the method in my "Image Transfer to Fabric" post.
As I no longer had to worry about bleeding ink or machine washing, I decided to go with a very light-color fabric for this year's Christmas Pillows. I bought some white denim fabric from Joann's and cut the fabric into two equal squares of 18 inches. I was planning to make 17 by 17 inch pillows, so with a 1/2 inch seam line on both sides, the final cut pieces needed to be 18 by 18 inches.
Next I designed the images that I wanted to transfer to the fabric. This part was pretty easy, because Margo and Mom loved the Christmas gift tags I made this year, so I adjusted those designs for the pillow faces. Then I printed the images to heat transfer paper
and cut them to a manageable size.
With my printed designs ready, I started transferring the images to the fabric using the "image transfer to fabric" method.
Once the images were transferred, the rest was so easy. I just sewed the two pieces of fabric together but left a little gap to fill the pillows with stuffing.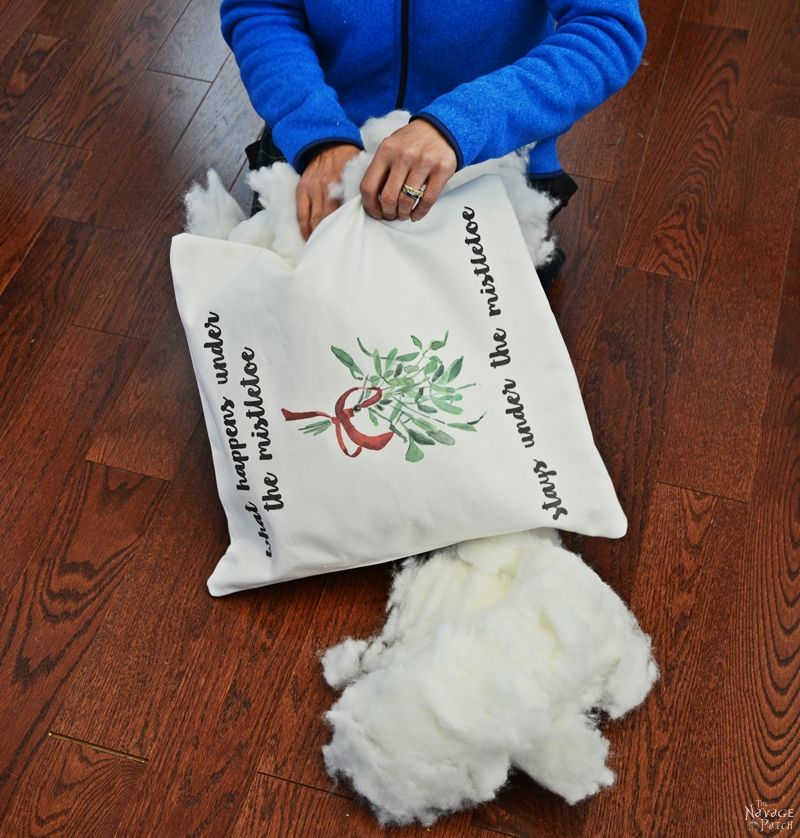 I used my sewing machine to sew the pillows, but to close off the gaps, I used fabric glue
. For those who don't use a sewing machine, I recommend using fabric glue
or heat bond adhesive
to finish the pillow, as they are equally good for bonding fabric.
…and here are the finished presents!
I think they turned out really cool, and the best part is each side of the pillows has a different design!
I love the way they look all together.
Oh… before I forget – here are the 4 pillow designs if you'd like make some pillows for yourself. Or you can even print them and fill your frames with them 😉 Just click on the button below and get your free copy for your personal use only – they are all in the Christmas section of the VIP Patch!
If you're not a Navage Patch VIP, you won't be able to access our Freebies Library. But that can be easily fixed! Subscribe for free on the form below and become a Navage Patch VIP. Once you subscribe, a password will be sent to you in our Welcome email, and that will give you access to The VIP Patch [Freebies Library]. If you didn't receive our Welcome email, can't find the password or have any other questions on this process or on our free printables, please check our Printables FAQ page.
Merry Christmas and a great New Year!
Handan, xo