Simple Birch Log Nativity Scene
Bring the Christmas spirit into your home with this simple birch log nativity scene. It's an easy craft that adults and kids alike will enjoy!
When I was small and Santa was real and the world was a place of miracles and wonder, I first heard the tale of the Nativity. I don't recall who told the story – whoever it was read it to me from a large book with big words and colorful pictures.
I remember the pictures.
A night sky of cobalt blue…
Stars like fireflies…
And hanging low in the eastern sky, a great beacon that lit up the pale dunes of a desert in some impossibly far-off land that my small mind couldn't begin to understand.
Three men walked with camels across the barren sands.
Three men walked toward that beacon in the sky.
They were Kings in their homelands, yet here they walked alone across a vast and foreign land to pay their respects to a newborn miracle.
Whenever I heard the story, I found myself there in that manger in Bethlehem.
I could smell the straw.
I could hear the lambs.
And I could see the star that led three faithful Magi to the infant Jesus.
All these years later, and the story of the Nativity still gets me. When I hear "The Little Drummer Boy" on the radio, I get a lump in my throat.
I'm not the most pious man on Earth, so go figure why this one story still captures my imagination.
I wanted to pay homage to those boyhood feelings of awe and wonder, so I came up with a quick and easy project to honor the birth of Jesus. This simple birch log Nativity scene is a great project to do with your kids or grandkids.
The best part?
No paint involved! Instead, I used a selection of Sharpie markers. But for those who don't mind a small paint brush, you can certainly make this DIY Nativity scene with craft paints. In fact, the first one I made was with paints, so I'll show you both results.
Let's get to it!
DIY Birch Log Nativity Scene
SUPPLIES LIST
Affiliate links are provided below. Full disclosure here.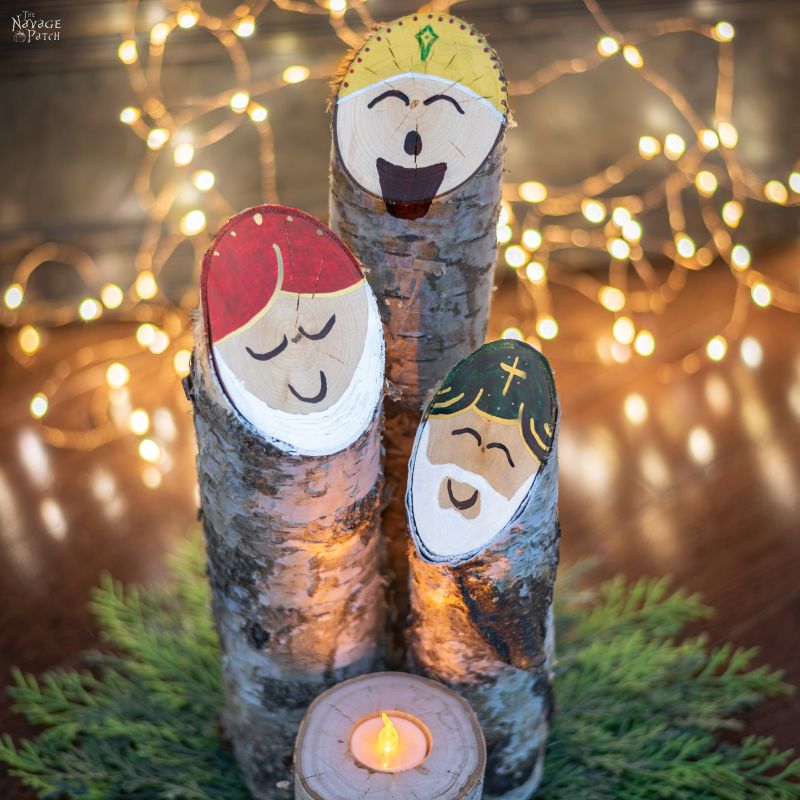 If you don't have access to birch logs from a nearby forest, you can pick them up at Whole Foods, Home Depot, and probably a thousand other places this time of year.
Simple Birch Log Nativity Scene Tutorial
I selected three logs with different diameters. I don't know what the three Wise Men looked like, but in my mind, there's a tall one, a short one and a medium one.
I decided to make them 10, 12 and 14 inches tall.
I first cut a tiny bit from the base to make it perfectly flat.
Next I cut the face at a 45 degree angle.
I cut the medium tall magi in the same manner. For the tall magi – the singing one – I cut his face at a 35 degree angle so it would look like he had thrown back his head to sing up into the heavens.
I cut a 4-inch-tall section from one of the thicker logs to serve as the creche of baby Jesus.
A tealight would represent the infant Christ, so I drilled a 1 1/2 inch hole with a Forstner bit in the center of the creche log deep enough to accommodate a tealight.
With the cradle drilled, it was time to get artistic with the wise men's faces.
To keep things simple, I used an assortment of Sharpie paint pens and Sharpie brush tip markers. If I could have found the paint pens in all the colors I needed, I would have used them. I bought my pens from Home Depot and Staples, and they only sold small packs of the paint pens. I've linked to Amazon that sells a full set for a very good price. I also chose to use the black brush tip marker for the mouths and eyes.
First I penciled in my lines.
And then I colored between them. There's no right or wrong way here. I started with shorty.
Next was the middle magi.
And last, the tall one. Only after I finished did we notice how distracting that knot in the middle of his face was, so I quickly cut another log and made another magi (no pics of that build).
And that's all there is to this project! So simple, but so brilliant!
I made a set of these guys a few years ago with maple logs from the forest behind our house. I colored them with craft paint. If you're handy with a paint brush, then painting the faces is another great option!
We love it when you share our posts on Facebook and Pinterest!