DIY Concrete Skull Candle Holder
Last weekend, right after I finished my haunted mirror, I started searching for more creepy stuff online. I wasn't running out of ideas (after all, I have The Creepmaster, aka Greg, by my side) – it was more like a little window shopping. My browsing led me to Decoist.com's Halloween Gothic Candle Holders post. I was stunned with all the spooky candle holders, but one of them really gave me the creeps: johnny head tea light holders.
When I clicked on the picture, I found out the tea light candle holders were made by Mudstuff (on Etsy). I actually considered buying them, even thought they were $28 per head. But if only I didn't make the haunted mirror…because these dolls also have that subtle effect you get from the haunted mirror I made – they look as if they are watching you…a little bit creepy. So having both of them under one roof was going to be just too much for my sanity. What can I say, as I am the only scaredy cat in our family, I don't want to morph our house into a tunnel of terror. Hence I passed on these lovelies, but I wanted to use the idea: concrete candle holders…or concrete skull candle holders to be exact!
As I wanted to make 3 of them, I searched online for a latex skull mold and found some on eBay. The one I liked was $25 plus shipping. Not really worth spending that money, as I wasn't planning to go into the skull candle holder business. LOL. Seeing no other decent mold (be it price or the shape), I looked in my Halloween stash to see what I could use for a mold and found these Dollar Store plastic skulls. YAY! The game was on!
First I needed an opening in the skulls in which I would pour the concrete. These skulls had a small hole on the top, but it definitely wasn't big enough. I needed to enlarge it.
This is when my step drill bit came in handy. I started slowly drilling the top of the skulls. As the plastic was very thin and fragile like glass, I really was nice and slow when drilling, because I didn't want to break the skull into pieces.
Once I opened a good-sized hole, I poured in some oil…
…and swirled it around to fully coat the inside of the skulls.
Then I turned the skulls upside down to get rid of the excess oil.
This step was so the concrete wouldn't stick to the forms and give me hard time when I broke them. Once the greasing was done, I mixed some Quikrete…
…and started filling my skulls.
I know, I know, I'm not wearing gloves. But I should have been, and so should you if you try this, because concrete can dry out your skin pretty badly. But I promise I had my safety glasses on during this step. Being in the construction industry, I know how nasty concrete can be if it gets into the eyes. [I worked in Health and Safety for our construction projects in Aghanistan and India. I can tell you from experience that the workers who got cement in their eyes were in bad shape. Their eyes would swell shut and burn like they were on fire. Some lost vision for a day or two. Really nasty business. -Greg] Hence, I strongly suggest you to wear safety glasses whenever you deal with concrete.
During filling, I lightly tapped the skulls all around every once in a while. This was to get the concrete to settle better which would lead to a better surface.
Once the skulls were filled with concrete I inserted a candle into them (while the concrete was still wet), making sure the candle was standing nice and straight.
When the concrete started to set, I slightly twisted the candle and removed it and let the concrete dry overnight.
Next day, I broke the the plastic skulls, and that was the end of this little project.
Such an easy project this was! And the best part is the cost: $7 for 3 of them. Not bad at all for a quick weekend project, is it?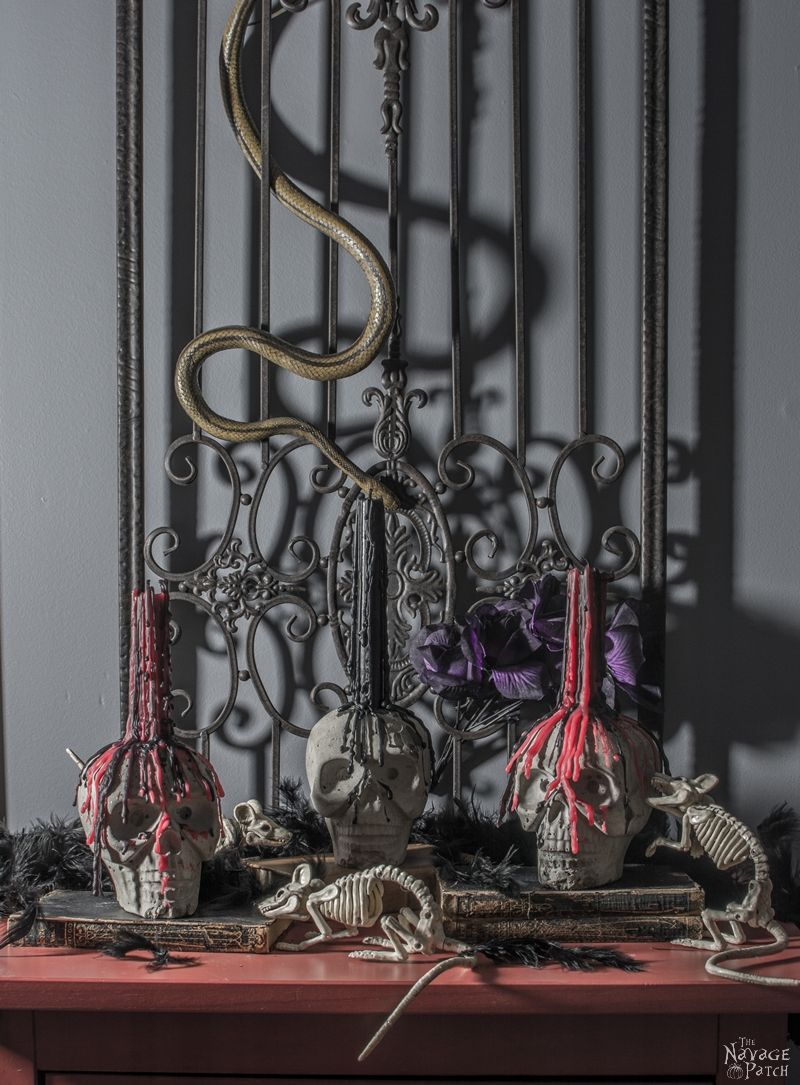 These skulls are the perfect size – not too small or too big. I think they can even be used as paper weights during Halloween.
Here are some close-up pictures for you.
And here they are with the candles lit!
I really love these guys, especially with the candles lit. They definitely don't look scary, but they do carry that Gothic feel, which is perfect for Halloween.
Handan, xo