Call it the Mother of All Stalls. One day, I'm firing two tiling contractors halfway through the job of brick-facing our dining room walls, and the next day…it's a year-and-a-quarter later and the job is still unfinished.
How did we get here?
Let's rewind.
Some of you may recall that one of our first endeavors after buying our Florida home was to remove the absurd and confounding columns in the dining…not room…allotment? Annex? Spur? Subdivision?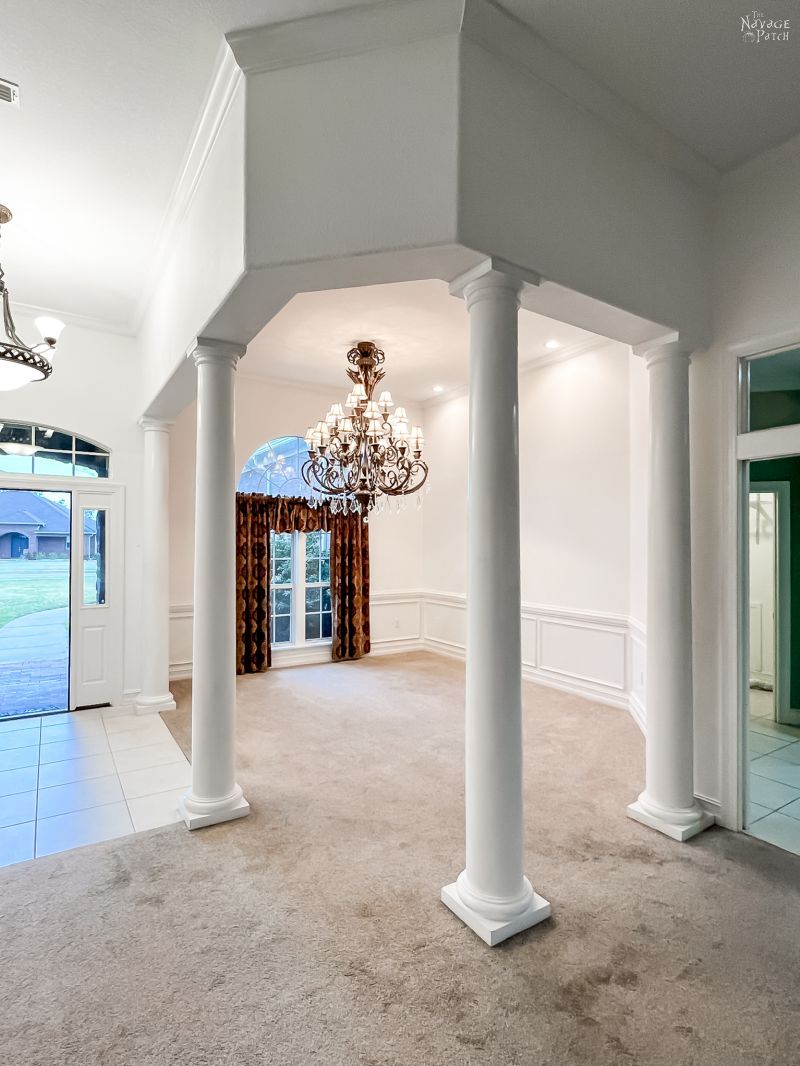 I half expected laureate-crowned Romans to be lurking behind the columns each time I sauntered past.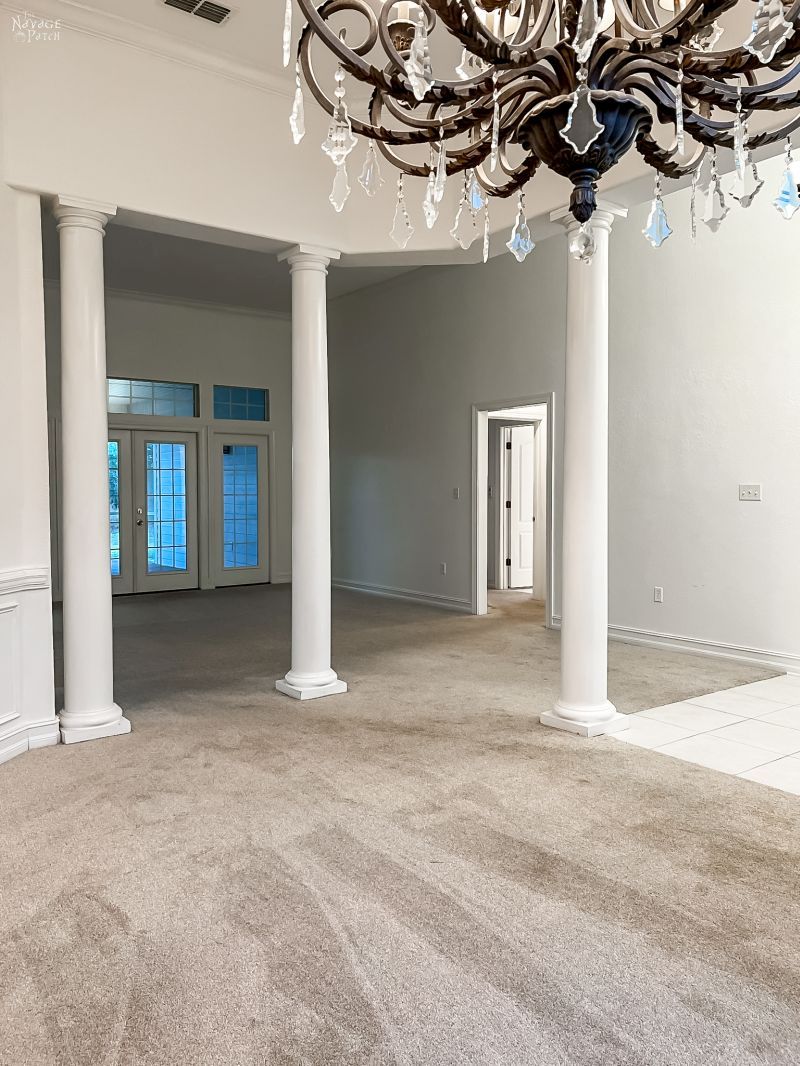 After trying and failing to remove the columns myself (it turned out that each was concealing a high-tension cable anchored from the foundation to a ceiling beam), we gave up and hired a contractor to remove them for us and then build a wall with arched openings that my babes had designed.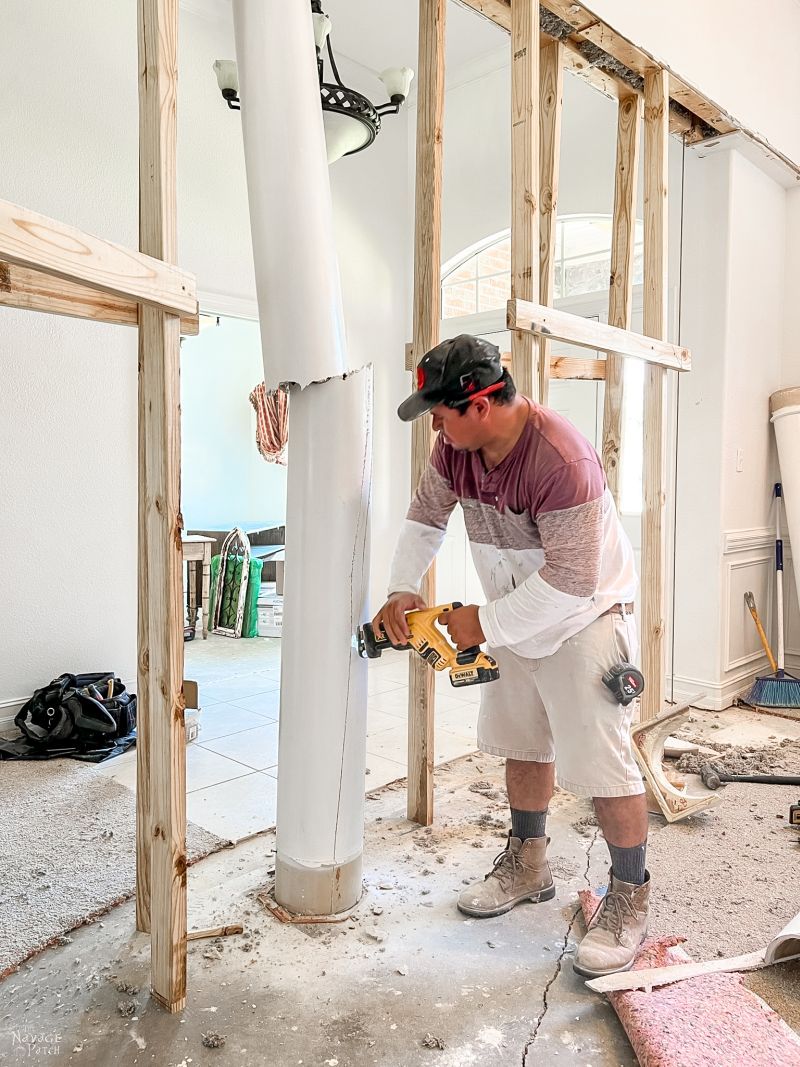 Things went relatively smoothly at first. He did a decent enough job of framing up the walls with only a few minor adjustments needed.
When he finished framing and installing cement board, Handan and I ripped out the rest of the carpet, and then we started installing LVP. We wanted to have the new flooring laid down before we brought in a tiling crew to install a brick facade on the walls.
And before we finished flooring the dining room, we took down the Imperial-Star-Destroyer-masquerading-as-a-chandelier that hung ponderously from the dining room ceiling.
I think our roofline gained a few inches in height after this ten-ton tangle was dismantled from its roost.
We were ready for the tilers. But were they ready for us?
We were assured by the contractor that this was his best tiling crew. We even waited an extra week for them to become available!
Instead, we got Tom & Jerry, Laurel & Hardy, Abbott & Costello. Call them what you will, they were not bricklayers. They were The Three Stooges condensed into two hapless boobs who botched the brick job so bad we fired them after the fourth day of a job that should have been completed in three.
Here's one example of their craftsmanship.
Each day we'd find a section that had to be removed because these guys couldn't grasp the idea of a straight line with equal gaps. Here's my babes marking bricks for extraction.
I call them the do-over duo, and not only did they make a mockery of our brick wall, but they also dumped two buckets of grout water on my lawn that hardened into concrete after being instructed to dump the buckets in the woods, they left the work area in utter disarray each night (that I had to clean), and they spilled a 32-ounce gas-station cup of Coke onto our brand new LVP flooring and then…left for the night.
No cleanup. No heads-up. No nothing.
That was the last straw. I called the contractor and told him to tell his mortar-slinging simpletons not to bother showing up that day or any other.
And that left us with an incomplete wall with thoughtful little touches like these beautiful mortar swirls. 🙄
This was the state of affairs around the time of The Dismissal.
Over the course of a year and a quarter, we did flesh out the room with a rug, our DIY gothic revival farmhouse dining room table (yes, you read that right, and you can read more about it right here), restored antique china cabinet, DIY console table, other furniture and assorted decor pieces.
It looked pretty good all-in-all, but there were precisely two problems with the room:
The aforementioned aborted brick wall
A gaping hole in the ceiling that periodically rained down insulation like manna from heaven until I patched it up with blue painter's tape
Well, out of sight, out of mind, but this room was in sight on a daily basis. Still, I did a pretty good job at pretending it didn't exist. Handan on the other hand…
So it came to be this summer that we vowed to finish the room this year.
And so far, we're making good on that promise! We've already finished bricking in the big arch, and just last week, I hung a new chandelier that my parents gifted us…last Christmas!
There will be much more to tell about the brickwork as that nears completion, but for now, you can see the progress we've made and how the room looks in its current festive state as we try out our new Halloween decor creations in their very own spooky room!
It's good to see bricks on that arch!
Soon we'll be filling in the rest of those bricks, adding mortar and then making them all more white.
This room lends itself beautifully to Halloween decor!
The chandelier is perfect for all seasons and holidays!
A few Halloween details to finish up – you'll be seeing some of these projects in depth soon!
Stay tuned for more Halloween fun and Home Improvement – there's still so much to do and show!