Our DIY Farmhouse Table is made of pressure-treated pine with a cedar plank top to keep the cost low and make it suitable for outdoor use. Swap in pine for the pressure-treated and cedar, and you've got yourself an even cheaper indoor trestle table!
We did it.
We finally did it!
Our new deck is finished, furnished and ready for the big reveal.
Oh, but not today. Nope, I'm gonna make you wait a little longer for that post, 'cause I'm a jerk like that. 🙂
But I still have something good to show you.
It's big.
It's heavy.
And it's made out of wood.
Yep, the last piece of the puzzle is our new DIY farmhouse table that we've been building for the last few months.
As usual, it started with Handan assaulting me with Pinterest pins on Skype messenger.
"My babes, I want a table like this one." She'd write and then shoot me a Pin showing happy, smiley-faced DIYers building a trestle table.
I disliked them immediately and trusted them even less than I liked them.
Anyone who smiles that much is selling something.
And anyone who smiles that much while building something is full of shit.
Still, I took note of the design and filed it away in the monkey cage my brain.
And then, the inevitable…
"No, wait! I want it like this one!" Another Pin, another farmhouse table.
And again…
"Forget the previous photos. I really want it like this!" Yet another trestle table Pin.
With all the mind-changing that women does, how the heck am I supposed to keep it all straight? My head is like a Midwestern road. Information travels in one ear, and it's a straight shot through to the other ear where the information promptly exits. Nice and simple (stupid) – in, out, and Bob's your uncle!
It looks something like this: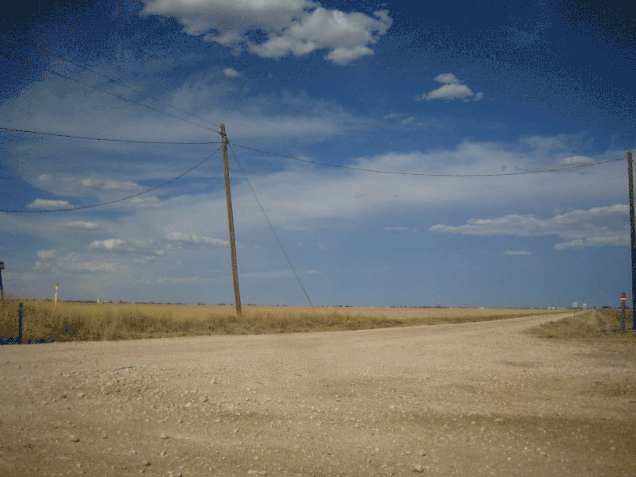 Contrast this to Handan's brain: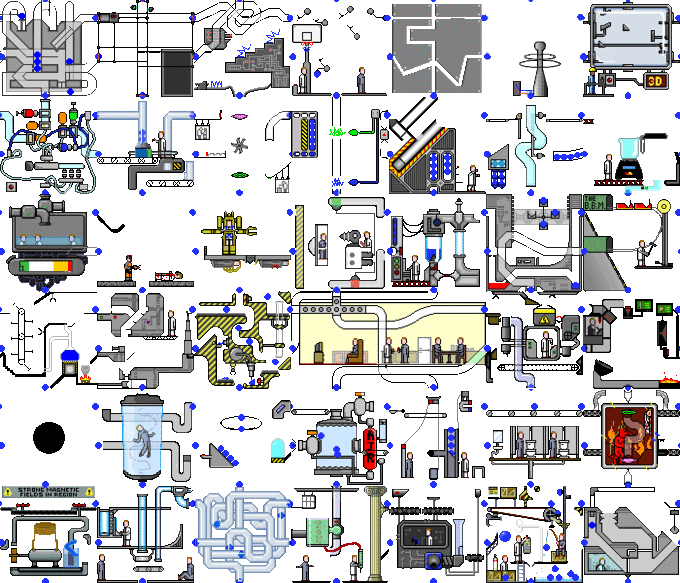 So of course, I designed the wrong table on Sketchup. I had to go back in and modify my plans.
And then I designed it wrong again, because I tried to make it too fancy.
But fancy wasn't what we wanted. We wanted Simple Stupid. If you're not familiar with our new motto, please read this post.
With that in mind, I finally designed an acceptable trestle table. With any luck, it would look something like this: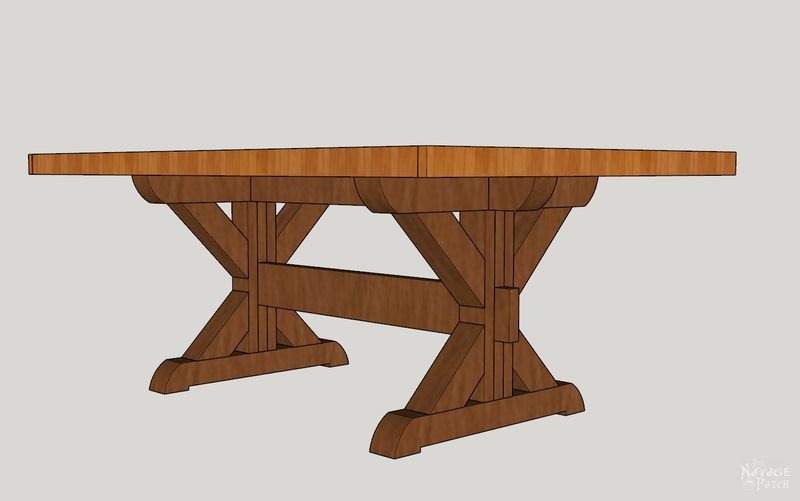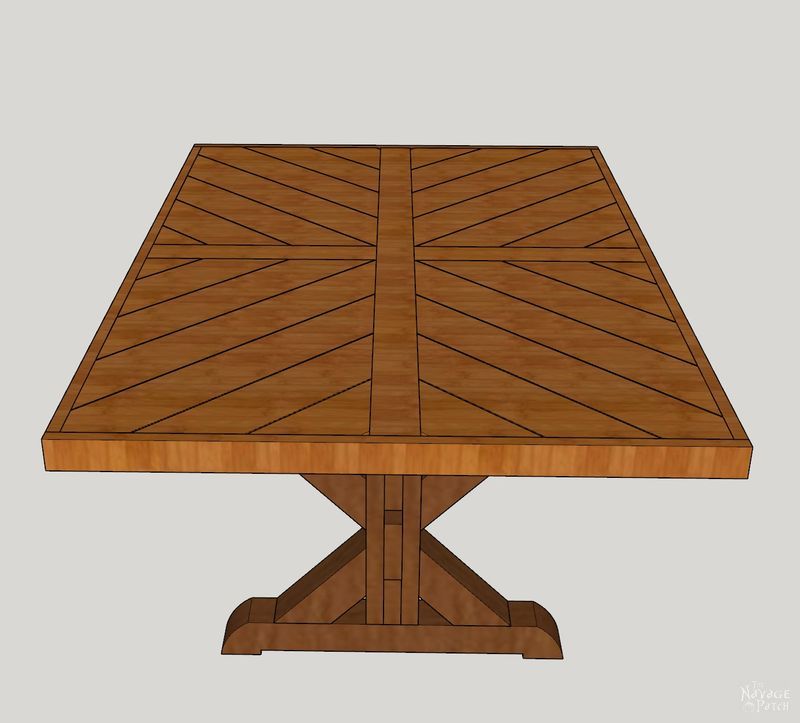 The herringbone table top was Handan's idea. I think it would really set our farmhouse table apart. Or it would reduce me to a quivering mound of jelly. That remained to be seen.
To keep costs to a minimum, we decided to build the base from pressure-treated pine 4x4s instead of cedar. We reserved the cedar for the table top. For indoor use, I'd use straight pine for all of it.
Before we begin, be sure to follow us on Pinterest, YouTube, Facebook and Instagram, and also sign up for our email list (by clicking the subscribe button above), so you'll never miss a post!
DIY Farmhouse Table Materials List
(3) Pressure-treated pine 4x4x8
(1) Pressure-treated pine 2x6x10 (ask the store to cut it at 62 inches)
(1) Pressure-treated pine 2x4x12 (ask the store to cut it in half)
(3) Pressure-treated pine 2x4x10 (ask the store to cut two of them at 62 inches and one at 80 inches)
(8) Cedar deck boards 5/4x6x12 (ask the store to cut six at 96 inches, one at 60 inches, and one at 76 inches)
1 5/8 inch decking or exterior screws
DIY Farmhouse Table Cut List
4×4 Pressure-treated pine
(2) 34 inches
(2) 30 inches
(1) 54 inches
see diagram in post for angled cuts
2×6 Pressure-treated pine
(1) 61 inches
(1) 48 inches
2×4 Pressure-treated pine
(2) 61 inches
(2) 46 inches
(4) 19 3/4 inches
(8) 16 3/4 inches
(2) 8 inches
(2) 6 1/4 inches
5/4×6 Cedar deck boards
For herringbone pattern (rough estimates – see diagram in post for angled cut dimensions)
(8) 36 inches
(4) 30 inches
(4) 24 inches
(4) 19 inches
(4) 12 inches
(4) 8 inches
For center cross pieces
(1) 68 inches (ripped to 3 1/2 inches wide)
(2) 21 1/4 inches (ripped to 3 1/2 inches wide)
For trim
(2) 70 inches (ripped to about 2 3/4 inches)
(2) 48 inches (ripped to about 2 3/4 inches)
Let's build our trestle table!
The pressure-treated pine we bought was super-saturated with creosote, and it weighed a ton! I had worries that the wood wouldn't take stain, but I pushed those thoughts aside and started the build.
I first cut my pieces for the base.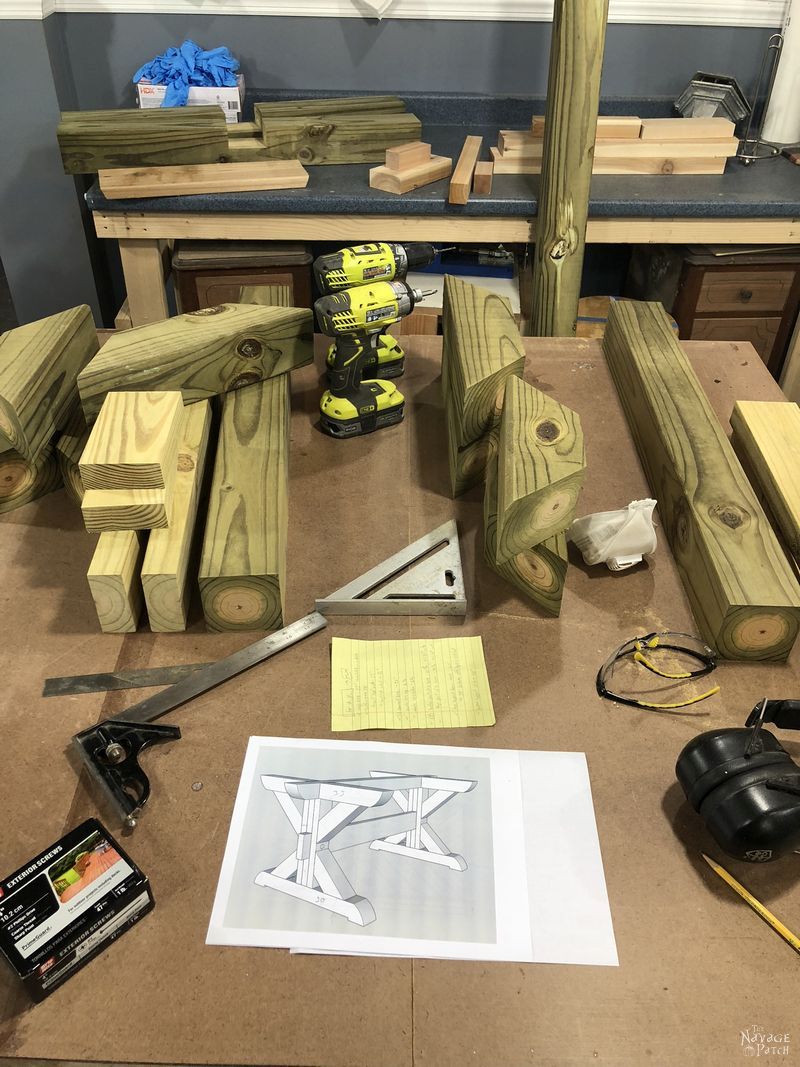 Although I had designed those nice curves on the legs, our new motto of Simple Stupid rang through my head, and I decided to just chamfer the ends – basically cutting off a piece at a 45 degree angle. I measured and marked for the cuts.
And then I chopped off the corners.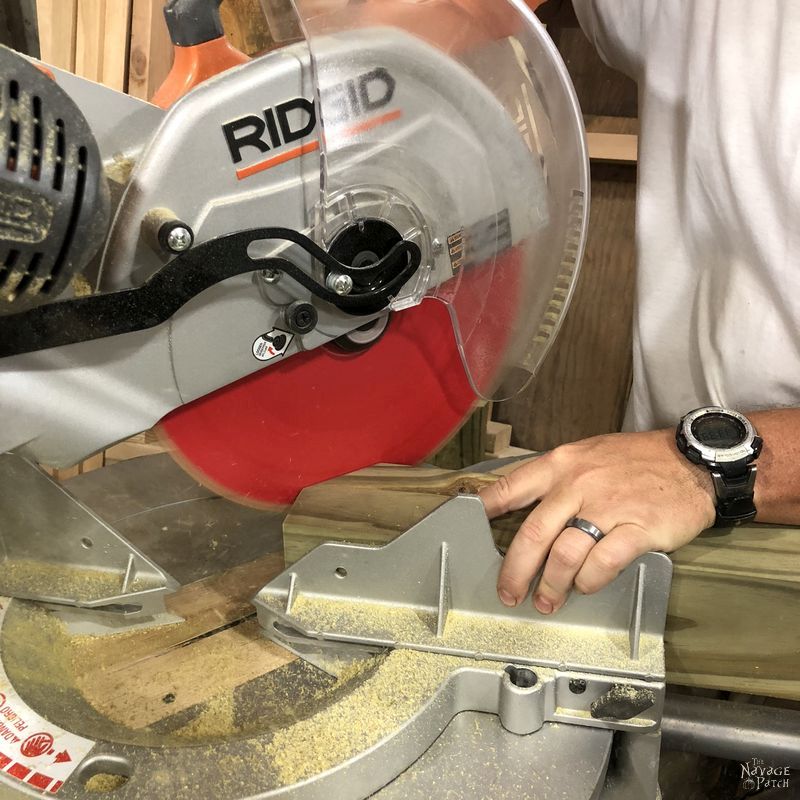 I next measured and marked the area I needed to cut out to make "feet" on the base. I measured in 3 1/2 inches from both base ends and then up 1/2 inch.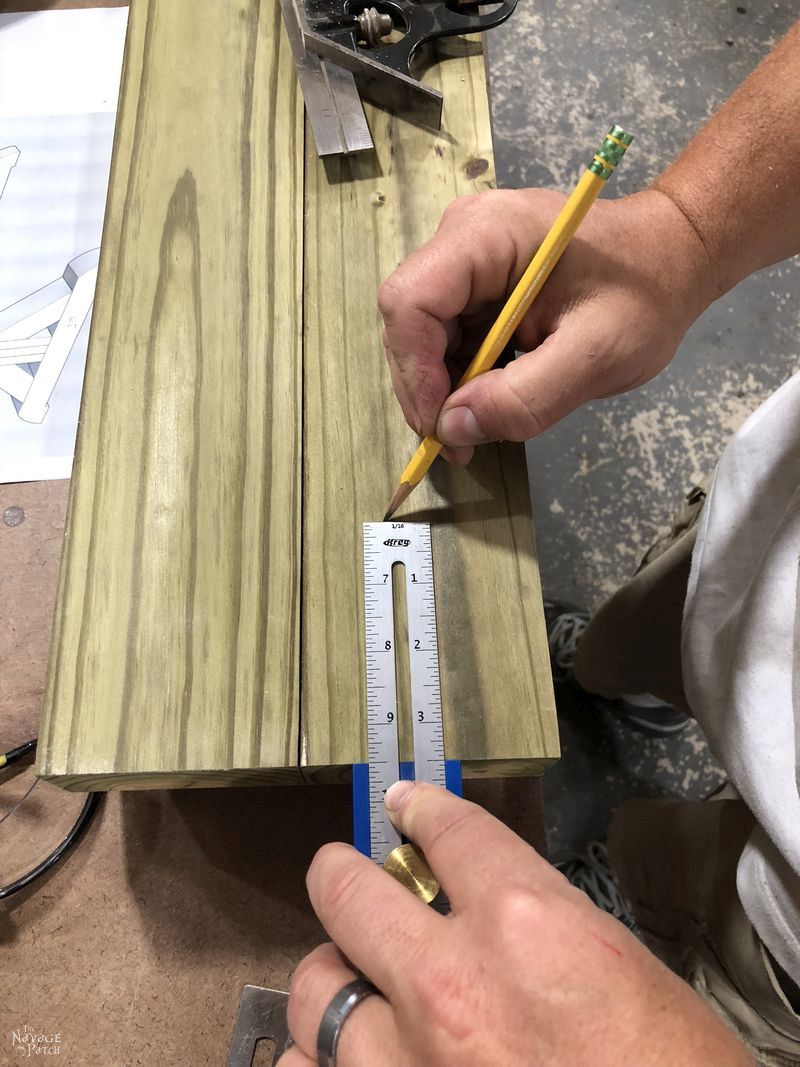 Cutting out this notch would give me four "feet" for the table. I used the table saw and passed the wood back and forth, cutting off 1/8 inch with each pass. That's about 184 passes for each base!
This got a little tiring and boring, so Handan offered to help. It was her first time using the table saw. I gotta say, she looks way better than I do using that saw!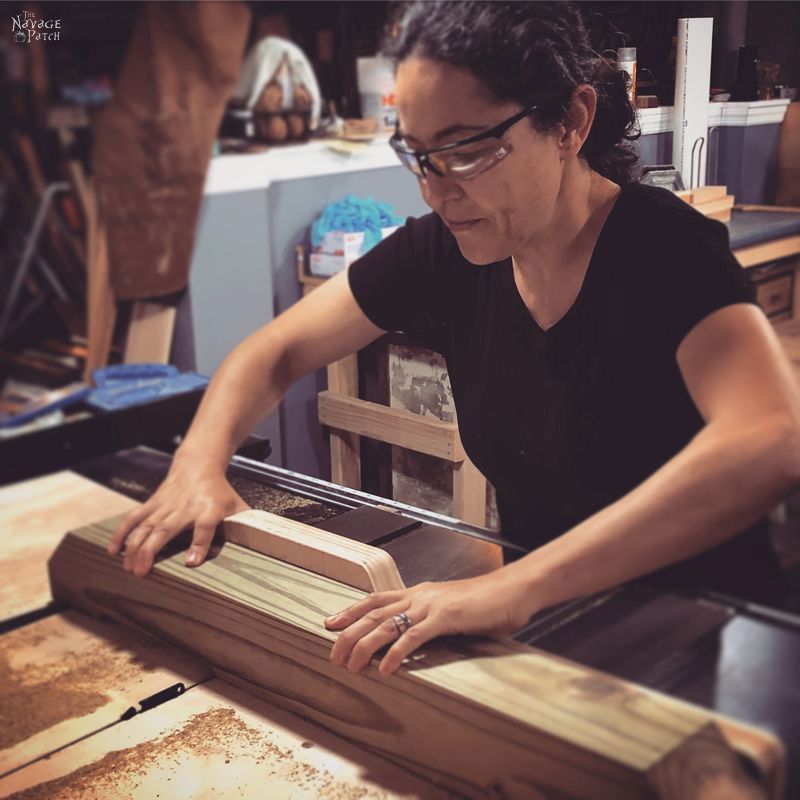 After cutting out the base notches, we started to screw together the table leg assemblies.
I used a combination of 4 inch deck screws inserted at an angle as shown below.
And 2 1/2 inch deck screws inserted straight.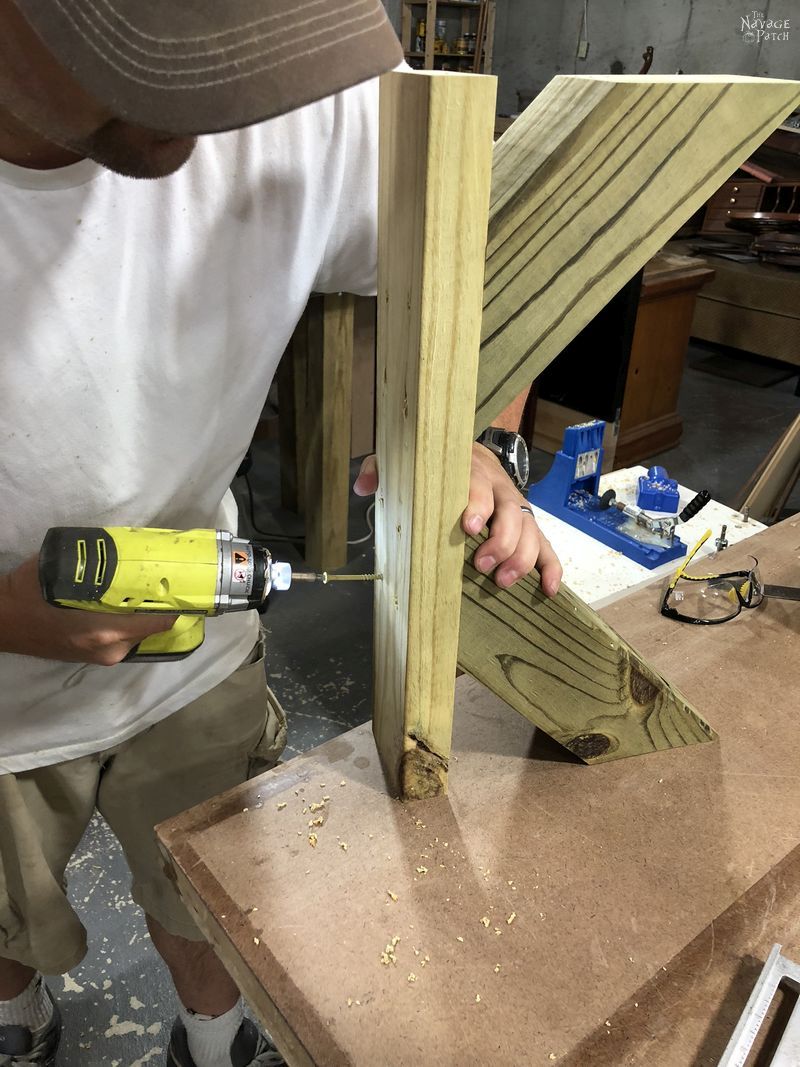 Once those "K"-shaped pieces were built, I screwed them onto the base along with the small center piece.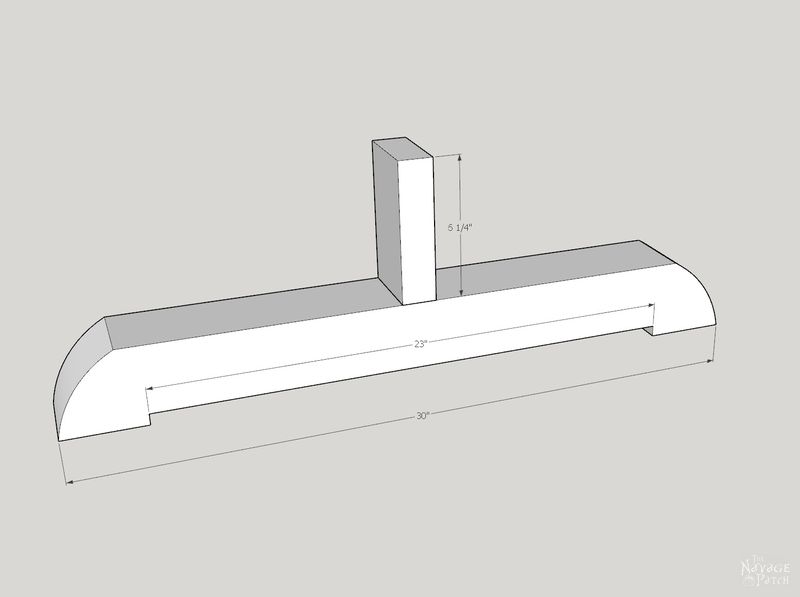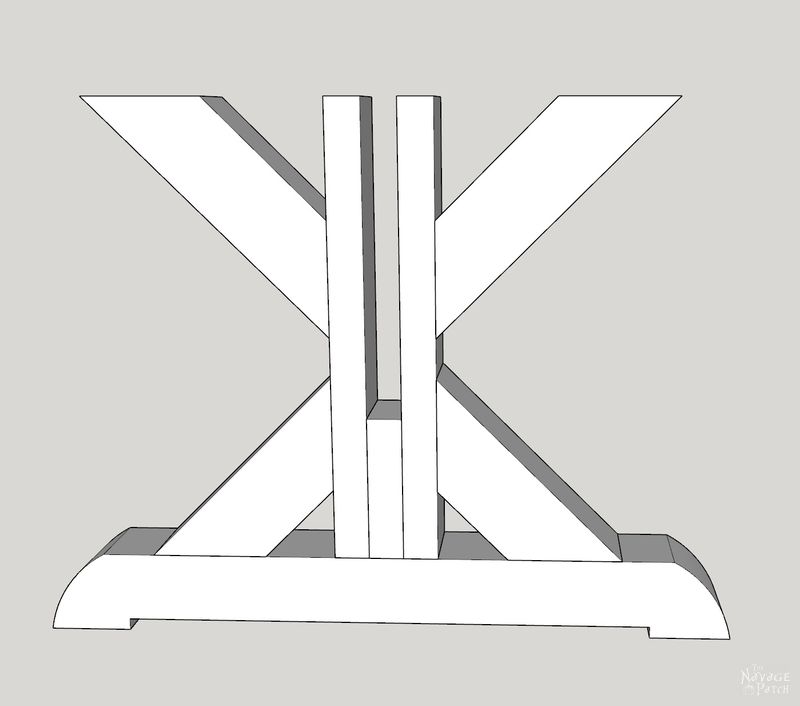 I used my Kreg Jig to make pocket holes for the small center piece.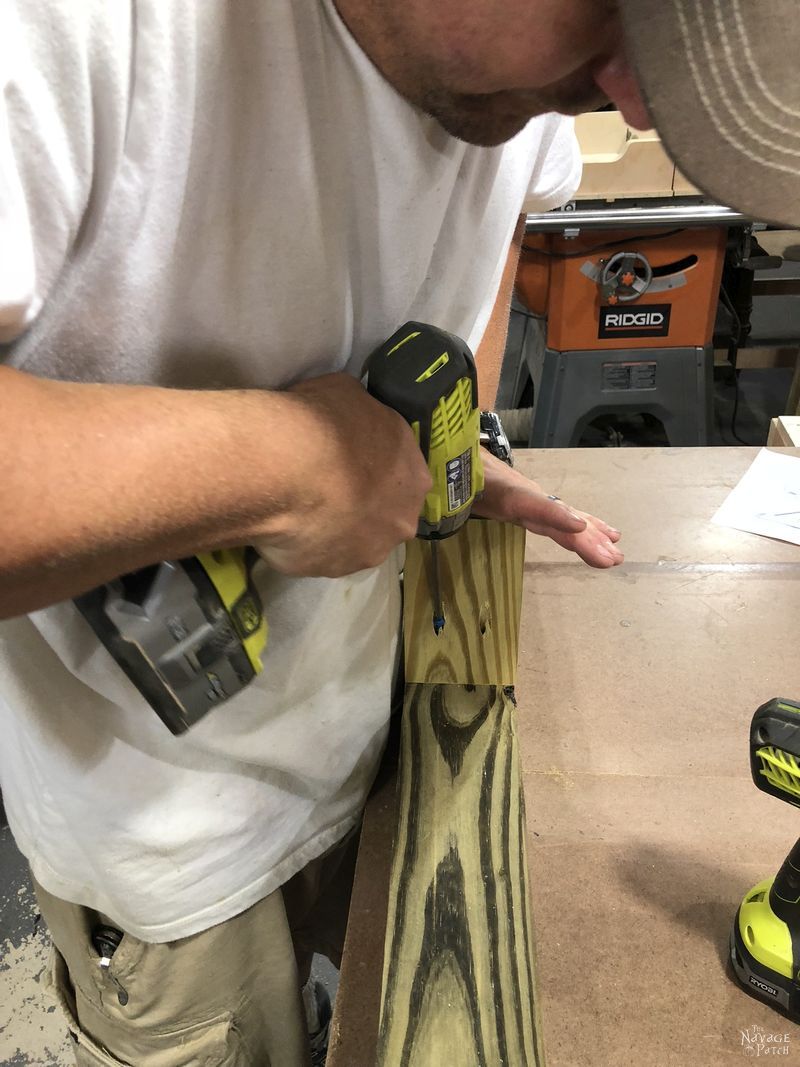 I used 4 inch screws to attach the pieces from the bottom.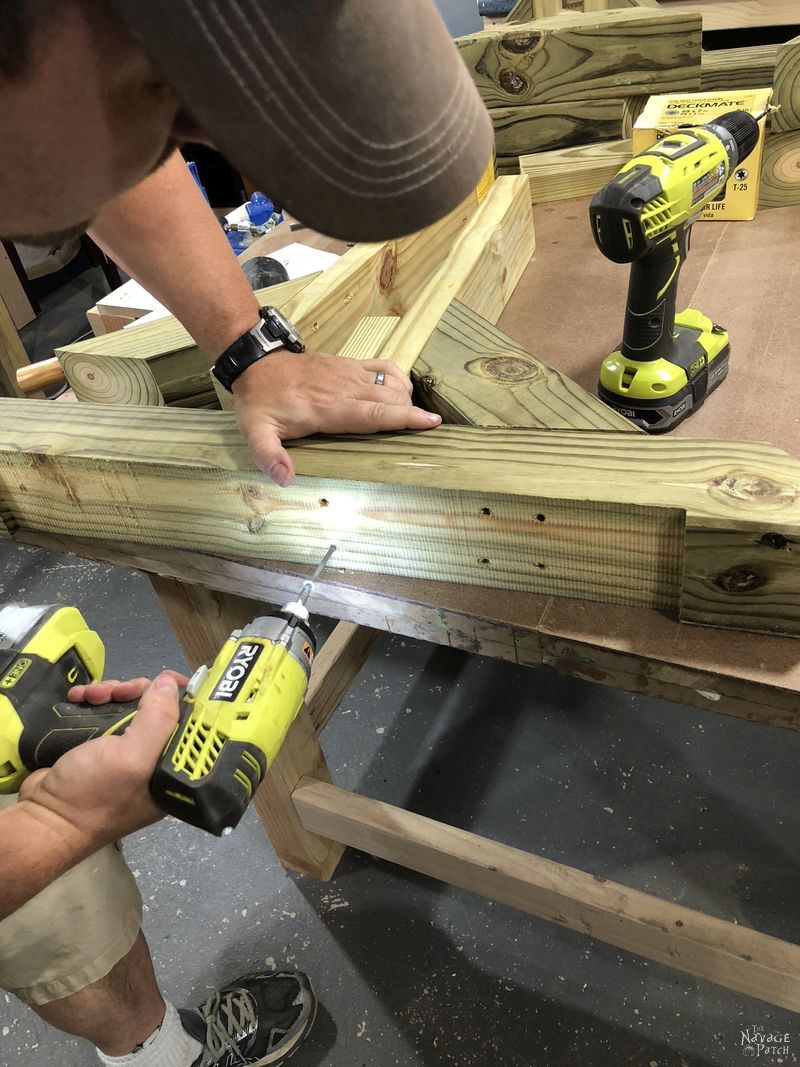 It felt good to get this far. The table was shaping up!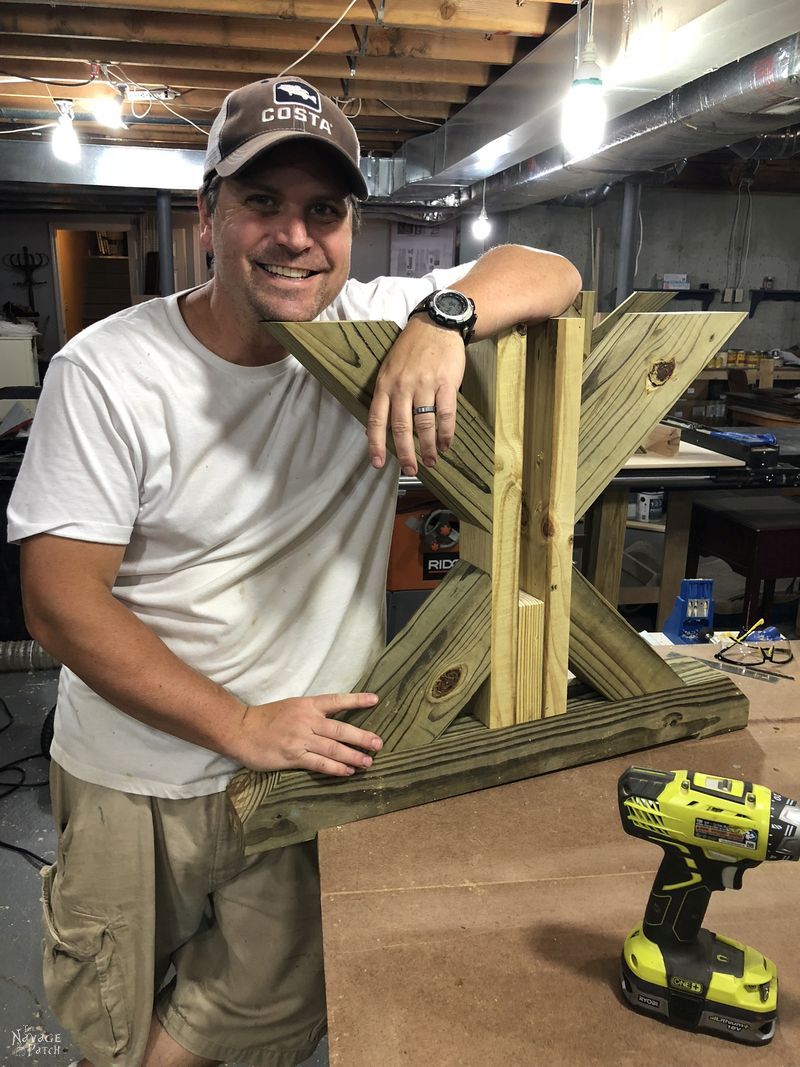 Next, we built the top part of the base. This required cutting more notches with the table saw (not pictured).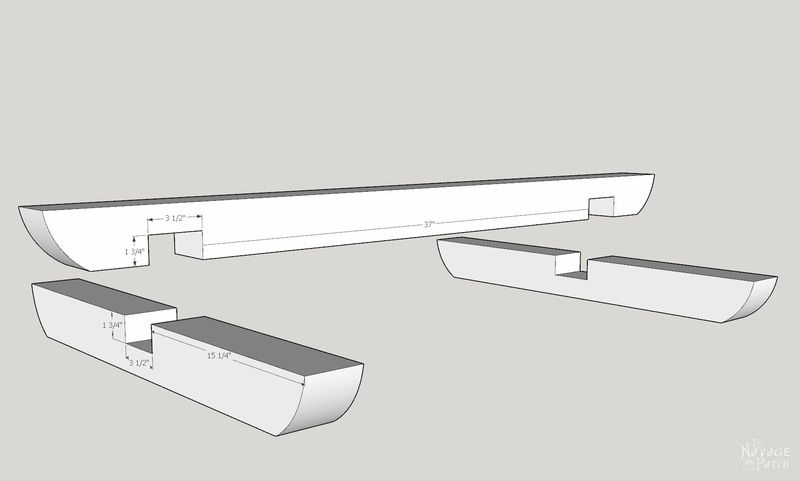 Pounding the pieces together…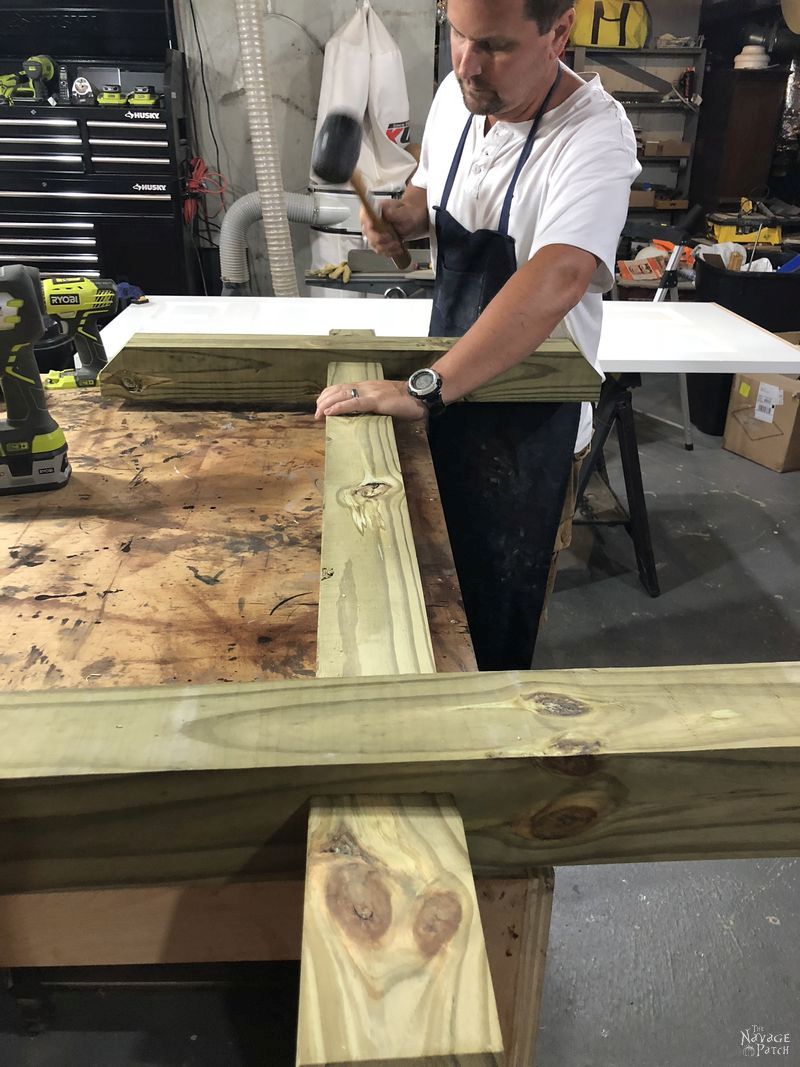 Click on 'Next' to continue.