DIY Light-up Melting Snowman
This DIY light-up melting snowman is the perfect holiday decoration for those of us not "blessed" with snowstorms and blizzards!
I guess he took a wrong turn at Albuquerque!
Seriously, what kind snowman travels south for the winter? I mean, I get it and all. Once you've tasted summer sun in the depths of December, who the hell wants to stick around in the cold and dreary climes up north!
But c'mon, he's made of snow fer cryin' out loud!
Well, whatever the reason, poor Frosty came for a pre-Christmas visit, but due to his profound lack of foresight and judgment, it doesn't look like he'll be leaving anytime soon. In fact, this may very well be his final watery resting place.
But hey, one look at his face, and you know it's not all bad. Just look at that smile!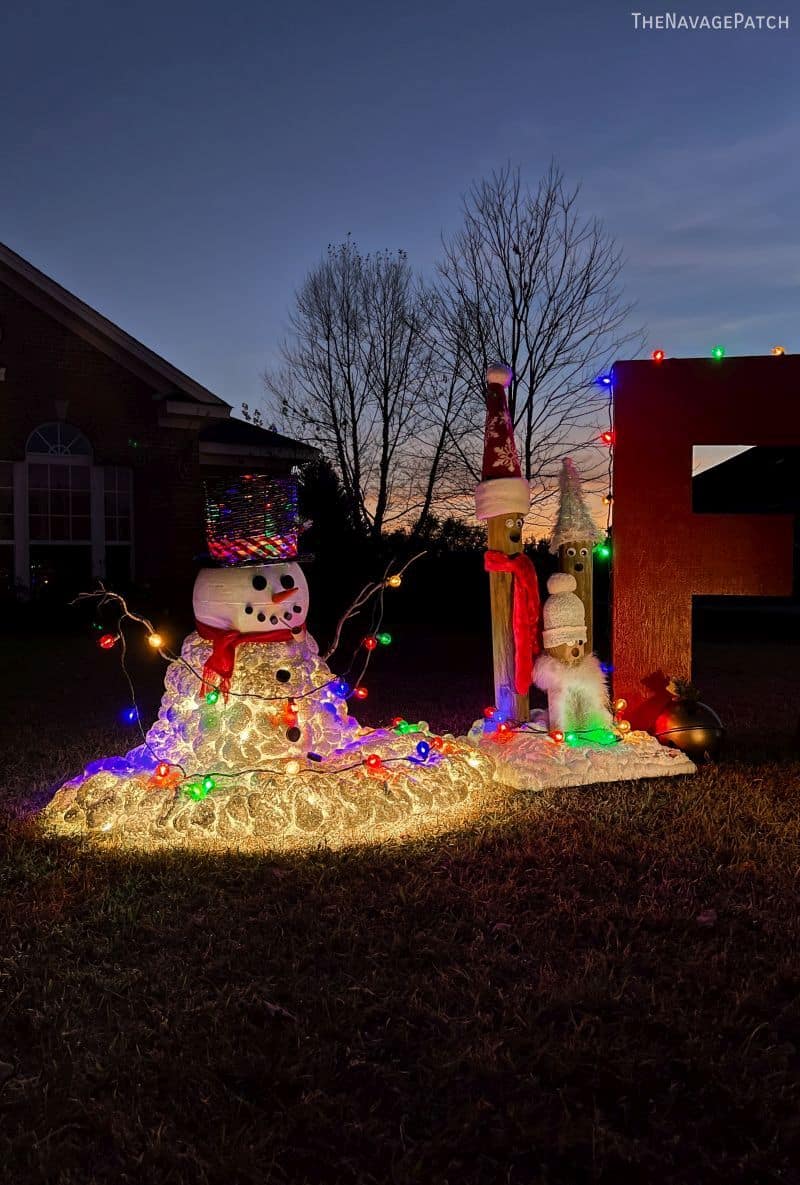 He'd rather melt away in Florida than spend another miserable winter up north freezing his buttons off while snot-encrusted kids hurl snowballs at him and cram carrots into his face.
Yeesh, what a world, what a world!
Okay, back to reality. This melting snowman was probably the most fun Christmas project we've made so far this year, and he's certainly one of our favorites to look at each and every day.
But all this awesomeness comes at a cost.
Literally.
Let's just get the truth out before we dive in. This is not the cheapest DIY on the planet. In fact, if you make him exactly as we did, it's north of $100, but by using a little less foam, you can do it for well under $100. And if you want to skip the lights and make a smaller indoor version, he's actually quite affordable. Consider this a craft that can be tailored to suit your financial needs and space requirements.
DIY Light-up Melting Snowman SUPPLIES LIST
Affiliate links are provided below. Full disclosure here.
White laundry basket or wire basket (from Dollar Tree)
2 hollow half-ball foams (from Michaels)
White paint (mandatory if he'll be exposed to sunlight)
Foamboard adhesive
Snowman decorating kit (includes a hat)
2 sticks (for the arms)
Snowman basket hat (optional, from Michaels)
Colorful outdoor LED lights (optional)
We love to see our craft projects out in the wild! If you try this seasonal craft project, take a picture and post it on Instagram, be sure to tag us @TheNavagePatch!
DIY Light-up Melting Snowman VIDEO Tutorial
Watch our short and fun video below for an overview of our DIY light-up melting snowman before you read the detailed step-by-step tutorial.
Watch Our Tutorial On YouTube
DIY Light-up Melting Snowman Tutorial
Step 1 – Wrap the lights
The reason for the laundry basket is to save time, money and weight. Rather than using lord-knows-how-many more cans of foam to make the snowman's body, the basket takes up that space nicely and is a perfect place to wrap the lights.
We used two strings of white wire 100 LED lights we got from Michaels. You can go that route, but you can save a lot of money by buying them from Amazon or Walmart and going for green wire. It won't make a difference to your final product. I'd also recommend buying a 200 or 300 light strand to save even more.
I wrapped the lights around the basket and kept enough to spread out in front. To save on foam costs, we have the snowman melting more towards the front instead of an equal pool of snow all around.
Step 2 – Foam
I sprayed the foam around the base first, and then I worked outward to form the puddle. Handan adjusted the lights as I foamed to keep an even distribution of them as I created his puddle area.
We felt this was big enough for Frosty's puddle. As I mentioned before, you can certainly make this smaller and cheaper.
From this point, I built upward with the foam until I got it to this point.
Step 3 – Paint
The unfortunate reality with craft foam – even the bright white kind – is that it will yellow in sunlight.
There's no escaping it and no getting around it. But, it's easy to keep that brilliant white by painting it white! Now, it's possible that a clear UV-protection sealant may work, too. I haven't tried it though, so I can't say for sure. Once I do try it, I will update this post.
Step 4 – Install the head
I sprayed more foam on top of the basket and then nestled one half of Frosty's head into the foam.
I sprayed more foam into the neck area, and when it had hardened, I painted all the newly-sprayed foam to protect it from the sun.
If you're using a regular top hat or one that comes with a snowman kit, you can glue the other half of Frosty's head using foamboard adhesive. But since the hat we got was actually a decorative basket, it had a hole on top, but not where a head would normally fit.
This looked a little ridiculous. I mean, even more ridiculous than this project already was!
Since my babes wouldn't allow me to destroy the basket by cutting a hole in it, I decided to lop off the top of Frosty's head instead. Hey, it's not like he was using it in the first place!
I then put foamboard adhesive around the bottom half of his head and glued the two halves together.
Step 5 – Add body parts
We bought a snowman kit from Amazon for the eyes, nose, mouth, pipe and buttons. It also had a hat and arms, but we wanted to use our basket hat, and I wanted to give him real stick arms from a brush pile out back.
Some people on social media took issue with the seam going around his face. Honestly, you don't notice it from a distance (remember this is a yard decoration), and you certainly don't notice it at night. But if it bothers you, then by all means, cover it up!
I ended up re-positioning the arms, so they're actually higher up than seen in the picture below.
About that smile. Handan and I debated that. I wanted to give him a frown, but my babes insisted he remain smiling. Now that he's done, I see her point. This is a fun holiday DIY made as much for the neighborhood kids as for us. A frowning Frosty would have been a bit of a downer, I think, lol!
Here's our melting snowman on a cloudy day with temps in the 70s!
And here he is at night, all lit up!