In this end grain cutting board tutorial, I'll show you the steps involved in making a beautifully-patterned board with four species of wood. I've included a cut sheet at the end of the post, so you'll be able to duplicate this exact board. You've probably seen a lot of sites showing how to make a cutting board, but you won't find a more beautiful pattern that is still within reach of the novice woodworker. But don't let its simplicity fool you, this board will enhance the beauty of any kitchen and give years of chopping pleasure!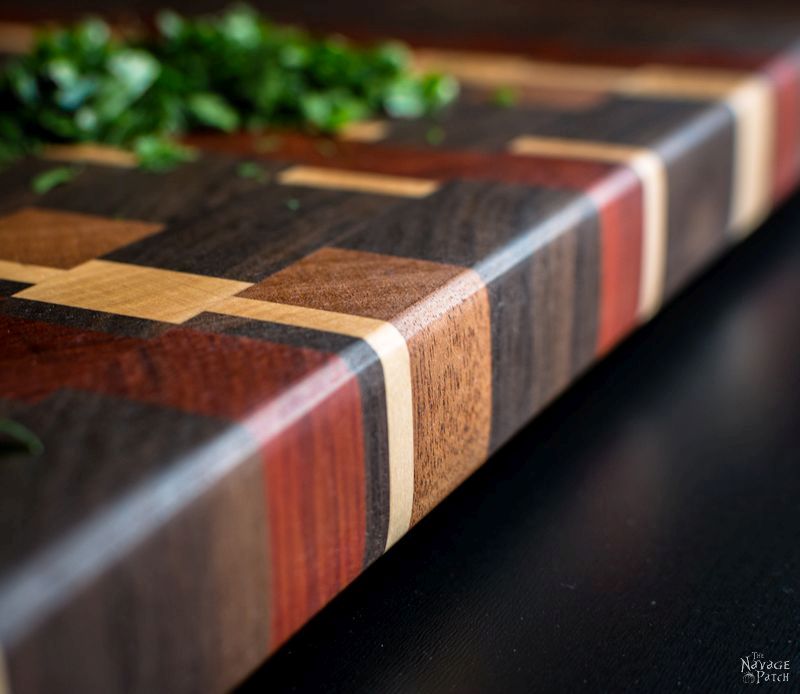 This board, like most that I make, is an end grain cutting board. The two main benefits of end grain boards are board longevity (the end grain of the wood will not show slice marks as much as side grain or face grain) and knife longevity (the ends of the wood fibers are kinder and gentler to knife blades, thus reducing sharpening frequency and prolonging the blade's life). The third benefit? It looks awesome! So let's get to it, and I'll show you how to make a cutting board!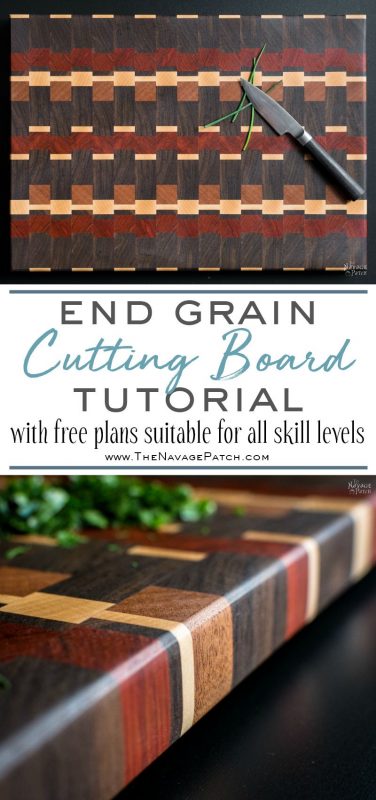 Disclaimer: you are responsible for your own safety. Be sure to wear all appropriate PPE (personal protective equipment) when working with power tools, and only use the machines according to the manufacturers instructions. Machines have no soul, nor do they feel remorse. They'll take a finger or a life if you're not careful. Be smart, work smart, live longer! See our disclosure for even more exciting disclaimer talk!
I made this board for a friend, and it measures about 20″ x 13." I used walnut, hard maple, redheart and African mahogany 5/4 boards (board thickness is measured in quarter inches. Thus, a 5/4 board is 1 1/4″ thick. That is the thickness before milling. The actual thickness you end up purchasing is a little less. Just like a 2 x 4 is actually a 1 1/2 x 3 1/2). For a cutting board this size, I needed to cut my strips of wood to 27 inches. I did this with the radial arm saw. First I measured and marked with a pencil.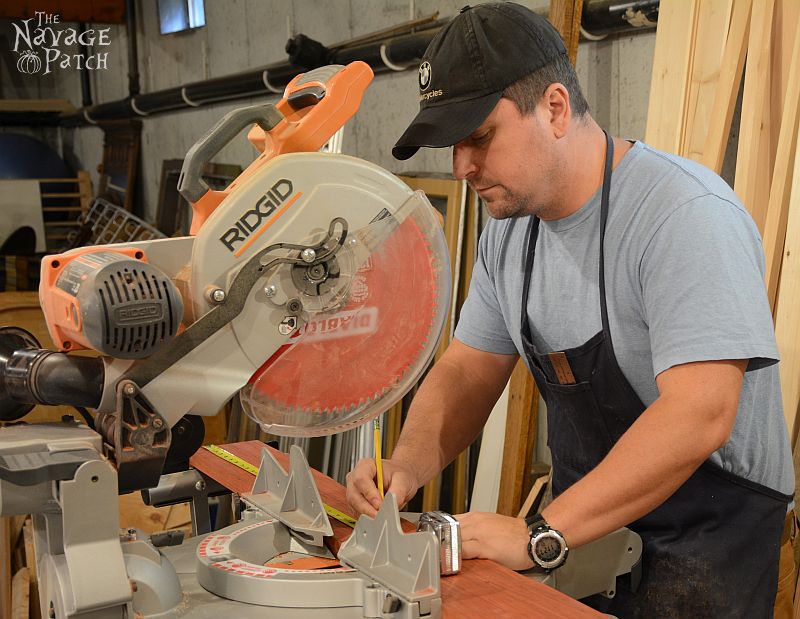 Then cut to size. This board is redheart. Yes, I know, I should be wearing safety glasses. I have them, and I use them. I think I forgot them here since I was so focused on photographing myself while working, something I usually don't do.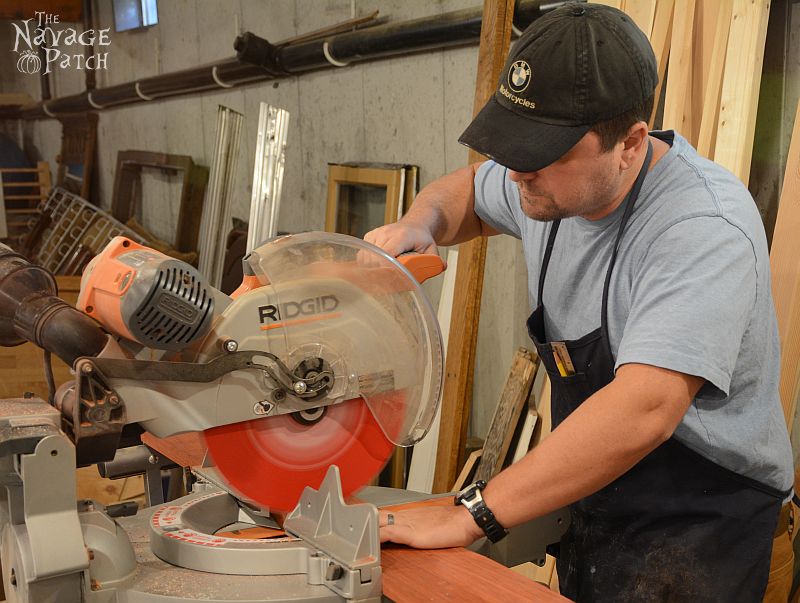 Once the four boards were cut to size, I had to get rid of any milling marks with the planer. This also gets them to a uniform thickness. This is the hard maple going into the planer.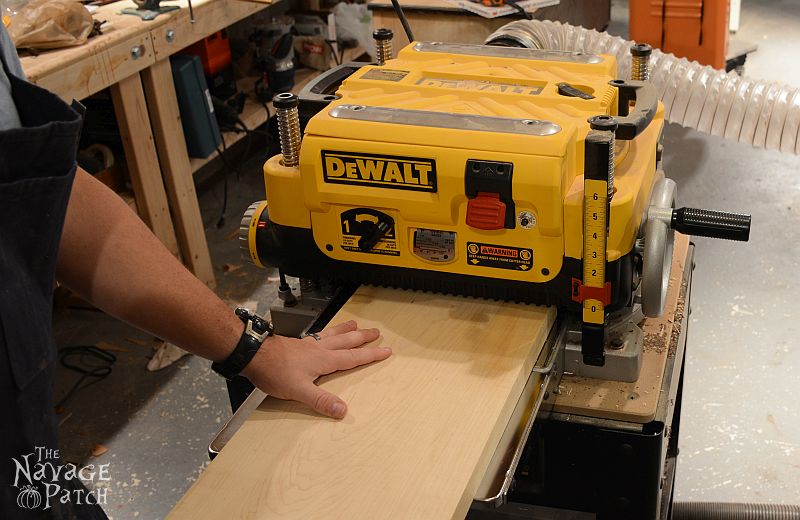 I then had my four boards cut to equal length and planed to equal thickness. Before I could cut them into strips, I first needed to run one edge of each through the jointer to ensure that I had a smooth and square surface to reference my cuts off of.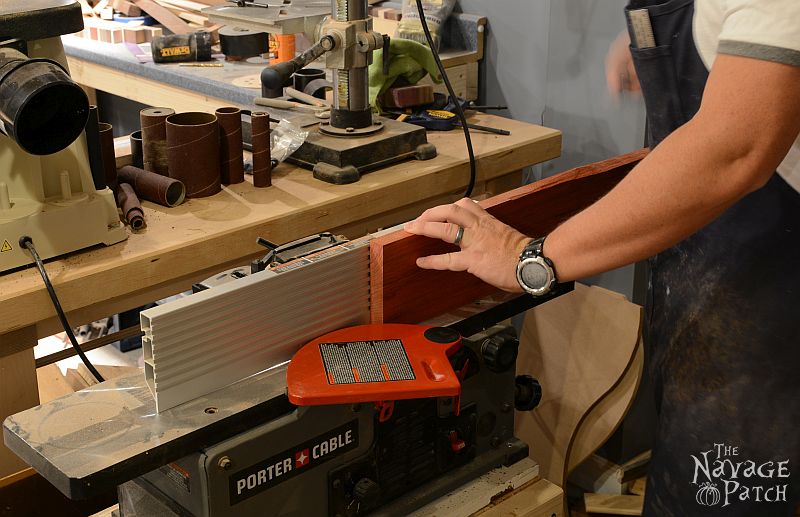 Then on to the table saw to cut strips ranging in size from 1/4″ to 2." Again, I'll have a cut list at the end of the post. Here is the walnut.
Here cutting the maple. I'm pushing it through with a Kreg Push Stick
. I recently got it, and I love it. It has a locking depth gauge and pencil holder – very handy!
For the 1/4″ pieces, I cut the piece on the outside of the blade, not against the fence. To get the spacing correct, I measured 1/4″ from the blade to a combination square resting in the miter slot.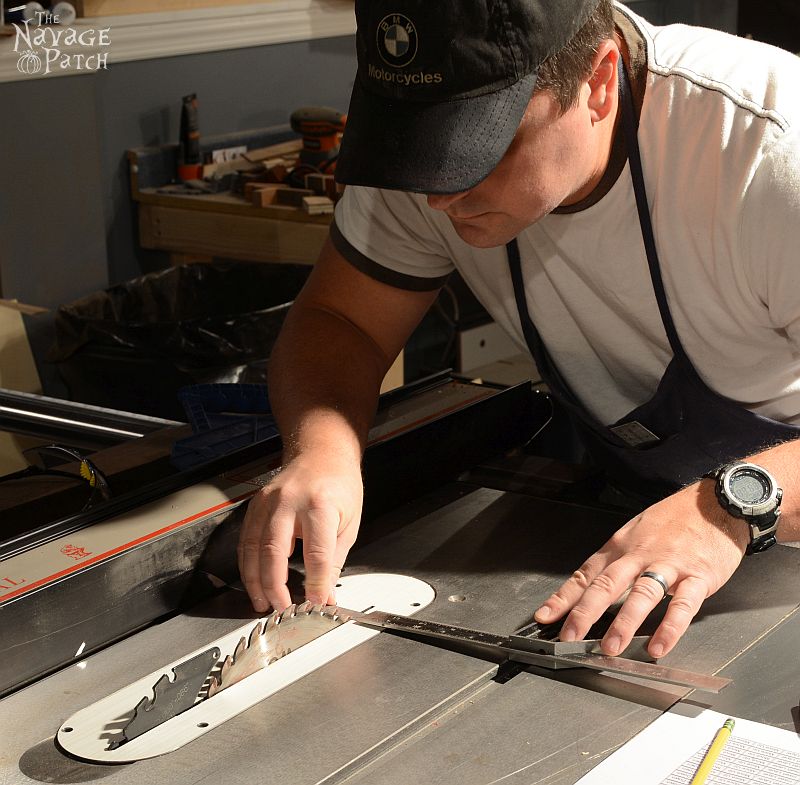 Once I had the proper spacing, I locked the combination square.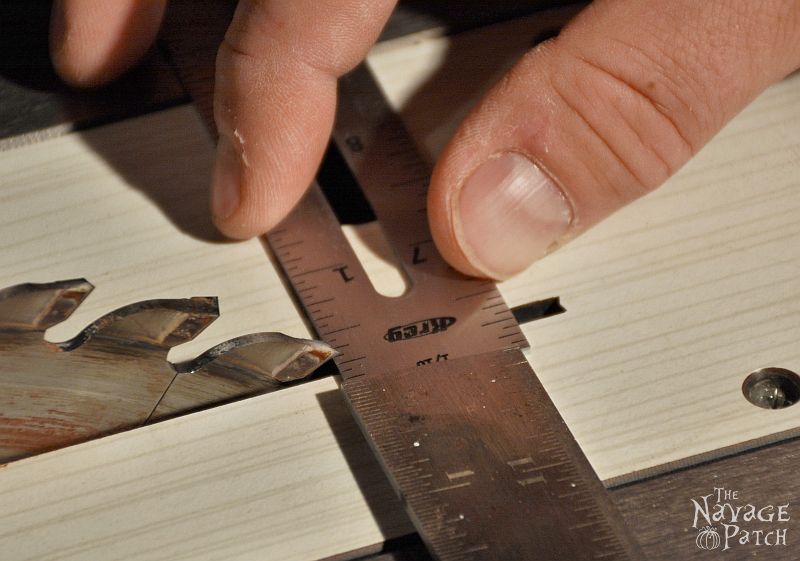 Then I slid the fence and the piece to be cut up to the combination square, locked the fence, removed the square, and made the cut.
With all of the strips cut, it was time for the first glue-up. Here are the players: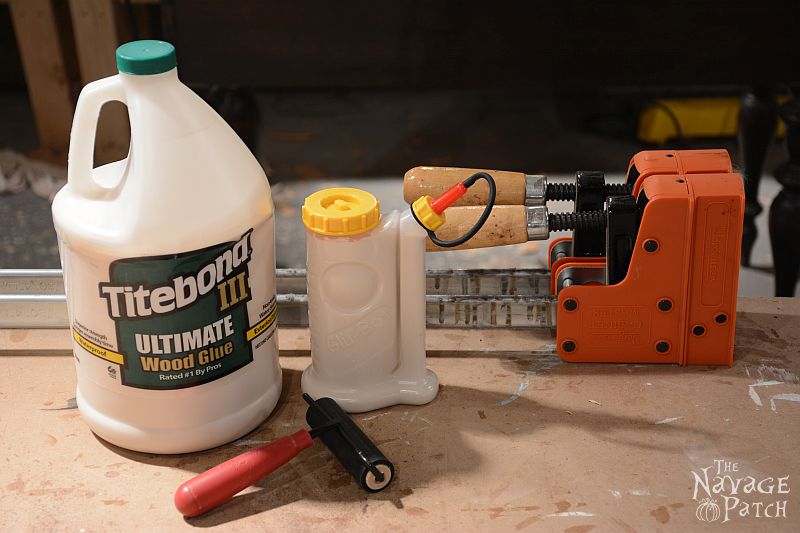 Jorgensen 24 Inch Parallel Clamp
Titebond-3 Ultimate Wood Glue
(This is a food-safe glue)
Glu-Bot Glue Bottle
(a necessity when buying glue in bulk)
4-Inch Hard Rubber Roller
I laid some cling film on the bar clamps. This makes cleanup a lot easier. Scraping dried glue from the clamps is a real pain in the butt!
Here are all of the strips, arranged by species.
I arranged them in their proper order.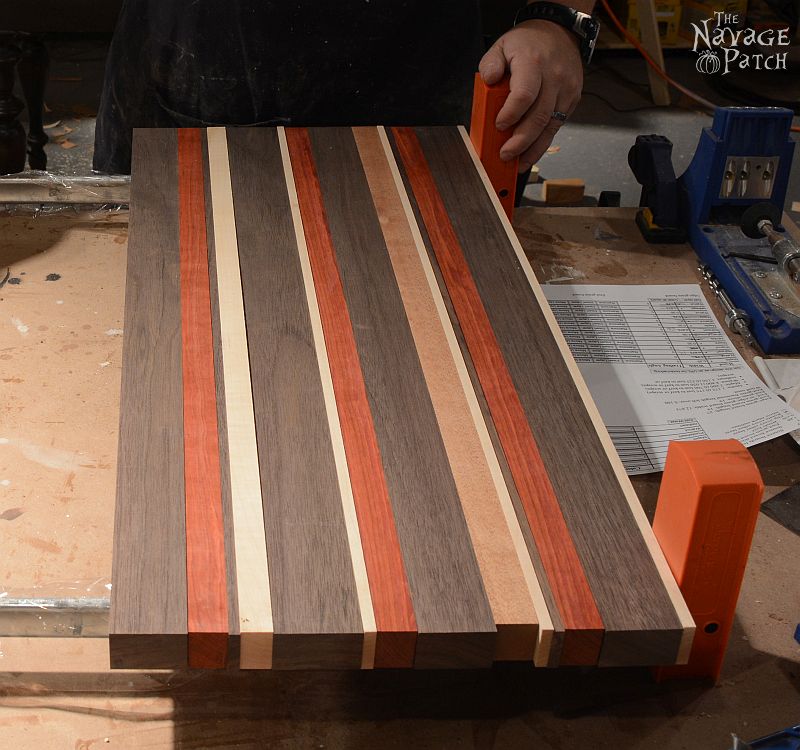 I then rolled each piece 90 degrees clockwise. This exposed the faces that I'd be gluing.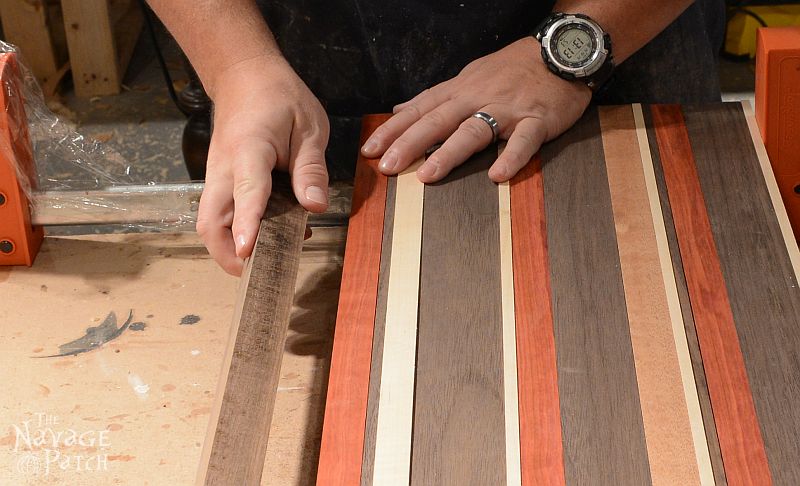 All the pieces except the very first piece were now rolled over and ready for glue.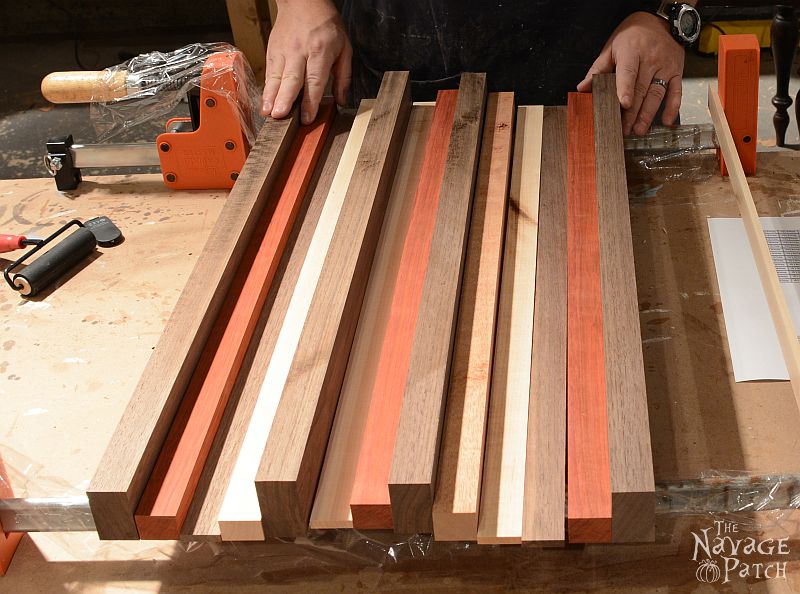 Some latex gloves to keep the glue off of my hands. Rock on.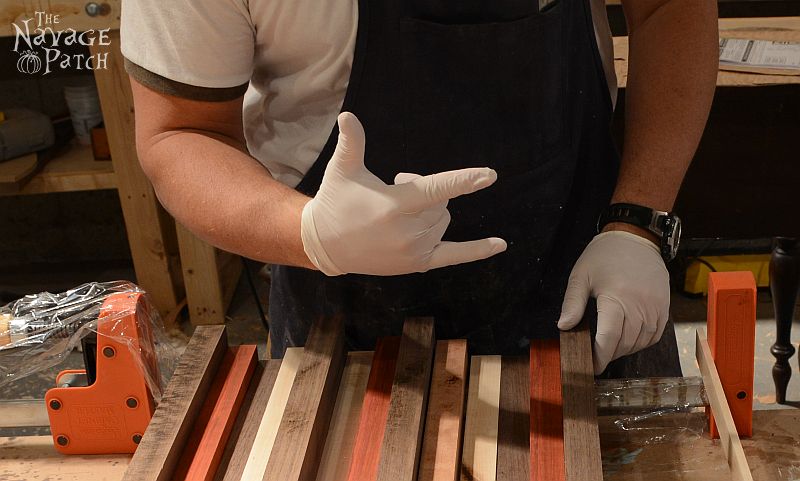 We love it when you share our posts on Facebook and Pinterest!