The Story of a Board: an End Grain Cutting Board Tutorial
In this end grain cutting board tutorial, I'll show you the steps involved in making a beautifully-patterned board with four species of wood. I've included a cut sheet at the end of the post, so you'll be able to duplicate this exact DIY cutting board. You've probably seen a lot of sites showing how to make an and grain cutting board, but you won't find a more beautiful pattern that is still within reach of the novice woodworker. But don't let its simplicity fool you, this end grain cutting board will enhance the beauty of any kitchen and give years of chopping pleasure!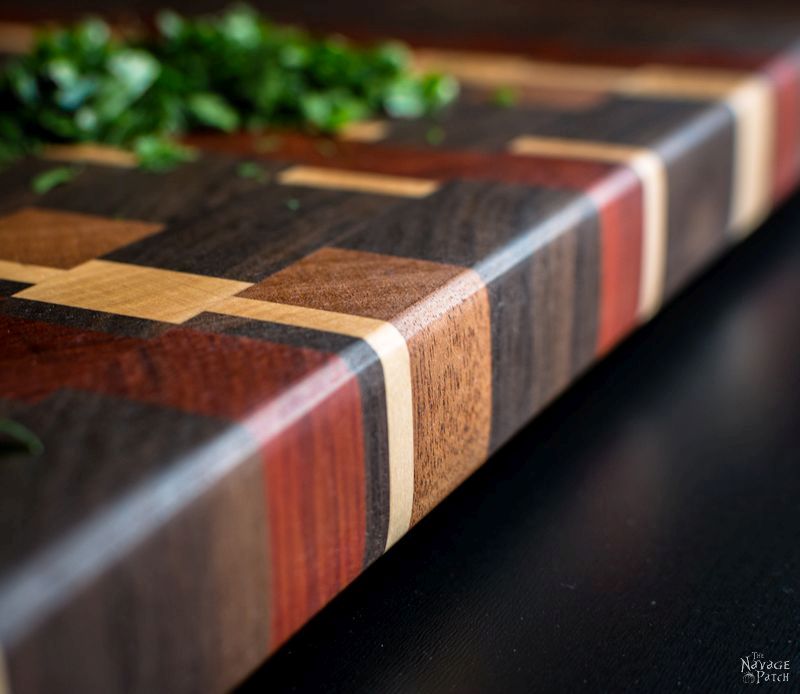 This DIY cutting board, like most that I make, is an end grain cutting board. The two main benefits of end grain cutting boards are board longevity (the end grain of the wood will not show slice marks as much as side grain or face grain) and knife longevity (the ends of the wood fibers are kinder and gentler to knife blades, thus reducing sharpening frequency and prolonging the blade's life). The third benefit? It looks awesome! So let's get to it, and I'll show you how to make an end grain cutting board!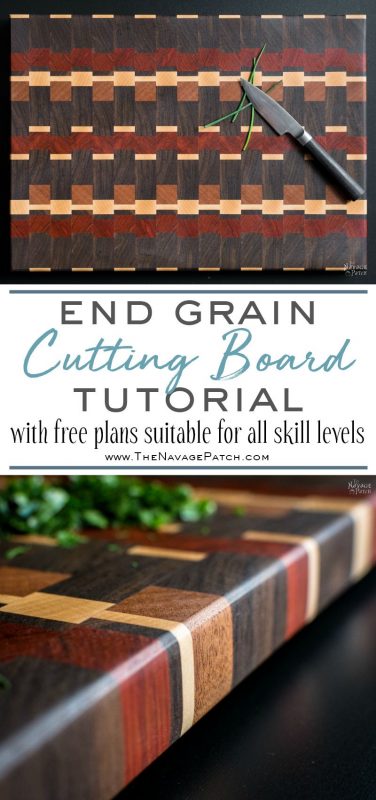 Before we start making our end grain cutting board, be sure to follow us on Pinterest, YouTube, Facebook and Instagram, and click the subscribe button at the top of this page to sign up for our email list so you'll never miss a post!
Here is what you'll need to make this DIY cutting board:
End Grain Cutting Board Supplies List
Tools
Materials/Supplies
4 Types of Contrasting Wood (I used walnut, hard maple, redheart and jatoba)
Sanding Discs (60, 80, 100, 120, 150 grit sanding discs)
How to make an end grain cutting board in 6 simple steps
Select and prepare wood for the DIY cutting board
Lay out and glue up the initial design
Prep and cut for the second glue-up.
Lay out and glue up the final end grain cutting board design
Final shaping and sanding
Finishing the DIY cutting Board
Step 1 – Select and Prepare Wood for the DIY Cutting Board
I made this end grain cutting board for a friend, and it measures about 20″ x 13." I used walnut, hard maple, redheart and jatoba 5/4 boards. Board thickness is measured in quarter inches. Thus, a 5/4 board is 1 1/4″ thick. That is the thickness before milling. The actual thickness you end up purchasing is a little less. Just like a 2 x 4 is actually a 1 1/2 x 3 1/2. For a cutting board this size, I needed to cut my strips of wood to 27 inches. I did this with the radial arm saw. First I measured and marked with a pencil.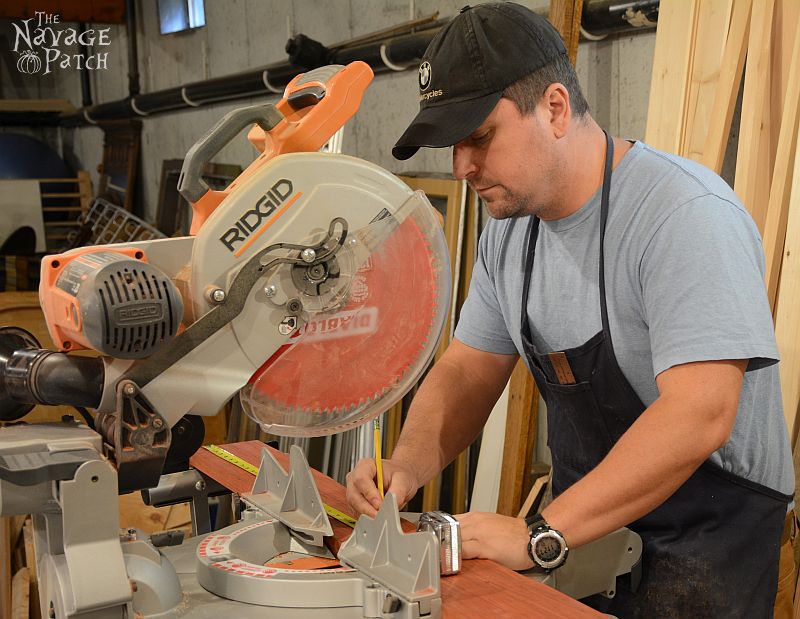 Then cut to size. This board is redheart. Yes, I know, I should be wearing safety glasses. I have them, and I use them. I think I forgot them here since I was so focused on photographing myself while working – something I usually don't do.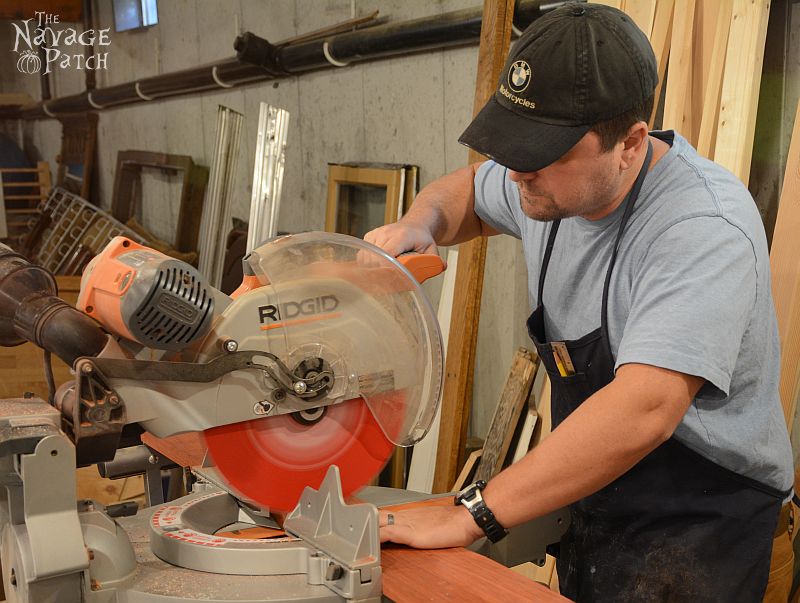 Once the four boards were cut to size, I had to get rid of any milling marks with the planer. This also gets them to a uniform thickness. This is the hard maple going into the planer.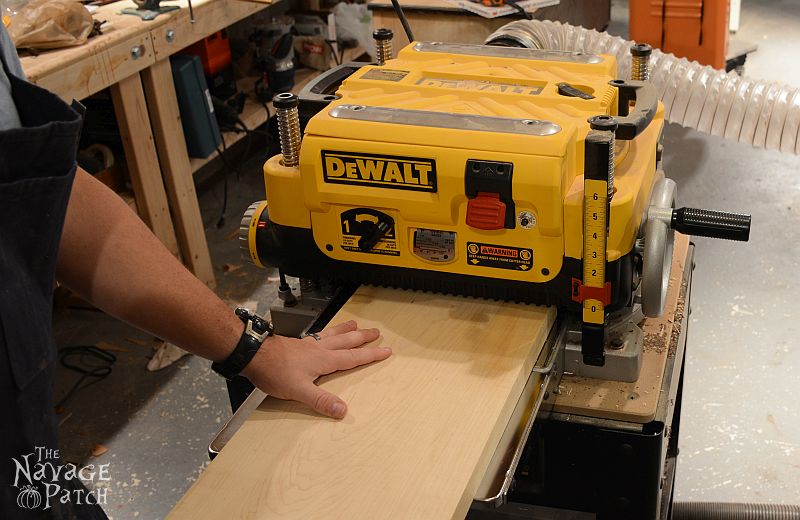 I then had my four boards cut to equal length and planed to equal thickness. Before I could cut them into strips, I first needed to run one edge of each through the jointer to ensure that I had a smooth and square surface to reference my cuts off of.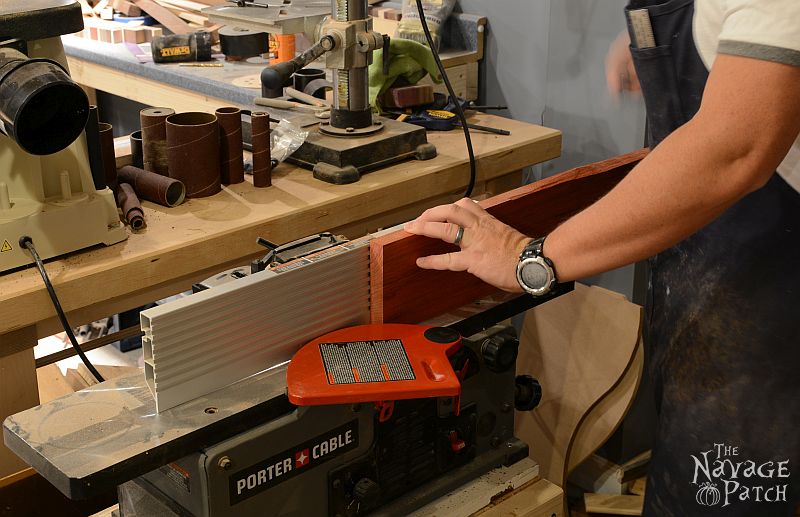 Then on to the table saw to cut strips ranging in size from 1/4″ to 2." Again, I'll have a cut list at the end of the post. Here is the walnut.
Here cutting the maple. I'm pushing it through with a Kreg Push Stick
. I recently got it, and I love it. It has a locking depth gauge and pencil holder – very handy!
For the 1/4″ pieces, I cut the piece on the outside of the blade, not against the fence. To get the spacing correct, I measured 1/4″ from the blade to a combination square resting in the miter slot.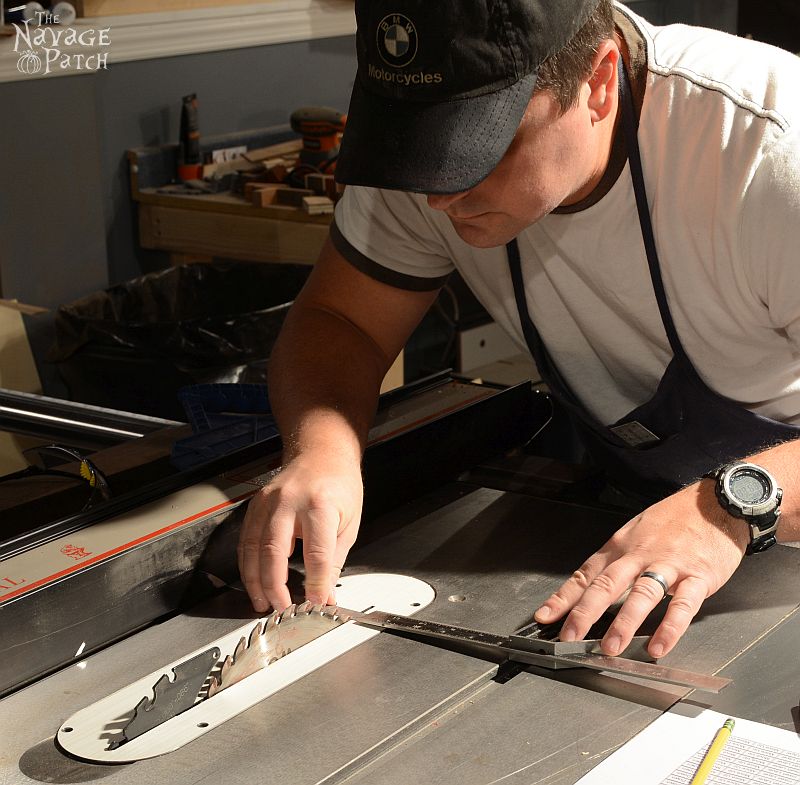 Once I had the proper spacing, I locked the combination square.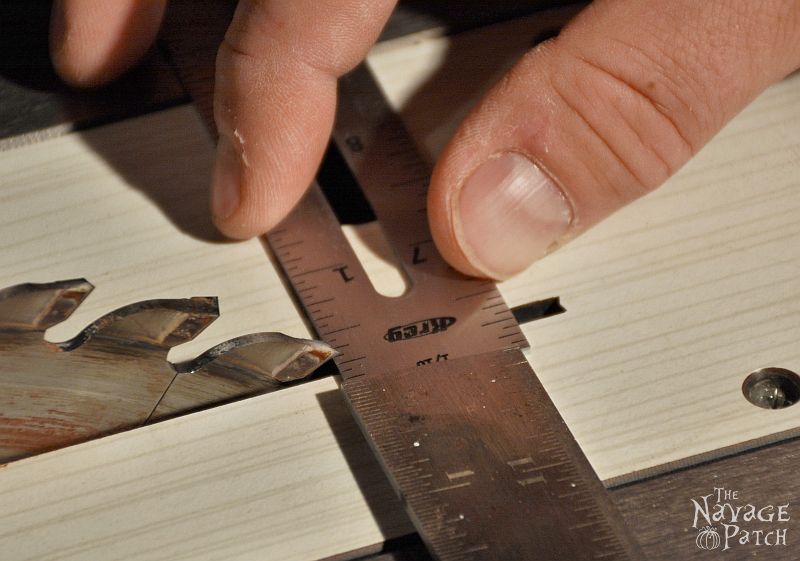 Then I slid the fence and the piece to be cut up to the combination square, locked the fence, removed the square, and made the cut.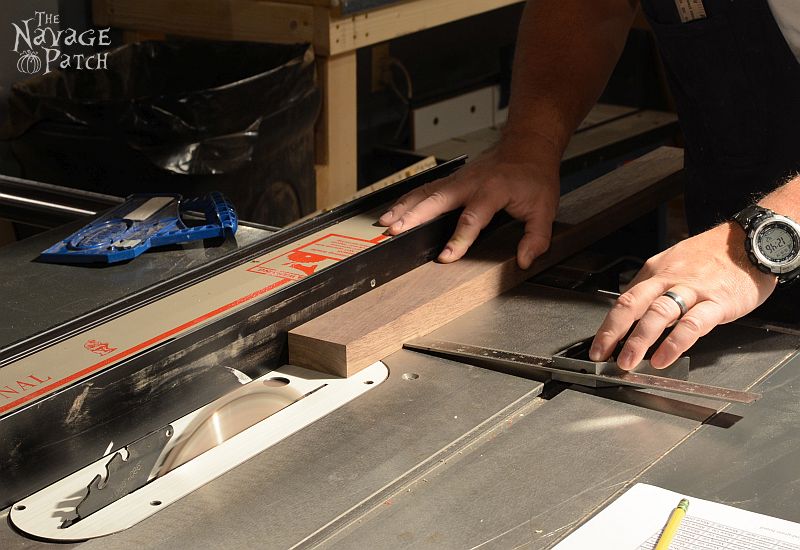 Step 2 – Lay Out and Glue Up the Initial Design for the End Grain Cutting Board
With all of the strips cut, it was time for the first glue-up. Here are the players: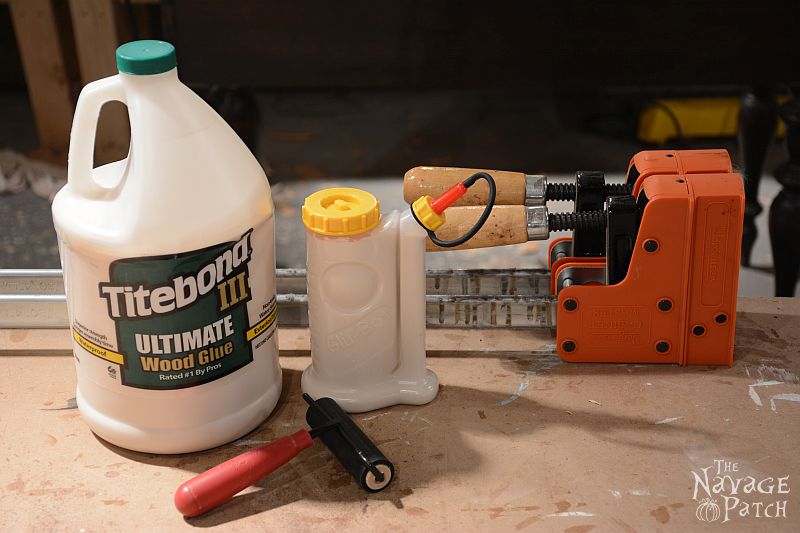 I laid some cling film on the bar clamps. This makes cleanup a lot easier. Scraping dried glue from the clamps is a real pain in the butt!
Here are all of the strips, arranged by species.
I arranged them in their proper order.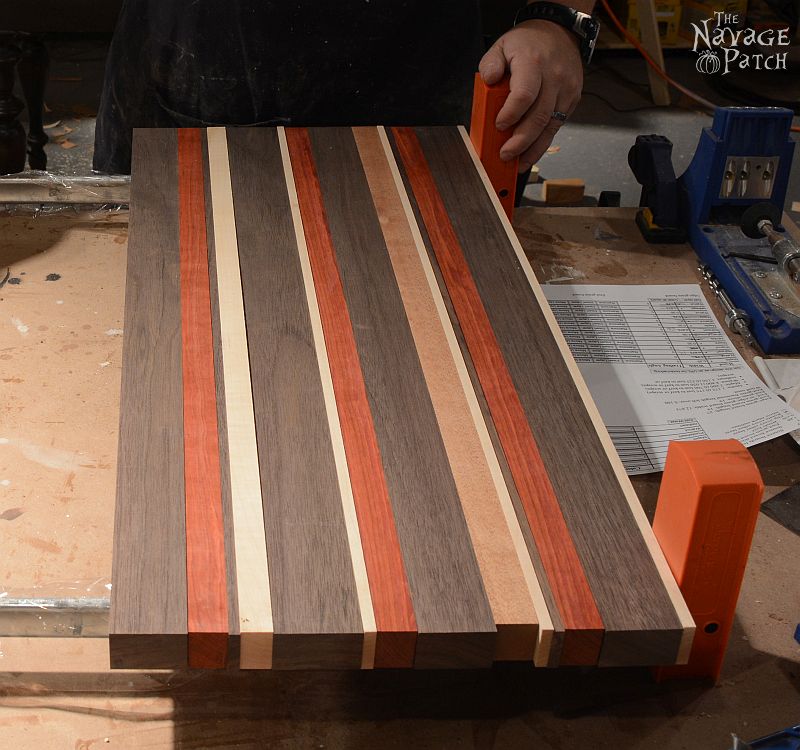 I then rolled each piece 90 degrees clockwise. This exposed the faces that I'd be gluing.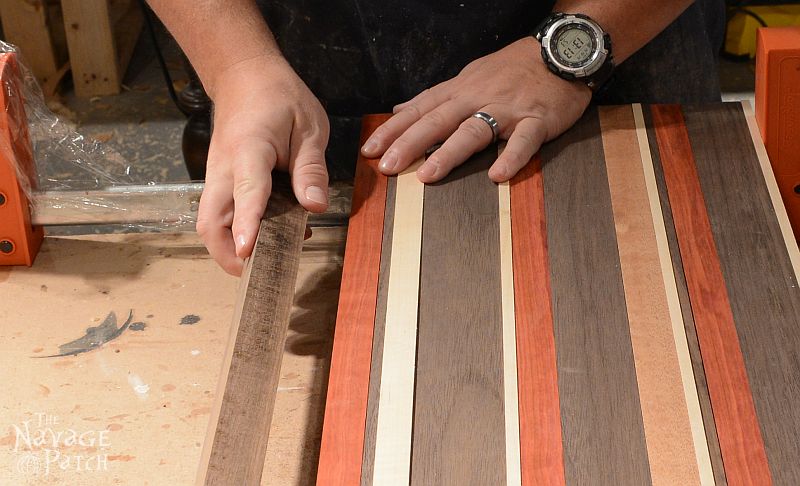 All the pieces except the very first piece were now rolled over and ready for glue.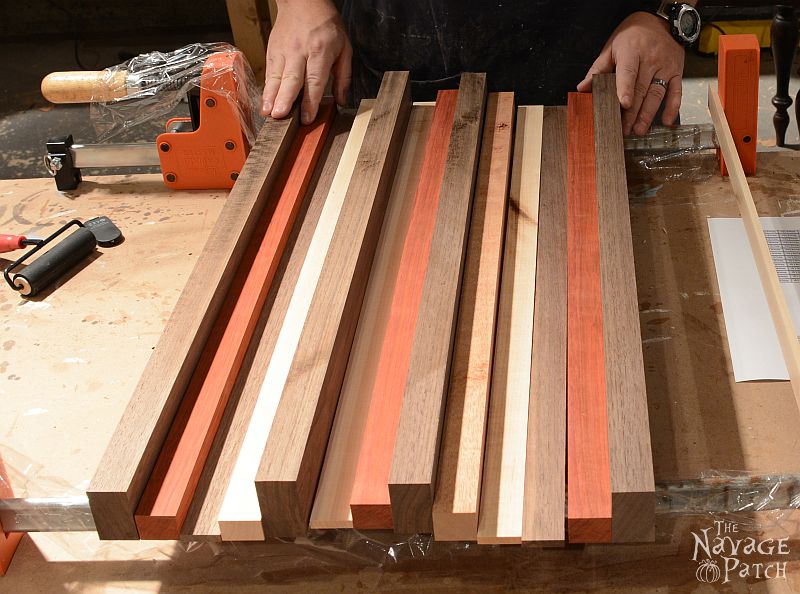 Some latex gloves to keep the glue off of my hands. Rock on.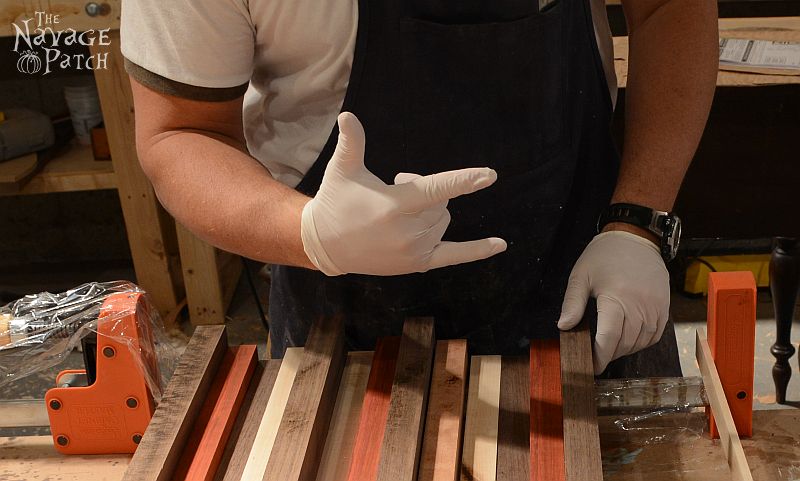 I applied a bead of glue to each strip.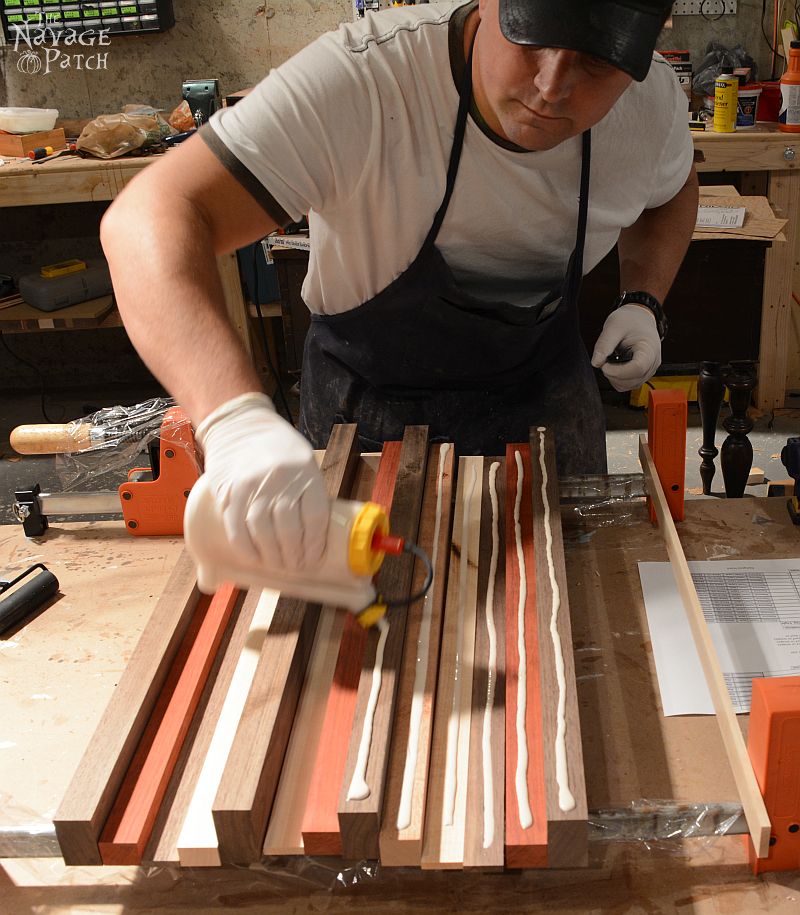 And spread it with my finger.
Then, one-by-one, I turned each piece back over and pressed it to the one preceding it.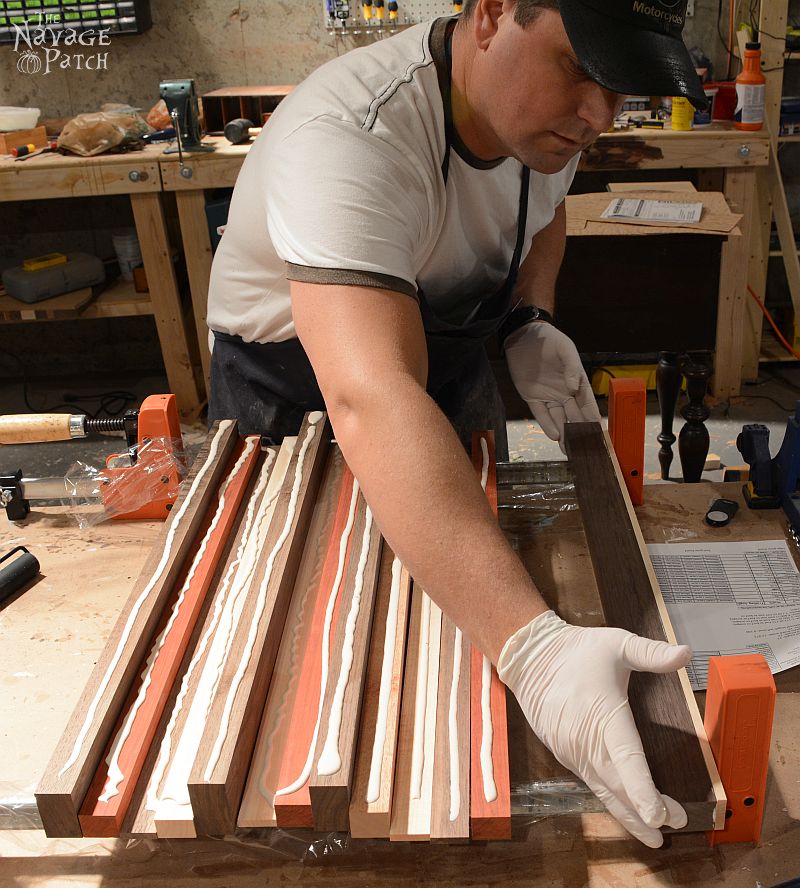 And repeat…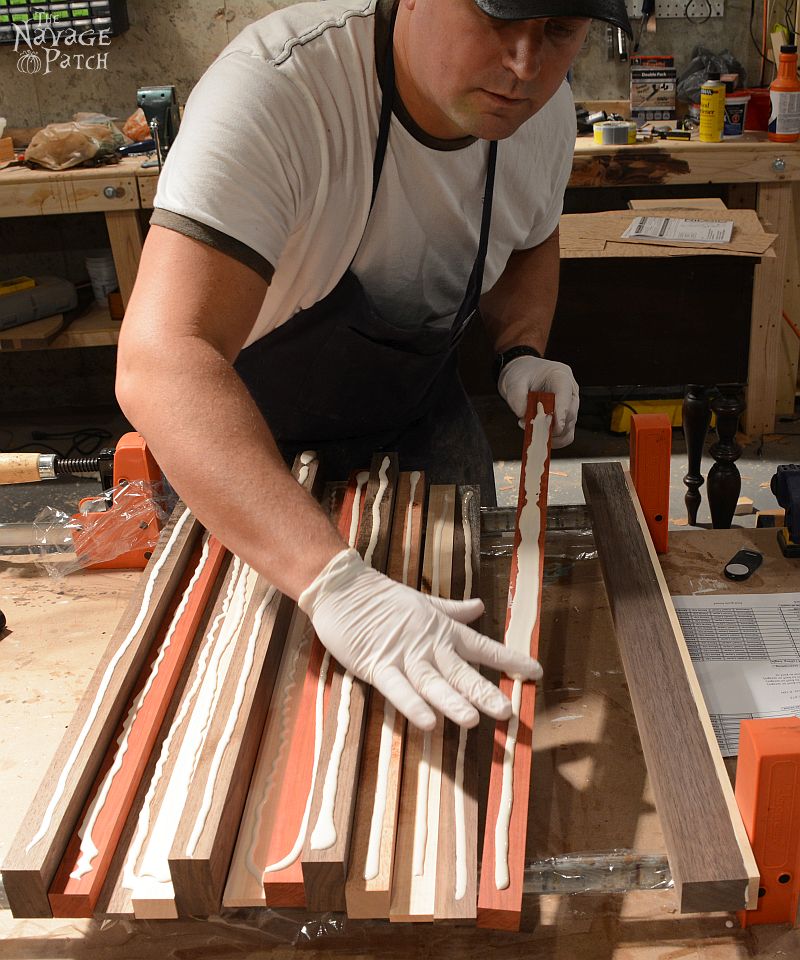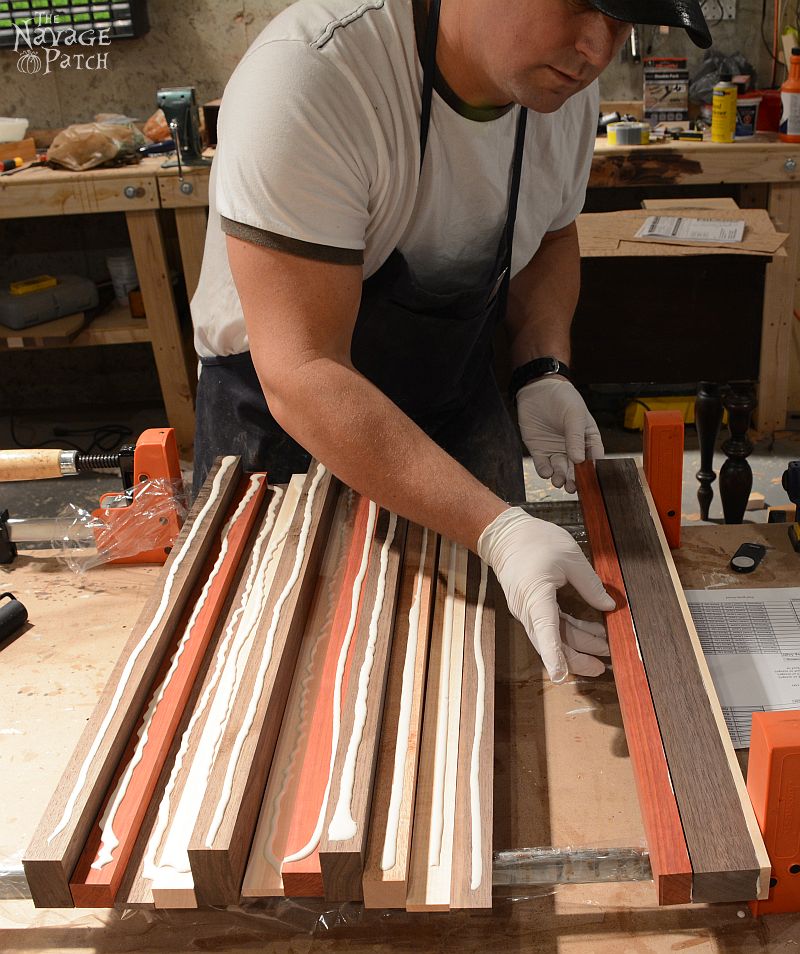 …Until they were all glued. Then I tightened the bar clamps.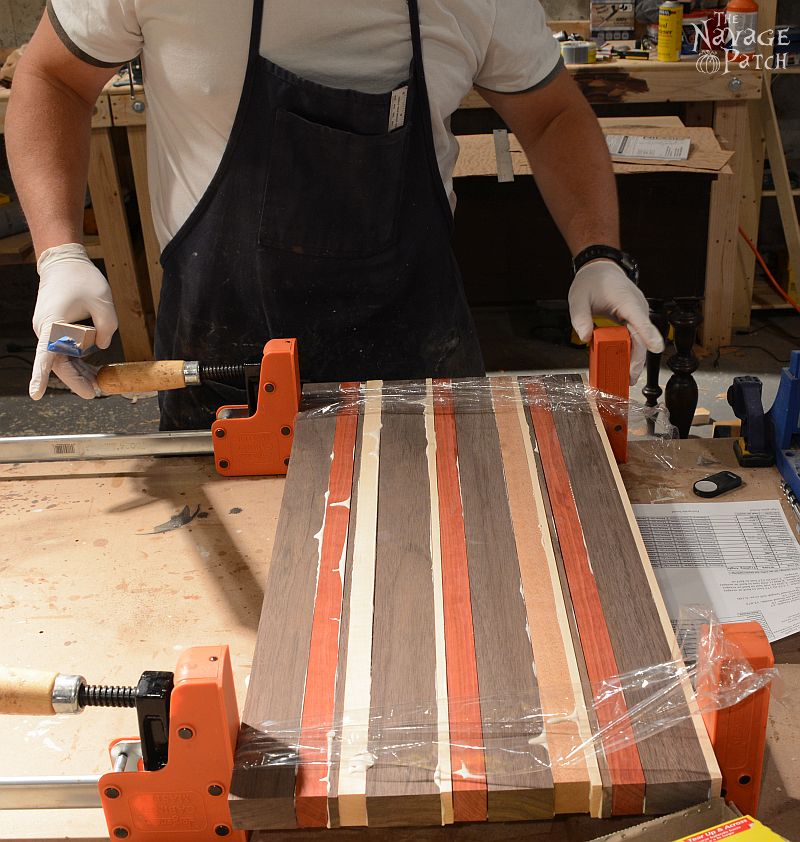 I added a few clamps between the bar clamps and let it dry.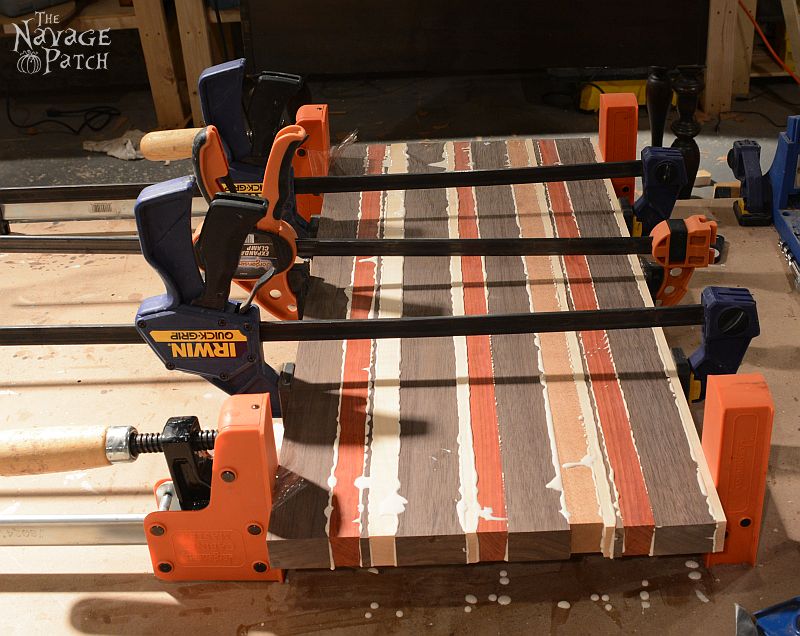 Step 3 – Prep and Cut for the Second Glue-Up
When the glue had fully hardened, I removed the clamps and scraped off the excess with an old chisel. A card scraper works, too, but only if the excess glue droplets have not fully hardened.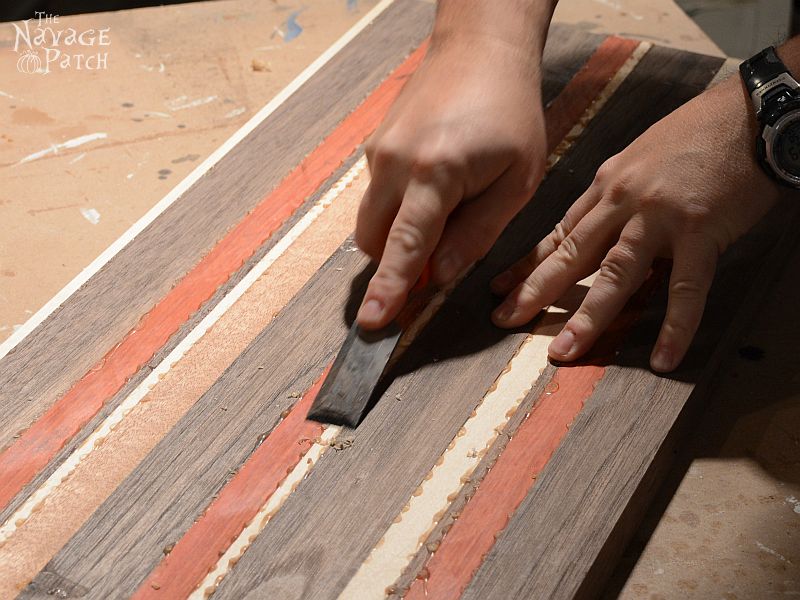 I ran my DIY cutting board through the planer to get everything smooth and even.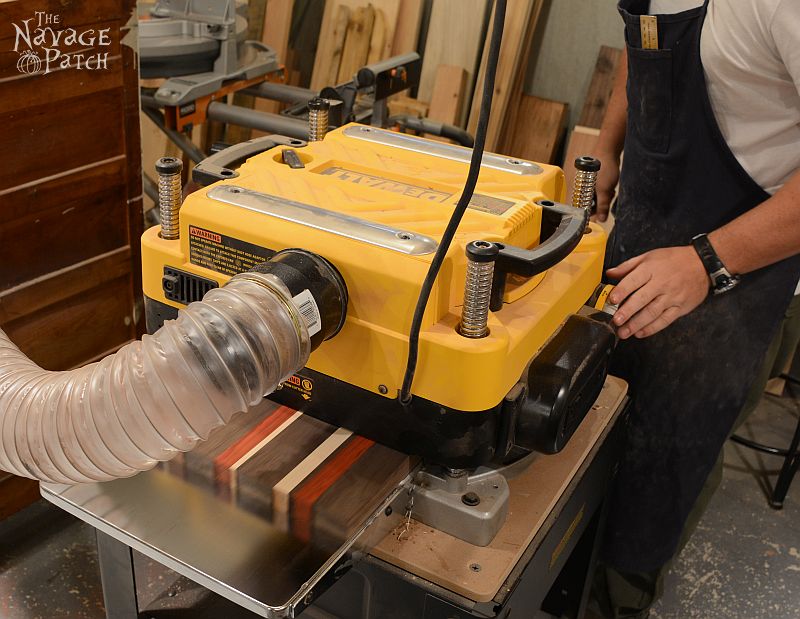 Next, it was time to cut the board into slices, so I could expose the end grain and achieve the final design. I started by squaring up one end. Walnut dust is toxic so it's a good idea to wear a face mask.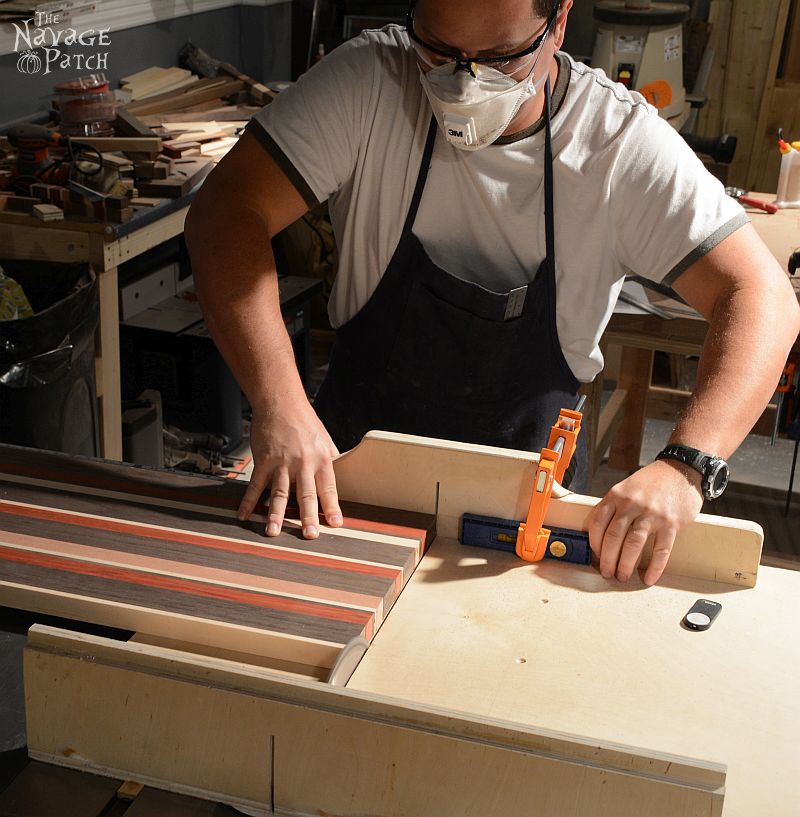 Since the final end grain cutting board would be 1 1/4″ thick, I set a stop block 1 1/4″ from the blade and clamped it in place.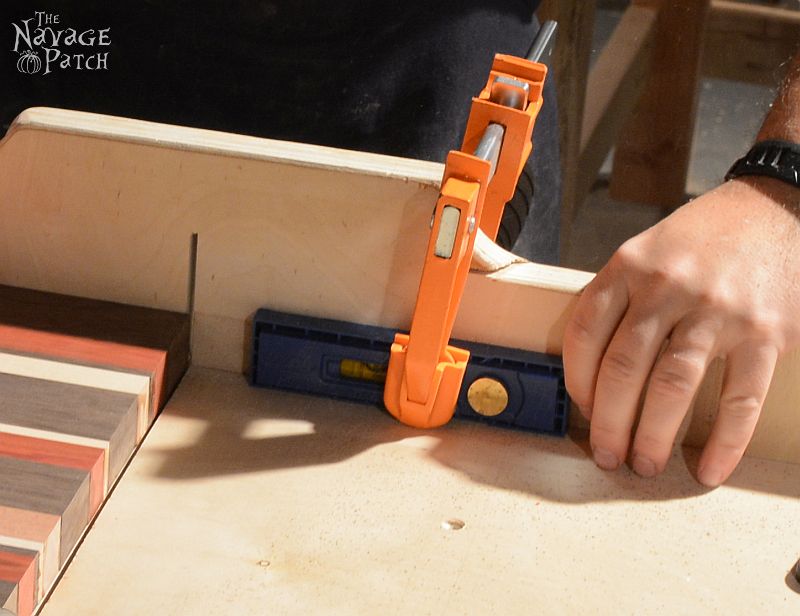 Cutting the slices for the DIY cutting board…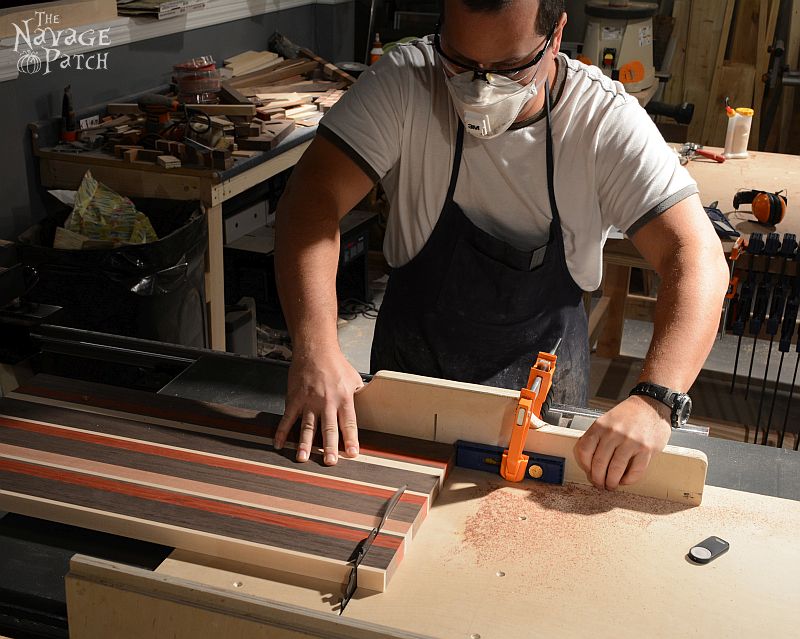 Cut, cut, cut.
Step 4 – Lay Out and Glue Up the Final End Grain Cutting Board Design
With all the slices cut, it was time for final assembly and glue-up of my DIY cutting board.
I put the pieces once again in the bar clamps. The two pieces of pine on the ends are sacrificial strips. They are glued to the board to protect the edges when I run the board through the planer for final leveling. Without the strips, the planer would tear out the back edges. This only applies when planing end grain – just one of the many tricks I developed after ruining so much wood!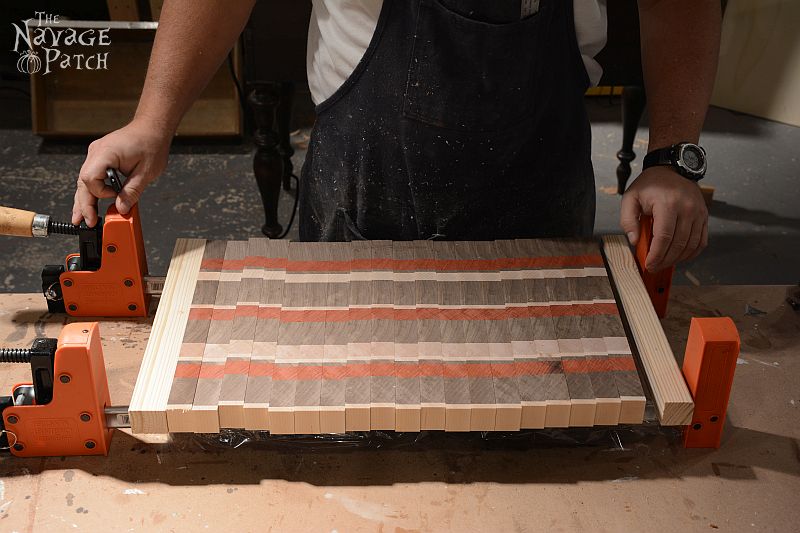 To get the final design for this end grain cutting board, I flipped every other piece.
Now we start to see the final product!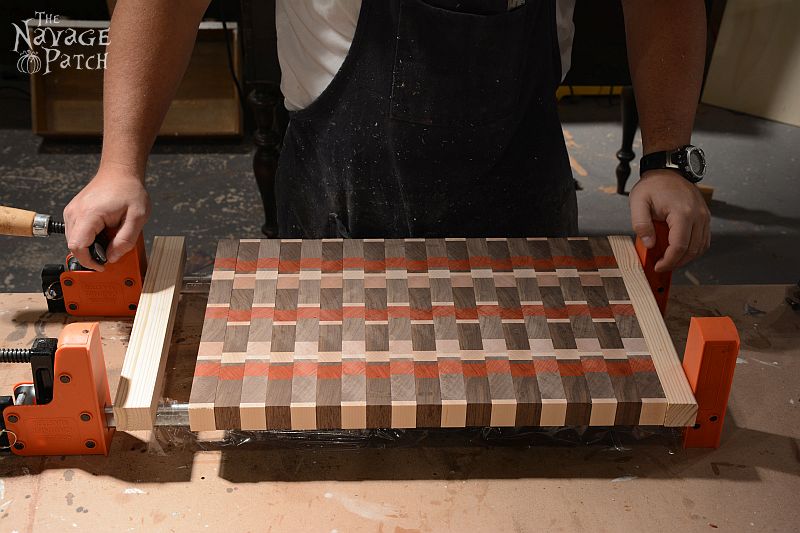 Once again I rolled each piece 90 degrees clockwise to expose the face to be glued. This board was so big that I had to make two layers.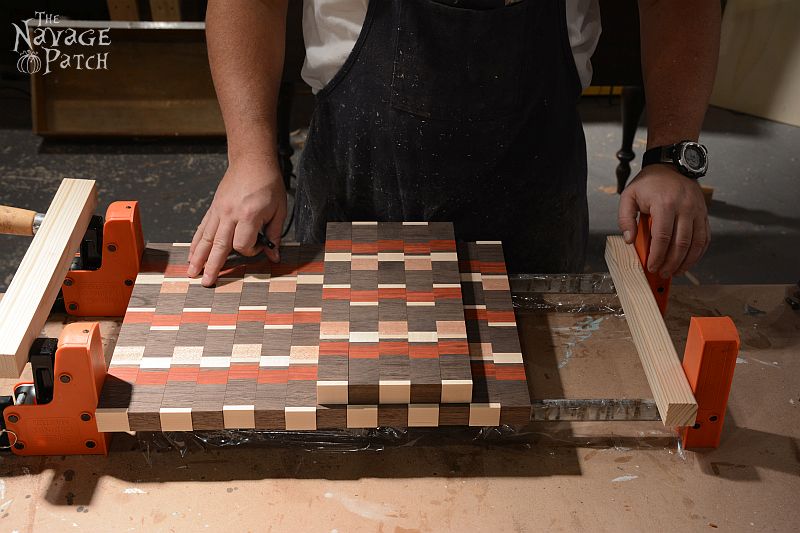 Next it was time to apply the glue. Since all the strips were of equal height, the roller made this job easier.
I then positioned them and rolled glue on the remaining strips.
Ready for positioning.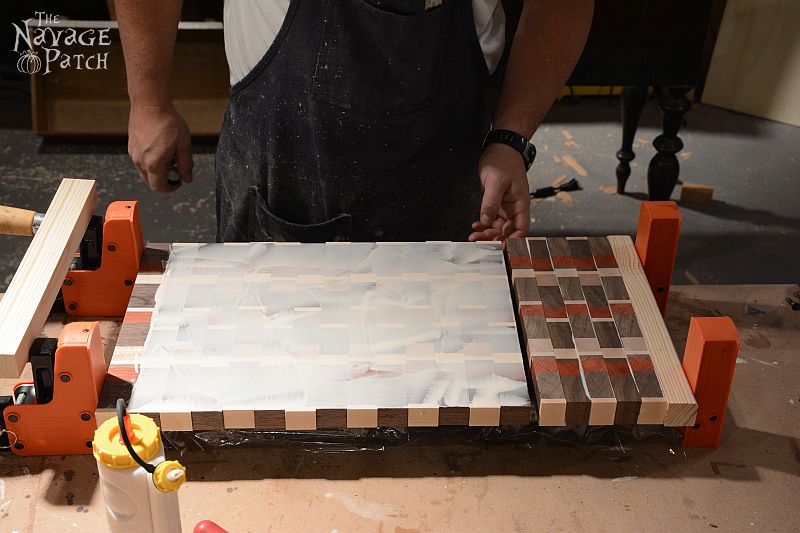 I tightened the clamps and added one more for good measure.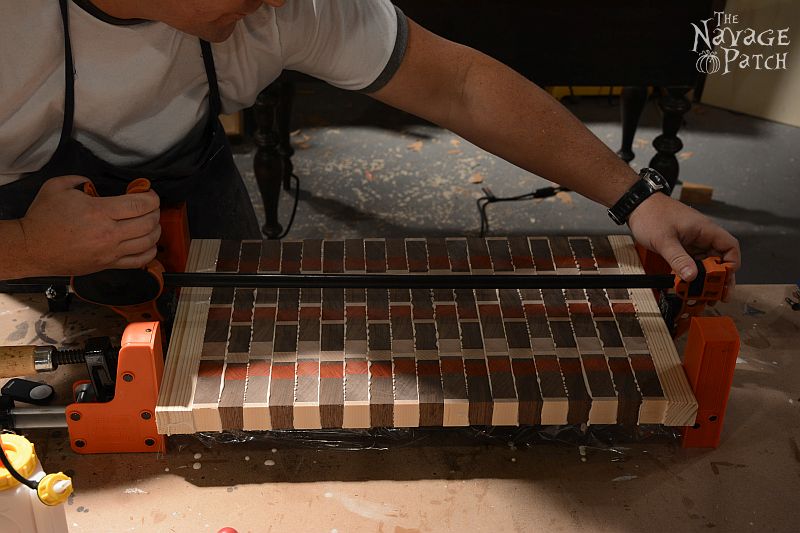 Step 5 – Final Shaping and Sanding of the DIY Cutting Board
Once the glue was set, but not fully dry, I removed the extra clamp and scraped off the excess glue with a card scraper.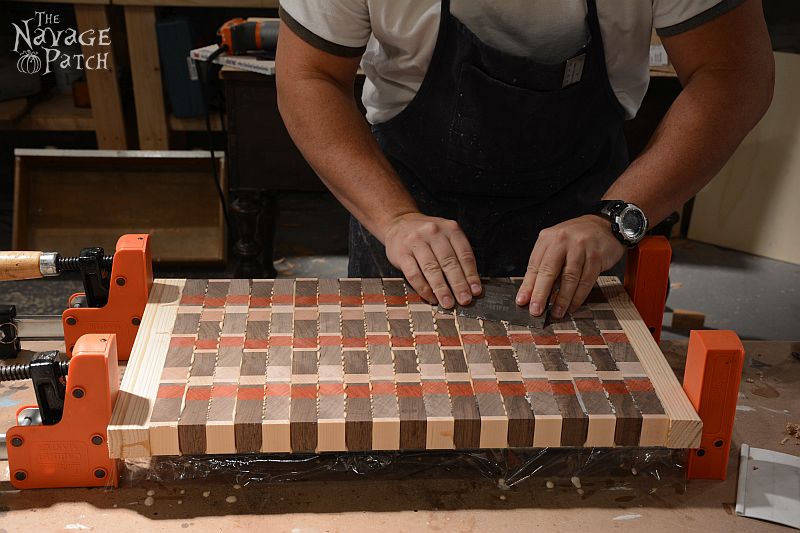 My DIY cutting board was now ready for final planing.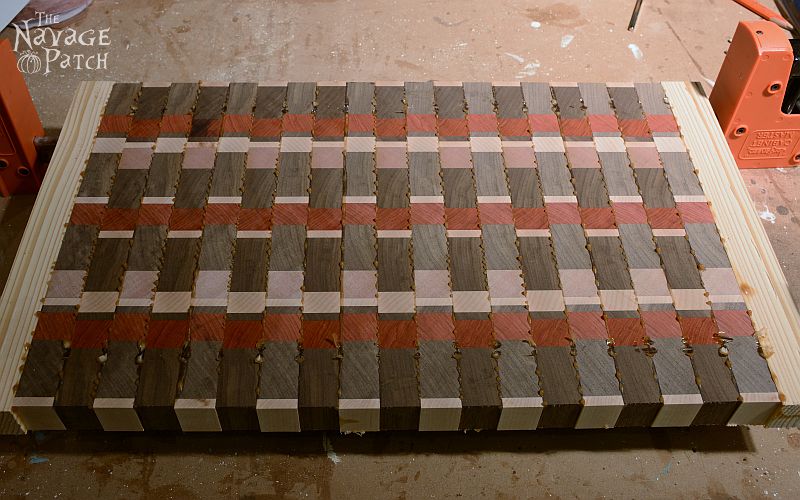 Next I cut off the sacrificial strips.
And trimmed up the sides.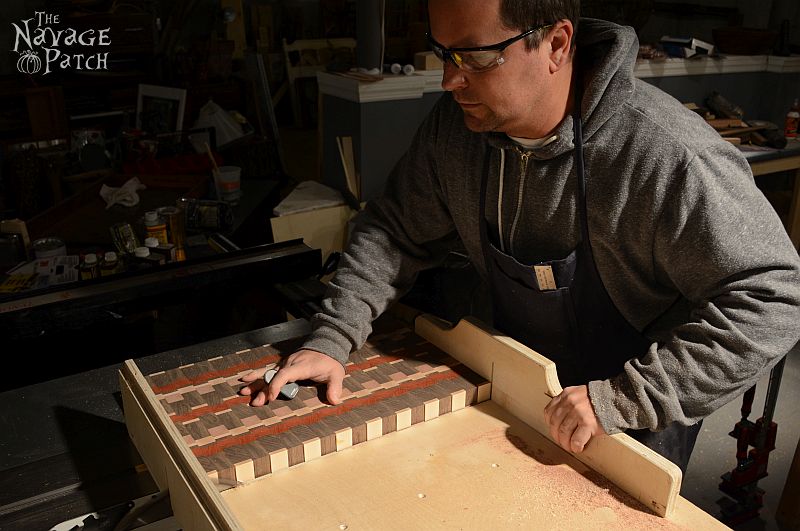 So far, so good!
The next step was to rout the edges with a 1/4″ round-over bit.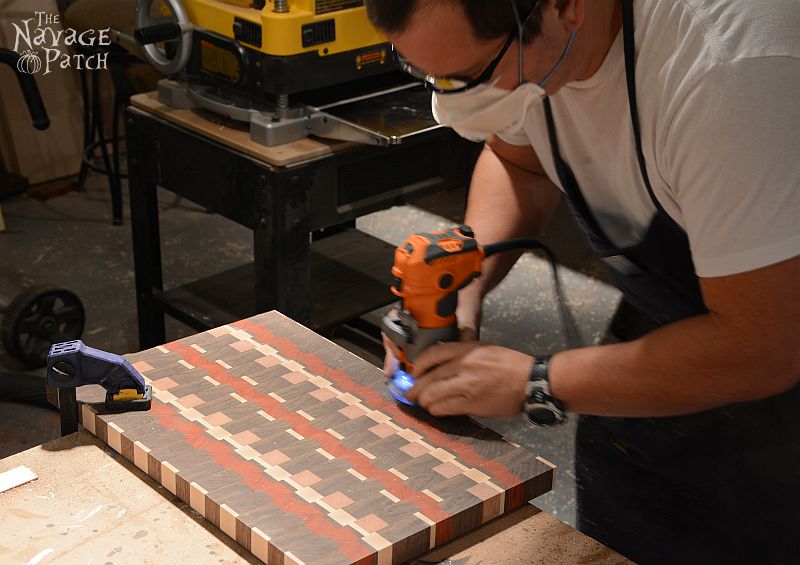 Then on to the sanding station. I started with 60 grit, then go to 80, 100, 120, and finally 150. It is important not to skip grits if using a random orbital sander. No one likes swirly marks in their end grain cutting board!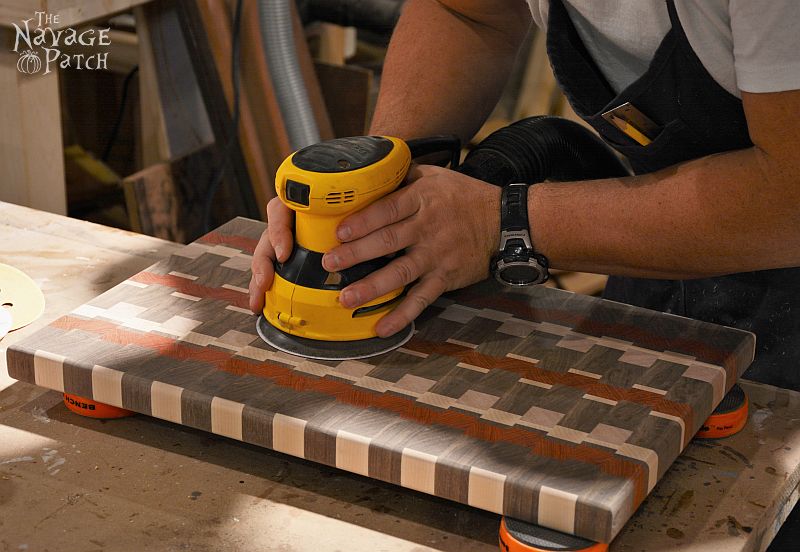 I have the board propped up on Bench Cookies
. These guys are indispensable. If you don't have them, get them!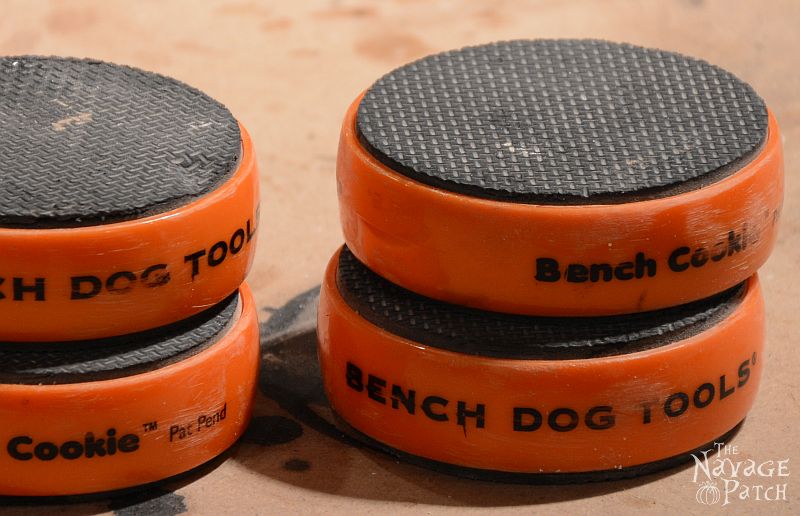 When the board was sanded, I marked holes for the rubber feet.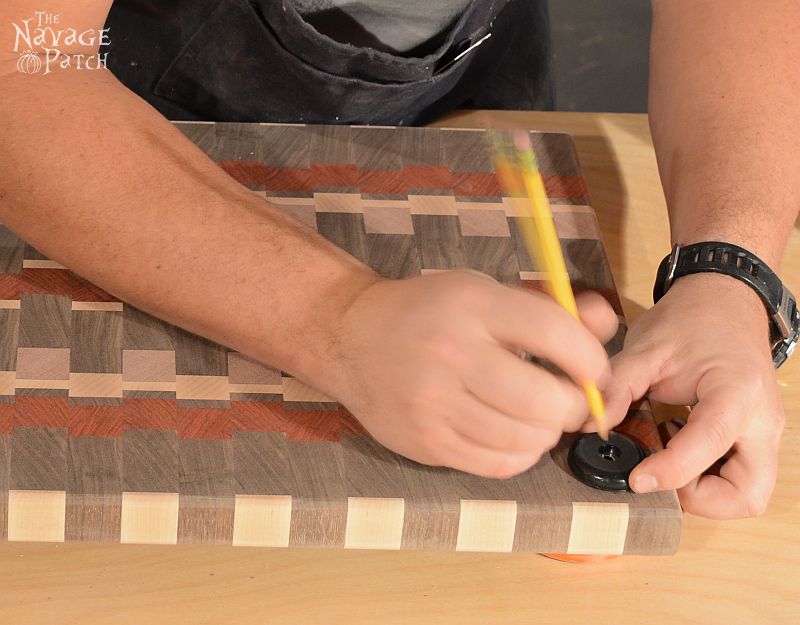 Then I pre-drilled the screw holes with the drill press, though a handheld drill would work fine.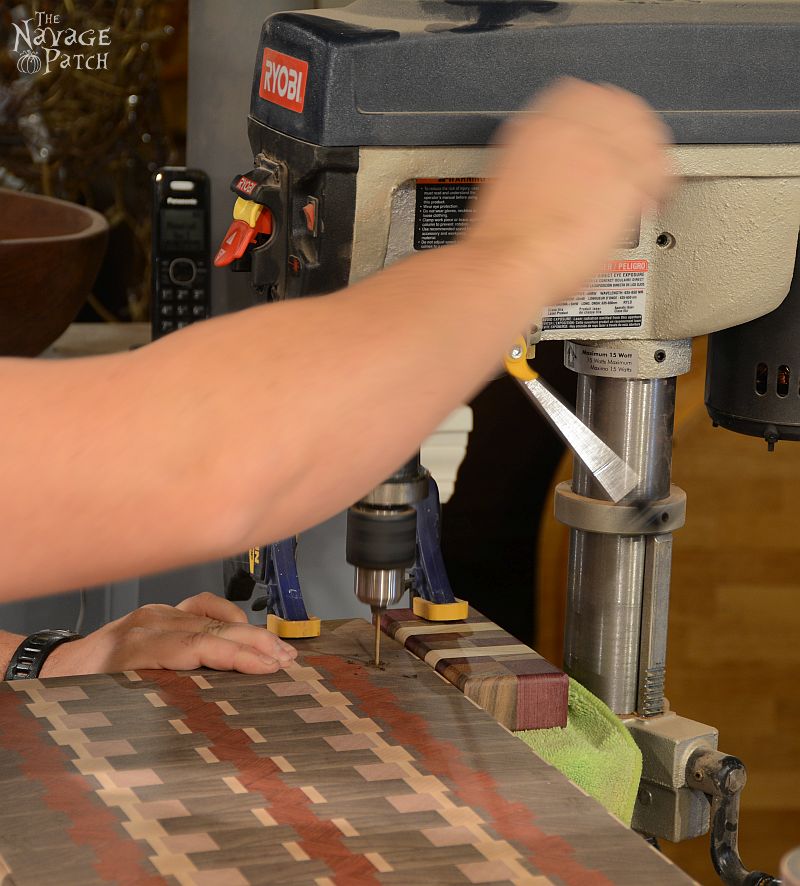 Before I got to finishing my DIY cutting board, I gave it a good cleaning with mineral spirits.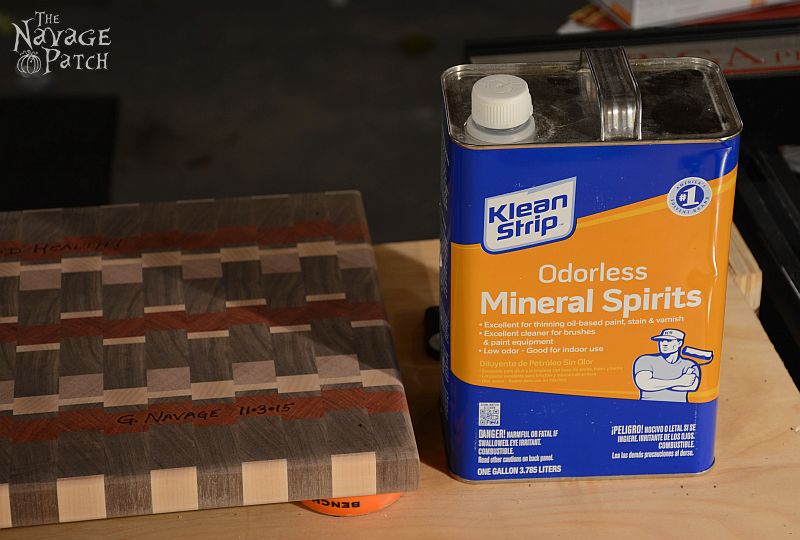 Step 6 – Finishing the DIY Cutting Board
To finish my end grain cutting board, I used a food-safe wipe-on varnish called salad bowl finish. My preferred brand is General Finishes. I mixed it with mineral spirits to about 60% mineral spirits and 40% varnish. You want it so thin so the wood will drink it all in and distribute the varnish throughout the board. I'm not trying to build up a finish on the surface like I would on a table. Rather, I want to seal the wood off from moisture throughout the board. Moisture harbors bacteria. Bacteria can be bad.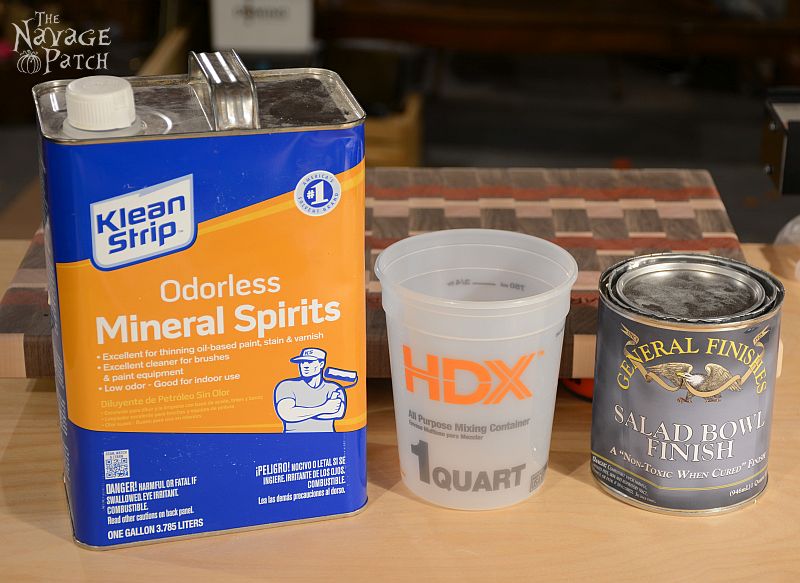 I cut and folded a small piece of cloth to use as an applicator. I wore a vinyl glove on the right hand (the hand touching the varnish) and latex on the left. The vinyl better resists the varnish, whereas the latex starts to stretch and will eventually disintegrate. I used latex on the left since it is thinner and has a tighter fit, allowing me to pick up and manipulate screws. I also use nitrile gloves, but I happened to have some extra vinyl on hand that I wanted to use up.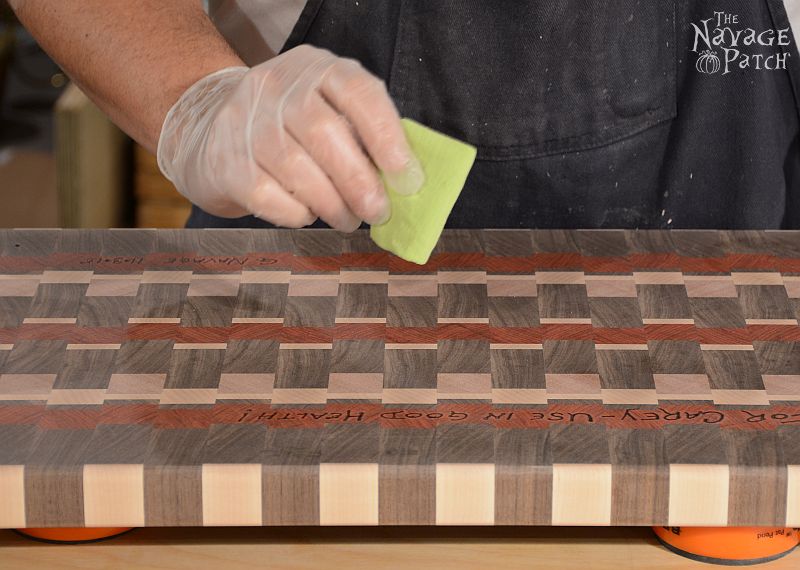 Starting with the back of the board, I liberally applied varnish, letting the wood drink up as much as it can. If the varnish is thin enough, it will run right through the board and spot the other side.
I then wiped off the excess and inserted four screws a few turns into the holes I previously drilled for the rubber feet. This kept the bottom of the board elevated while I worked on the top.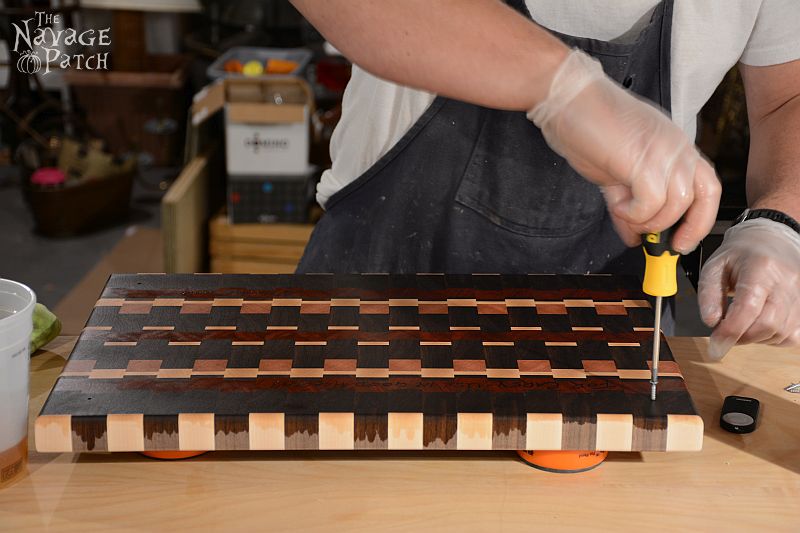 You can see a little spotting on the top.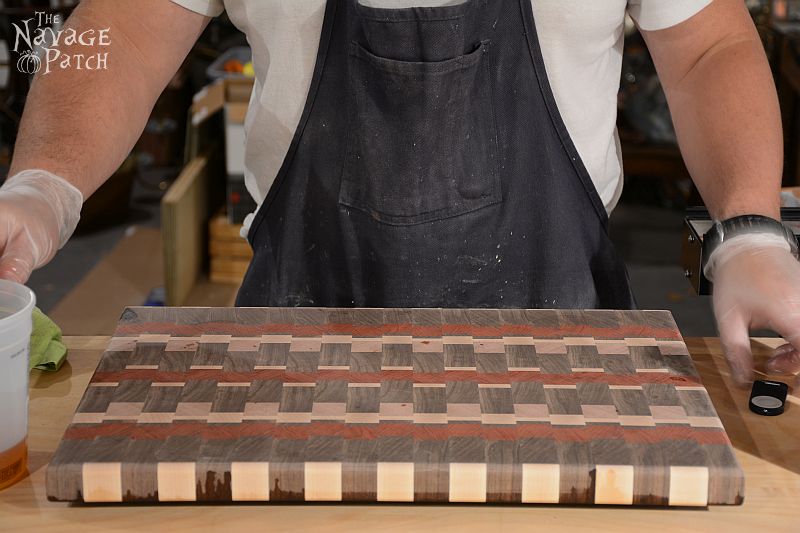 And here was the board after the first coat of varnish (still wet). I again flooded the board with as much varnish as it could take and then wiped the excess off the board. Remember, we're not trying to build a finish!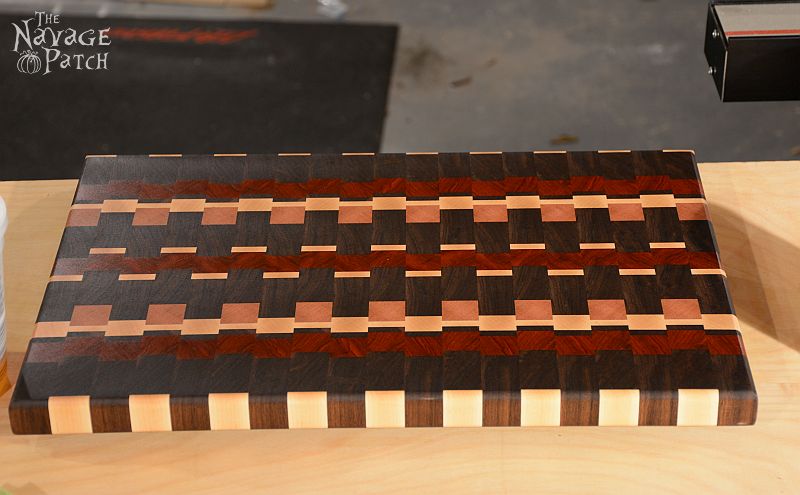 When dry, I lightly sanded with 2000 grit sandpaper (1500 also works), applying only the weight of my fingers for pressure. The goal here is to knock down any tiny surface imperfections. Most people (and the back of the can) say to sand lightly with 220 between coats. I've never been able to do this without messing up the piece with sanding marks. Unlike, say, lacquer or shellac, polyurethane doesn't melt the coat underneath it, so any sanding marks on the previous coat (or on the wood) will show.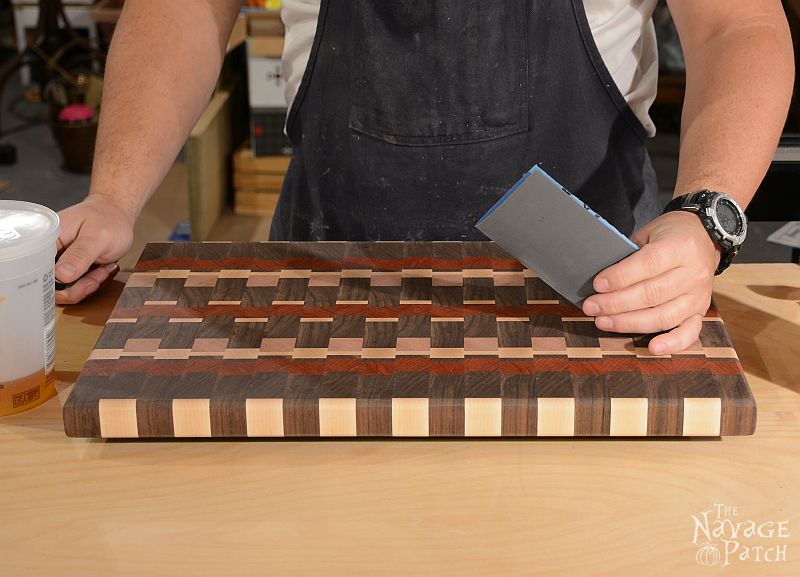 Then I repeated the process for the varnish. (Yeah, I know, I'm wearing latex on my right hand. Didn't have a vinyl glove handy). I wiped it on…
…And wiped it off. Again, since I wasn't trying to build a finish, I wiped all of the excess varnish from the board.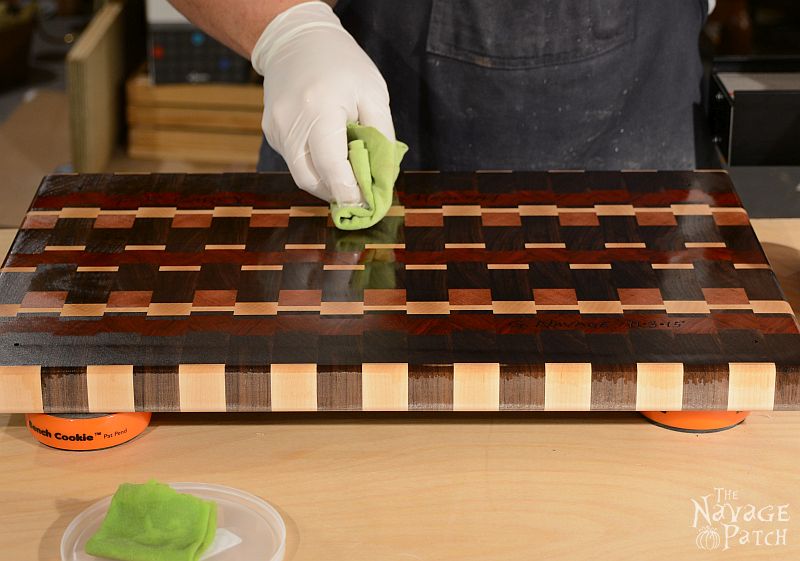 I gave my DIY cutting board four coats of varnish, and then I attached the 1 1/2 inch rubber feet. I also use 1 inch rubber feet for smaller boards. These feet come with zinc-plated screws. I throw those out and replace them with stainless steel screws of the same size. This keeps the screws from rusting after exposure to moisture.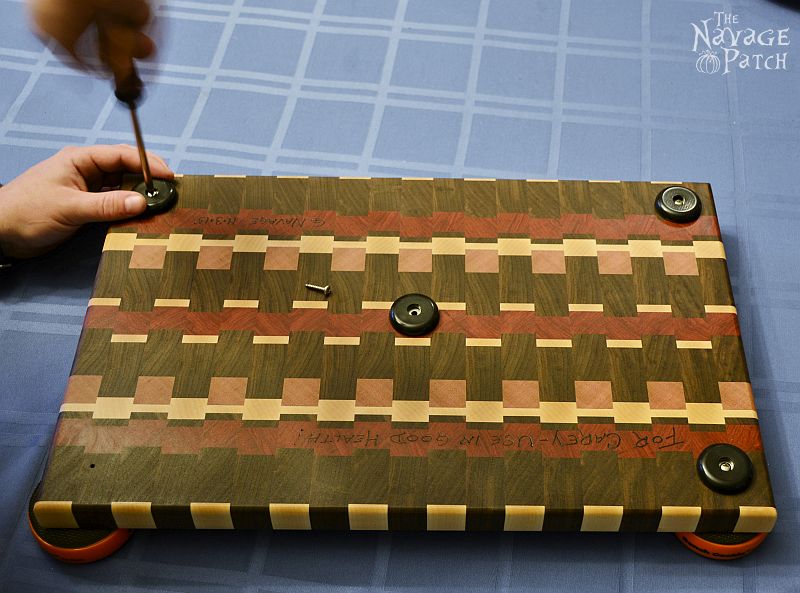 And that's it! Nothing left to do but take pictures and deliver it to my friend.
Update February 2018: 
I want to talk a bit about end grain cutting board maintenance. I've found that, over time, my boards can get pretty chewed up and dried out, even with the salad bowl finish. My usual solution was to sand them down and refinish them. But if I'm giving a board out as a gift, that's not always a feasible solution for the recipient. This led me to experiment with other finishes. After exhaustive research on countless blogs and forums, I came across a finish that I would consider as an alternative to polyurethane. But even better, I use it on my varnished boards to keep them from drying out!
There is a great debate online about which oil is the best for cutting boards. If you wish to torture yourself, you can go dive into the fracas. Don't say I didn't warn you. Lucky for you, I did all the legwork.
So here it is: the best oil for cutting boards is walnut oil.
Walnut oil never goes rancid, because it's what is called a "drying oil" or a "polymerizing oil." That means that the oil reacts with oxygen to dry out at room temperature and create a hard, protective film. Compare that to mineral oil (the most popular oil among the debaters, but usually not for proper scientific reasons) which stays oily at room temperature until it eventually evaporates. Now that said, walnut oil can go rancid in the bottle, and if that happens, you don't want to put it on your board.
Unless! (There's always an "unless.") Unless you use a walnut oil specifically formulated for woodworking. These WOs have had a particular protein removed – the one responsible for rancidity. Here's the one I like best.
Now, just using walnut oil would be a great way to protect the board. In fact, I start by giving the board two hearty coats of walnut oil, waiting a day between coats. But then I make it even better by adding beeswax to the mix.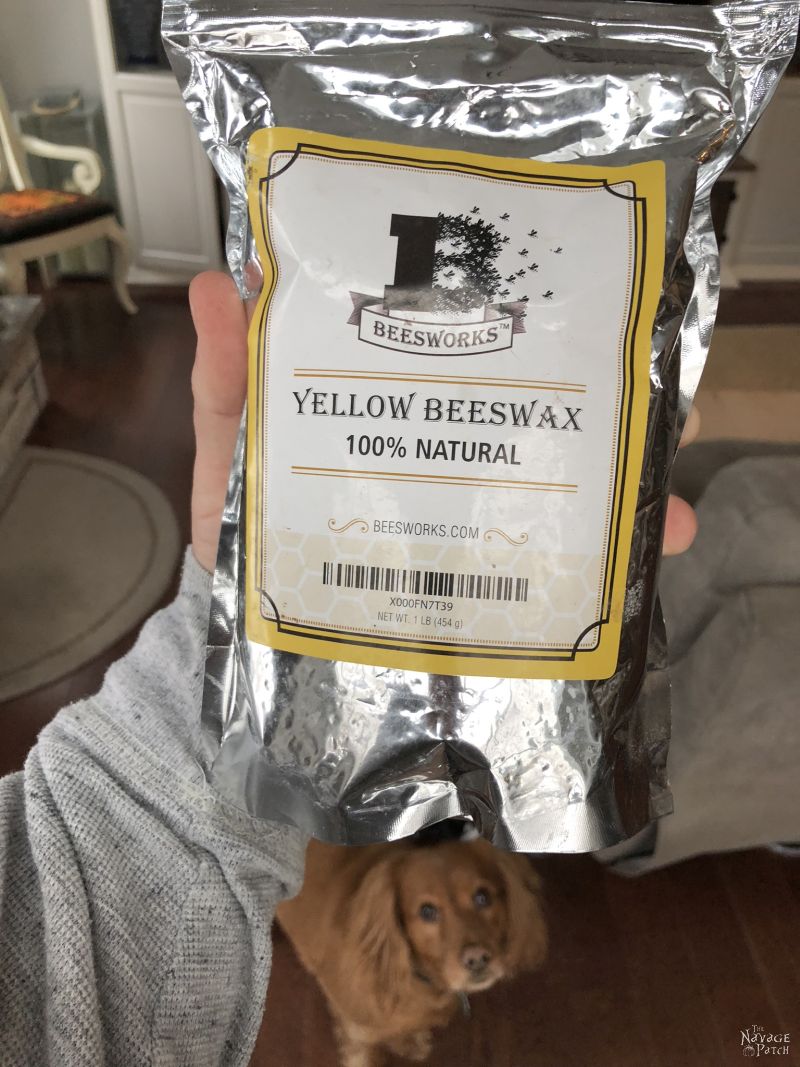 I add one part beeswax to four parts walnut oil in an old saucepan and heat it over low heat until the beeswax has melted. I then coat the board one last time with the walnut oil/beeswax mixture using a folded paper towel. When the mixture has cooled for a while, I wipe off the excess with a clean paper towel.
Before the oil mixture in the pot cools, I pour it into a glass container with a lid. I use an 8 ounce canning jar. Once the oil/wax mixture cools, it will have the consistency of shortening. I use it every couple of weeks to keep the board properly oiled and in good shape – just put a dab on a paper towel and wipe it all over the board. I store my board butter in a cabinet. Remember – if you use a woodworking walnut oil, it will never go rancid!
Recently, I've started using board butter on my varnished boards, and it has worked out brilliantly. The boards are still protected throughout, but the board butter adds another layer of waterproofing on the surface and combats the dry wood that results from heavy use. The combination of varnish and board butter is a winner, and I will be incorporating it into all of my future boards.
*Note about nut oils and nut woods: be advised that walnut oil is toxic to folks with certain nut allergies, as is walnut lumber for a smaller percentage. Know your audience, and use accordingly. Certain woodworking walnut oils have had the compound responsible for allergic reactions removed, but that is case-by-case, so know your oil!*
Okay, let's get back to the beauty shots! Enjoy!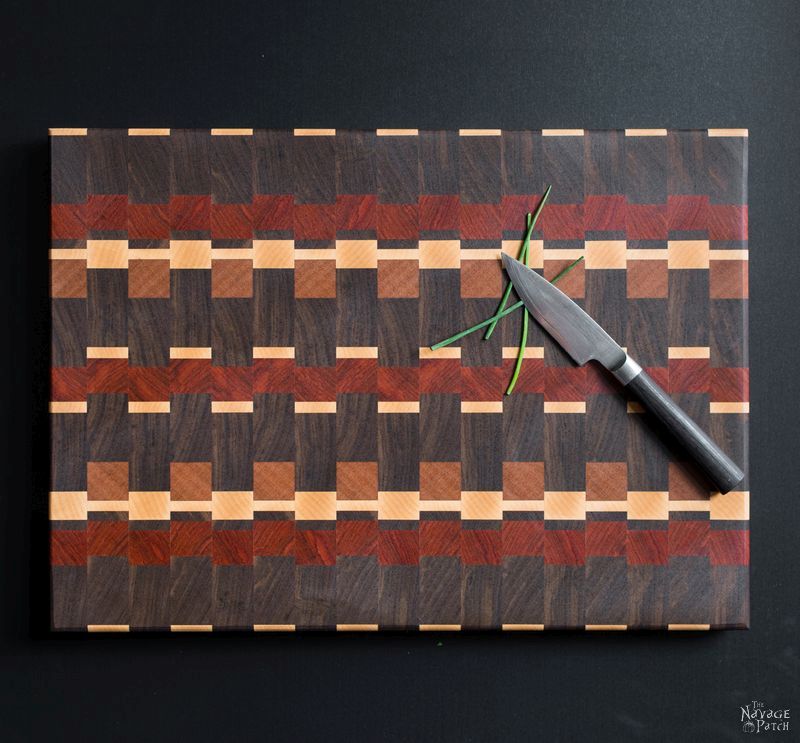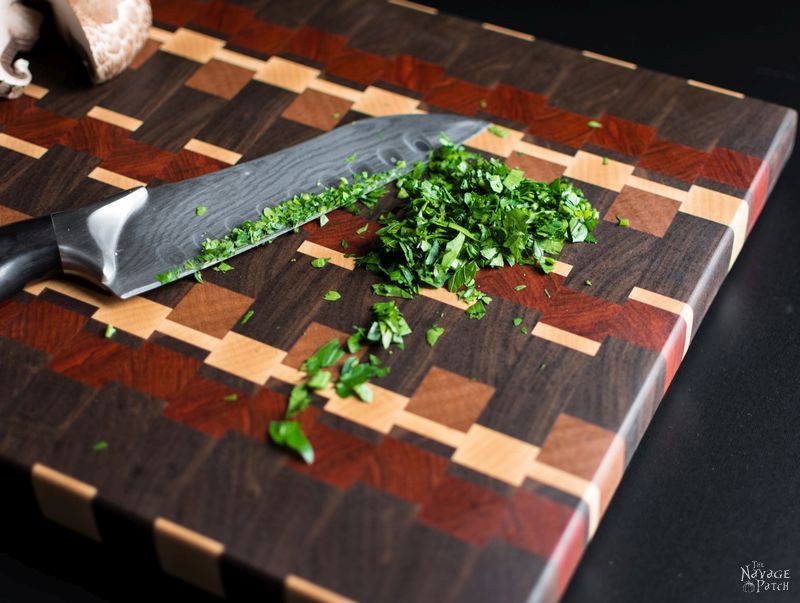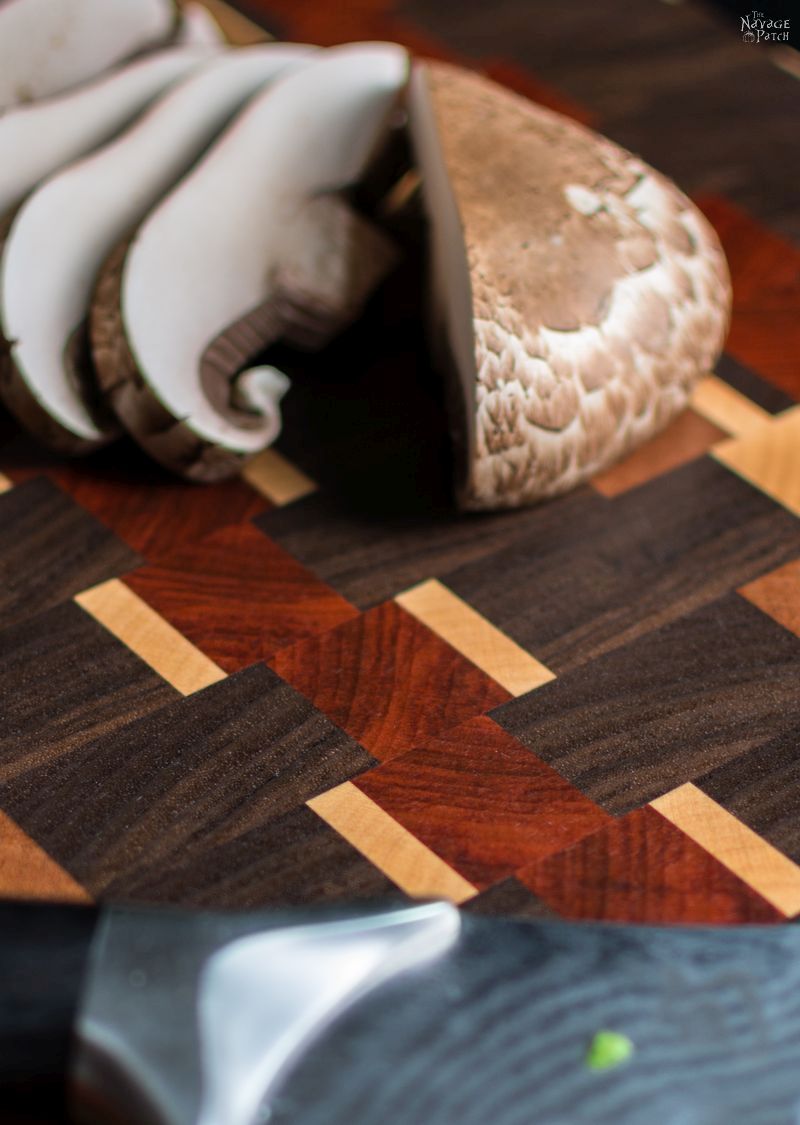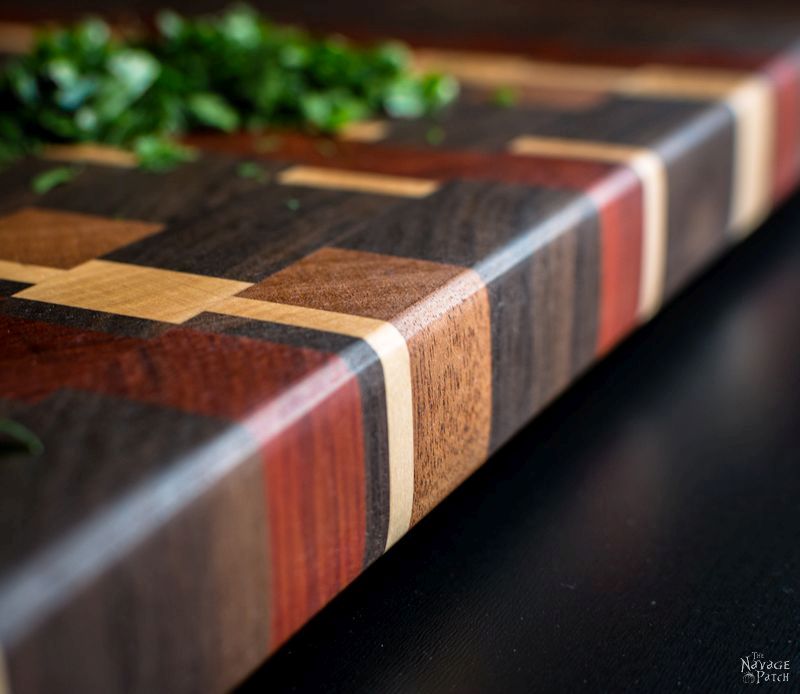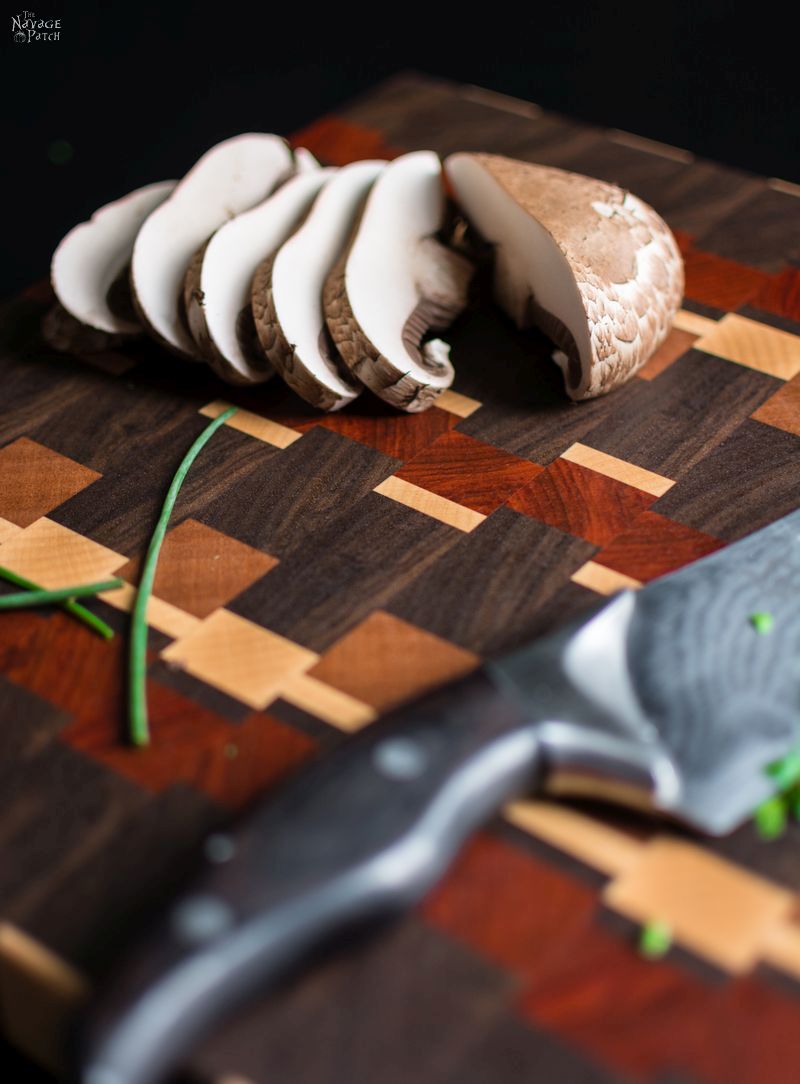 End Grain Cutting Board Plans
For those wishing to replicate this design, here is the cut list. Boards are 5/4 thickness:
Source board length: 27 inches
Source board thickness: 1 1/32 inch (This is smaller than the 5/4 source board thickness to account for initial planing and the planing after the first glue-up)
End grain slices: 19 (This number should always be odd in order to maintain design symmetry)
End grain cutting board thickness: 1 1/4 inch
This is the order in which you will place the boards in the clamps for the initial glue-up.
Maple 5/16 inch
Walnut 1 3/4 inches
Redheart 7/8 inch
Walnut 1/4 inch
Maple 1/4 inch
Jatoba 1 inch
Walnut 1 3/4 inches
Redheart 7/8 inch
Maple 1/4 inch
Walnut 2 inches
Maple 3/4 inch
Walnut 1/4 inch
Redheart 7/8 inch
Walnut 1 13/16 inches
Good Luck and thanks for reading this tutorial on how to make an end grain cutting board!
If you liked my DIY cutting board and you want to try a different challenge, head on over to my tutorial on how to make a cheese board with crushed turquoise inlay!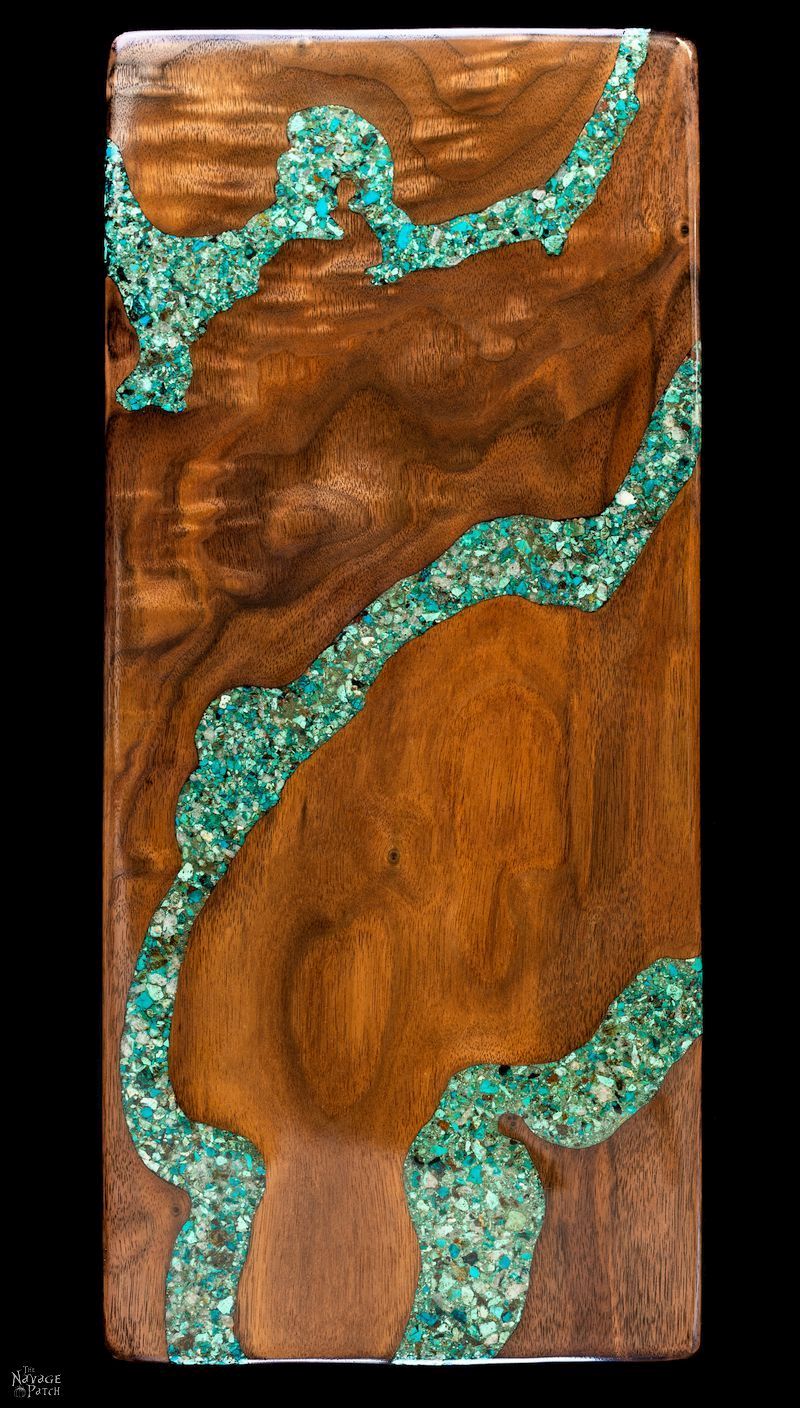 We love it when you share our posts on Facebook and Pinterest!