Dining Room Makeover Plan
Well, here we go again. Another year, another big room makeover. Remember last year's nightmare makeover? You don't? Madam, you must have blocked the memory of it, just as I have. Tell you what – you go relive my nightmare for a while. I'll be here awaiting your return.
Ah, you're back. Good. I was worried about you. Let's continue.
Before we begin, be sure to follow us on Pinterest, Facebook and Instagram, and click the subscribe button at the top of this page to sign up for our email list so you'll never miss a post!
This year's makeover (actually, there may be two this year, but let's take things one step at a time) is larger in scale but far simpler than that soul-sapping bathroom renovation last year. This year, we're going to whip our dining room into shape. It's been over four years, and we still haven't settled on how we want it. But it's not our fault, you know. Really. The room is a bit bonkers. Don't believe me? Well, madam, I ask you: what the heck would you do with this space??
Here is the dining room before we moved in.
The room is big, has high ceilings, and it's not square. Its only full wall is the one seen on the left in the picture above (and it is a biiiiig wall). All other areas where a wall might be are either doorways, passageways, cutouts or oddly angled dwarf walls. This house is a confusing mess to decorate, but it's our confusing mess, and we love it.
Here's another view. The photographer from the photo above took a few steps forward and then turned 90 degrees to the right.
The entryway to the kitchen is in the middle, my office entryway (raised) is to the right, and the living room is off to the left. There's also a square hole above the kitchen entryway, because big holes are going to be the next big thing. Farmhouse is for chumps. You want to impress your friends? Start cutting holes in your walls, and watch your sewing circle turn green with envy. I need to come up with a catchy phrase to really sell the idea…
Hmmmm…
Gertrude: This jasmine tea is delightful, Ethel, though I dare say it will keep me up for hours! Oh, and what a lovely hole you have in your wall!
Ethel: Why thank you, Gertie! Those wall holes are all the rage, I'm told. The man who invented them calls them Infinity Windows. Now, be a dear, and pass me the crumpets.
Gertrude: [gasps quietly] Infinity Windows! Why, he must be a very handsome man indeed!
Ethel: Why, yes…he certainly is, Gertie. Look here, I carry his picture with me.
Gertrude: [gasps loudly] Oh my goodness gracious! Is it getting hot in here, Ethel? I'm feeling faint.
So yeah, we have two large Infinity Windows in the dining room. Aren't we trendy?
When we moved in, we didn't put our dining table in the dining room. We placed it in the little breakfast nook off of the living room. You may be familiar with that nook – it is now Handan's craft space. Any time you see her working on this or that, she's where our dining table originally was placed. So what did we have in that cavernous dining room?
Not much! That circular faux fur rug was pretty awesome. The dogs thought so, too. Didn't take long for them to fill it with dog hair and dirt. Actually, the room didn't look too bad, all things considered. That was an IKEA console that Handan modified with LED light bars. It's showing off some of our treasures from Afghanistan, Vietnam, India and Cape Cod. Yes, Cape Cod. That's where I took Handan for our honeymoon in 2010, and that's where we bought that Egyptian-looking birdman statue. The rug on the wall was made for us by the wife of one of the Afghans working in our camp. It was the last rug she ever made before retiring from rug making. Of all the beautiful things we collected during our time overseas, that one is one of the most dear to me.
I built the cart to the right of the console. On top sits my favorite treasure from India – a Tibetan singing bowl. It gives the most beautiful sound. Above that cart are two of Handan's early craft projects. Both are now in storage, but I hope Handan hangs them up again. They're too nice to be collecting dust in the spare room next to all of my pretty-but-useless projects like my veneered desk.
Here's the night view.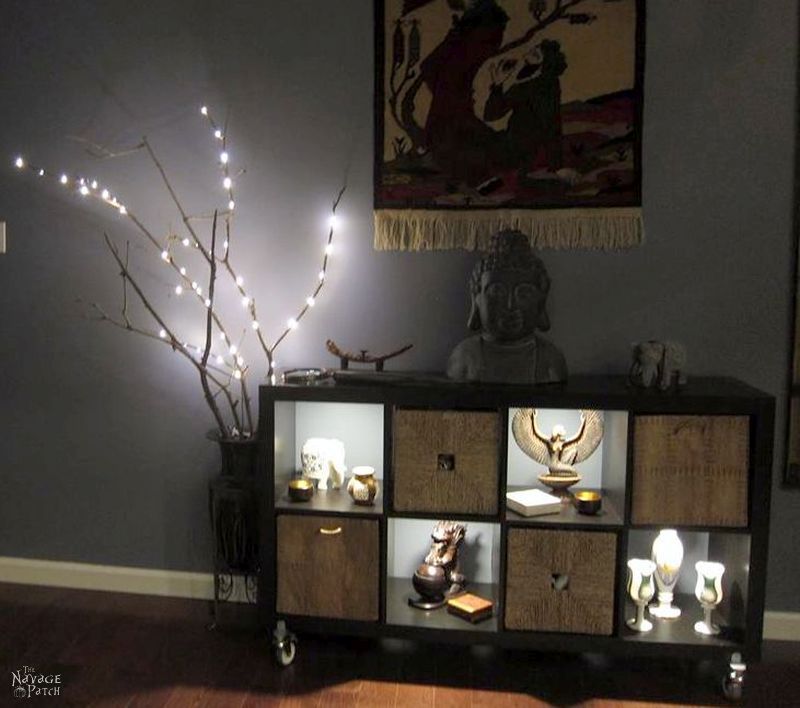 After a while, Handan got sick of the rug on the wall, so she took it down and put her command center on the IKEA console.
That served us well for a while, but then The Itch came over Handan, and she had to change up that area again (I've learned to live with The Itch – it's the reason we've painted the entire house three times in 4 years, LOL).
Handan found a dining set on freecycle.org. We picked it up one Saturday and then plopped it in the garage. After marinating for several months, we put the dining table in Handan's craft room to hold her printer and stencil cutter. The hutch is currently in the basement filled with spray paint, and the buffet replaced the IKEA in the dining room.
We haven't refinished it yet, but it will be one of the things we will tackle in this makeover.
There is one more interesting piece that has been sitting in the dining room, unfinished, for the past two years. Back in the pre-blog days, we found an antique…well, I don't know what it was, but my best guess is that it was a wardrobe. The doors were missing, and it looked like it had some pieces cobbled on over the years. We put it in the dining room while we tried to think of a plan for it.
This, too, will be refinished, and it will have a new life…probably as a cabinet or shelf of some sort. That remains to be seen.
As for the rest, Handan told me we need to make a "mood board." I'd never heard of such a thing, so I told her, "Mood board shmood board! Let's just wing it!"
Predictably, this answer did not satisfy her, and I received a crash course on the finer points of mood boarding. Here is the mood board that Handan made for this makeover1
Okay, lemme take you through the numbers.
1- Area Rug
We spent quite a lot of time searching through the bowels of every online rug discount superstore looking for just the right combination of color, weave, pattern and price (by the way, they all seem to have a perpetual TODAY ONLY! sale going on. You should really check them out if you're looking for a rug. But act fast, because the sale is TODAY ONLY!). You can spend a few bucks or a small fortune for rugs. It all depends on who made it (man vs machine) and what it's made from (silk vs everything else). We kept our focus on machine-made, non-silk carpets. Seemed a bit silly to spend thousands on a rug. We went back and forth and finally settled on the two rugs above. But then I had a thought. A few years ago, we had brought home to the States a few real silk carpets that Handan's mother had bought in Afghanistan several decades back. Carpets of this quality fall into the "small fortune" range (at least – I've seen similar carpets for sale for tens of thousands of dollars!), but Handan's mother picked them up on the cheap back in the day, and they'd been stored in moth balls ever since. One of them was about 8×10 – just the size we needed. We had used it for a while in the living room until the dogs almost ruined it with slobber and rawhide grease. We had it professionally cleaned, and then we put it back into storage. What if we were to use that rug instead of buying one? I posed the question to Handan, and she agreed. We pulled it out of storage and laid it on the dining room floor. Here is a detail picture to give you an idea of the weave.
The colors are subtle, and I think the rug will be the perfect complement for the table and chairs we will have. As a bonus, the rug is already distressed – a feature that people are paying big money for at rug stores. I swear, some of those "distressed rugs" look like they took a new rug and told a 3-year-old to run all over it with a big cup of bleach in its hand.
2- Dining Table
You've already read the backstory to the table, haven't you? No? Well, get on it, madam! But here's the thing. I know many of you are expecting me to give this antique table a makeover…
But that's not what is going to happen. I'll give you a little spoiler: the table you see above was harvested for parts. I built a new top from scratch, and will be using only the legs from the old table. By the way, in that introductory post, I called this a Victorian table. In fact, the style is Gothic Revival. So I'm going to classify the new table that I've built as Gothic Farmhouse Revival. Sounds like a great name for a band, doesn't it? The color scheme of the new table, and its basic shape are reflected in that mood board picture. I can't wait to show it to you. It should be completed by next weekend, if all goes according to plan.
3- Dining Chairs
We've been collecting old junky dining chairs for the past three years. Our basement is full of them. They're packed to the rafters. Don't believe me?
I can count 16 in the picture above, and that's not all of them!
Anyway, as we started in on the makeover and really took a good look at those chairs, we realized that they were all pretty much crap, and that the work involved in restoring them would far outweigh the benefit. Sanding, stripping, fixing, reinforcing, painting, reupholstering – way too much work even for one chair, let alone eight!
So we said, "Nuts to that pile of crap!" (And I said a silent prayer of thanks to all the gods I could think of.)
The chairs we decided to go with will come from Pier 1 Imports. We are planning to get two of the chair picture on the left above for my Royal Ass Handan and me and four of the chair pictured on the right for the commoners our guests.
Handan is all googly-eyed about that little ring on the back of the guest chairs. Just goes to show how out of touch I am with modern design elements. I'd never heard of chairs with earrings.
4- Gallery Wall
Did somebody say "Printables?" 'Cuz we got 'em, and we're gonna give 'em to you! Yep, a whole bunch of spring-themed printables with birds and flowers. And, as an added bonus, Handan is going to show you a super simple way of hanging multiple picture frames so that they're not only straight, but easy to remove and replace. That way you can keep your printables fresh without the stress of re-aligning all of those frames!
5- Room Decor
We'll keep some of the current elements, like those antique free-standing doors, and we'll also add some new elements. Some things we'll buy, and some will be dreged up from our basement archives. We have so many beautiful treasures from our travels that still haven't seen the light of day. Maybe we can find a place for one or two of them in our new dining room? We'll just have to wait and see…
6- Paint Colors
We're going to get rid of the old blue color and lighten things up a bit, I loved the blue, but it got heavy after a while and made the room feel dark and oppressive. We're going to lighten it up with Behr's Natural Gray – probably the best and cleanest gray around, with almost no discernible undertones. To break up the light gray, we'll paint the small section of wall by the kitchen to Behr's Slate Gray. This will not only act as a small accent wall, but it will set off the piece we plan to build and place in front of it.
7- Console Table, Buffet and Other Furniture
In front of the small accent wall I just mentioned, I'll be building a console similar to the one pictured above, but scaled to fit in the smaller space we have to work with. Handan will be painting the buffet, and I'll refinish the top with stain to match the dining table. We will be moving an antique hutch that is there now (it's the one you see pictured in Handan's Apothecary Jar post) down to the basement. In its place, we'll put that antique wardrobe that we will have converted to a bookshelf of some sort. I think painting it is the right course of action. Now before you go all bananas telling me that it's an antique, let me tell you that it is merely an old oak wardrobe. The only nice parts of it are the two corbels and the molding on top. The rest is old, crappy oak that has warped, split and cracked. There is no value to an incomplete and disheveled piece of furniture like that. Paint will restore some life to it and allow me to make shelves that will match.
I think that covers all of the bases, so here's how we're going to tackle the project:
Dining Room Makeover Checklist
Moodboard and plan.
Click here to see more dining room makeover posts as we continue to cross items off of our checklist!
1This is the mood board that I made for this makeover. I think it nicely sums up the moods I felt when Handan told me about all the work I had to do.