How to Make a Cheese Board with Turquoise Inlay
In this tutorial, I will show you how to make a cheese board with turquoise inlay. I'll also teach you how to make your own crushed turquoise from raw ore.
Soon after we launched this blog, I wrote a tutorial for making an end-grain cutting board. I didn't want to write the post. I honestly didn't think anyone would care. There were already hundreds of videos and tutorials for making cutting boards, so why would anyone want to read mine? I was a relative newcomer to woodworking, and a total noob to blogging. But my wife wanted me to write it, so what choice did I have? (answer: none)
That little tutorial, which I was totally against writing, went on to become one of our best-read posts! The lesson is obvious and applies to all men: always listen to your wife. They know things.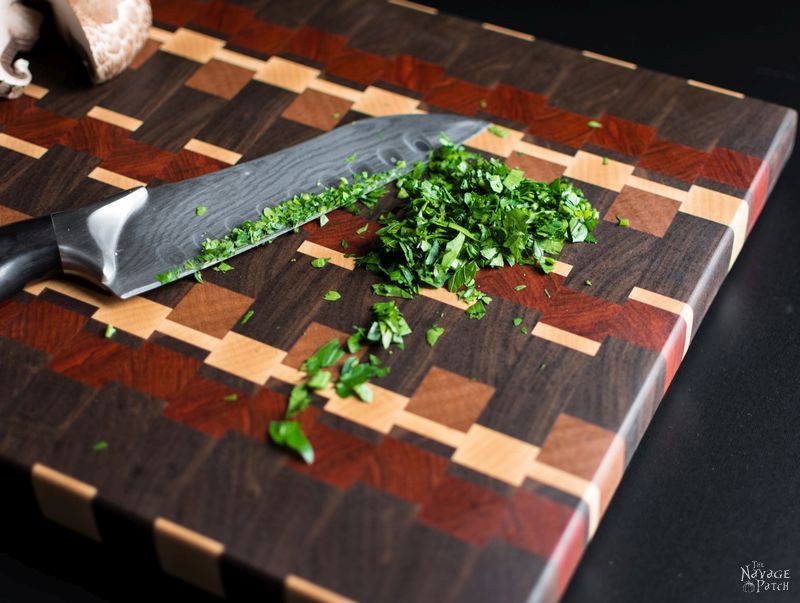 Although, looking at the picture above, maybe she had a point. But the downside to that post was that I was deluged with orders for cutting boards that Christmas season. I could accommodate a few people, but my basement lair workshop is not set up for mass assembly, so I had to turn most people down. Besides, with the labor involved, even with a substantial price tag, making boards was not an economically sound business model. So those Christmas boards were my last. I was boarded out. I didn't want to look at another cutting board, unless I was chopping onions on it.
But as the months wore on, I found myself thinking about cheese boards from time to time. Cheese boards can be identical to cutting boards – that is, they can be end-grain or face-grain and used for cheese or chopping. But cheese boards allow a freedom of construction that traditional cutting boards do not. A cutting board needs to stand up to, but be gentle on, a sharp knife (wood and plastic rule for cutting boards). A cheese board does not. So, whereas you wouldn't dream of chopping veggies or cleaving a ham hock on a piece of stone, you wouldn't think twice about running that little round cheese knife through a wheel of brie plopped on a shiny slab of marble.
That thought of a stone cheese "board" got me thinking. What if I made a new kind of cheese board? Something with class and elegance. The board I had in mind would be made of walnut with rivers of crushed turquoise inlay coursing through its grain. I had just the piece of wood in the basement…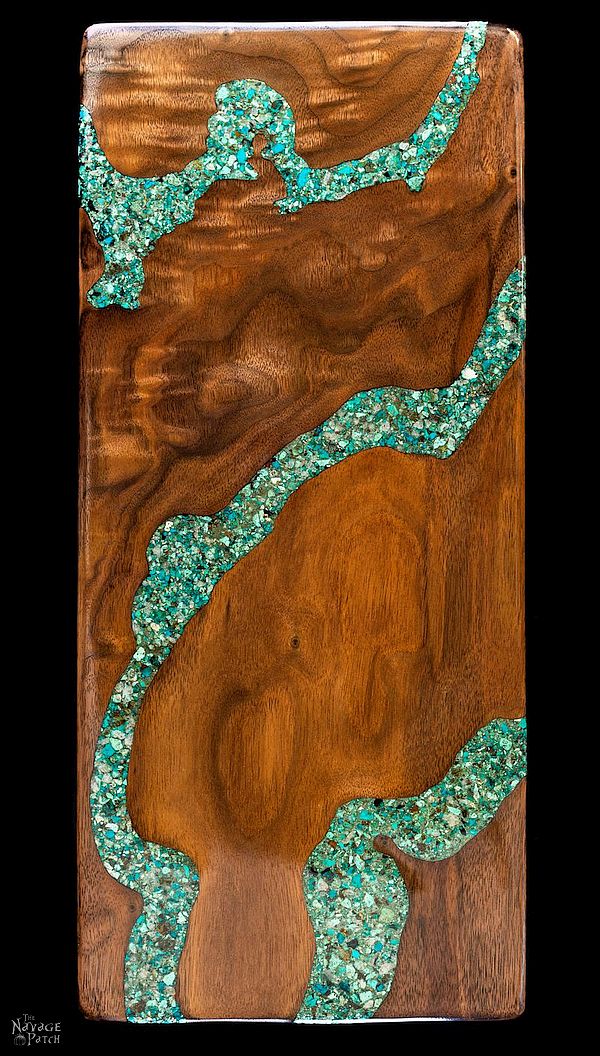 How to Make a Cheese Board with Crushed Turquoise Inlay
Two years ago I bought an 8-foot length of walnut that was 8 1/2 inches wide and about 1 1/2 inches thick. Normally walnut has rather straight and uninteresting grain, but this piece had highly detailed (figured) grain running down its length. I wanted to use it for something special.
Well, as the months rolled on, I used a piece here and a piece there for some end-grain cutting boards I was making, but I never got a chance to showcase that beautiful figure. I held onto a piece in the hopes that one day I'd use it in a project where the walnut's beauty would shine. That day had arrived.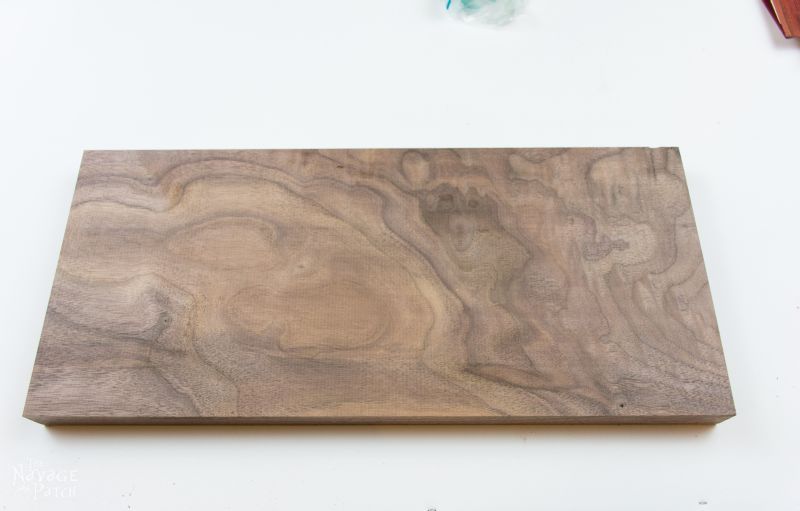 Instead of cutting the board into strips, I would keep it whole. I wasn't worried about it warping at this point – the board had been sitting in the basement for two years enduring hot, humid summers and chilly, bone-dry winters. If it were going to warp, it would have done so already. Besides, the crushed turquoise inlay would help keep it straight.
There were some interesting grain patterns there. I outlined three of them with pencil.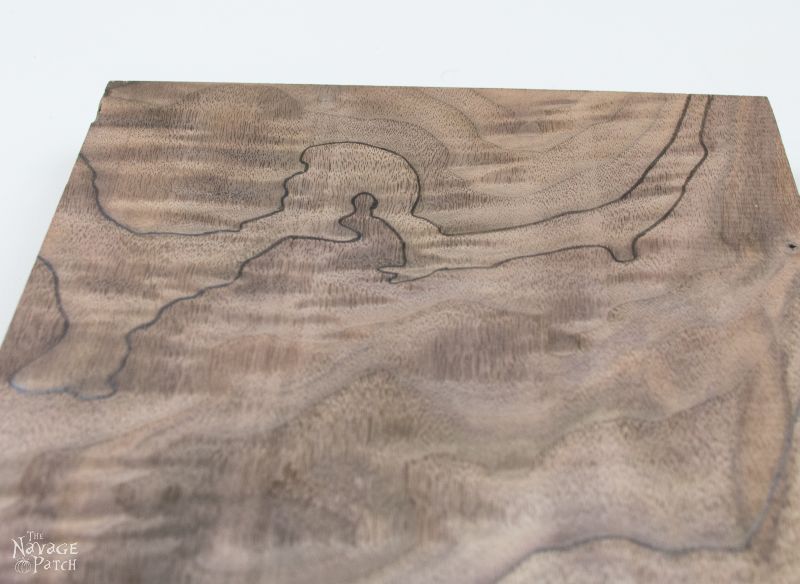 These would be my three turquoise inlay rivers. I used a plunge router with a 1/16 inch straight bit to trace out the edges of my rivers. I set the depth to about 1/8 inch.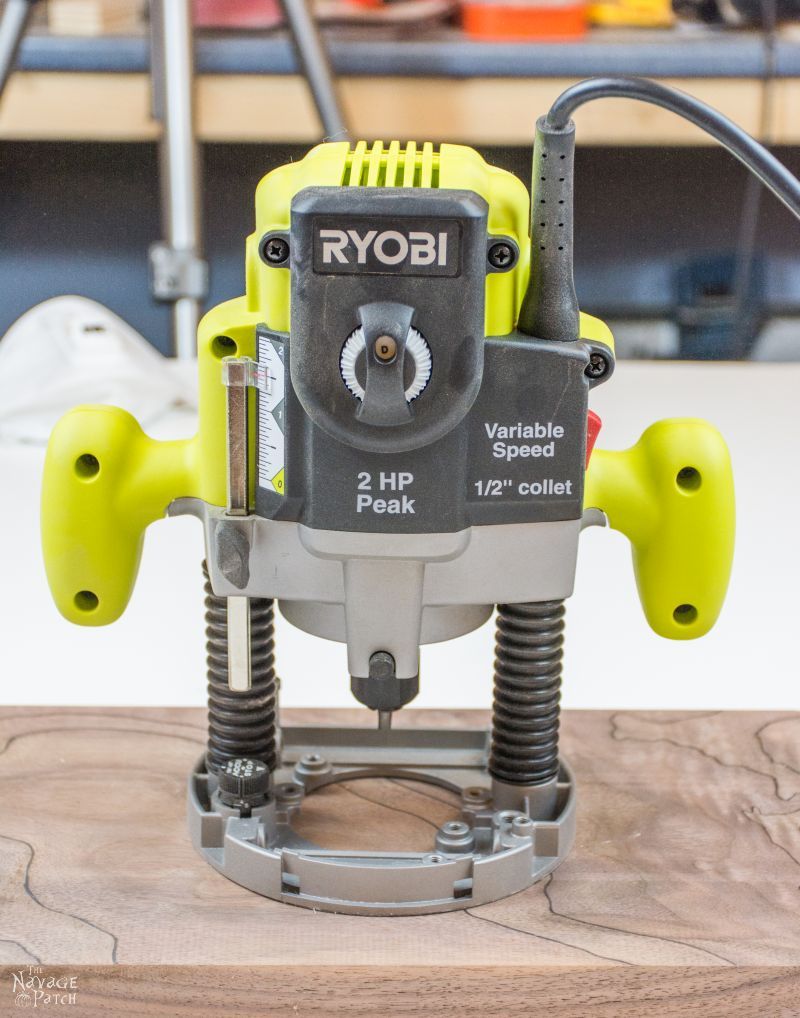 This is how it looked when the initial tracing was complete.
Next, I swapped out the 1/16 inch bit for a 1/8 inch straight bit. With this bit, I chewed away at the remaining wood in the riverbeds.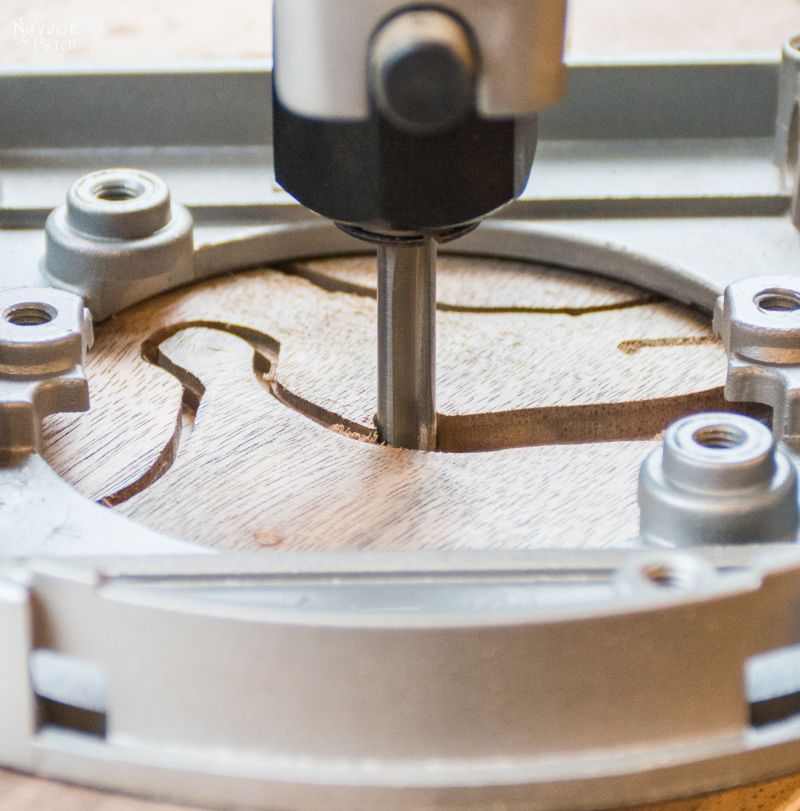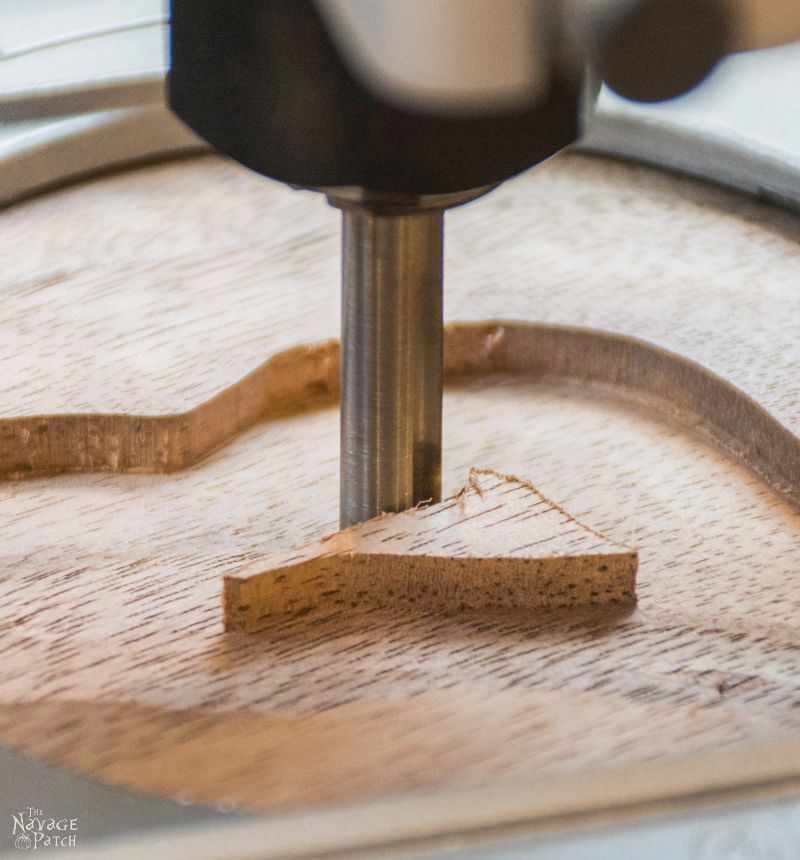 Until the board looked like this.
How to Make Your Own Crushed Turquoise from Raw Ore
The board was ready for the crushed turquoise inlay, but first I had to get some crushed turquoise! I had gone through the hair-whitening task of pricing crushed turquoise a couple of years ago when making my Beauty in the Beast console. Jeezum Crow! I would expect a baggy full of gold nuggets and maybe a piece of the Holy Grail for the price these people were charging for crushed turquoise! As is always the case when confronted with heart-seizing sticker shock, I found a way to DIY my crushed turquoise. I found several people on Ebay who sold rough raw turquoise. I bought some from one seller that had pure turquoise mixed in some white rock ore. I bought some from another seller that was a mix of turquoise and chrysocolla.
There are two pieces of pipe in the picture above. One is 1 1/2 inches wide by 6 inches long, and the other is 3/4 inch wide by 10 inches long. The narrow pipe has end caps on both ends, while the shorter pipe only has one end cap. I used them to crush my turquoise. Before starting, I put on the appropriate protective gear. Turquoise dust (or any rock dust, for that matter) is bad for the lungs, so I wore a particulate filter mask. Since hammering the rock was really loud, I wore hearing protection. And just in case a stray piece of rock decided to fly towards my eyeballs, I wore safety glasses.
First, I selected a piece of ore.
Then, I checked to see if it would fit into the wide pipe.
This piece of turquoise was a little too big, so I hammered it in.
I then inserted the narrow pipe and beat it with a hammer for a little while, occasionally dumping the pieces into a box to check how things were going.
I picked the bigger pieces out of the box and put them back into the pipe for some more beating. When I had the biggest pieces down to the sizes I wanted, I started grading the crushed turquoise by first running it through a strainer.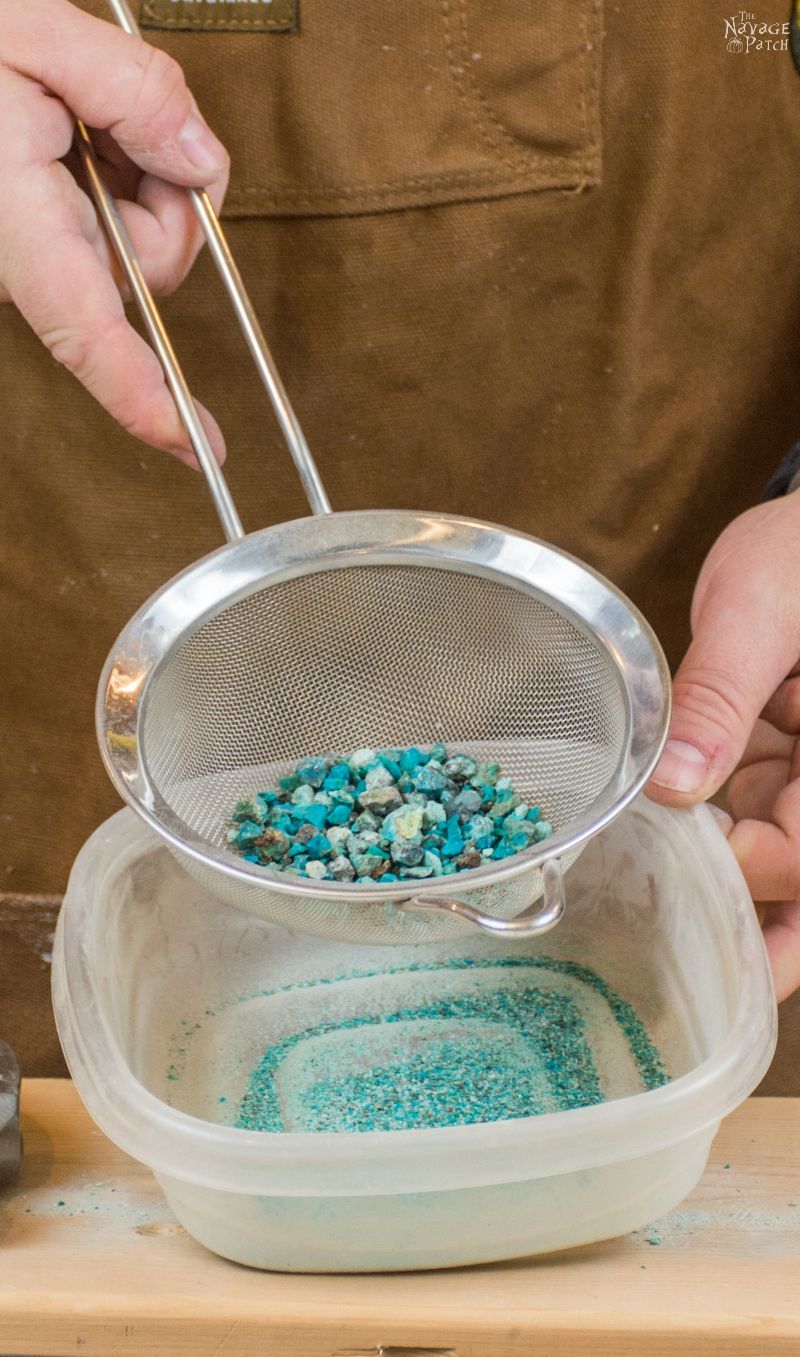 I then separated what was left in the strainer by hand into two different grades. (The following few pics are from a different batch. I include them to show the process.)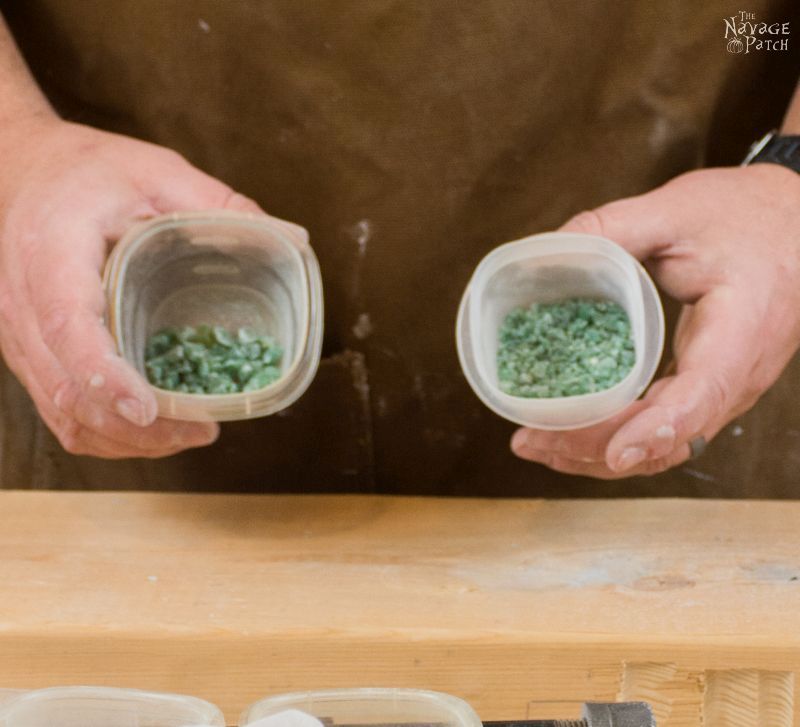 I then further separated what I had strained by straining again with a fine mesh bag or paint strainer.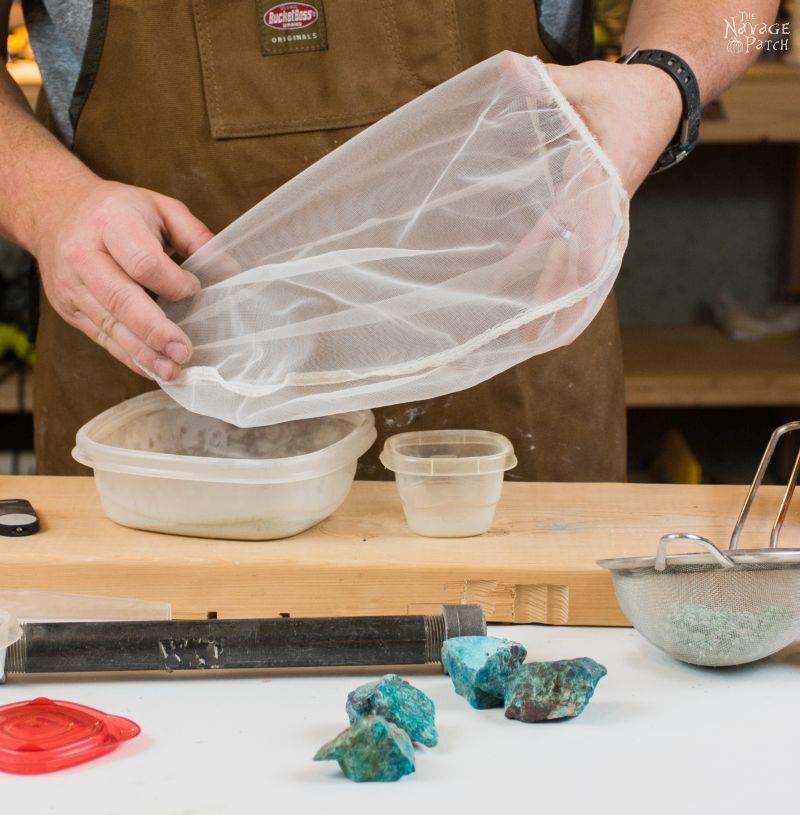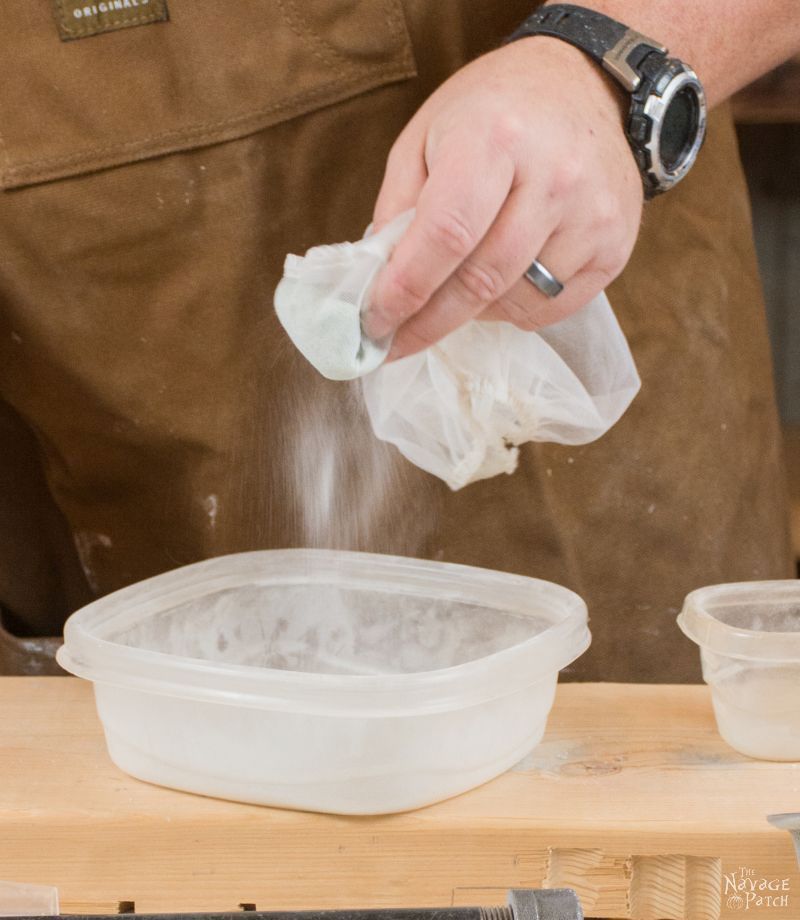 This gave me four grades of crushed turquoise to work with. (Again, this pic is from a different batch of pure turquoise that I crushed from jewelry – that is why the color is different.)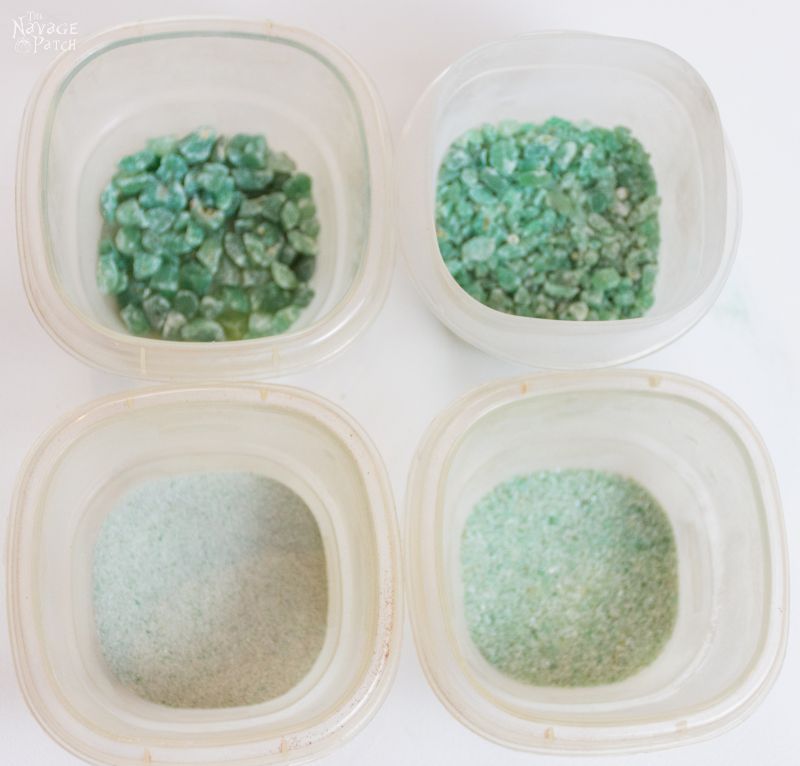 I crushed both types of ore and mixed the equivalent grades of each together, so I could have the two shades of blue plus the white rock. I liked that look better.
Laying the Crushed Turquoise Inlay
Once my stone was crushed, I readied the board for the turquoise inlay process. I wanted the board to have rounded edges, but I wouldn't be able to route the edges with a roundover bit once the stone was inlaid, or the stone would destroy the bit. I decided to roundover the edges first, and then round the stone later by sanding.
To prevent the crushed turquoise from running off the edges, I taped thin strips of hardwood all around the board to act as a dam for the turquoise.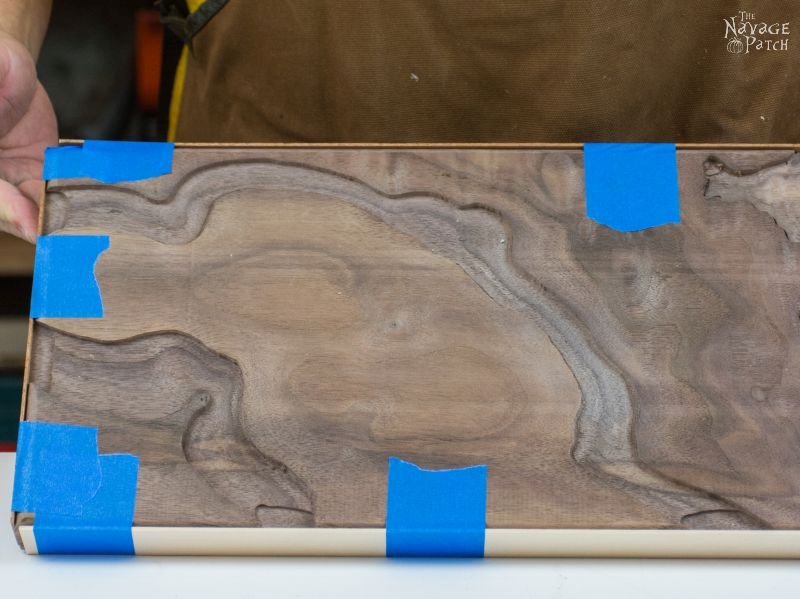 Notice that I routed a little deeper at the edges, about 3/16 inch, to give a better look when viewing edge-on.
Now that the board was prepped, I was ready to begin the turquoise inlay process.
I started with the largest grade, and sprinkled some crushed turquoise into the first riverbed.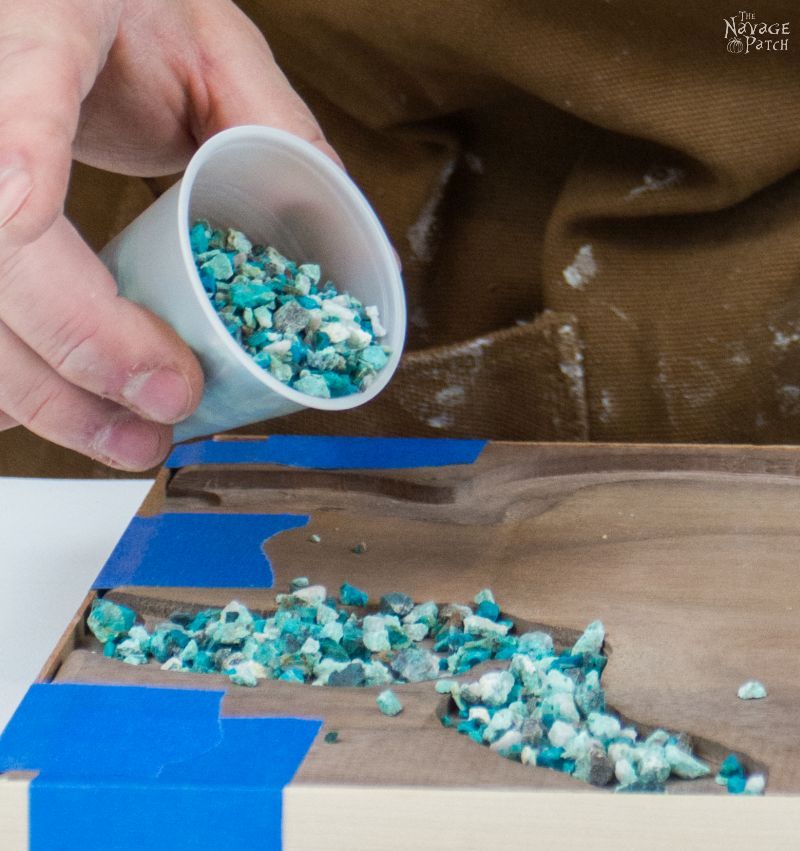 I followed with the next grade down.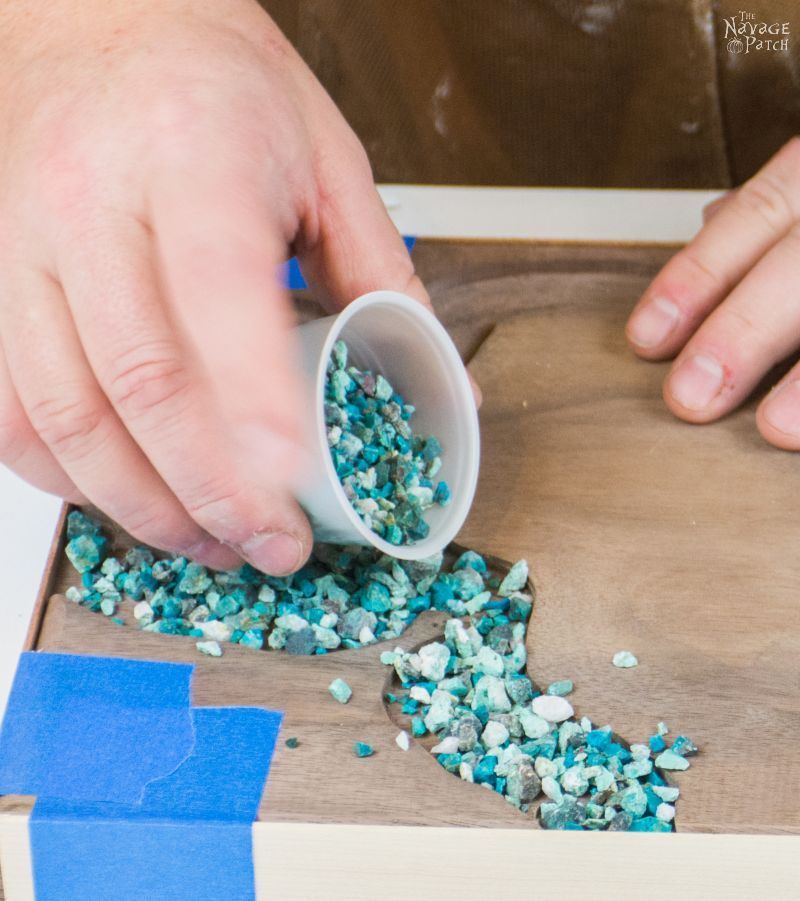 And so on…
…Until I had all the space filled and sitting just proud of (above) the board's surface. I used a chip brush to clean the little stuff off of the board and into the groove.
And I used a small paint brush to further define the edges of the groove.
Once I had the crushed turquoise placed to my satisfaction, it was time to gear up with PPE (personal protective equipment). Gluing isn't loud work, so I didn't need hearing protection. The stone dust wasn't flying, so I didn't need a mask. But I was working with cyanocrylate glue, aka CA glue, aka super glue. You may not have noticed when using small amounts, but the fumes from CA glue burn the eyes like acrid smoke or acid. Simple protective glasses wouldn't help. I needed something more.
With my peepers protected, it was time to break out the CA glue. I recommend Bob Smith Industries Insta-Cure Super Thin CA Glue for inlay work. He may have a generic name, but his glue is the best. You'll also want to order a refill bottle. Besides being the best CA glue out there, the price is orders of magnitude lower than if you were to buy the equivalent amount of those dinky little bottles they sell at hardware and grocery stores. And since even super glue takes an eternity to dry when you're really anxious to keep working, an absolute must-buy (and one of the coolest products on the planet, IMHO) is Bob Smith's Inta-Set Spray. If you thought super glue dried fast before, your jaw will fall through the floor and into the basement when you see this stuff in action. Without going into the exact chemistry of the reactions involved, the spray creates an exothermic reaction with CA glue and cures it instantly. The bottle says "a few seconds," but it's way faster than that for small amounts. It's one of the coolest things ever, and you'll want this stuff if you're going to tackle inlay work.
I applied the CA glue generously, ensuring that it soaked all the way through the crushed turquoise.
I then sprayed it with the Insta-Set.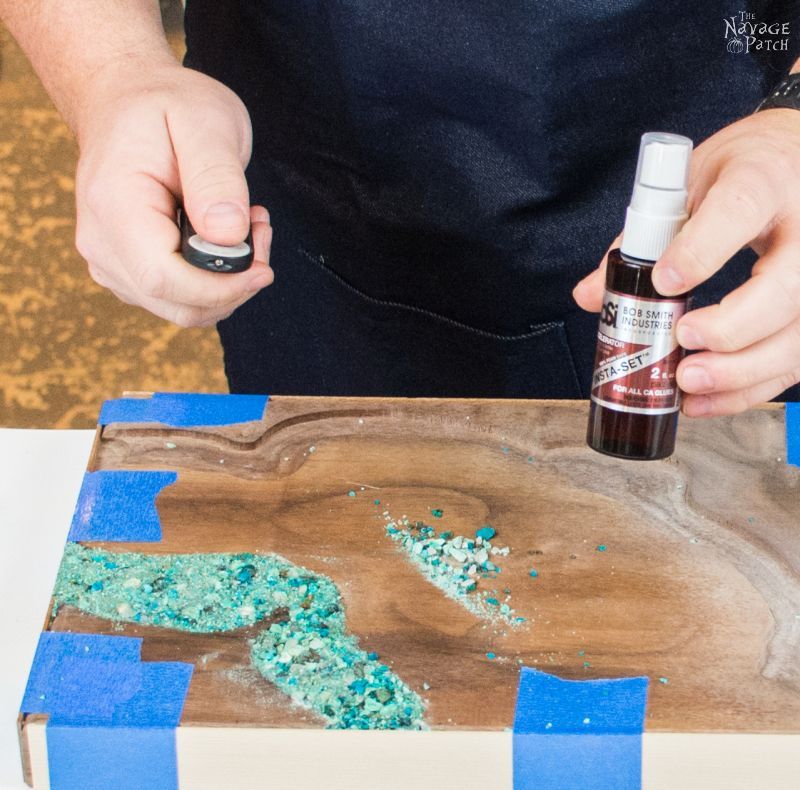 A note about Insta-Set spray: it creates a powerful smell that most people can't stand. To me, it smells pretty good. But you want to step away after spraying. Too much of that smell will have you seeing giant purple lizards crawling out of the walls of your workshop while wee leprechauns tickle your kneecaps with dodo bird feathers. Best to stand back and let the reaction take place without you.
I repeated this process for the remaining two turquoise inlay rivers.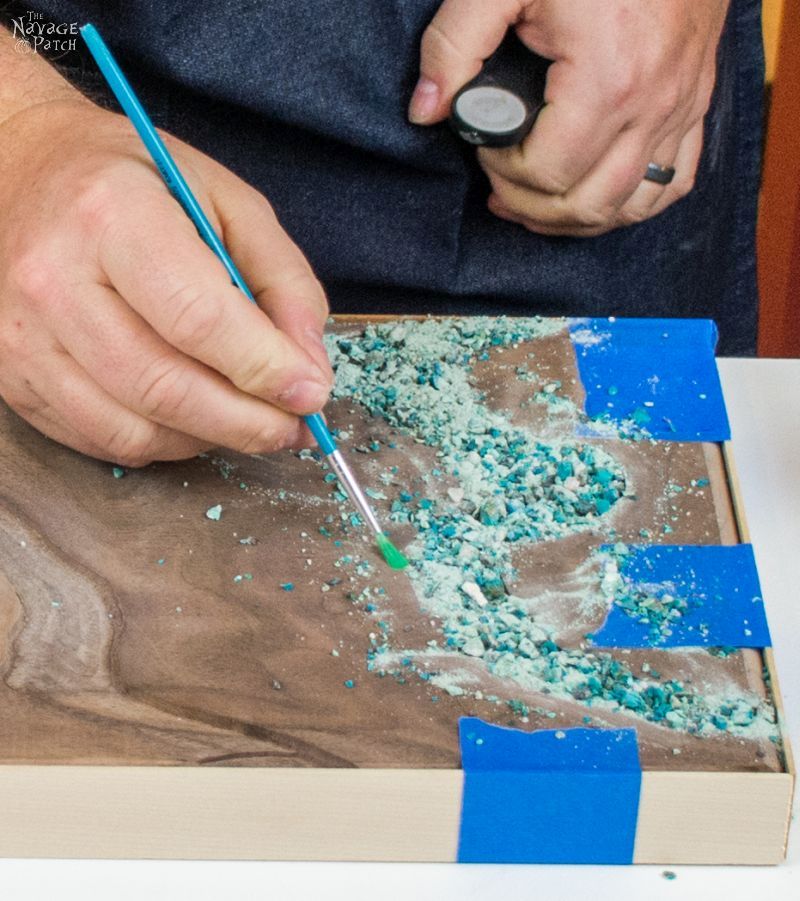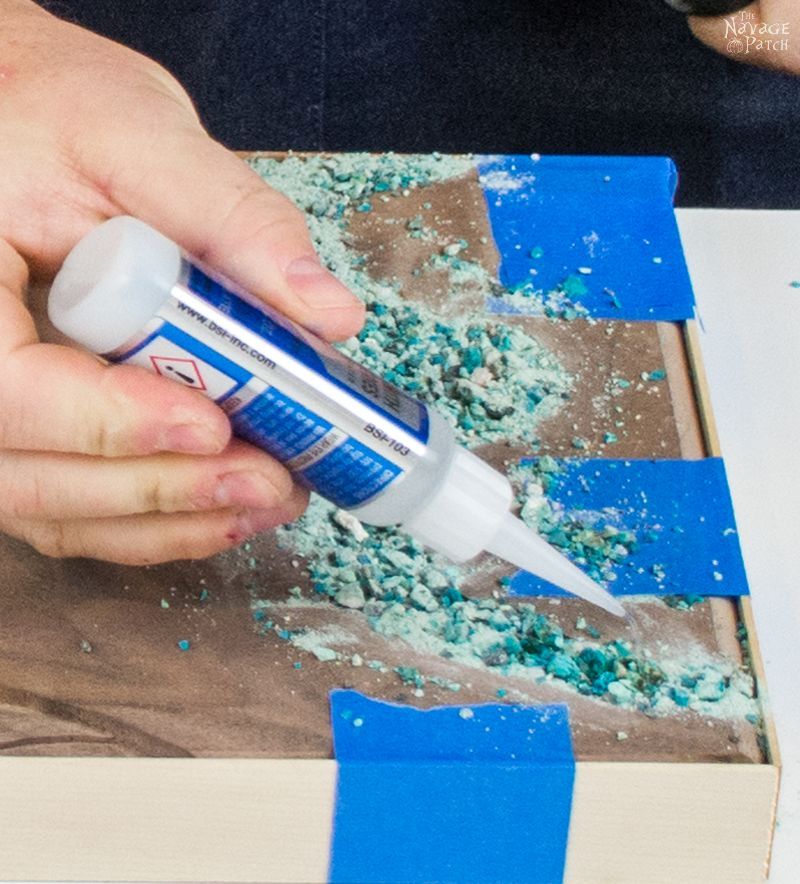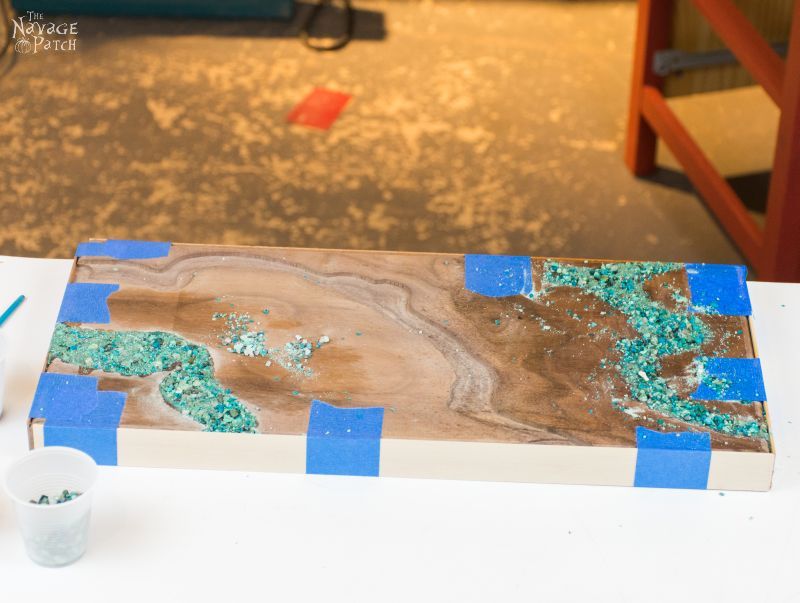 When all was filled and glued, I set the board aside and let the glue cure overnight.
Next was the hard part. Not only did I make three huge swaths of crushed turquoise inlay, but I filled them a little too tall, so I had a lot of rock to remove. The bigger your inlay, the harder it is to smooth it out. Better to do your first board with thin lines or even small circles (like from a Forstner bit) than huge rivers like mine. But I knew what I was getting myself into when I started the project, so I had to knuckle under and start sanding.
Grinding and Sanding the Crushed Turquoise Inlay
I started with the beast: my belt sander.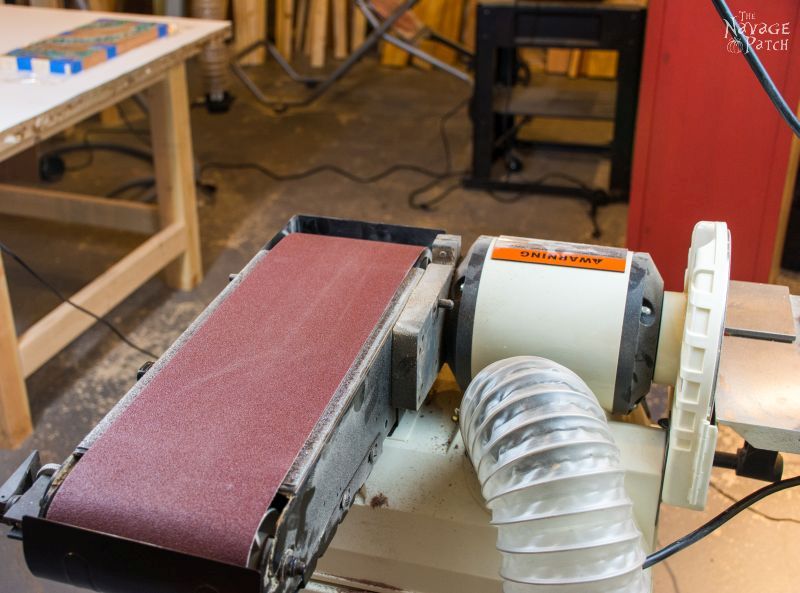 I blew through two brand new 80 grit belts in no time, and I had barely scratched the surface of my stone. I needed a new plan.
I decided to try an angle grinder. It would be risky, and I'd have to use a light touch. I geared up again, this time with full respirator, goggles and hearing protection. The stone would throw up simple dust, but the CA glue would send some really nasty vapors my way, and a simple particulate filter (dust mask) wouldn't do a damn thing to protect my lungs from those toxic fumes.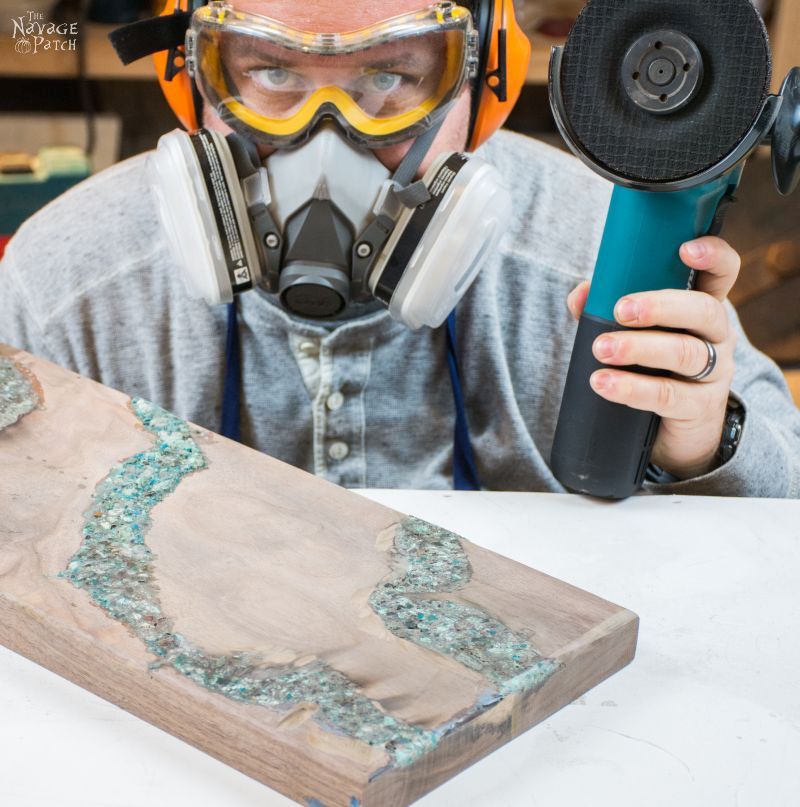 To keep the board from flying off the table, I held it in place with a clamp.
Even with all my gear, I had to take breaks to clear my eyes. Burning CA glue is just about the nastiest stuff I've encountered in my woodworking and DIYing thus far.
Once I had ground the turquoise inlay down to a more manageable level, I started in with my random orbit sander and 60 grit discs. I took off the respirator, but I remained geared up with PPE.
I went through a lot of 60 grit discs, I didn't count them, but expect to burn through 10, 20 or even more, depending on how much inlay you have.
When sanding this much stone, I haven't figured out a way to get the stone dead flat, nor to get the stone at the exact level of the wood. The stone will have some small variation and will still stand just proud of the wood. As you run the sander over the board, the soft wood will always wear away quicker than the stone. To me, it is the nature of the beast, given the tools I have. With smaller inlays, it is easier (and possible) to get the stone flush with the wood. This is something to keep in mind before you start your project. Personally, I don't mind the variations in elevation. It is a handmade product and has the imperfections that go with handmade things. Also, I like to use pretty large pieces of crushed turquoise, and that adds to the difficulty when sanding. Smaller pieces mean easier sanding, so you may want to keep that in mind when thinking about your first inlay.
Once I had the inlays sanded to an acceptable state, it was time to do some fill-ins. When using all the different-sized crushed turquoise, it is hard to get every bit of space filled with stone or glue, so I always end up doing a second round of filling and gluing. For round two, I only use the smallest two grades of crushed turquoise and the CA glue. Sanding was a cinch for the fill-ins, since I only used the really small bits of stone.
After the 60 grit, I flipped the board over and routed the bottom edges with a roundover bit.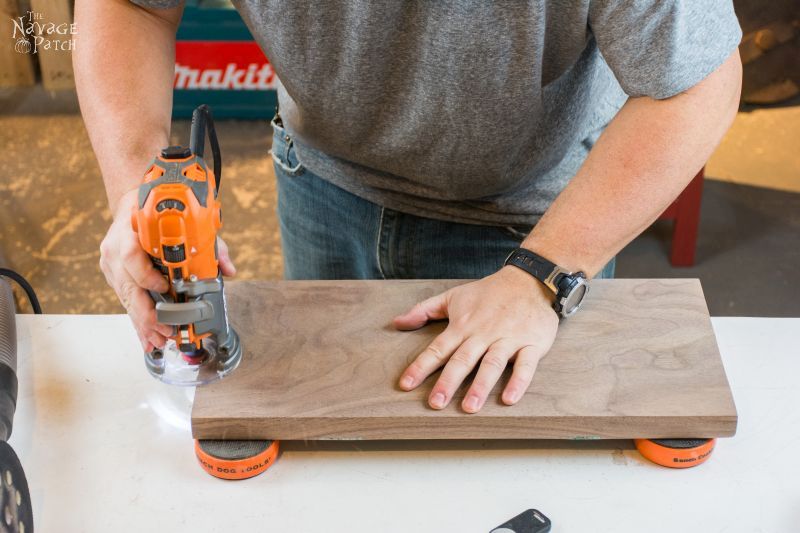 I then worked my way up through the grits, using 80, 100, 120, 150, 180, 220, 320, 400, 600, 800, 1000 and then 1500, until I had the piece almost shining even before putting a protective coat on it. After 150 grit, I again did a final touch-up with the finest grade of stone and CA glue and then carried on with 220 and higher.
I cleaned off the dust with mineral spirits.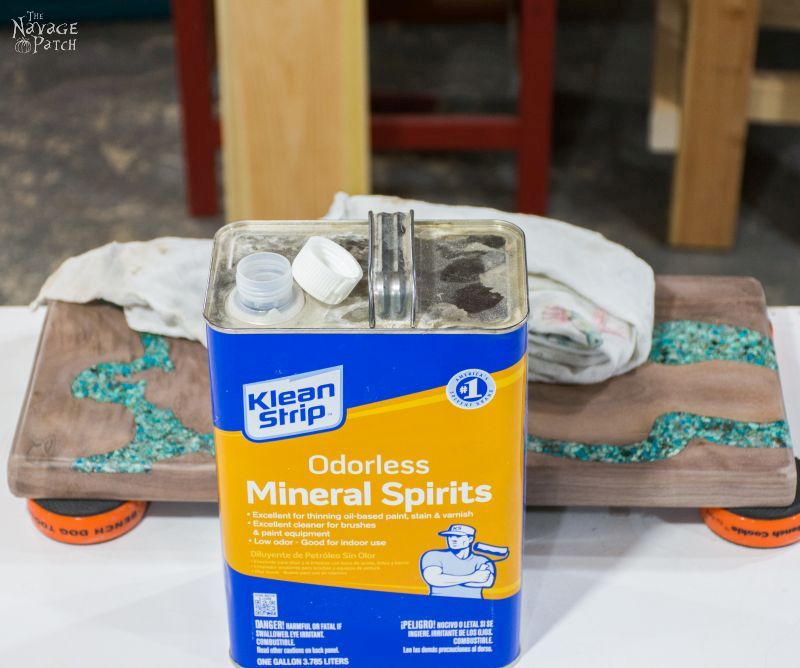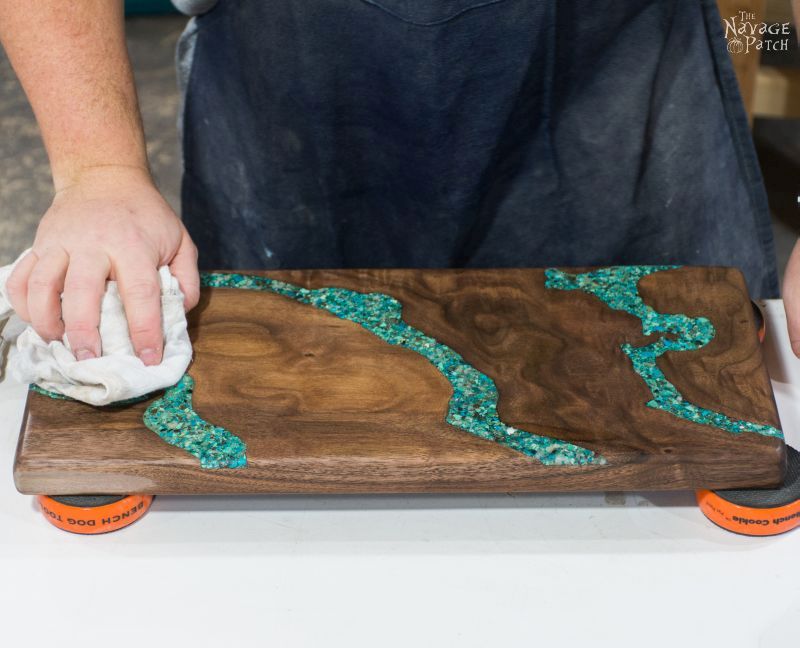 Then I flipped the board over and marked where the rubber feet would go.
I then pre-drilled the screw holes that I would later use when attaching the feet.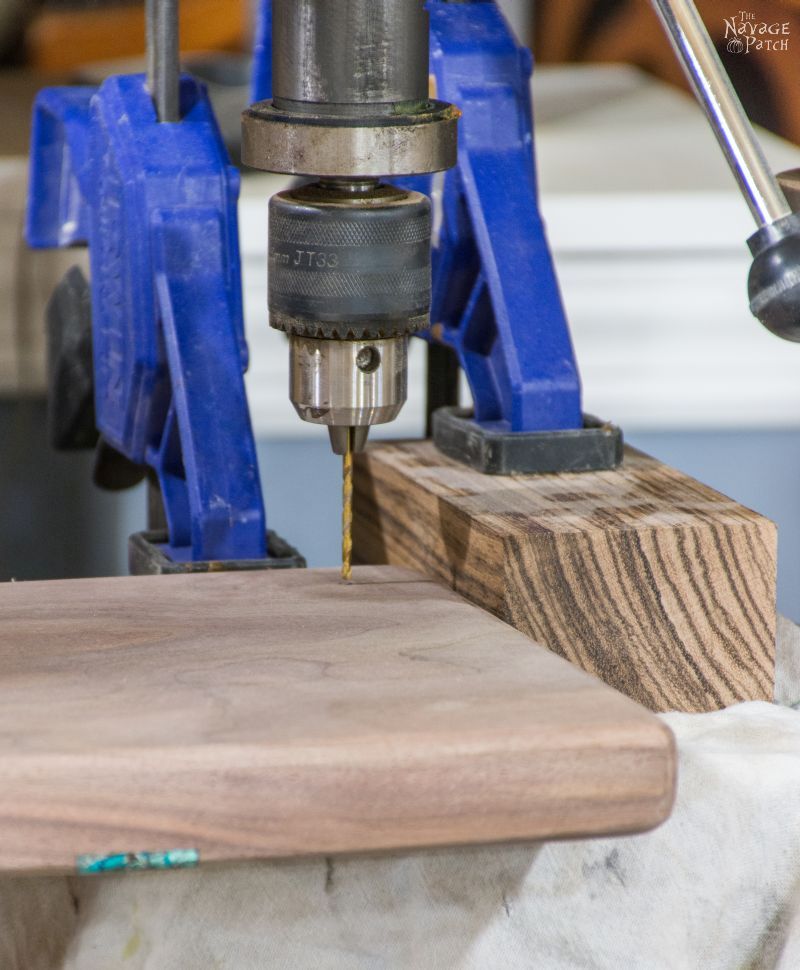 Finishing the Turquoise Inlay Cheese Board
The board was then ready for finishing. I grabbed my go-to finish for cutting boards and cheese boards.
I won't use anything other than General Finishes Salad Bowl Finish for my boards. It is a wipe-on finish that is food-safe when cured. I used nitrile gloves to protect my hands.
For the first coat, I mixed the Salad Bowl Finish with mineral spirits in a 40/60 ratio and applied it liberally to the board, starting with the under side.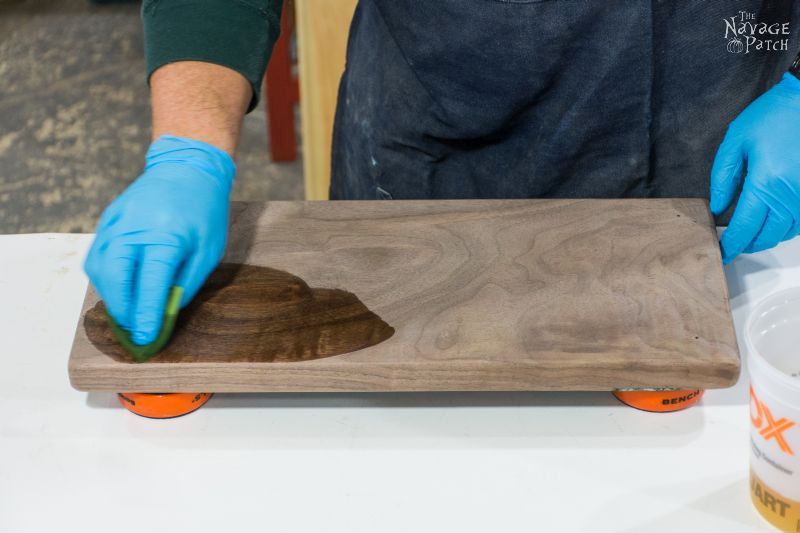 Before turning the board over, I slightly inserted four thin screws into the pre-drilled holes to act as legs when I flipped the board over to work on the top.
I applied the finish liberally to the top, letting the wood drink as much of it in as possible.
After about 8-12 hours, I lightly sanded with 2000 grit sandpaper, using barely the weight of my fingers for pressure. For the second and third coat, I increased the ratio of finish to about 50/50, again waiting at least 8 hours between coats and sanding with 2000 grit after each. For coats 4, 5 and 6, I used the Salad Bowl Finish undiluted, and sanded after each coat.
When I was done finishing the board, I attached the feet.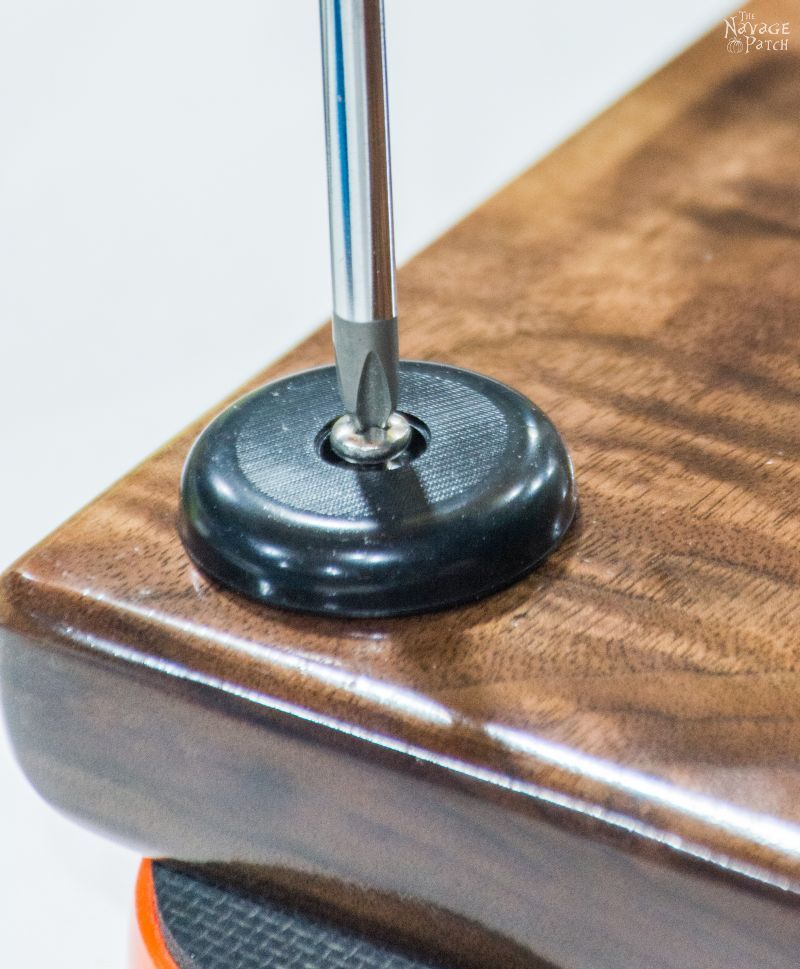 And my crushed turquoise inlay cheese board was done!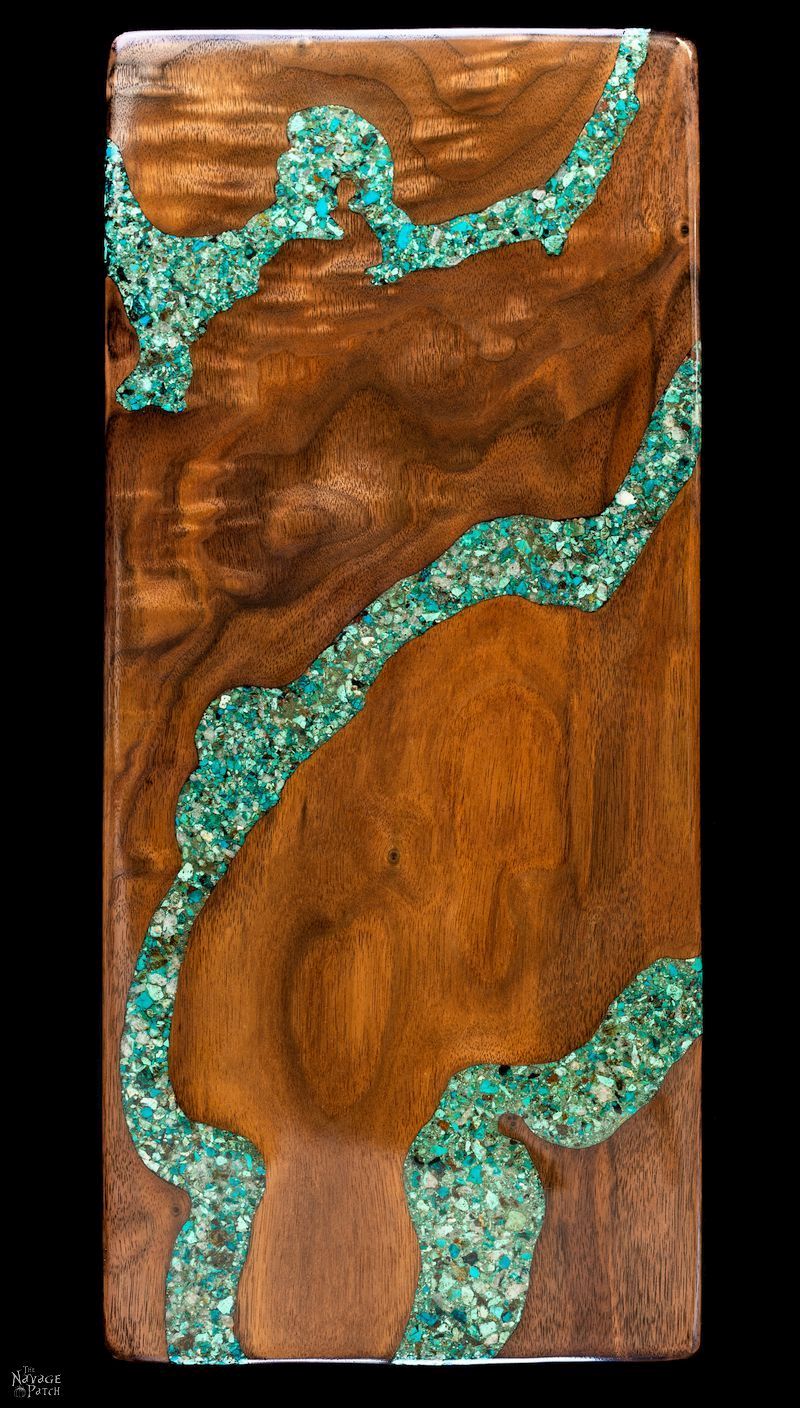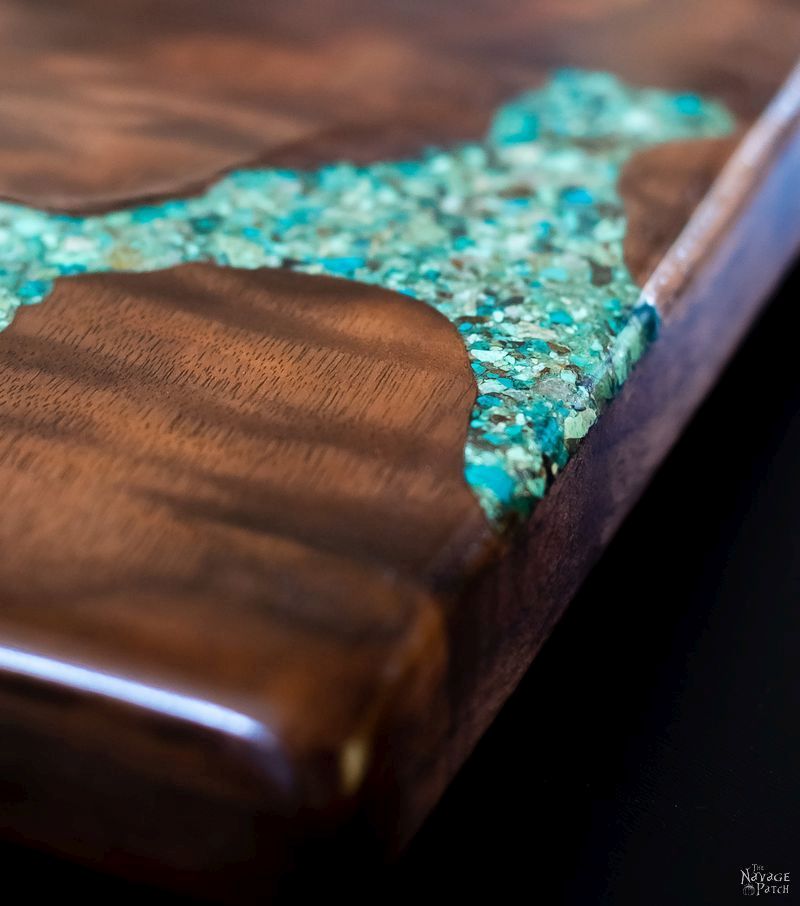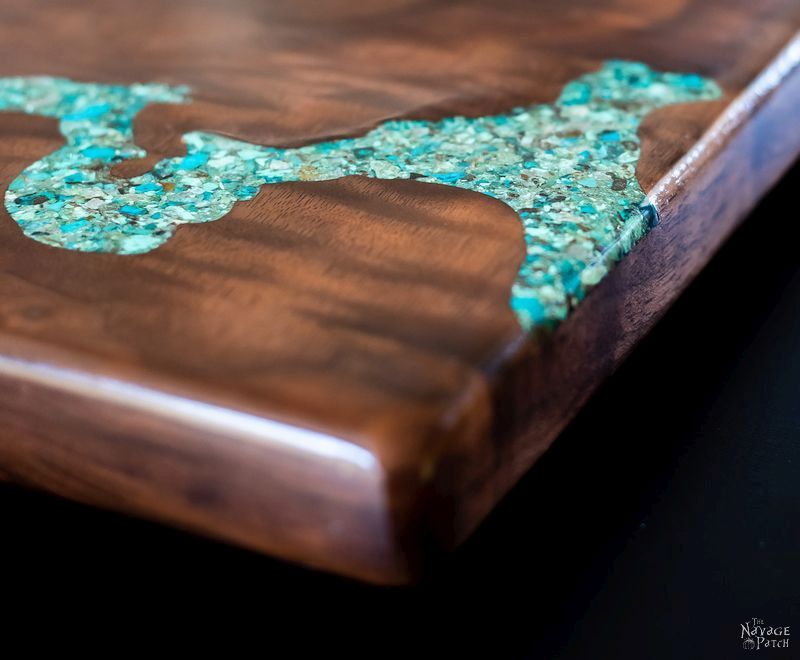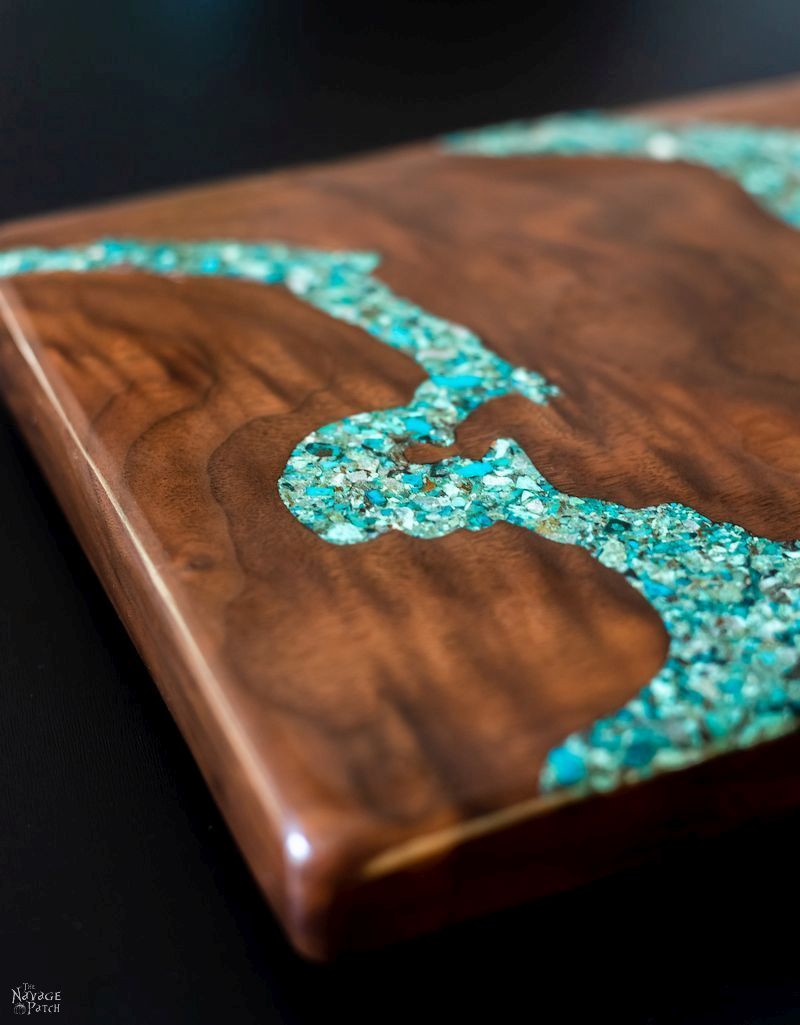 I hope you enjoyed this tutorial on how to make a cheese board with crushed turquoise inlay, but if stone inlay is more than you're willing to tackle, I also wrote an easy-to-follow tutorial on to make a cutting board which will teach you how to make the board pictured below.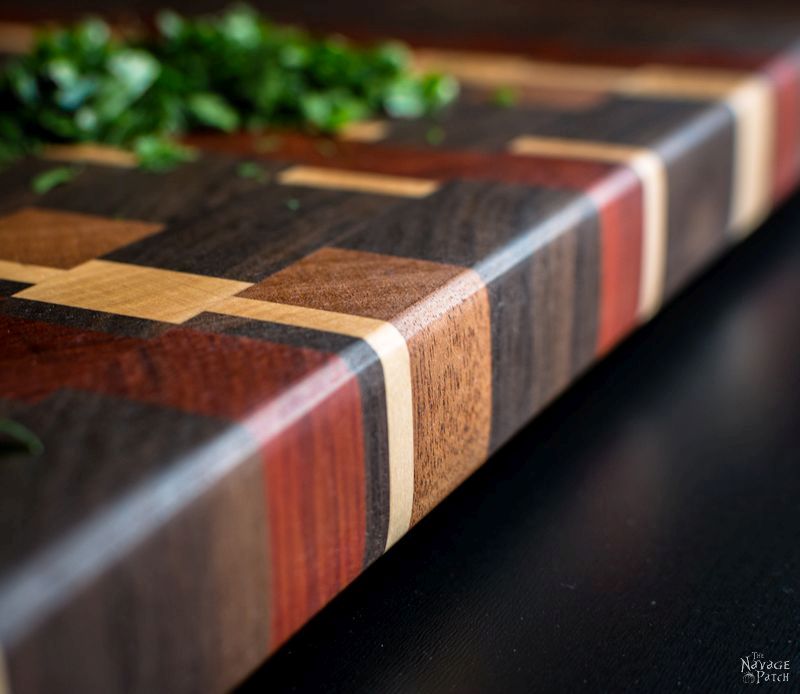 We love it when you share our posts on Facebook and Pinterest!