One of the easiest and most satisfying projects for woodworkers of all levels is the DIY cutting board. With just a little more work and imagination, you can create stunning showpieces for your kitchen like this Turquoise Inlay Cheese Board. I'll show you all the steps, including how to crush your own turquoise!
Soon after we launched this blog, I wrote a tutorial for making an end-grain cutting board. I didn't want to write the post. I honestly didn't think anyone would care. There were already hundreds (at least) of videos and tutorials for making cutting boards, so why would anyone want to read mine? I was a relative newcomer to woodworking, and a total noob to blogging. But Handan wanted me to write it, so what choice did I have? (answer: none)
That little tutorial, which I was so loathe to write, went on to become one of our best-read posts! The lesson is obvious and applies to all men: always listen to your wife. They know things. [of course we do! -Handan]
The downside to that post was that I was deluged with orders for cutting boards for the 2015 Christmas season. I could accommodate a few people, but my basement lair workshop is not set up for mass assembly, so I had to turn most people down. Besides, with the labor involved, even with a substantial price tag, making boards was not an economically sound business model. So those Christmas boards were my last. I was boarded out. I didn't want to look at another cutting board, unless I was chopping onions on it.
But as the months wore on, I found myself thinking about cheese boards from time to time. Cheese boards can be identical to cutting boards – that is, they can be end-grain or face-grain and used for cheese or chopping. But cheese boards allow a freedom of construction that traditional cutting boards do not. A cutting board needs to stand up to, but be gentle to, a sharp knife (wood and plastic rule for cutting boards). A cheese board does not. So, whereas you wouldn't dream of chopping veggies or cleaving a ham hock on a piece of stone, you wouldn't think twice about running that little round cheese knife through a wheel of brie plopped on a shiny slab of marble.
A friend recently asked me to make her two more cheese boards of the sort I used to make a couple of years ago. I had sold her a matching pair, and now she wanted more! They were the envy of all her friends, and she has to loan them out on occasion, she told me.  Unfortunately, I had to turn her down. Now that The Navage Patch is in full swing, I no longer have time to make boards for sale anymore. But then I got to thinking…
What if I made a new kind of cheese board? Something with class and elegance. I could write about it here, and she would get one hell of a board – an absolute one-of-a kind. The board I had in mind would be made of walnut with rivers of crushed turquoise inlay coursing through its grain. I had just the piece of wood in the basement…
Two years ago I bought an 8 foot length of walnut that was 8 1/2 inches wide and about 1 1/2 inches thick. Normally walnut has rather straight and uninteresting grain, but this piece had highly detailed (figured) grain running down its length. I wanted to use it for something special.
Well, as the months rolled on, I used a piece here and a piece there for some end-grain cutting boards I was making, but I never got a chance to showcase that beautiful figure. I held onto a piece in the hopes that one day I'd use it in a project where the walnut's beauty would shine. That day had arrived.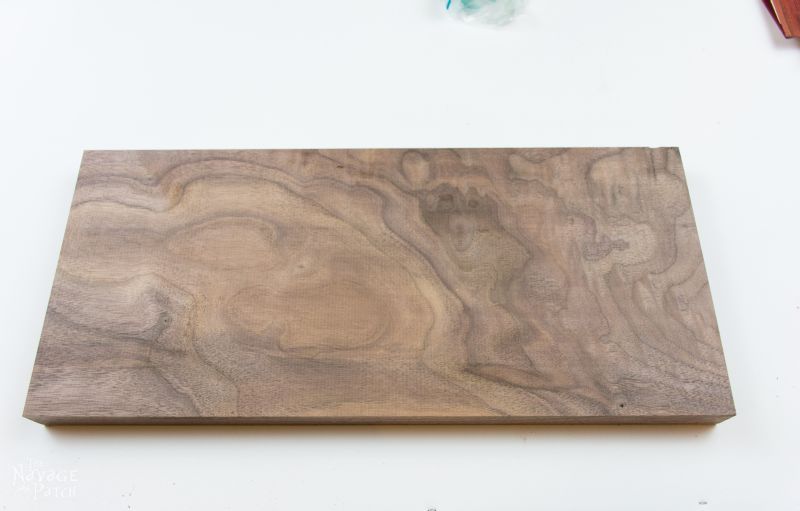 Instead of cutting the board into strips, I would keep it whole. I wasn't worried about it warping at this point – the board had been sitting in the basement for two years enduring hot, humid summers and chilly, bone-dry winters. If it were going to warp, it would have done so already. Besides, the stone inlay would help keep it straight.
There were some interesting grain patterns there. I outlined three of them with pencil.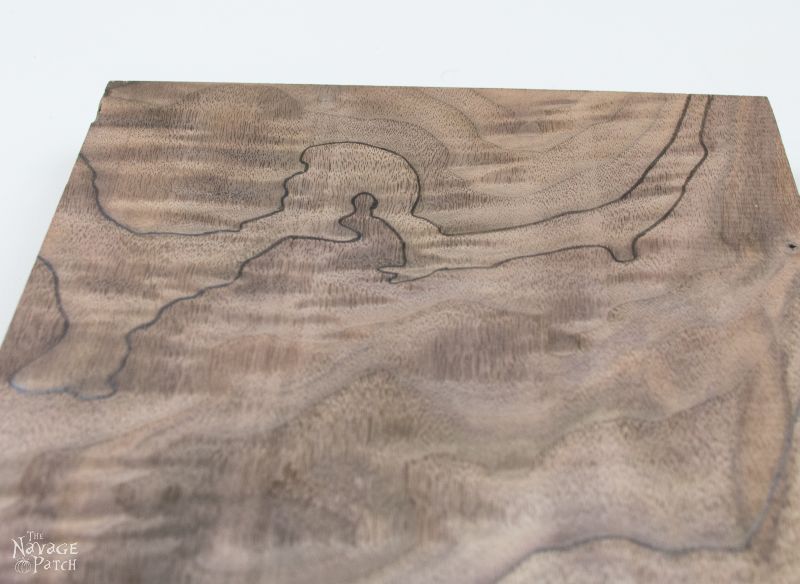 These would be my three rivers of turquoise. I used a plunge router with a 1/16 inch straight bit to trace out the edges of my rivers. I set the depth to about 1/8 inch.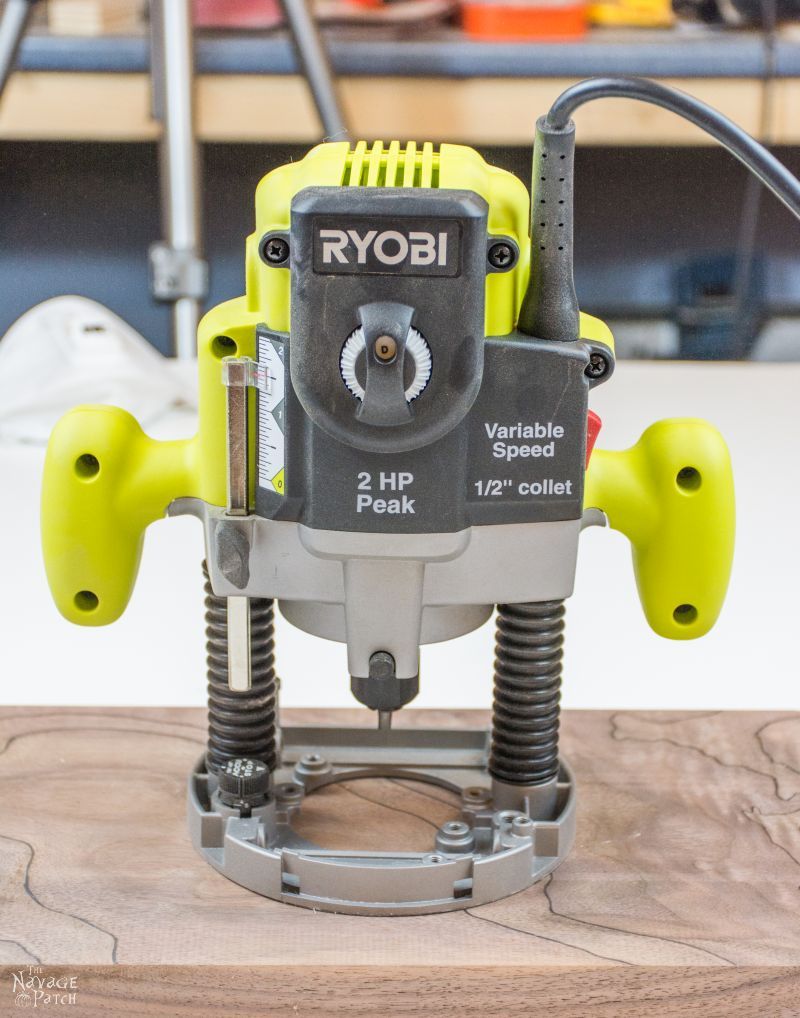 This is how it looked when the initial tracing was complete.
Next, I swapped out the 1/16 inch bit for a 1/8 inch straight bit. With this bit, I chewed away at the remaining wood in the riverbeds.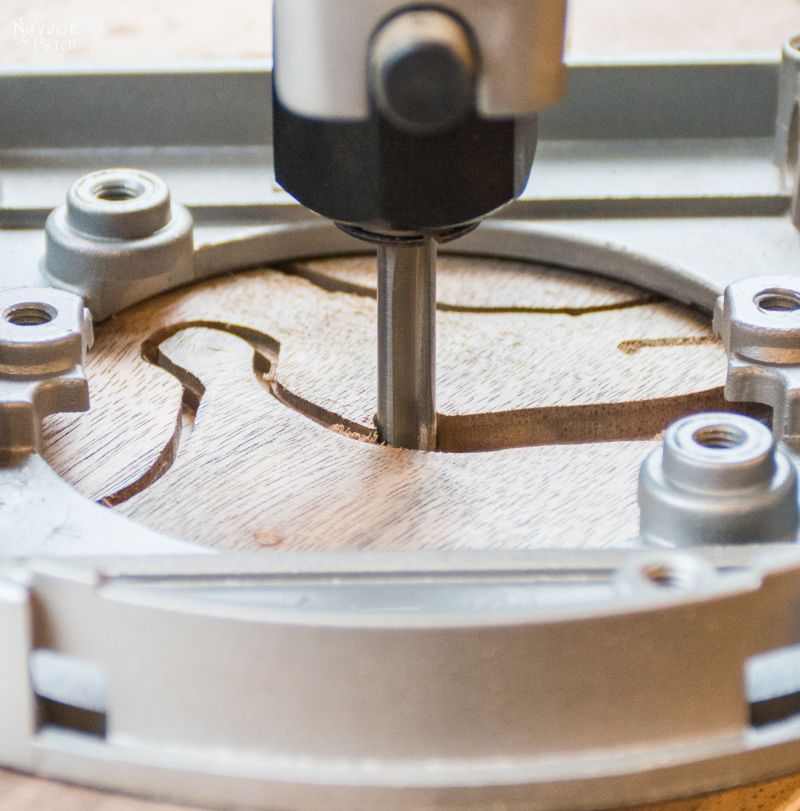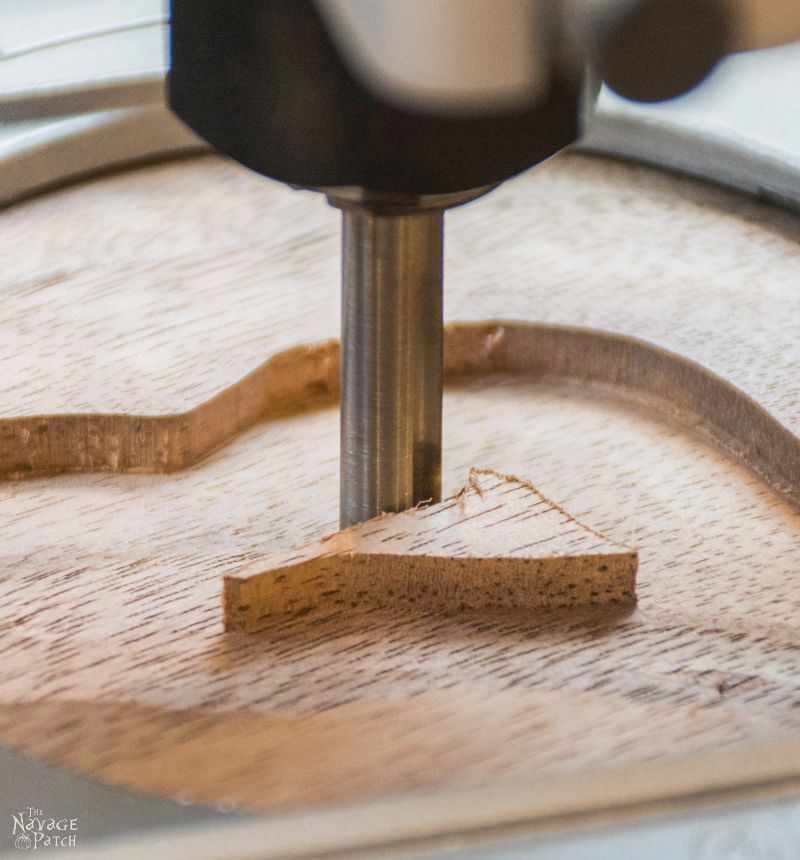 Until the board looked like this.
The board was ready for the crushed turquoise inlay, but first I had to get some crushed turquoise! I had gone through the hair-whitening task of pricing crushed turquoise a couple of years ago when making my Beauty in the Beast console. Jeezum Crow! I would expect a baggy full of gold nuggets and maybe a piece of the Holy Grail for the price these people were charging for crushed turquoise! As is always the case when confronted with heart-seizing sticker shock, I found a way to DIY my crushed turquoise. I found several people on Ebay who sold rough raw turquoise. I bought some from one seller that had pure turquoise mixed in some white rock ore. I bought some from another seller that was a mix of turquoise and chrysocolla.
There are two pieces of pipe in the picture above. One is 1 1/2 inches wide by 6 inches long, and the other is 3/4 inch wide by 10 inches long. The narrow pipe has end caps on both ends, while the shorter pipe only has one end cap. I used them to crush my turquoise. Before starting, I put on the appropriate protective gear. Turquoise dust (or any rock dust, for that matter) is bad for the lungs, so I wore a particulate filter mask. Since hammering the rock was really loud, I wore hearing protection. And just in case a stray piece of rock decided to fly towards my eyeballs, I wore safety glasses.
First, I selected a piece of ore.
Then, I checked to see if it would fit into the wide pipe.
This piece was a little too big, so I hammered it in.
I then inserted the narrow pipe and beat it with a hammer for a little while, occasionally dumping the pieces into a box to check how things were going.
Click on 'Page 2 of 4' below to continue.
We love it when you share our posts on Facebook and Pinterest!