Farmhouse Patent Art (and Surprise Bonus Printables)
Bring some vintage charm to your decor with these 18 free Farmhouse Patent Art printables. As a bonus we've included 12 free Olive Branch Botanical Prints and 2 free Oversize Phonetic Alphabet – Morse Code Wall Art printables.
Hey, remember my recent Football Patent Art post?
No?
Well, neither does anyone else. That post stunk like a catfish in a peach tree, so to make up for that stinker, I'm going to give you something I know you'll love: Farmhouse Patent Art!
Hey, when the bandwagon is running, you better jump on board from time to time, right? So let's hear it for Farmhouse!
FARMHOUSE! FARMHOUSE!
RAH RAH FARMHOUSE!
You know, now that I think about it, I'm not really jumping on any bandwagons, and I'm not really all that full of crap (though Handan may disagree). I actually worked on a farm here in Glastonbury, Connecticut when I was a kid. I'd say that gives me more Farmhouse cred than most people blathering on about it these days!
So maybe I'm a little bit of a snob. So what? Get your mind back to the post and the printables, madam! Okay look, I wasn't out there milkin' cows or collectin' eggs or forkin' hay or anything like that. But I was picking tobacco and driving old tractors and climbing around in the rafters of old barns. In the mornings, we used to pick tomatoes for an hour before heading over to the tobacco fields. Man, I hated that. Not only did it require constant and repeated bending (Ken Horton grew his tomatoes on the ground, not up on trellises), but afterwards, my hands reeked of tomato stem – a smell I can't stand to this day. Just ask Handan – whenever we're out working with our tomato plants, I whine like a three-year-old about those smelly stems. But those Horton tomatoes were excellent. We'd eat them like apples, straight from the bush. And that's the other problem with those summer mornings spent bent over like an old crone: those tomatoes were so damn good that they ruined all other tomatoes for me! Unless they are farm-fresh and perfectly ripe, I won't touch them. Working at the farm had turned me into a tomato snob. Well, it wouldn't be the last time I snobbed-out about something. Come to think of it…I'm pretty snobby with a lot of food and drink.
Before we begin, be sure to follow us on Pinterest, Facebook and Instagram, and click the subscribe button at the top of this page to sign up for our email list so you'll never miss a post!
Farmhouse Patent Art
Actually, all credit and glory for these awesome farmhouse patent art free printables goes to Handan. Normally, she would write the post too, but I offered to relieve her of the burden, because I wanted to take all the glory for myself, mwahahahaha. Nah, I'm just kidding. She's been a busy bee lately juggling her "real" job and the blog work, so I just wanted to help her out. Now here's the thing about Farmhouse: it's all about making your house look like it just popped out of 1931. Except for the kitchen appliances. Gotta have that fancy range and a refrigerator that knows more than you do. You know the one that monitors your inventory and fires off an order to Amazon whenever your free-range eggs, organic skim milk, Yoplait and gluten-free, sugar-free, fat-free snacky cakes dip below critical thresholds? Yeah, that one. Here's the real question, though – do any actual farmers live in houses decorated in the current Farmhouse style? Or do they look at all of this faux-farmy nonsense and just shake their heads and wish they actually had time to decorate?
If you're a real farmer, please let me know in the comments.
Well, either way, we're going for Farmhouse, and what better way to capture that vintage charm, than with prints of old farm patents? It's genius! Let's get to 'em!
You can't have a respectable farm without a tractor, right? Wellllll, then you can't have a Farmhouse without one of these farmhouse patent art printables!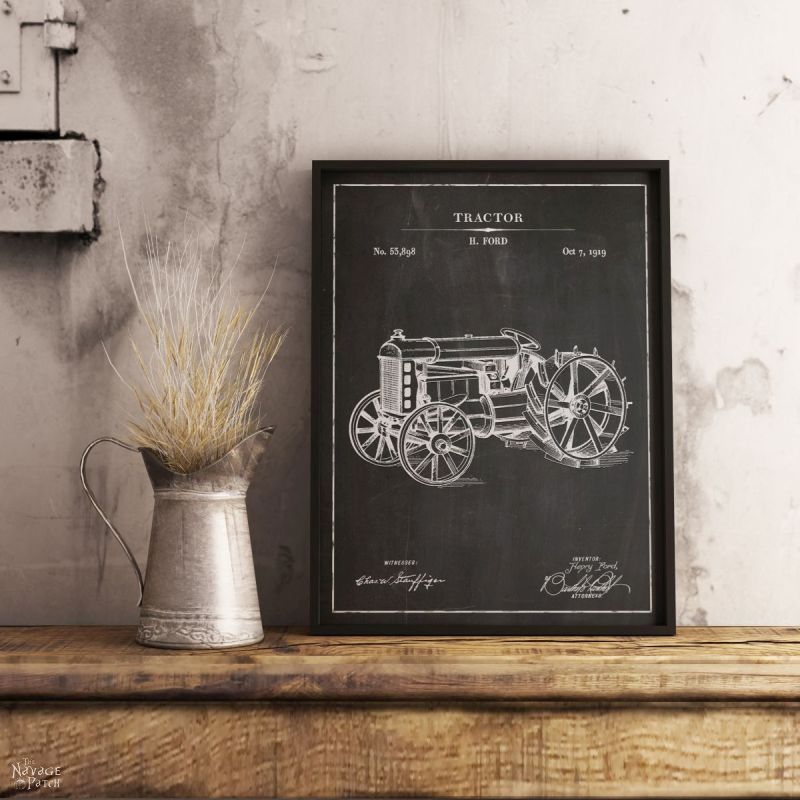 That reminds me of Horton's Farm. There were two tractors that I recall. One was a blue Ford from the 1980s that was probably a direct descendant of the one pictured above. The other was a red International Harvester Farmall from the 1940s. It had two huge back wheels and two tiny front wheels. A three-foot exhaust pipe (I called it a smokestack) protruded from the engine hood.
When we harvested the tobacco, we'd sometimes find tobacco worms – great big green things with horned heads. We would collect a few and dump them into the Farmall's smokestack while the tractor sat idling. After the worms had cooked for a few minutes, one of us would grab the throttle lever and yank it open all the way. The engine would roar to life and the smokestack would belch a great gout of smoke through which the tobacco worms hurtled like tiny green Apollo astronauts on a doomed moonshot.
We had a lot of fun on the farm, but launching tobacco worms still holds a special place in my heart.
I only wish there were a silo on that farm. I feel like silos offer so many excellent opportunities for a rotten kid to get in trouble. Oh well. I'll have to settle for this awesome vintage patent print of a silo instead.
Am I the only one who thinks about rockets when looking at silos?
Though Horton's Farm wasn't an animal farm, there were a few small ones in town when I was a kid. I remember I milked a cow once. I think it was at my friend's grandparents' farm that sits only a couple of miles from where I sit typing this post. Two notable things happened during that farm visit: I milked a cow, and I nearly decapitated myself on a barbed wire fence while riding one of their all terrain vehicles around the fields. But that's a different story. Let's get back to the cow. If you've never milked one, I highly recommend it. There's nothing like really fresh milk!
Of course, I didn't use some fancy-pants "cow milker." I did the job with my fingers, much to the cow's dismay, I'm sure.
You know, if you look at any photo or painting of an old farmhouse, there are two things you're pretty much guaranteed to see: a barn and a windmill. I think windmills are neat, but I don't know if I've ever seen a real one up close. I mean a real one that was actually converting the wind's energy into useful work like pumping well-water or irrigation. Mostly people just have them for show these days – just another flying projectile for the next tornado.
I remember as a kid hearing awful stories about guys getting various body parts caught in big agricultural farming machines and the resulting carnage. I looked upon those big machines with awe and fear. But without those terrifying arm-eaters, we'd still be out walking through endless fields with sickles and flails, thinking to ourselves, "Good god this is boring! There must be a better way!"
We didn't have threshers at Horton's Farm. We harvested the tobacco plants with small hatchets that had been used since the family bought the land back in 1860. Once we harvested the tobacco leaves – it was broadleaf tobacco, and the leaves were used for cigar wrappers – we hung them in a big drying shed where they would stay until they were shipped off to a middleman who would further cure and age the leaves before selling them to cigar makers in Cuba and The Dominican Republic.
This last patent reminds me of those drying sheds on Horton's Farm, though they were much bigger!
I'll share one last farm memory before we get to the surprise bonus printables.
A few of us kids were standing around in front of one of the drying sheds early one morning before the work began. It was a cool morning, and the dew had fallen overnight, covering the grass with water droplets. One of the kids spotted a tobacco leaf on the ground filled with an ounce or two of clear liquid.
"Ooooh!" He said and ran over to pick up the leaf, careful not to spill any precious morning dew. "Taste the nature!" He exclaimed before raising the leaf to his lip and giving a mighty slurp. His face immediately contorted, and he spat the liquid to the ground.
"BLECH! Chemicals!" He shouted, wiping his mouth on his arm, as we all whooped and hollered and laughed at his misfortune.
Even the simple farm life had its perils. I think he learned a valuable lesson that day.
Okay, on to the bonus printables!
Olive Branch Vintage Botanical Illustrations
The first lot is the vintage olive branch printables. Handan loves these olive branch illustrations, in fact she loves all things Mediterranean, as they remind her of Izmir and Antalya in Turkey.
Phonetic Alphabet Wall Art
The second bonus printable is a phonetic alphabet – Morse code wall art. In December, one of our readers named Sidney asked if we could prepare a printable for her of the Morse code alphabet. She wanted to give it to her husband, a former Navy submariner. I told her if she didn't mind waiting until January, we'd be happy to oblige. Well, the printable looked so good, we decided to share it with everyone!
Note that one of the files can be printed BIG – like 6-feet-tall big! It would look awesome in a man cave.
Apart from the Morse code alphabet, Handan designed today's offerings to fit into a 16×20 inch frame or a 24×36 poster frame, though you may scale them up or down as necessary. 24×36 inch scales down easily to 20×30 / 16×24 / 12×18 / 8×12 / 4×6 inches, and 16×20 inch scales down to 12×15 / 8×10 / 4×5 inches with no problems. If you need help with scaling down these printables so you can print them using your home printer, then make sure you check out our "How To Easily Resize Pictures" post.
Also if you don't have a large format printer like Canon i8720 Printer (prints up to 13×19 inches) and are wondering the best place to get these large printable printed, we recommend trying Staples in your area or Amazon print shop. Both stores offer custom-sized prints on matte or glossy paper and they both cost about the same. Staples also offers Engineering Prints, which are really affordable for large-format prints, but in some areas (like ours), they must be ordered from their online print shop.
As for the Morse code alphabet wall art, it has 2 sizes: 30×60 inches and 30×72 inches, and of course these printables can easily be scaled down.
How to Download The Farmhouse Patent Art and Surprise Bonus Printables
Okay, enough of my yapping. Click on the button below to download the printables you'd like! You'll find the Farmhouse Patent Art under the "Patent Art" tab of the VIP Patch, Olive Illustrations  under the "Vintage Illustrations" tab, and the Morse Code Alphabet under the "Home Decor" tab.
If you're not a Navage Patch VIP, you won't be able to access our Freebies Library. But that can be easily fixed! Subscribe for free on the form below and become a Navage Patch VIP. Once you subscribe, a password will be sent to you in our Welcome email, and that will give you access to The VIP Patch [Freebies Library] and today's Christmas watercolors. If you didn't receive our Welcome email, can't find the password, can't find the printable or have any other questions on this process or on our free printables, please check our Printables FAQ page.
If you display our free printables in your home, be sure to take a picture and post it on Instagram! Don't forget to tag us @TheNavagePatch! We love to see our printables out in the wild!
We love it when you share our posts on Facebook and Pinterest!