Digging Up Numbers in The Patch
The year in review – Navage Patch style! A quick and funny look at the numbers and stats that made 2017 a great year here at The Patch. Let's dig in and see what we find!
I know, I know, I already did the 2017 year-in-review post. So what the heck am I doing now, in 2018, still yammering on about 2017? It's so…it's so…twenty seventeen. Okay, look – the official story is that 2017 was a great year for us here at The Navage Patch, and we wanted to share some numbers and statistics with you.1
First off, dearest and most wise and exalted reader, there were far more of you in 2017 than there were in 2016. I checked our numbers for both years, and Google Analytics tells me there were 763,389 readers last year. Google calls you "users," but really, that makes you all sound like a bunch of drug addicts, so I'll stick with "readers." That's a 415% increase over 2016, so great job and a hearty welcome to all of our new addicts readers!
Over the course of 365 days, you readers slid your eyeballs across 1,659,433 pages of exhilarating text and titillating pictures. While I don't have hard data to back up my claim, I'm practically almost certain that the number one picture of the year was this one: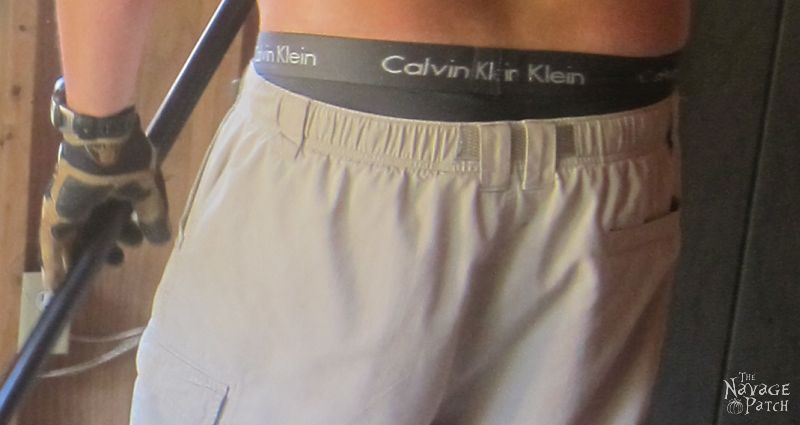 Hoooo weeee! It's getting hot up in here. Somebody get me some ice! Oh wait, it's 4 below 0 outside, I'll just have a stroll around the yard.
By the way, those pageviews were up 459% from 2016. Way to go!
And while I'd like to think it was all thanks to my Calvins, the cold hard truth is that it was really because of Handan and her Waterdrop Solar Lights.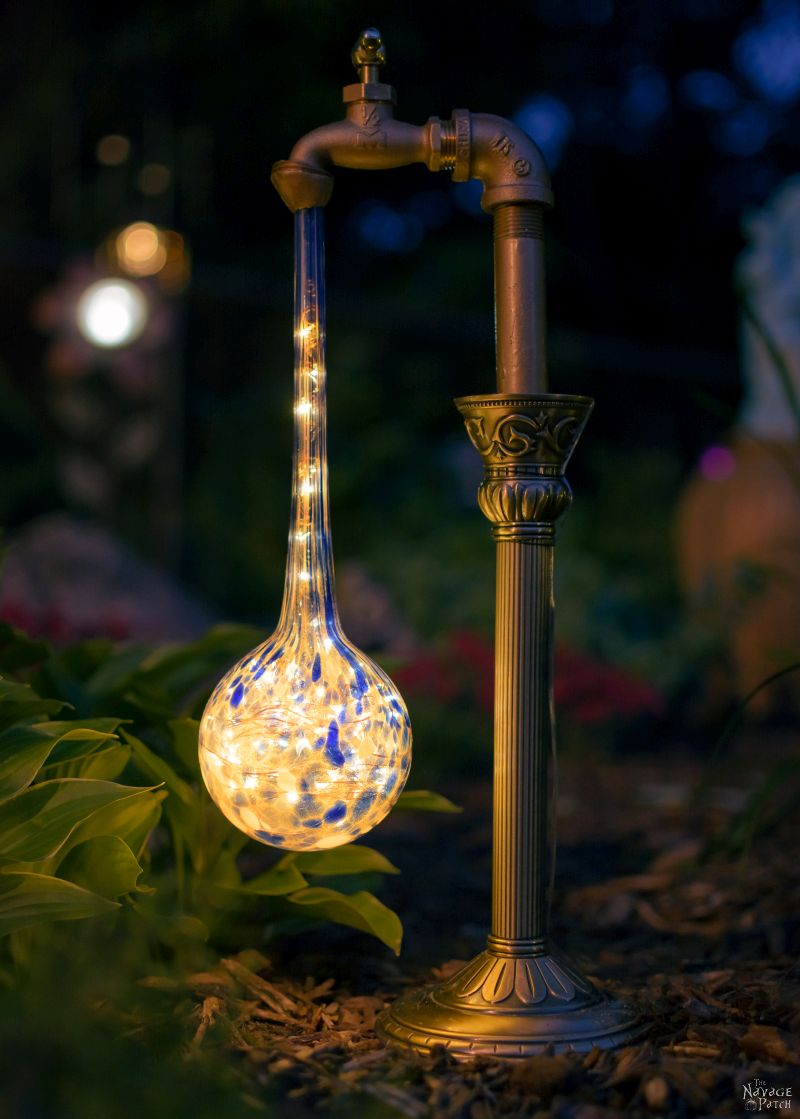 On June 18, that post went viral and led to our single biggest day in Navage Patch history. When the clock struck midnight on the 19th, we stood at 40,744 pageviews. I thought Handan was going to tear her face in half, her smile was so big! Now compare that to our weakest, most pathetic day in 2017 which fell on January 4th and only gave us a paltry 603 pageviews. What a difference! We never would have guessed on that bleak and lonely January day almost one year ago where we would be in only 6 months!
Speaking of going places, we put a few miles on our car, zipping between home, work and all the craft stores in Connecticut. 23,744 miles to be exact and 4 new tires, to boot. A good many of those miles were made with Handan sitting right by my side. Can you guess what her most common phrase was while riding with me?
"Babes! Watch the road!"
"Yeah, but all the good stuff is over there!"
Okay, so I didn't count every time she said it, bu I'll put the estimate at 276. Might be a bit low, actually.
And, hey, I did eventually get my eyes back on the road, and I returned us safely home so we could continue to write content for the blog. Last year, we wrote 78 posts, and that was down from 2016, when we wrote 97. The drop is mostly due to Handan not writing much last spring. She wrote 27 posts in 2017, down from 45 in 2016. As you may recall, she quit smoking in January, and for a while, it sapped all of her energy and creativity. While she was working to rebuild herself, I kept humming along. I racked up 51 posts in 2017 – one less than I wrote in 2016. You may remember those spring months as The Great Gregory Borefest of 2017.
And you must have been bored, because even though I wrote fewer posts in 2017, I wrote about 3% more words – 96,581 to be exact. 6,603 of those words came in that vacation post I wrote.
Can you believe it? I'm always bitching about vacation posts, and then I go and write a novella about our holiday. Kudos to you, if you read the whole thing! Handan gets the nod for the second longest post at 6,266 words with Painting 101: The Complete Guide on how to Paint a Room.
Looking at the other end of the spectrum, Handan wins in the "shortest post" category with her Faux Succulent Wreath post that clocks in at a lean and mean 426 words.
Yep, I'm definitely the yapper in the family, for better or for worse! [and yet, he keeps telling me to "clam it!" – Handan]
Writing all those words really worked up a thirst that could only be quenched by the 300+ dry martinis I quaffed throughout the year. Although, come to think of it, I may have needed some of those to tune out some of the several thousand "Hey Babes!" I had to endure in 2017. As you may remember, "Hey Babes!" is never followed by anything good.
And did you know, my dearest addicts readers, that you have pulled off a singularly amazing achievement in 2017? Though there are currently only 195 recognized countries on our fair blue planet, Google (in all its infinite wisdom) informed me that we had readers from 206 countries in 2017. So, yay! We've discovered 11 heretofore unknown countries! I'd like to be considered for the ambassadorship to one of them. Preferably a warm one. With a lot of beaches. And a rum distillery. Thank you.
Ahhh, I can almost feel the sea breeze and the sand in my toes. On a sunny tropical island in a newly-discovered country, I might be able to break my 2017 record for the longest stretch without a shower. How long, you ask? I mean, do you really want to know? Very well, madam, if you must know, I once abstained from the cleansing waters for 7 days. I'm proud of it, too. I still smelled like rose petals on day 7. [No comment! – Handan]
And speaking of relaxed standards, did you notice how many times Handan wore pajamas while working last year?
In total, I counted 21 times she couldn't be bothered to properly dress herself, and I don't think I started counting until spring! Yeesh, I may not shower, but at least I dress myself in proper clothing!
Ahem. Well, yes, as I was saying…
Enough about pajamas! Let's give a shout out to our most prolific commenter, Chris Tucker. She suffered through every post and left us 76 awesome comments! You keep commenting, Chris, and we'll keep writing and creating. Thank you for your support – we wouldn't be here without you and everyone else who takes the time to write to us. Seriously, we would have thrown in the towel after a year without the encouragement we've received from our awesome readers.
Hey, remember that mailbox makeover I did?
Okay, well I still haven't received any checks in it. Large checks received: 0. Still waiting, people…
And while I while away the days waiting for someone to stuff an enormous check into my mailbox, Handan has been busy wishing for Better Homes and Gardens to invite her to their group Pinterest boards. I think she wished for it on all 365 days of 2017. Who knows, maybe one of the all-powerful deities at Better Homes and Gardens will read this post and take pity on two puny dirt-scratching bloggers and invite us to their board?
And the final number, dearest addicts readers, is so large, that Handan just calls it "countless," and that is the blessings we had in 2017. We again hope to grow all of the our numbers and statistics this year. 2017 took us to a new level, and we're aiming to go much much higher this year. With you lot of addicts by our side, we're sure to get really high, eh?? Hehehehe… [Oy! Be nice! -Handan]
Sayonara 2017! Aloha 2018!
(And that's the last recap of 2017, I promise!)
1The real story is that Handan made me do it! I had 2017 tagged, bagged and hanging on the wall. But Handan wanted one last hurrah. And you know how it goes. If my babes wants a post about stats and numbers, my babes gets a post about stats and numbers!