Free Halloween Printables Extravaganza!
Look, we know, okay?
We know what's being whispered out there on the digital airwaves.
We know what's being discussed sotto voce in the dark corners of the internet.
We know how the hens are clucking around the grain bin.
"They're crazy, you know."
"They're giving away for free what others charge money for!"
"Oh my gawd! I can't even right now! What's next? Free Halloween printables??"
And you know what, ladies?
It's true! All of it!
My wife is totally bonkers!
Uh oh. Shouldn't have said that. I think she heard me…
RUN!
Okay, okay, maybe I'm just the slightest bit nuts, too. I mean, I married Handan, so I'd have to be, right?
Oh crap…
RUN!
Man, I gotta watch what I write here. I'm gonna get myself into some deep chickensh!t.
Anyway, if they thought we were a bit loony before, they'll be demanding straitjackets for us after this post, because today we are giving you over two dozen free Halloween printables! When you consider that they're all offered in two sizes and with a selection of different backgrounds, well, good grief, we really are bananas!
Now let's be clear about something. All glory and honor must go to my wife. She's been working her little hen's tail off to bring you this free Halloween printables extravaganza. I don't know how she does it. She works all day in an office and then comes home and works most of the night for the blog.
Me? I just build stuff, take pictures and write. Handan does all the heavy lifting around here.
And what she's created for you today has been in the works for over a year! She started making these Halloween printables last October and has been adding to the collection ever since. I think these are some of the best printables we've ever offered. They are classy and beautiful, and they will up your Halloween-wall-art game. Your friends will demand to know where you got them. Feel free to send them our way 😉
Before we begin, be sure to follow us on Pinterest, Facebook and Instagram, and also sign up for our email list (by clicking the subscribe button above), so you'll never miss a post!
Okay, let's jump in and see what we've got for you.
The Lovers Halloween Printables Set
Now, I know what you're thinking.
How did a witch like that score such a dapper dude?
Ladies, love works in unfathomable ways, and we're not here to judge. If love made sense, do you think Handan would have chosen a guy like me? Maybe I just cast a spell on her, like the witch below may have done to Uncle Pennybags.
In life, Uncle Pennybags here may have been a tight-fisted curmudgeon, but he really loosened up after death! Just look at that smile! And every tooth of that boney grin is for his dearest wife of the afterlife.
The Skull Halloween Printables Set
Do you know why skulls are always smiling?
No more nagging wives! (or lazy husbands)…
No more endless tasks! (or unfinished honey-do lists)…
No more manners! (or boorish slobs)…
Why wouldn't they be smiling? All their problems are over!
The Rock 'n' Roll Skull and Bones Halloween Printables Set
Skulls, Bones and Rock 'n' Roll. Really, what more do you need out of life?
The Flower Skull  Halloween Printables Set
Alright, alright, so maybe you're not into wailing guitar solos, shrieking vocals and bone-rattling drums.
Don't worry, skulls have their soft side, too, you know.
Just admire these lovely floral hats modeled by some of the finest and most exciting young skulls working in today's fast-paced fashion underworld.
The Sugar Skull Halloween Printables Set
You can't celebrate the Day of the Dead without a sugar skull!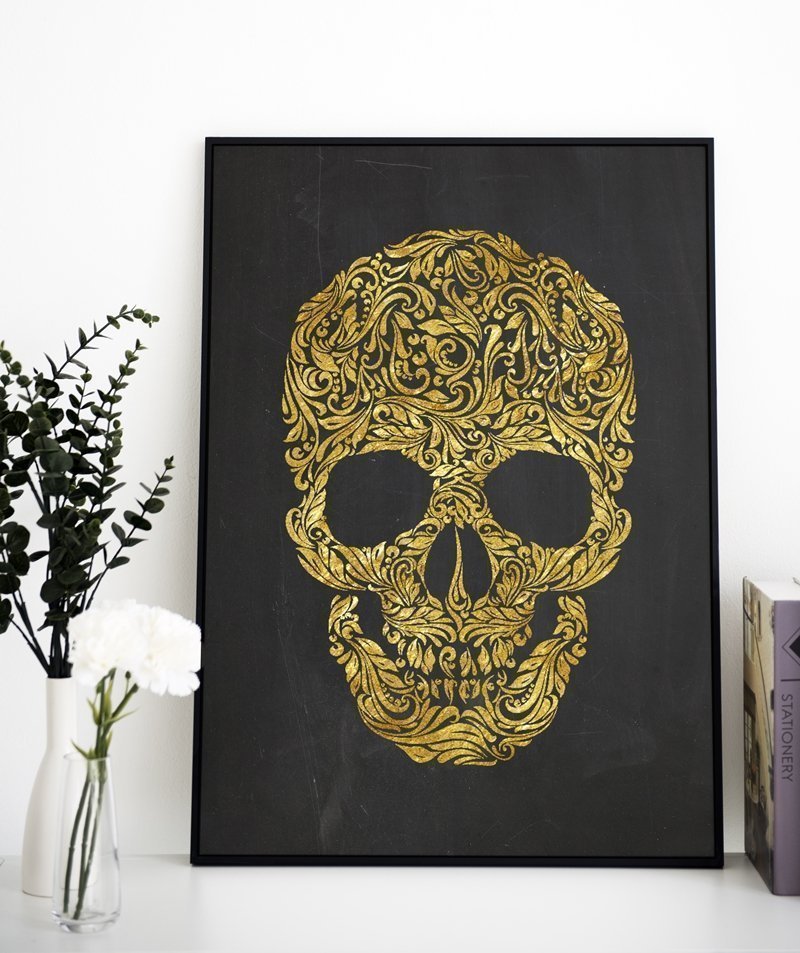 But sugar skulls promote tooth decay in the living, and tooth decay in the living leads to ugly, toothless skulls in the afterlife.
Best not to risk it.
Print a sugar skull. Don't eat one.1
1Yes, yes – I know that most sugar skulls are not meant to be eaten. It's a joke people. Yeesh, I'm dyin' out here…
*****
As usual, here is some information on the printables: we designed these free Halloween printables in several colors and four sizes: 8.5×11 inch, 11×17 inch, 12×18 and 16×20 inch. The sizes 8.5×11 and 11×17 inch are PDFs, so they are not scalable. But the 12×18 inch and 16×20 inch are prepared as JPEG, so you can scale them up or down as necessary. 12×18 inch scales down easily to 8×12 / 4×6 inches, and 16×20 inch scales down to 12×15 / 8×10 / 4×5 inches with no problems. If you need help with scaling down these printables so you can print them on your home printer, then make sure you check out Handan's "How To Easily Resize Pictures" post.
Also, if you don't have a large format printer like the Canon i8720 Printer (prints up to 13×19 inches) and are wondering the best place to get these printables printed bigger than 8×12, we recommend trying Staples in your area or Amazon print shop. Both stores offer custom-sized prints on matte or glossy paper, and they both cost about the same. Staples also offers Engineering Prints, which are really affordable for large-format prints, but in some areas (like ours), they must be ordered from their online print shop.
Now it's time to click on the button below to download today's free Halloween printables – they are all in the Halloween section of The VIP Patch.
If you're not a Navage Patch VIP, you won't be able to access our Freebies Library. But that can be easily fixed! Subscribe for free on the form below and become a Navage Patch VIP. Once you subscribe, a password will be sent to you in our Welcome email, and that will give you access to The VIP Patch [Freebies Library]. If you didn't receive our Welcome email, can't find the password or have any other questions on this process or on our free printables, please check our Printables FAQ page.
If you display our free printables in your home, be sure to take a picture and post it on Instagram! Don't forget to tag us @TheNavagePatch! We love to see our printables out in the wild!
We love it when you share our posts on Facebook and Pinterest!