Pottery Barn Knockoff Metal Pumpkins
Our Pottery Barn Knockoff Metal Pumpkins are the perfect DIY fall decor for those looking for big style on a small budget!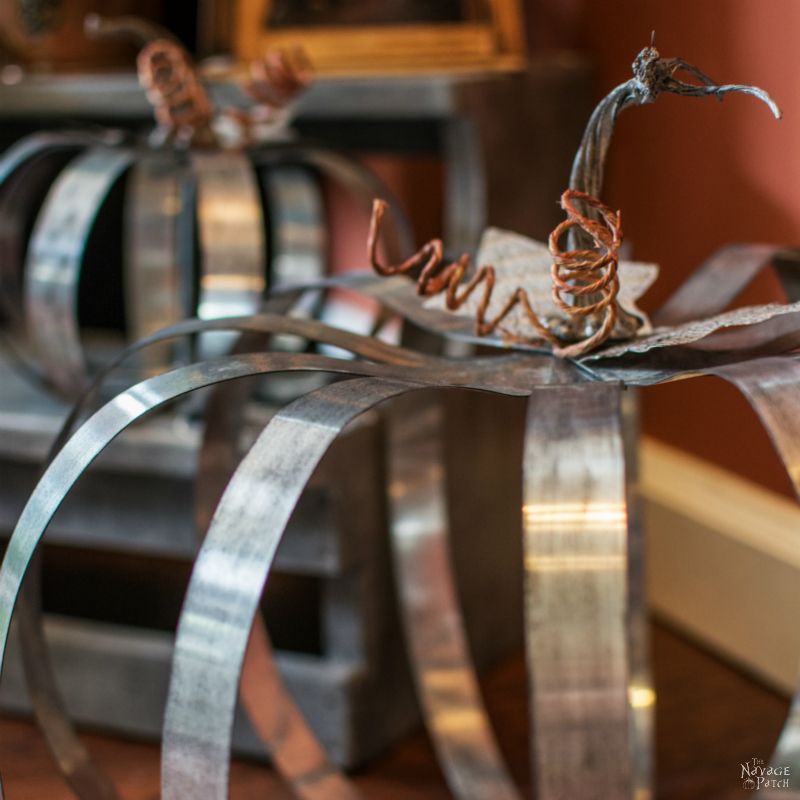 Another year, another fall, and another opportunity to decorate for the season! This year, I asked Greg if I should buy some fall decoration instead of our usual DIY fall decor.
He nearly spit out his martini and asked if I was feeling ok, LOL! He was looking at me a little strange, but then he said something that sounded a tiny bit like a "yes."
Good enough for me!
Before he could think about it any further, I went online to see what I could find. After a time, I finally found a beautiful pumpkin at Pottery Barn! It had all the qualities I wanted: it was interesting, it was big and it was galvanized metal, so I could use it both indoors and outdoors. But there was one teensy weensy problem with it: it was $99… yes $99! For this galvanized pumpkin!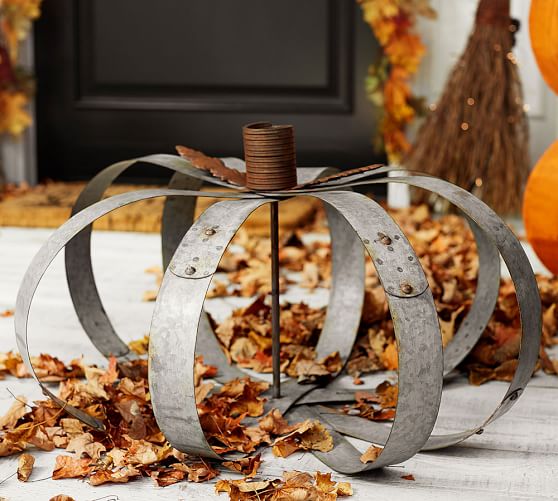 Well, you can guess what happened next, right?
After contemplating whether I should buy 2 or 3 of these pumpkins, I added 2 of them to my cart. Then, thinking what a great find it was, I took a sip from my wine and decided to get the third one. You know…just for fun! After all, we have a big money tree in our back yard, and all I needed was to pick some $100 leaves from the tree to pay for these metal pumpkins…
LOL. I WISH! What a wonderful dream though, right?
Ok, here's what really happened.
After trying to get over my sticker shock, I asked Greg to take me to Home Depot. I already had some galvanized metal strap on hand, so I only needed some 1/4 inch nuts and a 1/4 inch threaded metal rod to come up with something similar, and that is how my Pottery Barn knockoff Metal Pumpkins project started.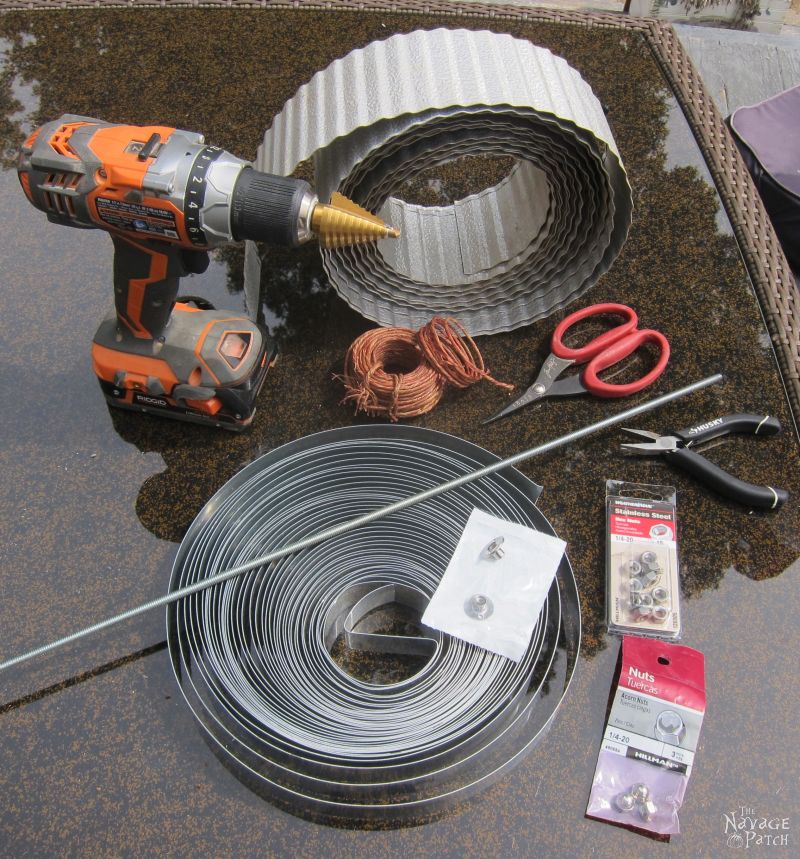 Before we begin, be sure to follow us on Pinterest, Facebook and Instagram, and also sign up for our email list (by clicking the subscribe button above), so you'll never miss a post!
Pottery Barn Knockoff Metal Pumpkins Supplies List
1/4 inch galvanized hex nuts – I used 3 for each pumpkin.
1/4 inch threaded rod – I bought a 24 inch long threaded rod, because I wanted to make 2 pumpkins. But you can also find 12 inch long threaded rods, if you are planning to make only one.
1/4 inch T-nuts – I used 1 for each pumpkin.
Aluminum lawn edging – I used this to make the pumpkin leaves. As I bought mine at a tag sale, I am not sure where you can find this. My best guess would be your local hardware store. But if you can't find it, then even burlap would be a good substitute, since you will be making leaves out of it.
Power drill and a step drill bit.
A pair of scissors – something strong enough to cut metal.
A pair of pliers.
Pottery Barn Knockoff Metal Pumpkins Tutorial
First, I prepared the metal straps. I cut 6 metal straps, each 42 inches long for the big pumpkin and 4 metal straps, each 22 inches long for the small pumpkin.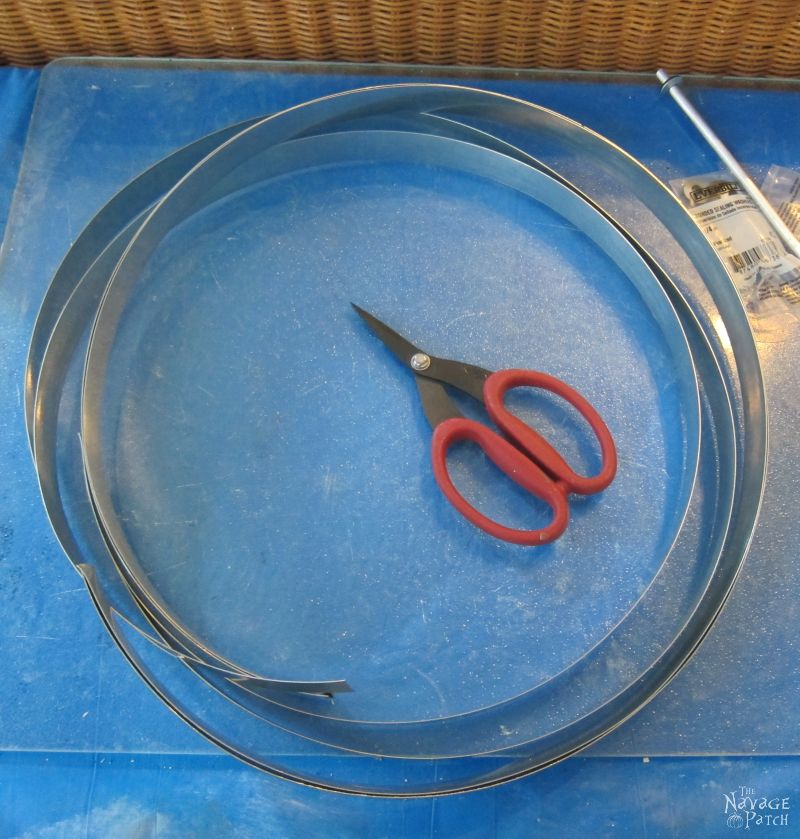 As the straps want to curl, you will need someone's help with this step. After cutting 10 of them, I asked Greg to help me mark the mid point of the metal straps. He took his sweet old "man time," but eventually he helped me mark the mid points of all 10 metal straps 🙂 Look at him though – isn't he the cutest when kneeling before his queen?? LOL. Back to the tutorial…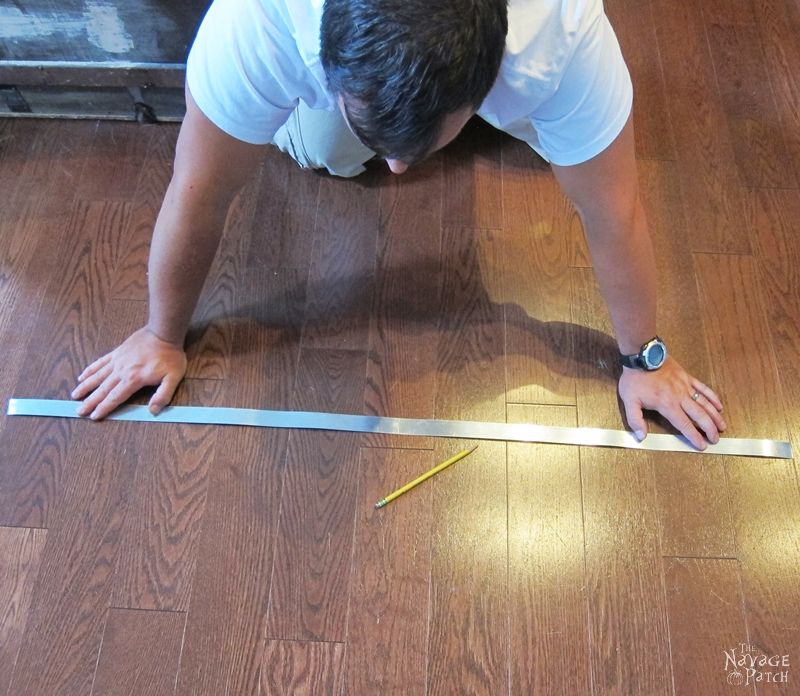 Once the mid-points were marked, I started drilling holes in both ends and in the mid-points of the straps. I drilled the holes slightly bigger than 1/4 inch, so they wouldn't have a problem fitting the 1/4 inch rod.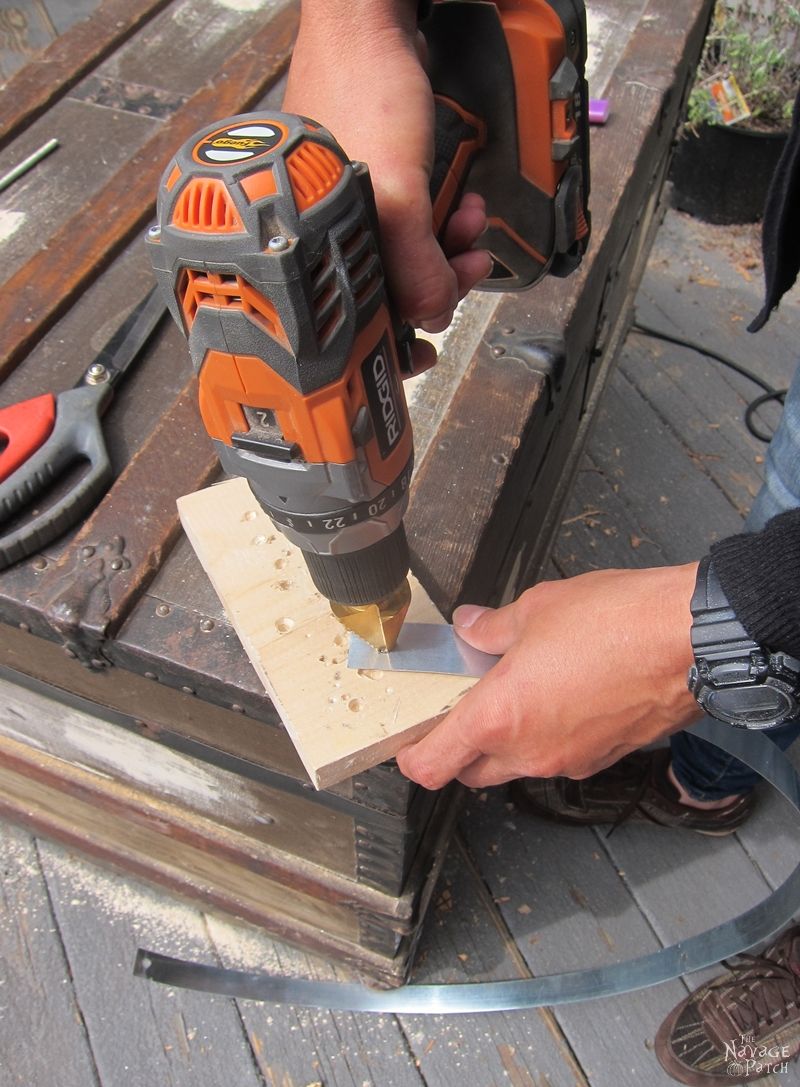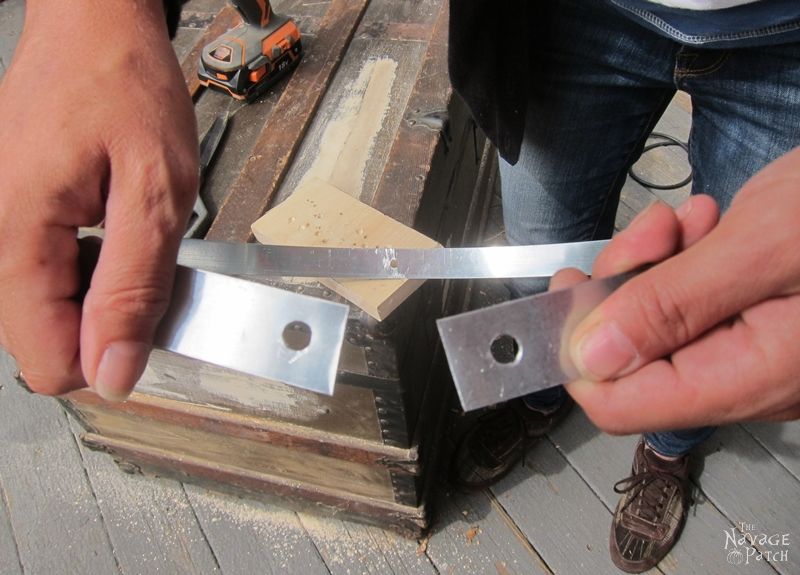 Next, I marked the threaded rod at 12 inches (and at 6 inches for the small pumpkin), and cut it with a hacksaw. [Excuse me – who cut it with a hacksaw? -Greg]
As all of the pieces for the metal pumpkin's body were ready, I started putting it together. First, I screwed the bottom end-nut. I chose a T-nut for the bottom end, so the pumpkin would stay nice and balanced when I put it on the floor.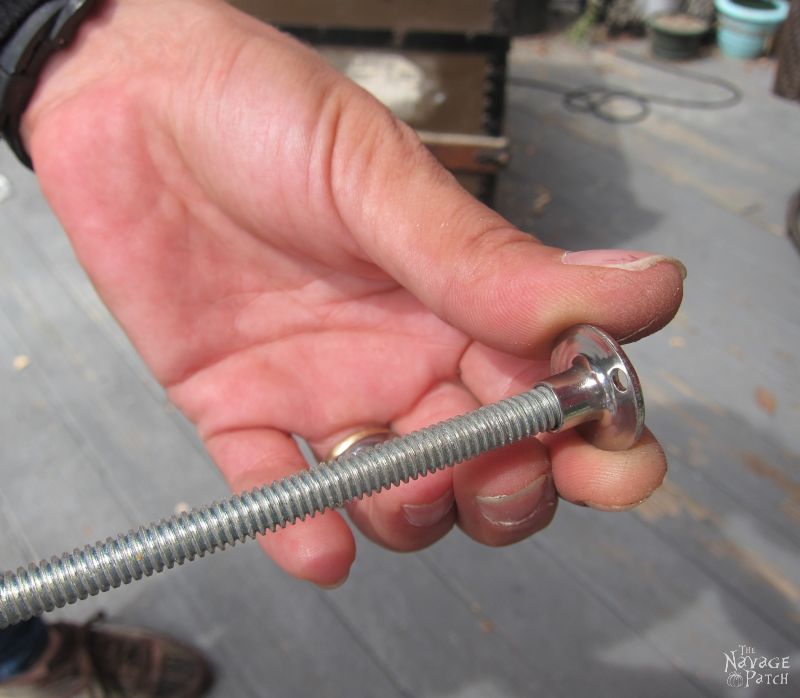 Next, I threaded the straps on the rod…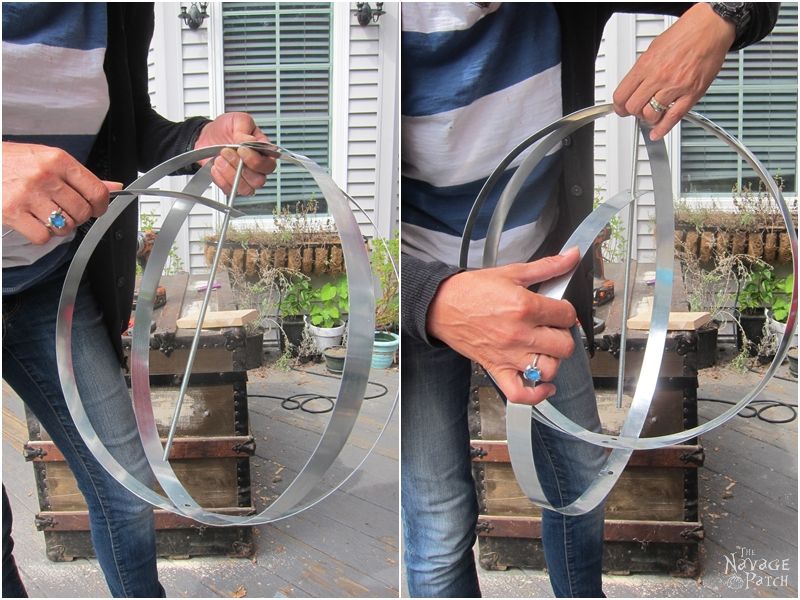 …and screwed on a hex nut to secure the straps in their places.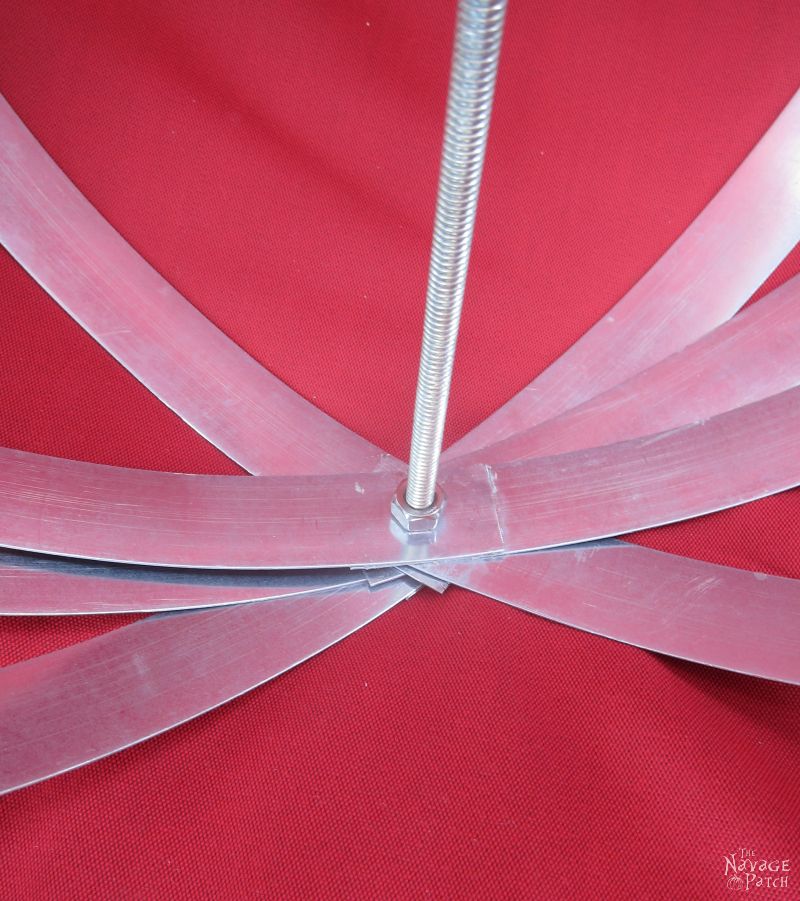 Once I was finished with the bottom part, I started working on the top. I screwed on another hex nut about 2-3 inches below the top of the rod.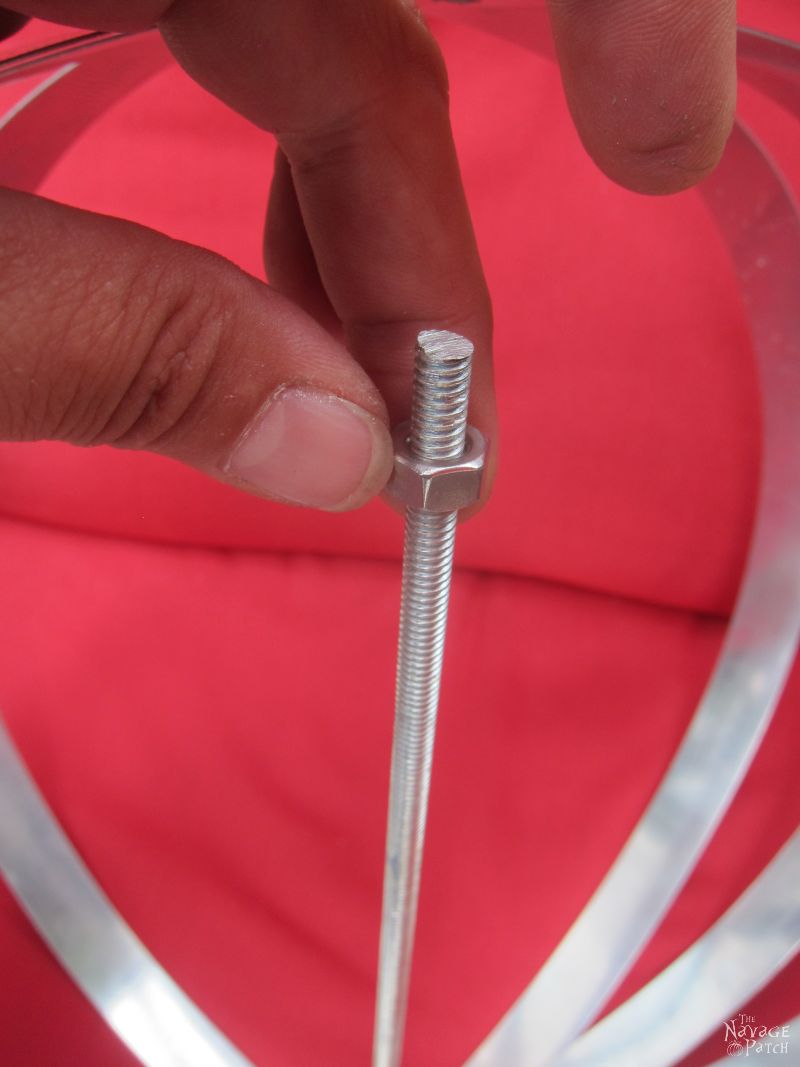 Then I started threading the straps to the top and then screwing another hex nut to secure them in their places.
Once the straps were all in, I started working on the shape of the metal pumpkin. I slightly bent the top and the bottom parts of the straps to make the whole thing resemble a pumpkin.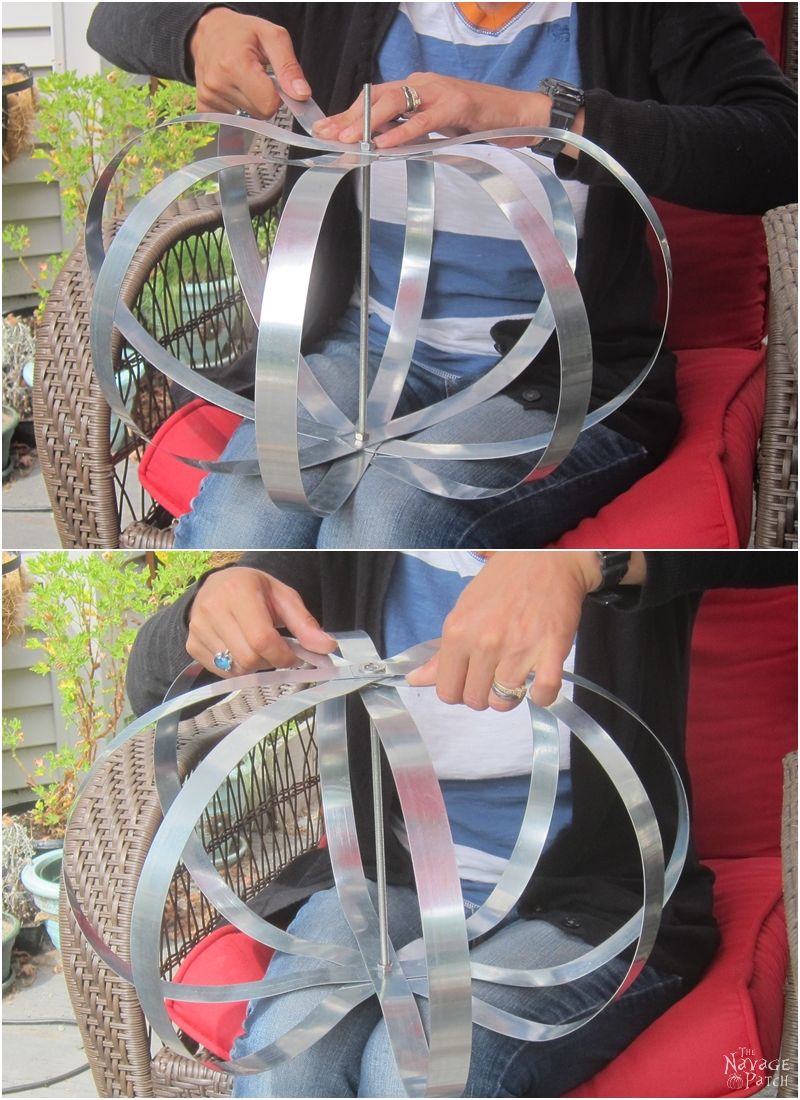 After I was done with the shape, I cut the excess top part of the rod with a hacksaw [*ahem!* Who cut it?? -Greg] as I had a great plan for the pumpkin's stem. But before working on the stem, I wanted to lessen the shine of the galvanized straps. To do so, I lightly spray painted the metal pumpkin from a good distance…at least 18-20 inches away.
I only sprayed a very little bit, so only a little paint would find the metal straps. After all, I wasn't trying to paint it entirely, but I was just trying to take the shine off by giving some black splotches here and there. Do you see the picture below? That is the effect I was going for.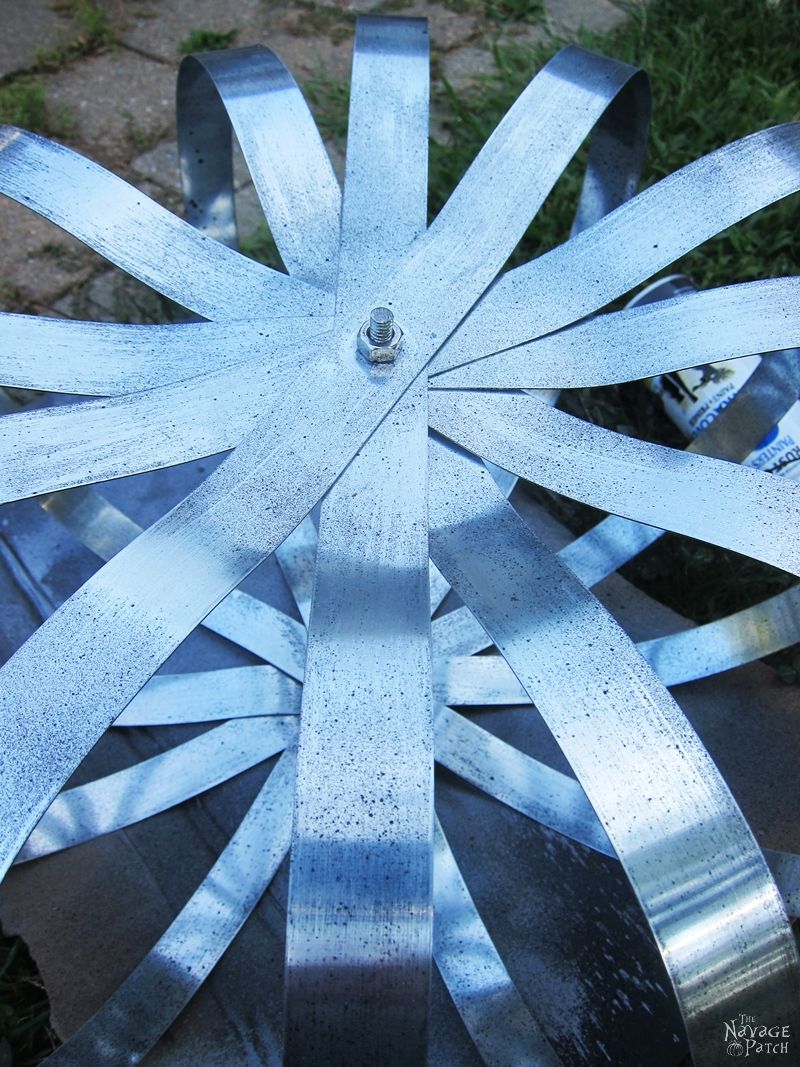 Once I finished spray painting, I focused on the stem and the pumpkin leaves. I found a pumpkin leaf clip art online and printed it out to use as a pattern. Then I cut the leaf shapes from the aluminum lawn edging I had.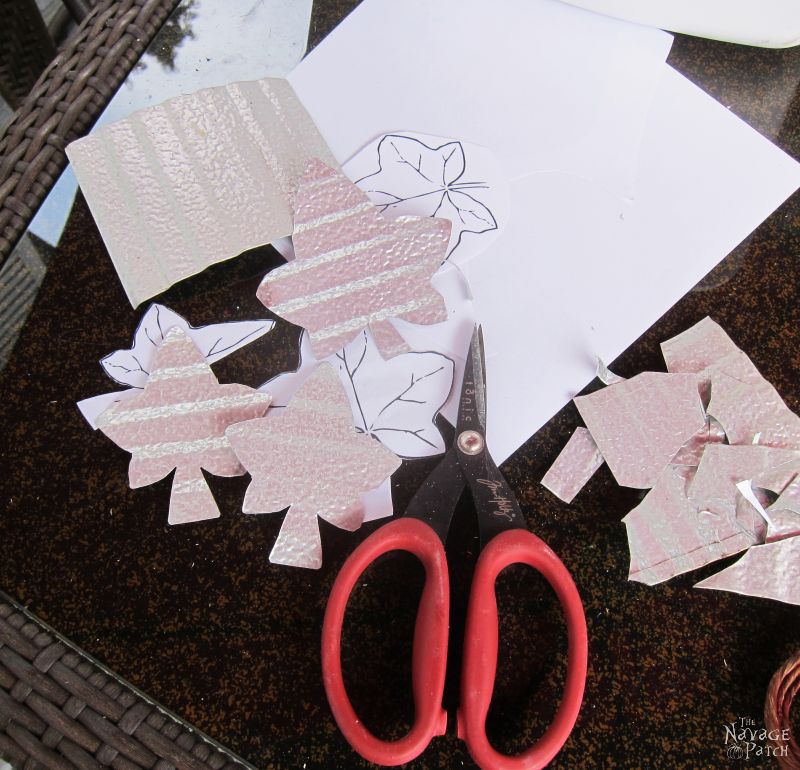 As I didn't want the sharp metal to hurt anyone, I filed the edges a bit. Once I was done filing, I drilled 1/4 inch holes in the stems of the leaves.
Next, I worked on taking some shine off the leaves. As the leaves were smaller, instead of spray painting them sparsely like I did with the pumpkin's body, I used black gilders paste. This process is very simple. First you rub your finger on the black gilders paste, then you rub your finger on the surface you want to gild.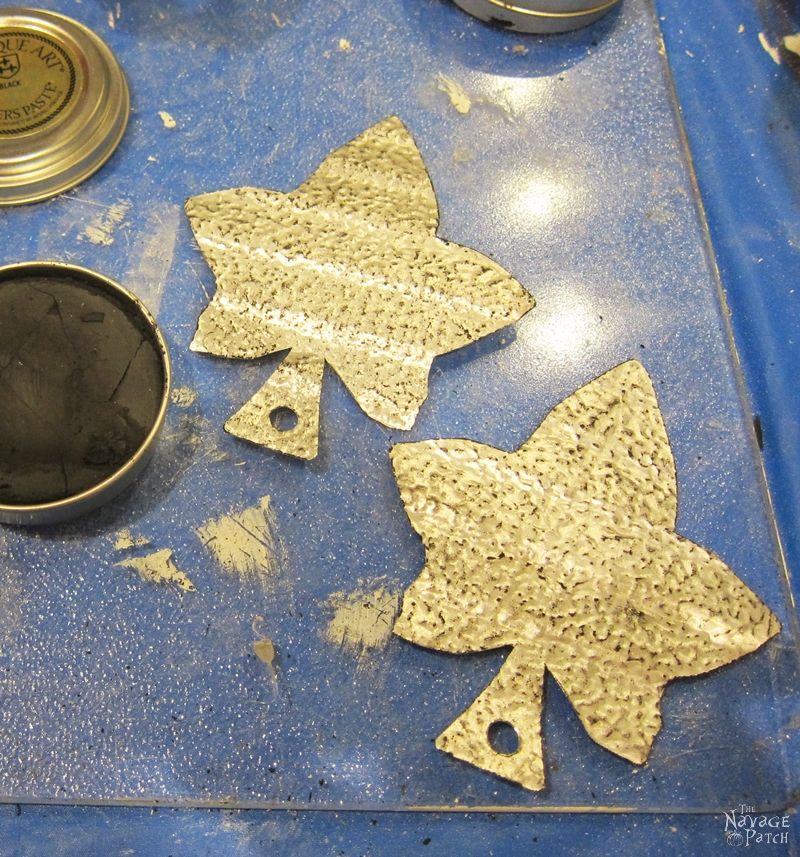 Once I was done with the leaves, I moved on to the stems. Now here is the surprise part: I used real pumpkin stems! Yes, real pumpkin stems! You see…I love pumpkins, so every year, I try to grow some in our vegetable garden. I use some of them for home decoration, and Greg uses the rest in his kitchen. We keep our entire pumpkin harvest in our garage until we use them, because pumpkins tend to last quite a long time in a cold and dry area. Put it this way, our harvest usually lasts until February, if not longer, because by February we usually finish them all 😀
Anyway…just before Greg uses them to make a pie, I make sure I harvest the stems. I cut the stems off, clean the pumpkin meat off them (if any), then I wash them with tap water and dry them with a paper towel. After all this washing and cleaning, I put them in a cardboard box without covering the top and let them be. Once they dry, I have my pumpkin stems in perfect condition to use in my crafts 😉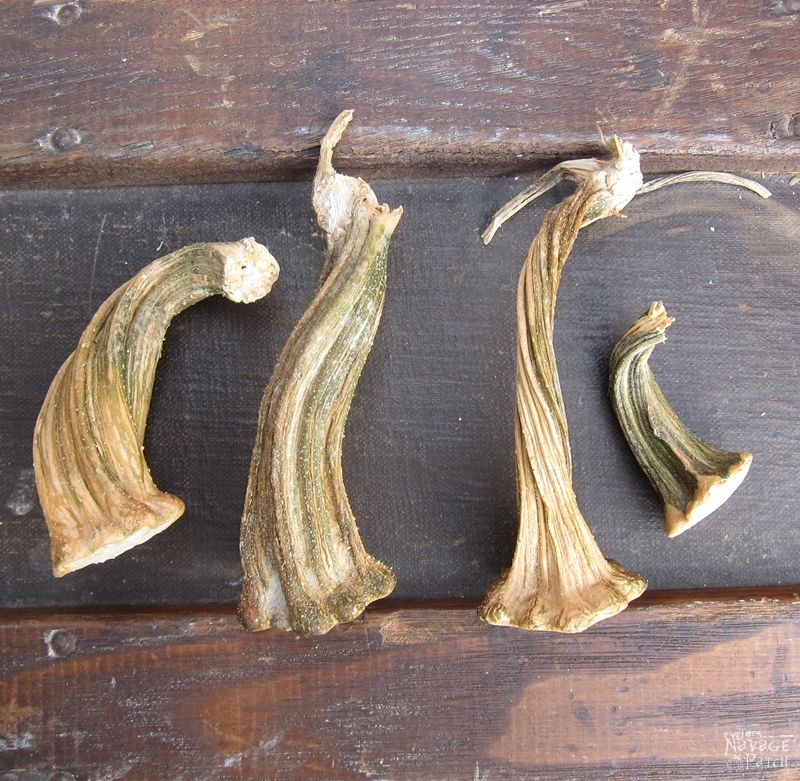 After this short sidetrack, let's get back to our metal pumpkins, shall we?
Yes, so I used a real pumpkin stem, but you can use a plastic stem from a faux pumpkin to do what I did. I chose 2 pumpkin stems (I was making 2 pumpkins remember?) and drilled the bottom parts with my step drill bit.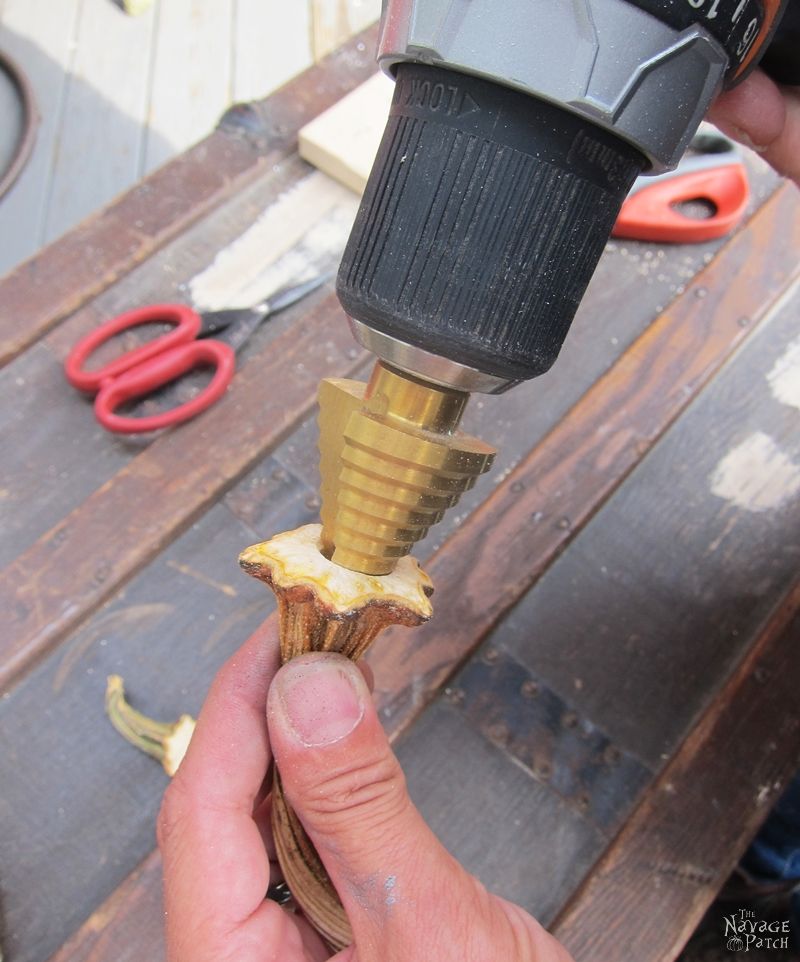 Here is an important note: as I was so excited about my project I somehow forgot all the safety rules (which is big no-no) and drilled the stems while I was holding them with my hand. But you should NOT copy what I did. Please think of your safety first and use either a vice or something similar to hold your stem while drilling.
After drilling the bottoms, I spray painted the stems with Rust Oleum Aged Metallic Weathered Steel spray paint. I didn't list this paint in the supplies list, because it is really an optional thing. You can get the same effect just by using a metallic gray craft paint.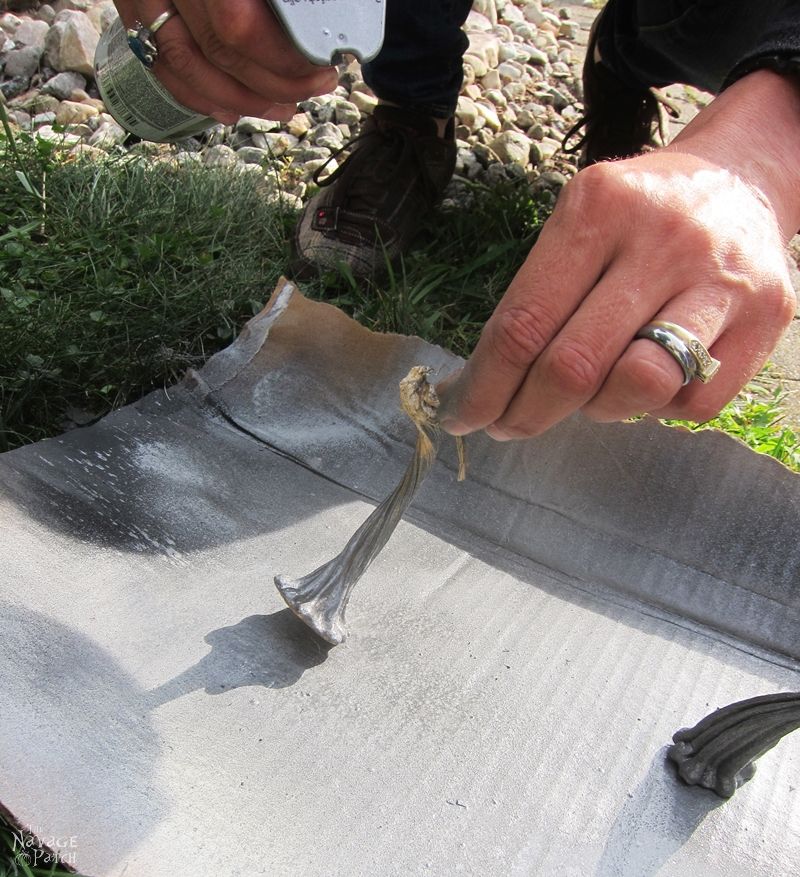 Once the paint dried, I gilded them with black gilders paste to give the same effect that the rest of the pumpkin elements had.
I also needed some vines to dramatize the whole thing, so I cut a piece of vine-wrapped craft wire and coiled it.
Now that all the elements were ready, I put the pumpkin together. To do so, I first unscrewed the last hex nut and placed the coiled vine on top of the straps.
Next, I placed the aluminum leaves, one-by-one, on top of the vine.
Then, I screwed the hex nut back in its place to secure the whole thing.
As the final step, I hot glued the painted and gilded stem on top of the rod and hex nut, and that was the end of my Pottery Barn Knockoff Metal Pumpkins project.
Not bad, eh? Looks like DIY fall decor wins again!
Considering that I made them for a fraction of the cost from Pottery Barn, I think I did a pretty good job with these 😀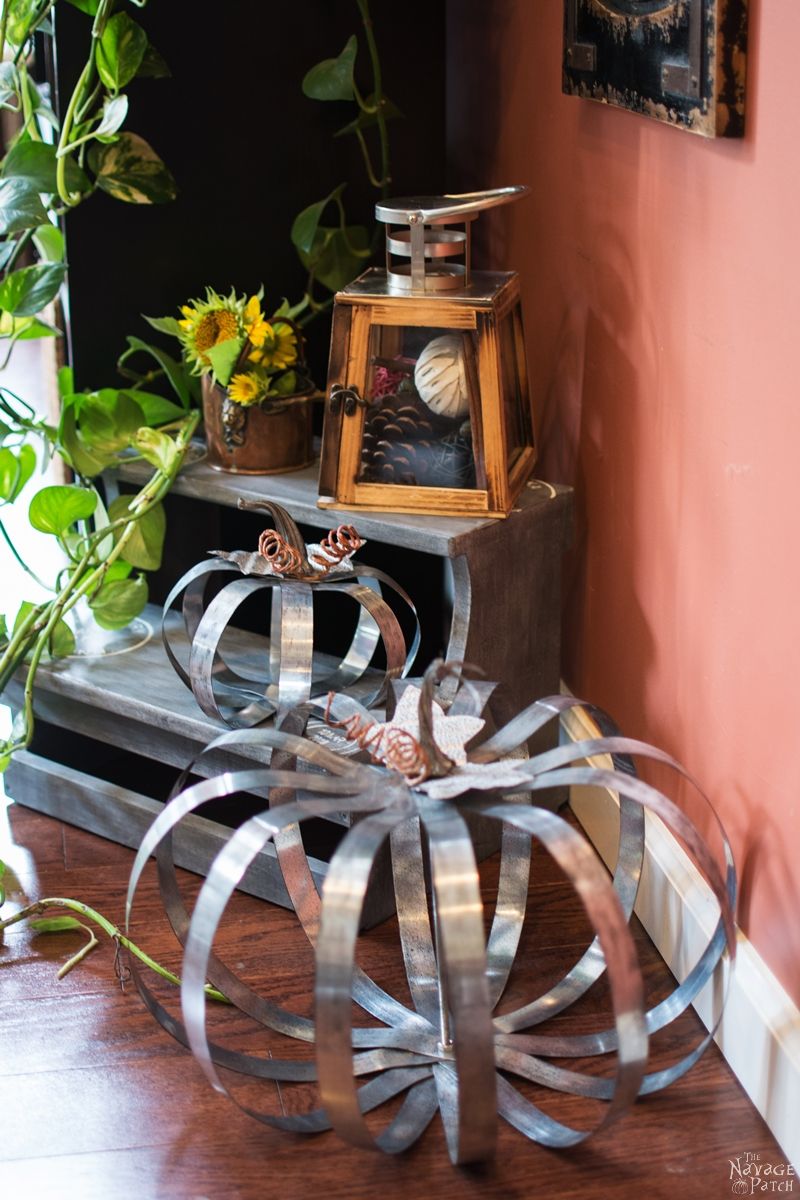 Here are some close-up pictures for you.
This year, I again will be harvesting some pumpkin stems, because using real stems makes all the difference with these types of projects.
If you like pumpkins as much as I do, you will also love my sisal twine pumpkins.
Aren't they the cutest pumpkins ever? If you want to learn how I made them, click here or on the image above 🙂
Handan, xo
We love it when you share our posts on Facebook and Pinterest!