These adorable DIY Pumpkins are made from inexpensive sisal twine that you can usually find at the Dollar Store. Each twine pumpkin takes less than 5 minutes to make and costs less than 50 cents, so you can make a whole bunch to decorate your house this fall!
Fall is just around the corner, and just like last year, I again have a pumpkin tutorial to share with you. I guess you could say I am a little obsessed with pumpkins! Did you know that in Turkey, there is a beloved dessert made from just pumpkin and sugar? It is one of my favorites! Maybe if you ask Greg nicely, he will share the recipe with you. 😉
By the way, have you ever wondered why there is a pumpkin in The Navage Patch's logo? If you ask Greg, he'll say something like, "Navage Patch, pumpkin patch. They sound alike. Get it?" And then he'll scratch his butt, burp and ask for a dry martini.
But there is more to the story.
When my babes was designing the logo, he wanted to put a picture behind the words, but he didn't know what to put. I told him that a pumpkin would be cool! He looked at me funny and said that a pumpkin would look too "cutesy." He also said we weren't going to be a garden blog. (But look who keeps posting about "his" vegetable garden, LOL.)
Seeing a strong resistance against my pumpkin idea, I had to turn on the "honey faucet." A girl's gotta do what a girl's gotta do, right?
"My babes, do you want to sit on the sofa for a while?" I said to him. "Let me bring you a drink, shall I? Do you want me to scratch your arm? Let's watch Star Wars!"
He was suspicious at first, but a martini, Star Wars and an arm scratch can do wonders!
"Ummm….ok…?"he said.
"Now, my babes, about that logo…"
You can guess, the rest was pretty easy – hahaha  :-)
Speaking of easy, let's move on with our DIY pumpkin tutorial, shall we?
Before we begin, be sure to follow us on Pinterest, YouTube, Facebook and Instagram, and click the subscribe button at the top of this page to sign up for our email list so you'll never miss a post!
Here is what you'll need to make these DIY sisal twine pumpkins.
DIY Sisal Twine Pumpkins Supplies List
Pipe insulator or foam tubing (or even a pool noodle from the Dollar Store will work)
Small twigs
DIY Sisal Twine Pumpkin Tutorial
After gathering the supplies, I started by cutting a piece of craft wire (approx. 6 inches long) and placing it in the pipe insulator.
Foam pipe insulators usually come with an opening as in the picture above. But if you are using a pool noodle or foam tubing, then you might need to cut an opening if your foam doesn't already have it. Once you have your foam tubing cut like that, place your wire in it as shown in the picture above.
Next, I cut some sisal twine and started wrapping it around the pipe insulator with the craft wire inside the insulator.
Once I wrapped 15 coils, I pulled the craft wire up through the opening from both ends and tied the twine coils with the wire as shown in the picture below. As I was using 2-ply sisal twine, 15 coils were a good amount for me to easily handle. If I used thinner twine, I would have done more coils. In other words, the number of coils depends on how easily you can handle the bunch.
Next, I cut off the excess wire and twine.
When I was done trimming, I pulled the sisal twine coil out of its form and put it aside to make 2 more of the same.
After I made three of them, I started hot gluing them to each other as shown in the pictures below.
Once the coils were glued to each other, I cut (broke) a small piece of twig and…
…hot glued it to the top of the coils.
And that was it! Here are my sisal twine pumpkins – the easiest DIY pumpkins ever!
That was pretty easy wasn't it? As you can see, I also made some different ones with colorful Dollar Store twines – the ones they sell as pack of 3 (either 2 natural & 1 red, or 2 natural & 1 green). Since I used thinner twines for those, I could make them all at once – meaning that I didn't need to make 3 sets of the coiled part, but instead I just wrapped the whole thing at once, and after tying it with wire, I fanned the strings to give the pumpkin shape. So those were even quicker to make, but still as charming as the sisal ones, if not more so 😉
I hope you liked my little DIY pumpkins. If you like pumpkins as much as I do, then I think you would love our DIY Dollar Store Blue and White Porcelain Pumpkins! They are incredibly easy and you don't need to decoupage or hand paint to make these beauties. If you're wondering how we made them, just click on the picture below to see the tutorial 🙂
Talking about easy and quick pumpkins, we also have these easy-peasy DIY Yarn Pumpkins! I know what you're thinking: how can it get much easier and quicker than these sisal pumpkins right? But really – our Easy DIY Yarn Pumpkins are the easiest pumpkins ever and they look amazing!
Or if you prefer something that you can use indoors or out, then check out these Pottery Barn inspired outdoor metal pumpkins I made last year.
Before you leave, I also want to share with you these awesome fabric pumpkins made by our friend Susan over at Organized 31. The link takes you to a tutorial for traditional orange pumpkins, but she also made these really cool plaid ones in '90s grunge rock style 😀 I think they are perfect, and Greg approves, too (he still loves all that music)!
And if you like more Pottery Barn inspired projects, then make sure you check our Pottery Barn inspired DIY fall signs, as they come with free printables which you might want to download. CLICK HERE or on the pictures below to go and download these cute DIY fall signs.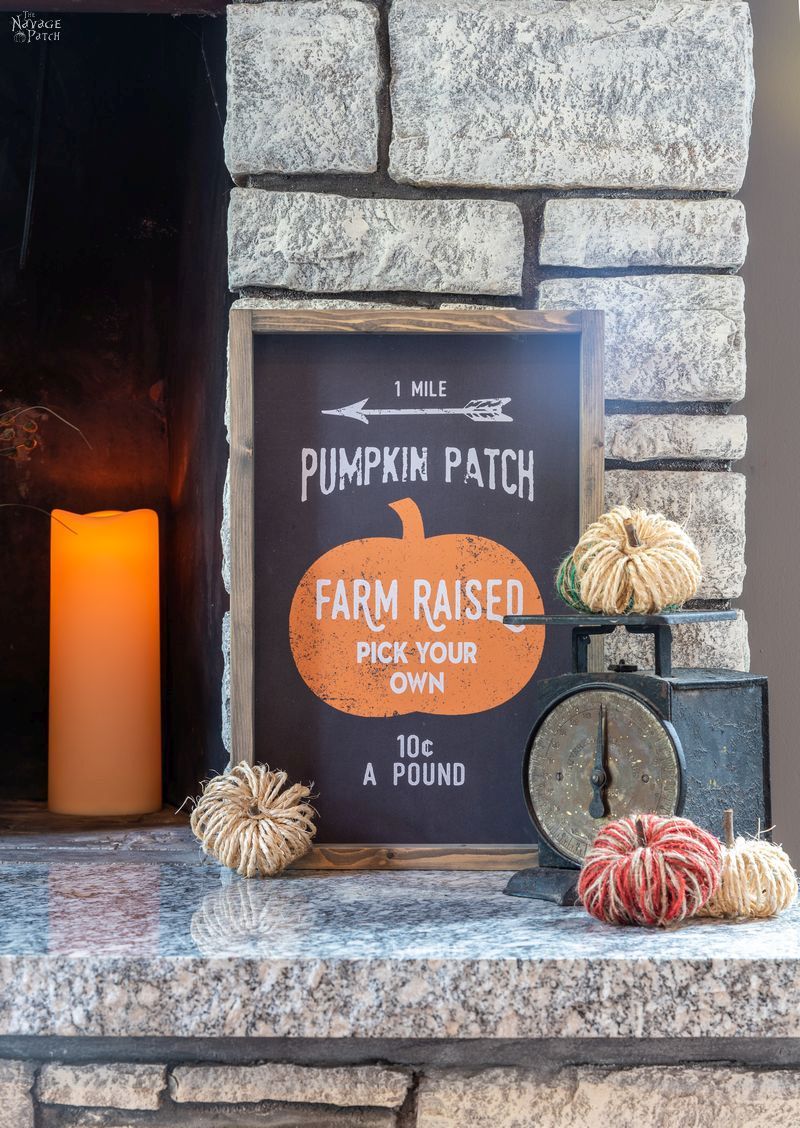 Handan, xo
We love it when you share our posts on Facebook and Pinterest!