Sliding shelves are awesome in the kitchen, but the prices are crazy! These DIY slide-out shelves are attractive, durable, and a fraction of the cost!
On October 31, 2013, we moved into this home. Shafts of autumn sun pierced through the windows that day, illuminating the kitchen. Granite counters gleamed in the soft golden light. The kitchen was empty but full of promise. The polished rock whispered of wine glasses and fruit bowls, of orchids and hors d'oeuvres. Fast forward a few years and listen. You'll hear the granite whisper no more. Instead you'll hear it bitch about spilled milk and dried paint and bread crumbs in the corners so old, they've petrified. You'll hear it groan from the burden it bears, as appliances piled up and cluttered its mottled slab. You'll hear the granite whine about its dull visage as it reminisces about "The Shiny Years."
My granite may no longer be the belle of the ball, but she shouldn't have to suffer the indignities I've put her through these past few years. I decided to restore her to her former glory. There was only one problem: where would I put all the appliances in order to reveal her bare and simple self? I couldn't put them in the cabinets – they were all full of crap. Full of crap….hmmmm. I squatted down, knees popping in protest. I opened the cabinet doors and looked into their depths. My suspicions were confirmed. They were full of crap! I took a quick inventory of the biggest double cabinet and realized that I'd only been using maybe 3% of its space – just a little corner in the front where I kept my barbecue thermometer and muslin bags for straining yogurt. The rest of the space was filed with piles and piles of crap that I hadn't touched in two years. I even found two packages of ice cream cones that I'm pretty sure I bought before we moved in. It was time for action.
Before we begin, be sure to follow us on Pinterest, Facebook and Instagram, and also click here to sign up for our email list so you'll never miss a post!
There's granite under there, somewhere…
And over by the stove…
The problem with most lower cabinets in the kitchen is that they are just too deep, and we chefs are just too old. Stuff gets pushed to the back and forgotten, because the effort involved in excavating and mining kitchen paraphernalia from the depths of lower cabinetry far outweighs the reward. So we push, we pile, and we forget. This leads not only to wasted space but also to duplicate purchases, as we keep buying things we already have, simply because we can't reach them, or we've forgotten we ever owned them in the first place.
The easiest way to reach the nether regions of a cabinet is not for you to go to the nether region, but for the nether region to come to you. Enter slide-out shelves. When I first lit upon the idea, I went online to see how much they would cost. That resulted in popped eyeballs and chest pains. Home Depot sells the following for $90:
$90. For one. I gagged and sputtered. At least it comes with a quality slide mechanism. But seriously. $90. For one. I needed eleven of them. Obviously I wouldn't be buying them (but honestly folks, was that ever really an option?). It was time to break out my notepad and start designing.
I wanted to start with the double cabinet pictured above. I wanted two big drawers, spanning the whole space. That would require knocking out that center support column. Good, I love breaking stuff!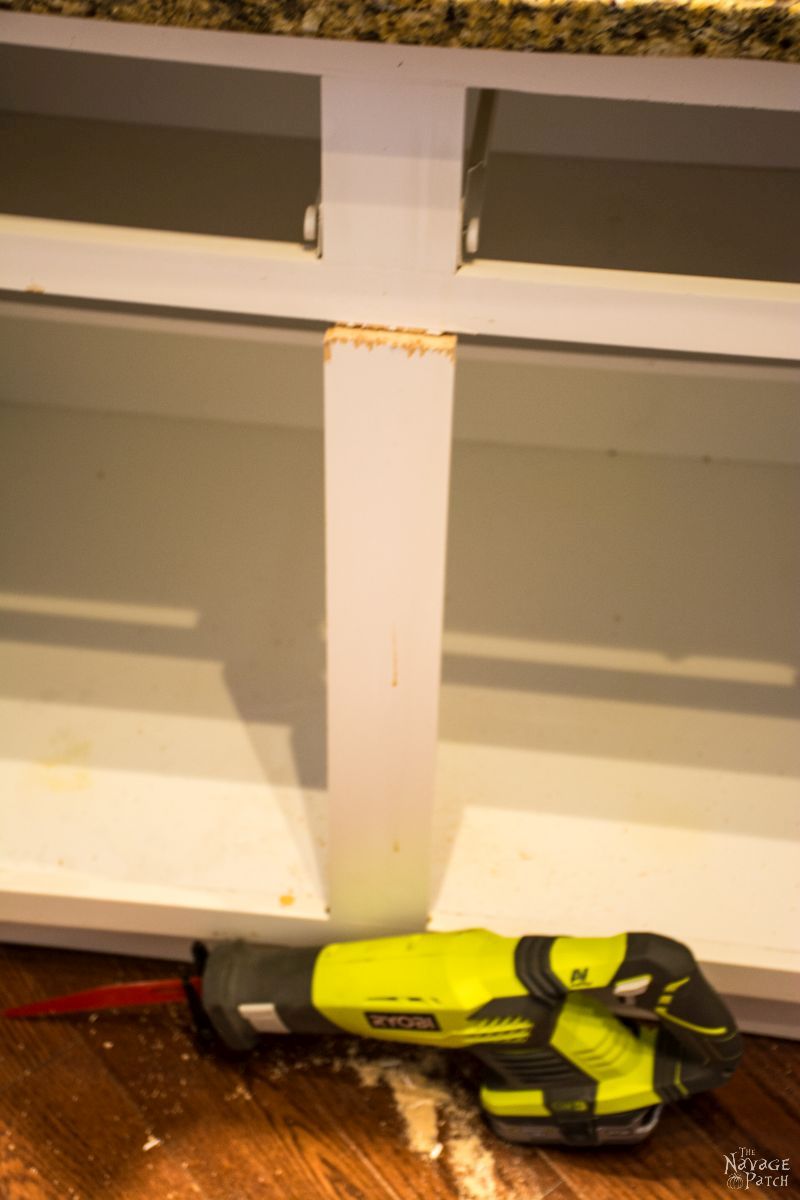 This left some pieces on the top and bottom that needed to be chiseled out.
I then filled the hole in the bottom with drywall filler. There was no need to be fancy, as I would be covering this part later with adhesive melamine edging.
Don't worry! That silly support was not load-bearing. The granite is fully supported by the other three sides of the carcass, and the drawer above is supported on the sides. However, just to be safe, I reinforced the crossbar below the drawer with a piece of 3/4″ plywood (not pictured).
That shelf was not removable, at least not without destroying the sides of the cabinet. I left it in place and used it as a handy guide for placing the slides. I opted for quality ball-bearing drawer slides. They hold a hell of a lot more weight than the cheap ones with the wheels. They look better and feel better, too. For 22″ slides, they run about $16 for a pair at Home Depot. If you don't have a Home Depot or Lowes in your area, Amazon carries them for about a dollar less than the Big Box stores (click here). Before I could install the slides, I had to install some gap-filler plywood strips on which to mount the slides. You can see that the face frame around the cabinet is not flush with the inner cabinet walls. The gap was 13/16″, so I filled it with strips of 3/4″ plywood and three washers at each of the three screws used to secure each strip. Now the mounting strips were flush with the edges of the frame. This was necessary so the slides could function unimpeded.
After installing all of the mounting strips, I installed the slides.
I finished prepping this cabinet.
The only other cabinet that needed modification was the one under the stove. This is where I keep dog food and where I kept a few pots and pans (removed in the following picture). The plan here was to have one shelf on the right side to hold the big dog food container and two shelves on the left to hold the bread machine and some other stuff. Because of the stove's power supply, I had to use 18″ slides on the lower left instead of the 22″ slides I used everywhere else.
That center support was a big waste of space, so I took it out and built a smaller one out of 3/4″ plywood. I secured it in place with glue and pocket screws. I needed a center support here because I would be installing an upper shelf on the left, and the slide's support strip needed to be secured in the front and back. I'm not sure why I didn't get a picture of that support strip, but this picture shows the bottom one.
Crawling around in these cabinets was difficult for a lumpy old turd like me.
The other three cabinets were singles, and just needed to be emptied before I installed the slides. I didn't take pictures of the process, because it was repetitive, and images of a large middle-aged man squirming around in narrow cabinets shouting profanities might be upsetting to some. Here are the "before" shots of the remaining three cabinets.
Okay, with the slides installed, now it was time to build the shelves based on my notebook scribblings. I'll give dimensions as they relate to the width and depth of the cabinet, in case you are interested in building a few.
I used drawer slides that are each 1/2″ thick, so together that makes one inch. Here are my dimensions:
I used 1/2″ birch plywood. It is important to use high-quality plywood for a project like this. I drilled pocket holes around three sides of the base and on the short ends of the back piece using my Kreg Jig. This has been one of my most loved and used tools, and it is essential for any DiY cabinetry. Click here to find it on Amazon.
Click on 'Page 2 of 3' below to continue.
We love it when you share our posts on Facebook and Pinterest!