Laundry Room Makeover Reveal (ORC Spring 2023 Week 8)
I made it, and with a few hours to spare! Our garage laundry room has been completed on time, and we couldn't be happier with how it turned out!
If I had to boil this garage laundry room makeover down to one word, it would be "polarizing."
We've never seen such black and white opinions!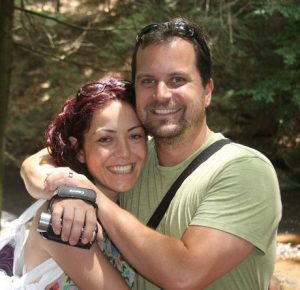 Welcome to The Navage Patch!
If you're joining us from the ORC website – welcome! I'm Greg, this is The Navage Patch, and my wife Handan and I are giving a makeover to the laundry room in our new Florida home. This is our second One Room Challenge, and we can't wait to show you what we have in store for this room!
The green walls: Too dark! Depressing! Like a rotten avocado!
The black tiles: They look out of place! The jagged top looks unfinished!
And of course…The Hutch. The infamous hutch.
Not feeling it.
It's a no for me.
It's too small.
The colors clash.
No.
*****
And you know what?
We love it!
Oh, I'm not talking about the hutch or the tiles of the paint color. I mean, we do love all of those, of course, but I'm talking about the controversy!
The juicy, divisive, bicker-inducing controversy worthy of Geraldo Rivera, Jerry Springer or even…Maury Povich!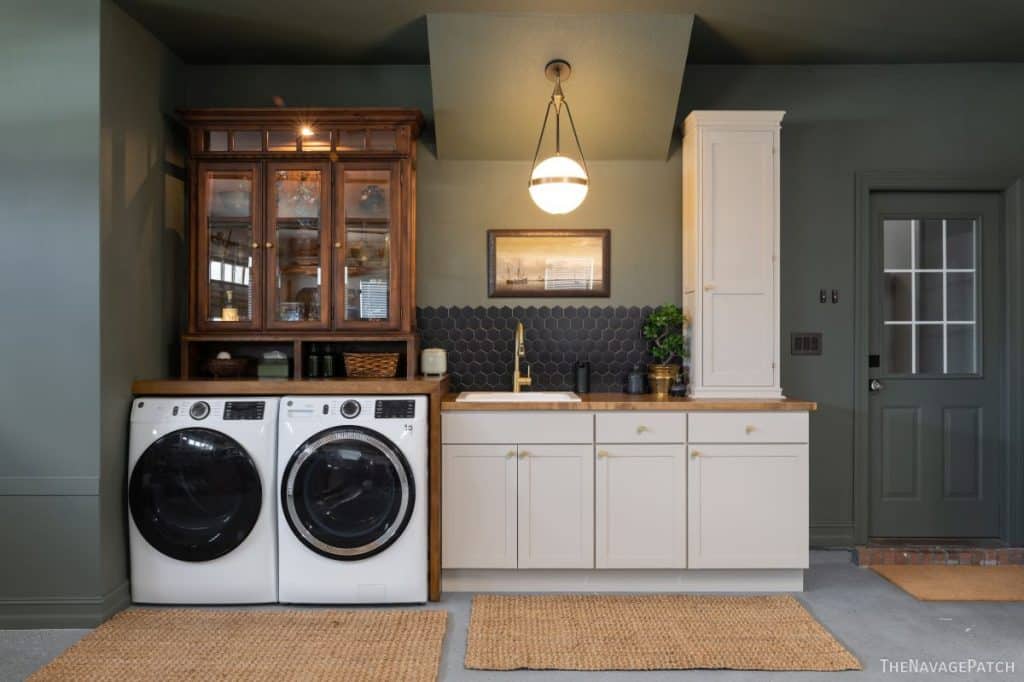 There are some creators on social media who think it's okay to publicly shame and vilify those who give negative comments – all in the name of "kindness." Why on earth would they do that?
To me, the negative comment is just as valued and valuable as the positive one. I thank the stars we live in a world of such varied beauty that we have the luxury of choice when it comes to decor and the luxury of opinion on those choices!
Can you imagine a world where only farmhouse was allowed, and it had to be spoken of favorably? Or a world of only (gag) mid-century modern (shudder)?
We are free to do to our homes whatever the heck we wish, and we are free to share it with the world, and we are free to receive the feedback of a thousand different perspectives – good, bad, positive or negative.
That is freedom, and it is absolutely as beautiful as my "rotten avocado" walls and my "grandma" hutch!
So Handan and I never go sour grapes about a negative comment. Even the nasty ones took the time to write, and I appreciate them for that.
Besides, for straight-up comedic value, negative comments are king! Two of my favorites before carrying on with the reveal:
This one from our current laundry room makeover…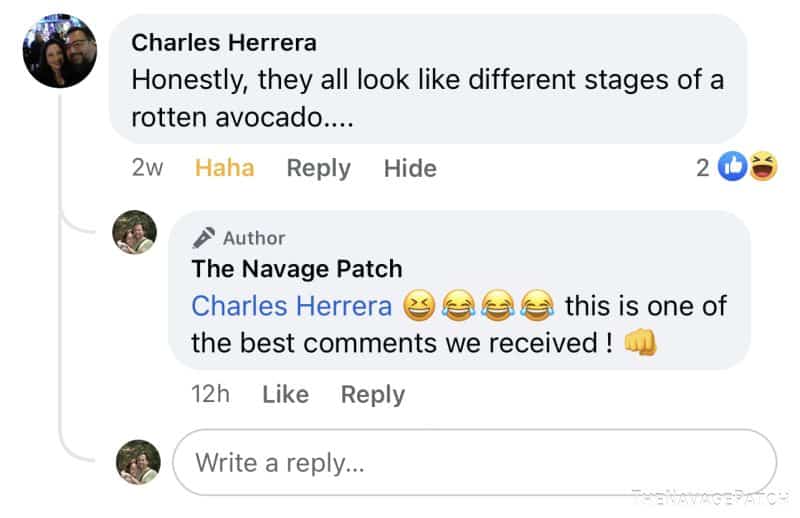 And this priceless gem from my DIY Macrame Ghost post on TikTok last fall…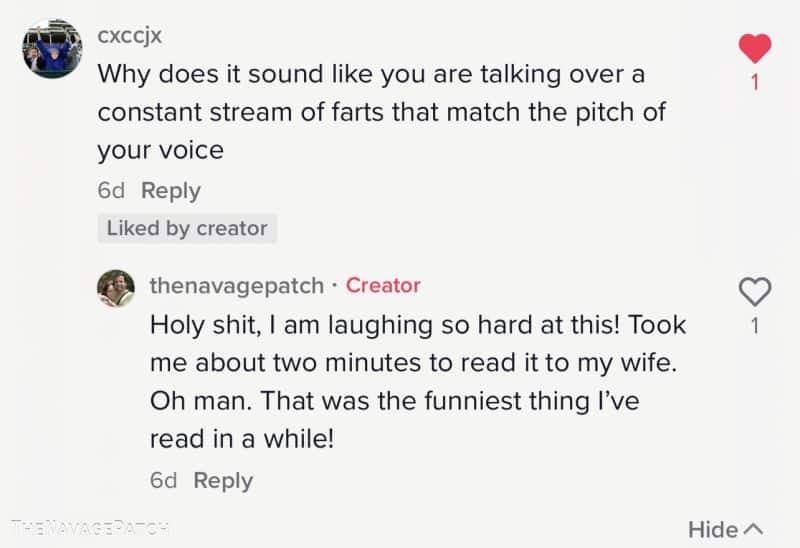 LAUNDRY ROOM REVEAL VIDEO
Watch our short and fun video below for an overview of our laundry room makeover reveal before you read the detailed progress.
Watch Our Tutorial On YouTube
We love to see our DIY projects out in the wild! If you try this DIY project and take a picture and post it on Instagram, be sure to tag us @TheNavagePatch!
LAUNDRY ROOM REVEAL
Okay let's take a look at the final touches before the reveal.
By the end of week 7, we were essentially finished with our garage laundry room but for a few details – one of them actually quite significant.
Off to the side and never pictured (but seen by us every day) is the side panel I installed to give a seamless look to the cabinets on their raised base. I cut the side panel from a scrap of utility panel that I attached with construction adhesive and brad nails.
Once I had the side panel installed, I made a toe-kick from the same utility panel and installed it under the front of the cabinets.
I'm almost 51 years old, and just the thought of bending over to retrieve something from the back of a lower cabinet is enough to give me heart palpitations. So it's a good thing I have a wife to remind me to build (insist upon) slide-out shelves for those cabinets.
Welp, I made them back in 2016 for our CT kitchen, so I could certainly make them again. But this time I have 7 years' experience under my belt, so I came up with a much easier method – tutorial coming soon for that!
That left one big little detail – the pendant light.
Alora lighting was kind enough to send us one of their beautiful Harmony pendant lights. There was just one little issue – I'd have to wire it up myself. I would be hanging it from the angled bit of ceiling over the sink. That outcropping is the staircase leading up to the craft room, and fortunately, there is a crawling entrance to the underside of the stairs. This is what a blubbery 50-year-old looks like coming out of that hole.
Inside that little space, after removing some insulation, I found enough space to wire up the light.
I was able to run wire over to the existing 3-switch plate at the house entrance of the garage. That switch plate had always been something of a mystery, because as far as I could tell, only one switch worked – the one for the overhead garage lights. I was excited to see where the other switches were wired…
They weren't! They were dummies! Who on god's green earth does such a thing??
Well, it did allow me to wire up the pendant light to one of the vacant switch bays. And as I also transitioned those switches to rocker paddles – yes, I installed a dummy rocker paddle in the middle. Hey, I might find a use for it someday!
But the Alora pendant looks fantastic!
We went through a few runner changes-of-mind until settling on the ones shown in the upcoming reveal pictures. The rugs keep it classy out there – after all, it is a garage floor, and I usually do laundry barefoot.
And with that, we put the wraps on our second One Room Challenge. Will there be a third…?
Of course! And I fully expect it to be another headless chicken, clown-fest, shitshow, as it will once again coincide with our busy Halloween season. But really, what else am I gonna do with my time? Relax?
LOLOLOL!
LAUNDRY ROOM SOURCE LIST
Affiliate links are provided below. Full disclosure here.
Walls: SW pewter green
Cabinets: SW Shiitake
Countertop & cubby stain: Provincial Gel Stain
Click the ORC logo below to check out the other participants!
HERE IS OUR ORC PROGRESS