Sturdy DIY Closet Shelves
With these sturdy DIY closet shelves, we turned an inefficient clothing closet into a storage powerhouse that can hold almost anything!
You'd think if you built houses on swampland or other places the water table is so high that a basement would turn the house into a bobbing cork…you'd think you would include plenty of interior storage to make up for the lack of underground storage.
You'd think.
We humans are material creatures descended from dragons who gather and hoard possessions lest someone else get their grubby paws on them.
Perhaps "humans" is too broad a stroke. Maybe "Americans" would be a better choice.
Whatever the word, the simple fact is that it's cruel and unusual to subject an American human to the depraved and wretched conditions that arise from a simple lack of a basement.
So you'd really think the bobble-headed hammer-swingers that pass for builders around here would at least try to help a fellow American out with ample room to store the copious crap we all collect from birth to death.
Instead, the plumb line pickleheads give us one-pole closets with maybe a small wire shelf or two that can hold nothing more than whispered profanities and exasperated sighs.
Such was the case with our guest room closet. This is the same guest room I made over last fall. The bedroom turned out great, as you may recall, but I never touched the closet.
It was certainly sufficient for a guest. But honestly, who allocates an entire closet to a mythical guest? And in Florida, the basementless land of suffering, who would even thing of allocating a square inch of storage space to the far-flung notion of "guests?"
Obviously, we commandeered that closet for storage from day one in this house. But because it was built by someone who calls himself a "house builder," you know the job was quarter-planned, half-assed and fully wasteful of the allocated space. Just have a look and see for yourself.
Now you may see those five abominable wire shelves and think to yourself that it's a pretty substantial closet.
Don't!
That's just what the want you to think! What about the measly single pole on the other side?
What about the wasted space above?
Building contractors are a case study in the efficient waste of space. Don't fall prey to their tricks and sleights of hand!
Our plan was to rip out the wire shelving (duh), remove that lonely and pathetic closet pole and build thick and glorious L-shaped shelves from floor-to-ceiling.
And the best part was I did it (almost) entirely from wood I had on hand.
Guest Closet Makeover VIDEO
Watch our short and fun video below for an overview of our Guest Closet Makeover before you read the detailed account.
Watch Our Tutorial On YouTube
We love to see our DIY projects out in the wild! If you try this DIY project and take a picture and post it on Instagram, be sure to tag us @TheNavagePatch!
Closet Makeover Tutorial
Affiliate links are provided below. Full disclosure here.
Step 1 – Exterminate the wire shelves
I've said it before, I'm saying it now, and I'll probably whisper it with my dying breath – wire shelves are the reason we're not all living in peace and harmony and zipping around the skies in flying cars like we were promised when I was a kid.
Thus, it is not only my civic duty as a proud American but my duty as a human being to eradicate wire shelves and replace them with something sturdier, more beautiful and much better built. ClosetMaid can retire. She's done more than enough damage to the world already.
Here's a handy tool my babes got for me. It has since become one of my most trusted lieutenants in the War Against Wire Shelving.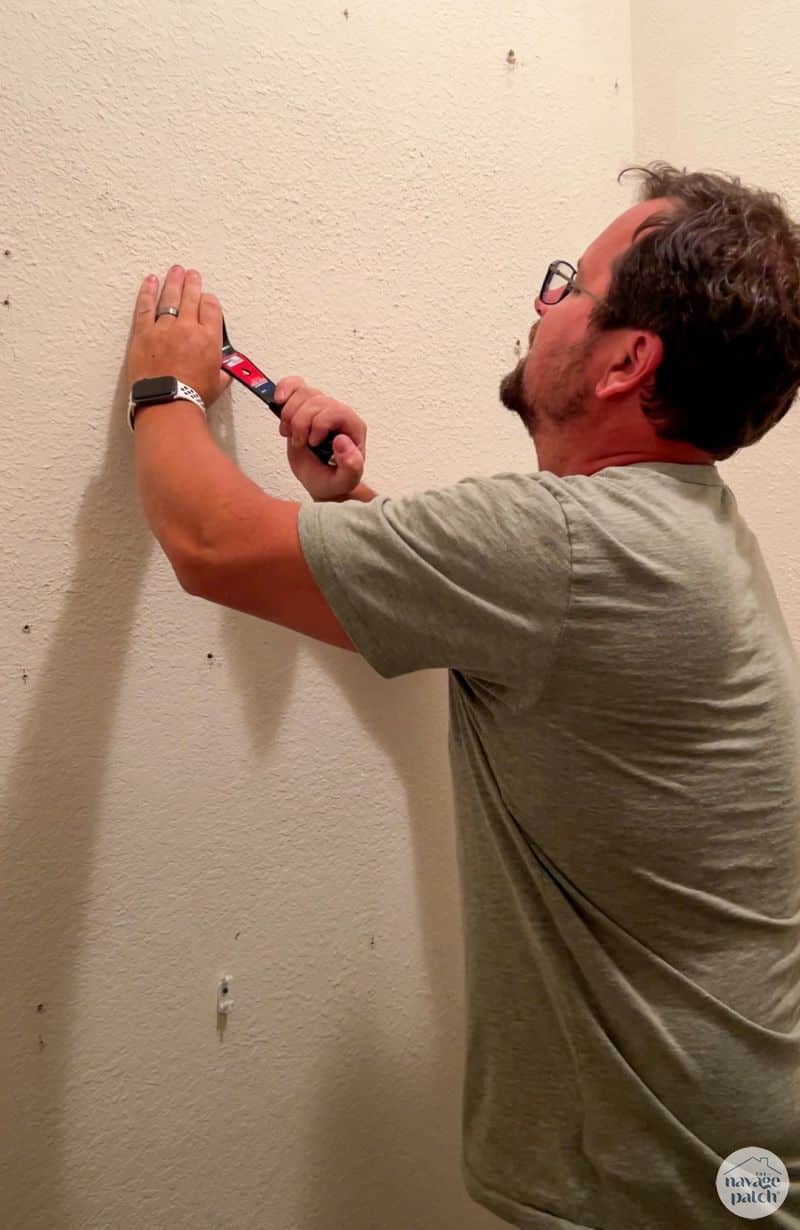 Step 2 – Repair and paint
Removal of wire shelves is never without collateral damage. I filled the resulting wall craters with spackle and then spruced up the room with two coats of SW Swiss Coffee.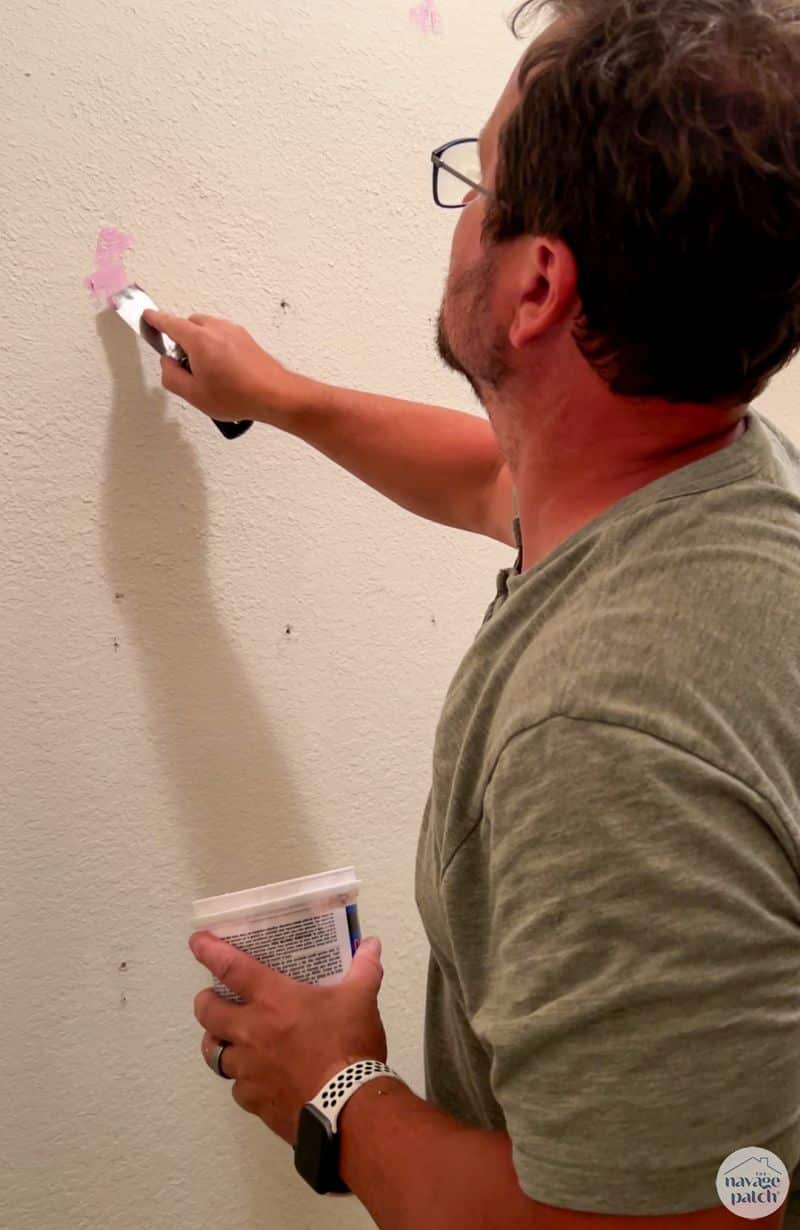 Step 3 – Make and attach wall supports
The idea for these shelves is to attach thick and sturdy supports (1 5/8″ x 1 1/2″) directly into the studs. This frame would then support 3/4 inch plywood or MDF shelves. Remember, the point of this closet (besides storage) is to use up a whole lotta scrap wood. The shelf bottoms would be made from thinner utility panel – essentially 1/8 or 3/16 inch plywood. I was able to build these shelves without the need for a vertical post because I had four wall surfaces on which to install the frame supports.
I started by determining how many shelves I wanted and how thick they would be, and then I used a measure to mark each shelf height and a level to draw a line across the wall.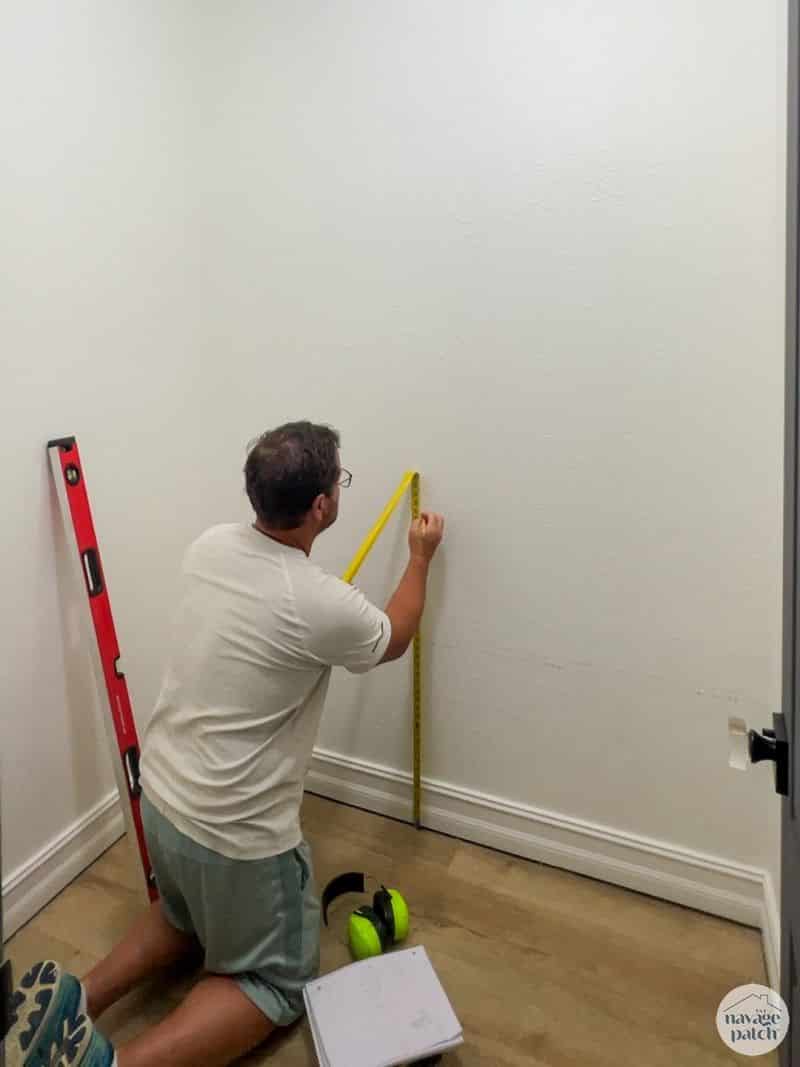 Next I used a stud finder and marked them on each line.
I cut all of my supports from scrap 2x lumber I had on hand – that's why each support is 1 5/8 x 1 1/2.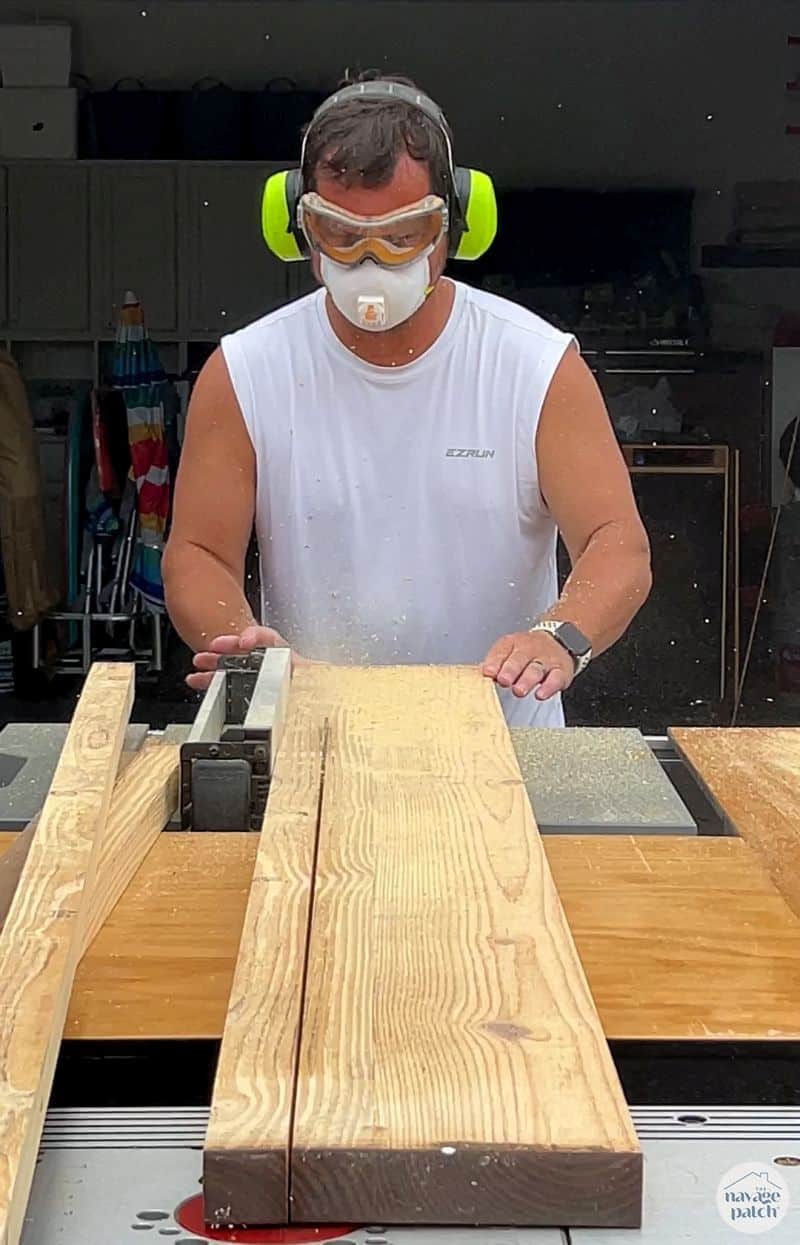 After measuring the wall distances for each shelf (walls are never square, so this saves time and frustration later), I installed the supports from the ground up.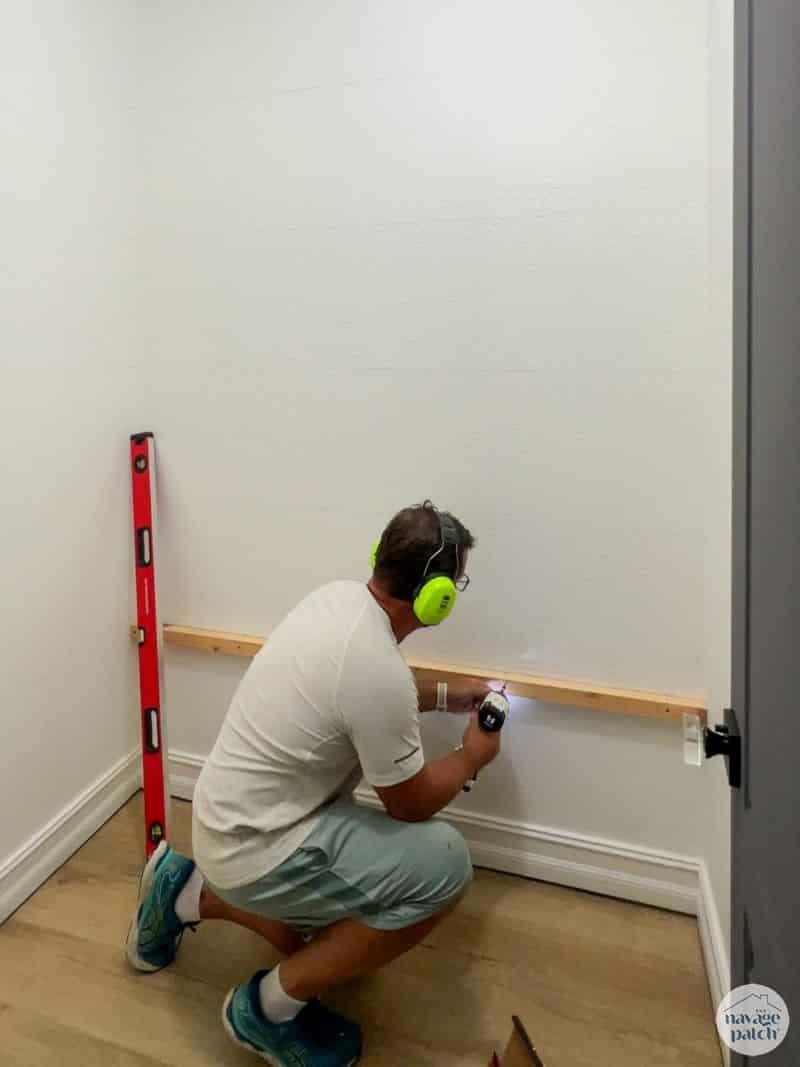 Screwing into the studs probably would have been strong enough, but I reinforced the corners with pocket screws just to be on the safe side.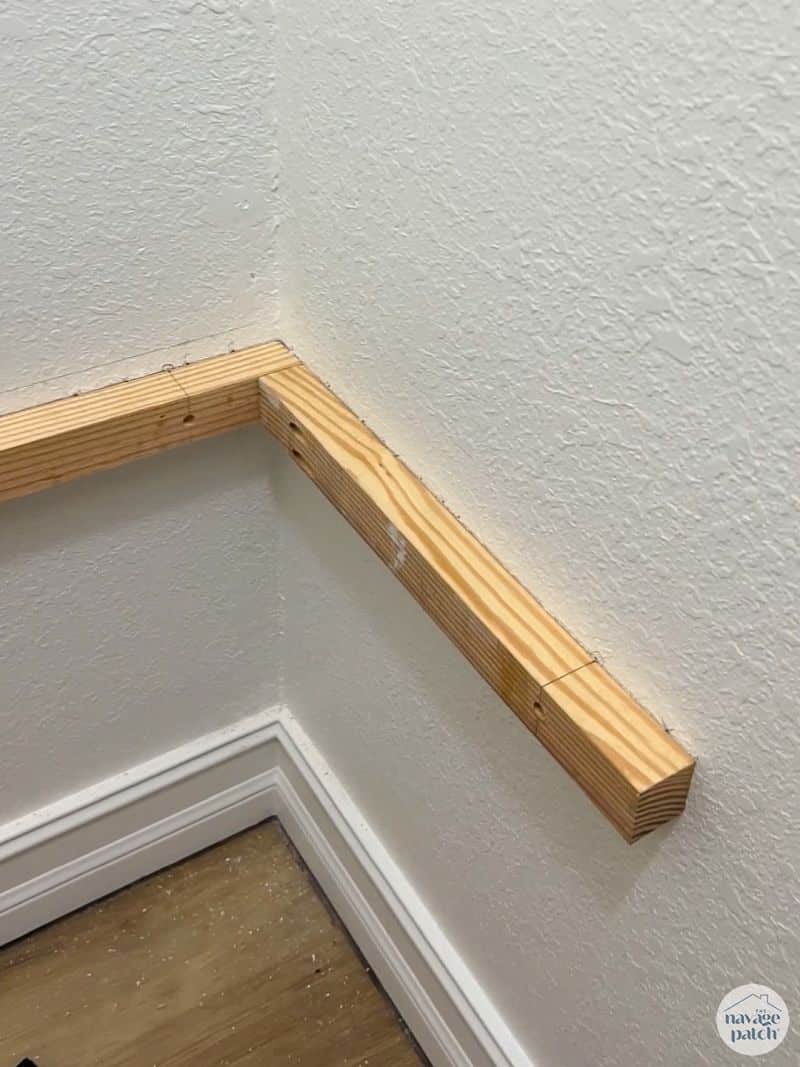 I checked the level of every piece before screwing into the studs. It is essential that all supports be level or you'll end up with wobbly or warped shelves.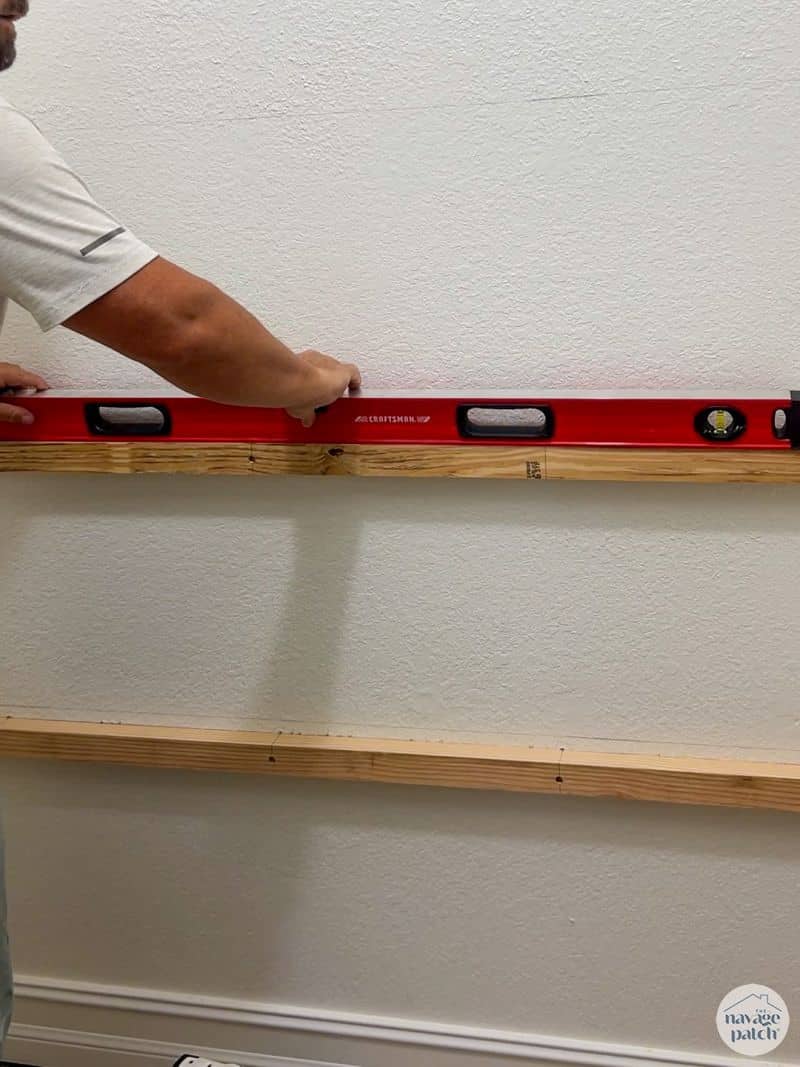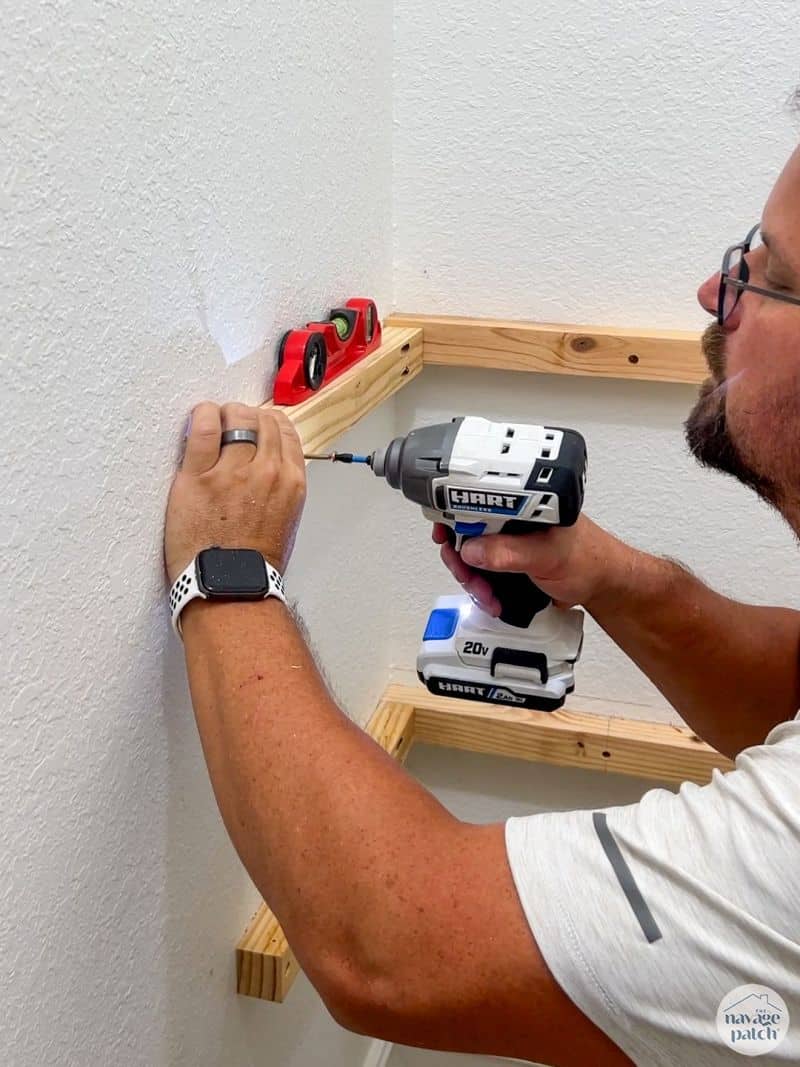 Up up and up until I had the outline of five shelves.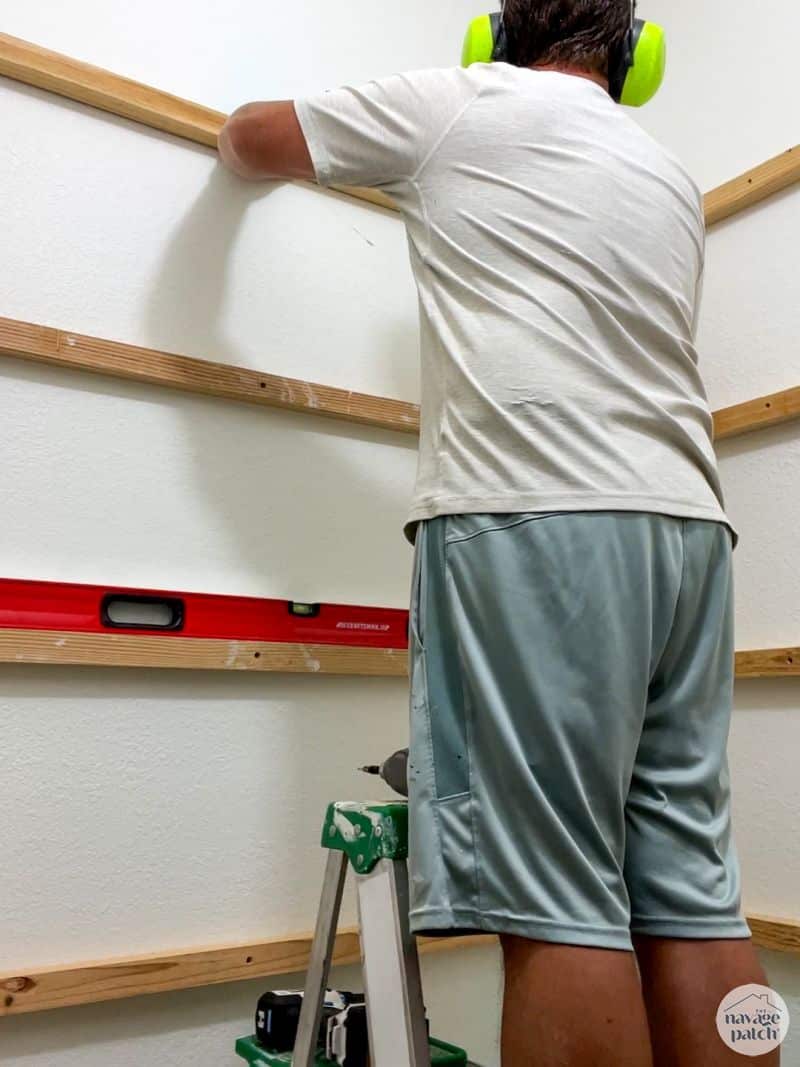 Step 4 – Build out the frames and shelves
Starting from the top and working down, I built the frames outward using pocket screws.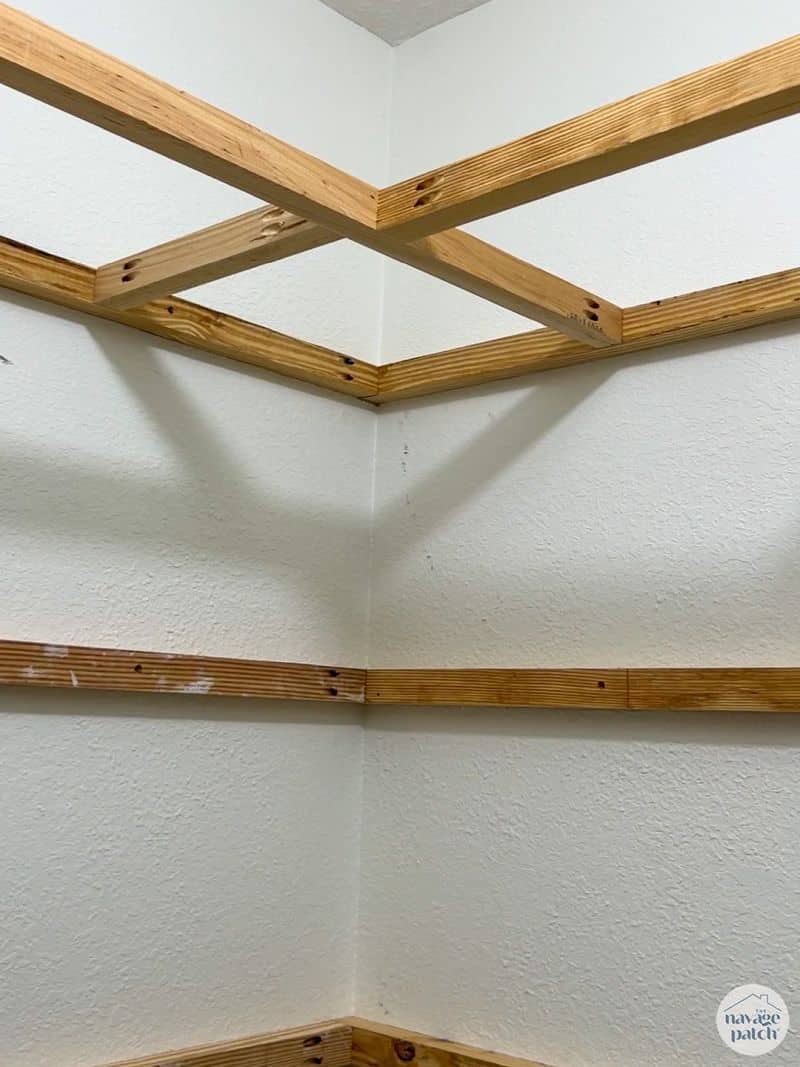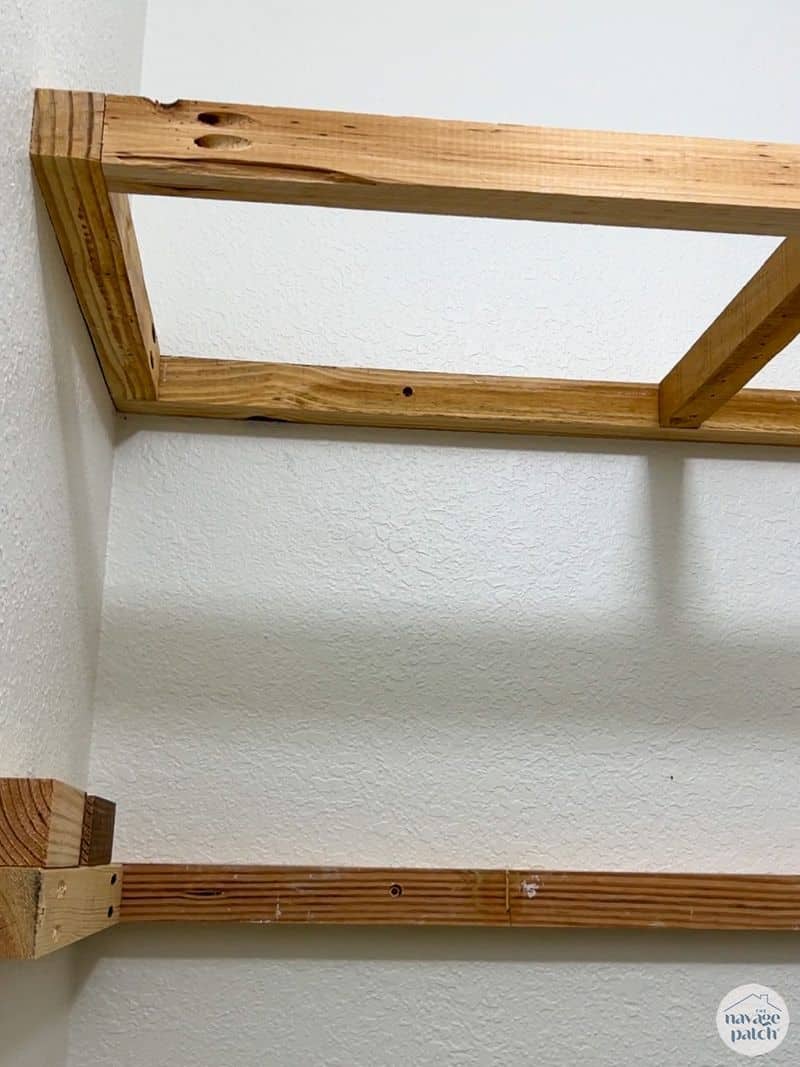 On the upper closet shelves I used my scrap MDF. After laying it and securing with a few brads, I cut and installed the bottom piece from utility panel. I used construction adhesive and brads to hold the shelf bottoms in place.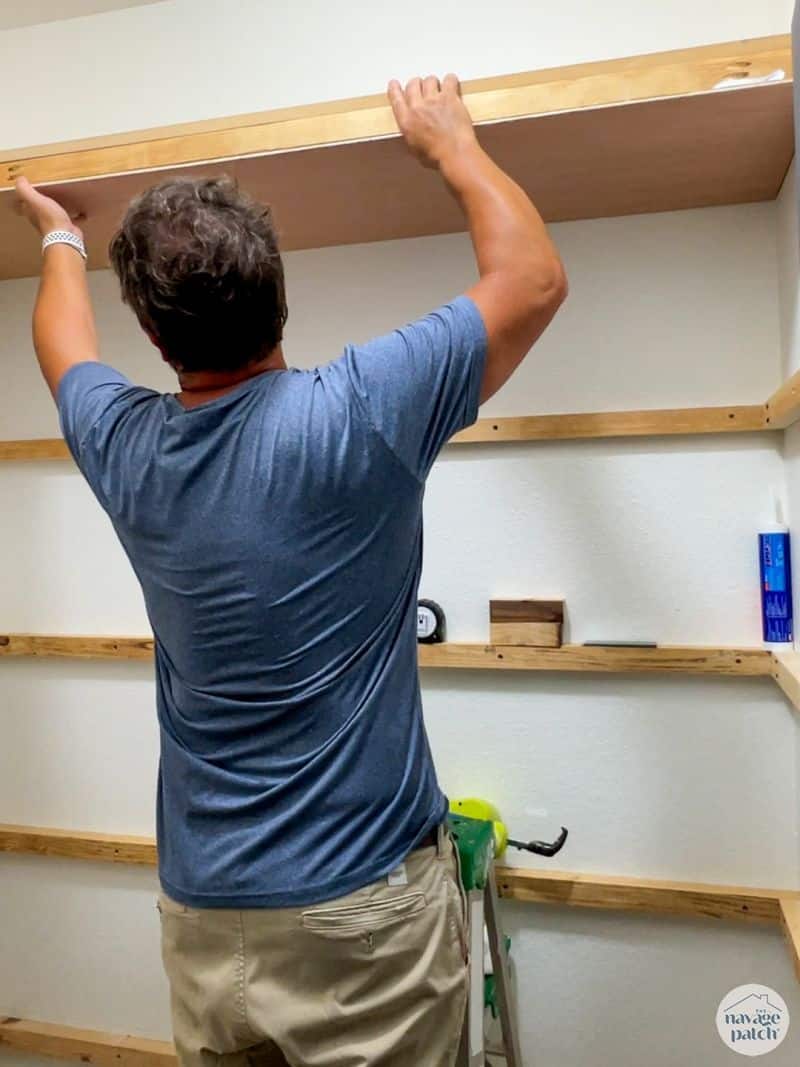 After installing the top shelf top and bottom, I moved down and repeated the process.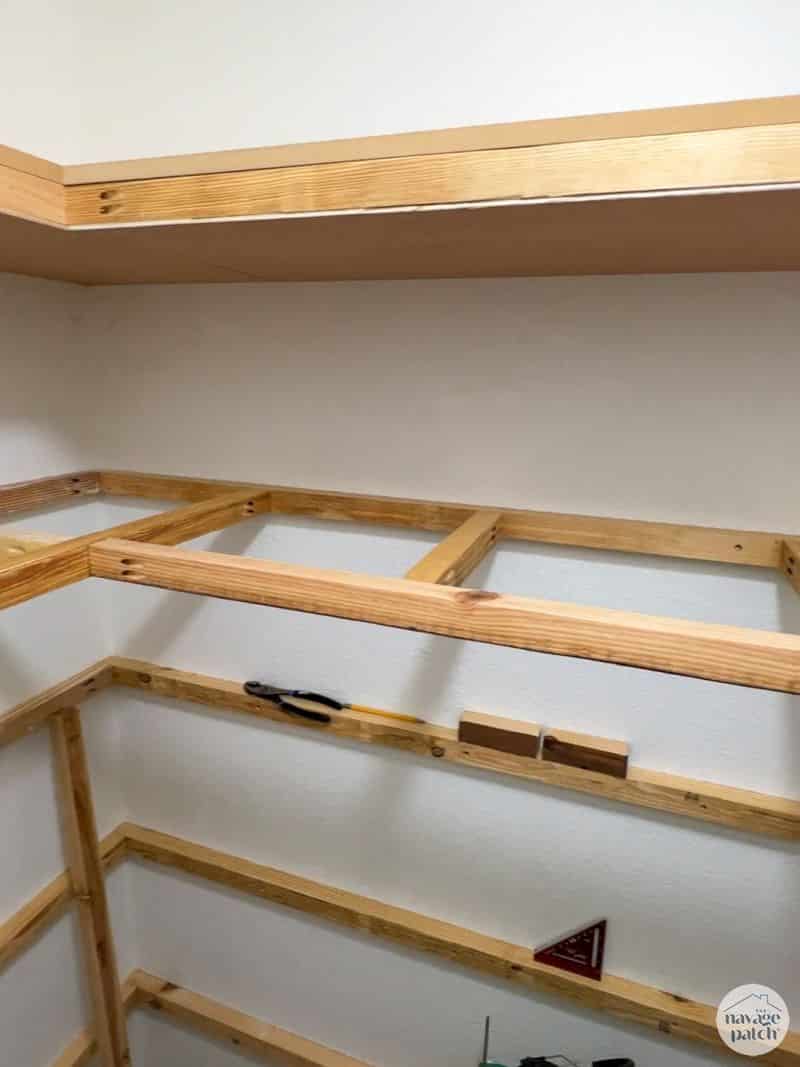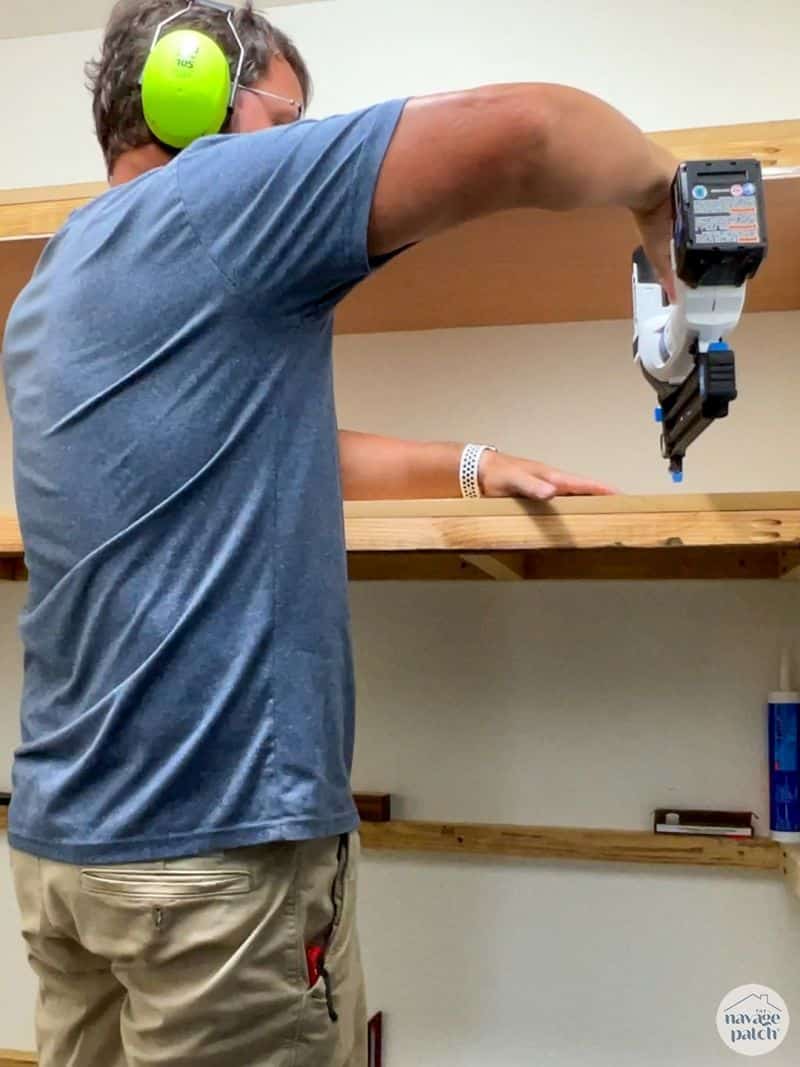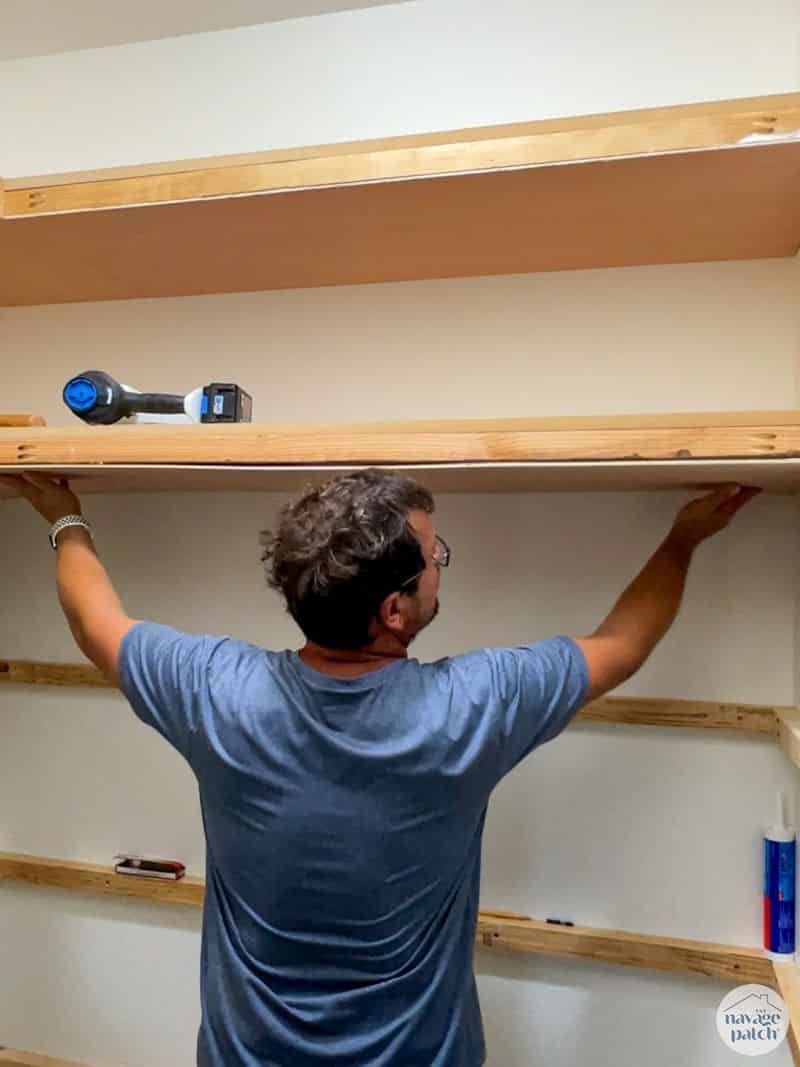 Step 5 – Add finish trim
To give a finished and professional look, I attached strips of utility panel to the faces with construction adhesive and brads.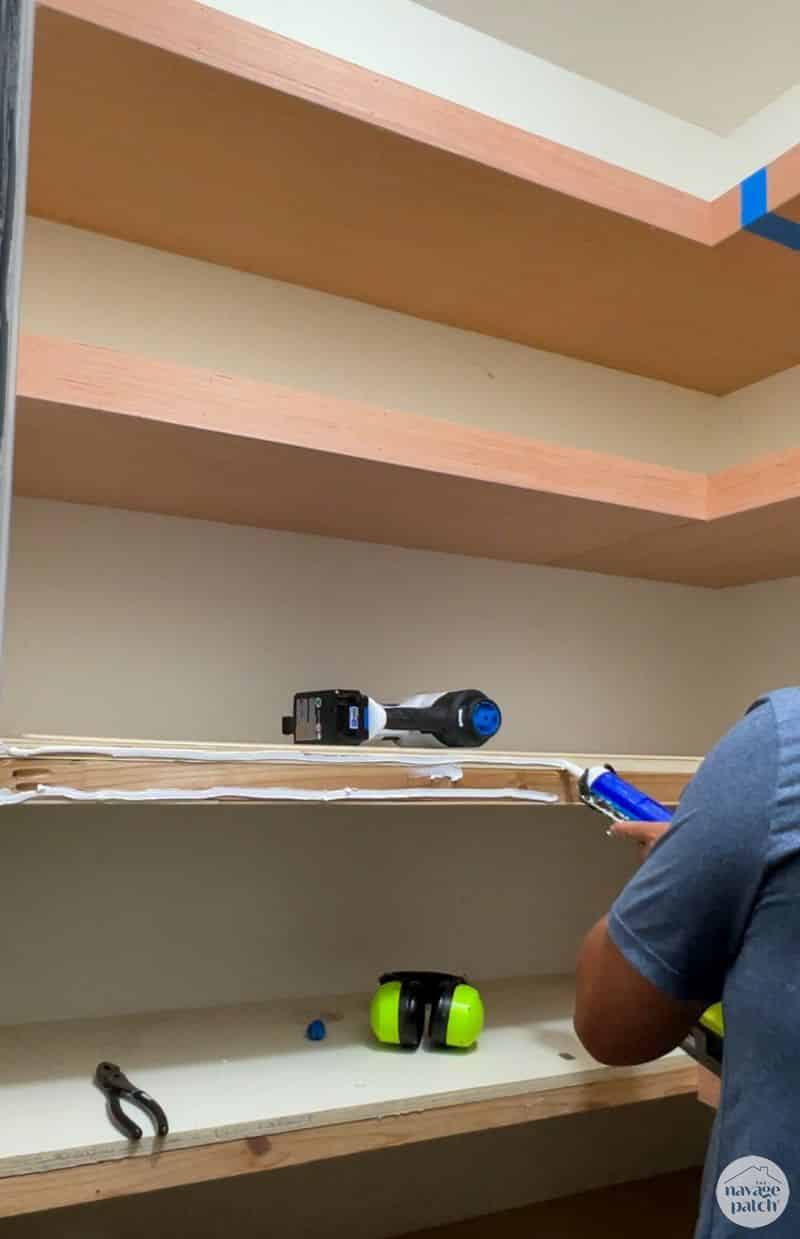 Step 6 – Caulk and paint
I filled all the nail holes and any gaps with wood filler and sanded, then I caulked all the edges.
I then painted the closet shelves with SW Swiss Coffee and the faces with SW Shiitake.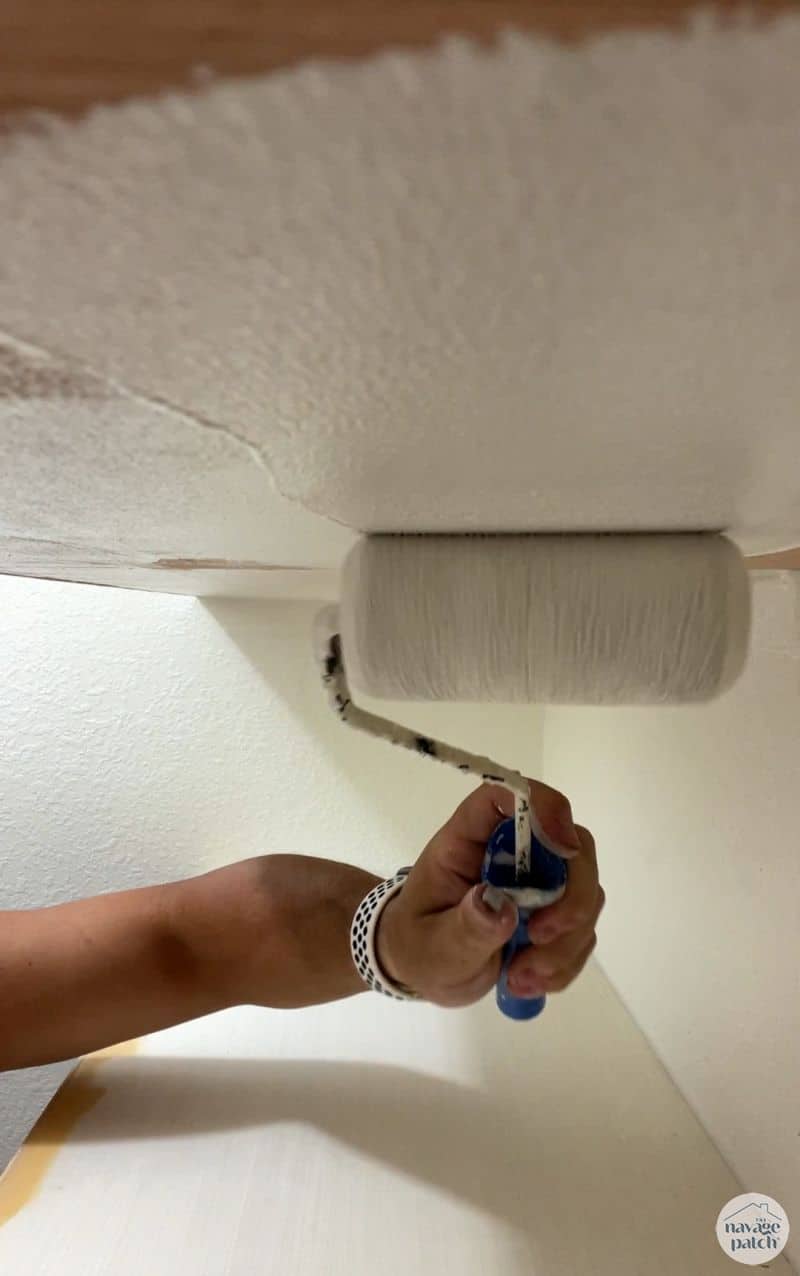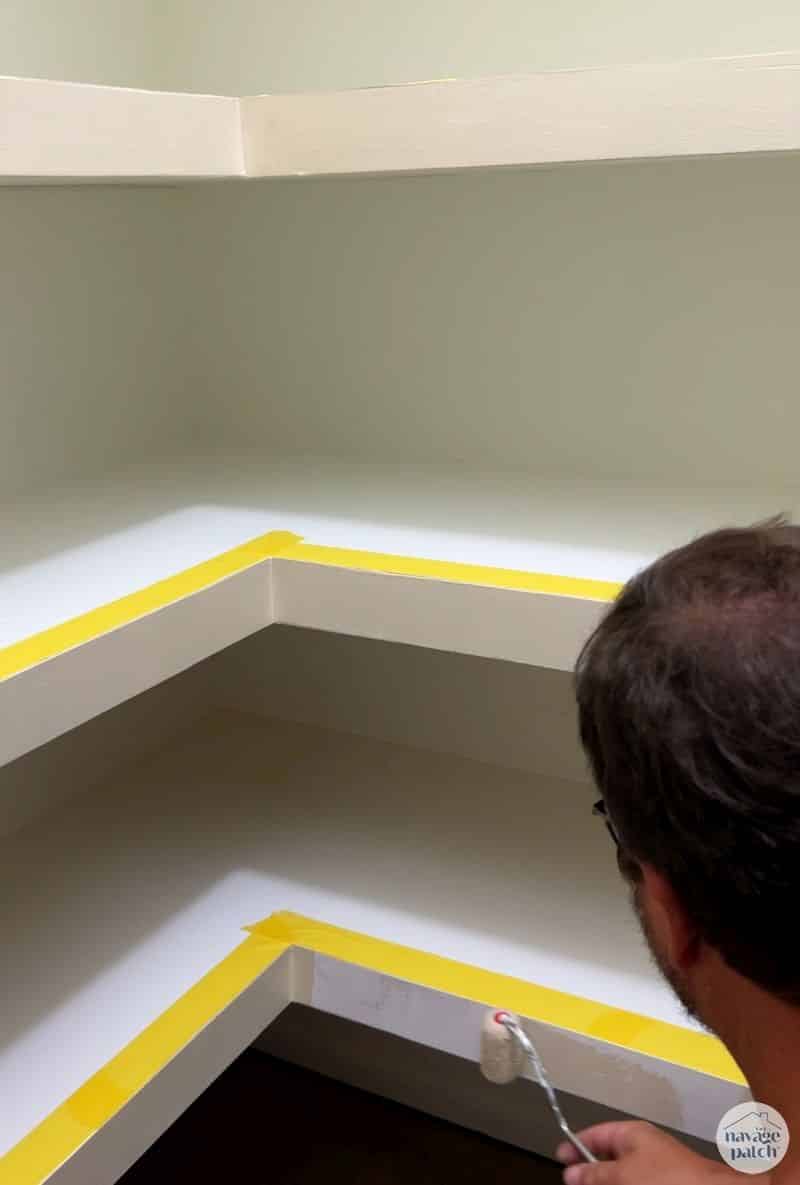 My babes' new storage room awaited.
I'm happy to report she wasted no time filling her closet shelves with all sorts of goodies!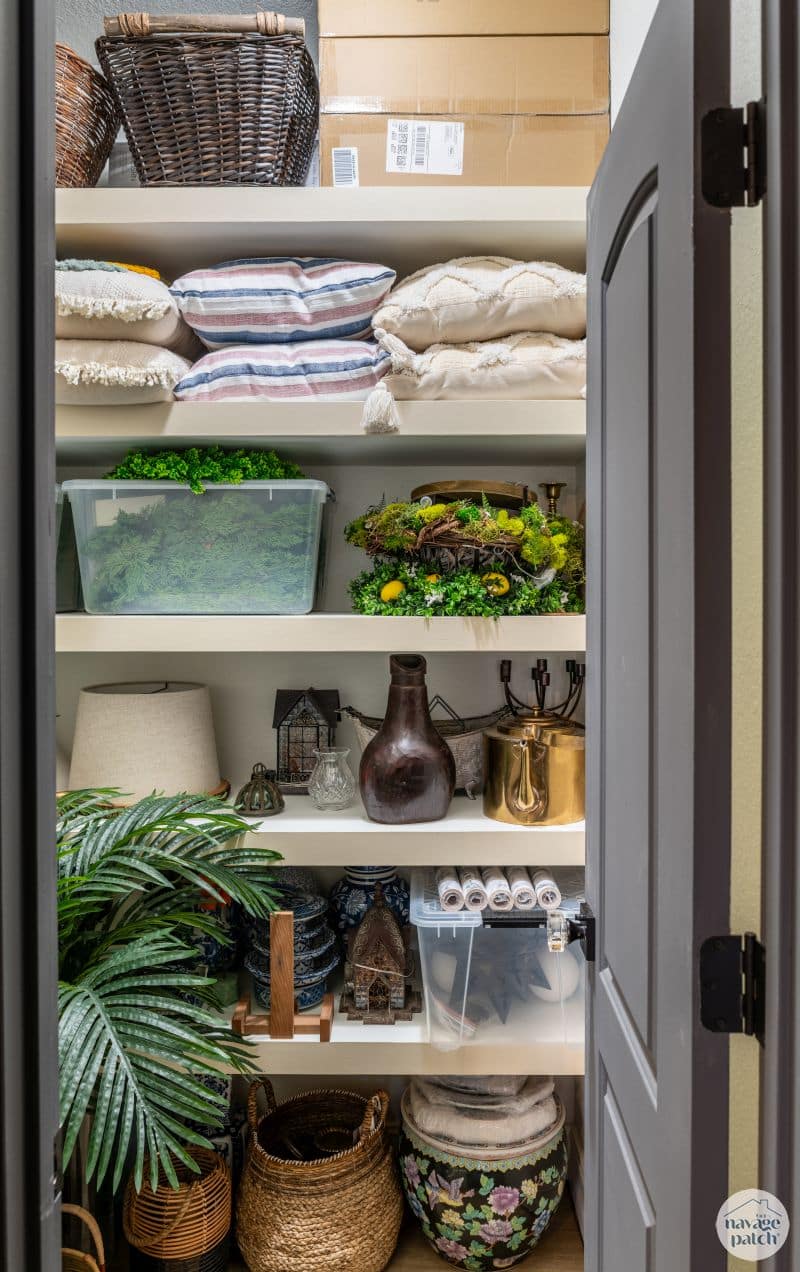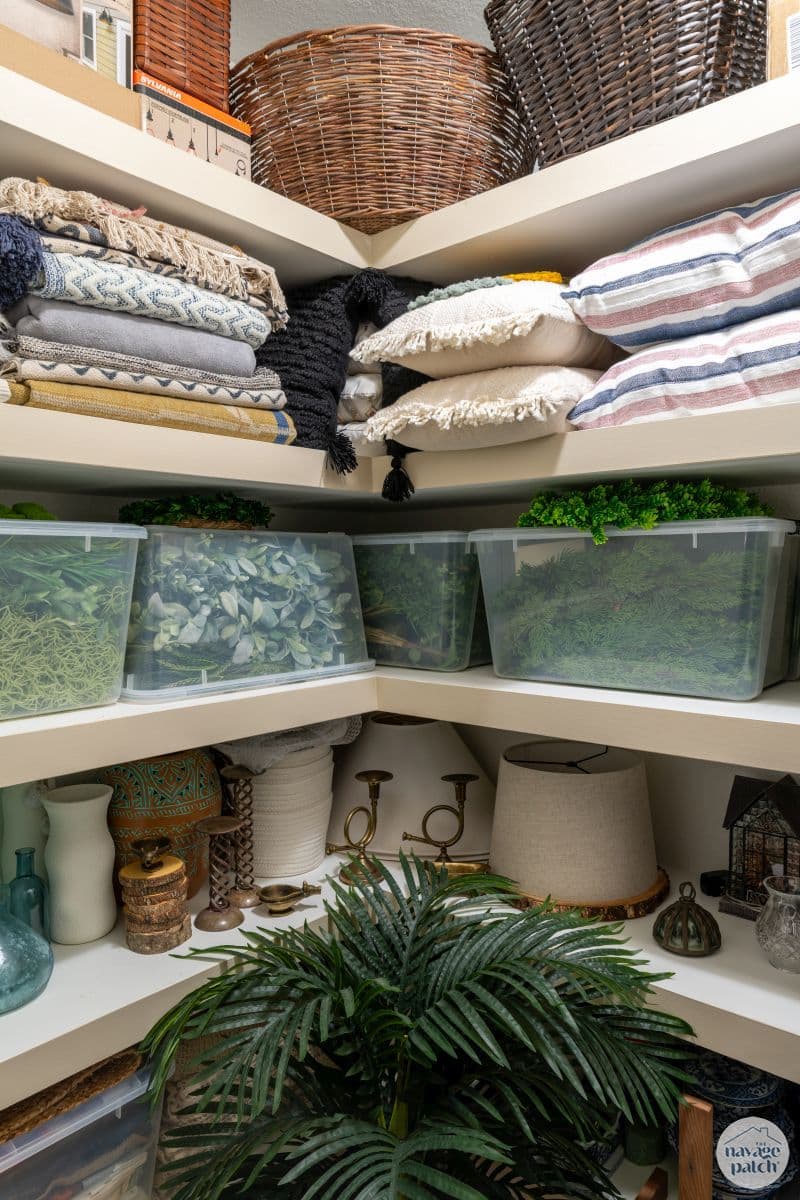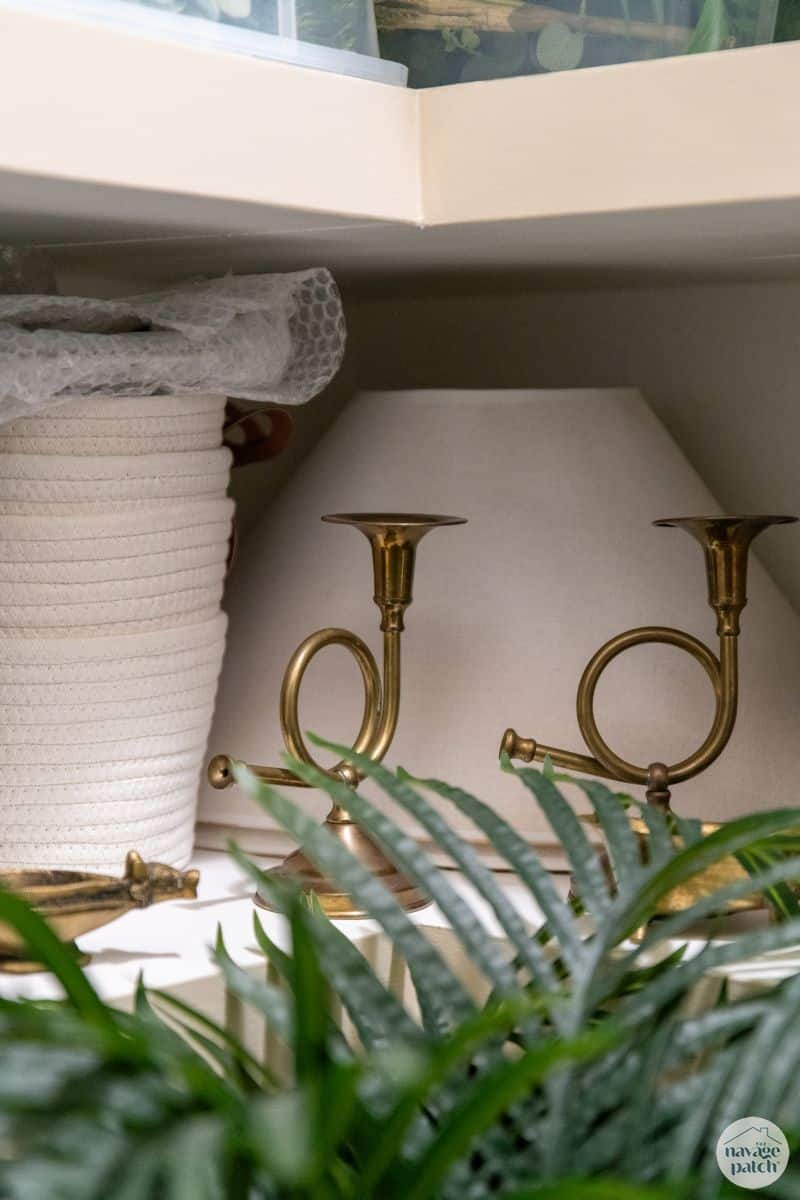 Before you go, have a look at some of our favorite holiday greenery finds under $30. It's never too early to get the good stuff!