Guest Bedroom Makeover Reveal (ORC Fall 2022 Week 8)
Our One Room Challenge Guest Bedroom Makeover Reveal is finally here! 8 weeks of mayhem and madness have led to this stunning result!
This is week 8 of the Fall 2022 One Room Challenge. For those unfamiliar, ORC is a biannual challenge for interior designers, decorators and stylists to finish one room in their house in 8 weeks. The challenge is also open to guest participants like us. Every week (more or less 😁) we posted an update on our blog and on Instagram as we took you along with us as we transformed a mundane guest bedroom into something stunning.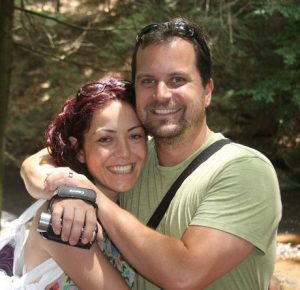 Welcome to The Navage Patch!
If you're joining us from the ORC website – welcome! I'm Greg, this is The Navage Patch, and my wife Handan and I are giving a makeover to one of the guest bedrooms in our new Florida home. This is our first One Room Challenge, and we can't wait to show you what we've done to this room!
When my babes informed me two months ago in no uncertain terms that I'd be entering One Room Challenge as a guest participant, my first thought was no followed by way, followed by a spoken sentence that went a little something like, "Are you nuts? It's the start of our busiest season for the blog, you unhinged cacklebag!"
Actually, what I really said was, "Okay, my babes," but inside I was seething. How dare The Loon heap even more work upon my creaking old bones?
But I internalized my annoyance and, let's face it, fear, and sighed the sigh I'd sighed a thousand sighs before.
If my babes wanted me to be in the ORC with our guest bedroom, I'd ORC the sh!t out of that room, even if it meant I'd be busier than a one-legged man in an ass-kicking contest for the next two months!
Because if it's worth doing, it's worth doing while juggling a dozen other Halloween and Christmas projects, because a Challenge ain't a challenge unless it keeps you bug-eye awake at night stressing about accent walls, paint sprayers, luxury vinyl plank, antique mirrors and why we don't just say eff this bullcrap and move back into adobe huts, teepees and log cabins.
But enough of my jabber-jawing. Let's jump right in and see what kept me crawling, climbing, huffing and puffing for the past eight weeks!
Okay, to rewind a bit, the room looked a little something like this when I started the project:
After 8 weeks of Halloween and Christmas crafts punctuated by frantic weekly scramblings to cobble together enough progress for an ORC update, I got the room looking like this (with a little help from my babes)!
This room represents the biggest departure from our usual style to date, and we love the results!
We love to see our DIY projects out in the wild! If you try this DIY project and take a picture and post it on Instagram, be sure to tag us @TheNavagePatch!
And though we didn't check off every item on our original to-do list, we ended up with a gorgeous guest bedroom we love and can't wait to share with my family. And when it's not occupied, it's going to be a great place to take photos!
So let's take a closer look at the elements of this novel Navage Patch room makeover! Source List is at the end of this post!
When we first moved into our Connecticut house in 2013, The Navage Patch had yet to be hatched, and neither Handan nor I knew diddly-jack-squat about interior design and style. We immediately changed all the gold and yellow walls (yes, really) of that house into…various shades of color that had no business coexisting in the same home.
Fast forward a few years, and we repainted everything to shades of gray – a vast improvement.
When we moved to Georgia, we dispensed with color entirely and went almost exclusively with shades of white, and we loved it.
But white gets a little plain vanilla after a while, and by the time we moved to Florida, we were ready for some changes.
We dipped our toes into these new design waters with our son's bedroom makeover.
And now with this guest bedroom makeover, we were ready to take things into uncharted waters – at least for us.
Our son's accent wall was our first time experimenting with such a concept, and with this makeover, I took it to an extreme conclusion. It was a lot of work, but it adds so much visual interest to the room that I'd happily do it again in another room. (Translation: I'd begrudgingly suffer through it again to make my wife happy and to please my social media overlords. 😂)
And then there's the color. Sherwin-Williams Peppercorn is the darkest we've gone on a wall, and we wonder why we waited so long! But we didn't just put it on the accent wall – I slathered that stuff over three walls…AND (here's the crazy part)…the ceiling.
Not only was this our first time painting a ceiling anything other than white, but I went full dark side and painted the crown moulding and baseboards to boot!
Some called me crazy on social media, but I just held my head high and pretended I'd done this sort of thing before and totally knew what I was doing and why.
It may not be everyone's cup of tea, but we think it makes this room rich, elegant and unbelievably cozy. And for those who say a room must have white trim, I just say, Diff'rent Strokes…
Instead of the standard ceiling fan with light, we went for a fandelier. This little wonder is beautiful and kicks out more air than its diminutive fan blades might otherwise suggest.
We think this carpet is perfect for this room. Anything more ornate would compete with the other elements, but this one complements everything. As the big Lebowski would say, "It really ties the room together, man!"
And then there's this antiqued mirror sliding door. I will write a full blog post about it soon, but this door caused untold anguish when in the final week on the final stretch, I left 24 antiqued mirrors outside to dry on a 4×8 sheet on foam insulation on a table on a windy day. When I came back outside 10 minutes later, I discovered broken shards strewn all over the driveway and lawn. All of them shattered beyond recovery. That nearly caused me to throw in the towel on ORC, head south to Mexico and glue my butt to a bar stool while waving a middle finger salute back across the Gulf of Mexico.
But instead, Handan and I restarted the project, worked all day and night and managed to finish it and the room before the ORC deadline.
It was so worth it – the door is a gorgeous addition to the room!
We went with the same LVP for this room as we did for our son's bedroom. It's inexpensive, it installs easily, and it looks great – why mess with success?
I love the Jasper wall sconces generously provided by Kichler Lighting. Those who've been following us for years may recall seeing Kichler products used in every house we've owned – bought by us, not given – so you know we really love and trust the company and their products.
I was going to makeover the two nightstands, but I ran out of time, so that'll happen sometime in the future. For now, they're great just the way they are.
I made this sherpa pillow for Handan, and she loves it! I'll be posting about that one soon on our social channels and shortly after that here on the blog.
Would you believe that door handle started out as a Dollar Tree Plus table decor? Amazing, isn't it?
This was a free frame from Put & Take, and the art inside is a $3 Goodwill pillow cover.
This was a $7 Goodwill vase that I painted with Drylok and then black acrylic paint. It makes a classy planter with a high-end look. You'd never guess how much it really cost!
We got this bowl from Target and filled it with seasonal doodads and a big sleigh bell we painted gold.
I love this work of art. It's a digital print we had printed at Office Depot depicting an Albanian sentinel resting with a pipe. We'll be sharing other works by this same artist and some other artists in The VIP Patch.
For my very first ORC, I think I did a pretty good job, especially considering the monkey show our lives were during the past two months. Next spring, I'll be joining again, and hopefully since it won't be our busiest time of year, I'll be able to give even more blood, sweat and tears and make it absolutely magnificent!
GUEST ROOM SOURCE LIST
Affiliate links are provided below. Full disclosure here.
LVP: Shaw Floorté Pro 5 Series in Marina color
Paint colors: Peppercorn and Fawn Brindle (both Sherwin Williams)
Faux Calathea plant (buy this faux plant only when they have sales on faux plants – trust me they have these sales quite often and you'll be happy that you waited)
DIY Mirror Sliding Door (coming soon)
DIY Sherpa Tree Pillow (coming soon)
DIY Wall Art (coming soon)
Click the ORC logo below to check out the other participants!
Here is our ORC progress