Watercolor Tattoo Easter Eggs
Learn how to make watercolor tattoo Easter eggs, and give your Easter baskets a little twist this year! They're easy to make and edible, too!
My wife recently informed me that we'd be doing one or two Easter posts this year. This was new territory for The Navage Patch.
Until now, I'd steered our little ship around the holiday each year, deftly side-slipping the pastels and flowers, carefully maneuvering past the Peeps and jellybeans, all while keeping a prudent eye on the cheery baskets full of phony paper grass and hollow chocolate rabbits. Hollow!
In the Real World, rabbits aren't hollow.
In the Real World, rabbits are entirely full of the roots, stems and leaves that they've gobbled from our most prized shrubs and perennials.
In the Real World, rabbits are jerks.
Anyway, back to the Easter posts. Each year I'd find an excuse not to write one, or I'd make sure we were elbows-deep in some hideously long project that left no time for Easter frivolities.
But each year, my beloved Handan would read more and more Easter posts by other bloggers.
And why couldn't we do an Easter post?
And what's your problem with Easter, anyway?
At least she's with me on the rabbit thing. Awful little things. They'll chew through your garden and then your soul, if you let them!
Anyway, back to the Easter posts. Now where was I?
Ah, yes!
Handan wanted us to do a couple of Easter projects.
All the other bloggers are doing them, my babes!
You guys know me. I can't say no to this woman!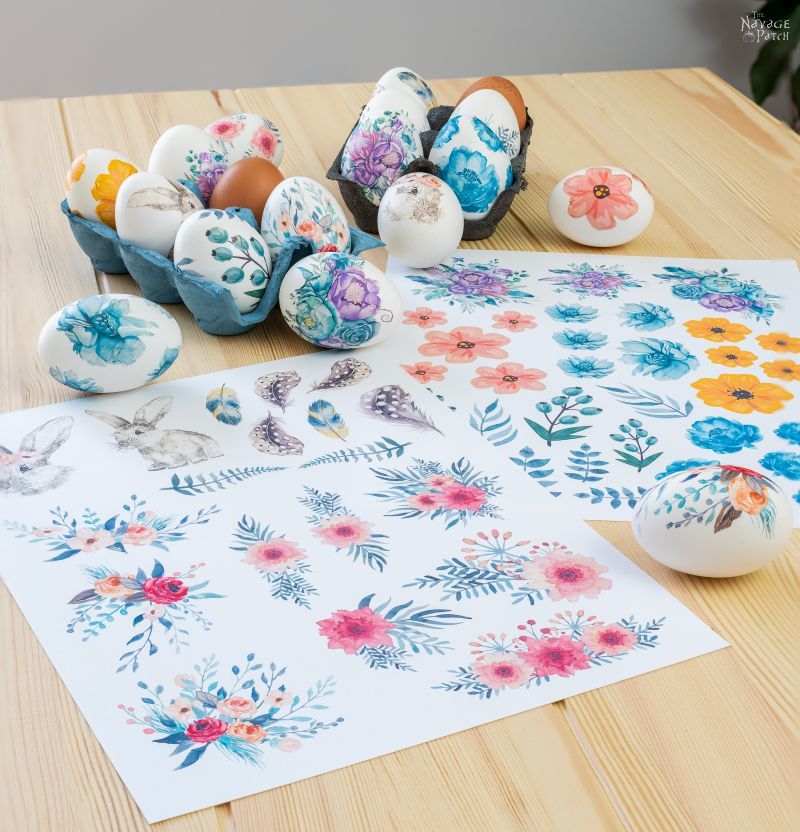 So I sighed the sigh I'd sighed a thousand sighs before and flapped my arms in her general direction. This was my signal that I was listening and she may proceed with yapping her idea at me.
She yapped and yapped and yapped – nothing new there.
But then a single word escaped her droning and made a beeline for my earhole:
Tattoo.
At once, my mind locked onto the word. Tattoo and Easter?
I'm in!
I turned off my WiFi (WifeFilter) and really started to listen.
The woman wanted to make Easter eggs [LAME], but she wanted to tattoo them [AWESOME!!]
My head swirled with the most wonderful images of eggshells emblazoned with flaming skulls and fire-breathing dragons!
This was gonna be great!
But my dreams of having an Easter basket full of badass crumbled when Handan explained her idea more fully.
We would be using temporary tattoos. [hmph, fine!]
And we would be making watercolor tattoo Easter eggs with flowers and feathers – you know, stuff that normal people would like.
I again sighed the sigh I'd sighed a thousand sighs before.
"Okay, My Babes." I said, "It actually sounds pretty awesome. I'll go get some eggs."
Watercolor Tattoo Easter Eggs
Free printable watercolor tattoo designs (can be downloaded from The VIP Patch)
Damp cloth
Hard boiled eggs
They may not be flaming skulls or fire-breathing dragons, but I gotta say that the tattoos Handan came up with are pretty awesome!
And making these watercolor tattoo Easter eggs couldn't be easier.
How to Make Watercolor Tattoo Easter Eggs
First, you're going to download our free watercolor tattoo Easter egg printables, and then you're going to print them out on some temporary tattoo paper – we used Silhouette temporary tattoo paper.
Next, cut out your tattoos. Cut as close to the image as possible.
Position your temporary tattoo on the egg.
Carefully press the tattooed side of the egg against the damp cloth. Tighten the cloth around the egg, but not hard enough to break the shell. Rub around the image with your fingers.
After about 20 seconds, take a peek under the damp cloth. The tattoo should be transferred.
Peel off the backing and gently brush any raised areas with the cloth.
That's all there is to it! You've just tattooed your first egg! Maybe you should buy it a motorcycle now? That egg was Born to be Wild!
Okay, okay, these particular watercolor tattoo Easter eggs were Born to be Mild, so maybe an Italian scooter would be more fitting. Perhaps a pink Vespa?
Happy Easter!
*******
Now click on the button below to download today's free watercolor tattoo designs. You'll find them under the Spring section of The VIP Patch.
If you're not a Navage Patch VIP, you won't be able to access our Freebies Library. But that can be easily fixed! Subscribe for free on the form below and become a Navage Patch VIP. Once you subscribe, a password will be sent to you in our Welcome email, and that will give you access to The VIP Patch [Freebies Library] and today's spring watercolors. If you didn't receive our Welcome email, can't find the password or have any other questions on this process or on our free printables, please check our Printables FAQ page.
If you display our free printables in your home, be sure to take a picture and post it on Instagram! Don't forget to tag us @TheNavagePatch! We love to see our printables out in the wild!
We love it when you share our posts on Facebook and Pinterest!