A Good Idea Gone Bad: The Sad Story of a Failed IKEA Makeover
Sometimes our heads make promises our bodies can't deliver. What seems like a great idea on paper might turn into an eyesore in reality. This is the story of a failed IKEA makeover that seemed so promising in my mind but never worked out the way I wanted.
My mind's eye saw regal perfection: a grand glorious thing, resplendent in royal blue and shimmering hammered copper. It was almost too beautiful to comprehend. It would be the crown jewel of our home – a proud testament to my visionary genius, and I was sure that no matter where it was placed in the house, it would be bathed in golden ethereal light. The gods would see to it. Such a marvel would surely attract their divine eyes, and they would want to gaze down upon it, always. They would probably want to shower its creator with wealth and fame and power.
Wait.
I'm getting ahead of myself.
First I need to make it.
The piece I wanted to transform was a Hemnes 5-drawer chest from IKEA. I called it Big Red, and it stood in our kitchen for a time holding batteries and Band-Aids and rawhide bones. You've seen it before in my DIY In-Wall First Aid Cabinet post.
Big Red wore a shameful crown: a filthy microwave littered with cleaning products. He could be so much more, if only he could pull himself from that lousy neighborhood. The space was cramped, and he had to share it with a canine feeding station. The indignity! He deserved better.
Later, I gave a makeover to a baker's rack that Handan wanted. You can read the amusing circumstances of that encounter here: Click here to learn how I was rudely awakened and forced against my will to drive my wife to buy a used baker's rack!
Once that baker's rack was finished, Big Red was served an eviction notice. He was down on his luck and didn't have anywhere to go, so I plopped him in the dining room, figuring he could stay there until he got his act together. A month passed, and Halloween rolled around. Big Red saw some action as a staging area for Handan's Concrete Skull Candle Holders.
It looked like my temporary dumping ground was becoming permanent. That suited me just fine. It meant I didn't need to carry it anywhere else! I figured everyone else in the house was A-Okay with Big Red's new home, too.
I was wrong.
As usual.
Handan didn't like it. Oh, she didn't like it one bit.
"Hey babes!" (You know what those words mean.) "Hey babes, why is this stupid thing still here?" She stood in the dining room, her left hand on her hip, right arm outstretched, finger pointed directly at Big Red like a mirthless judge passing down a death sentence. [LOL – sometimes I'm really amazed with your imagination my babes! – Handan]
She wasn't happy.
"Ummmm…." My brain scrambled for a defense like a matchbook lawyer late for trial. "Your Honor, er, my babes – I was gonna, I mean, what I'm trying to say, is that, ummm, I was planning on doing something with it." That's it! the angle I needed to win the case, or at least escape with the minimum sentence. "Yeah, that's right! I'm planning to give it a makeover, my babes! Just you wait and see…it's going to be awesome!"
"Hmmmm." She'd heard it before. Like a junkie promising to quit tomorrow. "Okay, my babes. We'll see what you come up with."
Phew! Hehehehe…wormed my way out of that one pretty-
"Now get it out of here!" Her tone brooked no argument. I jumped from the sofa, gave her my most milquetoast "yes, dear," and hauled Big Red to the basement.
It may not surprise you to learn that Big Red sat in the basement, untouched, for a number of weeks.
I didn't have a plan. I didn't know what to do. Handan pummeled me with wave after wave of Pinterest ideas, but I poo-poo'd them all. I had a vision for it. Well, I actually didn't have a vision at all, but I knew that I would eventually have a vision. I hoped.
And then one day, as I sat scrolling through Hometalk, I stumbled upon a skull. It was painted bright copper, and its eyes were a shimmering, glimmering blue. It was beautiful, and I knew right then and there what I wanted for Big Red. I had my vision!
I searched for "copper sheets," found a supplier, read about all the sizes and thicknesses and patinas and then placed an order.
Oh boy, this is gonna be great!
I stood at the mailbox and awaited my delivery.
My plan was to cover the top and the drawers of Big Red with a copper sheet, hammer it, and then let it form a natural patina over time. I'd paint the frame a deep, royal-ish blue, as that color looks great with copper. And the knobs would be painted with the same blue that the Hometalk woman used to paint the skull's eyes. It was a metallic blue called Peacock. I found it on Amazon and ordered a small bottle.
Some days later, my copper arrived, and I ran to the basement to begin my project.
I disassembled Big Red and laid out the pieces I'd need to work on.
I figured the drawers were a good place to start since they were small. For the insides of the drawers, I grabbed a random Annie Sloan blue that we had kicking around. I thought the lighter Annie Sloan blue would contrast well with the darker royal-ish blue (that I still didn't have). It was my first time using Annie Sloan.
I had heard from the entire DIY community online that Annie Sloan's paint was so awesome that you didn't need to sand or clean or do anything before using it. It was supposed to stick to anything. I watched videos of people painting dirty furniture and crowing about it. Hmmmmm.
Well, my IKEA wasn't dirty, but it did have quite a factory finish on it. Smooth as oiled silk. Well, all those crows couldn't be wrong, could they? I would employ Handan's style of painting – applying several very thin coats – to increase my chances of proper adhesion.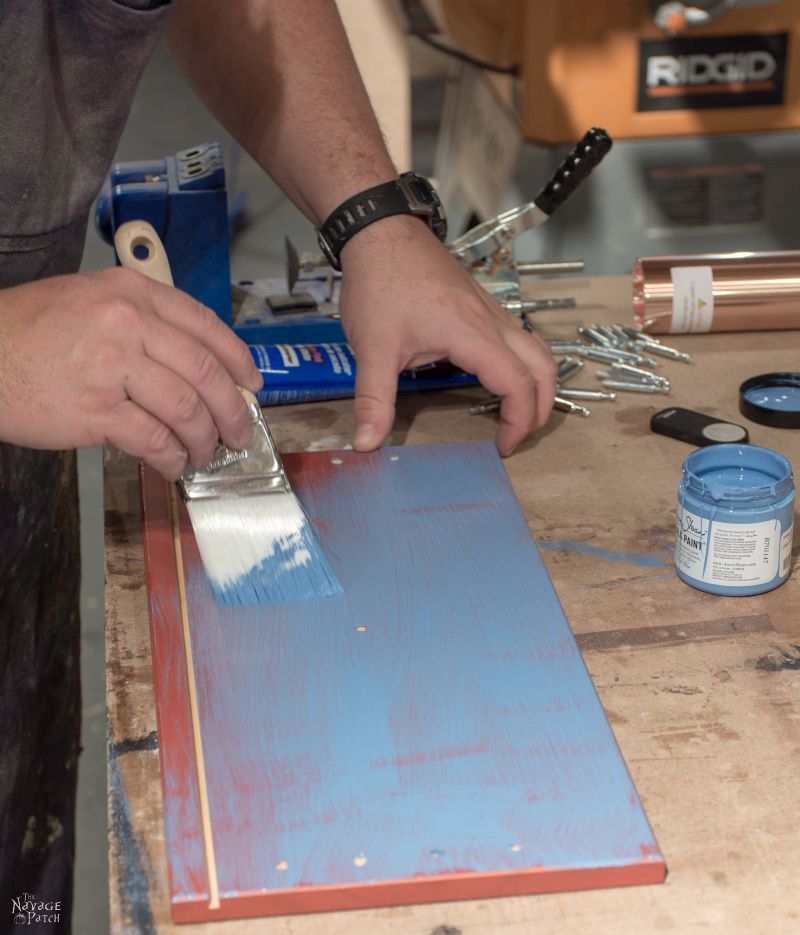 Four coats later, it was time to move on to the main event: copper.
My plan was to cut the copper sheet large enough that it would wrap around the edges. I measured, marked and cut the sheet.
There are special adhesives made for copper, but who the heck has time for that? Construction adhesive would surely do the trick!
Then I laid the sheet, starting from the back and wrapping around to the front.
I clamped it all up and let it cure overnight.
And that is that last picture you'll see of the copper. When I checked on it the next day, there were air pockets where the sheet hadn't properly adhered to the drawer face. There were glue marks, and places where the copper had creased. It looked awful. Hideous. It was an embarrassment to the copper mining industry. My dream was dead. I pulled off the copper, and in the process, discovered that Annie Sloan did not, in fact, stick to everything. It started to flake off anywhere it was touched. That meant I'd have to sand the whole piece. Nuts to that! This project was over.
Dejected, I pushed the drawer pieces to a corner and left the carcass standing at the edge of my workshop.
It stood there, abandoned, until Handan and I were shopping at Home Depot one day. While she was browsing the spray paints, I was checking out some of the specialty paints. I saw a can of Rustoleum Hammered Copper paint. Not spray paint, but the kind you brush on. Oil-based. It looked interesting, and it gave me an idea for my IKEA project. Maybe instead of real copper, I could use that Hammered Copper paint? It was worth a shot.
I sanded the top so the paint would stick.
For the drawer faces, I tried a few different strippers and deglossers.
The strippers didn't eat through the IKEA factory finish very well, so I decided to degloss them (and the carcass) and hope for the best. I really didn't want to sand the whole chest, so the deglosser would have to do. The Klean Strip was the best of the bunch.
The Rustoleum Hammered Copper paint is really cool stuff. You just brush it on and then watch as it magically transforms the brush strokes into hammered copper.
I painted two or three coats on the drawers and left them to cure.
Meanwhile, I started painting the top. I went a little heavy with the paint up top and learned a valuable lesson with this paint: it takes a loooooong time to cure if you glop on too much.
A week after painting, I wanted to touch up an area I wasn't totally happy with. I put my paintbrush on the top and taped up the sides of the carcass. When I finished taping, I grabbed the brush, but it resisted when I lifted it.
"Awwwwww, crap!" I knew exactly what had happened. I looked at the top and saw a big dent where the brush had been. It had been a week, but the brush sank into that paint like it was quicksand! I tried sanding, but that just made a gunky mess, so I got a heavy-duty scraper and peeled off the top.
There was a lot of paint.
After peeling and scraping, I sanded and prepared to paint it once again.
I really should get into product modeling, don't you think?
Anyway, I slapped on a few more coats, and left it to cure.
During that curing time, the weather warmed up, our outdoor projects came fast and furious, and my little hammered copper project was again forgotten. It was only this December, while Handan and I were doing some major cleaning and de-cluttering, that I got the notion to finally finish the project.
Handan had recently bought some Fusion paints, and one of the colors caught my eye. It was a rich blue color that seemed perfect for my project. Over a year had passed since I had started this project, and I just wanted to get the thing done and out of my hair. I no longer had any aspirations for the chest. It wouldn't be the crown jewel of the house. It wouldn't be bathed in ethereal light. And the gods would likely have a good chuckle when they saw it. Still, it could make a storage chest for the basement, so I soldiered on. I didn't take pics while painting. I figured I'd snap a few at the end and be done with it.
But you know what? I was starting to like it more and more as I painted. I loved the blue and copper together. When I had it all painted, I rummaged up the original drawer pulls. I had always planned to use that Peacock metallic blue paint on the pulls. I was convinced it was going to look awesome. I painted them…
When they were dry, I re-assembled the chest.
I loved it. Really, I did. At that moment, and for several moments after, I truly loved that piece of furniture. It might even earn a place upstairs, I thought!
I took a couple of pics in the basement. The lighting wasn't great, but it would be good enough for Handan to see. I sent them to her over Skype and awaited my praise.
(These cell phone pics are really dark. The blue is lighter than that.)
The praise never came. Instead:
"Ok.
"It looks pretty good.
"Not the best."
And then she changed the subject.
How could she not love it? I loved it! And I was determined to share it with the world so others could love it, too!
But she had planted a wicked seed of doubt, and over the next couple of days, my loving looks turned to doubtful glances. Maybe she was right? It does look pretty stupid. I mean, where the hell would we put it? Handan especially hated the metallic blue pulls, but they were my favorite part! They made the whole project!
How could I be so blind? How could I love it so much if it was really such a turd in the punch bowl?
We called my sister to arbitrate. Margo agreed with Handan that the pulls had to go. Dammit. Two against one. But I'm a grown man, and I can admit when I'm wrong. Or outnumbered. So the pulls would go. Margo liked the rest, though, so there was that.
Handan and I went to Hobby Lobby to look for pulls. We bought an assortment and brought them home to try. One set of pulls stood out above all others. Instead of calling attention to themselves like the peacock pulls (which was the point, in my opinion), these pulls were subtle, and they allowed the copper to take center stage. I liked them, and I understood that they were necessary if this thing were ever to meet the public in our house. I took a few staged shots, still uncertain of my project's fate.
After I took these photos, I understood that this makeover had no place in our home. I knew that Handan didn't like it, and I didn't want to force it on her. Truth be told, I'd been liking it less and less each day. So I decided to chalk it up to a learning experience and a chance to try out a couple of new products. I love the Rustoleum Hammered Copper paint, and I'll try to find another project for it in the future. I also liked the Fusion paint. It was easy to work with, and it seems to be sticking where Annie Sloan couldn't. It's expensive though, so it's not for everyday use!
And if nothing else, this project gave me another excuse to write a few words for you guys to read. Blue Copper (as he's now called) has moved back to the basement, but not for long! Handan has big plans for him. No, no, not how he is now. She'll be stripping him bare and giving him a new makeover. Stay tuned to learn his fate!
Now, before you go – do you have any makeovers that didn't go as planned? Disasters? Unintended successes? Anything out of the ordinary, heartbreaking or hilarious? Send me some photos at greg@thenavagepatch.com, and include a little story. If I can get enough participation, I'll put out a post of your disasters and stories!