Anthropologie-Inspired Storage Cabinet
This Anthropologie-inspired DIY bathroom storage cabinet deliver big, expensive looks for only a few dollars. Scrounge up those old, ornate picture frames, and we'll show you how to make a $230 Anthropologie storage cabinet for only the price of some plywood and paint!
Handan is always shoving some piece of junk or another into my face and then demanding to know if I'm aware of what I'll be doing with it. This usually happens while I'm trying to concentrate on something important, like television or video games or food.
"Babes!" She cries, as a smile spreads across her face. "Babes! Do you know what you're going to turn this into?" Whereupon she thrusts some splintered piece of furniture or rickety frame or broken bauble towards my averted eyes, tilting it this way and that. She usually attacks from the right, so I've learned to feint left, thus maintaining eye contact with my show, my game or my meal.
"Hrnmph." I say, hoping it conveys enough meaning to ward her off.
It rarely does, and she circles around for another run at me.
"Does my babes know what he's going to make for me? Does he? Does he? Hey? Hey?"
She's like a buzzard on the scent of some carrion or wounded prey. I'm trapped, and she knows it. She always gets me when I'm sitting down. It takes a lot of time and energy to shift this much mass up off of the couch and get it running for the hills. She knows my weaknesses, and she exploits them.
I sigh the long sigh of The Eternally Tormented Soul and meet her sparkling eyes with a heavy-lidded stare.
"What am I going to do, my babes?" And so it begins…
*****
Our salvaged, purchased and collected picture frames number in the hundreds and mass about a metric ton. To me, they are a single, intimidating entity, but Handan can tell you the history of and plans for each and every one of them. Her brain is like a filing cabinet. It also makes it nearly impossible to win an argument with her, since she has total recall of every word I've uttered since we met and has no problem repackaging those words and hurling them back at me at the most inopportune moments. Einstein once wrote to a friend that the definition of insanity is doing the same thing over and over again and expecting different results. This is horseshit. The definition of insanity is arguing with a woman and expecting to win.
Anyway, back to the picture frames. Handan's favorites are the ornate ones. The fancier, the better. She found one a long time ago at the dump that she loved. Yeah, yeah, I thought it was pretty cool, too. It even made the featured image of an old post she wrote about finding free furniture. It's a great post, and you should check it out if you haven't read it already. Really, go read it, or I'll make you argue with her 🙂
Here's the frame:
The print is a famous painting by Johannes Vermeer titled "The Lacemaker." He painted it in 1670, five years before his death at the young age of 43. You may also know another of his masterpieces, "The Girl with the Pearl Earring."
Though we are separated by centuries, I feel a kinship with Johannes Vermeer. He painted several self-portraits, and in each of them, he has the same tortured look that I have when Handan hooks me into another project.
Anyway, Handan had a vision for this frame. She had seen a bathroom storage cabinet on Pinterest that Anthropologie was selling for $228: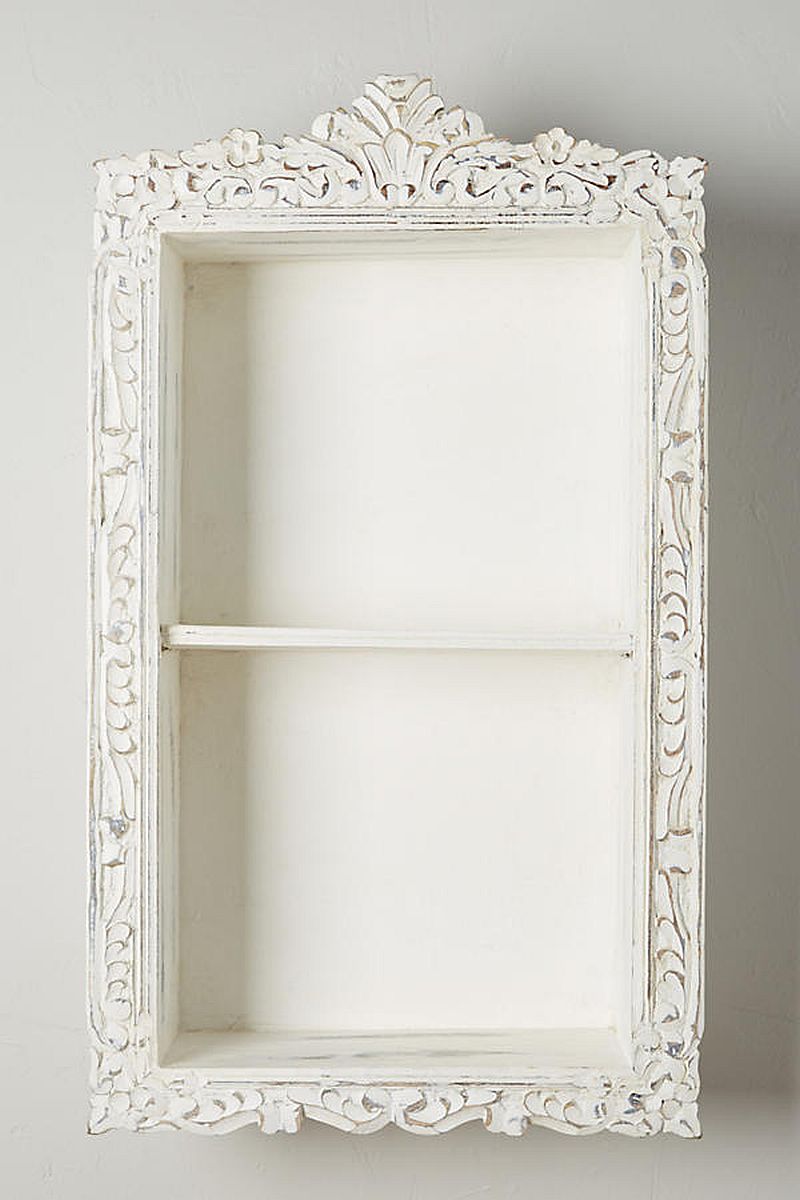 You can guess the odds of Handan forking out $228 for something like that. Instead, I got the Vermeer in my face.
She didn't show me the picture she found on Pinterest; she just explained what she wanted.
"You'll make a box, my babes, about this deep." She held up her two hands, spaced several inches apart. "And it will have two shelves."
"Two shelves. Got it." I said. I extricated myself from the sofa, shuffled down to the basement and set to work.
I chose 1/2 inch plywood for the back and 1/4 inch for everything else. After taking some measurements, I cut my pieces to size. I would cut the shelves after building the cabinet frame.
I didn't take any process pictures. I was so riveted by the complexities of the box, that all other thoughts were dispelled from my head.
I'm kidding. I just forgot.
Anyway, I finished the cabinet. It was a fine thing, resplendent with its two shelves.
I filled in the imperfections with spackling and sanded everything smooth. I marched my fine creation upstairs to show Handan like a three-year-old with a crayon scribbling for mommy.
"Look what I did, my babes!" I beamed at my wife and awaited my praise. Perhaps she'd make me a dry martini? Nahhhhhh, that would never happen, but surely she would crow over such magnificent craftsmanship!
"My babes…" And with those two words, my world collapsed. It was how she said them. I had done something wrong.
"My babes," She continued, "I asked for two shelves.
"Yeah…?" I was so confused. We were both looking at the same work of art engineering marvel cabinet. What the hell was she babbling about? "There are two shelves."
"My babes," She pressed, "You made three shelves. How am I going to fit toilet paper in those shelves?"
Three shelves? I mouthed the words silently to myself.
"Babes, look." I pointed at each of the shelves I had installed. "One. Two. Two shelves!" My logic was sound. My argument was watertight. This woman was a loon!
"My babes," She said, irritation and anger creeping into her voice. "There are THREE shelves here. She stabbed a finger towards my creation. "ONE. TWO. THREE!" Her finger came to rest on the bottom of the cabinet, what I had been thinking of as a base, and what she considered a shelf.
"Ohhh…." Realization dawned like a spotlight in the dark. "OHHHHH!"
Shit.
"Okay, my babes. I'll make another one."
~~~One Year Later~~~
Hey, I never said when I'd make another one! So it took a year? So what?
This time, I would not fail. And this time, I would take pictures!
I gathered my plywood and cut it to size. I would build this cabinet into the frame, piece by piece, cutting new pieces as I went along. I remembered from the year before that the frame was not square, so even the three-shelved masterpiece didn't fit in the frame properly.
And some brad nails…
Oh, by the way, I no longer have that squirrel on my face. I got fed up with it a couple of weeks ago and shaved it off. I did that once with my hair two years ago. I just got sick of it, so I lopped it all off. It's quite refreshing. I highly recommend it.
Anyway, where was I? Hmmm? Oh yeah, the cabinet. I completed the frame.
Then I fit the cabinet frame into the picture frame.
It was a perfect fit, so I applied glue around the edge and clamped the two pieces together.
Since the frame was so warped, the clamps were necessary to ensure contact all around the frame.
I added some wood filler in some spots, and then sanded everything smooth.
Okay, I forgot to take pics of the next two steps, but I added a shelf (SHELF! not SHELVES!). Once the shelf was in, I installed the back.
I handed it over to Handan to repair the frame's face. There were a lot of cracks and chips. This Vermeer print had seen some years and miles.
Handan was having trouble filling all those cracks the traditional way, so she developed a technique using a small detail paint brush. She would add a bit of wood filler (DryDex – the kind that is pink and smooth like spackle when it is wet), and then work the filler into the cracks with the brush. It worked brilliantly.
She painted it with her homemade chalk paint in old white color and distressed it, and there it sat in her crafting area until a fateful Saturday morning this past March when she suggested I hang it and then write about it. We all know how that turned out, right? What? You don't? Well get with the program, Madam, and go read about the guest bathroom renovation! I'll wait…
You're back? Oh, good. Let's continue.
Since everything else in the new bathroom was pure white, Handan repainted the cabinet to match.
Just as we were hanging this Anthropologie-inspired storage cabinet in our newly-renovated guest bathroom, we broke it. If you've read the bathroom renovation series, you know that that project was plagued with misfortune, and breaking the storage cabinet was the last mishap in a long line of mishaps (or maybe it was the toilet paper holder fiasco that was last…I can't remember, or I've already blocked it from memory). As I was holding the cabinet by its sides, one of them snapped in my hand.
Handan started laughing. But it wasn't the happy kind that makes me laugh. It was the scary kind that makes me want to duck and cover. Although my first instinct was to Hulk Smash the cabinet and run, screaming, down the middle of the street, I put on a brave face and told Handan that it would be alright. We could fix it. I got my super glue and insta-set spray, and we had it back together in no time. No, her smile is not at all forced, why do you ask?
Our Anthropologie-inspired storage cabinet looks great above our new toilet in our newly-renovated bathroom.
I'd love to tell you how we saved $228 by building it ourselves, but that would be just about the biggest load of bullshit this side of the Ozarks, since this little cabinet launched the bathroom renovation that cost us almost two months of our lives and many many hundreds of dollars. Though it may not have saved us any money, it has given us a beautiful new bathroom that I like to call The Dapper Crapper.
We love it when you share our posts on Facebook and Pinterest!