After years of neglecting our mailbox, we finally got around to a long-overdue mailbox replacement. With a slip-on post, it's an inexpensive and easy upgrade, and your neighbors will thank you for it!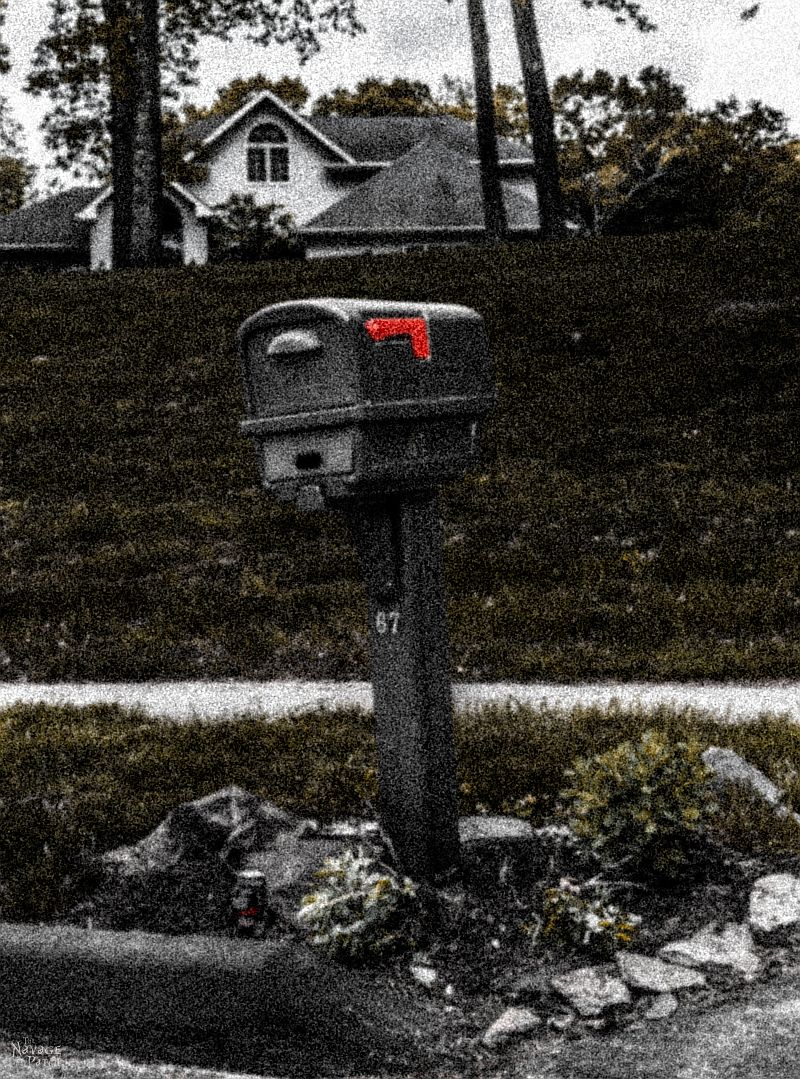 For three and a half years, Handan and I were the shameful owners of The Saddest Mailbox on the Lane. Each day, I would watch our neighbors waltz out to retrieve fan mail, love letters, large checks, gift packages and sweepstakes award notifications from their resplendent black mailboxes sitting atop flawless white perches, their posts tucked into rich, loamy soil bursting with all the colorful flowers of the season. I would wait at the window, watching and gnashing my teeth, until the shadows grew long, and then I would slink down the driveway to our nut-brown plastic disgrace to retrieve the day's grim serving of unpaid bills, summonses, tickets, coupon books for products we never use and menus for the worst pizza joints in town. With furtive, sidelong glances, I would scurry back up the driveway like a wharf rat running from a drunken sailor's boot. I would feel the eyes of the neighborhood boring into my back and my ears would ring with their clucking tongues.
Holidays were the worst time. Once I tried to tip the mailman for Christmas. I left an envelope with $20 in the mailbox. When I slunk down to get the mail the next evening, I saw that he hadn't taken the envelope. I opened it and saw $40 and a note. I unfolded the note and read:
Please! For the love of God, PLEASE get a new mailbox!!

Merry Christmas.

(GET A NEW MAILBOX!)
I think he was trying to tell me something.
*****
The years passed, but the mailbox remained. We were spending all of our time working on the back yard, so the front was only attended once a week when I mowed the lawn. But this year, we're winding down the major projects in the back yard (though we still have a few left), and we're ready to start improving the front. And let me tell you, it needs a lot of work. Three years of neglect have taken a brutal toll on the landscape beds. They are overrun with weeds and evergreen saplings. So while we scratched that surface the other weekend, Handan also wanted to plant some sedum that she got from my mom around our sorry little mailbox. The area surrounding the box had been planted and cared for by me once two years before. I planted a bulb that was supposed to grow into an elephant's ear, I laid down weed fabric, I spread mulch, and I encircled the whole mess with rocks. I think the bulb may have sprouted a single leaf, but there wasn't much WOW factor that year. Last year, I conveniently forgot all about the mailbox, as our spring was dominated by the pond project.
When Handan was looking over the mailbox, she noticed a couple of screws on the side of the post.
"Hey babes!" She yelled up to me. I was working up the hill in one of the landscape beds. "Come here!"
I dropped my tools and shuffled down the hill to the mailbox.
"Look! This mailbox is a slip-on." She said. The screws indicated that the mailbox was a plastic sleeve that fit over a 4×4 that would be cemented into the ground. Replacing it would be simple!
"Oh, yeah. You're right. I've never noticed that." I said. I knew where this was going. "So, do you want to go out and buy a new mailbox?"
"Oh, yes I do!" She was beaming at me. That woman loves shopping! (for DiY/Home Improvement stuff, I mean)
We hopped in the car and headed to Lowe's where we picked up a slip-on post kit and a mailbox.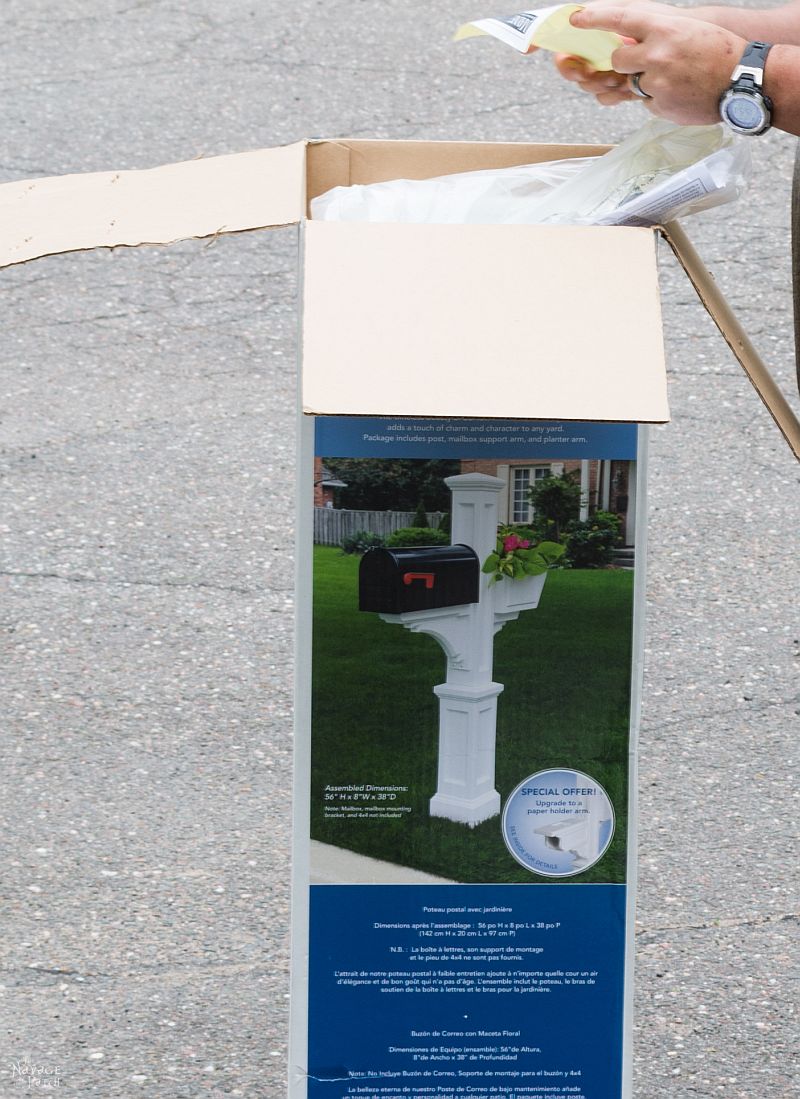 When we got back home, we unboxed the post kit, and I glanced at the directions. They said we'd need a 6 ft 4×4 post to concrete into the ground. No problem. Our old mailbox already had one. It was then time to remove the old mailbox, so we could slip on the new one and be done with it. I unscrewed the four attachment points and pulled off the old mailbox.
That didn't look like enough post. It was barely two feet tall! Still, I tried to fit the new post just to see.
The bottom piece fit, but there wasn't enough 4×4 to attach the mailbox and planter arm on the top piece.
CRAP!
Okay, Okay, no big deal. I'd just have to cobble together an extension with a scrap piece of 4×4 and some mending plates.
I fit the extension to the original and nailed it in place.
Then, the moment of truth. I slipped the top half of the new mailbox over my cobbled post.
It wouldn't fit. It was a tight fit over the 4×4, and there was no way it was going to clear the mending plates.
CRAP! CRAP! Why can't we ever have an easy, care-free project?
I looked at Handan. "We have to dig out the old post and concrete and then set a new one with new concrete." I said. "I had a 6 foot length of 4×4, but I cut it in half for the extension!" My parents were coming over for dinner in about an hour, so we didn't have time to go out again to buy another post.
"Let me have a look, will you?" Handan said. She never takes "no" or "we can't" for an answer.
"Fine. Yeah, whatever." I said. Another problematic project. It's the only kind we seem to have. I stood there staring daggers at the old post.
After some time, I heard one of Handan's many happy sounds, and my spirits lifted. She came bounding down the driveway with her prize – a corner post from our old fence. It was just under 6 feet tall.
"Awesome, my babes! Okay, you and Barish go to the garage and get some Quikrete, and I'll dig out this old post." We were back in business.
Once the old post was cleared, Handan, Barish and I lifted it out and put it in the pull cart behind the John Deere. We dug down deeper and placed the new post in the hole. Handan secured it with some small stones while I checked the level with my post level.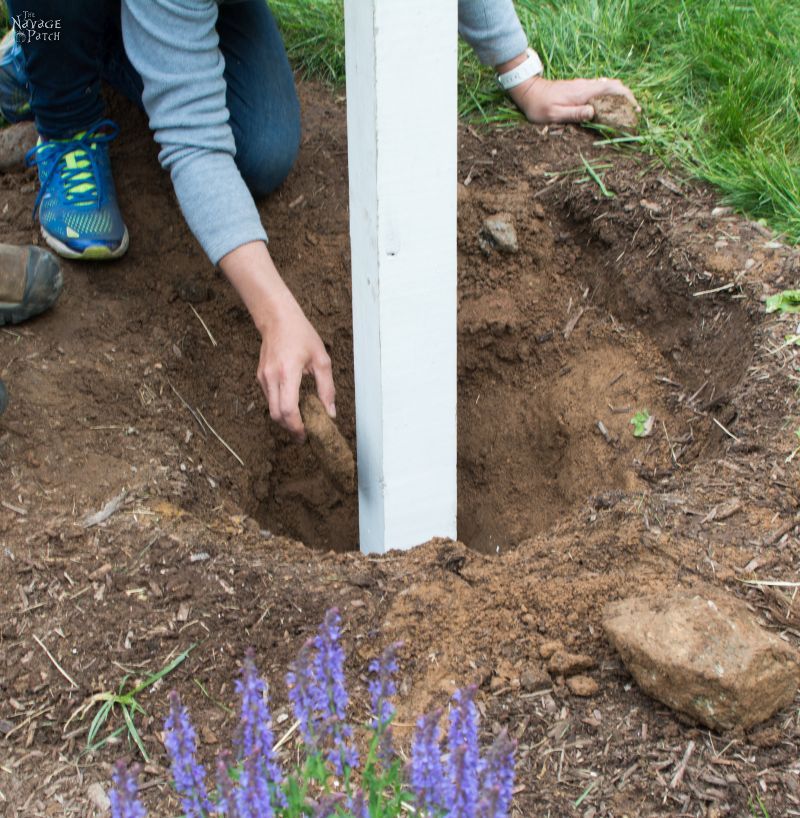 With Barish's help, I mixed up some concrete.
While Handan kept an eye on the post level, I filled the hole with concrete.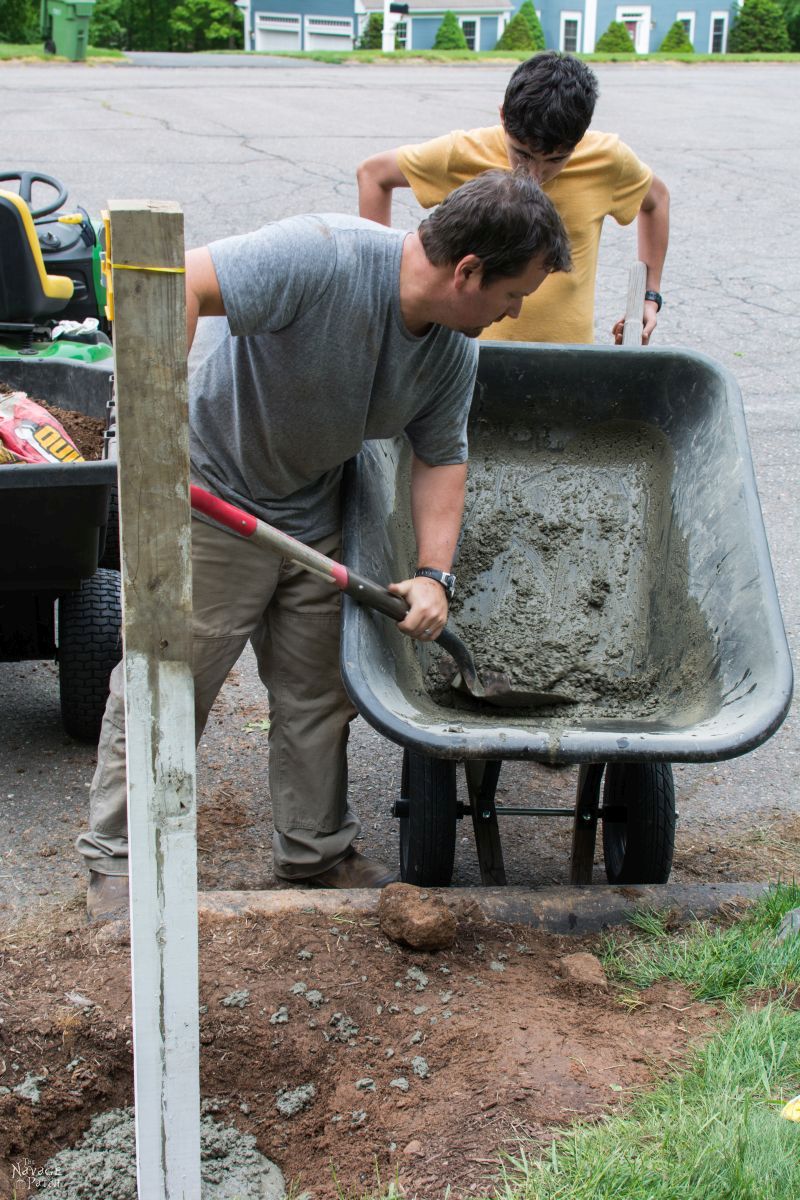 We let that set overnight. My parents had arrived by this time, and I was supposed to be cooking ribs. I needed two hours for a quick-cook, but it was already 6:00, and I hadn't started my coals yet. I didn't think I'd have time to cook them. I had my mind 100% on dinner at this point, but the work wasn't done. I drove the cart up and parked it in the back yard, took my trusty sidekick – my camera – and put it on the white gravel around the vegetable garden, and then Handan and I cleaned the concrete off of the shovel and the wheelbarrow. We finished cleaning, and then I ran inside to change out of my work clothes and start thawing some steaks, since I wouldn't have time to cook ribs. Oh, I also needed to cut some cheese and pepperoni and then make three martinis and a shot of rum for Handan. Oh, yeah, I had to make a salad, too. And the table was cluttered, so I'd have to clear that off. Now where did I put that lemon…
The next day promised rain, so I woke Handan up early. I barely slept that night. My mind was filled with worry about the rain. I wanted to get the mailbox finished before it started coming down. It was a raw and nasty morning, like this entire farce of a spring has been. I layered up and drove the cart down to the mailbox. I had all of the tools, and I grabbed Handan's little point-and-shoot camera so I wouldn't ruin my 35mm in case it started raining.
After a moment, my babes came strolling down the driveway with a shovel in her hand and smile on her lips.
Click on "Page 2 of 2" below to continue.
We love it when you share our posts on Facebook and Pinterest!