The Best DIY Chalk Paint Recipe
Learn how to make chalk paint with the BEST recipe. Our readers have spoken—there is no better DIY chalk paint recipe on the internet!

Why Make Your Own Chalk Paint?
There are a million posts out there about chalk paint. Some love it, and some see no point paying extra money when there is good old latex paint. Having tried almost all the different brands of chalk paint and latex paint, I understand why chalk paint lovers swear by it. But I ended up loving my DIY chalk paint more than any "brand-name" chalk paint.
Here's why this is the best chalk paint recipe out there and why you should learn how to make chalk paint for yourself:
It's almost as cheap as latex paint.
Adhesion is the best you'll see.
It is more durable than most store-bought brands.
You can make it in any color you like.
You control the thickness of the paint.
It can be easily modified for paint sprayers.
What Makes This Chalk Paint Different?
Before coming up with my own recipe, I searched and tried all four DIY chalk paint recipes out there. Although I was satisfied with the recipe that used Calcium Carbonate, I took my recipe one step further and added a secret ingredient to make it even better. Once that secret ingredient was in the mix, I came to see that my DIY chalk paint recipe was the best of the bunch!
As an engineer in the construction industry, I've always had a natural curiosity about construction materials in terms of what they do, how they work, what additives can be mixed together and so on. I knew talc was used in many areas of construction and in our daily life, including in paints. I also knew that talc not only improves the adhesion of paint, but it also works as a matting and anti-cracking agent.
With this in mind, I decided to add talc to my DIY chalk paint recipe.
For more info on what talc is and where it is used, please visit Industrial Minerals Association North America.
Before we begin, be sure to follow us on YouTube, Pinterest, MeWe, Facebook, and Instagram, and click the subscribe button at the top of this page to sign up for our email list so you'll never miss a post!
The Best DIY Chalk Paint Recipe
1 cup of latex paint in the color of your choice
4 tablespoons of Calcium Carbonate
1 tablespoon of Talc
Water (as much as you deem necessary to thin the chalk paint to your desired thickness).
How to Make Chalk Paint
I don't premix anything like many others do. Instead, I use an old cheap blender to mix my chalk paint. First, I pour the latex paint into the mixing cup.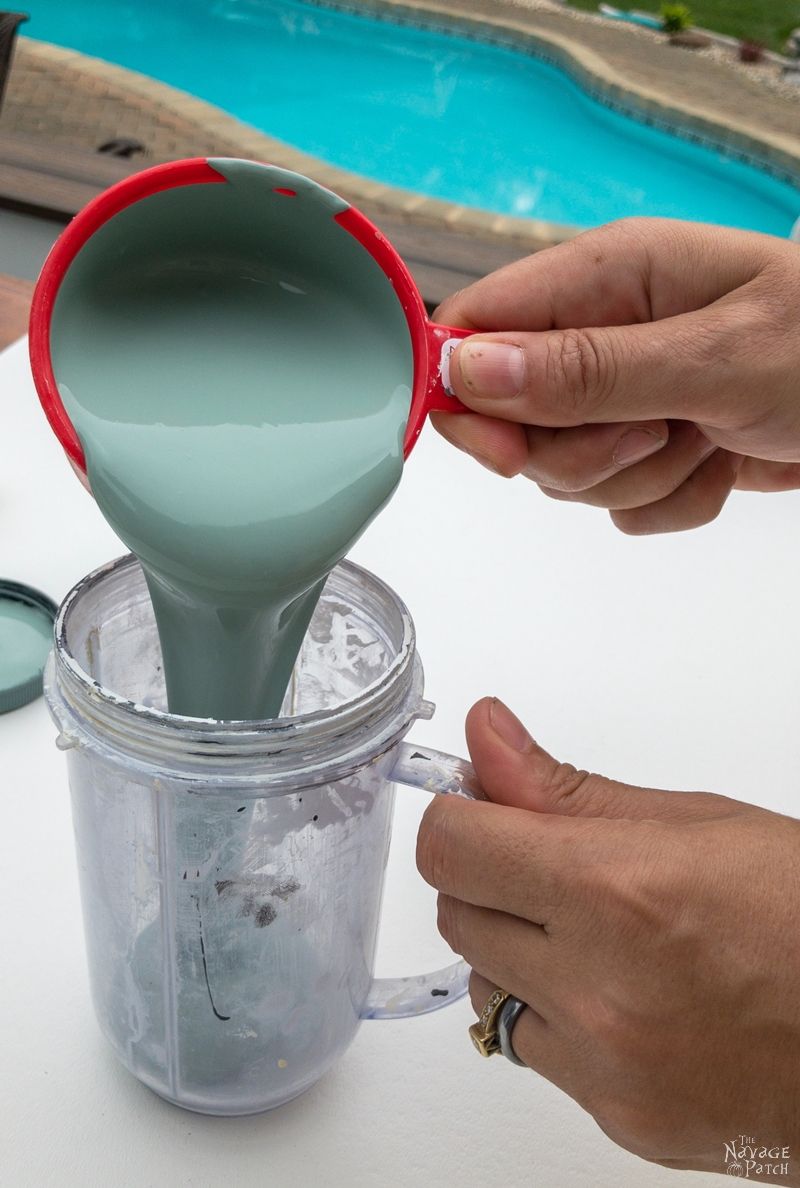 Then I add 4 tablespoons of calcium carbonate. If you don't know which calcium carbonate to use or where to get it from, you'll find all that information at the bottom of this post.
Next, I add one tablespoon of talc. I use pure talc with no scent and no additives.
Then I add a little a bit of the water. As I mentioned above, use as much water as you need to achieve your desired thickness. If you will be using a blender like I do, I would suggest that you start with no water at first. Once you've mixed it for 2-3 minutes, take a look at your chalk paint and see if the thickness is what you're looking for. If you want it more fluid, then add 1-2 tablespoons of water at a time and carry on like this until you reach the thickness you desire.
Once all these ingredients are in the mixing cup, I blend it for 3 minutes. But if you're going to hand-mix the paint, then I would suggest that you mix the calcium carbonate and the talc first. Then add a bit of water into that mix and stir really good, so you don't end up having lumps. Then add the latex paint and keep stirring until you feel all are mixed well.
Additional Information About My Chalk Paint Recipe
Latex Paint: I know many bloggers suggest flat finish paint in their recipes, but I like eggshell finish. Since I use talc in my DIY chalk paint recipe, I don't need to start with flat paint, as the talc will matte down the small amount of gloss in eggshell.
Calcium Carbonate: I bought and used all 3 products below thinking they might be different since their prices were different. But truth be told, they all provided the same result and basically worked exactly the same. So you can go for any of them depending on how much you will need or how much you want to spend.
Talc: I believe any scent-free talc powder should do, as scent-free ones have no oils or additives in them. But if you are like me and can't decide which one to get, here is the link to what I use.
Update June 2020: this has become one of our most popular posts, and because so many people have been buying talc, our suppliers occasionally run out. Listed below are some other links to pure talc you can try.
Update December 2020: retail talc prices continue to rise, but it is still readily and cheaply available for industrial and artistic purposes. Laguna Clay Company sells pure talc for $0.72 per pound with a 5 pound minimum. Shipping is $4.95, so that's less than $9 for a supply that will make a lot of chalk paint!
That's it for the best DIY chalk paint recipe on the internet, but if you have any questions, please feel free to ask in the comments section! I'll do my best to respond as soon as I can.

UPDATE: Modified Chalk Paint Recipe for Spraying
I modified my DIY chalk paint recipe for use with my Wagner Paint Sprayer (by simply increasing the water content):
How to Make Chalk Paint for Spraying
Again, put all the ingredients into a blender and mix it for 3 minutes. Your DIY chalk paint for paint sprayers is ready for use! If you have the same Wagner Paint Sprayer, then you'll want to give this recipe a try, as it will surely pass the velocity test. But please note, it may not pass other paint sprayers' velocity tests. Therefore, if you have a different brand paint sprayer, I recommend that you do the velocity test before using it.
Handan, xo
We love it when you share our posts on Facebook and Pinterest!