Ceramic Vase Makeover – Inspired by Pottery Barn
Who doesn't like a good knock-off project? I know I do, because:
There is no satisfaction like having the dreamy decor item you want, but without having to spend a lot of money for it.
It is way more satisfying than just going and buying the real deal, as there is a challenge in trying to DIY it. And oh boy…do I love challenges like that!
This is exactly why I was so excited when I came across Pottery Barn's Lilian Vase the other day: it is beautiful and comes with a matching price tag! The vase has a Mediterranean feel to it which I love, and it silently screams for a knock-off challenge…which I readily accepted!
As usual, I went to our famous junk mall (aka basement) to see if I had something suitable. After a bit of rummaging, I discovered this ceramic vase I got from the Second Chance shop (our local thrift store) a long time ago. According to its price tag, I paid a dollar for it 😉 What a bargain, right? Well… maybe with its scribble-ish pattern, it wasn't that much of a bargain. But at least it helped me not to have second thoughts about the makeover – even if I messed it up, it couldn't look worse than it already was…hahahaha 😀
The Lilian vase had a taupish-grayish color block around the bottom, so to achieve a similar color, I mixed some chalk paint I had on hand. I really can't remember how much of what I put in, but I used these three colors in that mixture: Maudi Sand, Castle and Java.
Using my favorite brush, I first painted the vase with 2 thin coats of that taupish-grayish mixture I prepared.
Next, I taped a thick band around the bottom of the vase and painted the rest of the vase with 3 thin coats of my homemade chalk paint in old white (custom matched) color.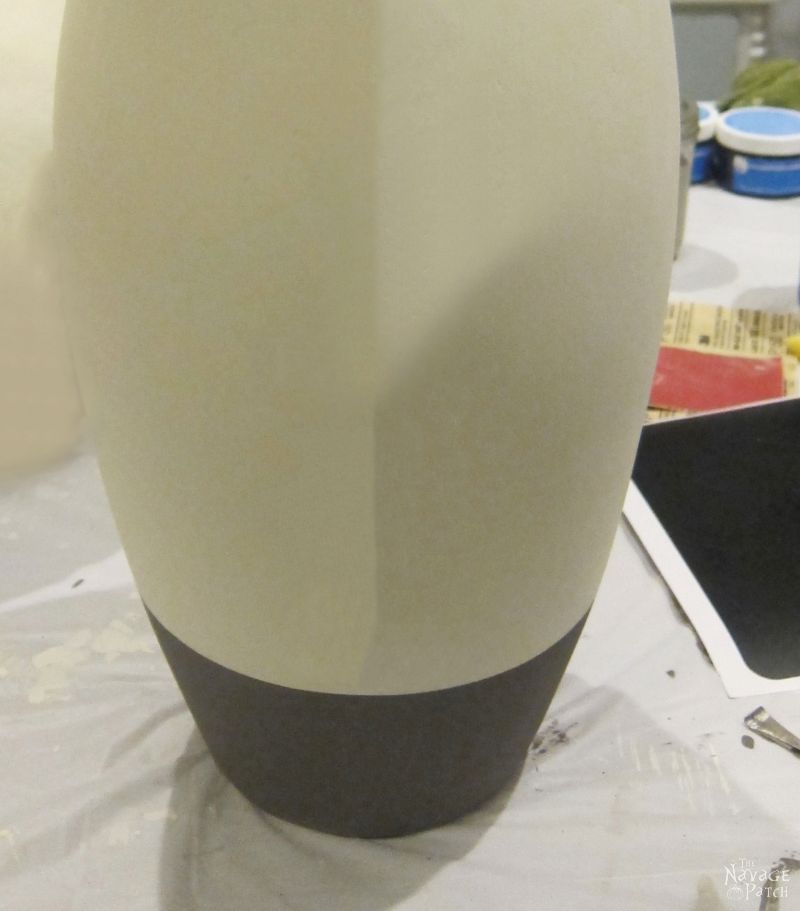 While waiting for the paint to dry, I prepared my stencils. I converted two damask pattern pictures (which I'll be sharing with you at the end of the post) into stencils. Then, using my Cricut, I cut them on repositionable vinyl.
I placed my first stencil on the vase with the help of transfer paper and started to prepare the paint I was going to stencil with. As I can't ever distinguish dark navy blue from black, I wasn't sure what color the pattern was on the Lilian vase. But Greg told me it looked like a very dark navy blue, so I mixed some blue and black chalk paint to end up with a very dark navy blue color.
As you can see from the picture above, I couldn't get the stencil placed perfectly because the surface was spherical. With such a poorly placed stencil if I used a brush the paint could have bled, therefore, I used a sponge and dabbed only a little bit of paint at a time. I also made sure that I wouldn't dab the sponge at an angle, but just straight on as shown in the picture below.
Right after I finished dabbing the paint, I quickly removed the stencil. Then I waited for the paint to dry before moving on to the second one.
One-by-one, I stenciled the same pattern three times with equal distance to each other. Once that was finished, I moved on to the second pattern I wanted to use.
Again, I stenciled the pattern with a slightly loaded sponge and by dabbing. As soon as I finished dabbing the paint, I removed the stencil and waited for the paint to dry before moving onto the next one.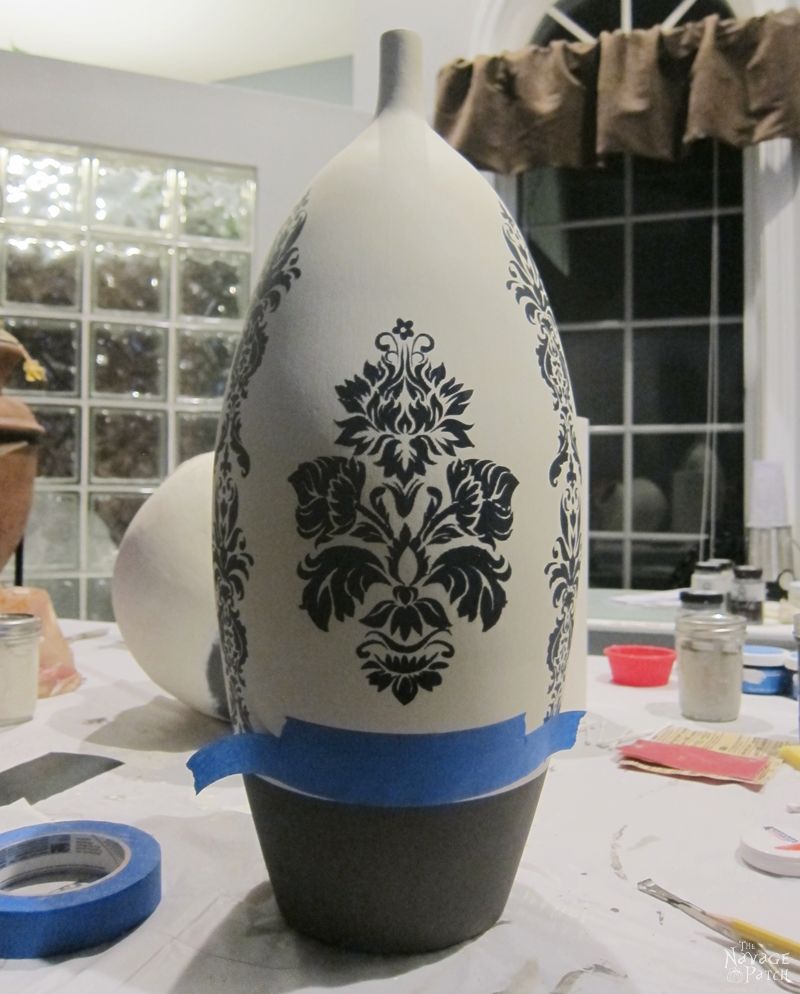 Although the Lilian vase had a distressed look, I didn't want to distress my vase. I wasn't going for the exact look, I just wanted to make my own version that was influenced by the Lilian vase.
Once I finished stenciling, I grabbed a can of Rust-Oleum Triple Thick Glaze and sprayed 6 very thin coats – to give you a better idea, those 6 thin coats would be equivalent to 2-3 normal coats (shown in the picture below). When spraying glaze or any type of protective coat, I prefer building up slowly with thin coats rather than spraying thick coats which could lead to running and dripping.
While spraying the vase with Triple Thick Glaze, I forgot to tape the bottom part (the taupish-grayish color block) and of course some glaze went on it and made it shiny. So once the glaze dried entirely, I gave one last thin coat of taupish-grayish paint to the bottom part of the vase.
Now that I was finished with the main work, it was time to deal with the bottom of the vase, as it was in terrible shape. If I left it as is, it would scratch any furniture it would be placed on. Therefore, I cut a circle from a piece of gray felt I had on hand and spread some E6000 on the felt.
Then, I glued it to the bottom of the vase.
And with that, my Pottery Barn inspired ceramic vase makeover was complete.
Ladies and gentlemen!..(drum roll)… I present to you my version of the Lilian vase! 😀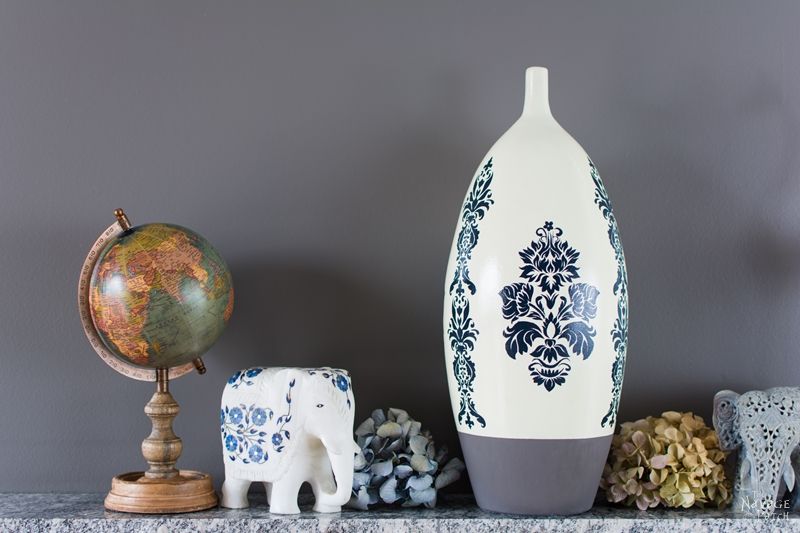 What do you think? Not bad at all, is it? I have to say I was worried about messing up during stenciling, but all went so nice and smooth.
Seeing the amount of beauty shots, I bet you can tell how happy I am with this one, hahahaha  😀 Only 3 more left, I promise! 😉
As promised here are the stencil patterns that I used in this ceramic vase makeover project. If you have a die-cut machine, such as Silhouette or Cricut, you can convert these pictures to stencils and use them on your projects. Just click on the button below and download them from the "SVGs – Stencils" section of The VIP Patch.
If you're not a Navage Patch VIP, you won't be able to access our Freebies Library. But that can be easily fixed! Subscribe for free on the form below and become a Navage Patch VIP. Once you subscribe, a password will be sent to you in our Welcome email, and that will give you access to The VIP Patch [Freebies Library]. If you didn't receive our Welcome email, can't find the password or have any other questions on this process or on our free printables, please check our Printables FAQ page.
Handan, xo
Love free SVGs? Then check out our guide on Where to Find the BEST Free SVG Files!